Vegan cookie dough bites made with peanut butter, oats, brown sugar, and mini chocolate chips. Whether plain or decorated, these healthier cookie dough bites are fun to make and feel like a special treat!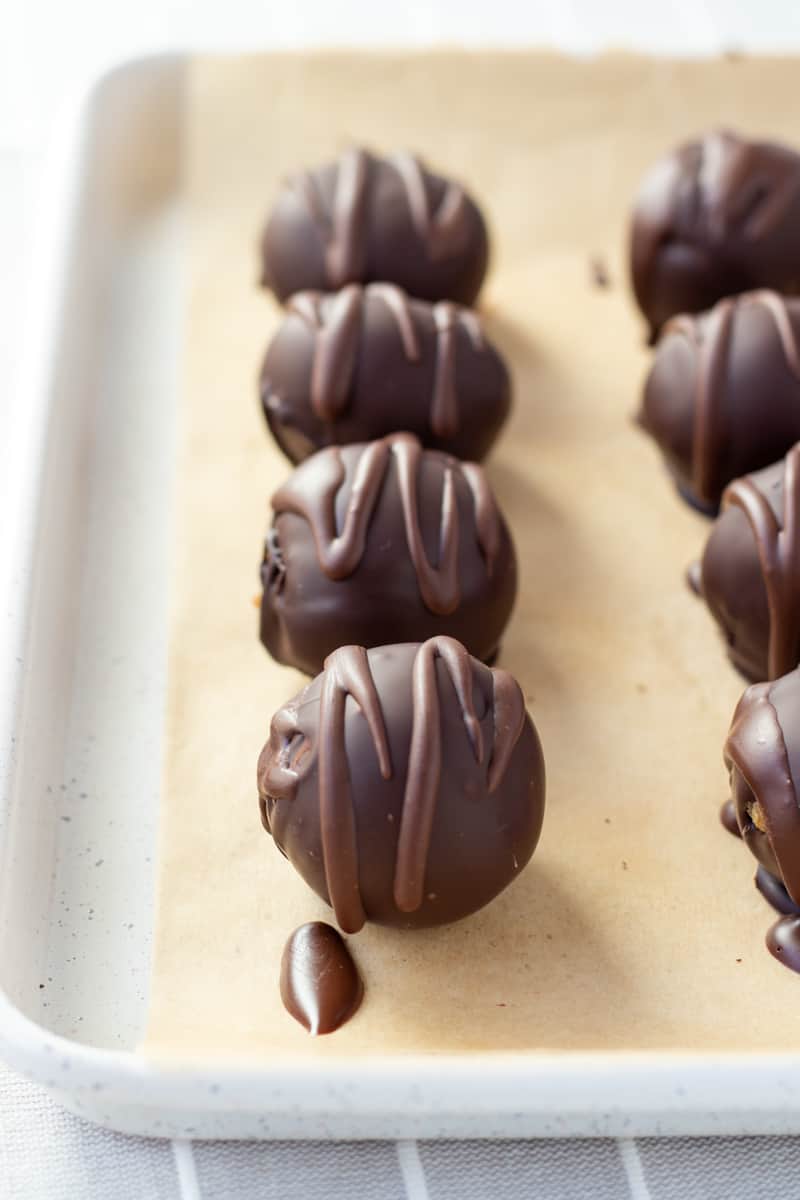 *Originally published August 2018; republished with new photos and recipe adjustments January 2020.
Don't you love a simple, two-bite dessert that can be stored in the freezer, conveniently out of sight but ready anytime a craving might strike? If so, you're gonna love these babies.
I can't remember how I first stumbled upon her recipe, but as soon as I saw Haley's beautiful photos of these chocolate chip cookie dough truffles over at Flour Covered Apron, I knew I wanted to make a vegan version. Her idea of using oat flour for the cookie dough is brilliant! And though her recipe doesn't call for peanut butter, I decided to add it as a replacement for some of the dairy butter.
I went with peanut butter because, well, "match made in heaven" and all that. If you're not a peanut butter fan, I'm sure almond butter would also be great, as would cashew. Nut-free versions made with tahini or sunbutter would take on their distinct flavors but would also be delicious.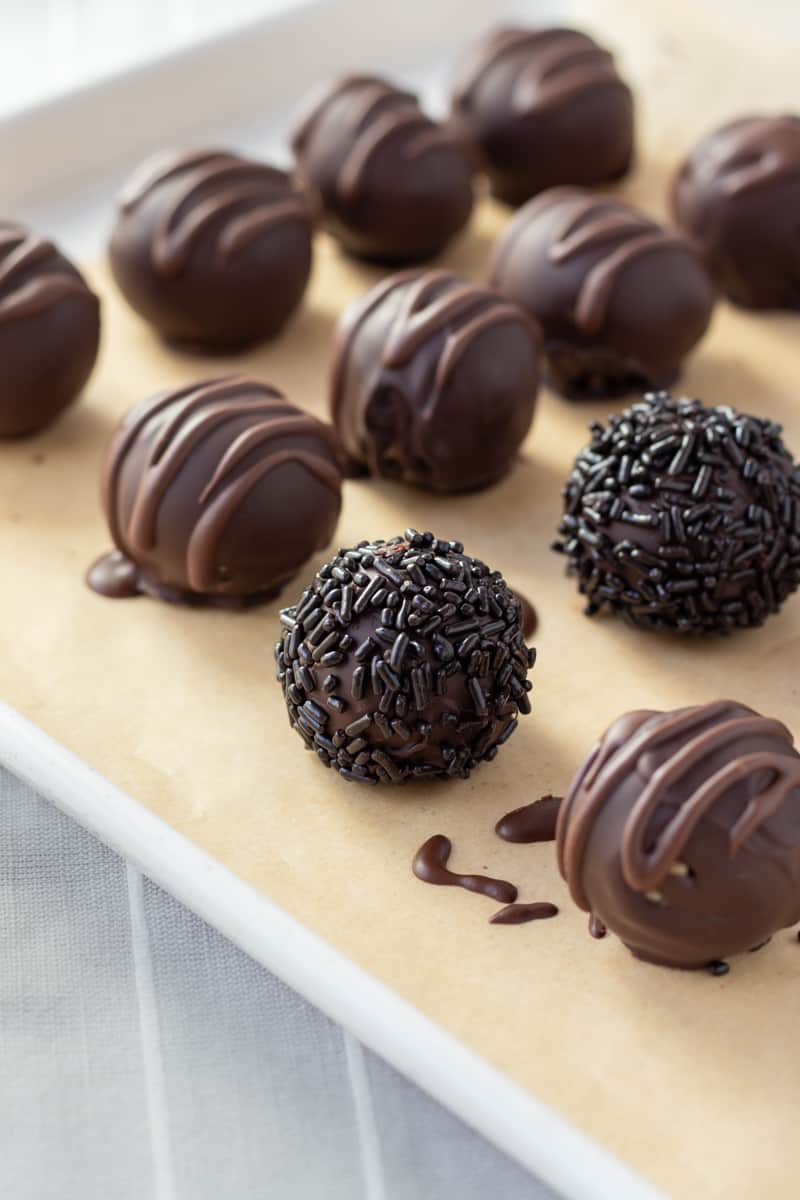 The other cool thing about these sweet treats is that you can dress them up with chocolate and/or sprinkles if you like, or just enjoy them plain. They also look really elegant with a simple dusting of cacao powder.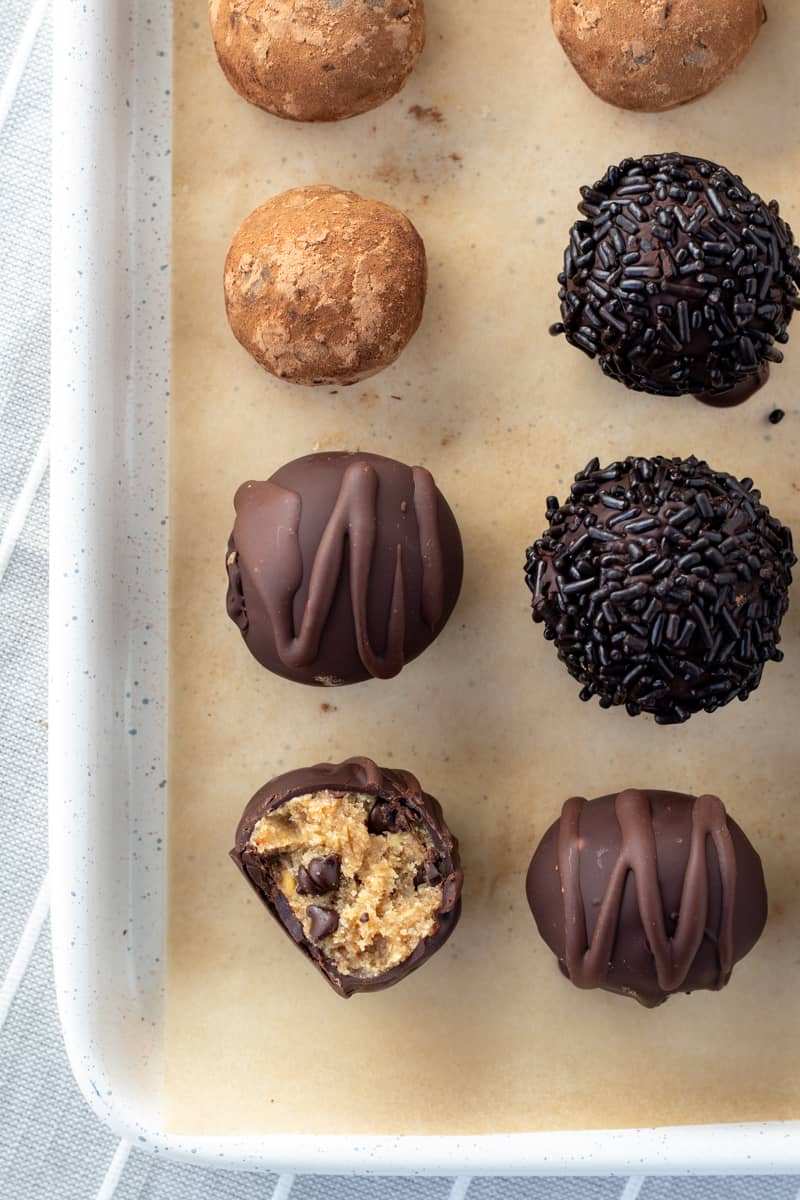 How to Make Vegan Cookie Dough Bites
As you'll see in the process photos below, these cookie dough bites couldn't be easier! You have the option of using either a mixer (handheld works well) OR a food processor to make the cookie dough mixture.
When I took photos 1 and 2 below, I had already made oat flour using my Vitamix, so I used a handheld mixer to cream together the peanut butter, butter, sugar, etc. Then, I stirred in the oat flour and chocolate chips.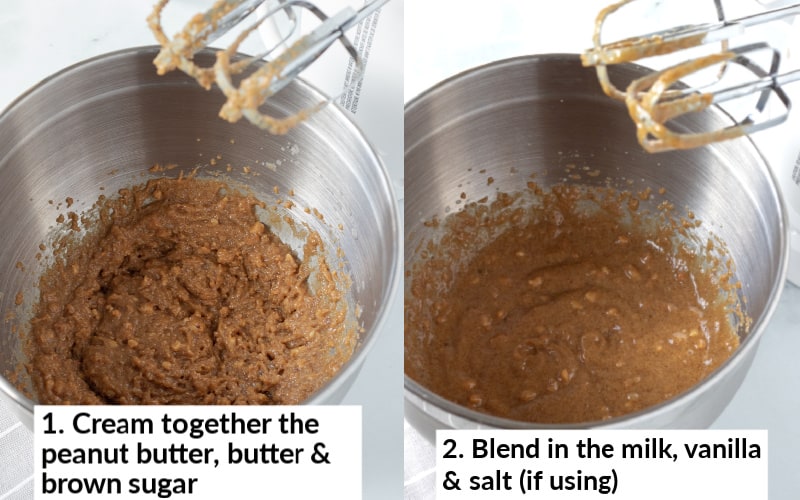 If you prefer to make your own oat flour like I do, you can also use a food processor to do that. After making oat flour, transfer it to a bowl. Process the peanut butter, butter, sugar, milk, vanilla, and salt until smooth. Return the oat flour to the food processor and pulse until combined. Then, fold in the chocolate chips.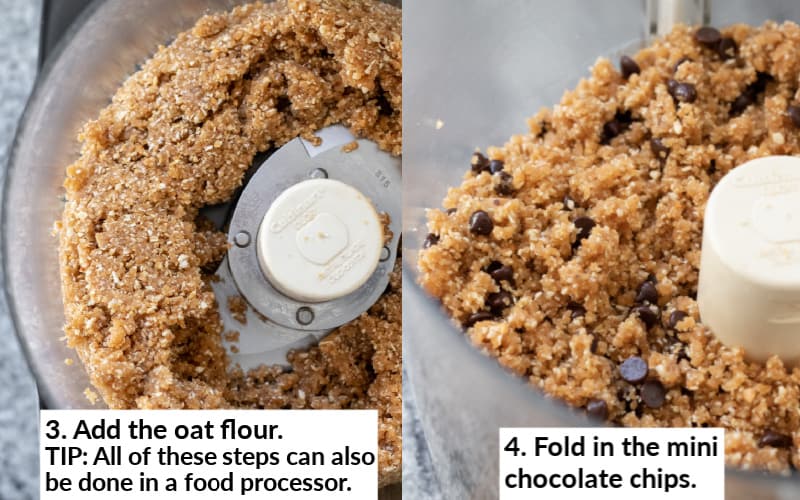 Now it's time to form the cookie dough into balls...
Use a small cookie scoop or a tablespoon to scoop up the dough, and use your hands to roll it into a smooth ball. Place the cookie dough balls on a parchment-lined baking sheet, and then place the pan in the freezer for about 30 minutes.
Options for Decorating Vegan Cookie Dough
At this point you may decide to stick with plain cookie dough bites, in which case you can transfer them to a storage container and return them to the freezer.
Another option is to add some raw cacao powder to a bowl. Gently roll the balls of cookie dough in cacao and shake off the excess.
Or if you're feelin' fancy and want to coat them in chocolate, simply melt some good quality, dairy-free chocolate, either in the microwave or using a double boiler. I like to chop the chocolate into small pieces, add it to a bowl, and microwave it in 20 seconds intervals, stirring in between. Quick and easy.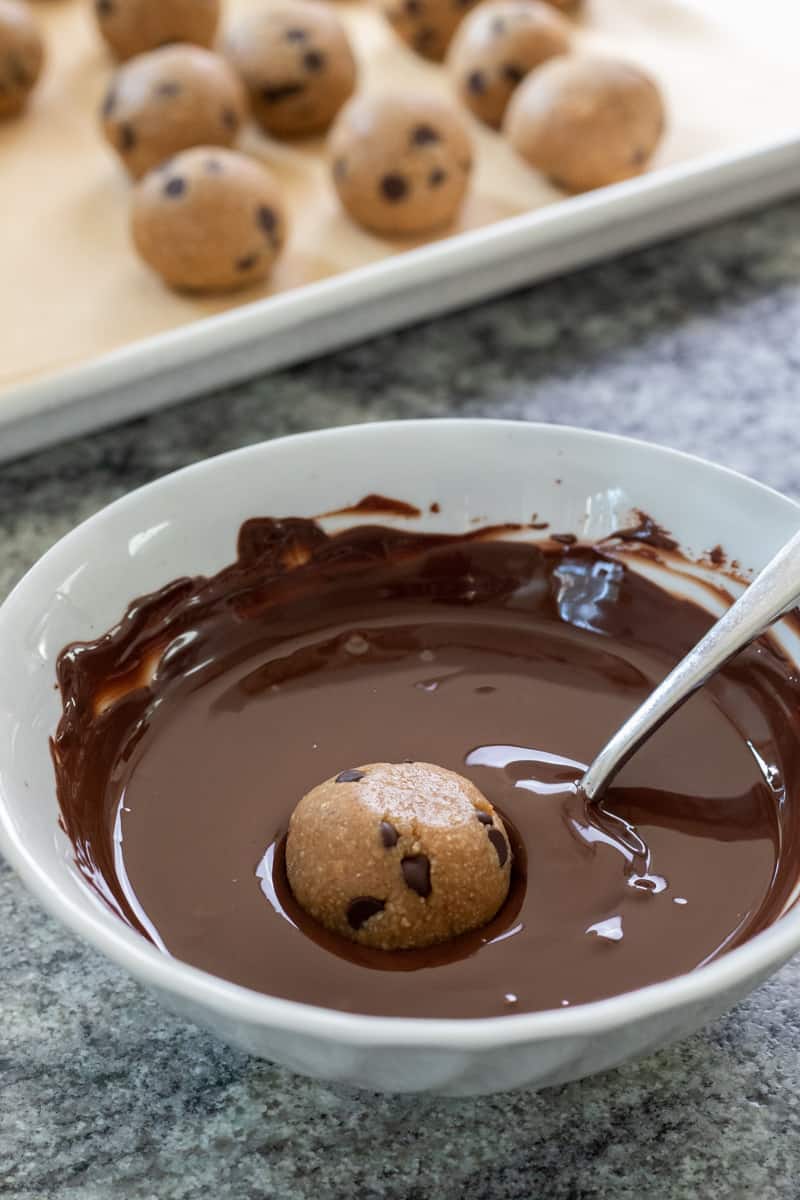 Drop the cold cookie dough balls one at a time into the melted chocolate. I find it helpful to use a spoon to make sure they're thoroughly coated, then use a fork to lift them out. Let the excess chocolate drain away, and place the truffles on the parchment-lined pan.
The chocolate will begin to set almost immediately, so if you want some of your truffles coated in chocolate sprinkles (like the ones in the photo below), you'll want to have a bowl of sprinkles ready to go. As soon as you lift a truffle out of the melted chocolate, gently place it into the bowl of sprinkles. Add more sprinkles on top, and gently roll the truffle around so that the entire surface is coated. This can be a bit tricky, but if you're careful it won't make too much of a mess!
Once all of the truffles are decorated, return the baking sheet to the freezer for a few minutes.
Now for the final step! If you'd like to add the extra drizzle of lighter-colored chocolate, whisk some peanut putter and/or coconut butter into the melted chocolate leftover from dipping the truffles. You can also add a bit of powdered sugar to achieve a lighter color. Then, remove the truffles from the freezer, and use a spoon to artfully drizzle a zig zag design on top. Easy as that!

A Few Notes About Ingredients
I used Miyoko's cultured European-style butter to replace the dairy, because flavor-wise I think it's the best out there. Of course, Earth Balance or Country Crock's new vegan butter would also work, as would coconut butter.
I found vegan chocolate sprinkles at Whole Foods. Their 365 brand are the only chocolate ones I've been able to easily find that are vegan.
For the melting chocolate, go with a good quality bar you would enjoy eating by itself. I love dark chocolate so I went with a 70% cacao bar I found at Whole Foods.
If you have questions about reputable chocolate manufacturers, I recommend checking Food Empowerment Project's chocolate list. Once you find brands you trust at your favorite stores, it's easy to buy the same ones over and over again. This time during recipe testing I actually tried a new chocolate I hadn't seen before called Tony's Chocolonely. They're a Dutch company that has recently expanded to the US and other countries, and their mission is to create a world where all chocolate is slave free. You can read more about their vision and learn where to find their chocolates via their website (Note: not all of their products are vegan, so be sure to check the ingredient lists).
You might also like:
Double Chocolate Chip Cookies
Vegan Peanut Butter Brownies (GF)
Spelt Cookies with Peanuts and Chocolate
4-Ingredient Vegan Rice Krispie Treats (GF)
CBD-Infused Vegan Rice Krispie Treats (GF)
Oil-Free Almond Flour Thumbprint Cookies (GF)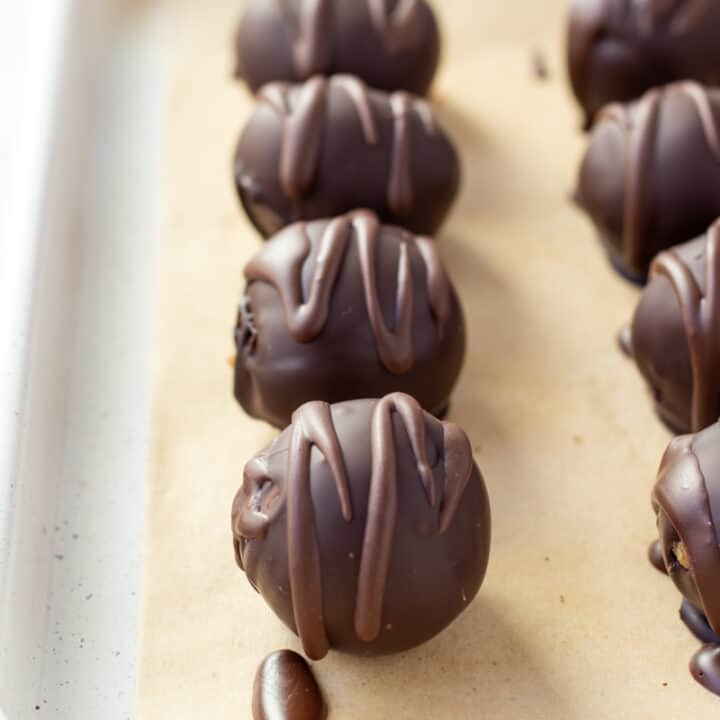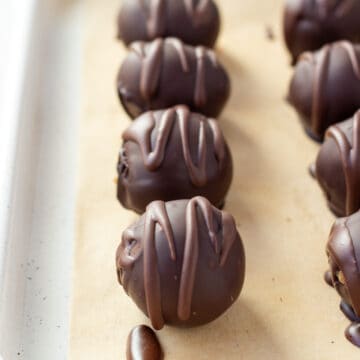 Vegan Cookie Dough Bites
Made with oat flour and without eggs, this edible vegan cookie dough is a fun and versatile treat. Enjoy the cookie dough bites plain or coated in chocolate, cacao, chopped nuts, or sprinkles!
Ingredients
½

cup

peanut butter, natural and unsalted (if using salted peanut butter, omit salt listed below); smooth or crunchy

-

Stir peanut butter very well so it's not overly oily.

2

tablespoons

Miyoko's vegan butter, melted

1 ¼ to 1 ½

cups

oat flour

-

Make your own from rolled oats using a high-speed blender or food processor.

½

cup

light brown sugar

1

teaspoon

vanilla extract

¼

cup

plant milk of choice

⅓

cup

vegan mini chocolate chips

¼

tsp

salt, omit if using salted peanut butter
Decorations, as pictured (see Notes below):
raw cacao powder, optional

7

ounces

vegan dark chocolate, chopped

chocolate sprinkles, optional
For the lighter chocolate drizzle:
2

tablespoons

peanut butter, optional

2

tablespoons

coconut butter, optional

2

tablespoons

powdered sugar, optional
Instructions
Line a baking sheet with parchment or wax paper.

Using a handheld or stand mixer, in a large bowl cream together the peanut butter, butter, and brown sugar. Add the vanilla, milk, salt (if using) and mix again. Stir in 1 ¼ cups oat flour. If the dough seems too sticky add more oat flour.

*Alternatively, you can use a food processor to make the dough.

Fold in the chocolate chips. Use a small cookie scoop or tablespoon to scoop approximately 2 Tbsp of dough at a time, and use your hands to roll into a smooth ball. Place cookie dough balls on lined baking sheet and freeze for 30 minutes.

If opting to keep your cookie dough bites plain, you're finished at this point. Transfer to a storage container and return to the freezer. They can also be rolled in cacao powder at this stage.

For truffles coated in chocolate:

Melt the dark chocolate by adding it to a bowl and microwaving in 15 to 20 second intervals, stirring in between. Once the cookie dough is cold, dip the balls one at a time into the melted chocolate, spooning chocolate over each ball until thoroughly coated. Use a fork to carefully lift each ball and allow excess chocolate to drain. *If using sprinkles, roll the balls in sprinkles while the chocolate is still wet.

Place coated truffles on the parchment-lined pan. Once all the truffles are dipped, return the baking sheet to the freezer for a few minutes to help the chocolate set.
Optional decorations:
Use a spoon to drizzle the tops with more chocolate (as pictured). To achieve the lighter color similar to milk chocolate, start by mixing 1 Tbsp peanut butter and 1 Tbsp coconut butter into the remaining dark chocolate (the chocolate left after all the truffles are dipped), adding more if necessary until you reach your desired color. Powdered sugar can also be added to lighten the color of the chocolate.
Notes
Store cookie dough bites/truffles in the freezer for up to 2 weeks. For a softer consistency, store them in the refrigerator for up to 5 days.
Estimated Nutrition (per serving)
Serving:
1
truffle
Calories:
150
kcal
Carbohydrates:
16
g
Protein:
3
g
Fat:
8
g
Saturated Fat:
4
g
Polyunsaturated Fat:
0
g
Monounsaturated Fat:
0
g
Trans Fat:
0
g
Cholesterol:
0
mg
Sodium:
0
mg
Potassium:
0
mg
Fiber:
2
g
Sugar:
9
g
Vitamin A:
0
IU
Vitamin C:
0
mg
Calcium:
0
mg
Iron:
0
mg
Nutrition information is an estimate and will vary depending on the exact amounts and specific products and ingredients used. We calculate this information using the online calculator cronometer.com.
Did you try the recipe?
I LOVE hearing from you! Comment below to let us know.