Whether you're new to plant-based eating or a vegan veteran, one of the greatest things you can do to make life healthier and easier is be prepared! Obviously, the longer you've been vegan and the more practice you have at preparing for different situations, the easier it becomes. In other words, if you're new to a vegan lifestyle, have patience with yourself (and others). Planning, shopping, travel, and dining out will get easier over time. Don't expect perfection! And certainly don't beat yourself up if, for example, you learn that a product/dish/ingredient you thought was vegan actually isn't (companies can be pretty sneaky with their weird, alternate names for animal-derived ingredients). We all learn as we go.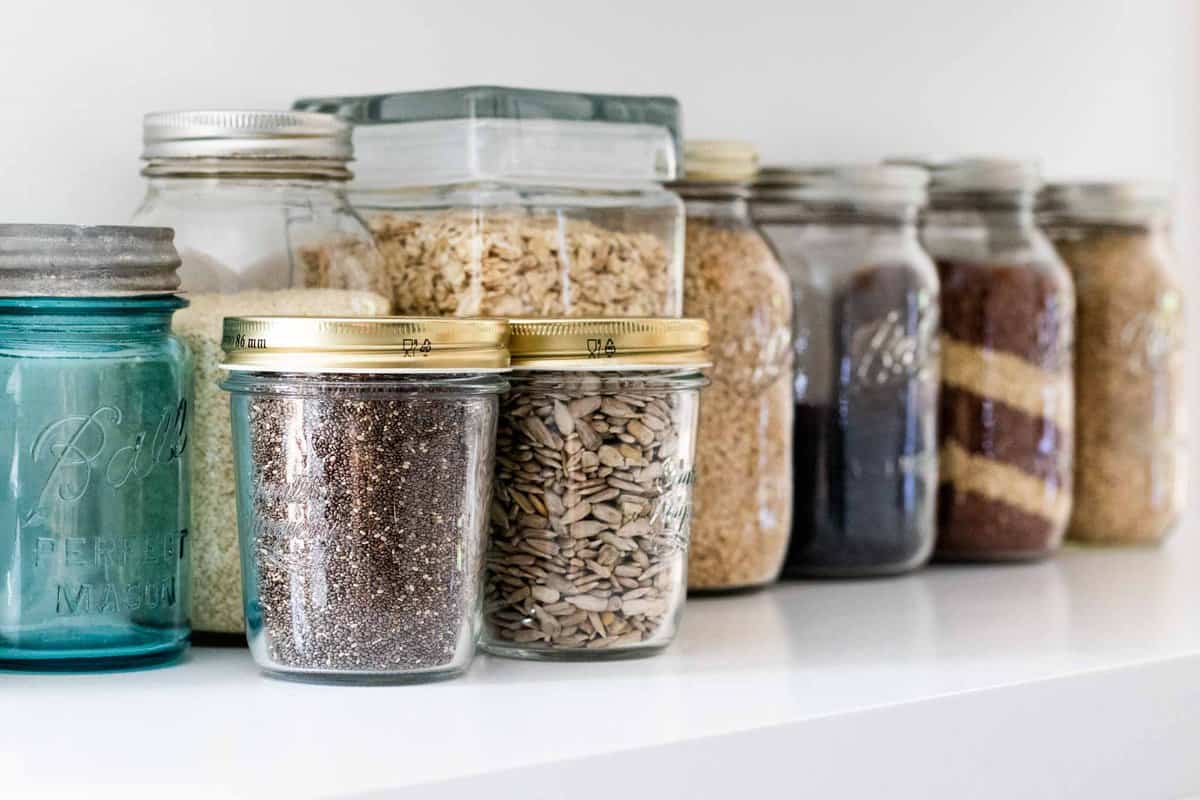 On that note, this page is really about being prepared at one specific place: home. Tips on traveling and dining out as a vegan deserve their own posts, for sure. But I wanted to begin by creating this page of ingredients that will hopefully provide inspiration, versatility, and flavor to your kitchen game. Most of these items are whole, unprocessed, and incredibly healthy.
If you're new to vegan cooking, please don't find this list intimidating. I certainly don't have every single one of these foods in my pantry right now! Just think of it as a reference, a fairly comprehensive list highlighting the most commonly used ingredients in vegan cooking, as well as a few specialty ones.
This list doesn't include fresh produce, as that will vary with season and location, but does venture into perishable staples, such as tofu, tempeh, and miso.
Happy, delicious preparedness!



Grains, Grain-like Seeds & Rices
(click here for information on storing whole grains)
Rolled oats
Millet
Quinoa
Rice (basmati, jasmine, brown rice, and the occasional exotic selection, like pink or black)
Buckwheat
Bulgar
Barley
Rye berries
Spelt
Freekeh
Amaranth
Farro
Teff
Polenta (coarse ground corn meal)
Dried Legumes and Pulses
(store in air-tight container at room temp)
Beans such as cannellini, black, garbanzo, navy, pinto, kidney beans, and many more (look for beautiful heirloom varieties)
Lentils (red, brown, black)
Green split peas and black eyed peas



Pastas
(store at room temp)
Wheat pastas in various shapes
Soba and udon noodles
Gluten-free pastas (black bean, lentil, rice, quinoa, etc)



Nuts, Seeds & Dried Fruits
(store in air-tight container at room temp for 1-2 months, in fridge for up to 6 months, and freezer for up to 1 year)
Almonds
Cashews
Hazelnuts
Pecans
Pine nuts
Sunflower seeds
Pepitas (aka pumpkin seeds)
Hemp seeds
Chia seeds
Flax seeds
Raisins
Dates
Nut & seed butters (peanut, almond, cashew, sunflower, tahini, coconut)



Sweeteners, Baking Essentials & Flours
(asterisk indicates an item should be stored in the refrigerator; other items are fine at room temperature)
Maple syrup*
Brown rice syrup*
Organic sugar
Coconut sugar
Vanilla extract
Baking powder
Baking soda
Flours (all-purpose, whole wheat, spelt, chickpea, all-purpose gluten-free)*
Vital wheat gluten*
Tapioca starch (necessary for making gooey, meltable cheeses!)
Corn starch
Assortment of dairy-free, ethically sourced chocolate (chips, chunks, bars
cocoa and/or raw cacao powder)*



Condiments
(except for vinegars, all of these items should be stored in the refrigerator once opened)
Tamari and/or soy sauce
Bragg's Liquid Aminos
Rice vinegar
Balsamic vinegar
Apple cider vinegar
Umeboshi plum vinegar
Mustard (dijon, stoneground)
Marinara sauce
Salad dressing
Hot sauce (Frank's, Tabasco <--- try the chipotle flavor!, etc.)
Salsa
Curry paste (red and green)



Oils
(can be stored at room temperature for a few months; refrigeration extends shelf life)
Extra virgin olive oil
Grapeseed oil
Virgin/raw coconut oil
Refined coconut oil (no coconut flavor or aroma; great for making cheeses)
Toasted sesame oil



Cans
Chickpeas/garbanzos
Black beans
Cannellini beans
Pinto beans
Vegan refried beans
Tomatoes
Tomato sauce
Green chiles
Coconut milk (full fat and light)
Coconut cream



Dried and Ground Spices, Herbs & Flavor Boosters
Peppercorns (black, white, pink)
Fine sea salt
Chipotle flakes or powder
Red pepper/chili flakes
Cumin
Chili powder
Smoked paprika
Cayenne pepper
Garlic
Onion
Curry
Turmeric
Ginger
Cinnamon
Nutmeg (whole or ground)
Thyme
Basil
Rosemary
Oregano
Sage
Star anise
Poultry seasoning blend
Better than Bouillon's vegan varieties (refrigerate after opening)
Nutritional yeast (refrigerate)
Liquid smoke



Refrigerated Staples
Non-dairy milks (find your favorites; don't forget to try store brands, which are usually less expensive)
Miso (mellow and/or dark)
Tofu (silken, firm, sprouted extra firm)
Tempeh
Your favorite meat-substitute products, such as Tofurkey, Beyond Meat, No Evil Foods, Field Roast, Gardein, Lightlife, Sweet Earth Foods, store brand products, etc.
Vegan cheeses, such as Miyoko's, Kite Hill, Treeline, Field Roast Chao, Follow Your Heart, Violife, and Daiya
Vegan mayo, such as Follow Your Heart Vegenaise, Just Mayo, and Earth Balance mayo
Vegan butter, such as Miyoko's European-style butter and Earth Balance
Vegan salad dressings



Frozen
Assorted fruits (berries, mango, pineapple)
Mixed vegetables (great for quick, weeknight dinners)
Broccoli and cauliflower (florets and riced)
Chopped greens, such as kale and collards
Corn
Bread (if anyone in your household eats it regularly, never hurts to have a backup loaf in the freezer)
Tortillas (same as above)
Meat substitutes (when you find your favorites on sale, stock up and store some in the freezer for a rainy day)