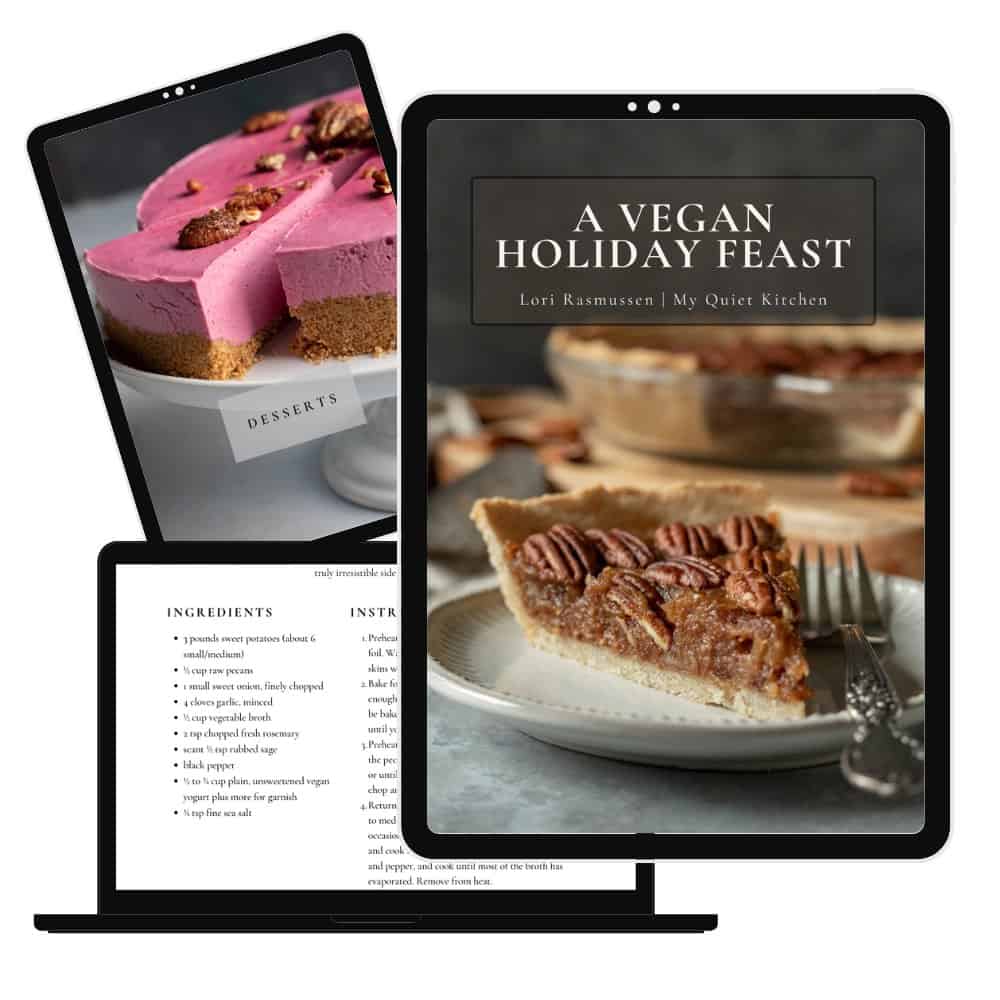 Get my new eBook!
A Vegan Holiday Feast
22 tried-and-true favorites for your best vegan holiday meal!
With a variety of oil-free and allergy-friendly options.
This will be our 13th holiday season as vegans, so trust me, I get it! Figuring out what to make for holidays like Thanksgiving and Christmas can feel totally overwhelming.
So I put together this curated collection of favorites to help you narrow down your choices and plan your holiday meal in no time!
What's included?
A 36 page digital e-cookbook with 22 recipes, including:
3 appetizers
1 soup and 2 salads
3 main course options
8 side dishes
5 incredible desserts
plus 2 printable, blank templates to use for planning and grocery shopping
Each section begins with color photos of the finished dishes. The recipe pages are intentionally image-free, making them easy to print.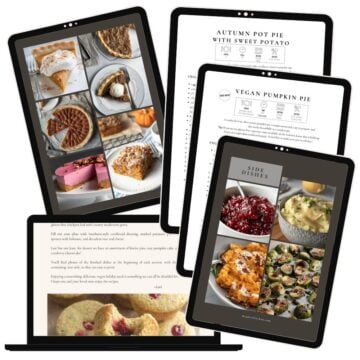 Common Questions
Are there gluten-free options?
Yes! Only 1 of the 22 recipes isn't gluten-free as written or easily made so with a swap.
Are all of the recipes WFPB oil-free?
Not all, but most are oil-free as written or include the option. Only 4 of the recipes can't be made without oil (at least, not without further testing).
How about nut-free options?
Absolutely! Some recipes, like pecan pie for example, can't be made without nuts, but most of the recipes can accommodate those with nut allergies.
Is this available in print format?
No, this is only available as a digital cookbook (pdf format), but you can certainly print it if you'd like!
What happens after I purchase the eBook?
You'll receive an email with a link to download the pdf file, which you can store in the cloud or on your computer or other device.
And if I make updates to the book in the future, I'll send an email to the address used during your purchase so you can download the latest version.
More questions? Feel free to email me at lori@myquietkitchen.com