This vegan oat milk ice cream is impossibly delicious and creamy thanks to oats and cashews and contains NO coconut, gluten, refined sugar, or oil. It's truly one of our all-time favorite vegan ice creams, homemade or not! Be sure to check out the reviews.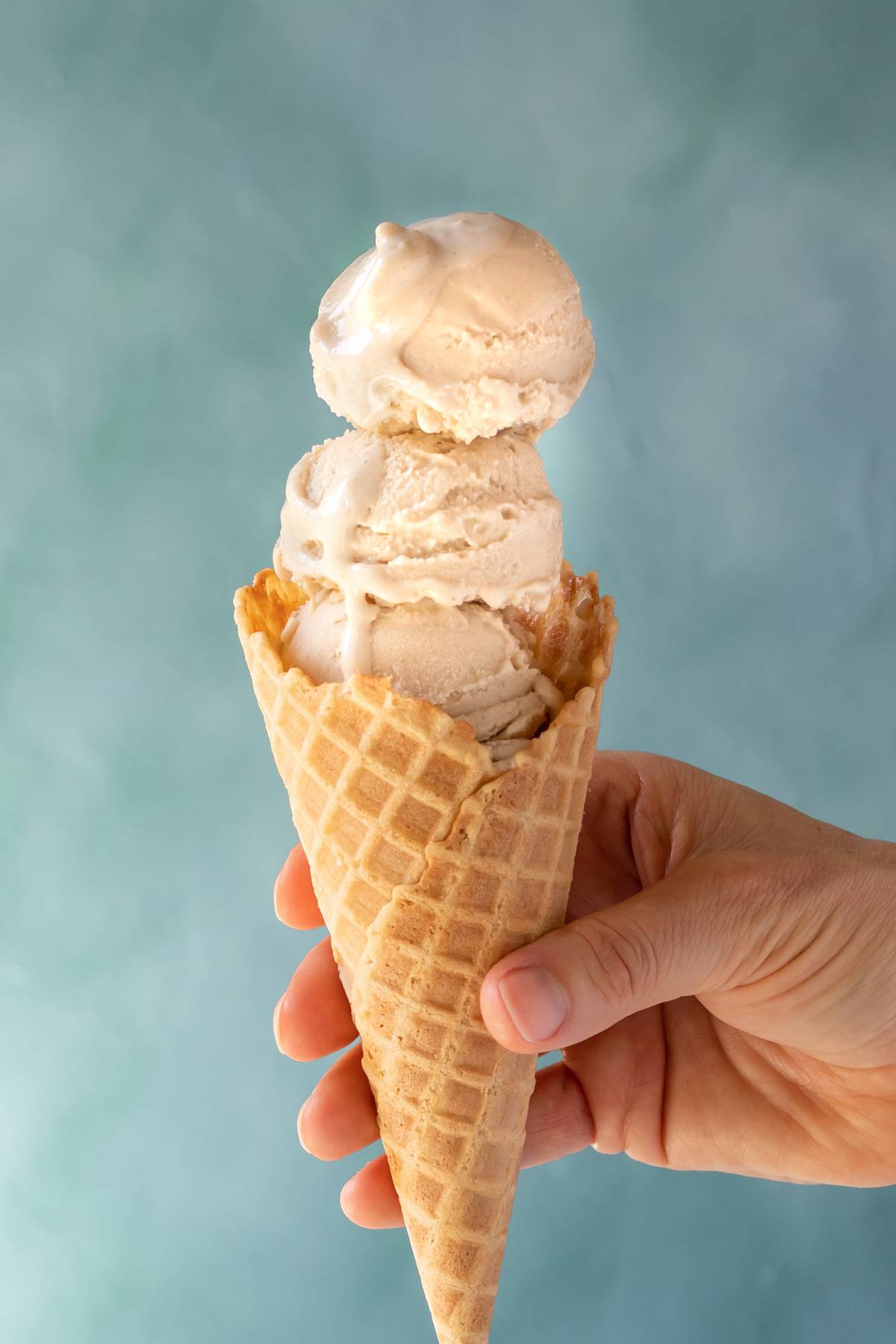 Why You'll Love Oat Milk Ice Cream
Following my exciting realization that you can use oats to bring creaminess to vegan ice cream without the need for coconut milk, oil, or loads of fat, I couldn't WAIT to make more flavors.
For the backstory see this post: Vegan Pumpkin Oat Ice Cream
If you're a fan of vanilla and also enjoy maple syrup, you are going to LOVE this oat milk ice cream recipe! The vanilla-maple flavor is so pure and delicious. I can honestly say it's one of my favorite vegan ice creams I've ever tasted.
The fact that this vegan ice cream is made with ingredients that are considered healthy enough to eat for breakfast is just a bonus!
But don't take my word for it. Check out the comments section below to see what other readers had to say.
More oat milk ice cream flavors:
Need a nut-free option? This chocolate chickpea ice cream is also a reader favorite!
Jump to: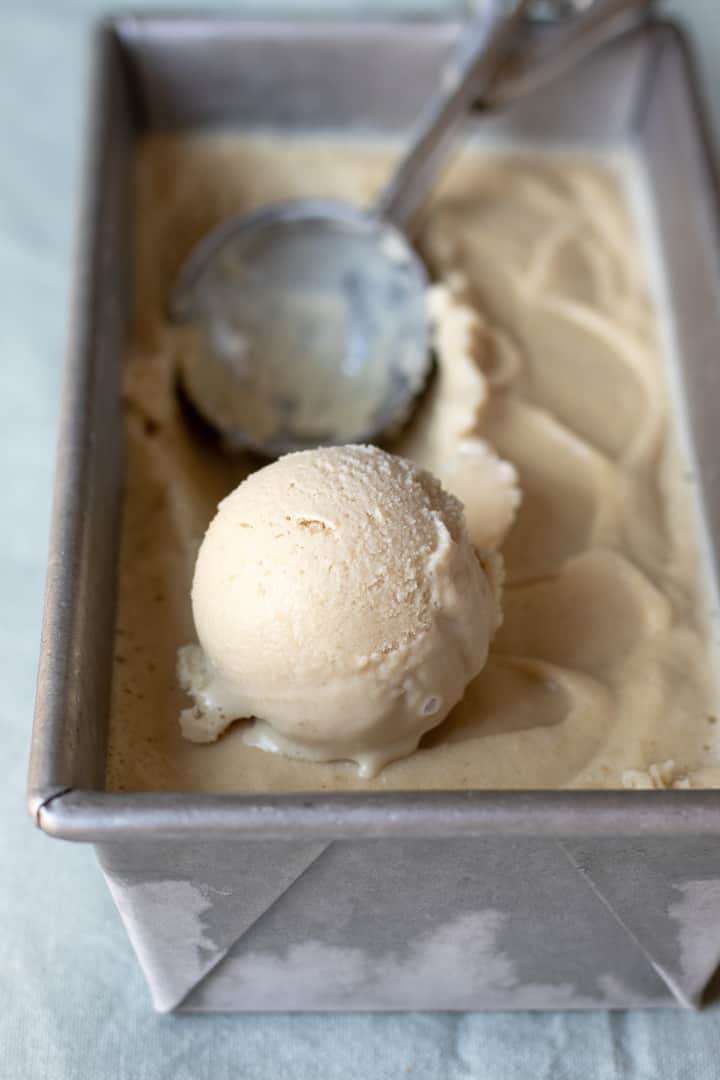 Ingredients
Compared to the base of the pumpkin oat ice cream recipe, I changed a few things for this vanilla version.
Since we're losing the density and volume of the pumpkin puree, I increased the amount of raw cashews.
I also decided to sweeten this one with maple syrup instead of coconut sugar for a totally irresistible vanilla-maple flavor. No kidding, the maple takes this vegan ice cream over the top!
unsweetened non-dairy milk - obviously oat milk is the top choice here! If you don't mind added oil, choose a full-fat oat milk or barista blend. You can also use homemade oat milk.
Soy, macadamia, and cashew milk also work well in this recipe.
raw cashews - look for nuts labeled "raw" (technically, they have been treated with steam for food safety reasons and aren't actually raw)
old fashioned rolled oats - any brand of regular oats is fine
pure maple syrup
vanilla extract
See the recipe card below for amounts and full instructions.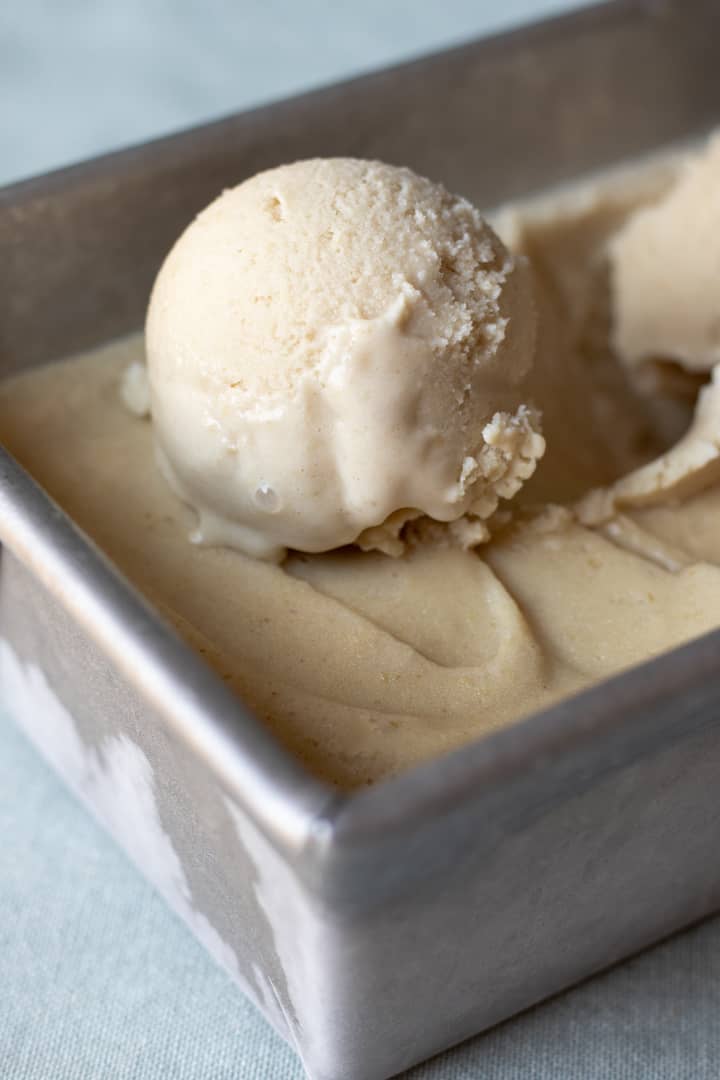 Let's give another shout out to Miyoko Schinner, our vegan non-dairy queen, for inspiring this recipe, too. As I explained in the Pumpkin Ice Cream post, her low-fat gelato recipe in The Homemade Vegan Pantry was the inspiration.
As someone who loves frozen treats, but also appreciates healthier versions of recipes, tricks like using oatmeal and oat milk in ice cream are SO exciting to me.
Once you try it for yourself and see how beautifully it melts, I think you'll completely understand my enthusiasm.
There is some planning involved when making any ice cream recipe. So let's do a quick review to make sure things go smoothly for you.
How to Make Oat Milk Ice Cream
If you're a visual learner, be sure to watch the 1-minute recipe video below.
If using an ice cream machine with a removable canister, make sure the canister has been in the freezer for at least 24 hours.
Cook the oatmeal in a small sauce pan, then transfer to a bowl to cool.
Blend the milk and cashews. Add in the remaining ingredients, including the oatmeal, and blend until completely smooth.
Refrigerate the mixture until cold (anywhere from 2 hours to overnight).
Churn the ice cream according to manufacturer's instructions for your machine. It will be the consistency of soft serve at this point.
Transfer to a freezer-safe container, and freeze for 3 to 4 hours.
Allow the ice cream soften at room temperature for about 15 minutes, then scoop and enjoy!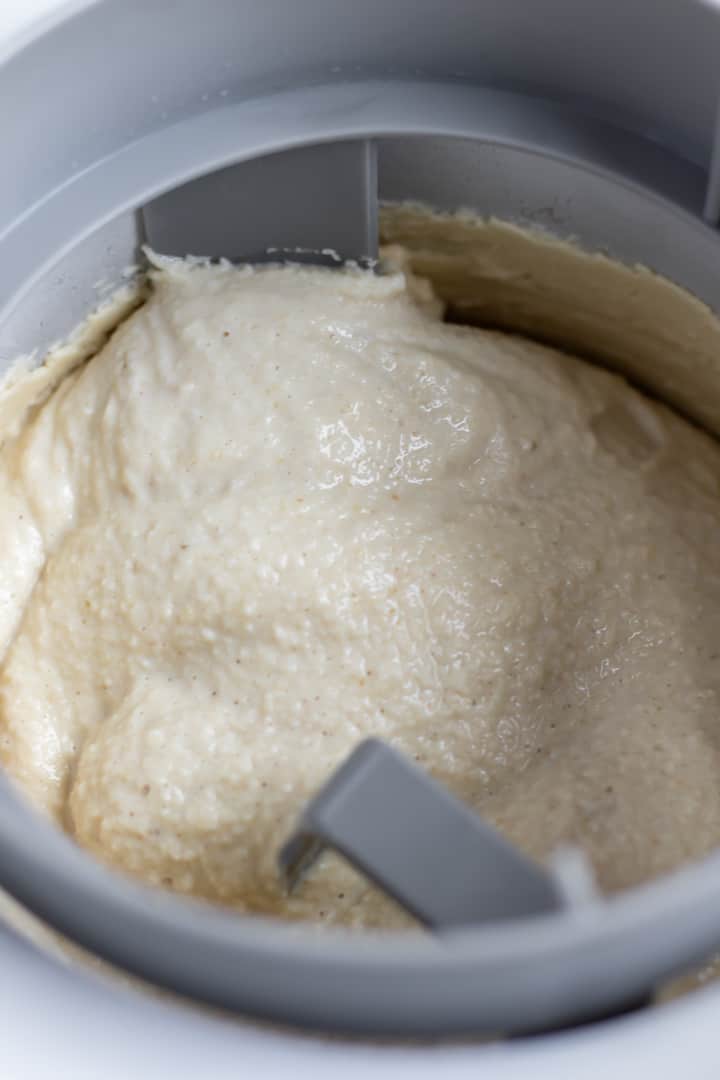 So even though ice cream requires some planning, it's not like it's a difficult process. It just requires a little patience, but once you taste this creamy and healthy ice cream you'll know it was all worth it.
After churning the ice cream it will have an almost stretchy consistency, but don't worry! That's just the oats working their magic.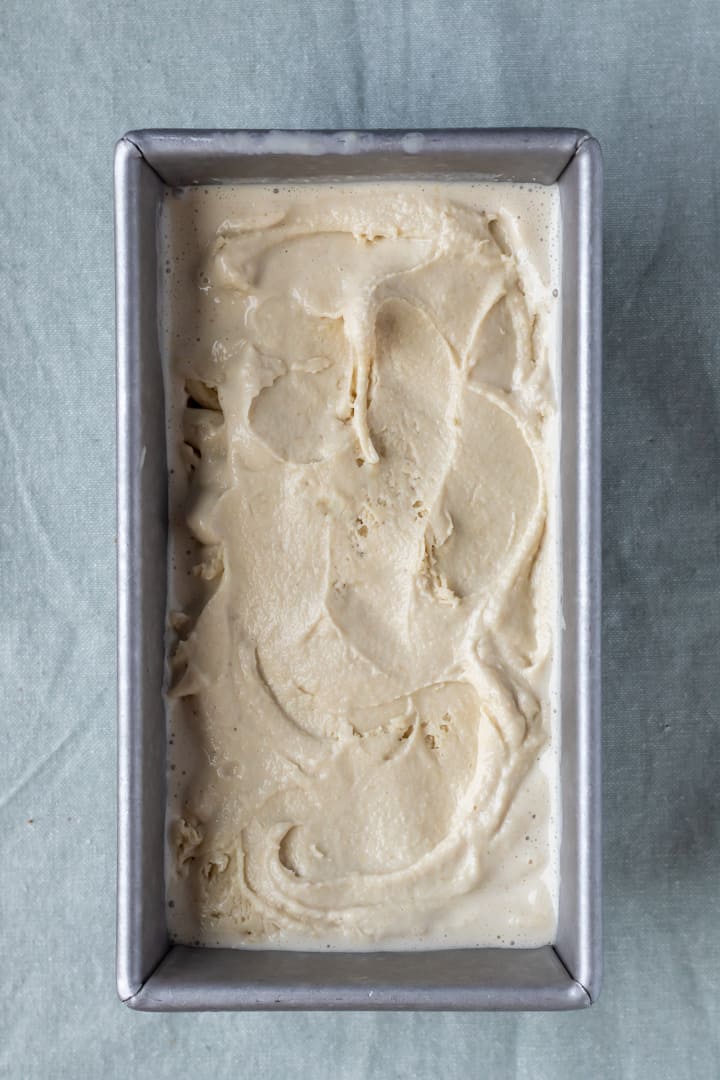 Tips for Serving
Once the ice cream has been in the freezer for 4+ hours it will be very firm. So don't just try to dig in with a spoon, and then declare me a liar about its creaminess!
Let it hang out on the countertop for about 15 minutes, and then scoop up that beautiful, sweet vegan ice cream.
Watch it melt in your bowl, and feel it melt in your mouth, and then thank the oats for their magical creaminess!
Mix-ins and Flavorings
The neutral flavor of this oat milk ice cream means that it's pretty much the best vegan vanilla ice cream out there! It's a perfect base for your favorite ice cream mix-ins and flavors like:
extracts - try mint or coffee
chocolate chips
chopped nuts - plain or candied
chocolate syrup - 👈 this one is made with oat milk!
chopped cookies
and fresh fruit purees and syrups
If you plan to include hard mix-ins like nuts or chocolate, the best time to add those is immediately after churning. Fold them into the ice cream, then transfer it to a freezer-safe container.
RELATED: If you're into homemade vegan ice cream, don't miss this milkshake recipe.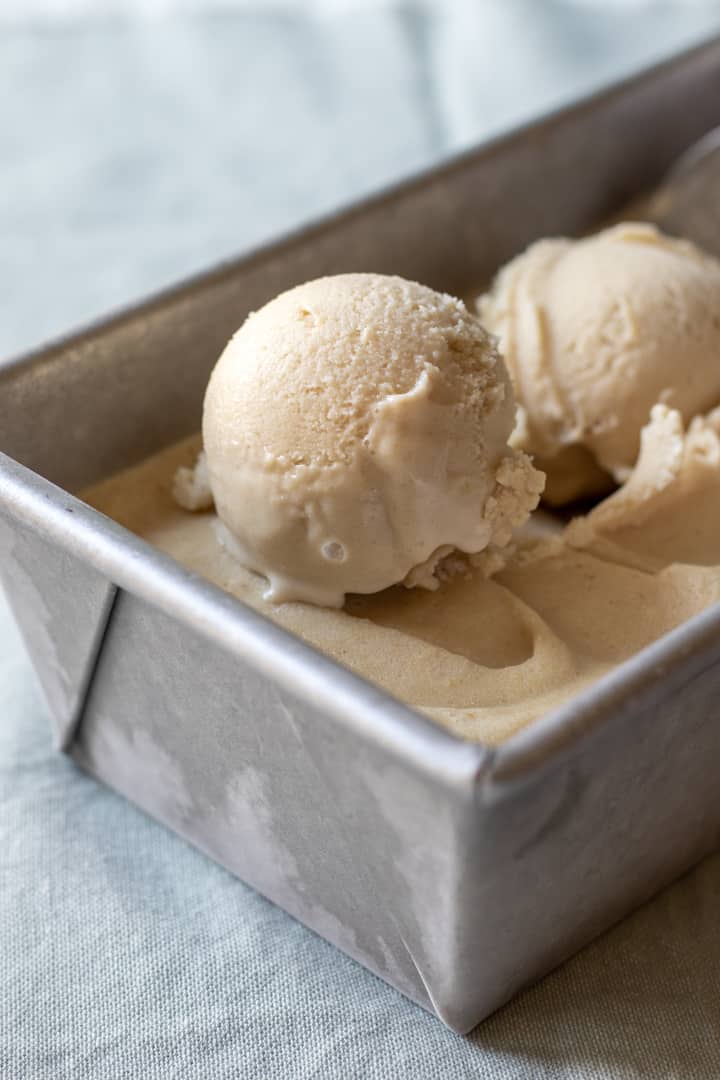 No-Churn Instructions
If you don't own an ice cream maker you can still whip up a batch of this vanilla-maple oat ice cream. The no-churn method goes like this:
After blending the ice cream mixture, pour it into a shallow, freezer-safe container.
Place in the freezer until the ice cream mixture begins to freeze around the edges, about 45 minutes. Give it a vigorous stir, then place back in freezer.
Repeat this process every 30 to 45 minutes until the ice cream is the desired consistency. It will take about 5 to 6 hours to reach soft-serve state.
I've tested oat milk ice cream using the no-churn method. The results?
It still tastes amazing and melts beautifully. The main difference is in the appearance. The ice cream looked slightly grainy due to the formation of ice crystals, but overall that didn't really bother us.
I will say, there's something so enjoyable about watching an ice cream machine transform this healthy blended oat mixture into thick, creamy ice cream within a matter of minutes. And sneaking a taste straight from the machine is pure joy.
So I'll keep using our inexpensive ice cream maker until it quits on me! Then I plan to upgrade to a machine with a compressor because I love the idea of making back-to-back batches and not having to wait 24 hours for a canister to freeze.
If you're in the market for a dependable, reasonably priced ice cream machine, I've been using this Cuisinart 2-Quart Ice Cream Maker for probably close to 13 years.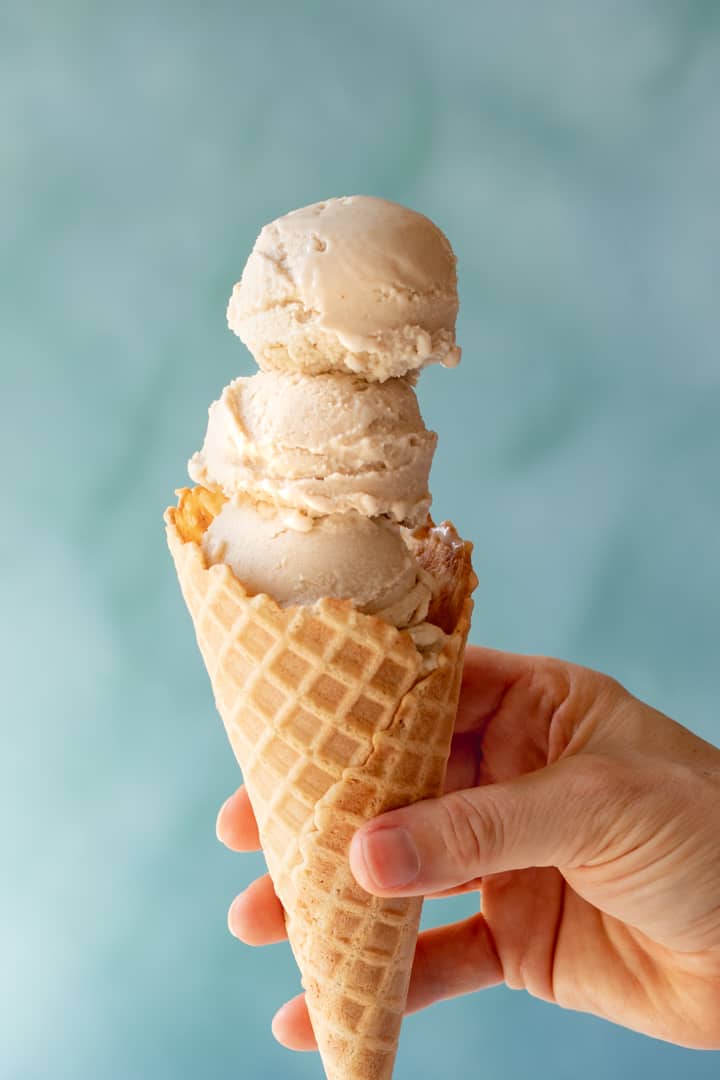 FAQs
Is oat milk good for ice cream?
Yes, oat milk is a great choice for homemade non-dairy ice cream because it has a neutral flavor and creamy consistency. This oat milk ice cream recipe is ideal because it also incorporates cooked oats. This allows you to take full advantage of the naturally creamy starch in oats while using any type of non-dairy milk you have on hand.
Is oat milk ice cream vegan?
This recipe is vegan, but some recipes call for eggs, which means they are not vegan-friendly. Several brands of vegan oat milk ice cream are available in stores, such as Oatly, So Delicious, and Planet Oat.
Can I use other sweeteners?
Absolutely. From granulated sugar to agave nectar, this is a versatile vegan ice cream recipe that allows for plenty of experimentation. Keep in mind, though, sugar content is important to the overall consistency of ice cream, so I can't recommend significantly reducing the amount of sugar.
I hope you enjoy this Vegan Oat Milk Ice Cream as much as we do. Be sure to leave a comment and a star rating below if you give it a try.
If you're on instagram, tag a photo of your vegan ice cream with @myquietkitchen. I always love to see what you're making!
More Desserts With Oats and Oat Milk
📖 Recipe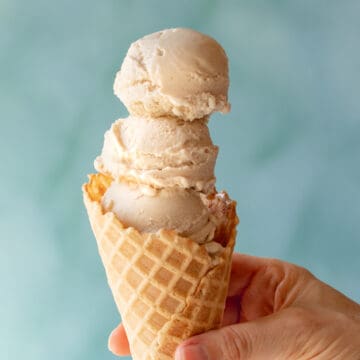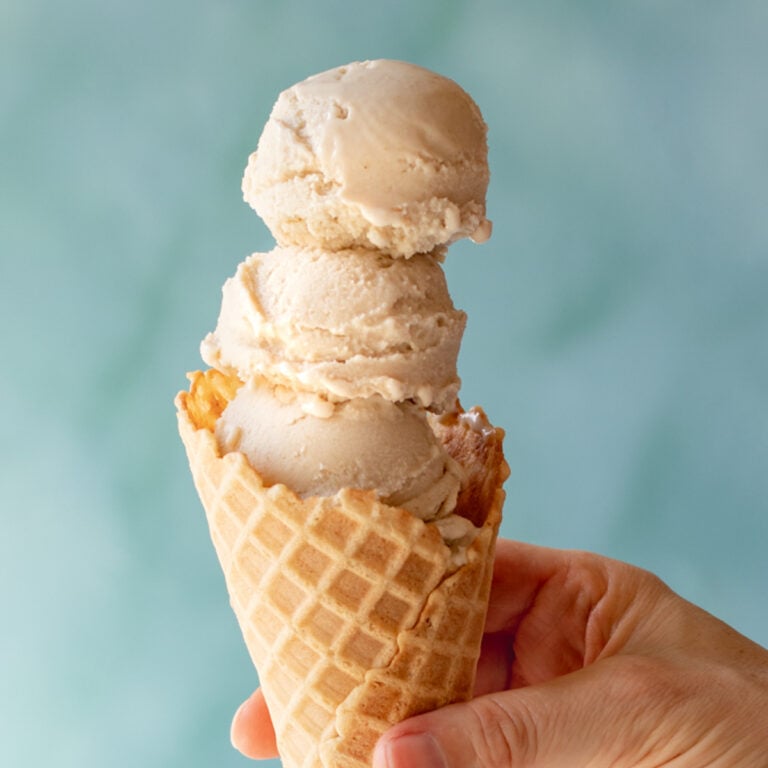 Vegan Oat Milk Ice Cream Recipe (No Coconut)
This amazing vegan oat milk ice cream is made with just 5 wholesome ingredients and gets its creaminess from oats and cashews! It's lower in fat than most vegan ice cream recipes and sweetened entirely with maple syrup. No coconut milk here, so the flavor is purely vanilla-maple!
Inspired by and adapted from Miyoko Schinner's recipe for Low-Fat Vanilla Oat Gelato in The Homemade Vegan Pantry.
Yield: makes about 3.5 cups
Ingredients
3

cups

unsweetened non-dairy milk, such as oat, cashew, or soy, divided

¼

cup

old fashioned rolled oats

1

cup

raw cashews

-

If you don't have a high speed blender, sub ½ cup raw cashew butter

⅔

cup

pure maple syrup

1

tablespoon

vanilla extract

¼

teaspoon

fine sea salt

1

ounce

good quality gin or vodka, optional -

See Notes
Instructions
Prep/Planning:
If using an ice cream maker with a removable canister, be sure to freeze the canister at least one day before you plan to make ice cream.

Also note that the ice cream mixture needs time to chill before churning (at least an hour), and the churned ice cream needs about 3 to 4 hours in the freezer for a firmer, scoopable consistency.
Make the ice cream:
In a small sauce pan, simmer oats in 1 cup of milk until soft, about 10 minutes. Immediately transfer to a bowl to cool.

In a blender combine the remaining 2 cups of milk and the cashews. Blend on high until completely smooth. Add the cooled oatmeal, maple syrup, vanilla, salt, and gin/vodka, if using, and blend again. Refrigerate until cold.

Churn the mixture according the instructions for your ice cream maker. At this point the ice cream will be softer than a typical soft serve consistency. Transfer it to a freezer-safe container, cover, and freeze for about 4 hours.

Around the 4 hour mark, and definitely once the ice cream has been in the freezer longer, it will be too hard to scoop right away. It's important to let the oat ice cream soften at room temperature for about 15 minutes before serving.
Notes
Alcohol
Upon a reader's feedback (thanks, Tonks!) and after including an ounce of gin in this Lemon Oat Ice Cream, I decided to add the option to this recipe, as well. Since these oatmeal ice creams are lower in fat, a small amount of alcohol helps maintain a creamy texture and prevents the ice cream from freezing so solidly.
The alcohol is not as crucial in this recipe as it is with the lemon version, so feel free to omit if needed. The ice cream you see in these photos did NOT include alcohol.
Also note, more isn't better! Don't add more than 1.5 ounces of vodka/gin, or the ice cream may not freeze properly.
Storage and Serving
Store ice cream in an airtight container in the freezer.
Always allow about 15 minutes for the ice cream to soften before serving.
Estimated Nutrition (per serving)
Calories:
205
kcal
Carbohydrates:
28
g
Protein:
7
g
Fat:
9
g
Cholesterol:
0
mg
Sodium:
112
mg
Fiber:
2
g
Sugar:
19
g
Calcium:
166
mg
Iron:
1.7
mg
Nutrition information is an estimate and will vary depending on the exact amounts and specific products and ingredients used. We calculate this information using the online calculator cronometer.com.
Tried the recipe?
I love hearing from you! Share your feedback below.