Delicious, creamy, wholesome Vegan Vanilla-Maple Oat Ice Cream! Made with just 5 ingredients, thickened with oatmeal, and free from oil, coconut, gluten, and refined sugar.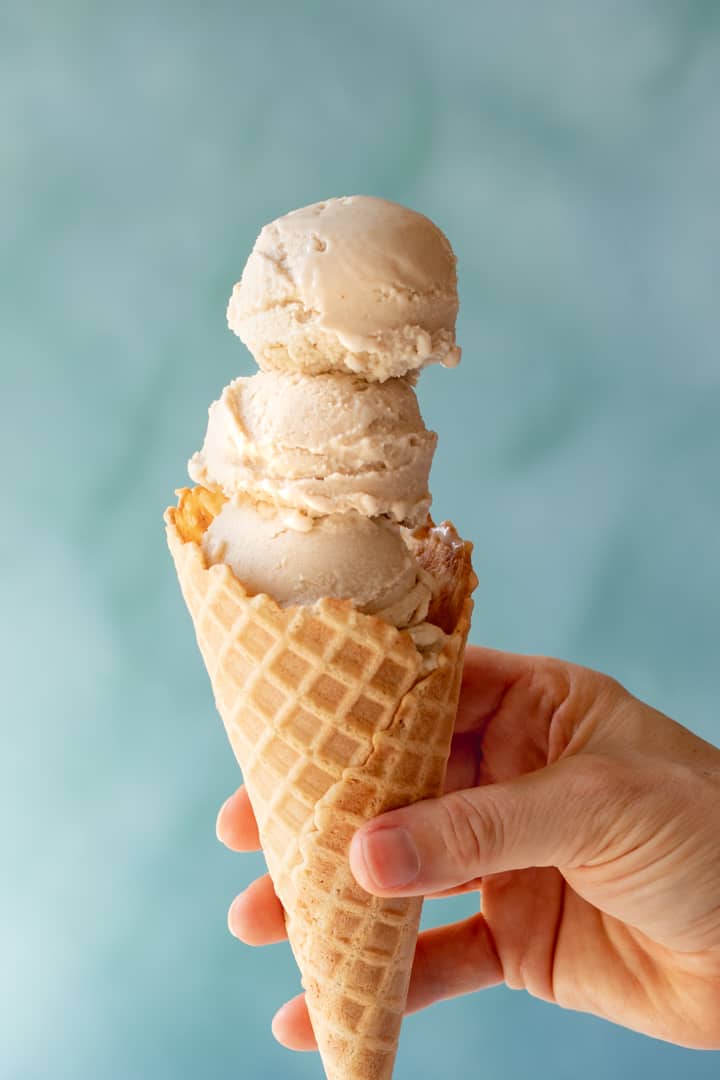 Following my exciting discovery that you can use a small amount of oatmeal to bring creaminess to vegan ice cream withOUT using coconut milk, oil, or loads of fat, you knew another flavor was coming soon, right?! (For the backstory see this post —> Vegan Pumpkin Oat Ice Cream.)
If you're a fan of vanilla like I am, AND you enjoy maple syrup, you are going to LOVE this new oat ice cream recipe! It has such a purely vanilla-maple vibe, and I can honestly say it's one of my favorite vegan ice creams I've ever tasted. The fact that it's made with ingredients that are all considered healthy enough to eat for breakfast is just a bonus.
Update: Check out this new flavor —> Low-Fat Cranberry Oat Gelato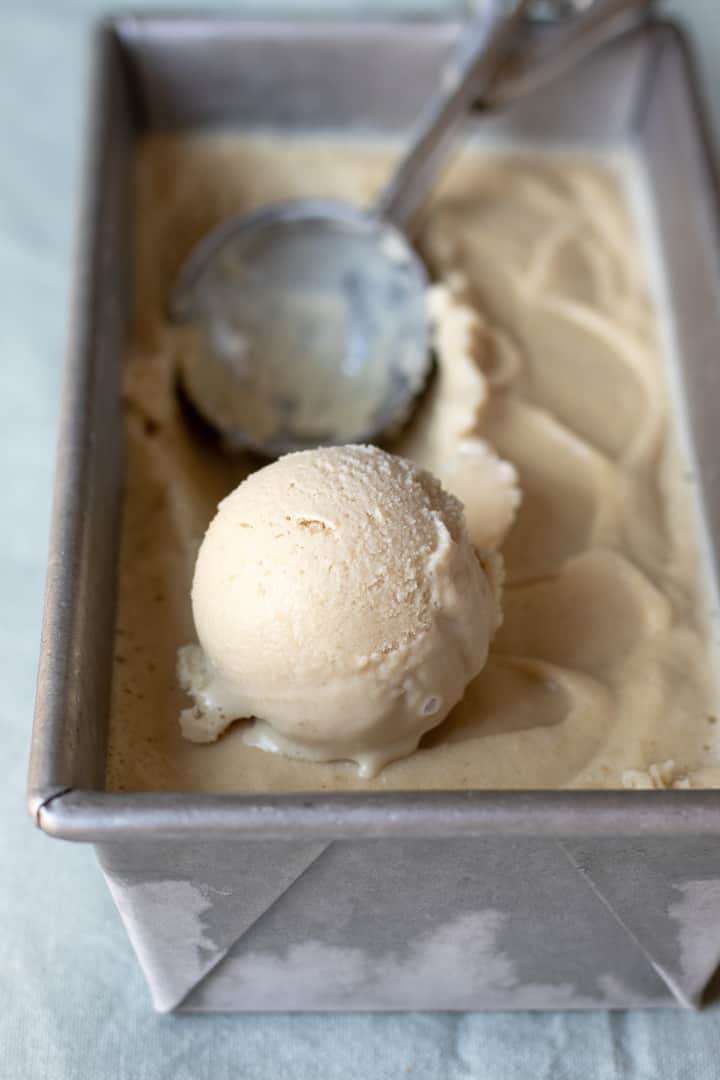 Ingredients in this Vegan Vanilla-Maple Ice Cream
This is just a summary. Be sure to scroll down to the full recipe when you're ready to make ice cream!
Compared to the base of my Pumpkin Oat Ice Cream recipe, I decided to change a few things for this one. I increased the cashews since we're losing the density and volume of the pumpkin puree. I also decided to sweeten this one with pure maple syrup instead of coconut sugar for a lovely and totally irresistible vanilla-maple flavor.
3 cups non-dairy milk such as soy or oat (I used unsweetened plain soy milk)
1 cup raw cashews
1/4 cup regular rolled oats
2/3 cup maple syrup
1 tablespoon pure vanilla extract
1/4 teaspoon fine sea salt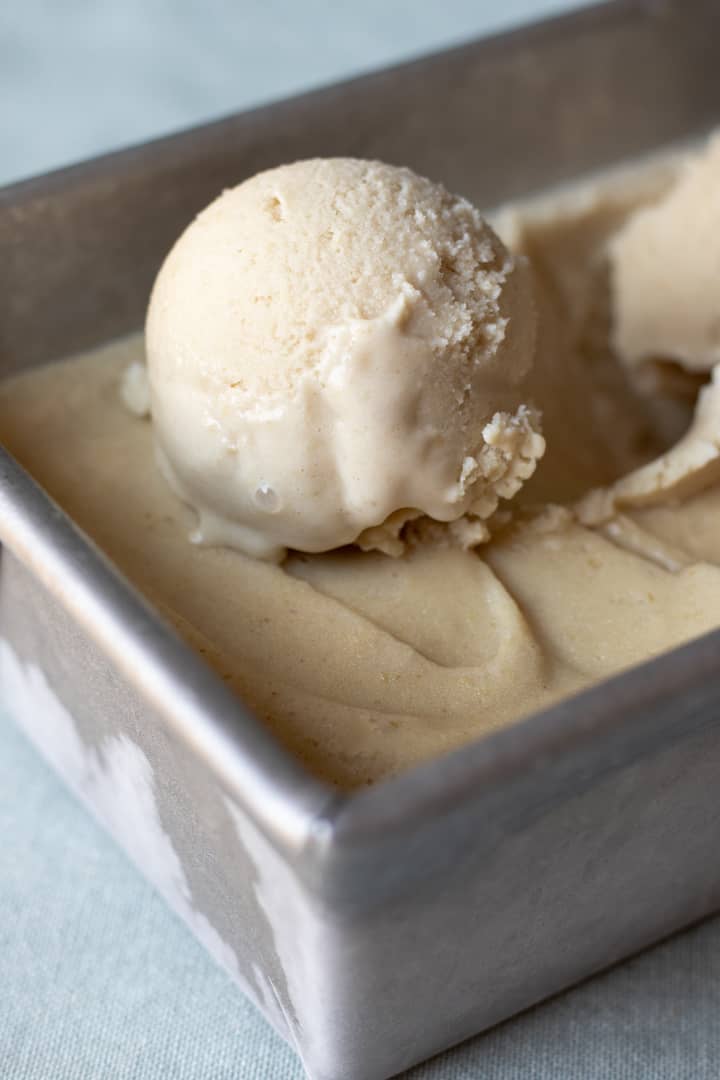 How to Make Oat-Thickened Vegan Ice Cream
Let's give another shout out to Miyoko Schinner, our vegan non-dairy queen, for inspiring this recipe, too. As I explained in the Pumpkin Ice Cream post, her low-fat gelato recipe in The Homemade Vegan Pantry was the inspiration. Because of her, I'll never make ice cream the same old way, loaded with coconut milk and fat! When you're someone who loves frozen treats, but you also appreciate healthier versions of recipes, tricks like this are just SO exciting. Once you make this ice cream for yourself and see how beautifully it melts, you'll totally understand my enthusiasm, trust me.
There is some planning involved when making ice cream, so let's lay it out….
The basic process for making Vanilla-Maple Oat Ice Cream looks like this:
Be sure your ice cream maker's canister has been in the freezer for at least a day.
Make oatmeal in a small sauce pan, then transfer to a bowl to cool.
Blend milk and cashews until smooth, then add in the remaining ingredients, including the oatmeal, and blend.
Place mixture in the refrigerator until cold (anywhere from 2 hours to overnight).
Churn the ice cream.
Transfer to a freezer-safe container and freeze for 3 to 4 hours.
Let the ice cream soften at room temperature for about 15 minutes, then scoop and enjoy!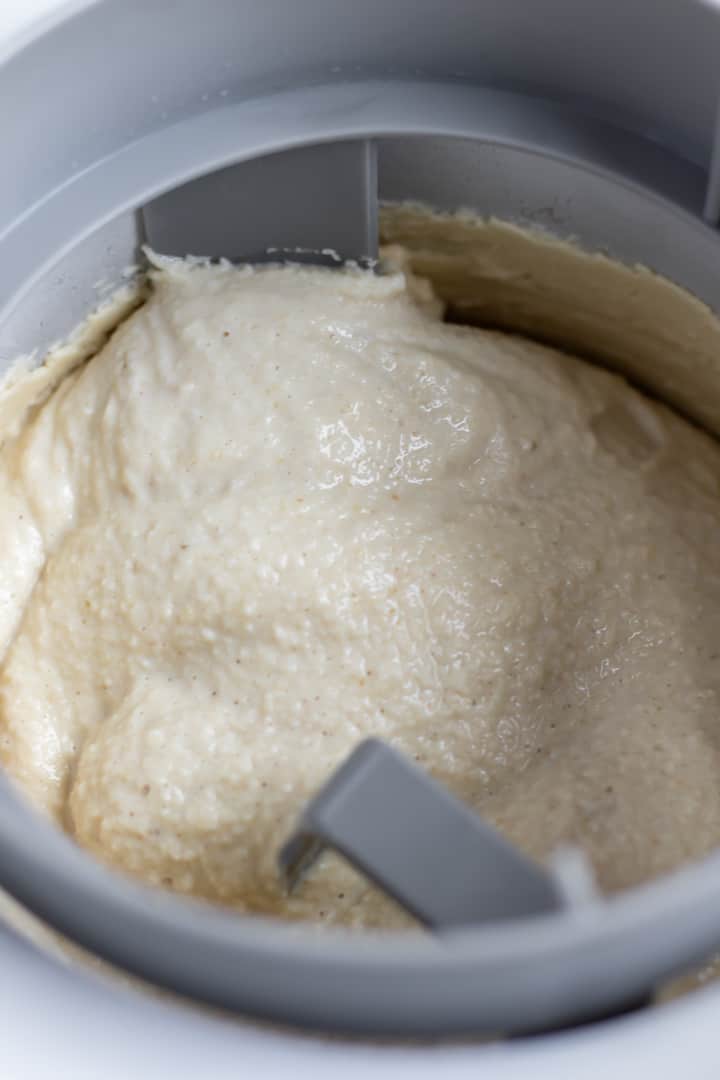 So even though ice cream requires some planning, it's not like it's a difficult process! It just requires a little patience, but once you taste this creamy and healthy ice cream you'll know it was all worth it.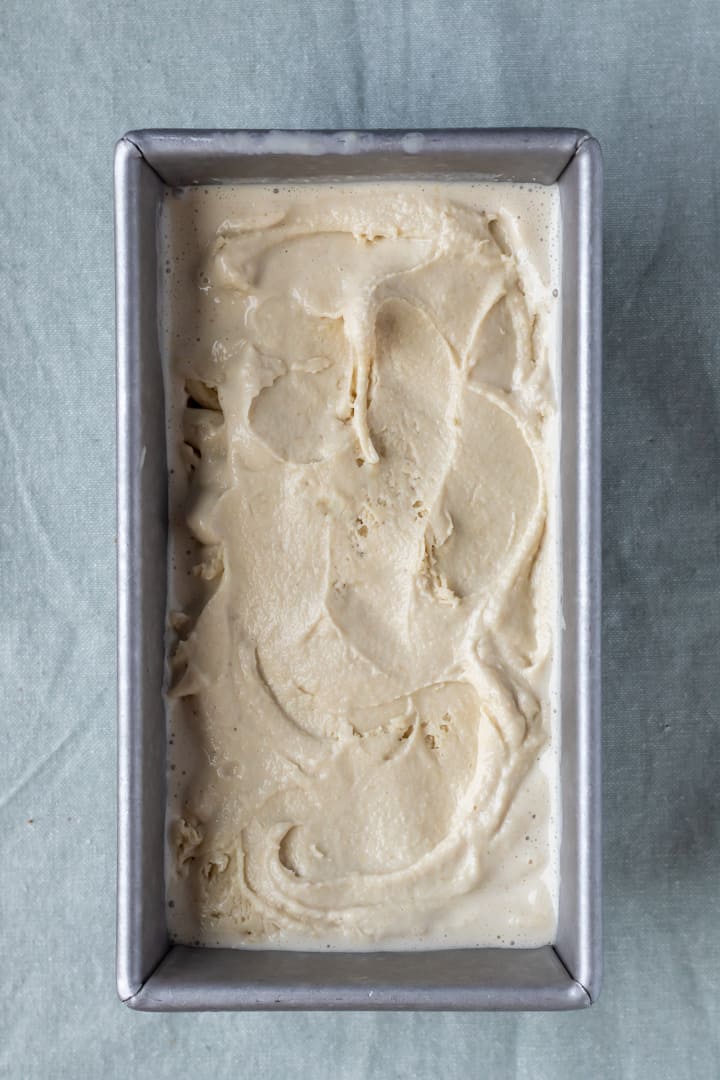 After spending about 4 hours in the freezer the ice cream is very, very firm. So don't just try to dig in with a spoon, and then declare me a liar about its creaminess. Give it 15 minutes to hang out on the countertop, and then scoop up that beautiful maple and vanilla flavor. Watch it melt in your bowl, and feel it melt in your mouth, and then thank the oats for their sliminess, ummm, I mean creaminess!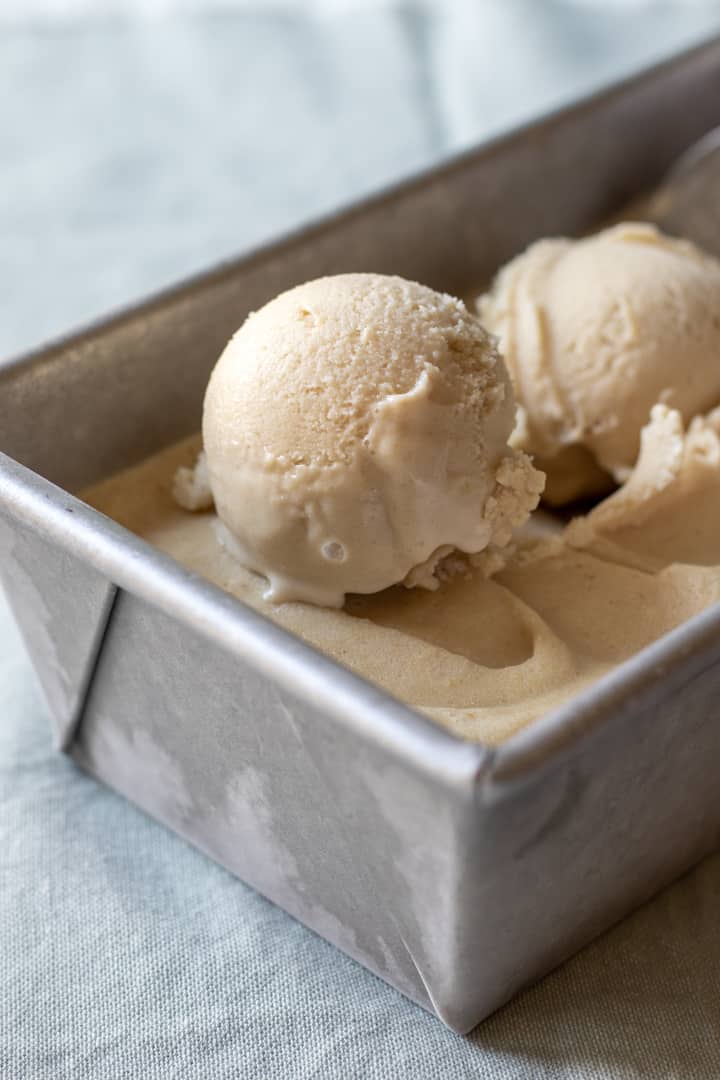 I can't say what kind of results you'll get if you try the typical no-churn method with this ice cream. Since the majority of the mixture is non-dairy milk, it's a fairly liquid-y thin mixture prior to freezing. So I'm not sure if using a handheld mixer to whip it first would work either. I'm adding these experiments to my to-do list, and I'll be sure to come back here and update the post to let you know.
In the mean time, if you don't have an ice cream maker and are thinking about buying one, I've been using this Cuisinart 2-Quart Ice Cream Maker for probably close to 11 or 12 years (so long I can't remember exactly, but I know we bought it before going vegan)! If you love ice cream as much as we do, the $65 investment is totally worth it.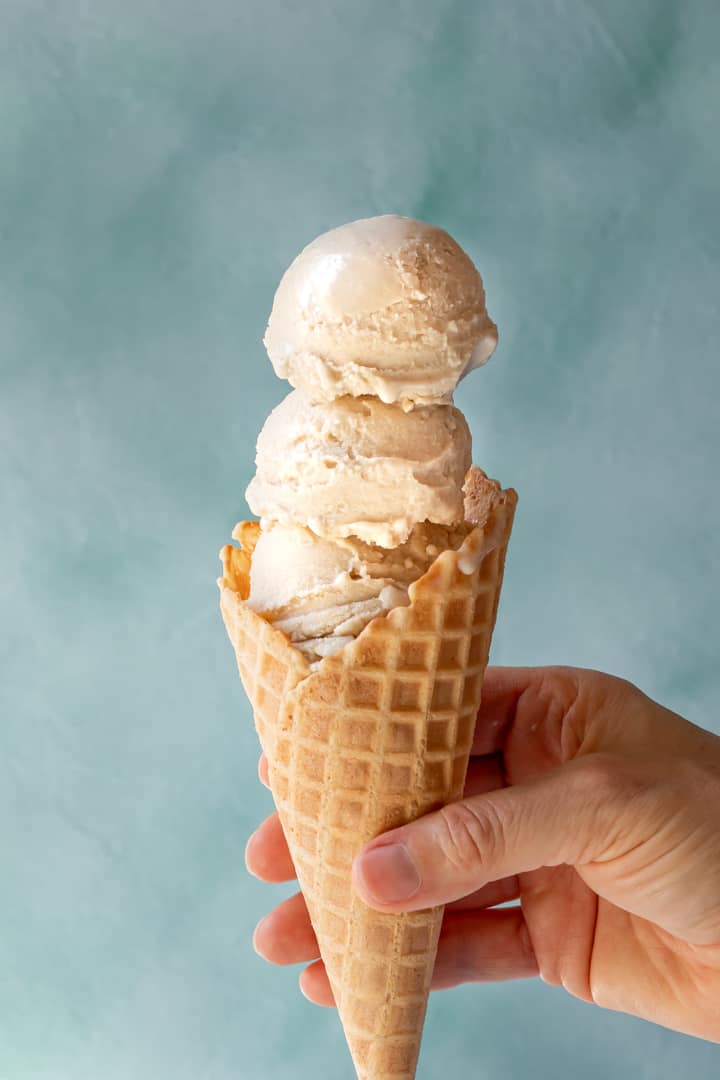 If you try this Vanilla-Maple Oat Ice Cream please come back to give it a star rating and leave a comment below to let everyone know how it turned out. And if you share a photo of your healthy vegan ice cream on facebook or instagram be sure to tag me with @myquietkitchen so I can see!
Enjoy!
You might also like:
Low-Fat Cranberry Oat Gelato
Low-Fat Pumpkin Oat Ice Cream
Healthy Vegan Gluten-Free Pumpkin Pie
Sunbutter Cookie and Banana Nice Cream Sandwiches
Spelt Cookies with Peanuts and Chocolate Chunks
Vanilla-Maple Oat Ice Cream (No Coconut Milk!)
This 5-ingredient, wholesome vegan ice cream gets its fat from just 1 cup of cashews and is sweetened entirely with maple syrup. No coconut milk here, so the flavor is purely vanilla-maple!
Inspired by and adapted from Miyoko Schinner's recipe for Low-Fat Vanilla Oat Gelato in The Homemade Vegan Pantry.
Yield: about 3.5 cups
Ingredients
3

cups

unsweetened non-dairy milk, such as soy or oat, divided

1/4

cup

rolled oats

1

cup

raw cashews

If you don't have a high speed blender, sub 1/3 to 1/2 cup raw cashew butter.

2/3

cup

maple syrup

1

Tbsp

vanilla extract

1/4

tsp

fine sea salt
Instructions
Prep/Planning:
If using an ice cream maker, be sure to put the canister in the freezer the day before you want to churn the ice cream.

Also note that the ice cream mixture needs time to chill before churning (at least an hour), and the churned ice cream needs about 3 to 4 hours in the freezer for a firmer, scoopable consistency.
Make the ice cream:
In a small sauce pan, simmer the oats in 1 cup of the milk until the oats are soft, about 10 minutes. Immediately transfer to a bowl to cool.

In a blender combine the remaining 2 cups of milk and the cashews. Blend on high until smooth. Add the cooled oatmeal, maple syrup, vanilla, and salt, and blend again. Refrigerate until cold.

Churn the mixture according the instructions for your ice cream maker. The ice cream will be softer than a typical soft serve consistency. Transfer it to a freezer-safe container, cover, and freeze for about 4 hours.

Around the 4 hour mark, and definitely once the ice cream has been in the freezer longer, it will be too hard to scoop right out of the freezer. It's important to let the ice cream soften at room temperature for about 15 minutes before serving.
Notes
Store ice cream in an airtight container in the freezer.
Always allow about 15 minutes for the ice cream to soften before serving.
Nutrition facts calculated using soy milk.
Nutrition Facts
Vanilla-Maple Oat Ice Cream (No Coconut Milk!)
Amount Per Serving
Calories 205
Calories from Fat 81
% Daily Value*
Fat 9g14%
Cholesterol 0mg0%
Sodium 112mg5%
Carbohydrates 28g9%
Protein 7g14%
Vitamin A 214IU4%
Vitamin C 1mg1%
Calcium 166mg17%
Iron 1.7mg9%
* Percent Daily Values are based on a 2000 calorie diet.
Did you try it?
Let me know with a star rating and a comment. I love hearing from you!