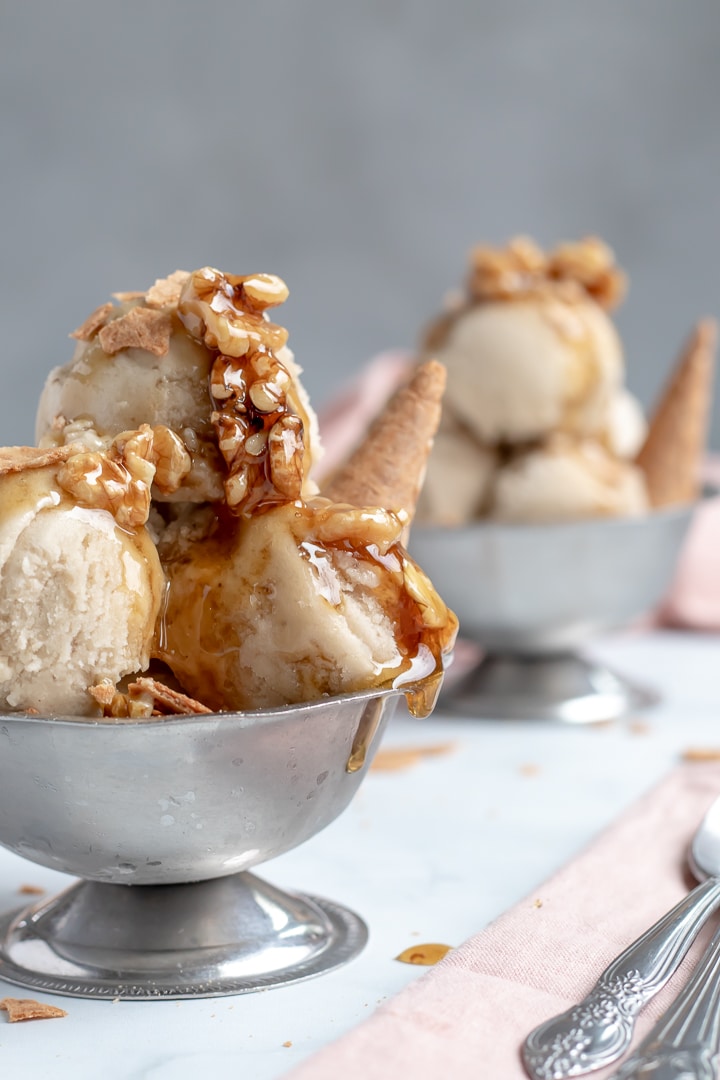 Everyone loves frozen banana nice cream! And today we're taking it to the next level with easy homemade maple wet walnuts! Loved by kids and grown-ups alike. Both the nice cream and wet walnuts are easy to make and require very little hands on time.
You can enjoy banana nice cream soft-serve style, or freeze it for a couple of hours to make it scoopable. While your ice cream freezes, simply heat up the wet walnut mixture, and then let it cool. Add a few more toppings if you like.... vegan ice cream sundaes for everyone!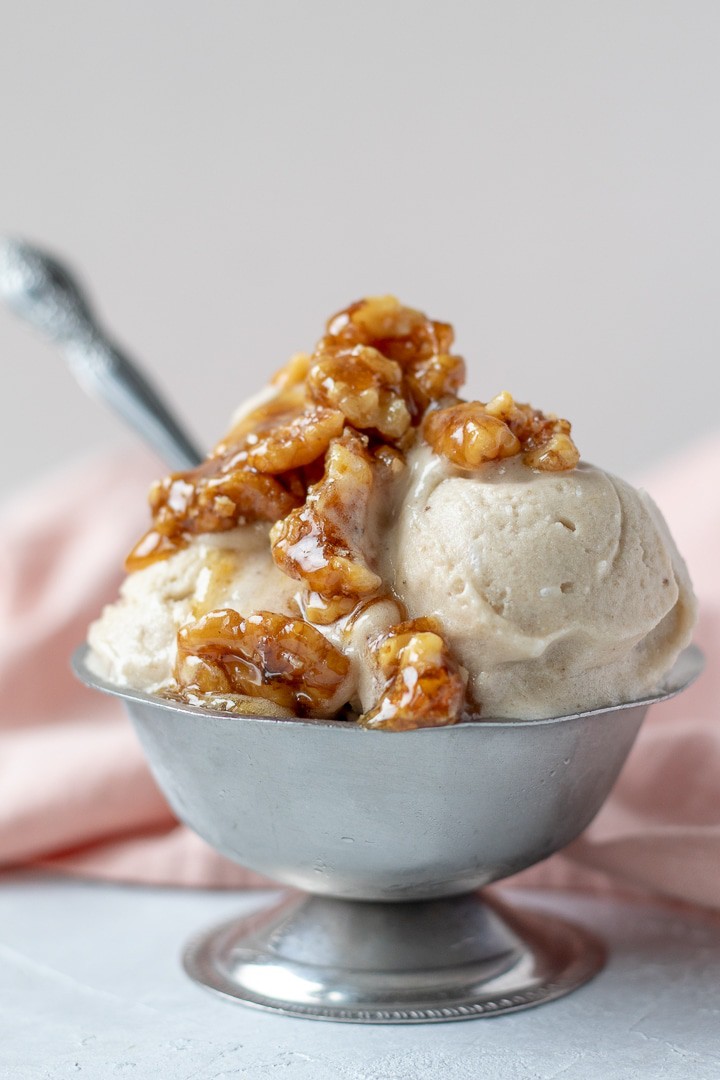 I'm going to assume you've already tried frozen banana ice cream. And if you haven't tried it, you've at least heard of it, right?
Frozen bananas have been improving our smoothies and giving us a healthy, creamy, delicious alternative to ice cream for some time now, and you can find many creative variations online.
So I won't bore you with my thoughts on why frozen banana nice cream is amazing (but it really is)! I'll get straight to a few notes about our special topping, maple wet walnuts!
There's a good chance that the gooey, sweet, and crunchy wet nut topping you find in most ice cream shops is made from corn syrup and likely contains dairy.
As far as homemade versions go, you can find recipes online that don't call for butter or milk, but some do. And almost all of them call for corn syrup.
None of these ingredients are welcome in my kitchen, and if you've found my blog, you're probably interested in healthier alternatives, too.
Luckily, making wet walnuts with maple syrup is a breeze! And if you want to tone down the darker color and maple flavor, you can use a blend of maple and agave.
In a matter of minutes you'll have a sundae topping that can be used warm or chilled and will keep in the fridge for weeks!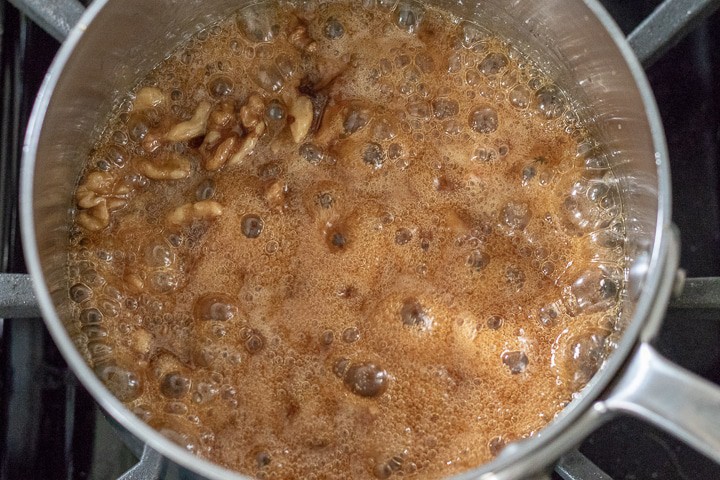 How to make vegan wet walnuts
Combine the maple syrup (and agave, if using), walnuts, vanilla and salt in a small sauce pan. Over medium heat bring the mixture just to a slow boil. Immediately pour the mixture into a small bowl and let it cool.
It really is that simple!
On one occasion I let the mixture cook for several minutes, and once it cooled it was WAY too hard. In fact, I was afraid the cute little glass jar I'd poured it in was doomed for the trash. But after a quick reheat in the microwave to soften the syrup, I was able to scoop out most of the wet walnuts and wash the jar clean in hot water. Anyway, I don't recommend cooking the mixture that long. It becomes too thick and sticky and won't give you the syrupy texture you're looking for.
Timesaving tip:
If you don't mind wet walnuts with a thinner consistency, just warm the syrup in the microwave (it doesn't have to come to boiling), and then stir in the other ingredients. Let the flavors mingle for a while, and you're good to go.
Adding Wet Walnuts to Ice Cream
Once the wet walnuts have cooled a bit, try swirling them INTO the banana nice cream. Then pop the ice cream back in the freezer until it's as frozen as you like.
When you open up a package of organic sugar cones and every single one is broken, clearly the next step is to snack on half of the package while sprinkling a few of the remaining pieces on top of your ice cream.
If you enjoy a crunchy texture with your ice cream, you can't go wrong with crumbled sugar cones. Truth be told, I was actually looking forward to photographing ice cream in a cone for the first time, but I guess we'll save that challenge for another day.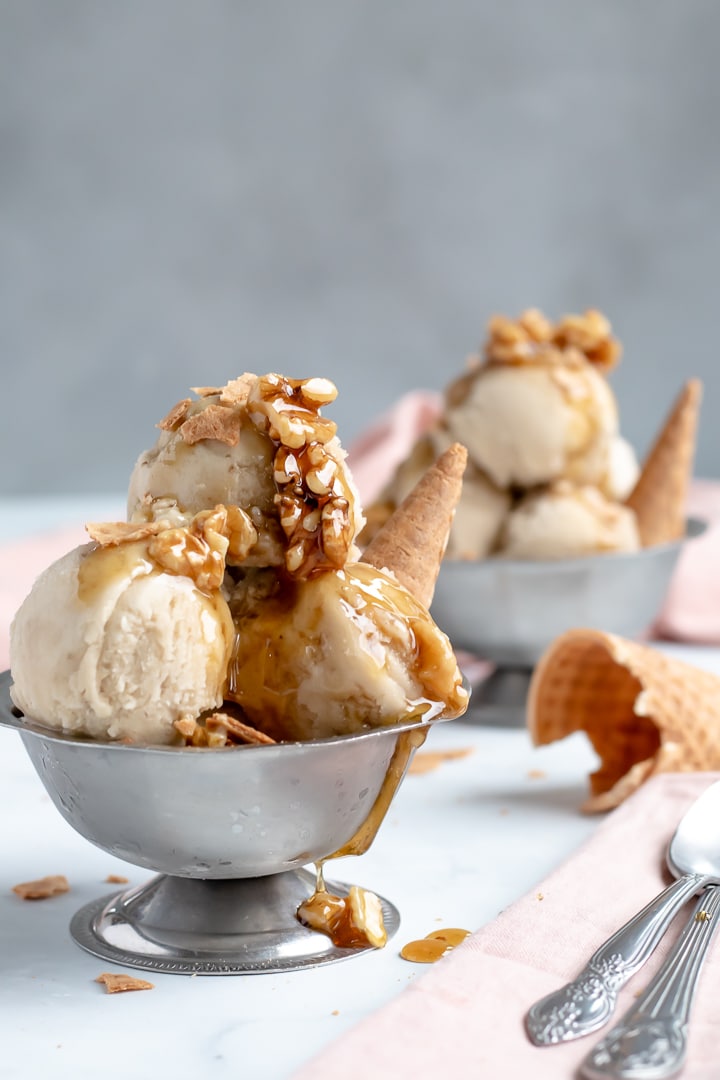 Don't forget to freeze those overripe bananas, folks! And then bring the kids or a friend into the kitchen and whip up some banana nice cream with wet walnuts.
Add fresh fruit and whipped coconut cream if you're really feeling wild! Be sure to snap a photo of your homemade vegan sundaes and tag me on instagram @myquietkitchen!
More Healthy Vegan Ice Cream
📖 Recipe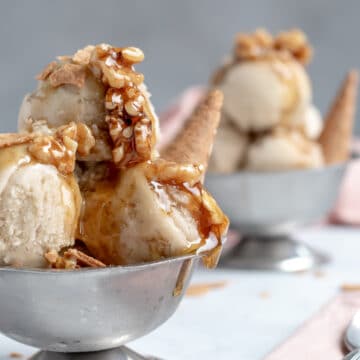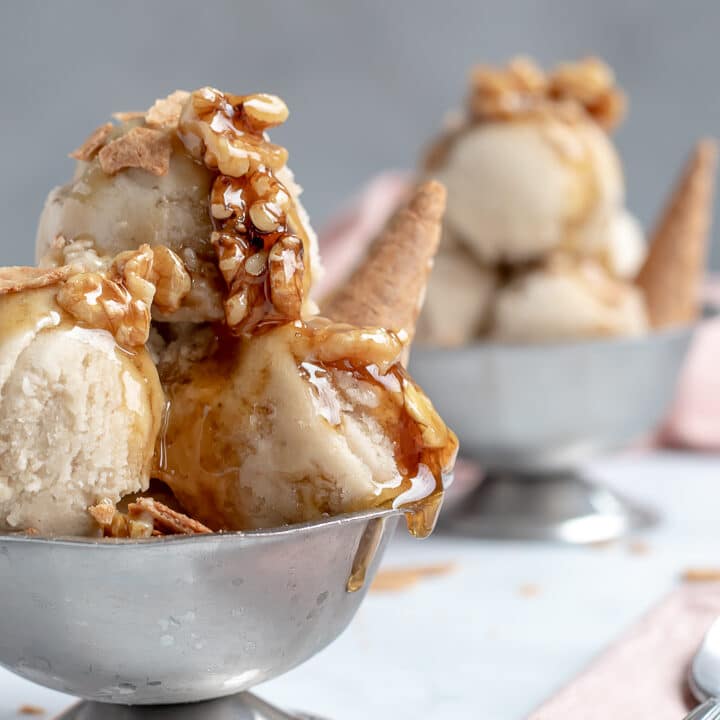 Banana Nice Cream With Wet Walnuts
Turn your frozen banana nice cream into a special treat with quick and easy, homemade wet walnuts. Refined sugar-free, vegan, gluten-free and oil-free!
Ingredients
For the Ice Cream:
3

large

overripe bananas, peeled, cut into chunks and frozen overnight in an airtight container or storage bag

1

tsp

vanilla extract, optional

splash of plant milk
For the Wet Walnuts:
⅓

cup

raw walnut halves and/or pieces

⅓

cup

maple syrup (or a blend of maple and agave)

½

tsp

vanilla extract

pinch of

salt
Instructions
Make and freeze the nice cream:
Add the bananas, vanilla and a splash of milk to a food processor. Blend until smooth and creamy, stopping to scrape down the sides of the bowl as needed.

The nice cream will be similar to soft serve at this point. You can eat it as is, or scoop it into a freezer-safe container and freeze it for 2 to 3 hours. This will give you a firmer, scoopable texture.
Make and chill the wet walnuts:
In a small sauce pan over medium heat combine the maple syrup, walnuts, vanilla and salt. Stirring, bring the mixture just to a boil, then remove from heat. Pour the wet walnuts into a bowl and refrigerate until ready to use. *If you need to speed up the cooling process it's also okay to place them in the freezer for a few minutes.
Serving and storage:
Top individual servings of banana ice cream with wet walnuts and enjoy! Leftover wet walnuts can be stored in an airtight container in the refrigerator for up to a month. If the mixture becomes too hard, just place the container in a warm water bath for several minutes or microwave it for a few seconds to soften the syrup.
Estimated Nutrition (per serving)
Calories:
375
kcal
Carbohydrates:
70
g
Protein:
4
g
Fat:
11
g
Saturated Fat:
1
g
Cholesterol:
0
mg
Sodium:
85
mg
Fiber:
5
g
Sugar:
48
g
Vitamin A:
100
IU
Vitamin C:
18.2
mg
Calcium:
80
mg
Iron:
0.9
mg
Nutrition information is an estimate and will vary depending on the exact amounts and specific products and ingredients used. We calculate this information using the online calculator cronometer.com.
Tried the recipe?
I love hearing from you! Share your feedback below.