This vegan chickpea ice cream is a dairy-free game changer! No coconut milk or cashews here. The base of this chocolate ice cream is made with chickpeas, sunflower seed butter, and dairy-free chocolate, and the result is SO good it just might become your new favorite vegan ice cream!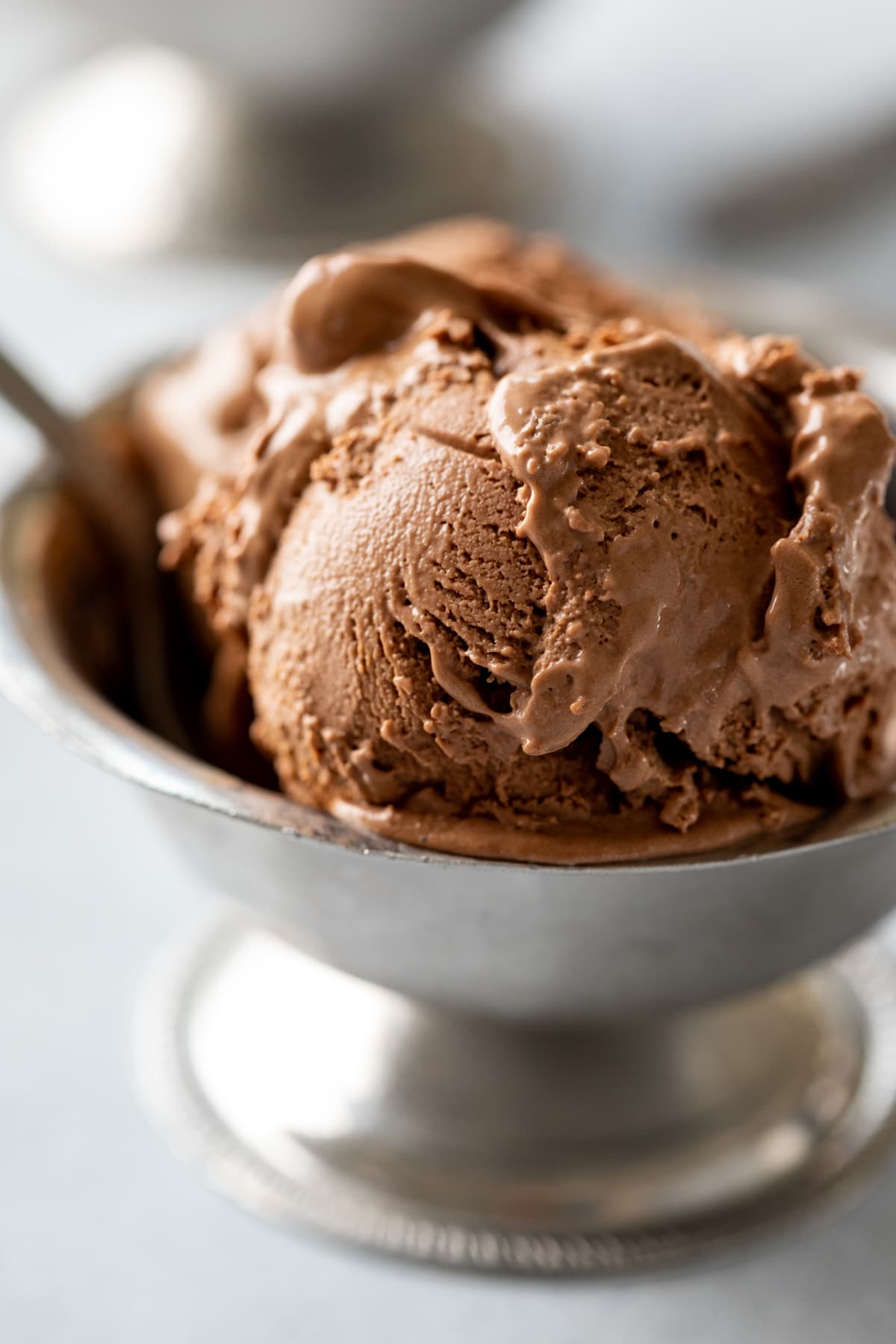 What Makes It Different
Friends, this chocolate dream tastes every bit as good as it looks! Not only will no one believe this chocolate ice cream is vegan, they'll never know there are protein-rich chickpeas hidden inside.
Over the past year I've had so much fun creating alternative vegan ice creams with a base of oats and nuts (no coconut milk in these either). Here are the flavors I've shared so far:
As much as I LOVE those oatmeal-based ice creams, I was craving a new challenge. I also wanted to share a nut-free vegan ice cream for all the folks out there with nut allergies.
Related: Like the idea of chickpea desserts? Try these chickpea cookies!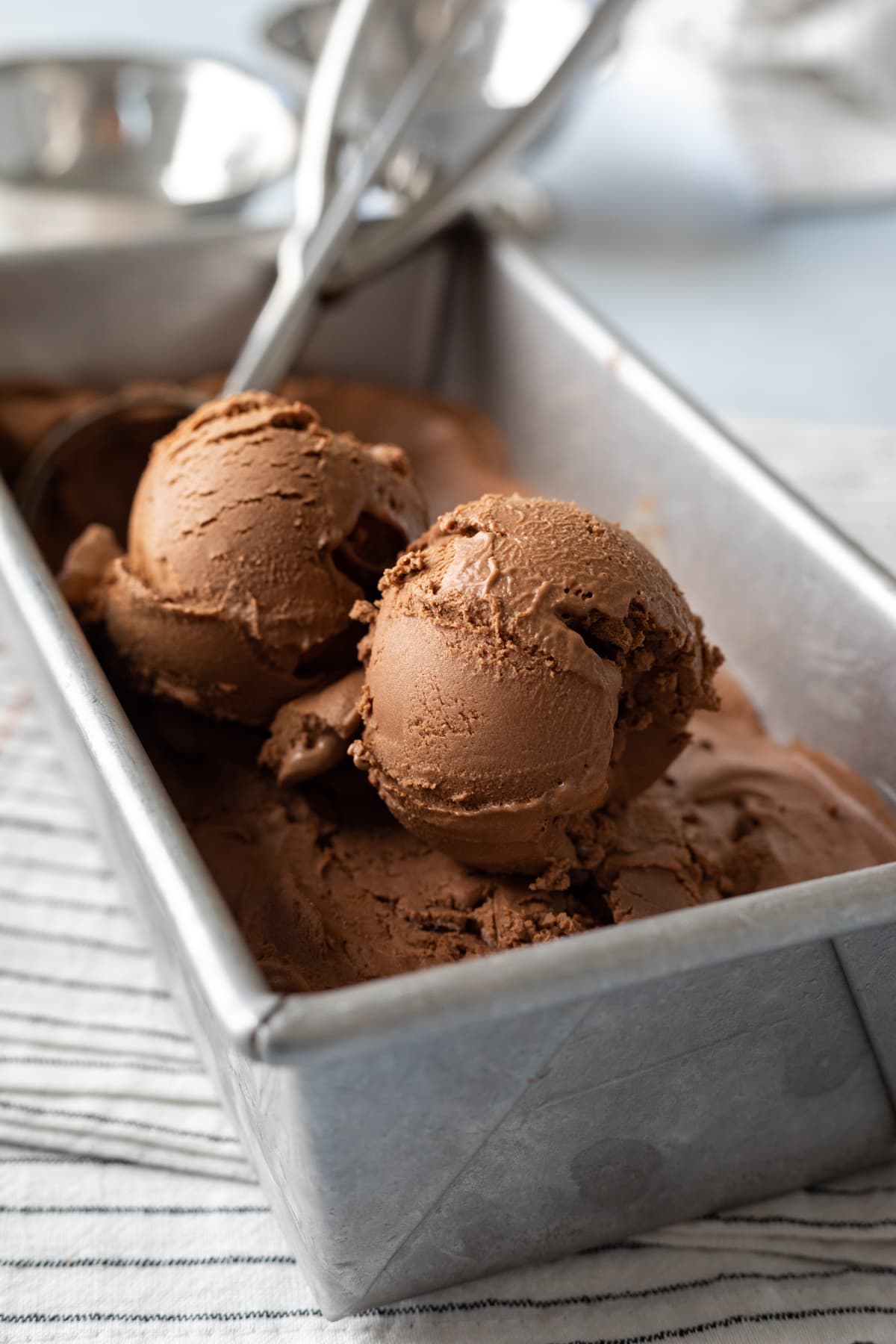 Using Chickpeas and Corn Starch in Ice Cream
A couple of years ago I heard about an ice cream place in Portland, Oregon, called Little Chickpea that uses chickpeas in their vegan ice creams. It was pretty big news, so you may have heard of them, too.
I fully admit, initially the idea of adding chickpeas to my ice cream didn't sound all that great, which I guess is why it took me so long to get around to this experiment. Now I'm kicking myself!
This is easily one of the best vegan chocolate ice creams I've ever tasted.
The chickpeas are completely undetectable (thank you, chocolate), and the mouthfeel of this ice cream, especially once it gets all melty, is LEGIT like heavy cream. It actually feels fluffy in your mouth. Shout out to corn starch for that extra creamy element.
When you get to the final photo in the post, just before the recipe, look at the way the melted ice cream clings to the sides and bottom of the pan, and you'll see exactly what I mean.
Simmering corn starch with a portion of the milk creates a beautifully silky texture. Using corn starch in ice cream is often referred to as Sicilian-style.
But on the flip side of the melty stuff, chickpeas have a magical way of preventing this ice cream from melting as quickly as other recipes. So feel free to savor every bite and take your time while enjoying your scoops!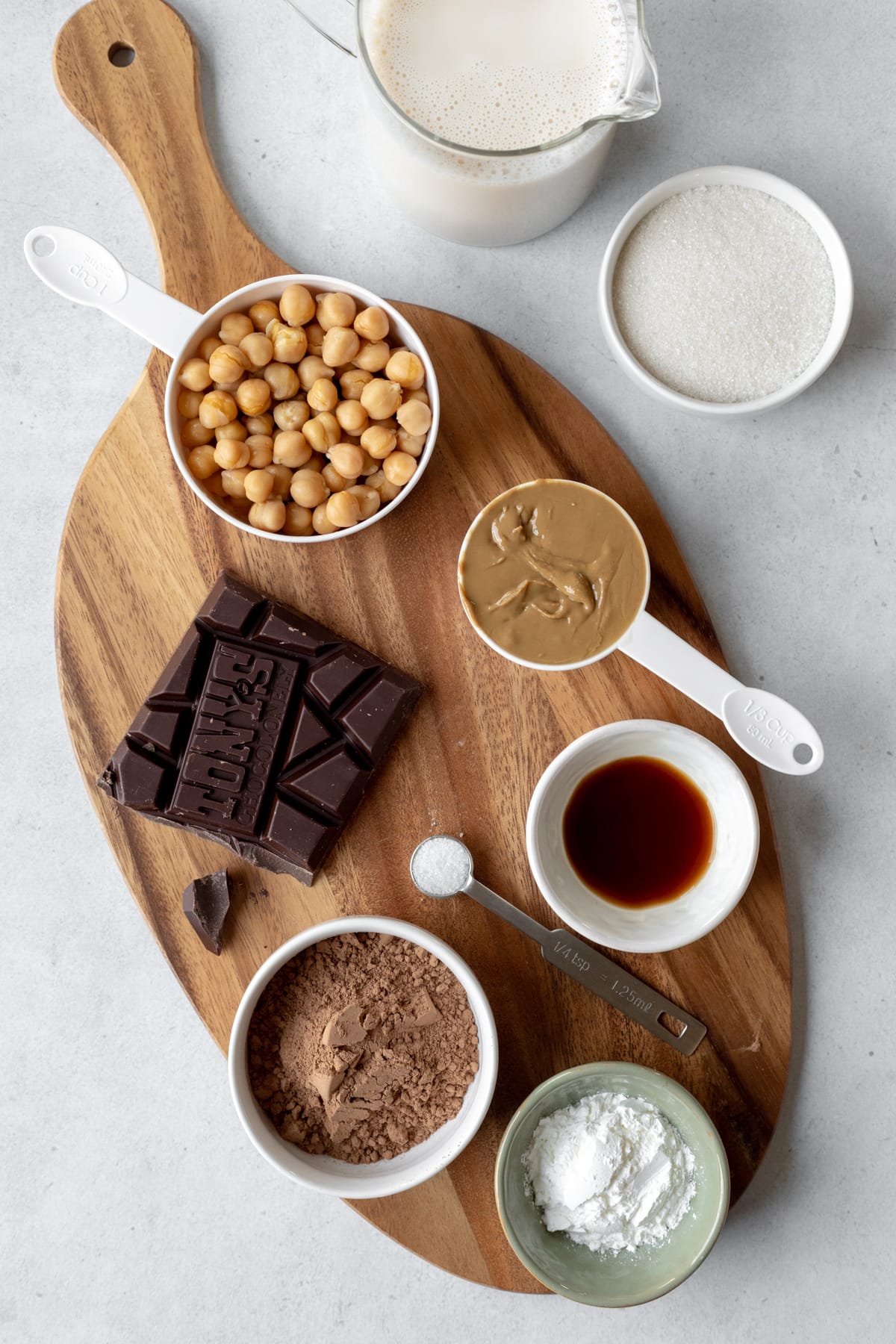 Ingredients
To make chocolate chickpea ice cream here's what you'll need:
1 cup cooked chickpeas - I used canned; rinse and drain very well
7 ounces dairy-free chocolate - look for a semi-sweet chocolate, one that's around 60 - 65% cacao; 70% is also good, but will be slightly less sweet.
2 cups unsweetened non-dairy milk, such as soy or oat
⅓ cup roasted sunbutter - I used Trader Joe's, but any brand is fine.
scant ½ cup organic cane sugar
2 tablespoons corn starch
¼ cup cocoa powder
2 teaspoons vanilla extract
½ teaspoon sea salt
How To Make It
Preparing chickpea ice cream is pleasantly simple.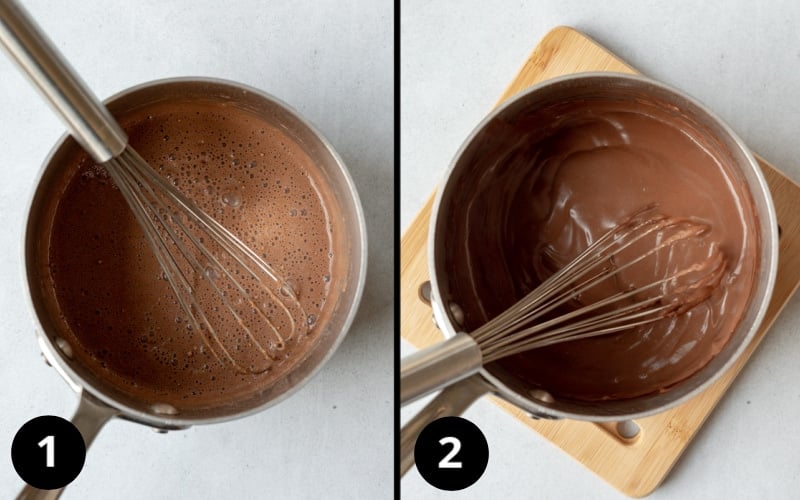 First, whisk together cocoa powder, corn starch, and 1 cup of milk in a small saucepan.
Bring to a simmer, then reduce the heat, and cook just until thickened, about 1 to 2 minutes. Be sure to whisk constantly. It will look like chocolate pudding (but it's not sweetened, so I don't recommend sneaking a taste... yet).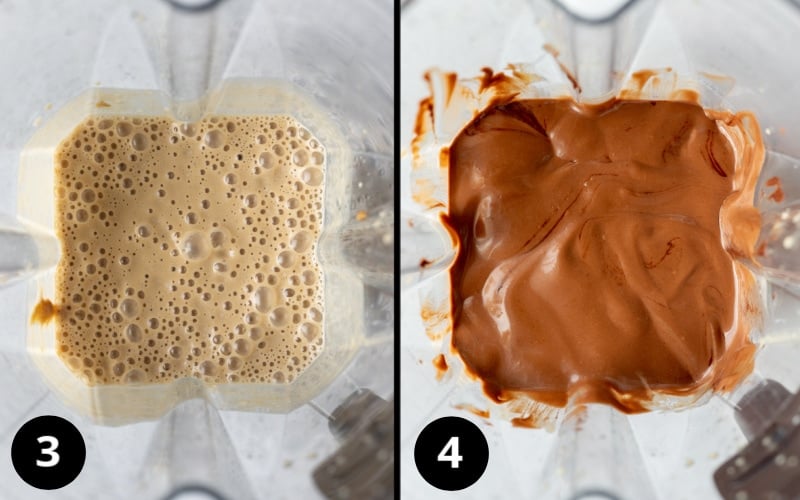 Set the "pudding" mixture aside, and grab a blender. Blend the remaining cup of milk with the chickpeas, sugar, sunbutter, vanilla, and salt.
Melt the chocolate, and add it to the blender. Also add the pudding, and blend until fully incorporated. Now give it a taste. If you used a darker chocolate, this is where you may want to add a bit more sugar. Totally up to you!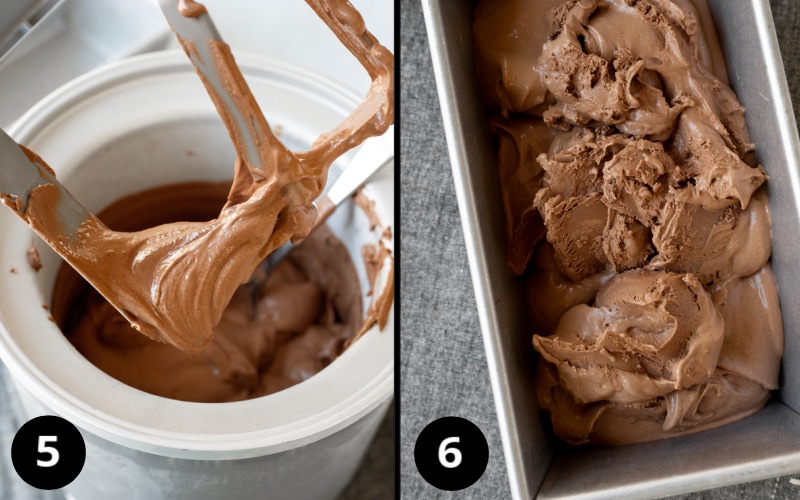 Freeze according the instructions for your ice cream maker. Now it will be the consistency of soft-serve.
For firmer, scoop-able ice cream, transfer to a freezer-safe container, and freeze for anywhere from 2 hours to overnight.
Tip! Keep in mind that anytime after 3 or 4 hours the ice cream will be VERY hard straight out of the freezer. So just let it hang out on the kitchen counter for a bit, maybe 20 minutes or so, depending on exactly how long it was in the freezer.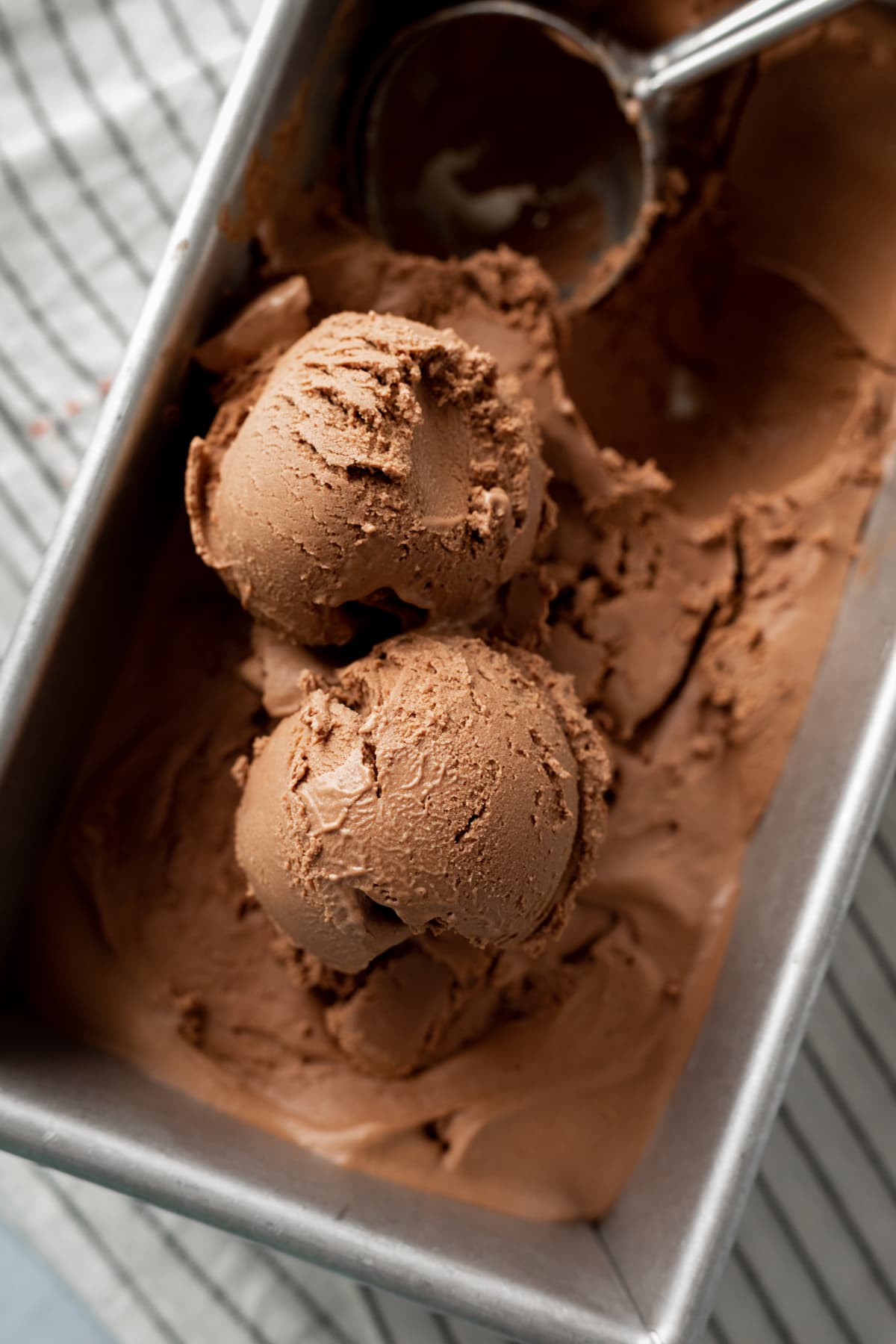 FAQs, Tips, and Substitutions
Is chickpea ice cream made with aquafaba?
No, this recipe uses the actual chickpeas, not the chickpea liquid called aquafaba.
What can I use instead of sunflower seed butter?
Tahini is another nut-free option that tastes great with chocolate. Or if you're okay with nuts, feel free to use almond, cashew, or peanut butter.
What type of milk should I use for vegan ice cream?
My two personal favorites are soy and oat milk. In addition to the chickpeas, soy milk adds even more protein, which is great. You can also use coconut or almond milk, if those are easier for you.
Is chickpea ice cream healthy?
Well, I wouldn't go that far. It IS still ice cream. So even though it's quite a bit healthier than dairy-based ice cream, it is still fairly high in fat and sugar.
Can this recipe be made without an ice cream maker?
I haven't tested this recipe yet without an ice cream maker, but I suspect the standard no-churn method will work. Be sure to check out my other vegan ice cream recipes for tips on no-churn!
What does corn starch do to ice cream?
Corn starch adds a velvety smooth texture to ice cream similar to that of custard-based ice creams (those use eggs instead). Corn starch is vegan, inexpensive, and readily available in grocery stores. It's possible that another starch could be substituted, like tapioca, but I haven't had a chance to test it yet. If possible, I recommend sticking with corn starch for this particular recipe.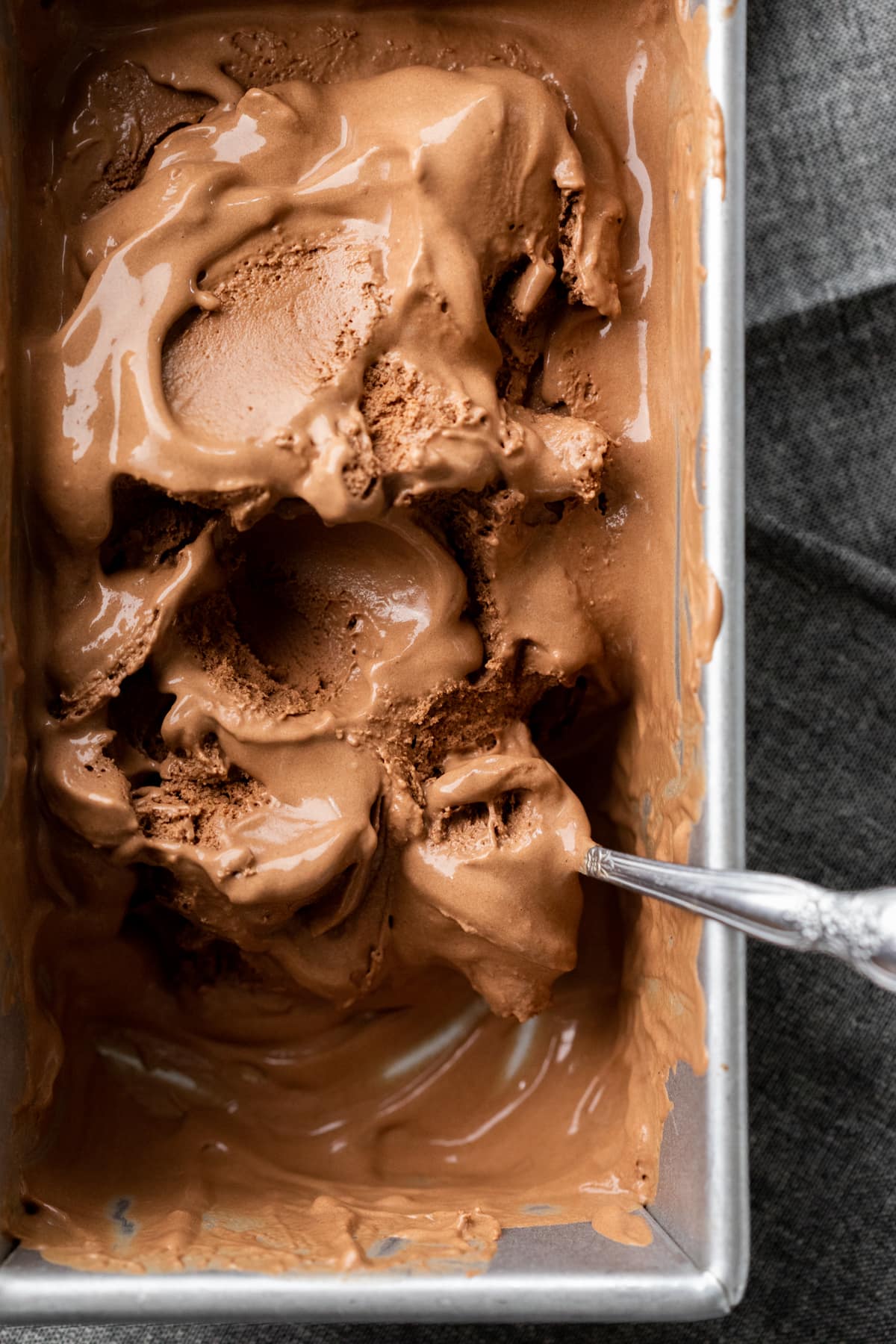 I hope you enjoy this nut-free vegan chocolate ice cream as much as we do. In case you can't tell, I'm completely enamored with it and can't wait to create more flavors!
If you try the recipe I would love to hear from you in the comments below, and be sure to leave a star rating to let everyone know how it turned out!
📖 Recipe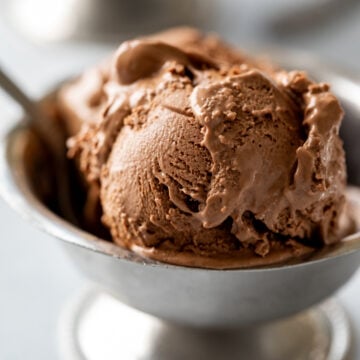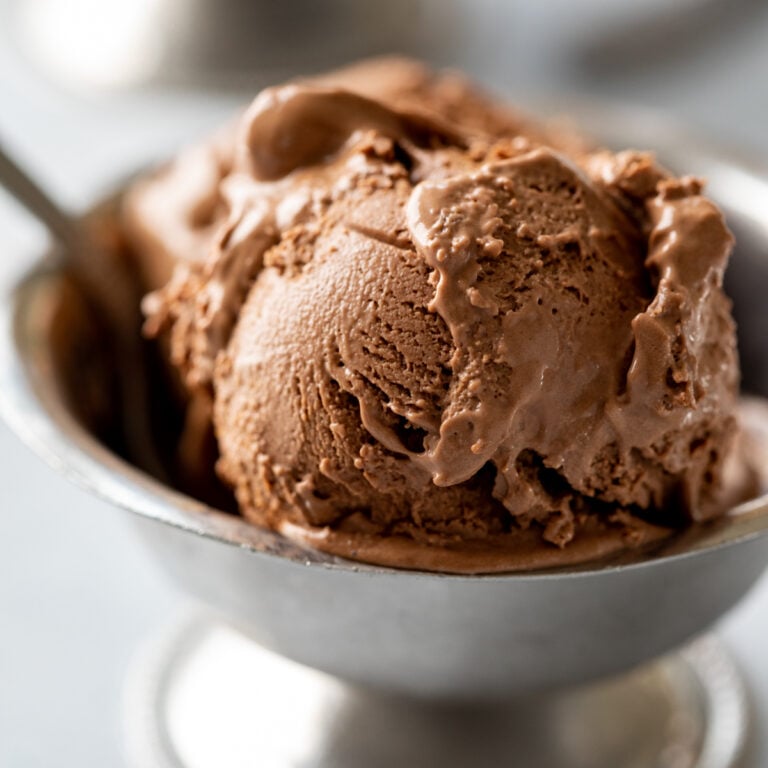 Chocolate Chickpea Ice Cream (Nut Free!)
This amazing vegan chocolate chickpea ice cream is not only dairy-free and egg-free, but also contains no nuts or coconut! It's rich, silky, and so chocolatey. No one will ever believe this ice cream is vegan and made with chickpeas!
Yield: makes about 1 quart, or 4 cups, of ice cream
Ingredients
2

cups

unsweetened non-dairy milk such as soy or oat

-

I used plain soy.

¼

cup

cocoa powder

2

tablespoons

corn starch

-

or arrowroot

1

cup

cooked chickpeas, rinsed and drained

scant ½

cup

organic cane sugar

scant ⅓

cup

sunflower seed butter, salted -

Feel free to substitute tahini OR your favorite nut butter if okay with nuts, such as peanut, almond, or cashew.

2

teaspoons

vanilla extract

½

teaspoon

fine sea salt

-

Add another pinch of salt if using an unsalted seed/nut butter.

7

ounces

dairy-free chocolate (approx. 60 to 65 % cacao solids)

-

See Notes for selecting a chocolate.
Instructions
Prep:
If using an ice cream maker with a removable canister, be sure to freeze the canister for at least 24 hours before making ice cream. Also note that the churned ice cream needs about 2 to 3 hours in the freezer to reach a firmer, scoopable consistency.
Make the ice cream:
In a small sauce pan, whisk together 1 cup of milk, cocoa powder, and corn starch. Bring to a simmer over medium heat, whisking frequently. As soon as it begins to simmer, reduce heat to medium-low. Whisking constantly, cook until thickened, about 1 to 2 minutes. It will look similar to pudding. Remove from heat, and set aside.

In a blender (see Notes) combine the remaining 1 cup of milk, chickpeas, sugar, sunbutter, vanilla, and salt. Blend on high until completely smooth, about 1 minute.

Melt the chocolate using a double-boiler or by placing in a microwave-safe bowl and microwaving in 15 to 20 second intervals (stirring in between) until melted. Add the melted chocolate to the blender, and blend until smooth and fully incorporated.

Add the cocoa "pudding" to the blender, and blend again. If the mixture feels warm at this point, refrigerate for 30 minutes to 1 hour. It doesn't necessarily need to be cold as it goes into the ice cream maker, but definitely no warmer than room temperature for the best results.

Churn the mixture according the instructions for your ice cream maker. With my Cuisinart 2 Quart machine it takes about 22 minutes to reach soft serve consistency.

For firmer, scoopable consistency transfer the ice cream to a freezer-safe container. Freeze for 2 to 3 hours. After 3 or 4 hours, and definitely once the ice cream has been in the freezer overnight, it will be VERY hard straight out of the freezer. It's important to let the ice cream soften at room temperature for at least 20 to 30 minutes before scooping, depending on how long it's been in the freezer.TIP: consider using smaller, individual serving-size containers, but keep in mind small containers will freeze and thaw more quickly than described here.
Notes
Choosing a Chocolate
The type of chocolate you use will impact the sweetness of the ice cream. It's easy to account for this by adjusting the amount of sugar. If you use semi-sweet chocolate, typically around 60% cacao solids, a scant ½ cup sugar will be plenty.
If you're only able to find a darker chocolate, such as 70%, you can always add a bit more sugar to the blender if desired.
For strictly nut-free, Enjoy Life brand is readily available online and in many stores. I'm also a fan of Tony's Chocolonely dairy-free bars, but their chocolates may contain traces of tree nuts due to shared processing equipment.
Blender
I tested the recipe using my Vitamix, but since we're not using any whole nuts or seeds, I suspect a standard blender will be fine.
Estimated Nutrition (per serving)
Calories:
316
kcal
Carbohydrates:
34
g
Protein:
8
g
Fat:
16
g
Fiber:
6
g
Sugar:
20
g
Nutrition information is an estimate and will vary depending on the exact amounts and specific products and ingredients used. We calculate this information using the online calculator cronometer.com.
Tried the recipe?
I love hearing from you! Share your feedback below.