Vegan Pumpkin Ice Cream with just 5 grams of fat per serving? Yes! And it's made with simple ingredients and is impossibly creamy and delicious! This healthy pumpkin ice cream is vegan, gluten-free, refined sugar-free, oil-free, and made without coconut milk. But I promise the flavor and creaminess will impress!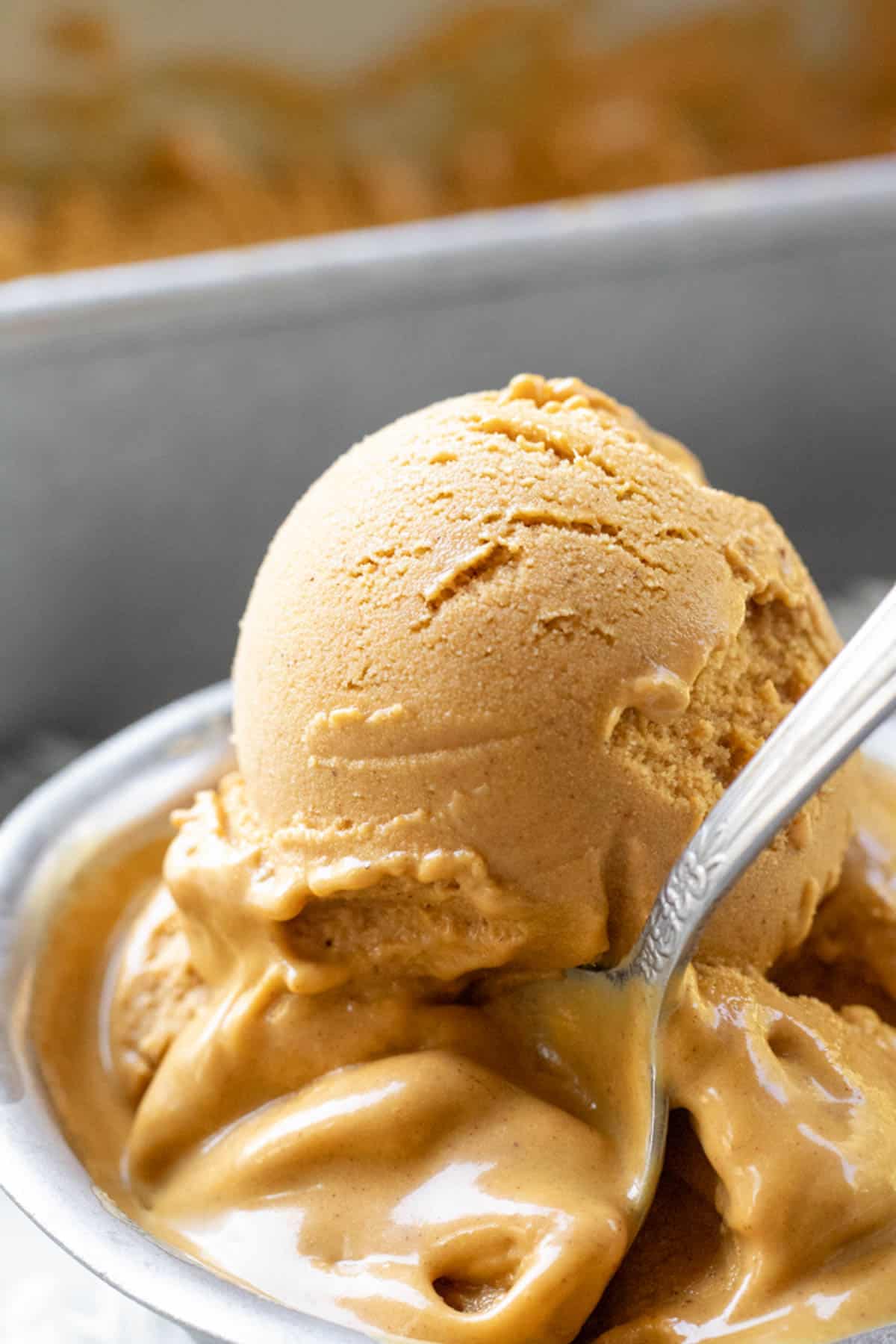 My excitement for this new method of making vegan ice cream is so over the top, I don't think I can write this post without sounding like a cheesy, overly enthusiastic infomercial person! I mean, just look at it. So melty and thick and creamy.
This trick of using blended oatmeal isn't my original idea. So indulge me for a moment while I give credit to Miyoko.
Update: I have a NEW way of making vegan ice cream that has me just as excited! Check out this nut-free Chocolate Chickpea Ice Cream!
Jump to: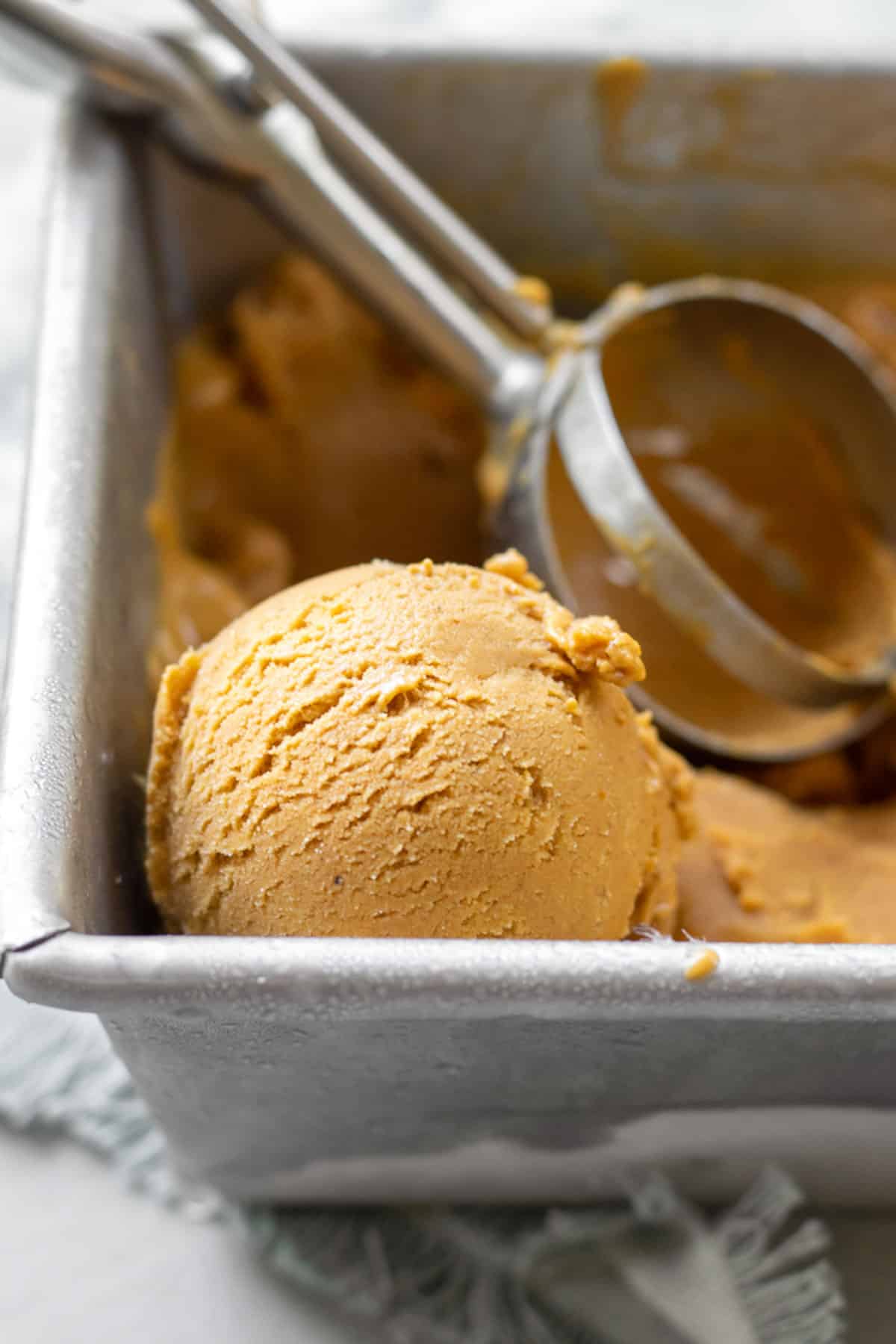 The Inspiration
After falling in love with this Healthy Vegan Pumpkin Pie, I was deciding what type of pumpkin dessert to make next. I wanted to keep it healthy-ish, and realized the pumpkin pie filling itself would probably translate really well into ice cream.
Later that night I was reading through Miyoko Schinner's The Homemade Vegan Pantry, and I spotted her recipe for luscious, low-fat vanilla oat gelato. The pumpkin pie filling also uses oats. Intrigue was building!
In the instructions she mentions that the texture of the ice cream might seem stretchy or gummy after churning, and not to be put off by it. And that was the light bulb moment. If you've ever made oat milk, you know how challenging it can be to prevent the dreaded oat slime.
Well, slimy milk is definitely not ideal, but guess what... with ice cream, after you freeze it, that gooey oat stuff becomes creaminess. That Miyoko is a genius, I tell you!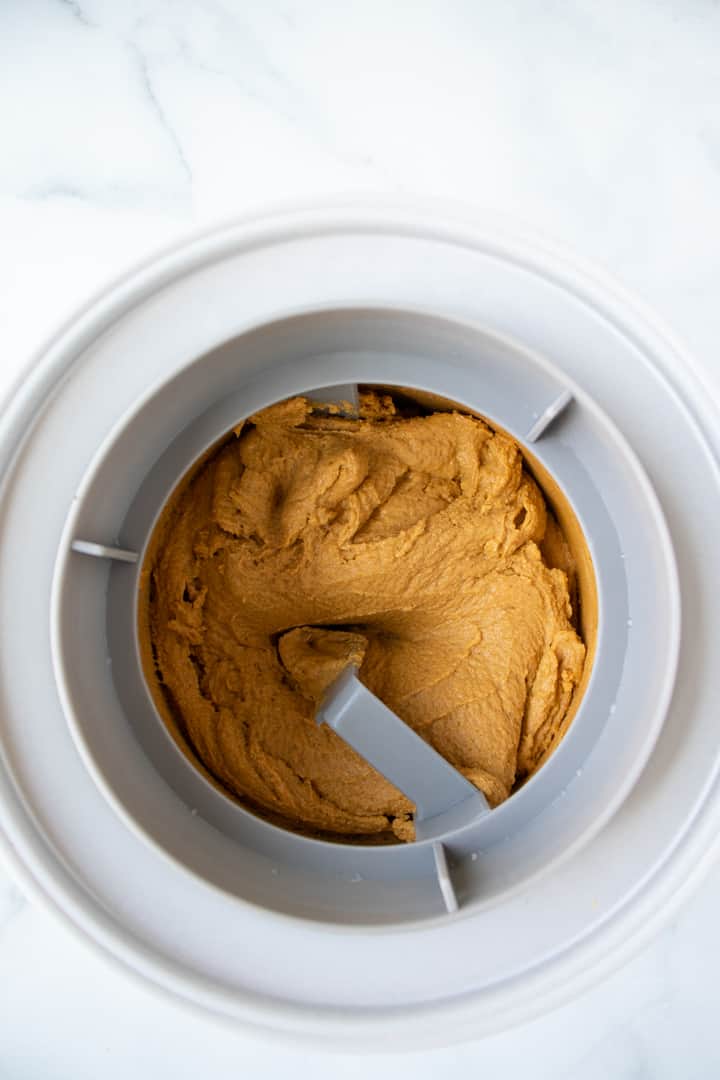 I couldn't wait to get a batch of pumpkin ice cream going. I tested it (and we ate it) twice over the next two days, and I was so excited to share share the recipe.
Then, while thumbing through her book again a couple of nights later (yeah, I read cookbooks before bed), I flipped to the page after the vanilla oat gelato, and saw a recipe for chocolate gelato. Cool, that sounds yum, but in small print at the bottom of the page was a variation for Pumpkin Oat Gelato.
My first thought was, "Oh no! Now I can't share my pumpkin ice cream because our recipes are so similar." (They're not exactly the same, but close.)
I'd planned to credit her vanilla gelato recipe for inspiring this one, of course, but I certainly didn't want it to seem like I'd just copied the pumpkin version from her book.
I'm always very mindful of following proper blogger etiquette, giving credit to those who inspire our recipes and never stealing someone else's work!
I thought about it some more and I came to the conclusion that it would be okay for me to share this vegan pumpkin ice cream for two main reasons:
a) this is Miyoko Schinner we're talking about. She's running a vegan creamery empire and really isn't impacted by this at all (unless maybe I can actually help sell a few copies of The Homemade Vegan Pantry by telling you how amazing it is - because it really is!).
And b) I truly did test this ice cream twice before seeing her variation.
So, I decided to share this story with you and get some awesome, low-fat, life-changing vegan pumpkin ice cream into your hands. And really, ALL pumpkin desserts contain pretty much the same spices in similar amounts, so these things are inevitable!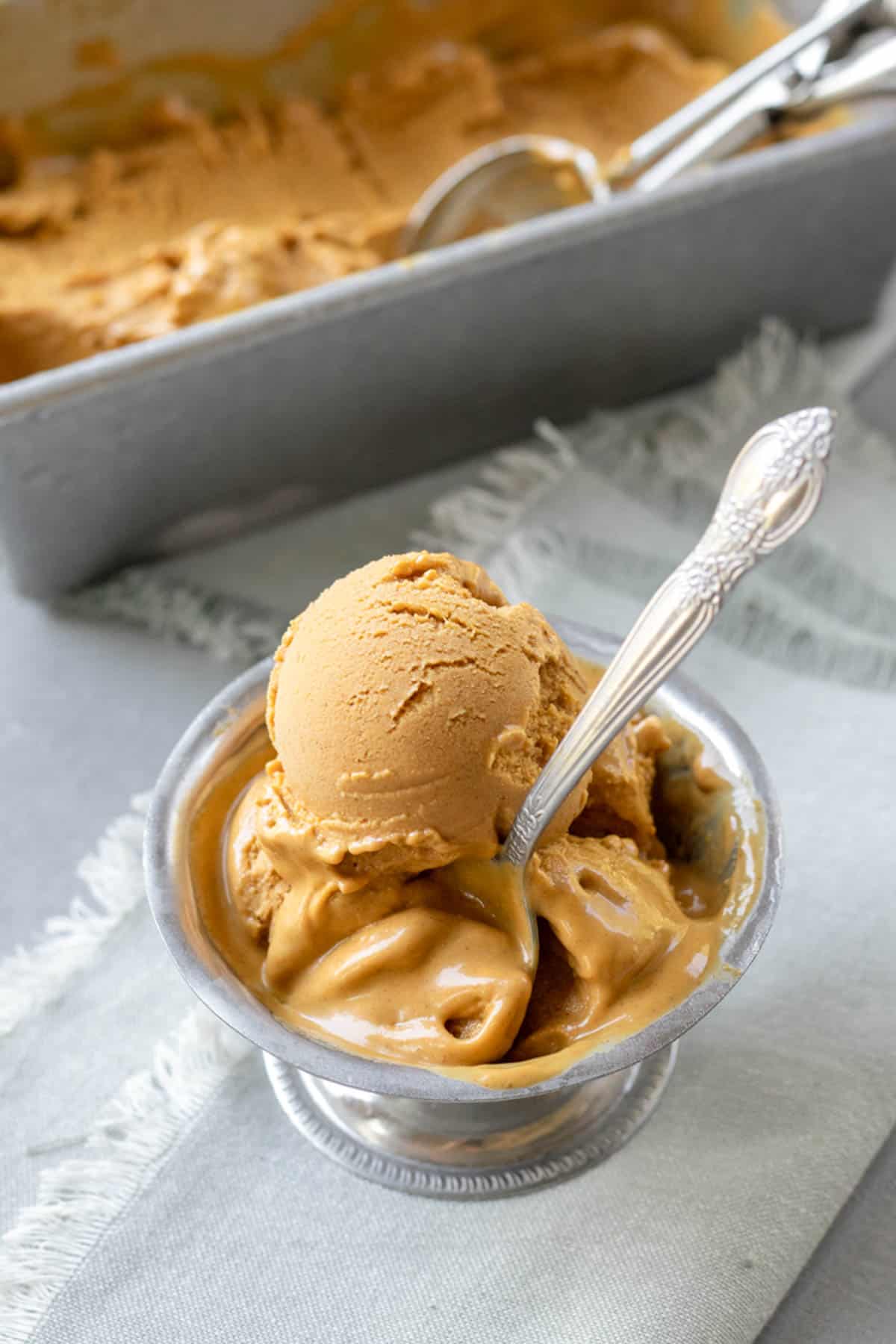 Ingredient Notes
See the recipe card below for amounts and full instructions.
unsweetened non-dairy milk - such as soy, oat, cashew, or almond
canned pumpkin - or home-cooked pumpkin puree
coconut sugar - or substitute maple syrup, brown sugar, or a combination of brown and regular cane sugar.
raw cashews
old fashioned rolled oats
pumpkin pie spice
ground cinnamon
vanilla extract
salt
SO many vegan ice cream recipes call for coconut milk, including this one of mine. I love coconut, but sometimes you don't want the flavor of coconut mucking up the other flavors, you know?
Sometimes it's nice to have vanilla that just tastes like vanilla, or coffee ice cream that tastes like coffee.
And then there are the people who really want to enjoy dairy-free ice cream recipes but are allergic to coconut. There are also a lot of folks who try to avoid the saturated fat in coconut for health reasons.
I imagine they're all pretty tired of clicking on recipe after recipe online and seeing coconut milk every time. This is why I'm SO excited to know we can use a small amount of oatmeal to replace the fat content of coconut milk!
How to Make Vegan Pumpkin Ice Cream
If using an ice cream maker with a freezable canister, be sure to put it in the freezer the day before.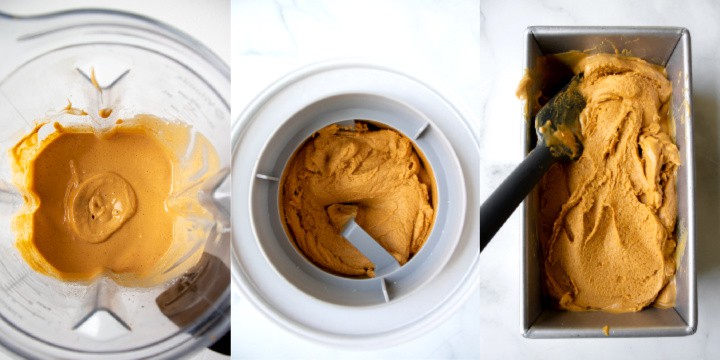 First, cook the oats in a small saucepan until soft. In a blender combine the milk and cashews and blend until smooth. Add the remaining ingredients and blend again. Refrigerate the mixture until cold, several hours to overnight.
Churn the mixture according the instructions for your ice cream maker. The ice cream will be very thick.
For a firmer consistency, transfer to a freezer-safe container, cover, and freeze for 3 to 4 hours. Around the 4 hour mark, and definitely if left in the freezer longer, the ice cream will be hard. Allow it to soften at room temperature for 10 to 15 minutes before scooping.
More Oat-Based Ice Cream Recipes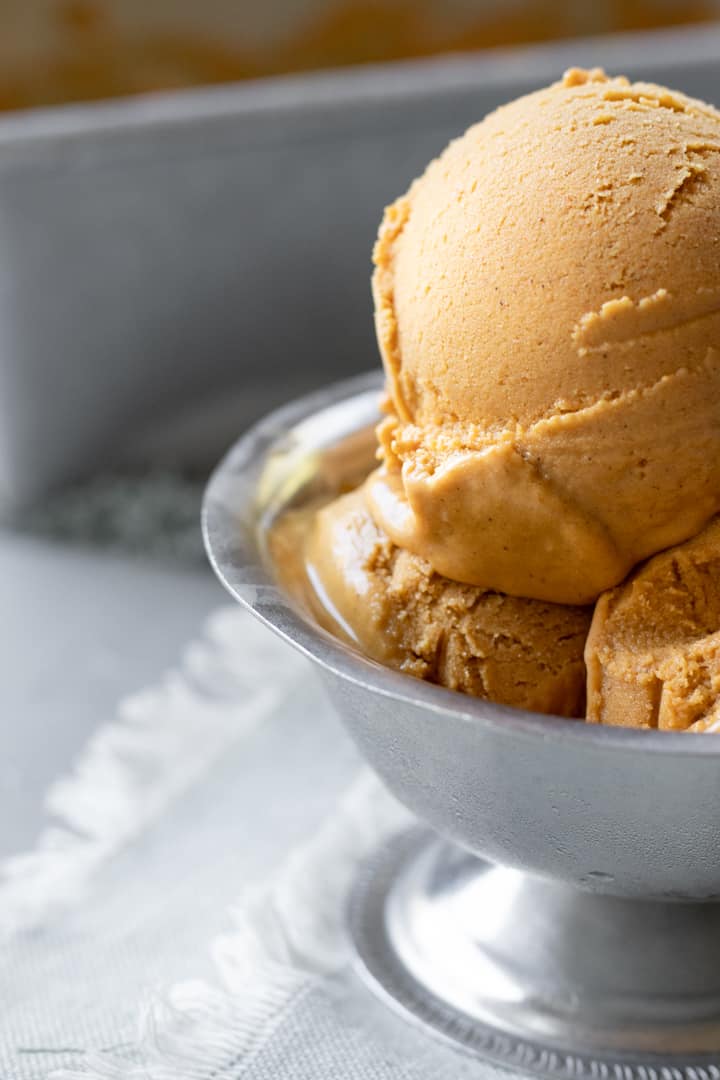 Substitutions
I tested the recipe using coconut sugar, but you can use brown and/or organic cane sugar, if preferred. Also, Miyoko's recipe calls for ¾ cup maple syrup as the sweetener, so that's another option.
I've tested soy and almond milks as the liquid in this recipe, and both were good, though soy is creamier. Feel free to use any unsweetened milk that suits your dietary needs. Oat milk is also great.
If you can't eat cashews and don't mind using coconut, feel free to replace the cashews with ⅓ cup coconut cream. Almond, macadamia, or pecan butter would also work (¼ cup).
Tips
Unfortunately, I haven't had an opportunity yet to test this recipe yet using the no-churn method. I'm pretty confident you won't get the same results, but it's worth a shot!
So if you don't have an ice cream maker, pour the chilled mixture into a freezer-safe container, and vigorously stir it every 30 to 45 minutes until it's as frozen as you like (about 5 hours).
If you have a handheld or stand mixer, another option is to beat air into the mixture before transferring it to a freezer-safe container and freezing for 5 hours.
I've been using this Cuisinart 2 Quart ice cream maker for years and can recommend it as a dependable option.
I hope you LOVE this Vegan Pumpkin Ice Cream as much as we do! If you do try this recipe, please let us know in the comments below. You can also tag me in a photo on facebook or instagram with @myquietkitchen if you feel like showing off your yummy vegan pumpkin ice cream.
Enjoy!
You might like:
📖 Recipe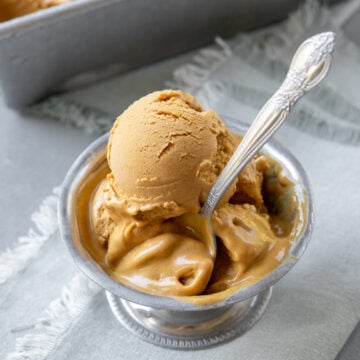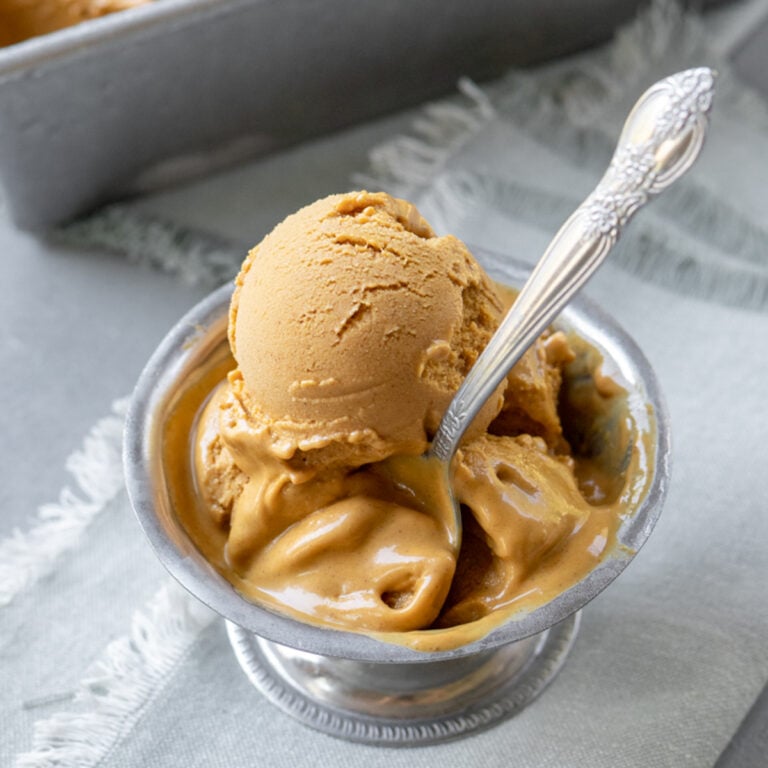 Vegan Pumpkin Ice Cream (No Coconut Milk)
Vegan ice cream that changes everything you thought you knew about making non-dairy ice cream at home! A small amount of cooked and blended oats creates ice cream SO creamy you'll swear it's full of saturated fat. Instead, it's actually oil-free, coconut milk-free, naturally sweetened, and low in fat and calories. Can be soy-free, too.
Inspired by and adapted from Miyoko Schinner's recipe for Low-Fat Vanilla Oat Gelato in The Homemade Vegan Pantry.
Yield: about 3.5 cups
Ingredients
3

cups

unsweetened non-dairy milk, divided

-

such as soy, oat, or cashew

scant ⅓

cup

rolled oats

½

cup

raw cashews

-

if you don't have a high speed blender, sub ¼ cup raw cashew butter.

1 ¼

cups

canned pumpkin

1

cup

coconut sugar or ¾ cup maple syrup -

sub brown sugar or a brown/cane sugar combo, if preferred.

2

teaspoons

pumpkin pie spice

1

teaspoon

ground cinnamon

2

teaspoons

vanilla extract

pinch of

sea salt
Instructions
Planning is key! If using an ice cream maker, be sure to put the canister in the freezer the day before you want to churn the ice cream. Also note that the ice cream mixture needs time to chill before churning, and the churned ice cream needs about 3 to 4 hours in the freezer for a firmer, scoopable consistency.

In a small sauce pan, simmer the oats in 1 cup of the milk until the oats are soft, 7 to 10 minutes. Immediately transfer to a bowl to cool.

In a blender combine the remaining 2 cups of milk and the cashews. Blend on high until completely smooth.

Add the pumpkin puree, coconut sugar, pumpkin pie spice, cinnamon, vanilla, and oatmeal to the blender, and blend until smooth. Stop to scrape down the sides of the blender as needed. Refrigerate the mixture for several hours or until cold (overnight is fine).

Churn the mixture according the instructions for your ice cream maker. The ice cream will be very thick. Scoop it into a freezer-safe container, cover, and freeze for 3 to 4 hours.

Around the 4 hour mark, and definitely if left in the freezer longer, the ice cream will be hard. Allow it to soften at room temperature for 10 to 15 minutes before scooping.
Notes
Curious about no churn?
The consistency of this ice cream is best with an ice cream maker. If you don't have one and don't mind a more icy appearance, check out my recommendations for the no-churn method in this post.
Storage
Store ice cream in an airtight container in the freezer for up to two weeks.
Once the ice cream is fully frozen (overnight), it will be too hard to scoop. Let it sit at room temperature for 10 to 15 minutes before serving.
Estimated Nutrition (per serving)
Calories:
185
kcal
Carbohydrates:
32
g
Protein:
5
g
Fat:
5
g
Cholesterol:
0
mg
Sodium:
50
mg
Fiber:
2
g
Sugar:
24
g
Vitamin A:
97
IU
Vitamin C:
3
mg
Calcium:
9
mg
Iron:
9
mg
Nutrition information is an estimate and will vary depending on the exact amounts and specific products and ingredients used. We calculate this information using the online calculator cronometer.com.
Tried the recipe?
I love hearing from you! Share your feedback below.