Perfectly spiced, creamy pumpkin pie that's FREE of dairy, eggs, oil, wheat, soy, coconut and refined sugar. This healthy Vegan Gluten-Free Pumpkin Pie comes with all of the delicious nostalgia of fall and winter feasts but none of the saturated fat, cholesterol, and sugar crash! (Nut-free option)
Pureed pumpkin is naturally dense, creamy, and rich-tasting, so it lends itself well to healthy veganized desserts. I love the warm touch of spices and vanilla and the pleasant sweetness of maple syrup in this pie.
If you're someone who appreciates healthier treats, I think you'll love this pumpkin pie, too! And if you're someone who prefers sweeter desserts, you can always make this pie a bit sweeter by adding a few tablespoons of granulated sugar to the filling (be sure to taste it first, though, because it's really good as-is). This vegan pumpkin pie is nothing if not versatile! Read on, and I'll explain...
Ingredients in Healthy Pumpkin Pie
First, I highly recommend using my latest recipe obsession as the base for your pumpkin pie. Yep, thanks to this super easy crust recipe, I'm now obsessed with pie (stay tuned for two different pot pie recipes.
Update: check out this wholesome Sweet Potato and Kale Pot Pie and Salted Chocolate Pecan Pie! Heck, just search for "pie" on the blog. You'll see lots of new pie recipes!
My almond flour pie crust recipe is also gluten-free and oil-free, and you can swap out the two tablespoons of cane sugar for something like coconut, maple, or date sugar, if preferred.
Now, for the ingredients in this WFPB (that's whole-food, plant-based, in case you're wondering) pumpkin pie filling (this makes enough for a 1-quart, 9-inch deep dish pie plate):
15 ounces pumpkin puree (canned or home-cooked)
1 cup non-dairy milk of choice (I used unsweetened almond)
¼ cup rolled oats (ensure they're gluten-free certified, if needed; or sub your favorite GF flour)
3 to 4 tablespoons almond or cashew butter (optional; adds just a bit more richness. Sub coconut cream, tahini, or sunbutter if you like!)
3 tablespoons corn starch or 2 ½ tablespoons arrowroot
2 teaspoons vanilla
2 teaspoons pumpkin pie spice (or 1 ½ teaspoon cinnamon, ½ teaspoon ginger, ⅛ teaspoon nutmeg, and ⅛ teaspoon cloves)
additional cinnamon ½ to ¾ teaspoon, to taste
½ cup maple syrup + 1 tablespoon, to taste
You may have noticed that a couple of the ingredients are "to taste." I tend not to use that phrase much after reading somewhere that it's discouraged in recipe writing. But with certain recipes, I think it's important and actually helpful to the reader to emphasize when flexibility of seasonings is encouraged (as opposed to other times when altering a recipe can cause problems).
And this vegan pumpkin pie recipe is pretty flexible! So feel free to taste as you go, adjusting the spices and sweetness to your palate. With this pie filling, a major shift in the wet-to-dry ratio is really the only change that might cause an issue with it setting properly. Otherwise, feel free to play.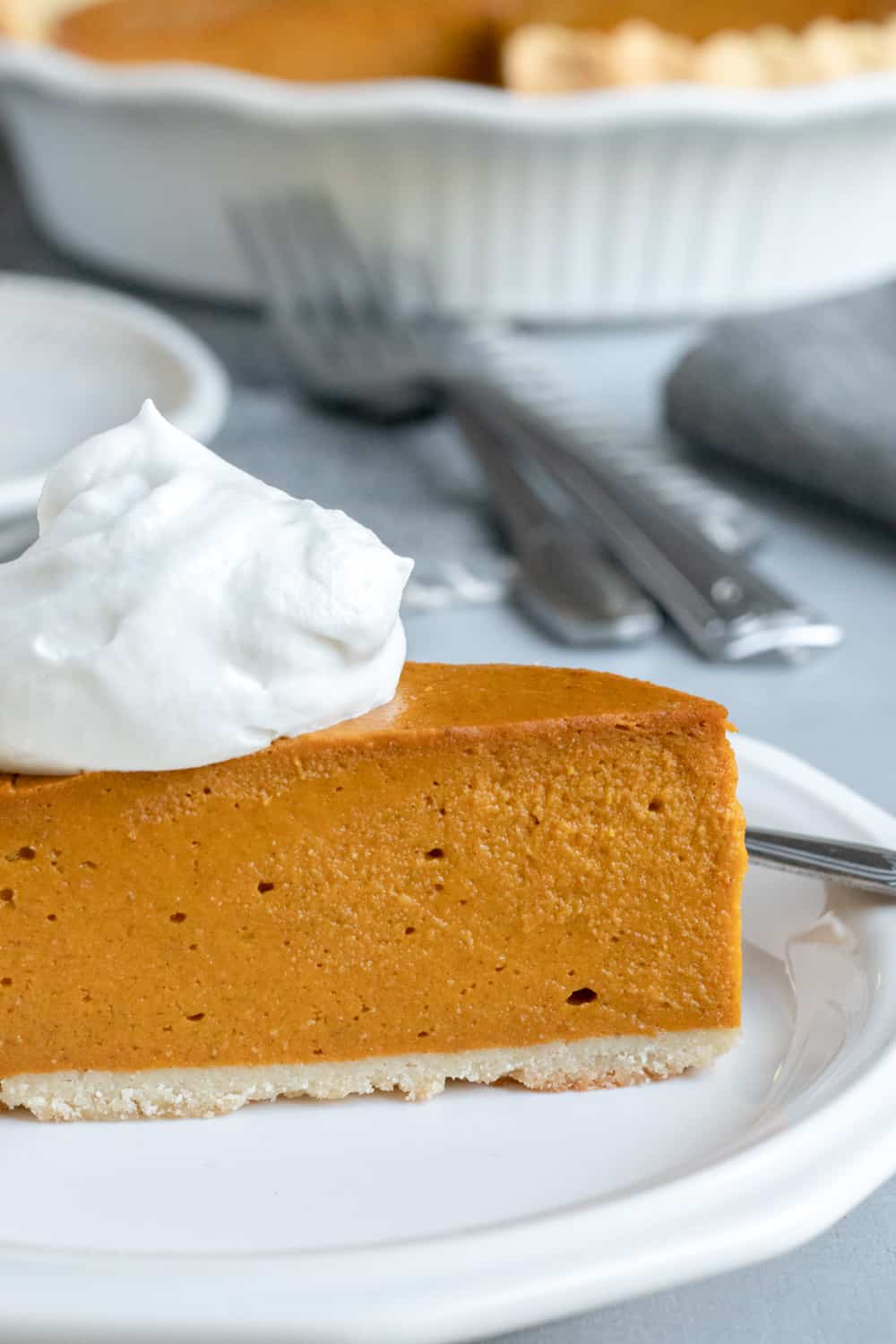 Variation: Super Deep Dish Pumpkin Pie
Check out this towering slice! The photos above and below are of one of my earlier test batches..... yep, a DOUBLE batch.
Since the pumpkin pie filling is so light and low in calories, and that's where most of the flavor is, I decided I wanted more of it. Totally logical, right? And it worked, for the most part. The only issue is that a blender can't handle THIS much volume at once. So I had to blend the filling in two batches, then stir those together in a bowl before adding it to the pie crust. It worked out fine in the end but was a bit more hassle.
With this double-decker pumpkin pie in the fridge, Mark and I proceeded to eat pumpkin pie every day until it was gone! Yep, sure did.
One morning I even scooped some of the filling into my bowl of oatmeal, added extra pumpkin pie spice, and enjoyed every bite. Hmm, maybe this recipe should be named "Pumpkin Pie So Healthy You Can Eat It For Breakfast!"
Allergy-Friendly Pumpkin Pie
When families and friends get together around Thanksgiving it can be challenging to accommodate everyone's different dietary requirements. And when I say "challenging," really what I mean is that you simply want everyone to be able to enjoy as many dishes as possible. And you definitely don't want anyone to feel left out of dessert!
If someone is allergic to coconut, for example, you don't want them to miss out on all of your tasty vegan treats! This allergy-friendly pumpkin pie can help.
Nut-Free Option
Just three easy swaps can make this already allergy-friendly pumpkin pie nut-free, too!
Crust - instead of my almond-flour-based vegan pie crust, use your favorite homemade or store-bought pie crust that accommodates your needs.
Nut butter - the recipe calls for just a few tablespoons of almond or cashew butter; feel free to replace this with coconut cream or a seed butter, such as tahini or sunflower.
Milk - replace the almond milk with your favorite nut-free non-dairy milk, such as soy, oat, rice, or flax.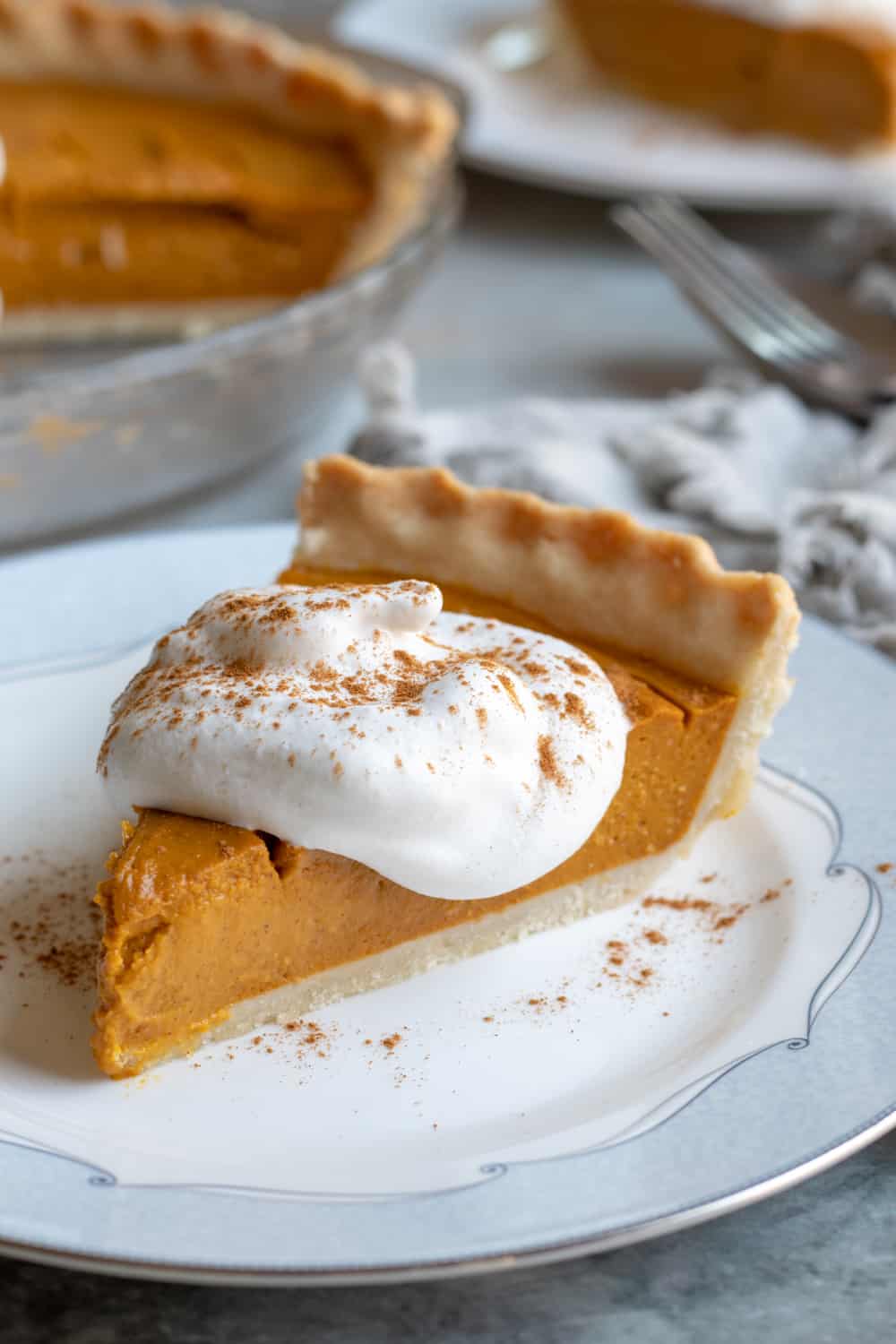 I hope you and your loved ones enjoy this delicious, vegan gluten-free pumpkin pie this holiday season (or anytime of year)! And if you do try it I would love to hear from you.
Please come back and give it a star rating and leave a comment to let us know how you enjoyed it (feel free to ask questions in the comments section, too). If you share a photo of your pie on facebook or instagram I would love for you to tag @myquietkitchen so I can see!
Happy baking!
More vegan holiday recipes:
Healthy Sweet Potato Pie (oil-free)
Vegan Pumpkin Oat Ice Cream (oil-free)
Salted Chocolate Pecan Pie
Cranberry Cream Pie
Easy Vegan Cranberry Sauce
Vegan Turkey Roast
Black Lentil-Beyond Meat Vegan Meatloaf
Follow My Quiet Kitchen on Facebook, Instagram, and Pinterest, and subscribe via email to receive all of the latest recipes!
Vegan Gluten-Free Pumpkin Pie
Creamy, sweet, perfectly spiced vegan pumpkin pie that's filled with all the delicious flavor you want and nothing you don't. This pie is FREE from oil, refined sugar, dairy, eggs, soy, coconut, and gluten, but no one will miss them! Very easy to prepare, too. (WFPB; nut-free option)
Ingredients
1

unbaked

Gluten-Free Vegan Pie Crust (oil-free) -

Or your favorite pie crust recipe

¼

cup

rolled oats

-

Use certified GF oats if needed; can also sub 3 Tbsp GF flour or almond flour

3 to 4

tablespoons

almond or cashew butter, smooth

-

Omit or sub seed butter or additional oats for nut-free option

1

cup

unsweetened non-dairy milk such as almond, flax, rice or oat

½

cup

plus 1 Tbsp maple syrup

2

teaspoons

vanilla extract

3

tablespoons

corn starch or 2 ½ tablespoons arrowroot

15

ounces

pumpkin puree (pureed, cooked pumpkin with nothing added)

-

Sub sweet potato if you like.

2

teaspoons

pumpkin pie spice

¾

teaspoon

cinnamon plus more for garnish
Instructions
Preheat oven to 350 degrees F. Prebake the pie crust for about 10 minutes, or follow package directions if using a store-bought crust.

Combine all filling ingredients in a blender (oats, nut/seed butter, milk, maple syrup, vanilla, arrowroot or corn starch, pumpkin, and spices). Begin by blending on low, gradually increasing to high speed. The mixuture will be fairly thick.

Once the filling is smooth and creamy, pour it into the prebaked pie crust. Bake for 50 to 55 minutes or until the center looks just set. *Depending on the crust you're using, you may need to cover the edges with foil or a pie crust shield after 25 - 30 minutes to prevent it from getting too brown. If using my gluten-free crust recipe, the crust should be okay uncovered the whole time.

Let the pie cool to room temperature, then cover and refrigerate at least 3 to 4 hours before serving. See Notes for serving suggestions.
Notes
This pie is delicious with a dollop of cool and creamy nice cream or vegan whipped topping and a dash of cinnamon!
Serving Suggestions (check for allergens/oil/sugar as needed):
Storage
Refrigerate leftover pie up to 3 days. Pie can also be frozen. Be sure to wrap well and protect from air/freezer burn. Thaw in the refrigerator before serving.
Estimated Nutrition (per serving)
Calories:
261
kcal
Carbohydrates:
35
g
Protein:
6
g
Fat:
12
g
Cholesterol:
0
mg
Sodium:
82
mg
Fiber:
4
g
Sugar:
15
g
Vitamin A:
105
IU
Vitamin C:
0
mg
Calcium:
14
mg
Iron:
9
mg
Nutrition information is an estimate and will vary depending on the exact amounts and specific products and ingredients used. We calculate this information using the online calculator cronometer.com. For the most accurate nutrition information we recommend calculating it yourself to reflect the specific ingredients used in your dish.
Did you try the recipe?
Comment below to let us know!