Any of these amazing vegan pies are sure to please this holiday season. From vegan pumpkin pie and pecan pie, to apple, cranberry, and even chocolate, we've got you covered! Even better, there are many gluten-free and allergy-friendly options in this collection of vegan pies.... because no one should ever feel left out when it's time for dessert!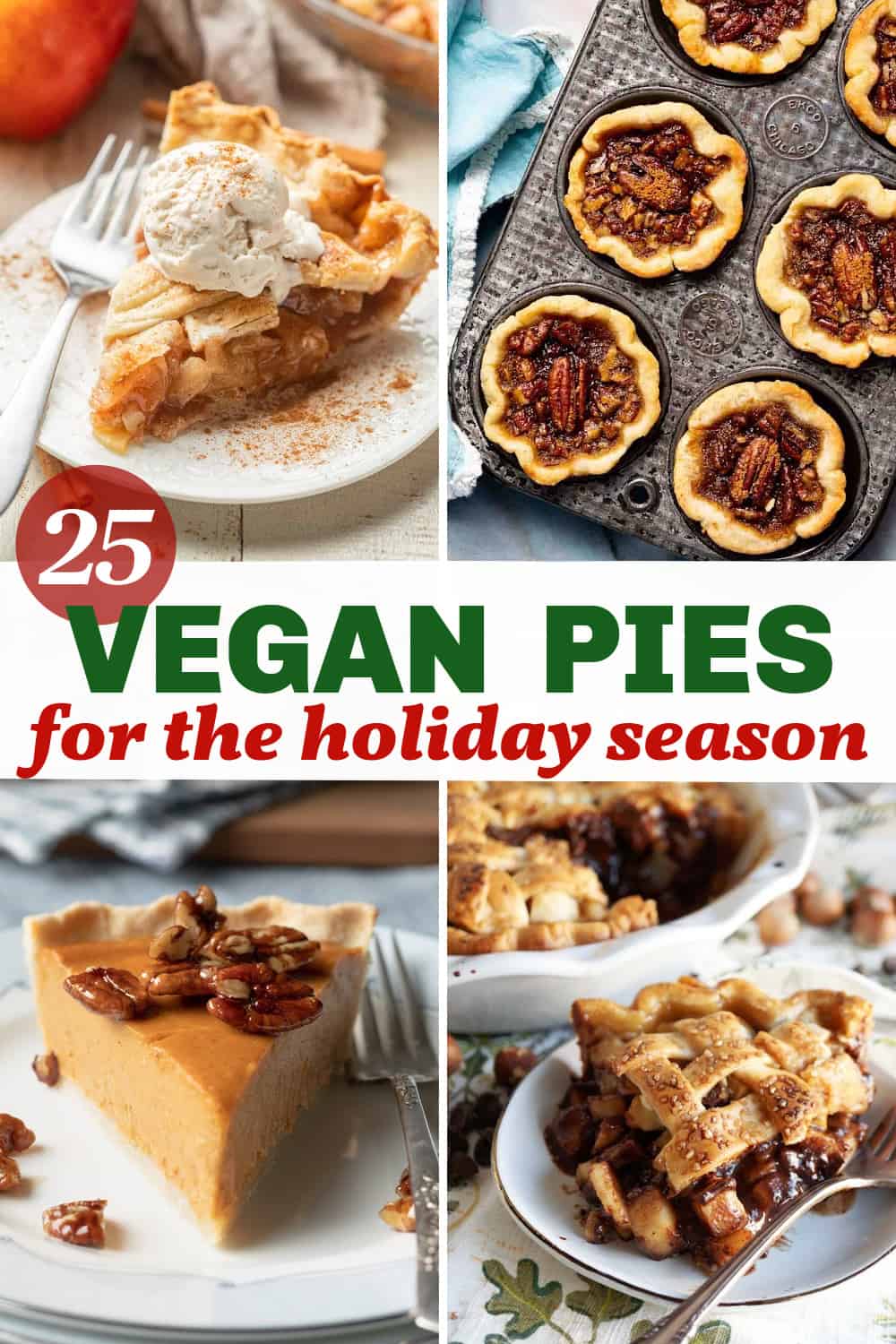 Vegan Thanksgiving desserts may include cakes, tarts, bars, and confections. But everyone knows it's really all about the pies.
So whether you're vegan, have an allergy to dairy or eggs, or you're an omnivore having a vegan over for Thanksgiving dinner, this collection of vegan pie recipes was created with you in mind.
Below you'll also find our recommendations for the best vegan pie crusts, both homemade and store-bought, AND the best brands of dairy-free whipped topping to look for in stores.
Of course, there's also a carefully curated list of 25 delicious vegan pie recipes for you to choose from!
Use the Table of Contents below to preview the list and jump to your favorites.
If you have any questions feel free to drop us a line in the comments section at the bottom of the page.
New to vegan baking? Check out my Top 12 Vegan Baking Tips!
Jump to:
Vegan Pie Crust Recipes
Many of the recipes in this list include their own unique pie crust. One of the great things about pie is you can often mix and match fillings and crusts.
For recipes that call for a classic vegan pie crust, you can usually swap it out for an alternative pie crust if needed. Try these healthy and allergy-friendly options:
Tip! Always review the recipe and bake time to ensure the pie crust recipe you plan to use is a good match with the filling.
Which store-bought pie crusts are vegan?
Sometimes manufacturer's are sneaky and use trendy marketing phrases and package designs to imply a product is plant-based, even when it's not.
That's why it's always a good idea to carefully review ingredient lists, especially with something like pie crust. You don't want to accidentally ruin your lovely pie by using a crust that contains lard, like Pillsbury's for example.
Keep an eye out for the following vegan pie crust options in stores:
Wholly Wholesome - they offer organic vegan rolled pie dough and pre-made pie shells, regular and whole-wheat.
Jus-Rol - thick, vegan-friendly pie dough. Check out the store-locator on their site.
Marie Callender's frozen pastry pie shells - surprisingly (and thankfully), the company uses soybean oil instead of lard in these pre-formed shells.
Vegan Whipped Cream
It's pretty easy to make your own vegan whipped cream at home.
For store-bought, here are a few options:
So Delicious Cocowhip - so good you'll want to eat it by the spoonful! Visit the store finder on their website to locate a retailer. Find Cocowhip in the freezer section of the grocery store.
Truwhip Vegan - in their line of whipped toppings they have ONE vegan option, so be sure to check the labels. Here is their store locator tool.
365 Plant-Based Whipped Topping - find it at Whole Foods. Full disclosure, I hope they've reformulated this one. I tried it when it first came out and knew I'd never choose it over So Delicious.
Reddi-wip - they have 2 vegan options, almond and coconut. The cans can be a bit finicky, so I tend to prefer Cocowhip. Reddi-wip doesn't have a store locator on their website, but it is widely distributed. You should be able to find at least one of the non-dairy varieties at major retailers.
Tip! Remember to move the tubs of frozen whipped topping to the refrigerator to thaw a few hours before the big meal.
And if you're more of an a-la-mode kind of person, you can't go wrong with this homemade vanilla oat milk ice cream.
25 Vegan Pies for the Holidays
1. Bourbon Pecan Pie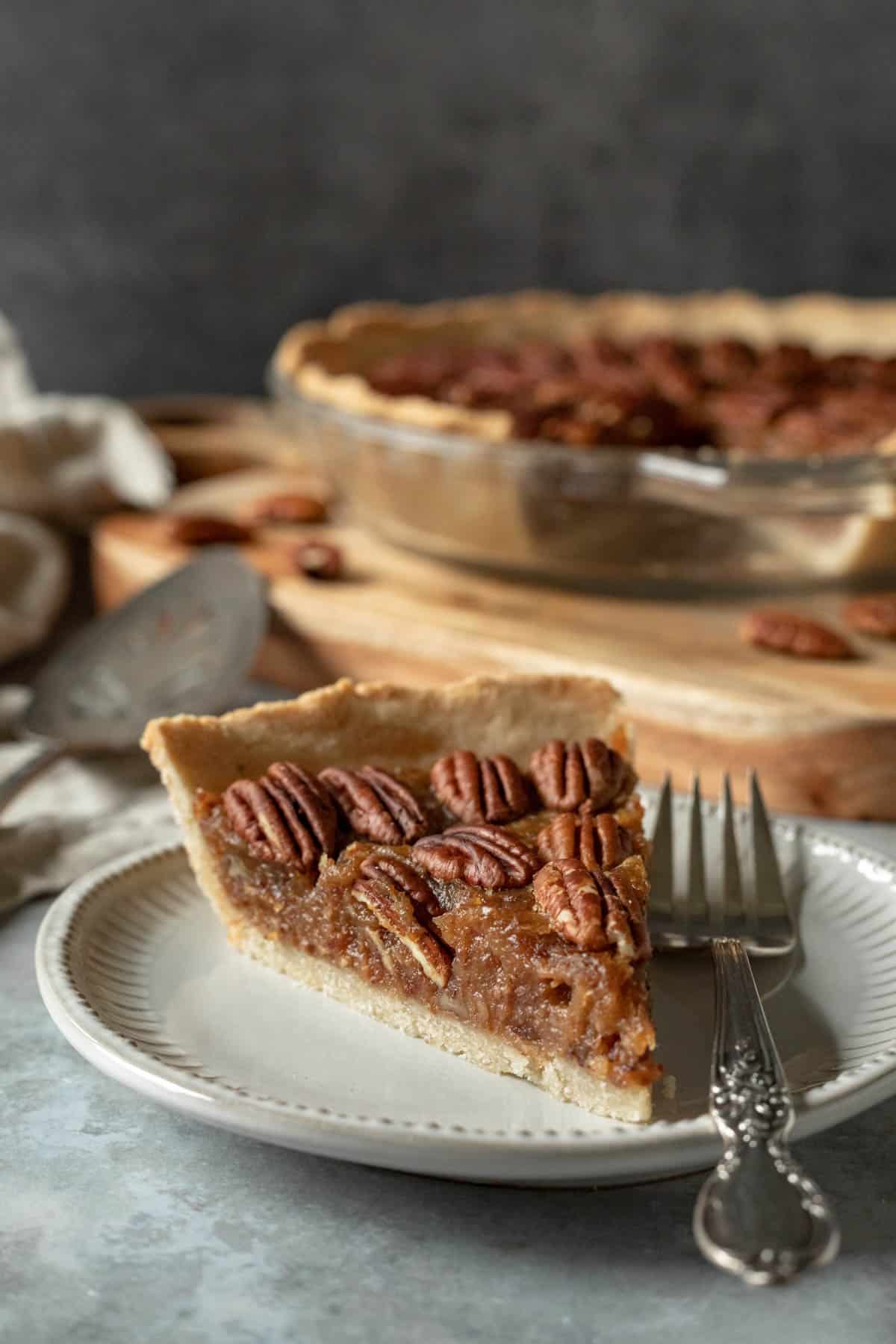 by My Quiet Kitchen
The gooey filling in this rich pecan pie is made with dates, vegan butter, and maple syrup. A splash of bourbon adds warmth and flavor... or skip it for a booze-free pie.
2. Healthier Pumpkin Pie (GF)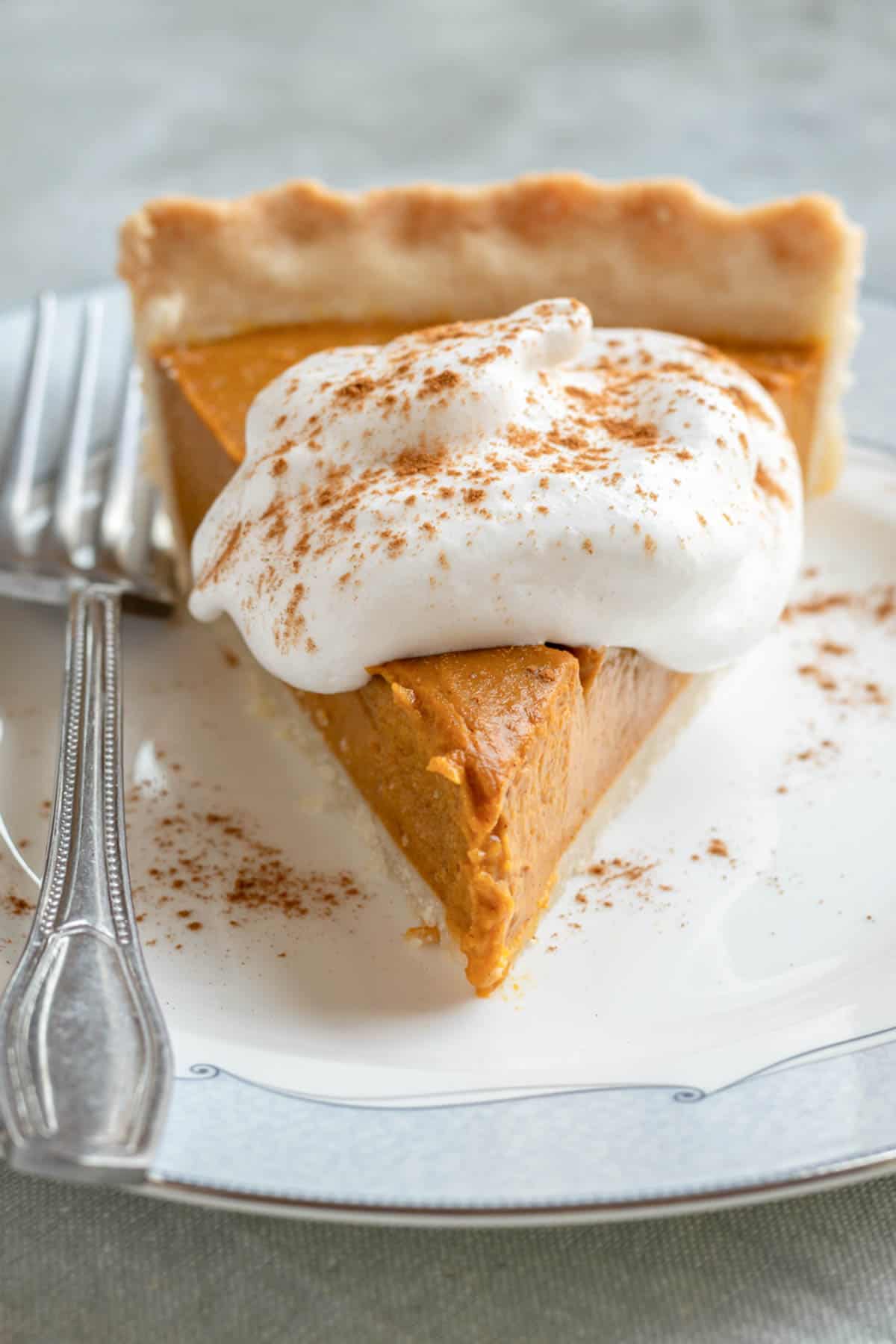 by My Quiet Kitchen
Perfectly creamy, spiced, and dense, this vegan pumpkin pie also works great as a crustless pie! Leftovers are fantastic for breakfast with a cup of coffee.
3. Vegan Custard Pie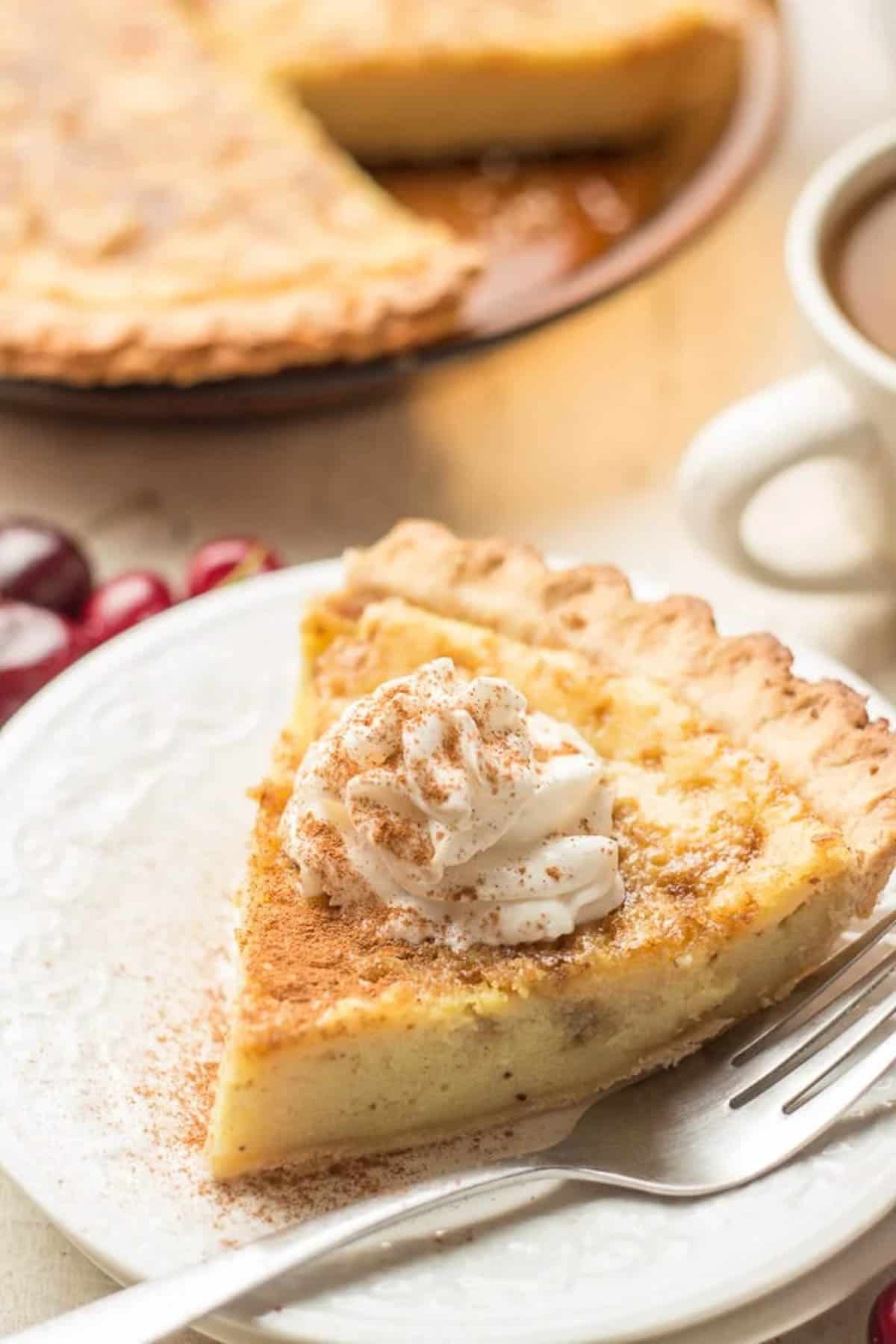 by Connoisseurus Veg
Think you can't make custard without eggs and dairy? Think again! This rich and creamy pie is full of nostalgia and genius in its simplicity.
4. Bourdaloue Tart (GF)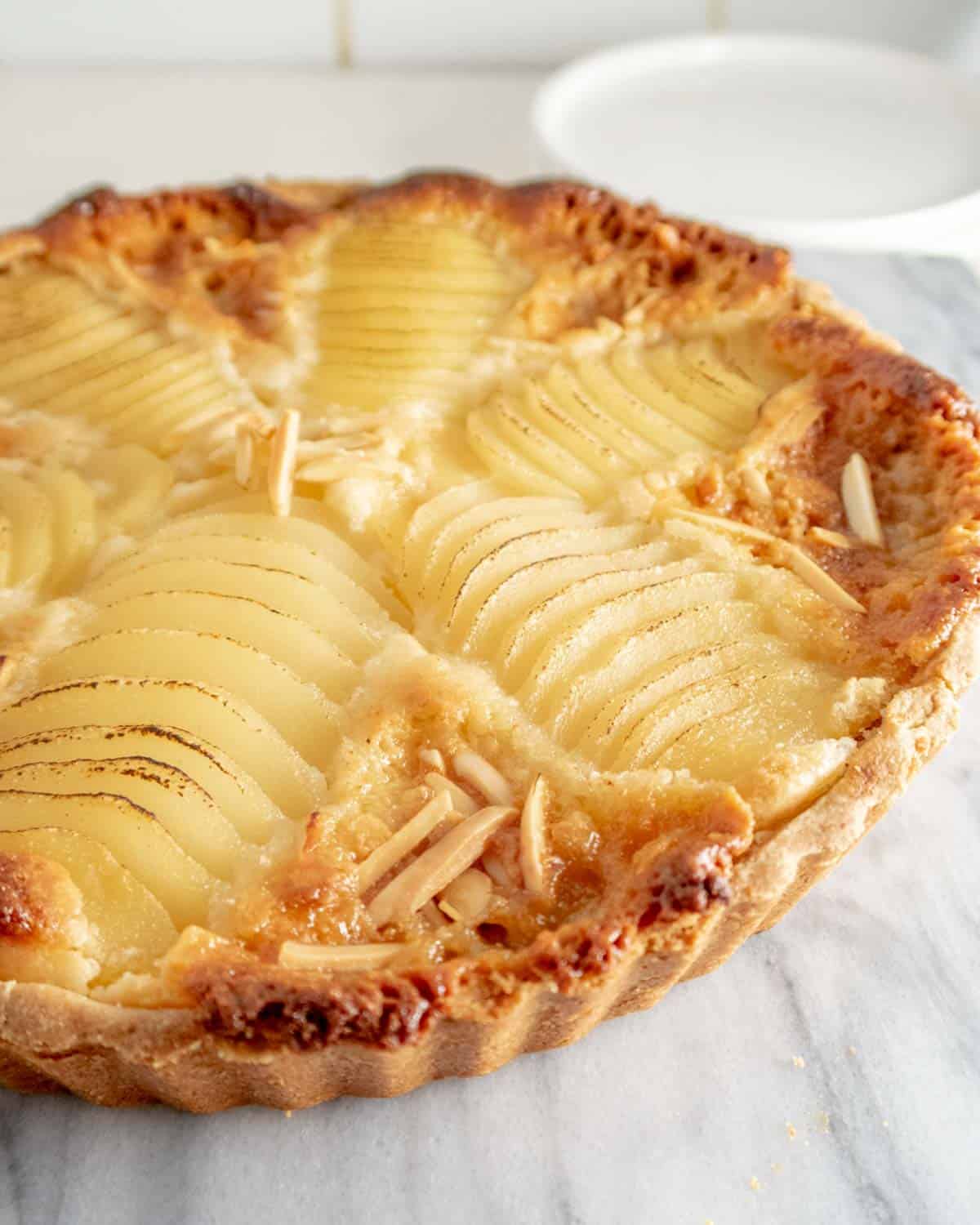 by Berry Baker
Filled with frangipane (almond cream) and juicy pears, the complex flavors and elegant presentation of this classic French tart make the holidays feel even more special.
5. Vegan Chocolate Pecan Pie (GF)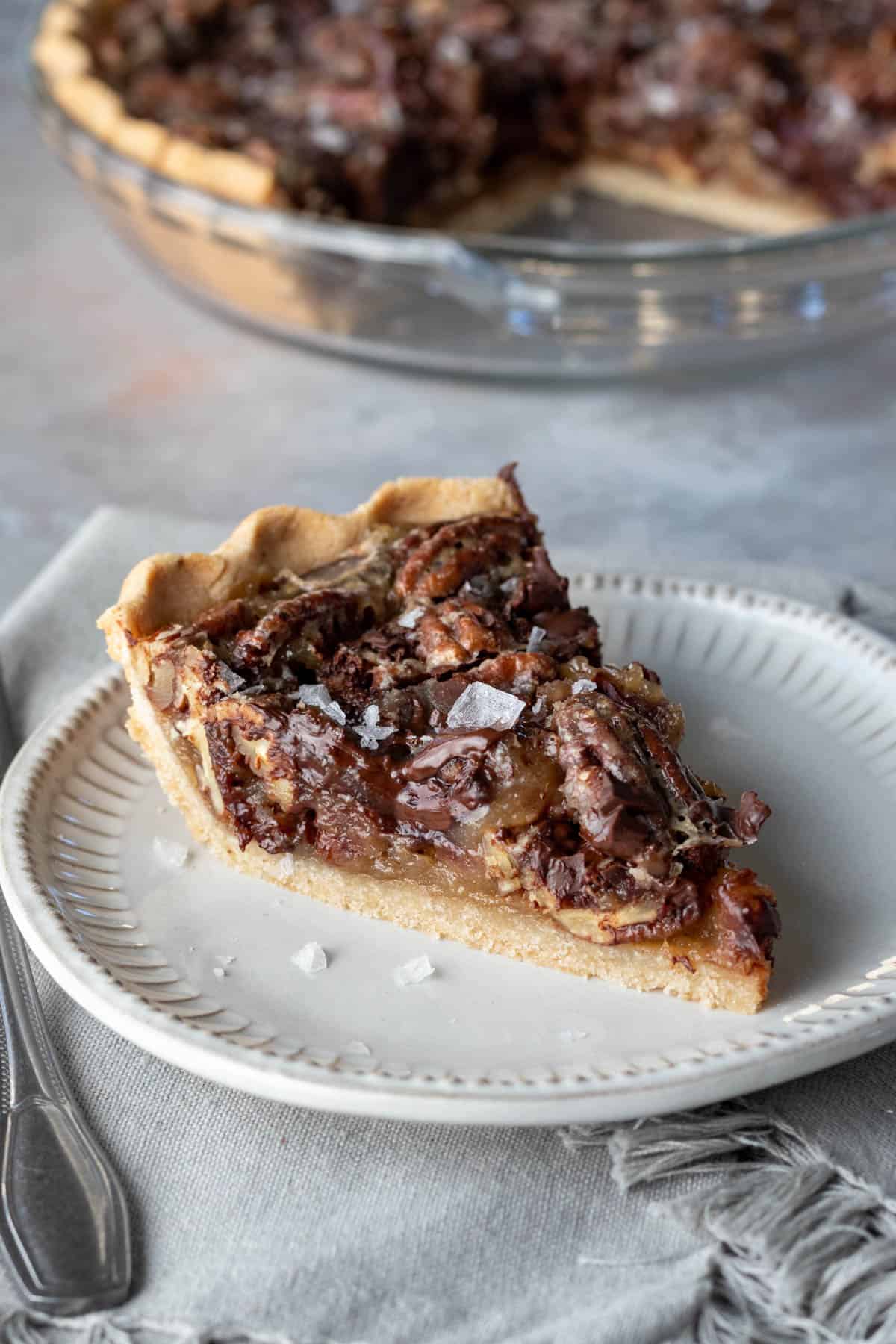 by My Quiet Kitchen
With a sweet, caramel-like filling, chunky pecans, dark chocolate, and a sprinkle of Maldon sea salt, this pie is everything you want in a holiday dessert.
Bonus: it holds up great at room temperature making it an easy option to carry to parties and family gatherings.
6. Sweet Potato Pie (GF)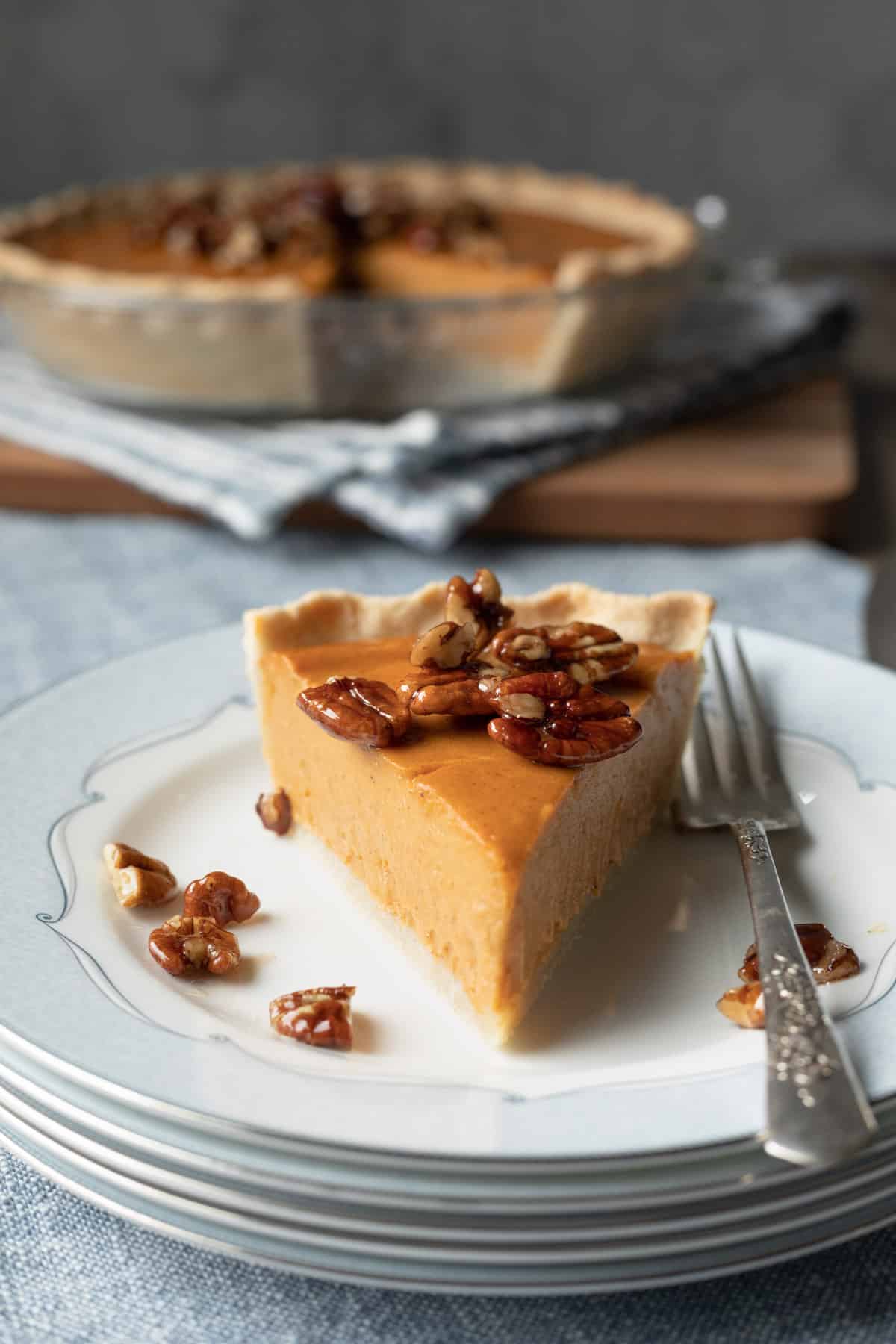 by My Quiet Kitchen
A twist on traditional sweet potato pie, this one has silky smooth filling that's light yet still so flavorful. A great option if you're accommodating special diets this holiday season as it's FREE from refined-sugar, eggs, dairy, oil, gluten, soy AND coconut.
7. Classic Vegan Apple Pie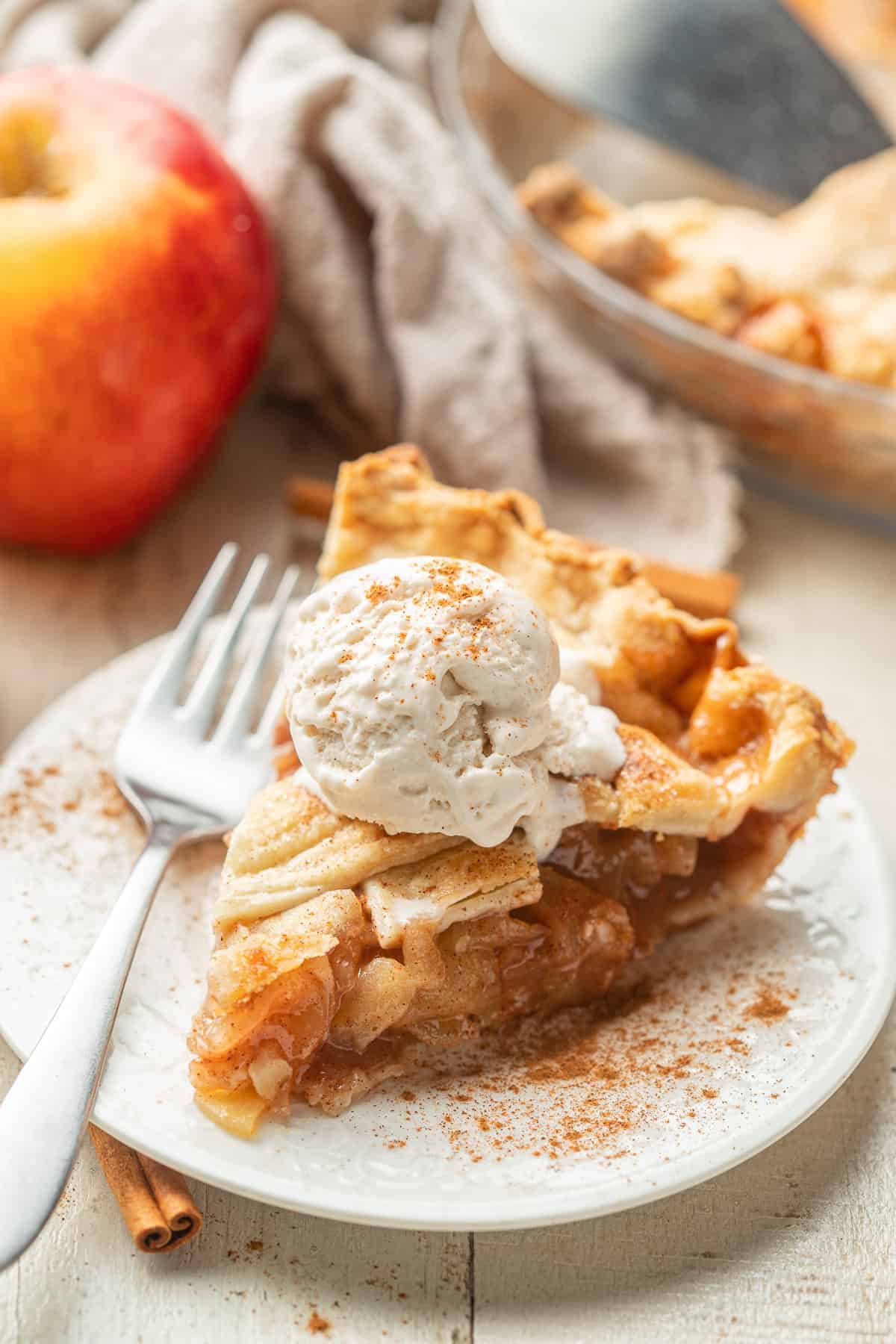 by Connoisseurus Veg
Sweet, tender, cinnamon apples are surrounded by two layers of flaky vegan pie crust. It's a classic for a reason!
8. Cranberry Cream Pie (GF)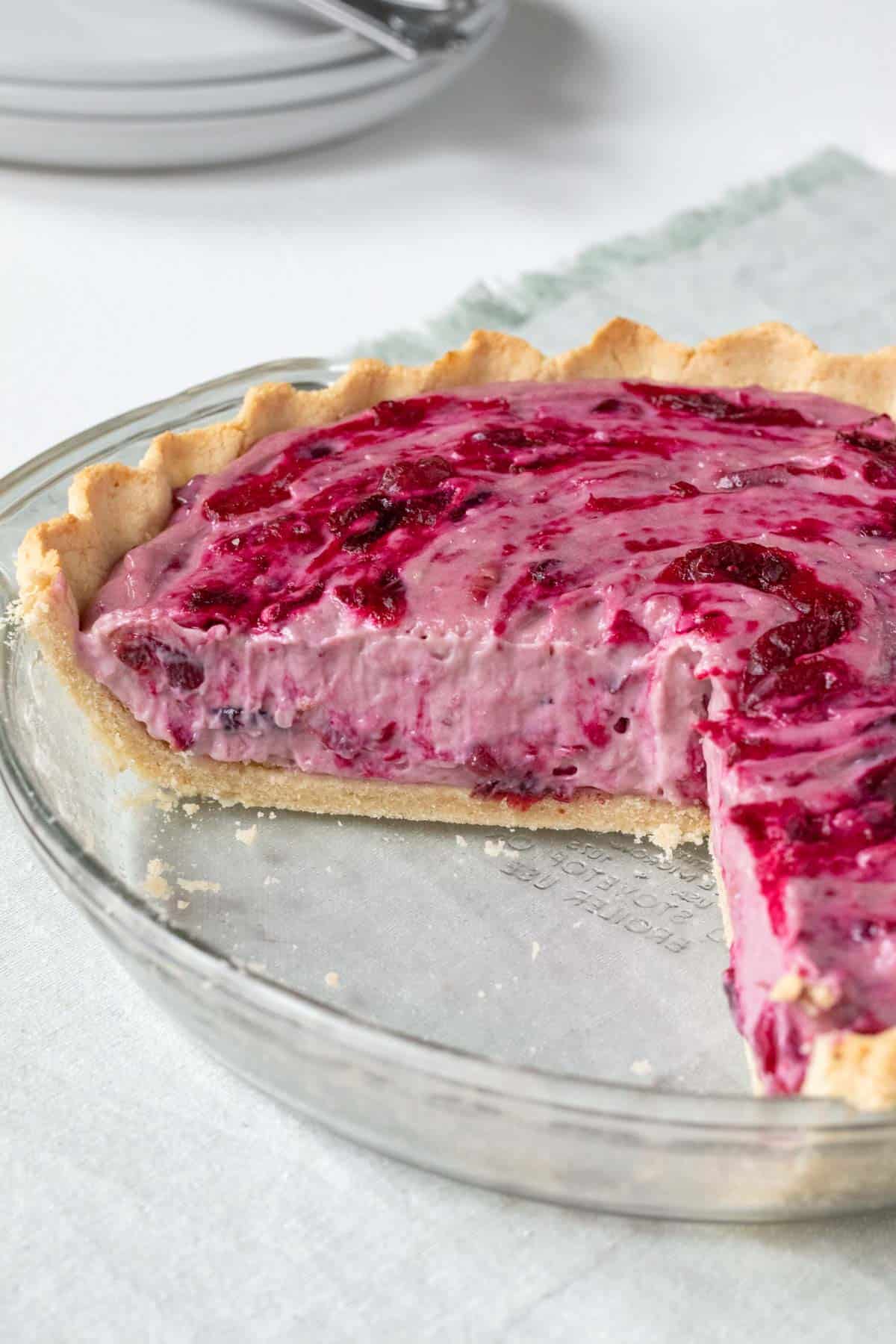 by My Quiet Kitchen
If you enjoy the flavor of cheesecake and the consistency of cream pie, you'll love this pretty-in-pink dessert. Homemade cranberry sauce is whisked into a creamy cashew pudding. Serve chilled or frozen.
9. Chocolate Hazelnut Pear Pie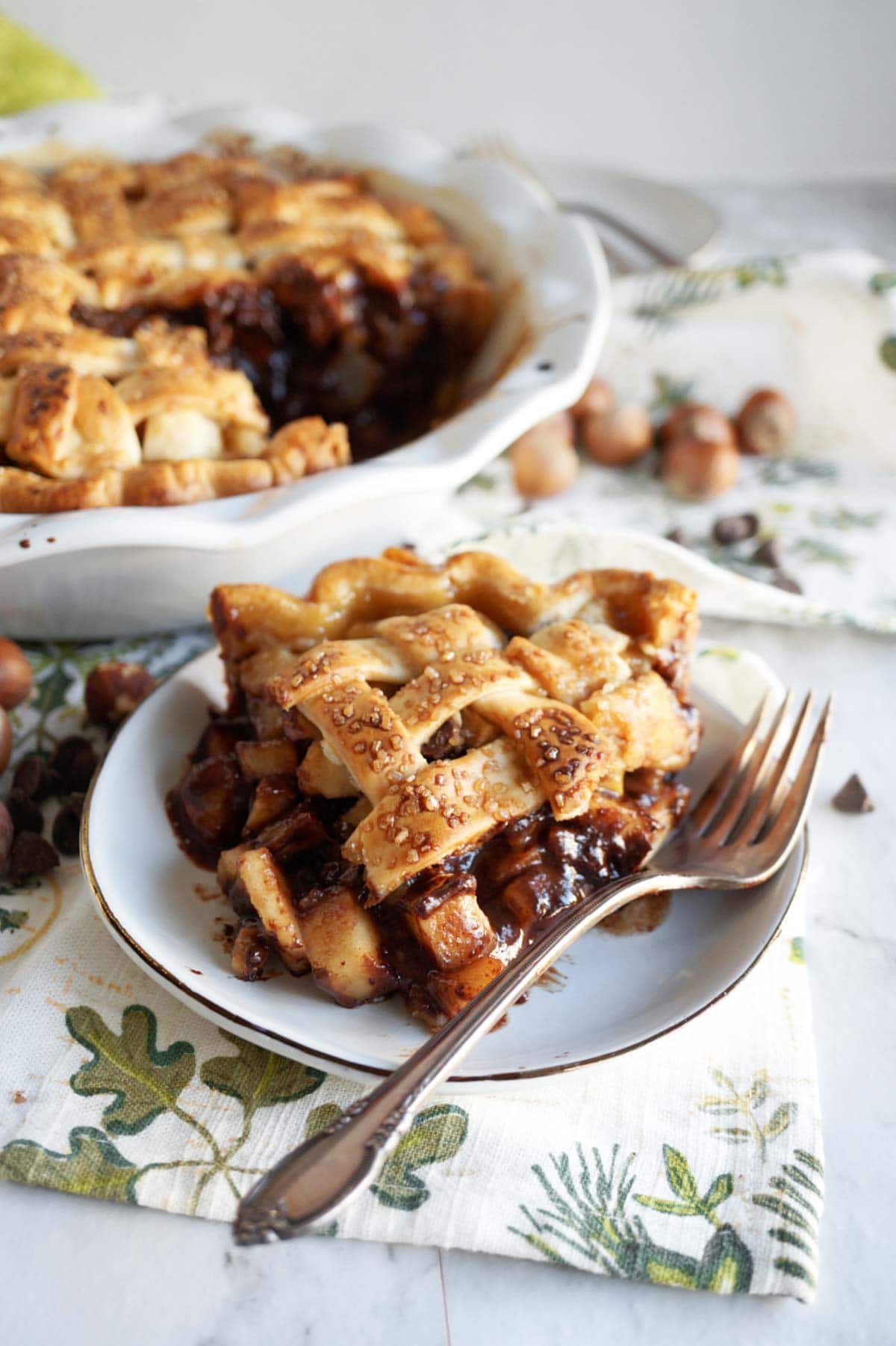 by The Baking Fairy
Sweet pears are combined with chocolate and toasted hazelnuts for a unique and beautiful pie. And it's ridiculously easy to pre-pear! 🙂
10. Mini Butter Tarts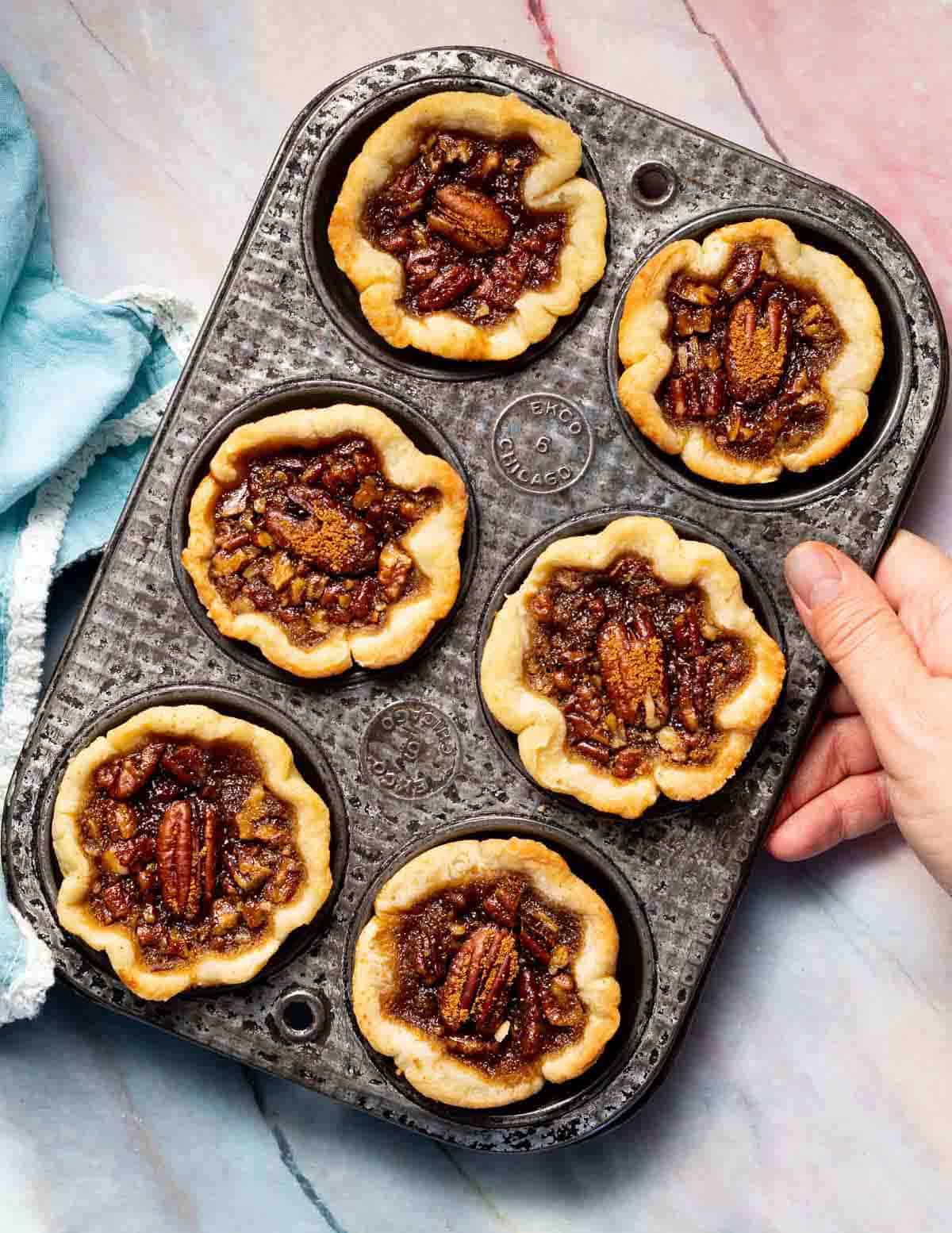 by A Virtual Vegan
Filled with raisins, nuts and a rich and gooey maple filling, these little tarts are a Canadian tradition & perfect for Thanksgiving!
11. Fudgy Dark Chocolate Pie (GF)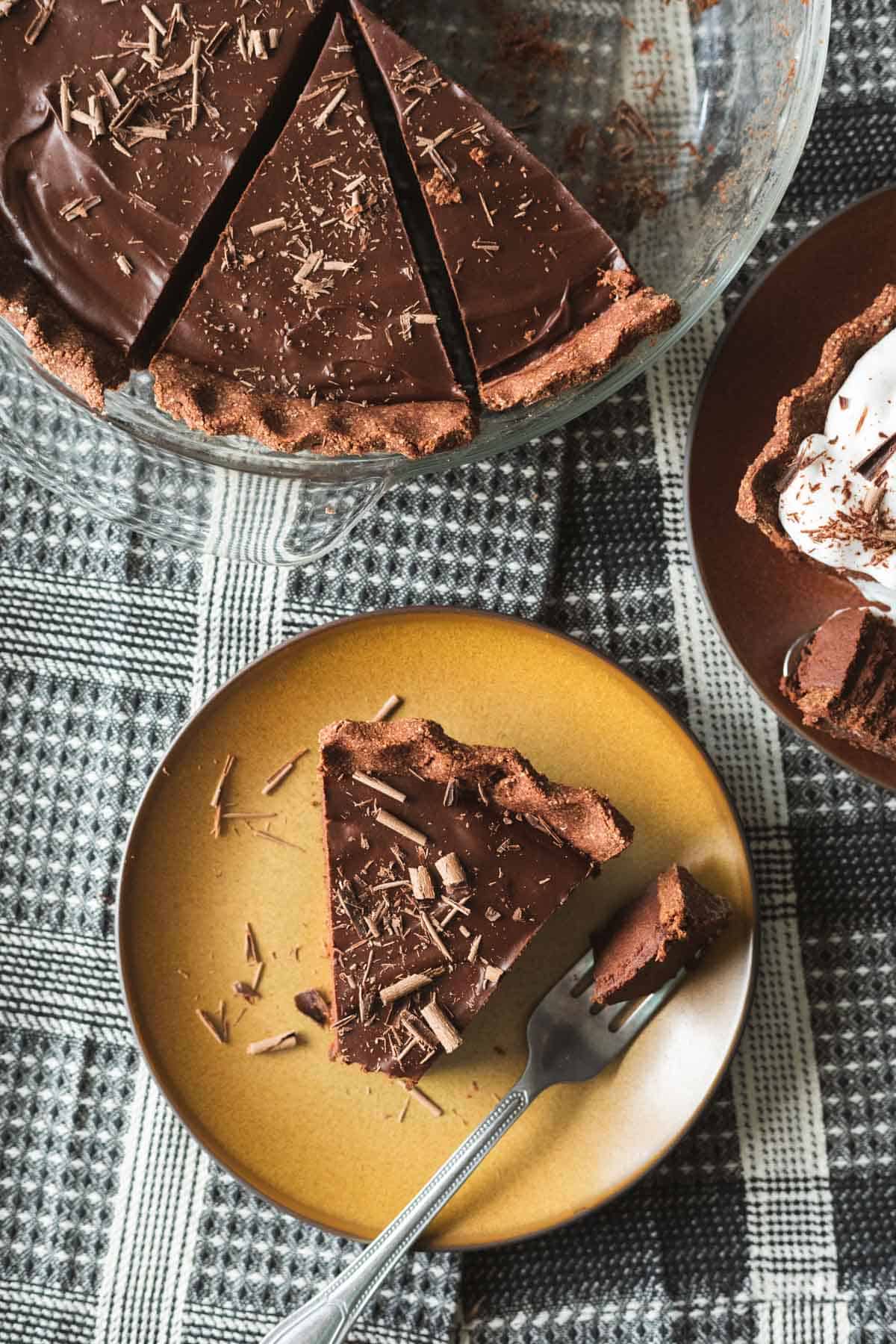 by My Quiet Kitchen
Imagine deep, rich, dark chocolate flavor with a dense consistency that's more similar to cheesecake than a cream pie or silk pie. The chocolate-lovers in your family will fight over this one, and you'll love how EASY it is to make!
12. Chocolate Pumpkin Pie (GF)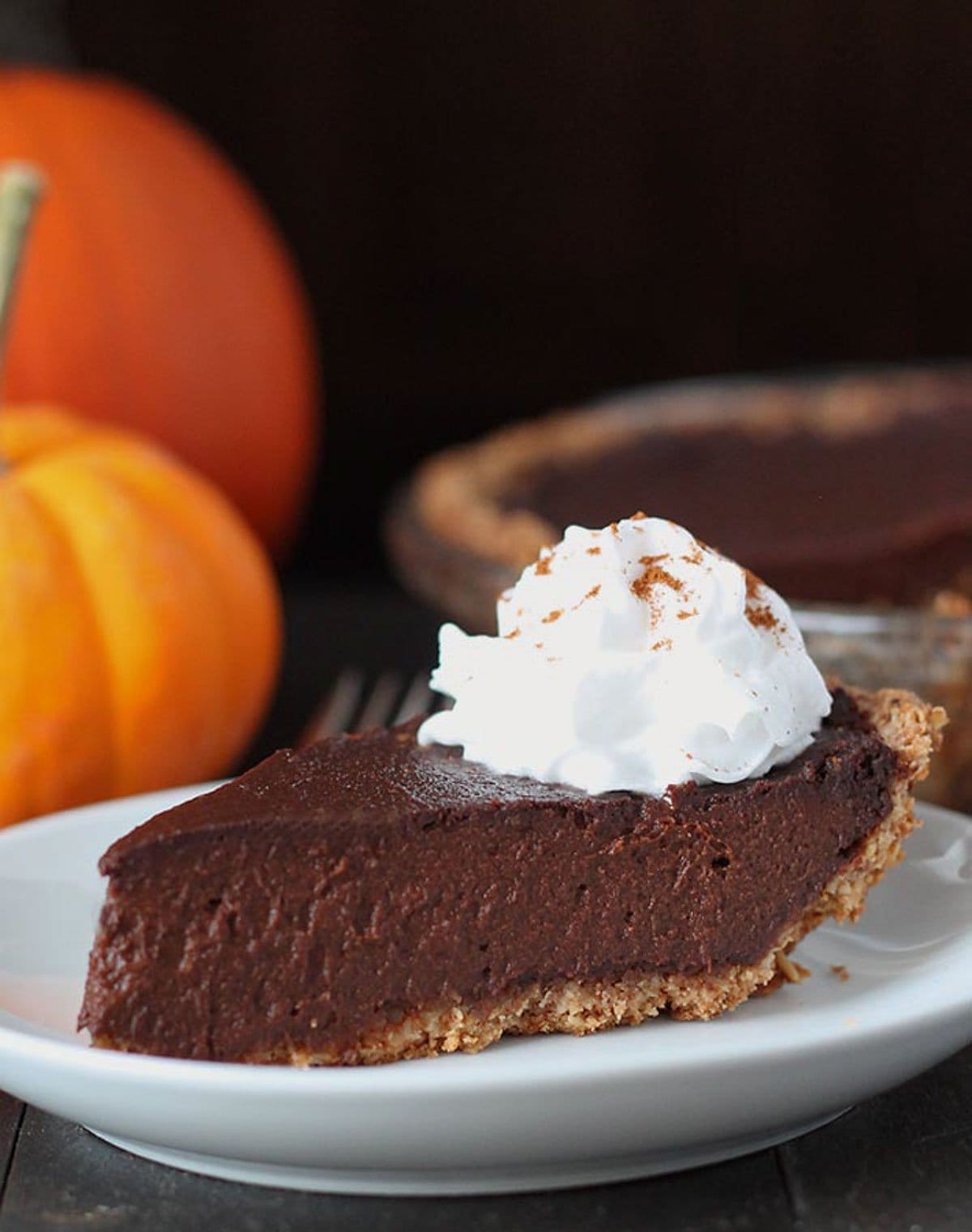 by Delightful Adventures
If you've never paired pumpkin with chocolate before, prepare yourself for an "a-ha" moment! This gluten-free pie has an almond-oat crust and a creamy, spiced, chocolate-y filling.
13. Apple-Cranberry Hand Pies (GF)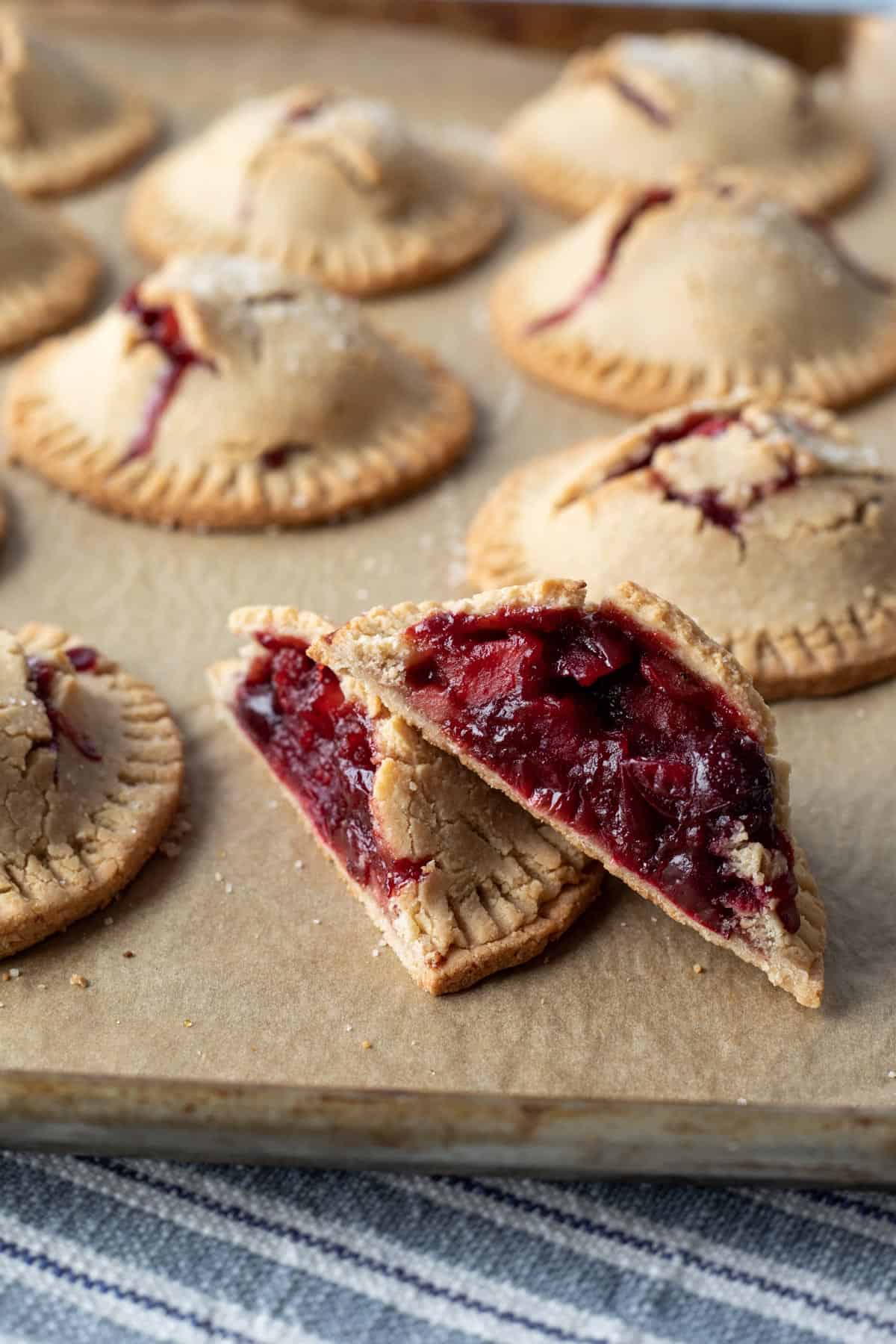 by My Quiet Kitchen
Made with our vegan gluten-free pie crust and filled with a simple apple-cranberry compote, these beautiful hand pies are almost too cute to eat. Made with wholesome ingredients, these are perfect for health-conscious friends and fam or anyone who simply loves cranberries!
14. Chocolate Chip Pie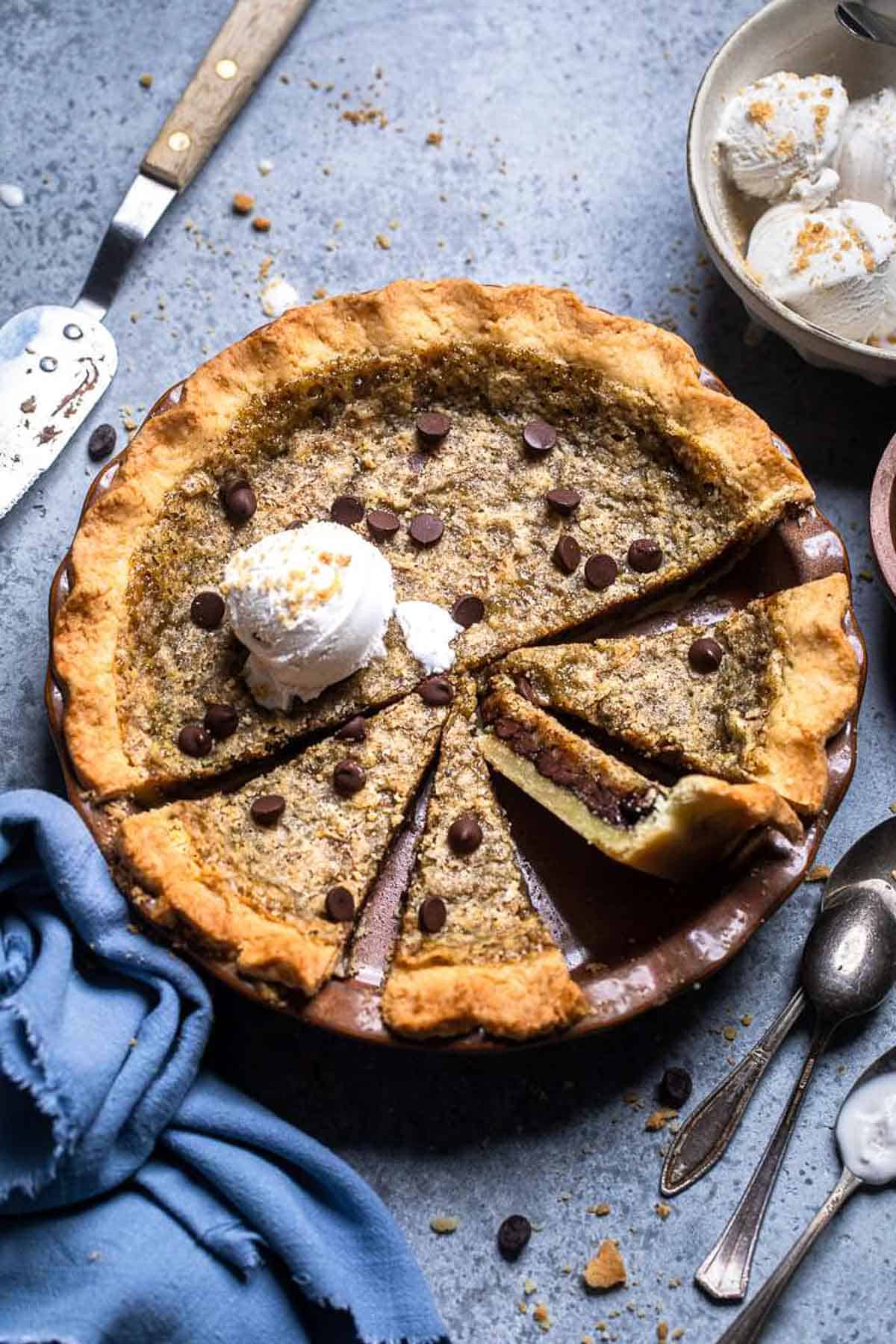 by Make It Dairy Free
Imagine a giant walnut-chocolate chip cookie married with a buttery chess pie... and it's VEGAN. Swoon! Let's all take a moment to collect ourselves.
15. Pecan Cream Pie (GF)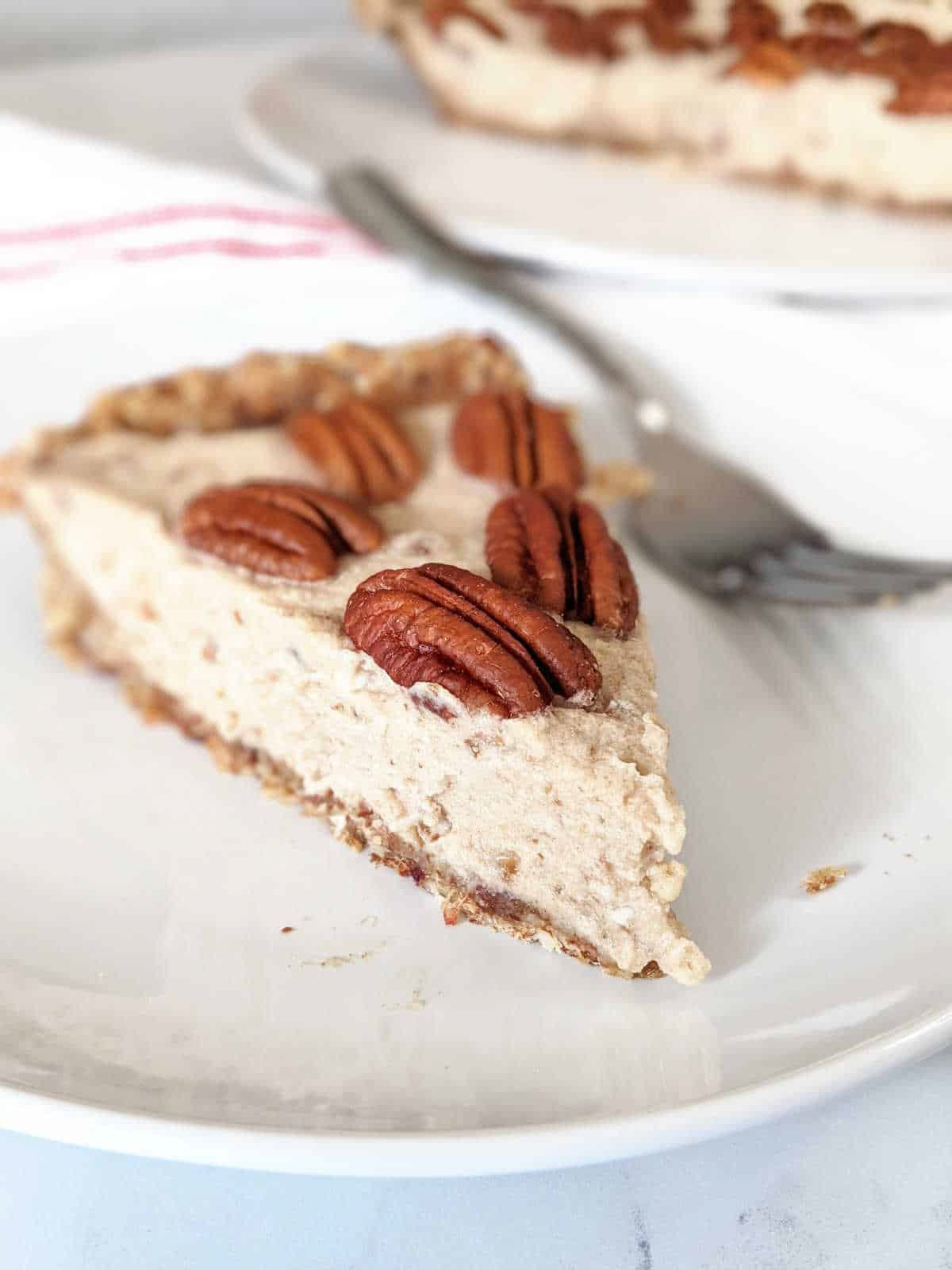 by Health My Lifestyle
Made with coconut cream and naturally sweetened with dates, this fluffy cream pie is rich, nutty, and surprisingly easy to make.
16. Purple Sweet Potato Pie (GF)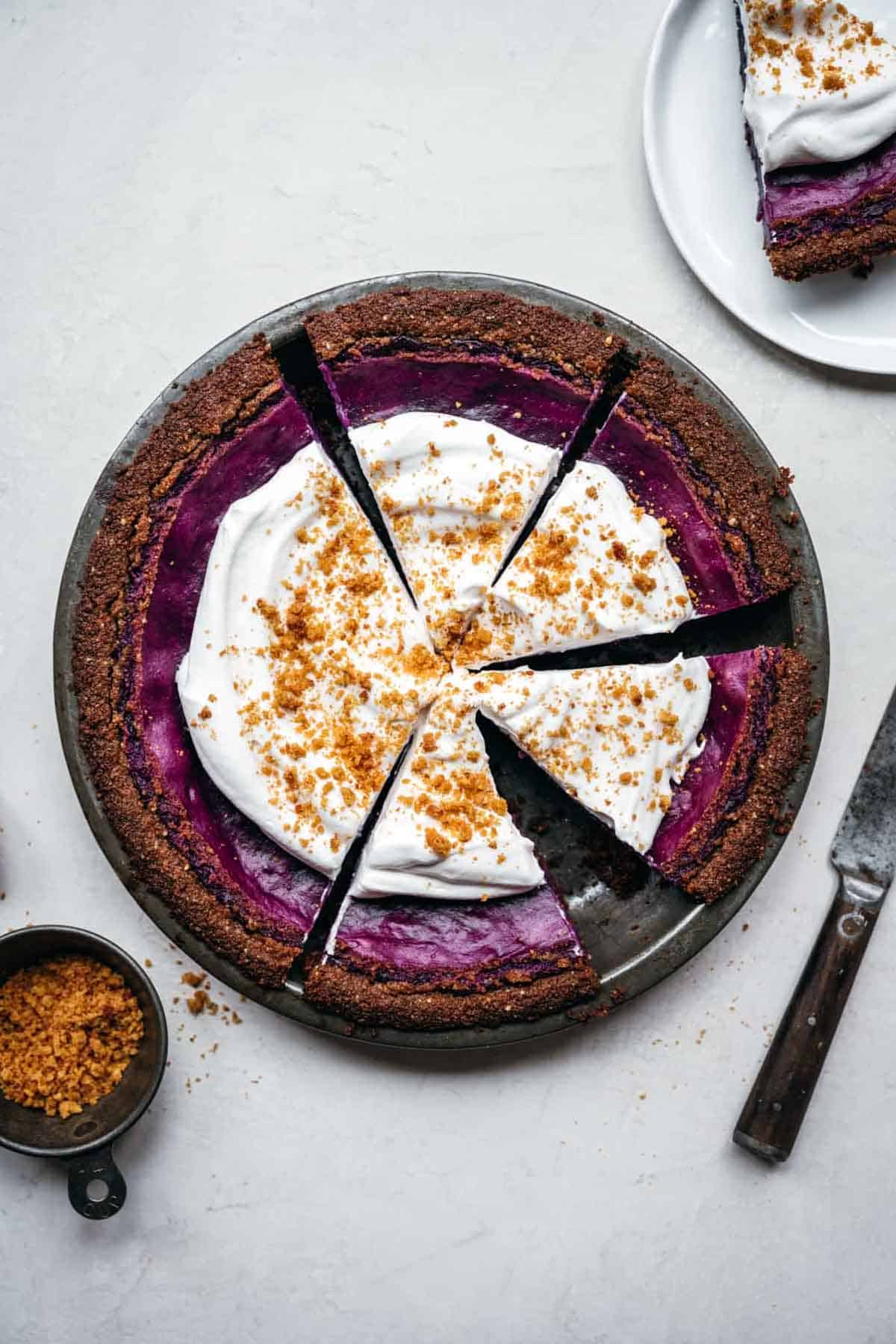 by Crowded Kitchen
With a ginger snap crust and orange-scented purple sweet potato filling, this eye-catching vegan pie is sure to become a holiday favorite!
17. Vegan Haupia Pie (GF)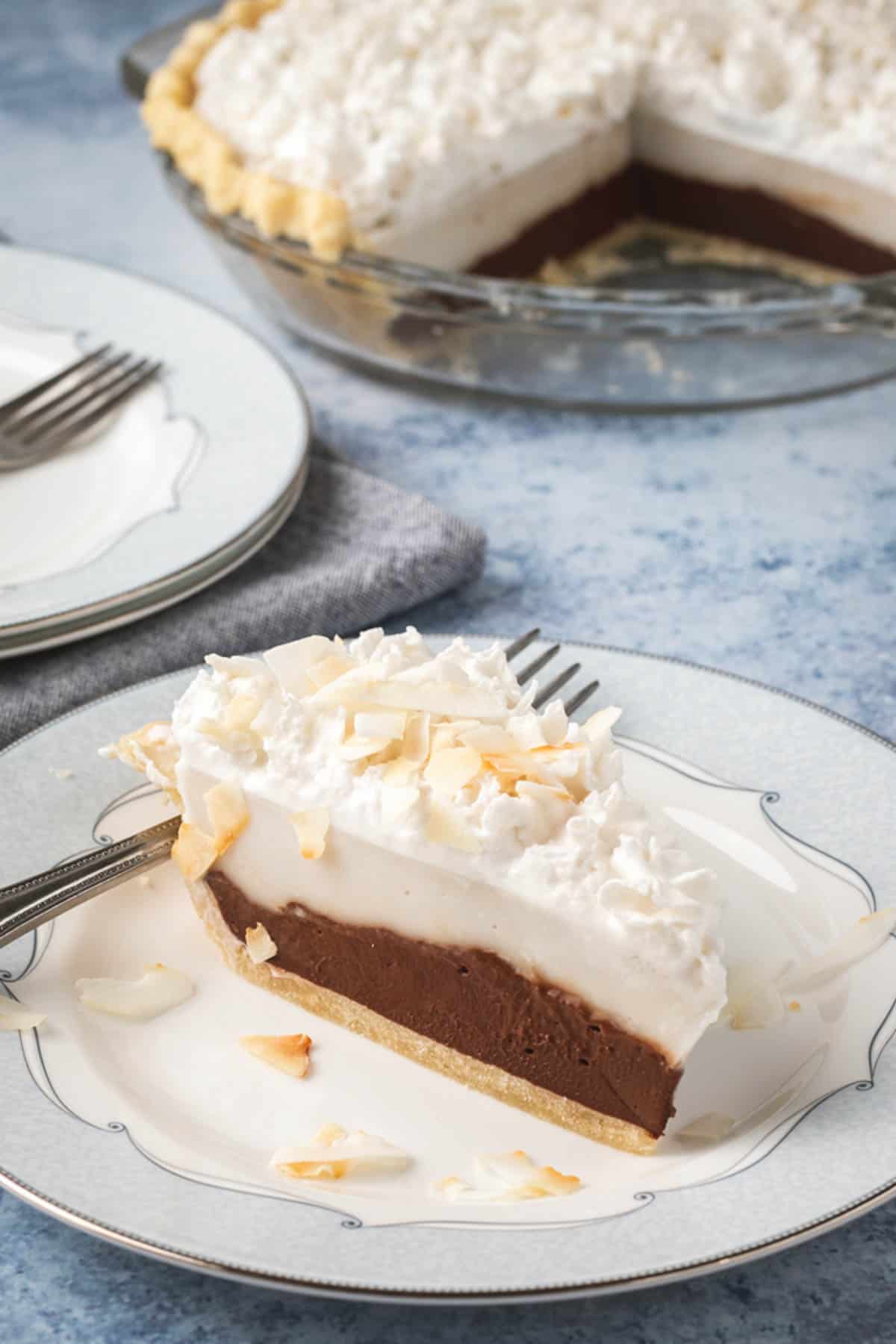 by My Quiet Kitchen
Bring Hawaiian island vibes to the holiday table this year with our vegan version of this popular Hawaiian coconut dessert.
18. Healthier Pecan Pie (GF)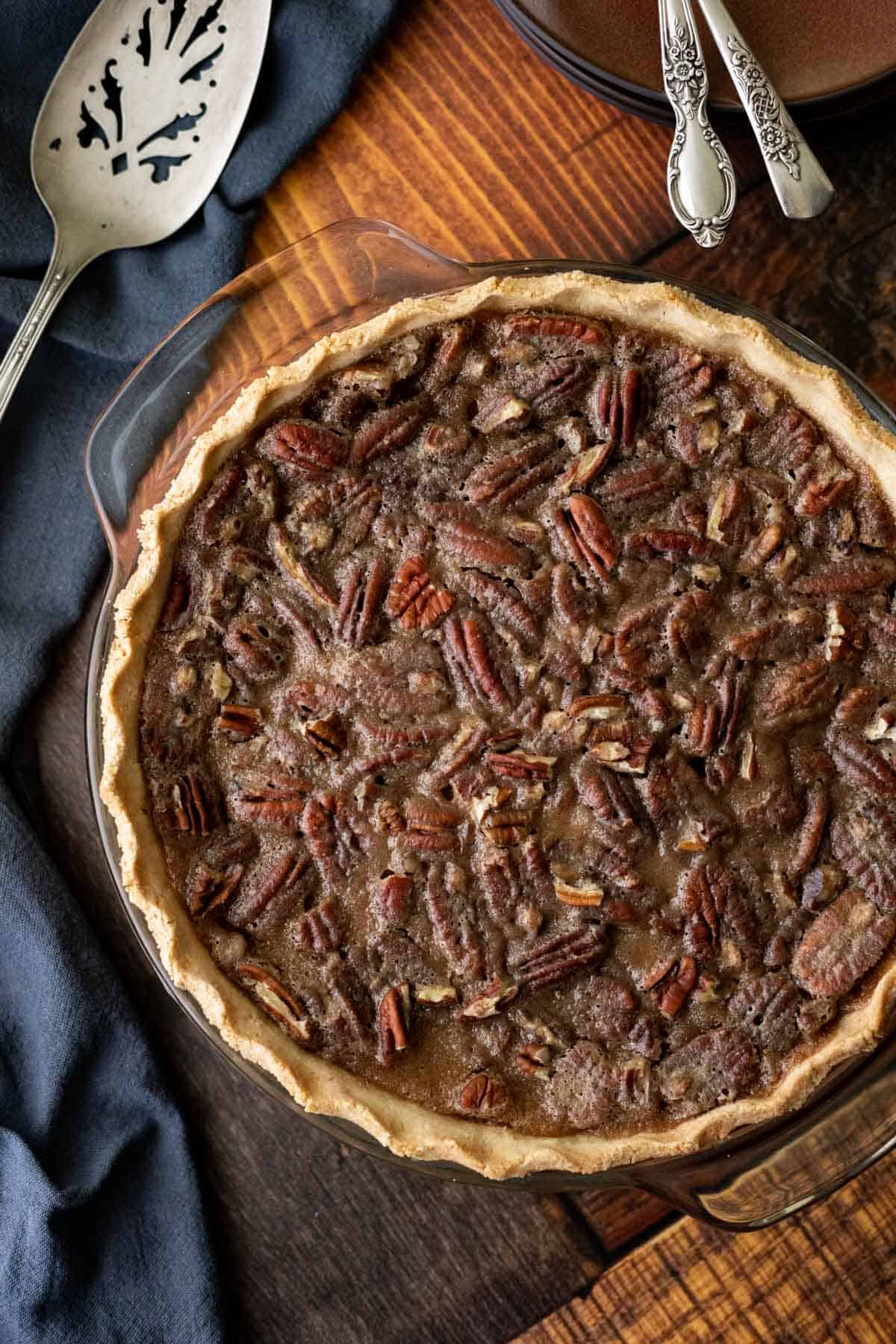 by My Quiet Kitchen
This oil-free, whole-food pecan pie has become one of our favorite holiday desserts. It has wonderfully sweet, nutty, custard-y maple filling and is seriously easy to prepare. Move over eggs, butter, and corn syrup, there's a new pie in town!
19. Banana Cream Pie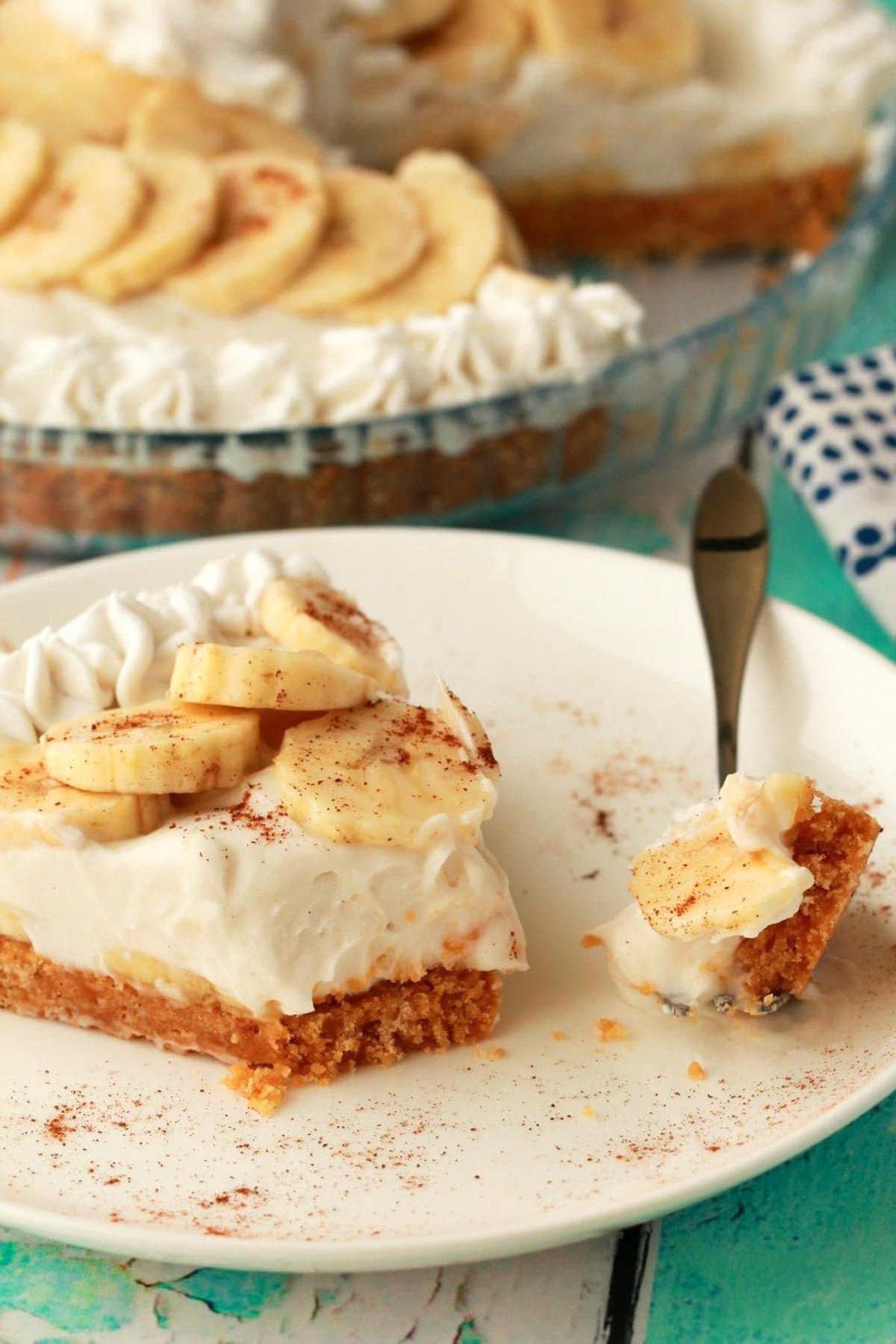 by Loving It Vegan
A welcome dessert any time of year, this banana cream pie has a buttery Golden Oreo crust and sweet and fluffy coconut cream filling.
RELATED: if you're into banana desserts, check out this easy No-Cook Vegan Banana Pudding! 🍌
20. Greek Pumpkin Hand Pies (Kolokithopita)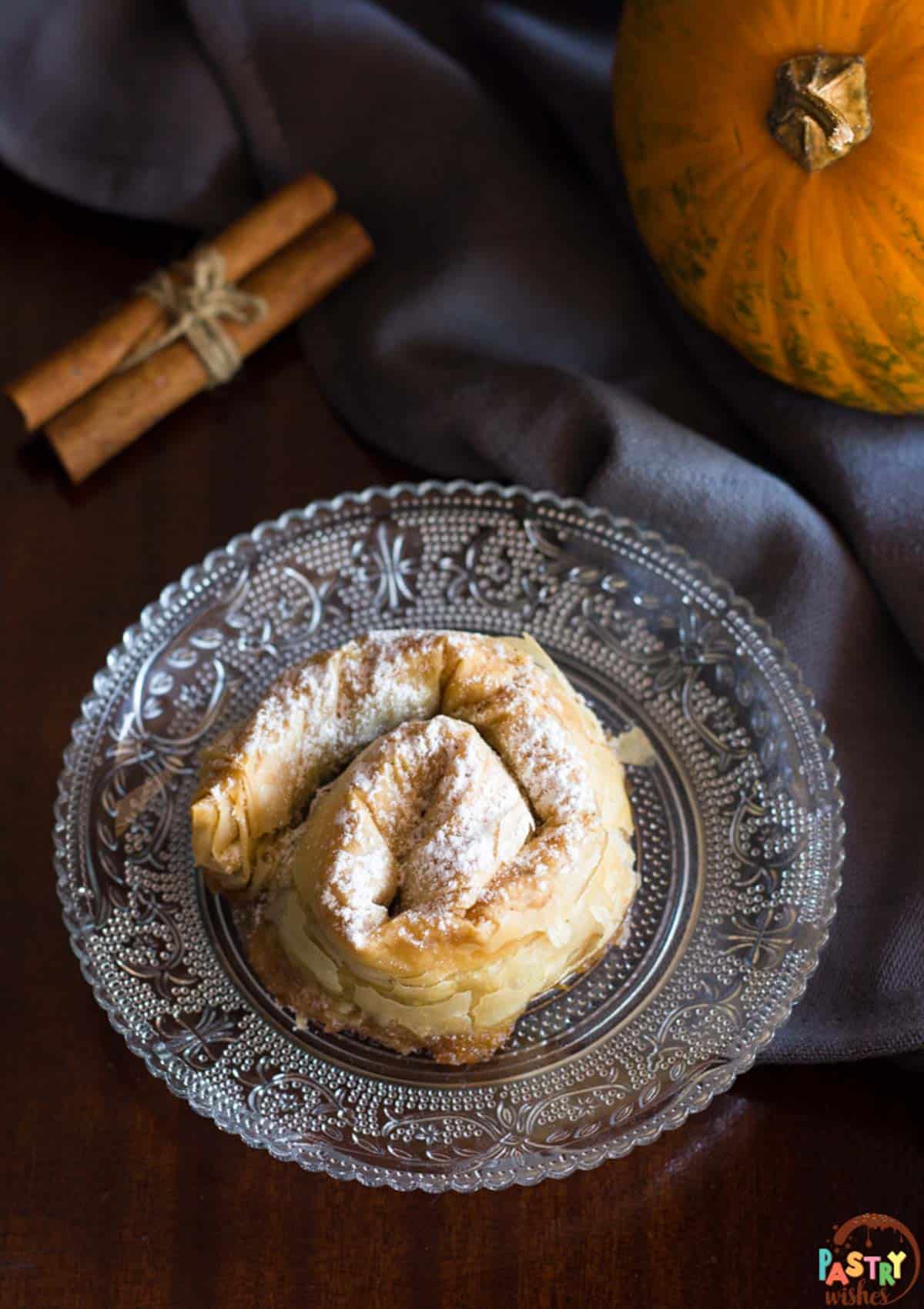 by Pastry Wishes
Phyllo dough is filled with freshly grated pumpkin, sugar, and spices, then rolled into spirals and baked to flaky perfection!
21. No-Bake Peanut Butter Pie (GF)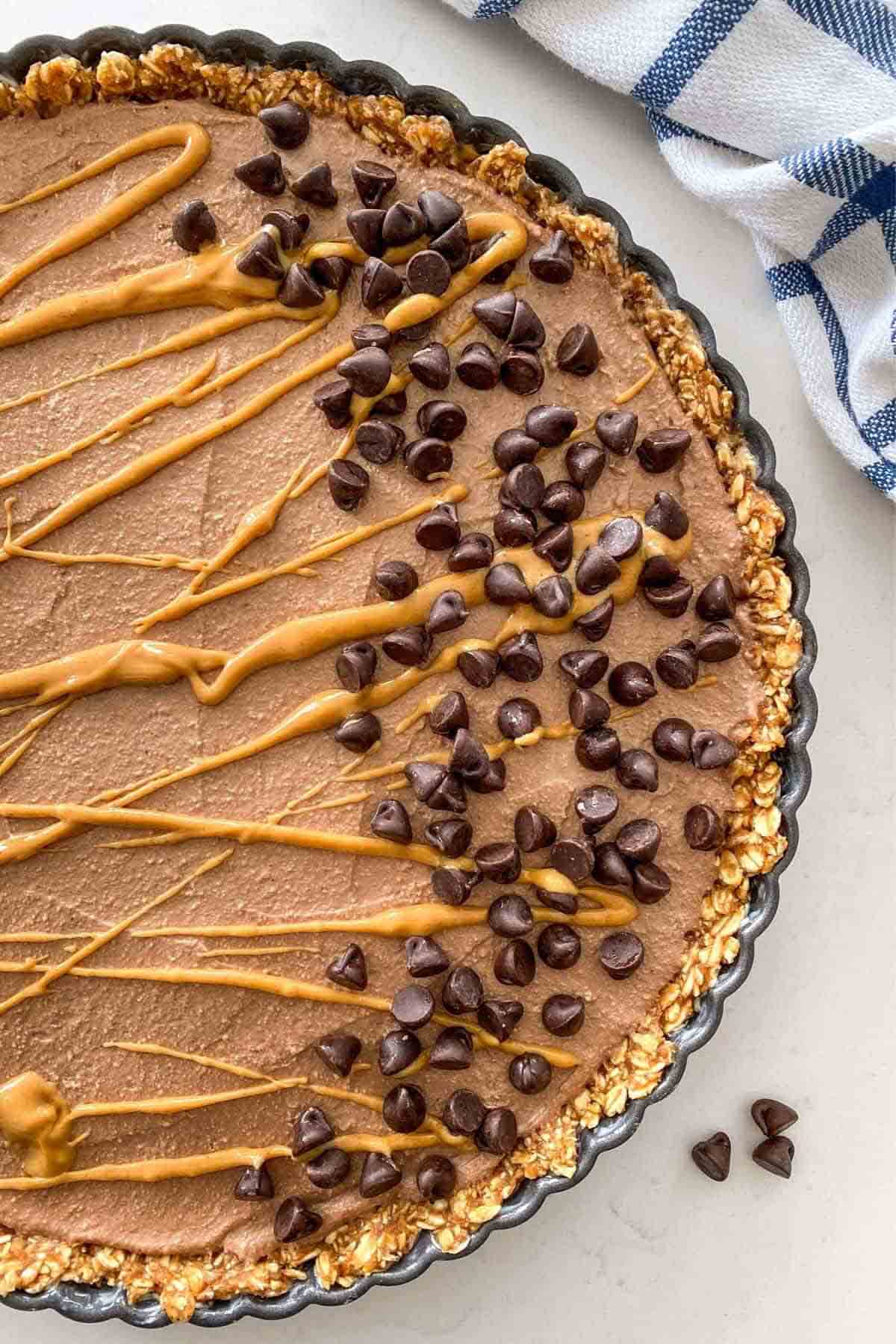 by This Healthy Kitchen
Rich and nutty, this no-bake peanut butter pie is sweetened with dates and maple syrup and super easy to make!
22. Vegan Cherry Pie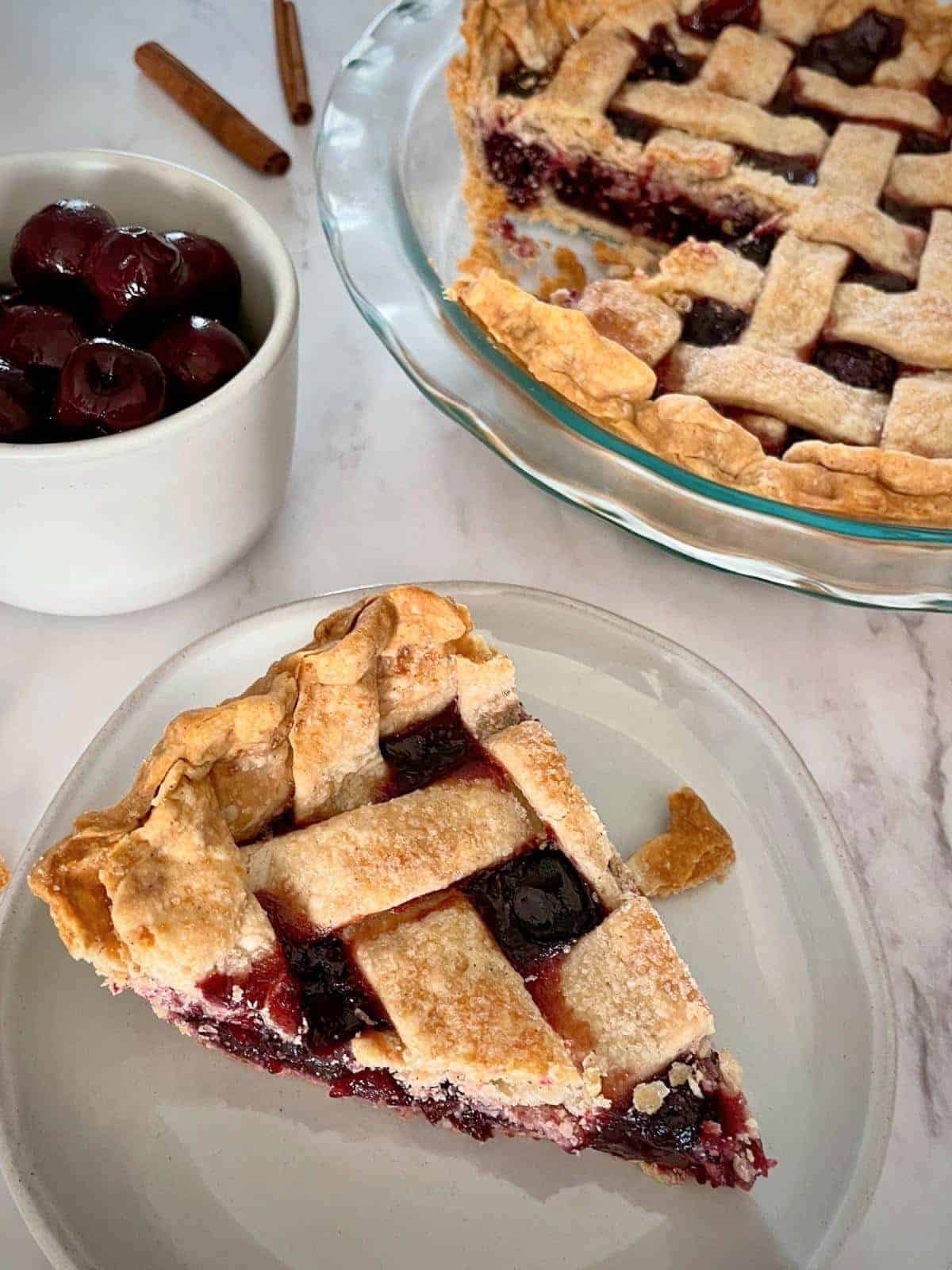 by Serene Trail
Using frozen cherries makes it easy to enjoy this juicy fruit pie outside of cherry season. Try it with spices, orange zest, or a splash of bourbon for extra holiday vibes!
23. Caramel Apple Crisp Pie (GF)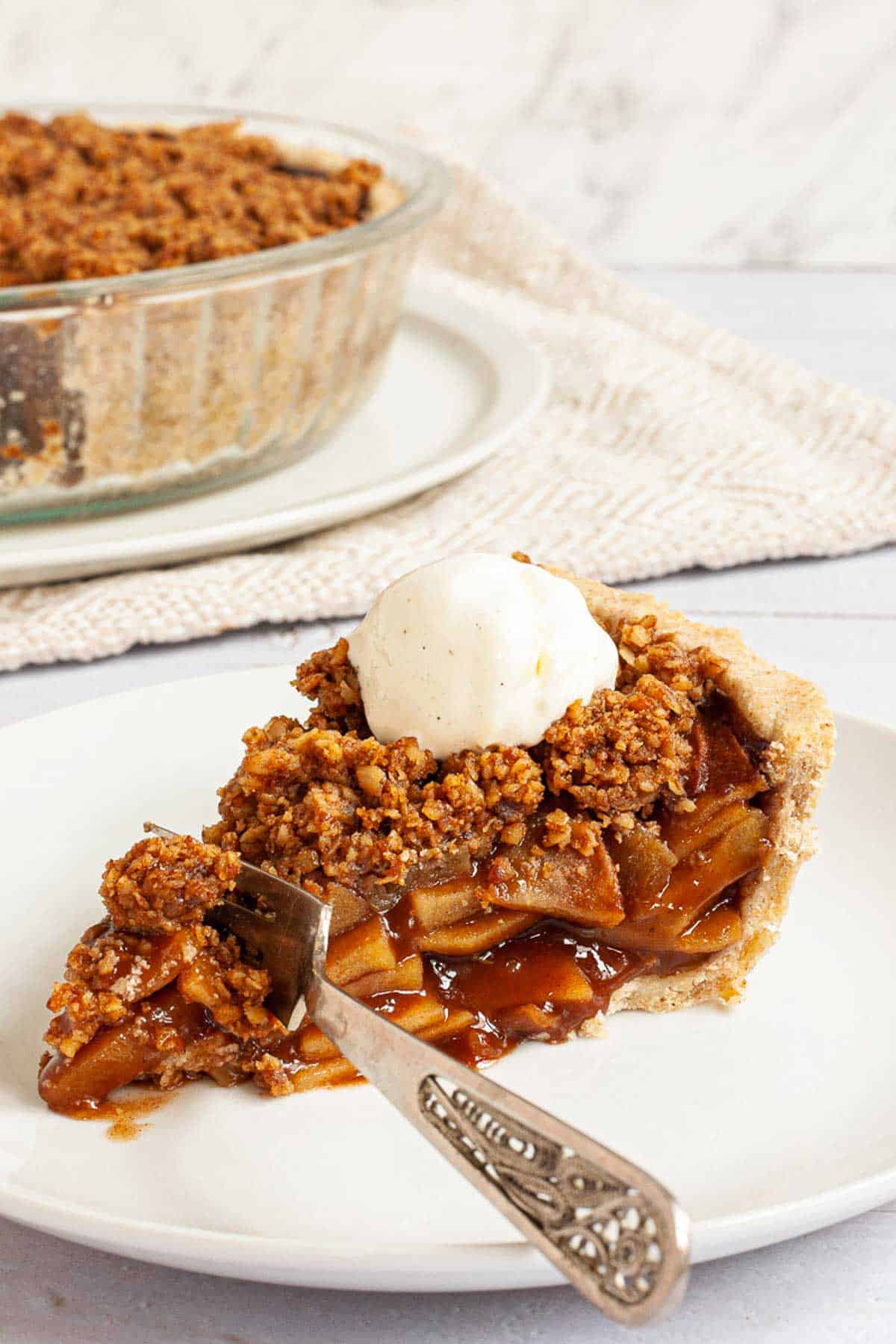 by My Pure Plants
In the mood for apple pie but don't want to mess with a top crust? Enter apple crisp pie! The buttery walnut-oat topping crisps up beautifully in the oven, and a scoop of vanilla ice cream takes it over the top.
24. Cranberry Curd Tart (GF)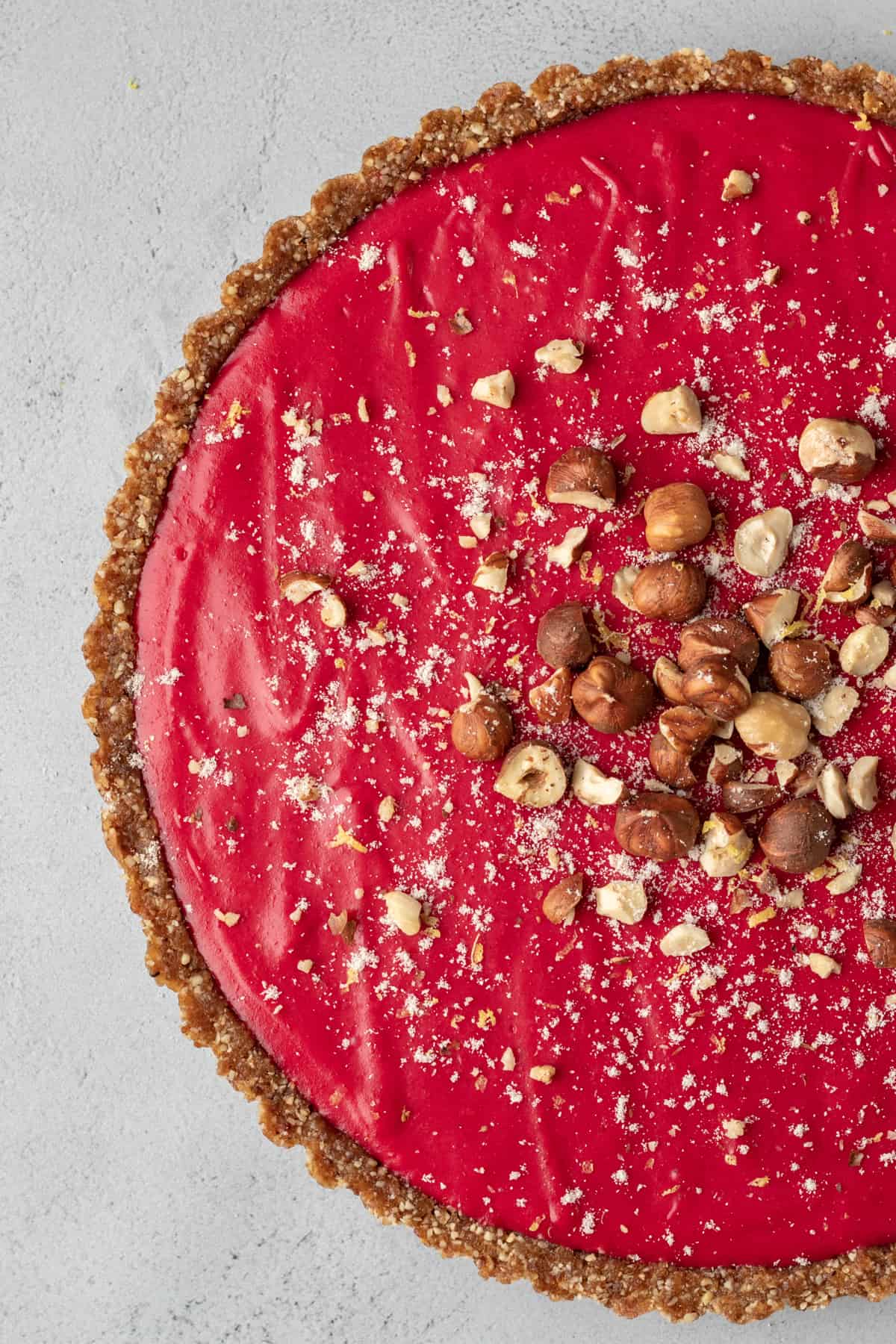 by My Quiet Kitchen
Featuring heaps of fresh cranberries, orange zest, and rich coconut cream, this smooth and creamy tart always draws a crowd.
25. Vegan White Chocolate Cranberry Tart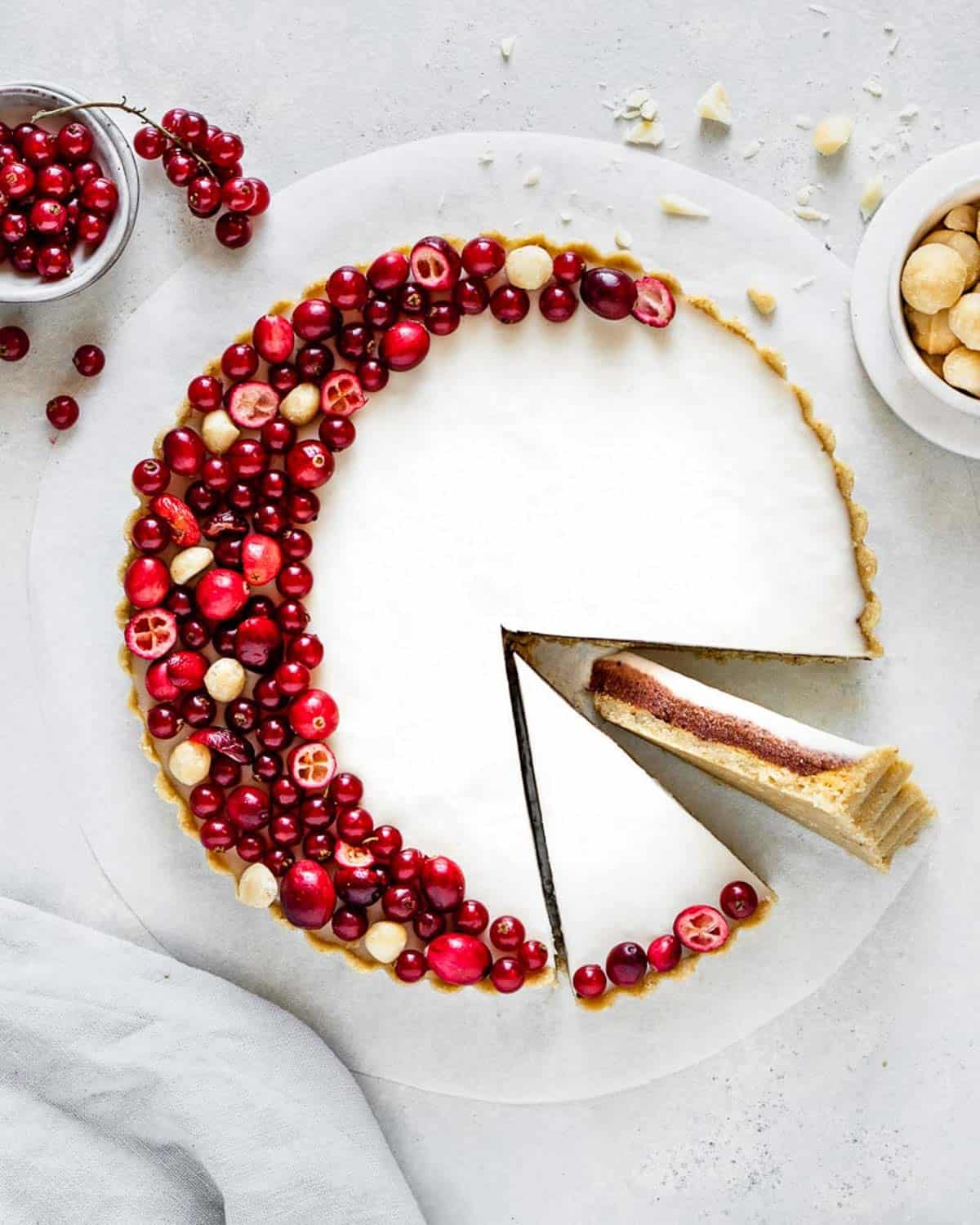 by Whole Food Soul Food Kitchen
This luscious and festive vegan tart features layers of cranberry and dairy-free white chocolate atop a macadamia nut crust. It's perfect for Christmas, too!
Save it on Pinterest!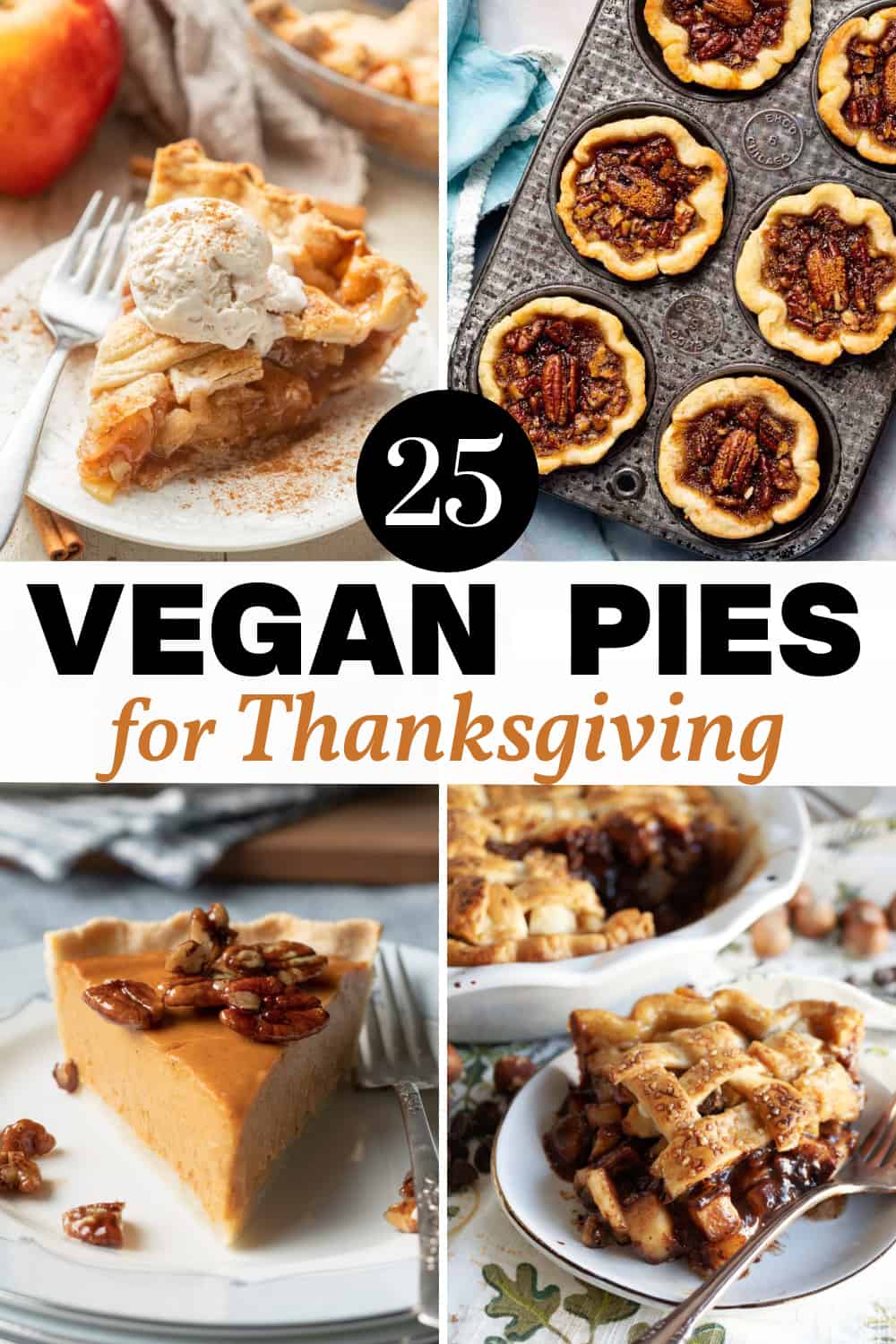 I hope these recipes help you this holiday season and have you excited about making gorgeous vegan pies!
If you try any of the recipes be sure to come back and comment below to share your feedback.
If you get creative and make any swaps or substitutions let us know that, too!