Vegan Pecan Pie with a twist! Instead of the eggs, butter, and corn syrup found in traditional pecan pies, this vegan version uses dates and maple syrup in the filling. Make this versatile holiday dessert with or without the bourbon, and use your favorite pie crust, homemade or store-bought!
Pecan pie. Rich, sweet, and nutty, it's a Southern classic. And this Alabama girl grew up eating plenty of it. Of course, traditional pecan pie recipes call for dairy, eggs and corn syrup, none of which I use. And since those ingredients make up the bulk of the custardy filling, you might imagine pecan pie is a difficult thing to make vegan. But like most desserts, it's surprisingly easy to veganize! While there's no shortage of vegan pecan pie recipes online, this year I wanted to come up with my own twist, using a beloved vegan ingredient that doubles as both a sweetener and an egg replacer..... dates!
Dates are perfect in so many desserts because of their natural caramel-like sweetness and stickiness. I knew after just one test batch of this recipe that the dates were a winner. However, that didn't stop me from making this pie at least four more times over the following two weeks (I say at least because, well, I may have lost track). Sure, I wanted to get it just right for sharing here on the blog, but also, this was right before Thanksgiving. We had two Friendsgiving potlucks to attend, which meant extra opportunity for feedback from taste testers.
What to expect from this vegan bourbon pecan pie
This pie tastes different than the corn syrup ones most people are used to. But in my opinion, that's a good thing and worth introducing to our taste buds! If you've visited my blog before, you may already know my approach to food and recipe development is one that embraces more wholesome and natural ingredients as often as possible.
BUT, and yes, that's a big but, I'm not claiming this to be a "healthy" recipe. Like the decadent Apple Layer Cake I shared recently, this pecan pie is meant for special occasions. There's no shortage of plant based-fats or added sugars here. But just because something is a decadent treat doesn't mean we can't also experiment and make substitutions and improvements on the quality of the ingredients, right? Not only is experimentation inherent in vegan cooking, it's also just plain fun!
If you're wondering about the odd color of the crust in the photos above, it contains ⅓ buckwheat flour. I've been experimenting with buckwheat lately, so I used it in three of the pecan pie tests, while two of them had a more typical all-purpose flour crust (example below).
I'm very much still working on my pie crust skills, but all of this recent practice quickly showed me the most critical steps involved in making a successfully flaky, vegan crust. I've included these tips in the Notes section of the recipe, so if you're new to making pastry be sure to check that out before getting started. And remember, if you don't have time or feel up to making the crust yourself, it's easier than ever to find vegan pie crusts at the grocery store.
UPDATE: meet my favorite pie crust ever! Easy Vegan Pie Crust (gluten-free & oil-free, too!)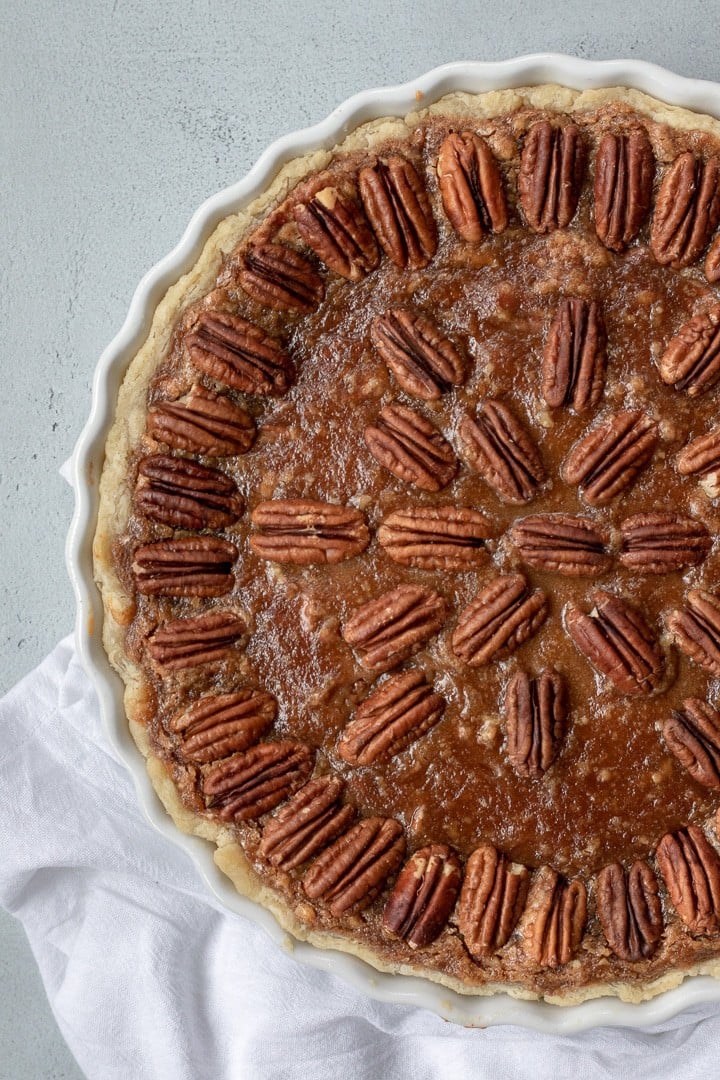 The photo above shows (batch #4) the pie I took to our friends' house on the Saturday after Thanksgiving. I used fewer pecans to decorate the top, which gives you a nice peek into what the filling looks like. See the chunks of pecans tucked inside the rich and creamy filling? This was after it had cooled and "deflated" a bit. When you first pull the pie from the oven the filling will be bubbly, slightly puffy (though not overflowing), and gorgeous! No eggs needed.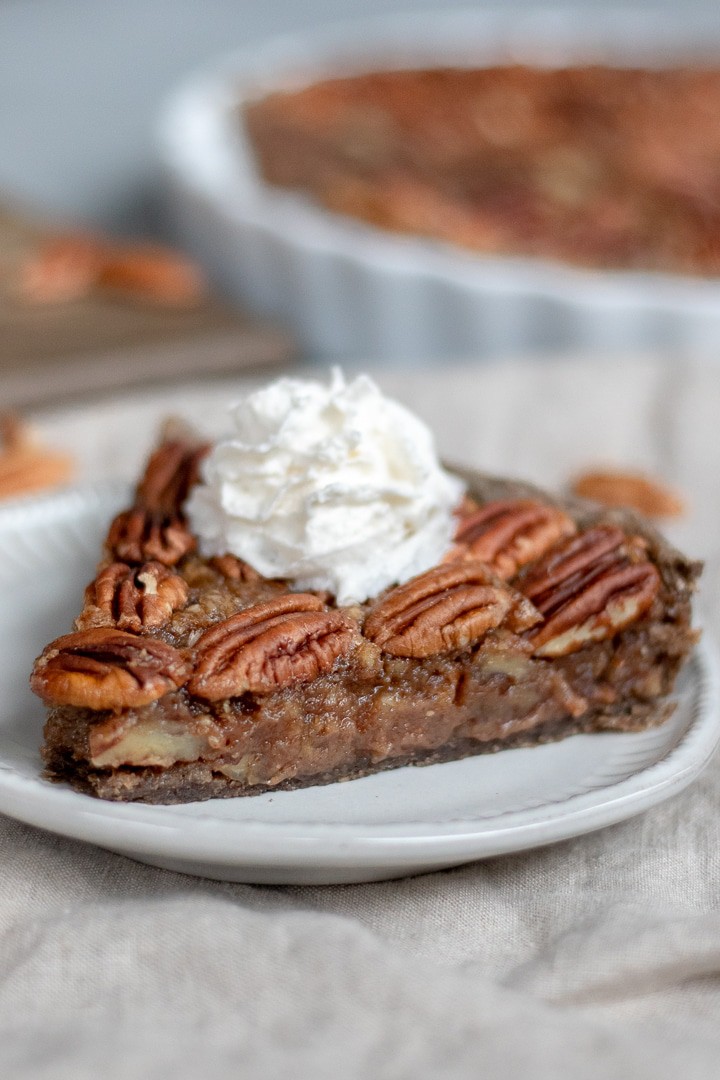 Don't want bourbon in your pecan pie?
If you would rather make a booze-free pie simply substitute non-dairy milk for the bourbon. Easy as that!
You can also vary the amount of bourbon to suit your taste - any amount from ⅛ cup to ½ cup (yessiree) works just fine. Using ¼ to ⅓ cup will probably suit most bourbon lovers, while ½ cup brazenly toes the line of becoming "hot."
A note about pie plates
The white pie plate you see in these photos is a bit wider and more shallow than a regular 9-inch deep dish pie plate, but they hold the same volume, 1 quart. I tested both types with similar results. I chose the "fancier" white one for my last few pies only because it's more photogenic. 🙂 (Note to self: buy a cool antique pie tin)
Top this Vegan Bourbon Pecan Pie with your favorite vegan whipped cream or a scoop of my Vanilla-Maple Oat Ice Cream!
Enjoy!
More holiday dessert recipes:
Salted Chocolate Pecan Pie (GF)
Vegan Gluten-Free Maple Pecan Pie (oil-free)
Vegan Gluten-Free Pumpkin Pie (oil-free, too!)
Chocolate Haupia Pie (GF)
Cranberry and Citrus Tart (GF)
Cranberry Cream Pie (GF)
Rosemary Cookies with Roasted Honeynut Squash
Vegan Bourbon Pecan Pie
Only as boozy as you want it, this vegan bourbon pecan pie is a perfect dessert for special occasions. It's sweetened with dates, maple syrup and a touch of sugar instead of the corn syrup typically found in pecan pie. Use your favorite homemade or store-bought pie crust, or see my recommendations in the Notes section at the end of the recipe for homemade.
Serve with your favorite vegan whipped topping or a scoop of my Vanilla-Maple Oat Ice Cream!
Ingredients
1

9-inch

unbaked pie crust

- For an oil-free/gluten-free crust, try my Healthy Vegan Pie Crust. See Notes for traditional crust.

1

cup

pitted medjool dates, packed very full (about 18 to 20)

¼ to ⅓

cup

bourbon (if you're a bourbon fan and want a bit of burn, go as high as ½ cup)

¼

cup

cornstarch

¾

cup

maple syrup

2

tsp

vanilla extract

½

cup

Earth Balance butter, melted (1 stick)

¼

cup

sugar

3

cups

raw pecan halves, divided
Instructions
Preheat oven to 350 degrees. In a mug, whisk together the bourbon and cornstarch to make a slurry.

Add the pitted dates, bourbon slurry, vanilla and maple syrup to the bowl of a food processor and process until mostly smooth, stopping to scrape down the sides as needed.

Add the granulated sugar and process to incorporate. Add the melted Earth Balance and process until completely smooth. Add 2 cups of the pecans and pulse to chop.

Pour filling into the prepared pie crust, and decorate the top with the remaining pecan halves. Bake 35 to 40 minutes or until bubbly and brown.

*I didn't have issues with the top becoming too brown before the pie was done, but if your pie starts to look too brown, simply place a piece of foil loosely over the top.*

Allow to cool completely before slicing.
Notes
A few notes about pie crust:
I used this recipe for Easy Vegan Pie Crust by Sam over at It Doesn't Taste Like Chicken. As I mentioned above, I did a lot of experimenting with different flours (most of the photos show a combo of 1 cup all-purpose and ½ cup buckwheat flour) and fats (settling on half vegetable shortening and half Earth Balance for my last two batches).
You can't go wrong with Sam's basic recipe. Just be sure to thoroughly chill all of your tools (bowl, fork/knife, pastry cutter, etc) and your shortening/butter before beginning.
I also found that allowing the dough ball to rest in the refrigerator for about 30 minutes before rolling it out helps the flour hydrate and makes it much easier to work with. While it rests you can prepare the filling.
Sam calls for non-dairy milk, but I used ice water instead with great results. Whichever you choose, you want to add just a tablespoon or two of liquid at a time (after one or two additions, definitely only add 1 tablespoon at a time). Your dough should seem dry.
If you haven't made pie crust before I strongly suggest one or two test runs before making it for an occasion. Or if you're pressed for time, there's no shame in going with a store-bought crust (just be sure to check labels for hidden animal ingredients).
Finally, be sure to dock the bottom of the crust before adding your filling (this just means prick it with a fork). This allows steam to escape and helps prevent a "soggy bottom."
Estimated Nutrition (per serving)
Nutrition information is an estimate and will vary depending on the exact amounts and specific products and ingredients used. We calculate this information using the online calculator cronometer.com.
Did you try the recipe?
I LOVE hearing from you! Comment below to let us know.