Learn how to make oat milk that's creamy, smooth, lightly sweet, and not slimy, even when heated or blended. Inspired by processes used by Oatly and other manufacturers, the trick is to add enzymes that break down starch into sugars. But don't worry, it's not as tricky as it sounds! I'll walk you through it step by step so that you can make oat milk at home that performs and tastes just like store-bought, for a fraction of the cost!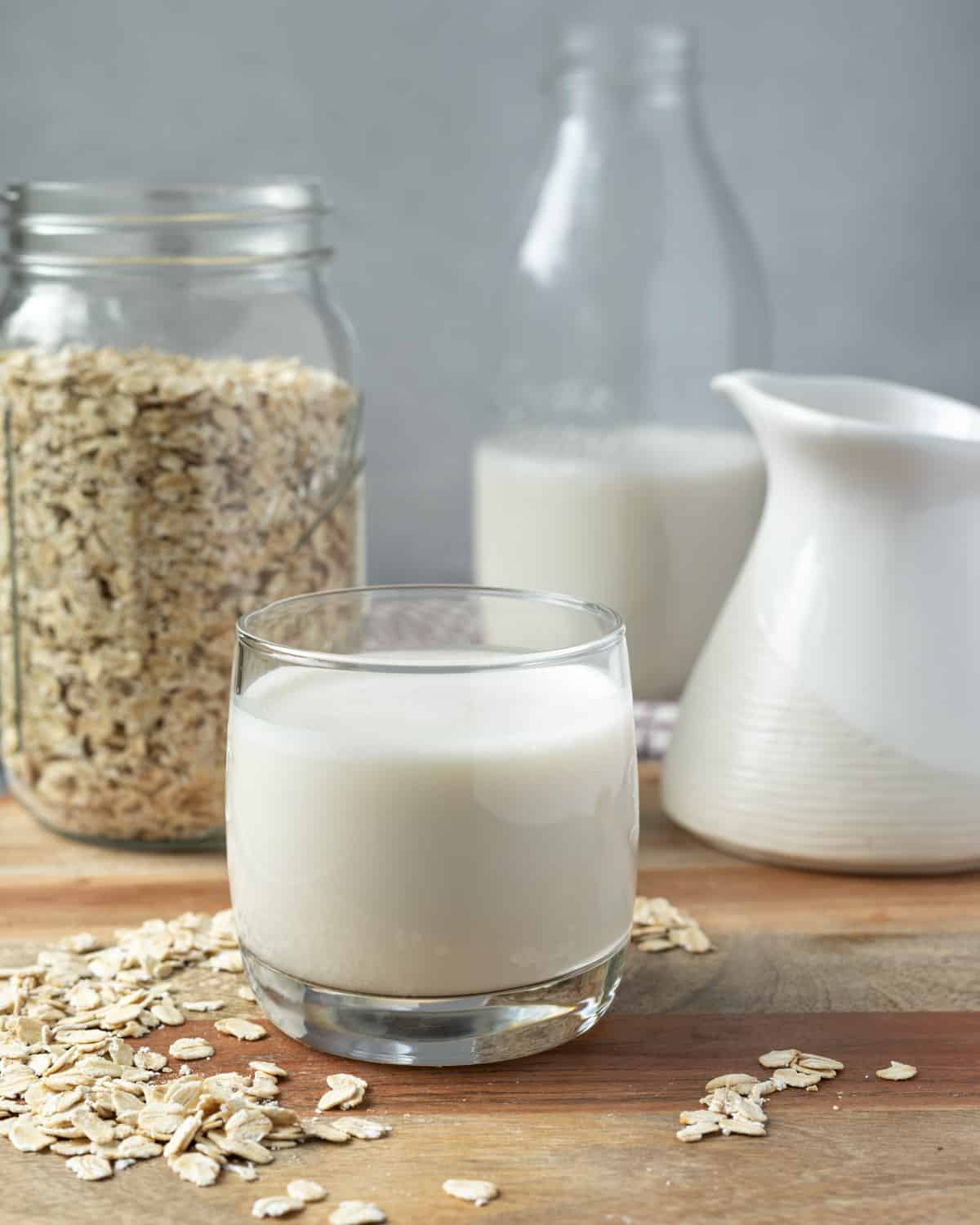 Not interested in the science behind using enzymes to make oat milk? Use the Jump to Recipe link at the top of the page or the Table of Contents to skip to the recipe.
Jump to:
The REAL Trick to Non-slimy Oat Milk
I share a lot of recipes made with oats, from oat flour in baking to oat milk in desserts and sauces. So naturally, I've wanted to share an oat milk recipe for ages! But I didn't want to do it until I figured out how to make a better oat milk.
If you've made oat milk before, you know exactly what I mean. It's finicky, and often feared, because oats get slimy when combined with liquid.
There are a few tricks you can use to reduce the sliminess, like using ice cold water and only blending for 30 seconds, but you're still left with an oat milk that can't be heated without becoming thick and gelatinous
As a side note, sometimes it's fun to use that "oat slime" to our advantage. It's great for creating extra creamy vegan ice cream, chocolate sauce, and even dairy-free sweetened condensed milk.
But for the best homemade oat milk, I wanted to learn more about how Oatly and other manufacturers use enzymes to transform starch into sugars.
So I went down the rabbit hole on this one! I reviewed dozens of articles, recipes, YouTube videos, and random comment threads.
Others have experimented with using enzymes in recent years, like Sauce Stache on YouTube, Modernist Pantry, and even Popular Science. But ultimately, we're all just guessing how the pros really do it. And I noticed that everyone's guess is a little different.
So I decided to order a few different enzymes and start experimenting. Each test batch taught me something, and eventually I landed on a recipe that makes sense to me. The ingredients are affordable, the results are consistent, and I feel confident I can teach you how to recreate the best oat milk in your kitchen!
What does amylase do to oat milk?
Amylase is an enzyme produced by the salivary glands and pancreas. It breaks down complex carbohydrates into simpler sugars, which our bodies then use for energy.
You can think of amylase like a cleaver, acting at random locations along the starch chain, chopping it up into shorter chains.
Amylase is also manufactured (most often from plant or microbial sources, not animals) and commonly used in brewing and distilling to break down starches into fermentable sugars.
Oat milk manufacturers use a multi-step process (source), adding enzymes at two different stages, liquefaction and saccharification.
This is why store-bought oat milk tastes sweet, even without sugar in the ingredient list.
Temperature and time are also important factors. I found that heating the water to around 150 degrees Fahrenheit encourages the enzymes work more quickly.
That all sounds pretty simple, right? Well, it turns out there are several types of amylase, and they don't all do the same thing!
Alpha amylase breaks down longer starch chains into dextrins. Then, either beta or gamma amylase or glucoamylase breaks down the dextrins into sugars. This is key for removing the gritty, starchy mouthfeel, preventing slimy oat milk, and creating a naturally sweet taste.
During recipe testing I tried using alpha amylase that I'd purchased from a brewing supply company, but the results weren't great. It was like the job was only half complete.
Surprisingly, this 365 digestive enzyme supplement created the best tasting oat milk. As you can see on the label, the supplement contains two types of amylase PLUS glucoamylase.
Ingredients
rolled oats - according to this article, some manufacturers make oat milk with heat-treated oat flour. But to keep things as simple as possible, I used regular old fashioned rolled oats.

digestive enzymes - as mentioned above, oat milk tastes best when TWO different enzymes are used because this breaks down the starches more thoroughly.
The most cost effective way to accomplish this is to use a digestive enzyme supplement that has both amylase and glucoamylase. Below are two vegan options available on Amazon. If considering other brands, just make sure the product is vegan, has a similar amount of these enzymes, and comes in capsules.
vanilla - optional; for a flavor more similar to store-bought milks, I like to add a tiny bit of clear vanilla (artificial).

fat - optional; for a full-fat, creamier milk like Oatly, you'll also need a flavorless oil, such as avocado, grapeseed, or canola. If you avoid oil, raw cashews work well. With oil, I recommend adding a teaspoon of sunflower lecithin to help with emulsification.
See the recipe card below for quantities and full instructions.
How to Make Oat Milk
This is a basic overview of the process. Find the detailed instructions in the recipe below.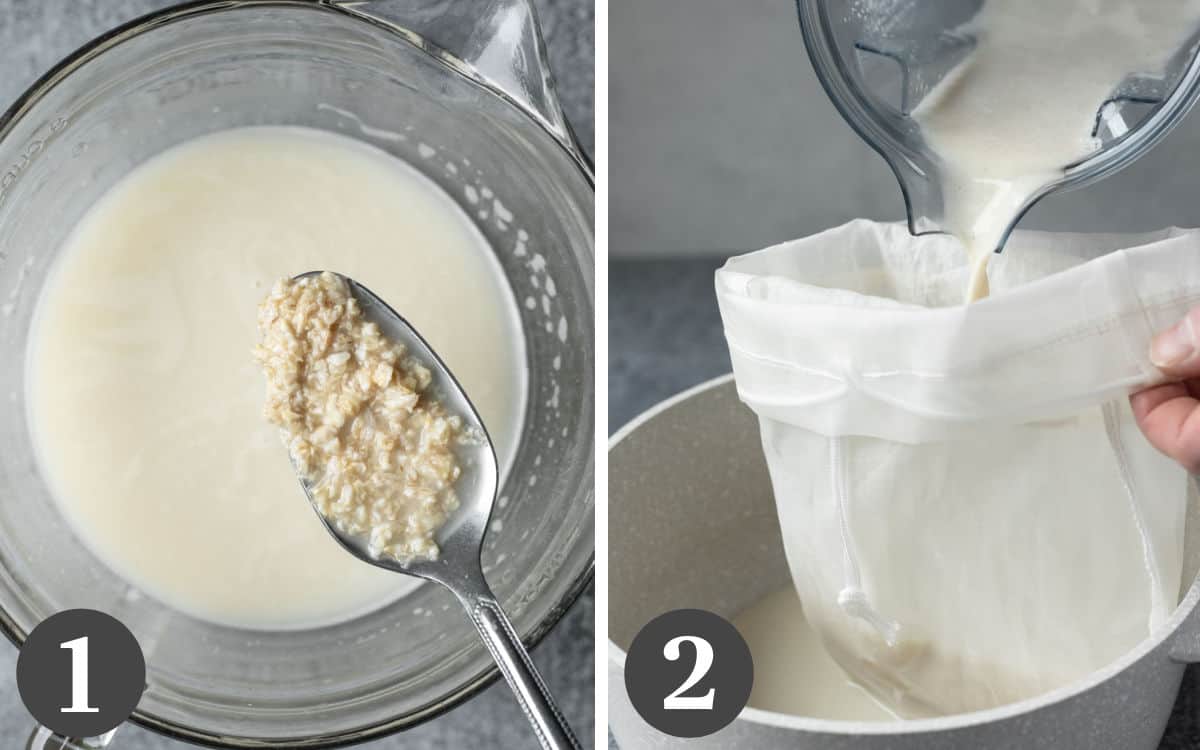 Heat the water to about 150 degrees. A thermometer is nice but not necessary. Stir in the oats and enzyme powder, and let soak for 30 minutes. During this time the water will develop a sweet flavor as the enzymes do their work.
Blend the mixture for 30 seconds (or a little longer if not using a high-speed blender). Strain the oat milk twice directly into a pot or large saucepan. I like to place one nut milk bag inside another, creating a double layer.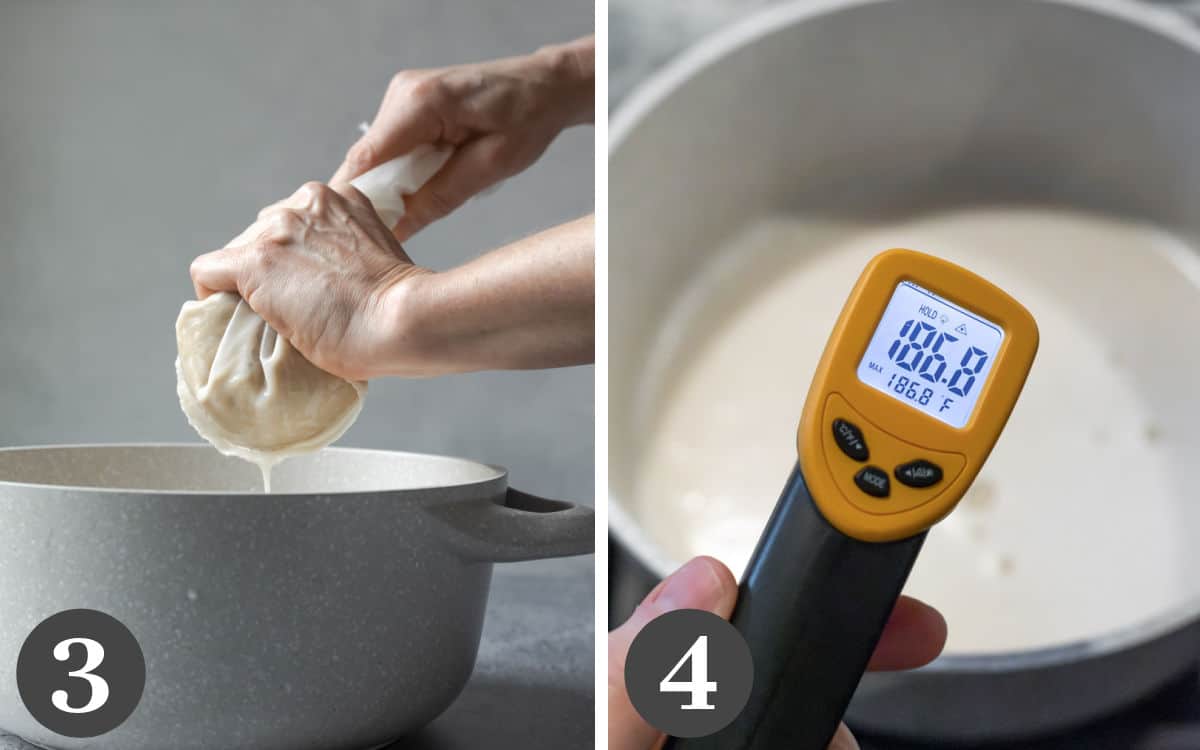 Note: most oat milk recipes stress the importance of not squeezing the bag. But since this recipe solves the slime problem, it's fine to squeeze the bag with moderate pressure.
Whisking occasionally, bring just to a simmer, about 190 degrees F. Remove from heat, and stir in the salt and vanilla.
Let the milk cool before storing in a covered jar in the refrigerator.
Alternatively, you can add oil at this stage for a thicker milk similar to Oatly. Let the oat milk cool to room temperature. Then pour it into the blender (be sure to rinse out the blender first!), and slowly drizzle in the oil while the machine is running.
Helpful Equipment
Equipment plays an important role. The great news is that once you have these items, you'll be able to make endless batches, saving money and reducing waste!
large bowl - to soak the oats with the enzymes
blender - I use a Vitamix, but a standard blender should also work since the oats are very soft. It is a large volume, though, so you may want to blend it in two batches.
nut milk bag(s) - I use basic nylon nut milk bags; I like to strain the milk twice by placing one bag inside another.
thermometer - helpful for measuring the temperature of the water for the initial soak and the strained milk during the final stage of heating.
large saucepan - during recipe testing, I found that heating the strained milk improves the mouthfeel (probably by transforming any remaining starch) and helps prevent separation during storage.
Variation: Chocolate Oat Milk
Use this basic oat milk to create all of your favorite flavors! Get creative with ingredients like powdered strawberries, extracts, cocoa, and spices.
For chocolate oat milk - per 1 cup of milk, add 1 medjool date, or your sweetener of choice, and 1.5 to 2 Tbsp cacao or cocoa powder.
FAQs
Is oat milk healthier than cows' milk?
There are numerous reasons to avoid dairy, including the fact that most of the world's adult population is lactose intolerant. Though the inability to digest lactose sounds like a defect, it's actually the normal state for adults - while the ability to digest lactose is a genetic mutation. Dairy is also high in saturated fat and has been linked to prostate and other cancers (source). Oat milk contains fiber, is low in fat, and does not contribute to the inherently exploitative and cruel dairy industry.
Why does oat milk have added sugars on the nutrition label when there is no sugar in the ingredient list?
You may have noticed added sugars indicated on the label of your favorite oat milk. Those sugars are the natural result of the way the oats are processed. Enzymes break down the starch into sugars, creating the lightly sweet taste that makes oat milk so appealing.

Does oat milk go bad?
Yes, just like any perishable food, oat milk will go bad. If it smells "off" or funky, it should be discarded.
How long does homemade oat milk last?
Stored in a clean airtight container in the refrigerator, oat milk made with this recipe lasts up to 5 days.
Is it cheaper to make your own oat milk?
Yes! By my quick calculation, homemade oat milk costs about ⅓ as much as Oatly and other brands.
Taking into account the cost of 1 cup of organic oats (approximately $0.60) and one capsule of 365 digestive enzymes ($0.16), plus water and a pinch of salt, it costs around $0.85 to make this recipe. At 3.5 cups per batch, that's $0.24 per cup.
Oatly, on the other hand, at $6 per carton is $0.75 per cup.
And now that you know the process and have the ingredients on hand, you can also make your own dairy-free oat milk coffee creamer!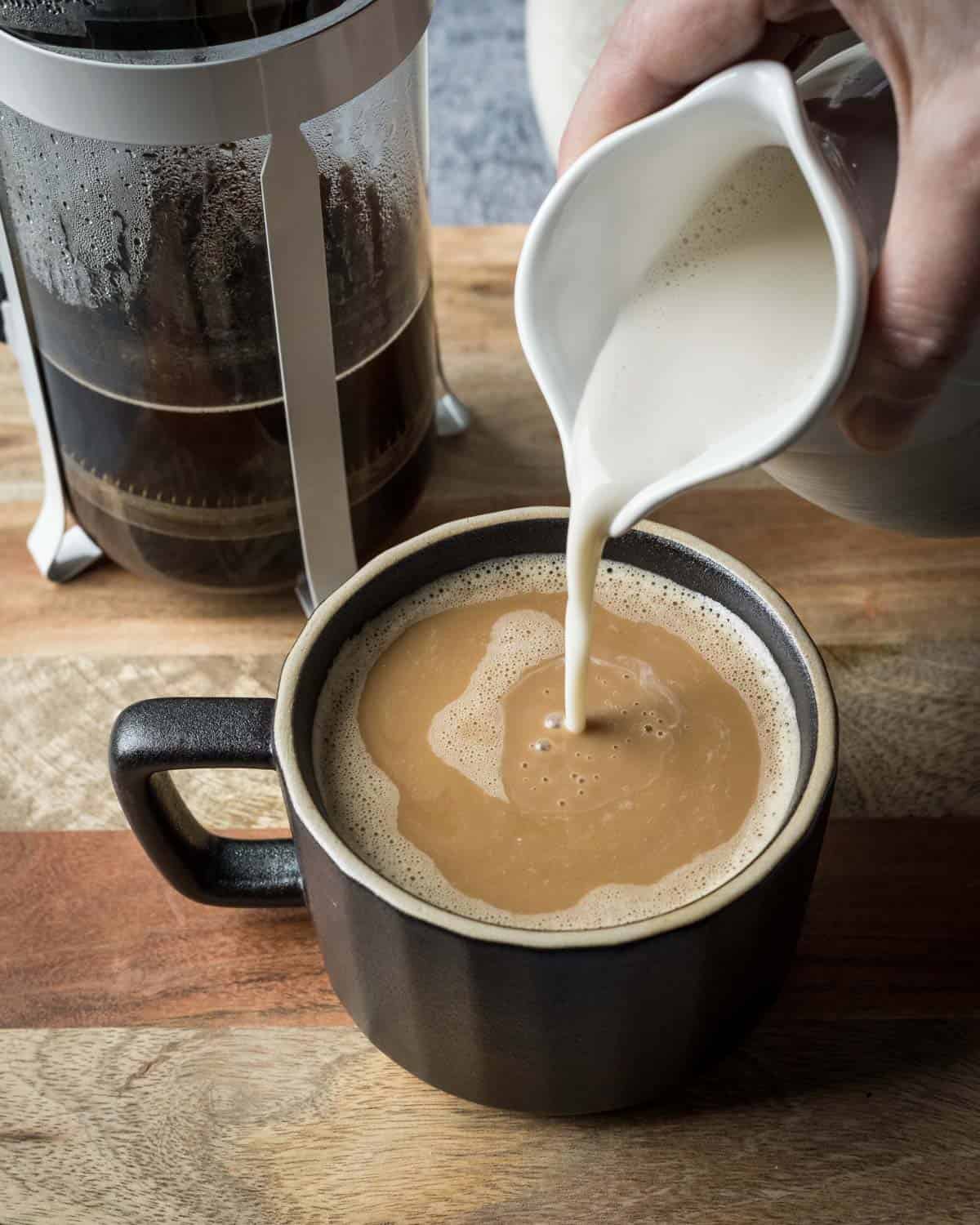 Are you excited and ready to make the BEST oat milk at home? If you try the recipe be sure to come back and comment below to let us know your favorite ways to flavor and use it!
Recipes With Rolled Oats
📖 Recipe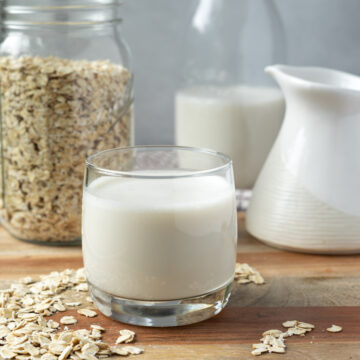 How to Make Oat Milk (the REAL way, like Oatly!)
Learn how to make oat milk better, like the pros! After a lot of research and testing, we figured out an easy, consistent way to make perfectly smooth, creamy, lightly sweet oat milk at home. This is the real deal! The trick is to soak the oats briefly with a blend of enzymes. Since the starch is broken down, you can heat and blend this oat milk without it ever getting slimy.
Adjust the amount of oats slightly for different thickness, add flavors or sweetener, and include oil or cashews for a rich and creamy oat milk.
Yield: makes 3 ½ cups, or 28 fluid ounces
Ingredients
Optional ingredients (for richer oat milk):
2

tablespoons

flavorless oil such as avocado, canola, or grapeseed

-

or ¼ cup raw cashews, blended into the finished milk

1

teaspoon

sunflower lecithin -

helps with emulsification
Instructions
Soak
Heat the water to approximately 150 degrees F (66 C). I like to microwave it in a large bowl. At this temp water feels very hot but won't immediately scald you.

Add the oats to the bowl of water. Open one digestive enzyme capsule and dump the powder into the bowl (discard the capsule). Stir very well, and set aside for 30 to 45 minutes (I like to stir occasionally during this time). After 30 minutes, the water should taste lightly sweet. If it doesn't, either the enzymes aren't working properly or the water wasn't the correct temperature. If you think the water was too cool, microwave the bowl for 20 to 30 seconds to raise the temperature, and check again in 15 minutes.
Blend and Strain
Pour the oat-water mixture into a full-size blender. Starting on low, quickly increase to high speed, and blend for 30 seconds. If not using a Vitamix or other high-speed blender, you may need to blend in two batches due to the large volume.

Use a nut milk bag to strain the oat milk into a large heavy-bottom saucepan. I like to place one nut milk bag inside another, for a double layer. Or you can strain it twice using the same bag (rinse in between uses). Since the starch has been broken down into sugars, it's fine to squeeze the bag to remove the milk. This won't result in slimy oat milk.

Save the oat pulp for baking (recipes coming soon), or add it to smoothies.
Heat the Oat Milk (Homogenize)
Over medium heat and whisking frequently, slowly bring the oat milk to a simmer. Aim for 195 degrees F. If you don't own a thermometer, look for these visual clues: tiny bubbles around the edges and slight movement in the center. Whisking, maintain this low simmer for about 10 seconds, then remove from heat. Add a pinch of salt and the vanilla, if using.

Option: add oil or cashews. Let the oat milk cool for about 20 minutes or until barely warm (so it's safe to blend on high speed). Rinse out the blender jar, and pour the milk into the blender. While blending on high, remove the cap from the pour spout and slowly drizzle in the oil. Add the sunflower lecithin and blend for a few more seconds. If using cashews, simply blend with the milk until completely smooth.

Let the oat milk cool, then pour into a clean, lidded glass jar. Store in the refrigerator for up to 5 days.
Notes
Enzymes - this is covered more fully in the post above. Look for a digestive enzyme blend similar to this 365 product or this one by NOW Supplements. Based on my experience, you'll get the best results if it contains both amylase and glucoamylase.
For Chocolate Oat Milk - per 1 cup of milk, add 1 medjool date, or your sweetener of choice, and 1.5 to 2 Tbsp cacao or cocoa powder.
Note: it's difficult to estimate the nutrition information since parts of the oats are strained and removed. This estimate is for plain oat milk with no added fat.
Estimated Nutrition (per serving)
Serving:
1
cup
Calories:
102
kcal
Carbohydrates:
17
g
Protein:
3
g
Fat:
2
g
Sodium:
50
mg
Nutrition information is an estimate and will vary depending on the exact amounts and specific products and ingredients used. We calculate this information using the online calculator cronometer.com.
Tried the recipe?
I love hearing from you! Share your feedback below.