Oat milk gives this healthy vegan chocolate sauce a natural creaminess with NO added fat. It's silky smooth, made with 4 ingredients, and has a decadent hot fudge flavor you'll want to drizzle on everything! Made without nuts, oil, dairy, gluten, or refined sugar.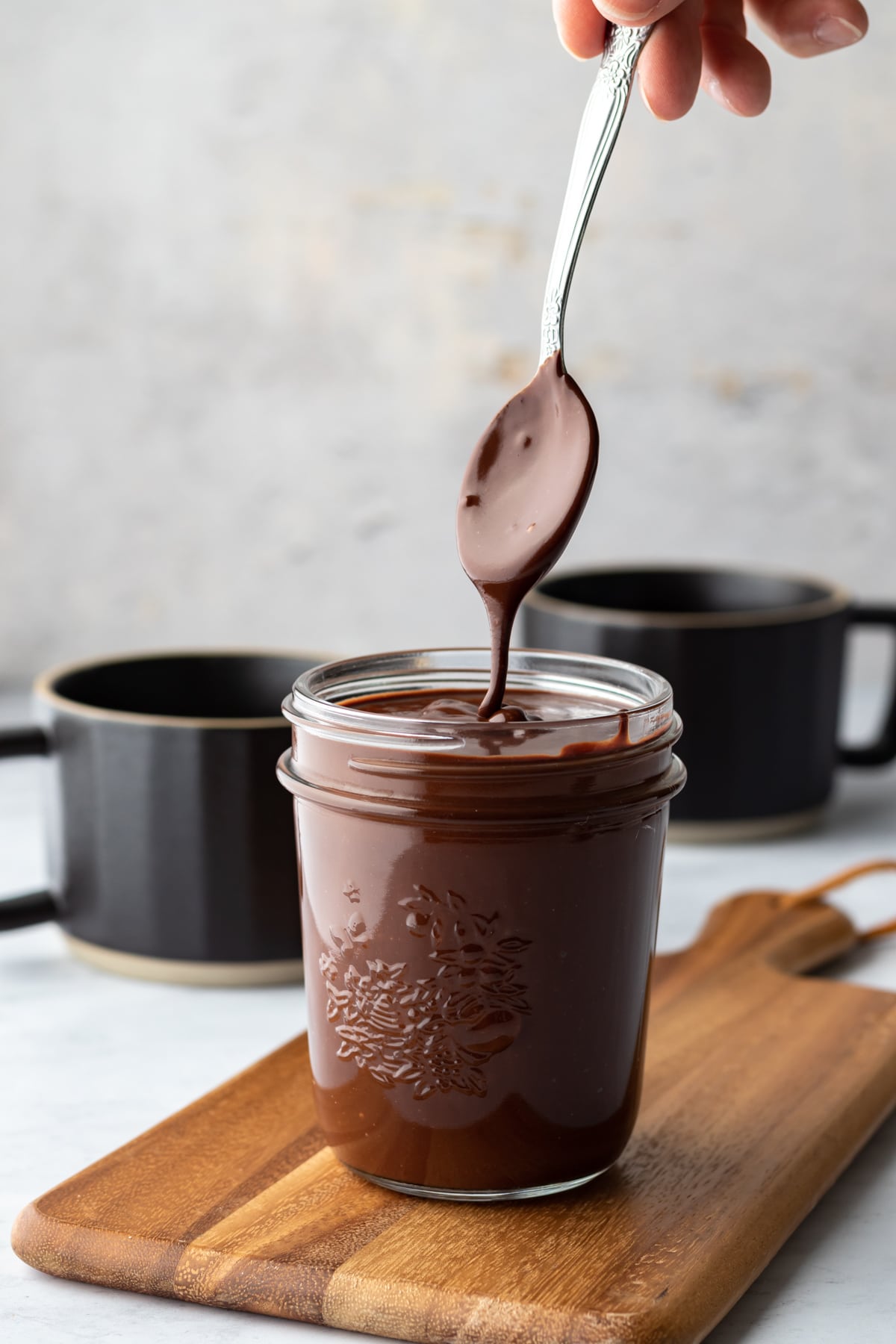 Truth? This chocolate sauce is blowing my mind. It is every bit as rich and delicious as it looks in the photos, yet it's made with just 4 wholesome ingredients. I honestly didn't know it was so easy to make such an epic and versatile chocolate syrup!
This recipe comes to us courtesy of author Kim Lutz and her latest work The Oat Milk Cookbook. Big thanks to Kim and Sterling Publishing for allowing me to review the book and share a recipe with you.
If you've visited my blog before you may be familiar with my obsession with oats, from this popular Vanilla-Maple Oat Ice Cream to blending oatmeal into pecan pie filling to using oat flour in baked goods like Banana Bread and Apple Cinnamon Scones. Oats are a total superstar in the vegan kitchen.
Jump to: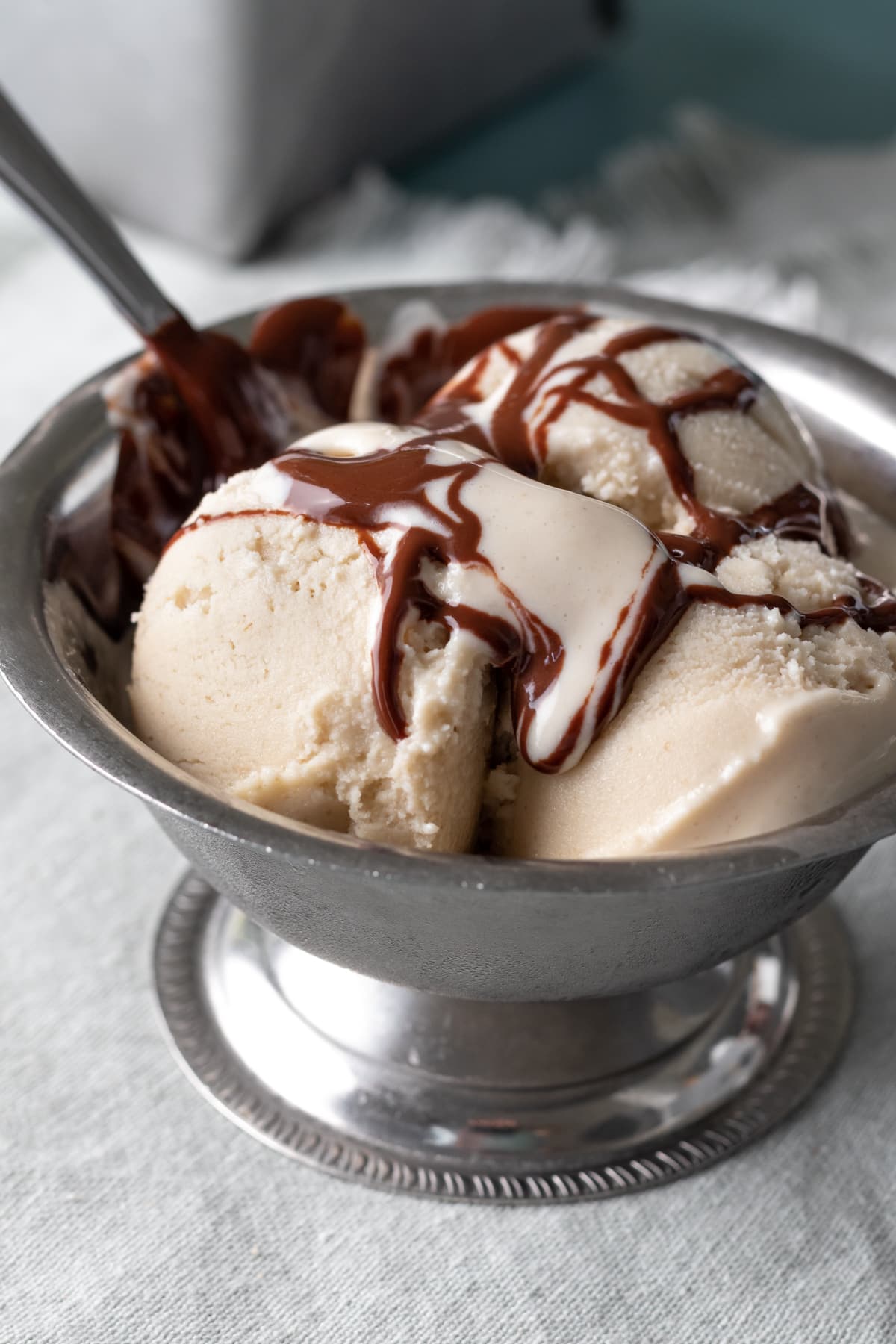 The Oat Milk Cookbook highlights this as well. It features more than 100 delicious, dairy-free recipes that prove the versatility of oat milk for everything from cheesy sauces and soups to coffee drinks and desserts.
I love that the first chapter includes information about the benefits of oat milk over dairy, such as the health, environmental, and animal cruelty issues. Kim also gives great tips about kitchen tools you'll need to make many of the recipes.
I've already marked SO many pages throughout the book. Here are a few recipes I can't wait to try:
Frozen Pineapple Iced Tea
Holiday Spiced Coffee
Almond Butter Snack Cake
Red Lentil Dip
Cauliflower Oat Cream
And check out this gorgeous Oat Milk Sandwich Bread that Sarah of Bad to the Bowl made and shared.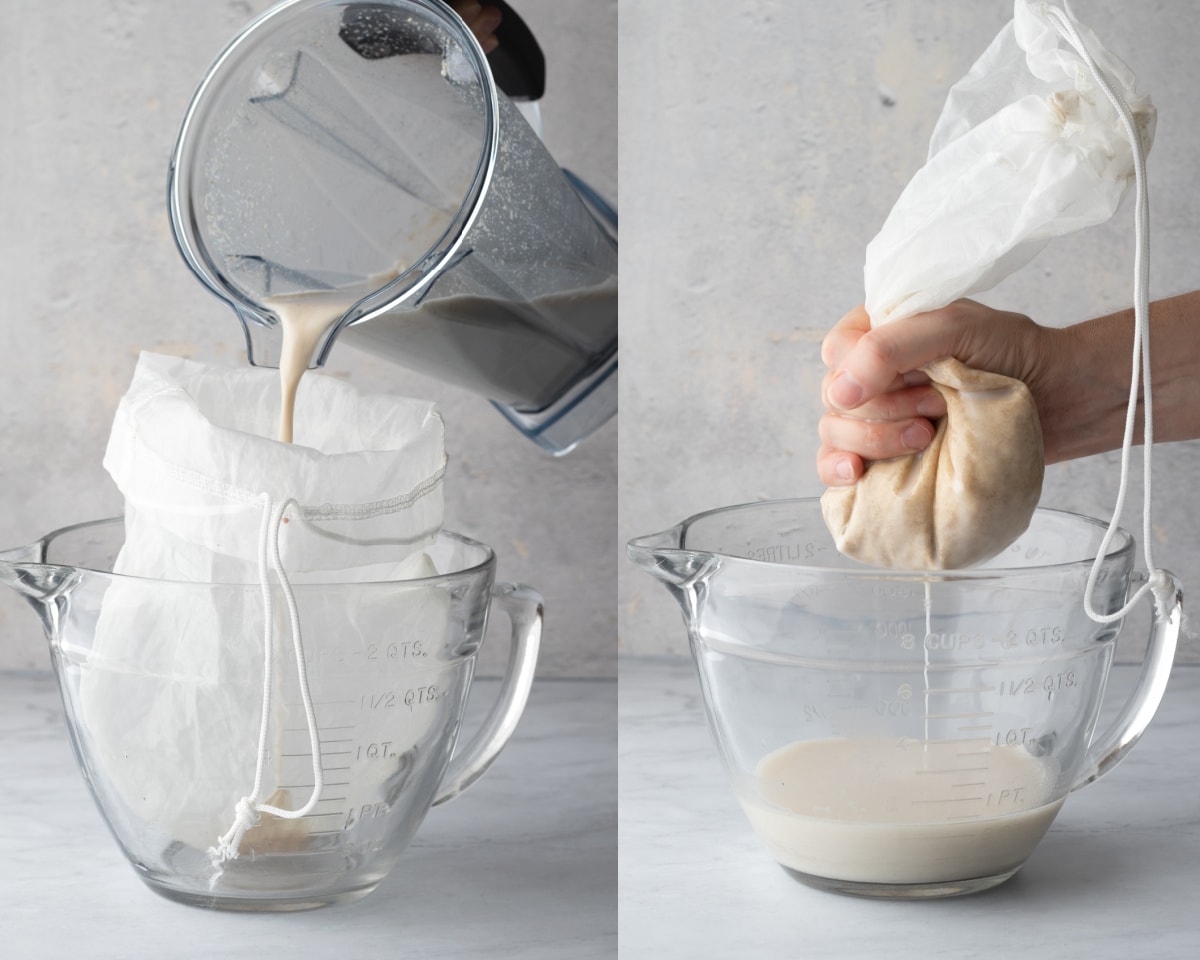 See the Notes section of the recipe to learn how to make oat milk. Don't be intimidated! I promise it's easier than you might think.
How to Make Vegan Chocolate Sauce
The pure, simple genius of this chocolate sauce is why I chose it over all the other recipes in the book as the one I wanted to share. I mean, look at it! How can you not want to keep a jar of this heavenly sauce in the fridge at all times?!?!
And when chilled it's more like a spreadable ganache. I'm not even kidding. Just wait until you see it. It's actual oat magic.
In fact, I'm working on a healthy ganache frosting recipe right now using this as the starting point.
This recipe has instantly become my go-to chocolate sauce!
To make it all you need is a small saucepan, a whisk, about 10 minutes, and these 4 ingredients:
cocoa powder
vanilla extract
maple syrup
oat milk - homemade or store-bought
Whisk together the ingredients in a small sauce pan.
Bring to a simmer and cook for about 2 minutes. You'll see the natural starch of the oat milk beginning to thicken and get ultra creamy.
And that's it! Serve and enjoy.
Serving Tips
Serve the sauce warm or room temperature. And here's a little perk you might enjoy versus sauces that are made with added saturated fats.... this one doesn't harden as it cools.
In fact, it's fantastic straight out of the fridge the next day! The consistency becomes more like a caramel sauce but with the flavor of deep, dark chocolate fudge. It's ridiculous.
Also, feel free to add a pinch of salt to the pot. Next time I might try it with a bit of smoked sea salt.
How to Store
Store the oat milk chocolate in a lidded jar or other airtight container in the refrigerator for up to 1 week. As mentioned, you can use it like a spreadable, thick ganache when chilled. Or reheat it for a saucy consistency.
This low-fat chocolate sauce also freezes beautifully! Feel free to make extra, and store it for a rainy day. Or make in advance for use on a dessert for a party or other special occasion.
Ways to Use Vegan Chocolate Sauce
Pair this healthy vegan chocolate sauce with:
freshly sliced apple, pear, or banana
chunks of frozen banana (yes, please!)
you can also make hot chocolate and creamy vegan cocktails with it!
During the week when you (or the kids) want a quick snack, pull the jar of sauce from the fridge and spread some on one half of a peanut butter-banana sandwich. #heaven
Check out this new spreadable Vegan Chocolate Ganache lightly adapted from this recipe!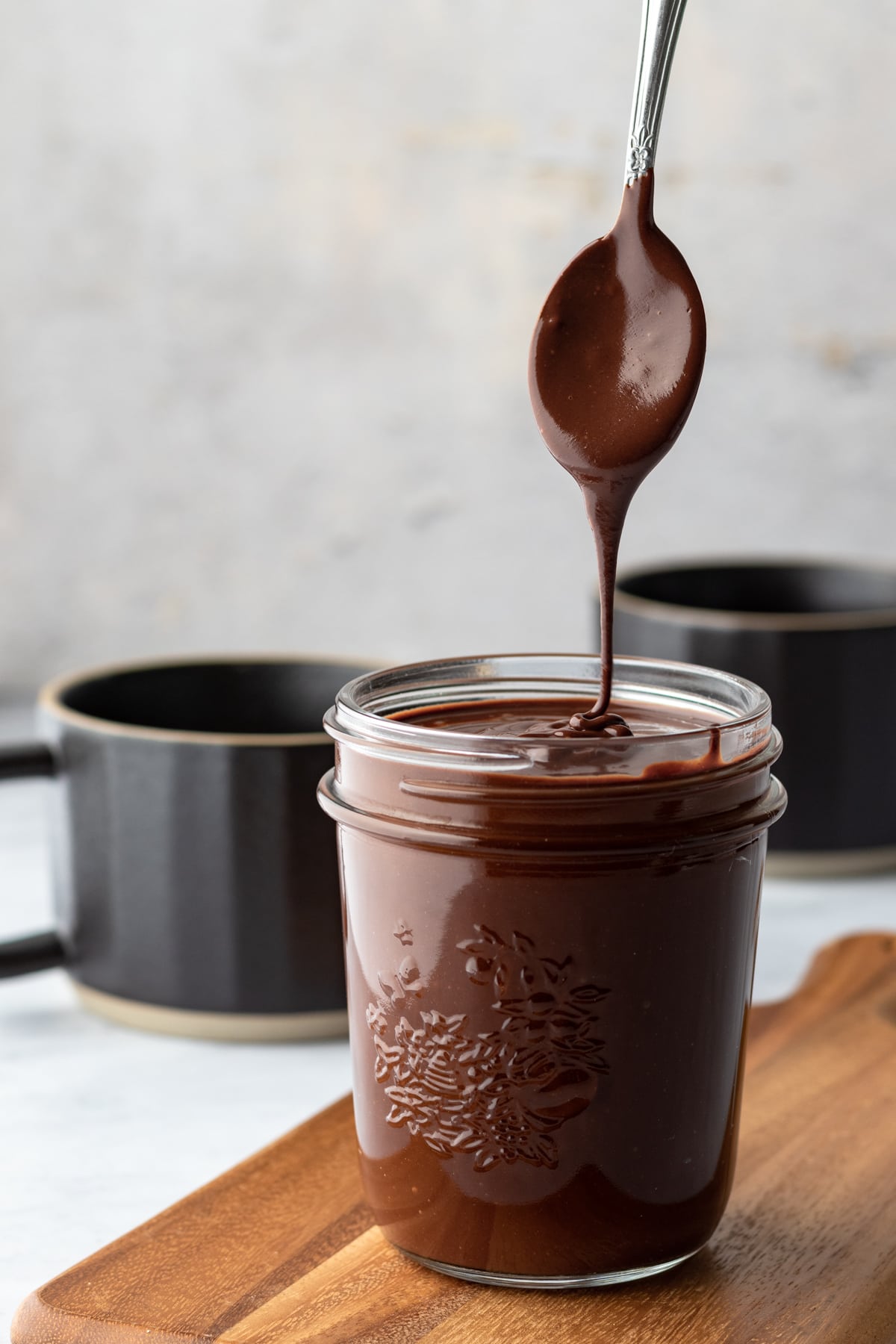 Grab a copy of The Oat Milk Cookbook, and be sure to let us know in the comments below what you think about this vegan chocolate sauce... and your favorite ways to enjoy it!
You might like:
📖 Recipe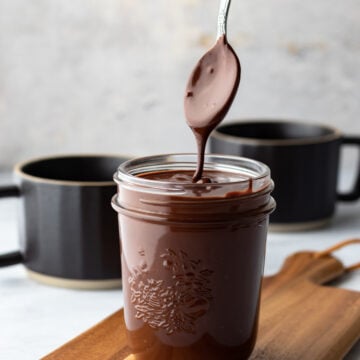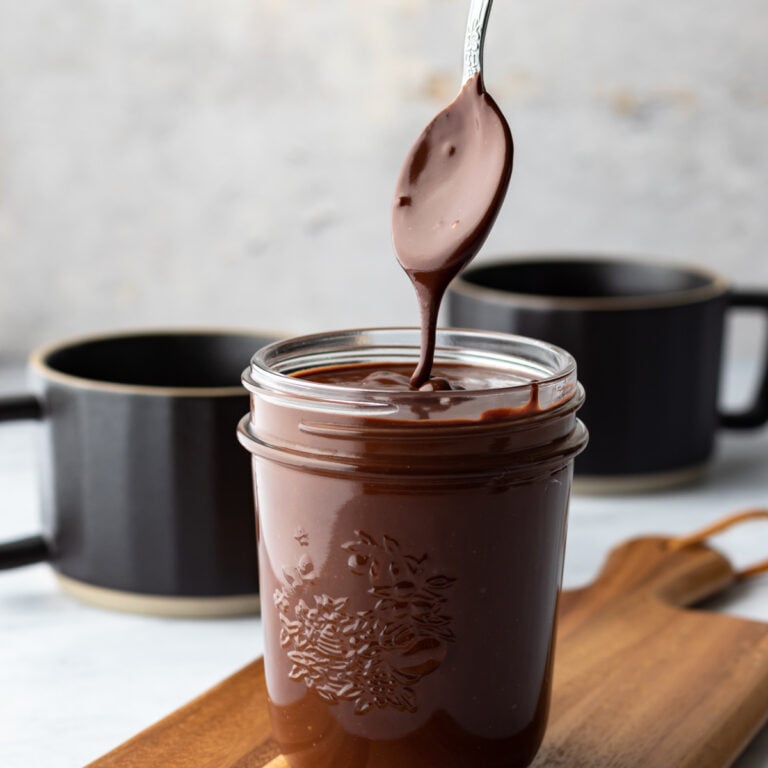 Vegan Chocolate Sauce (Oil-Free; Oat Milk)
Oat milk gives this easy, 4-ingredient vegan chocolate sauce a natural, creamy thickness with no added fat. Silky smooth and ready in minutes, with a decadent, fudgey chocolate flavor. Contains no nuts, oil, dairy, or refined sugar.
Reprinted with permission from Sterling Publishing Co; recipe by Kimberly Lutz, 2020.
Yield: the photos show a double batch, which makes about 1 ⅓ cups of sauce; as written here and in
The Oat Milk Cookbook
, the recipe makes about ⅔ cup.
Kim says she likes to double the recipe and keep a small jar in the refrigerator for up to a week. I completely agree.
Ingredients
½

cup

cocoa powder

1

teaspoon

vanilla extract

6

tablespoons

maple syrup

- Note: 6 Tbsp is ¼ cup + 2 Tbsp; a double batch is ¾ cup.

6

tablespoons

oat milk, homemade or store-bought

-

See Notes for homemade.
Instructions
In a small sauce pan stir together the cocoa powder, vanilla, maple syrup, and oat milk.

Simmer the mixture over low heat for 2 minutes, until thick and creamy.

Serve chocolate sauce warm or at room temperature. (It's delicious both ways.)
Notes
How To Make Oat Milk
Combine 1 cup rolled oats with 4 cups of water in a blender. In my Vitamix I like to blend on high for no more than 30 seconds to avoid slimy oat milk. Depending on your blender I recommend experimenting with this to find the perfect blend time.
Strain the oat milk through several layers of cheesecloth or a nut milk bag.
Store oat milk in a lidded glass jar in the refrigerator for up to 3 days. Always shake before using.
Storage
Store leftover chocolate sauce in a lidded jar in the refrigerator for up to 1 week. It freezes beautifully and thaws quickly.
Nutrition
Nutrition information is an estimate and based on a ¼ cup serving.
Estimated Nutrition (per serving)
Calories:
148
kcal
Carbohydrates:
37
g
Protein:
3
g
Fat:
2
g
Cholesterol:
0
mg
Sodium:
21
mg
Fiber:
6
g
Sugar:
24
g
Vitamin A:
62
IU
Vitamin C:
0
mg
Calcium:
95
mg
Iron:
2
mg
Nutrition information is an estimate and will vary depending on the exact amounts and specific products and ingredients used. We calculate this information using the online calculator cronometer.com.
Tried the recipe?
I love hearing from you! Share your feedback below.