These healthy, oil-free Vegan Banana Brownies have a cake-like texture, with hints of banana bread, crunchy walnuts and rich chocolate flavor! Best of all, they're a sweet treat you can feel 100% great about. These banana brownies are refined sugar-free, WFPB (whole-food, plant-based), and gluten-free!
Why You'll Love Them
Go ahead, have a brownie for breakfast. These moist and chocolatey vegan banana brownies are so healthy you can do just that. One cup of mashed, overripe banana provides moisture, binding, and sweetness, while a bit of maple syrup and coconut sugar makes them dessert-worthy.
Oat flour provides texture, almond butter gives them a bit of richness, and cocoa powder brings ALL the chocolate vibes.
At just 120 calories per brownie, these are surprisingly light. I know they don't look like it in the photos, so I wanted to be sure to give you a heads up. If you're looking for a super dense, fudgey type of brownie, these may not be the ones for you.
But if you like the sound of a sweet, moist, cake-like brownie married with the warm flavor of banana bread and the crunch of walnuts, you're definitely in the right place!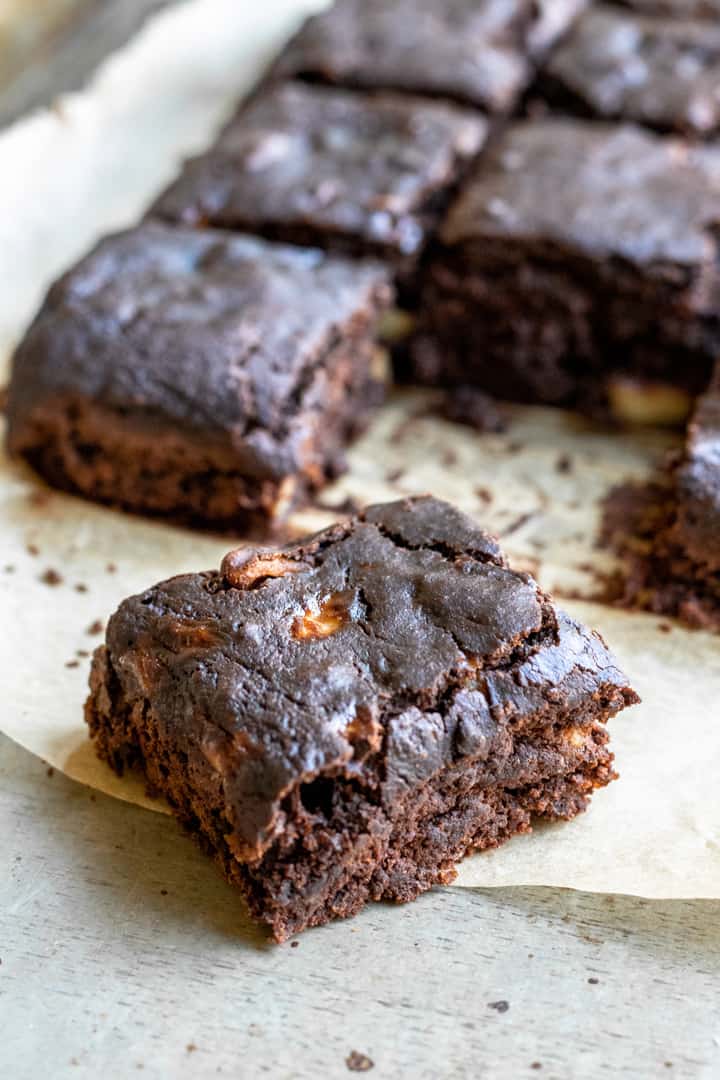 How to Make Banana Brownies
The process is really easy, and looks like this:
Preheat the oven to 350 degrees F, and line an 8x8 baking pan with parchment.
Combine the dry ingredients in a mixing bowl.
In a smaller bowl mash the bananas with a fork.
Stir the other wet ingredients in with the banana.
Next, add the wet ingredients to the dry and stir until well combined. Fold in the walnuts.
Pour into the prepared pan, and bake for 30 to 35 minutes or until a toothpick inserted in the center comes out clean.
Easy as that!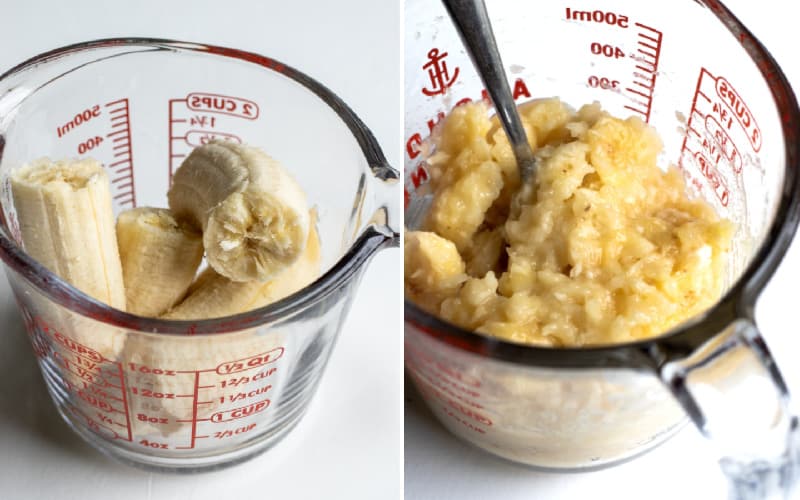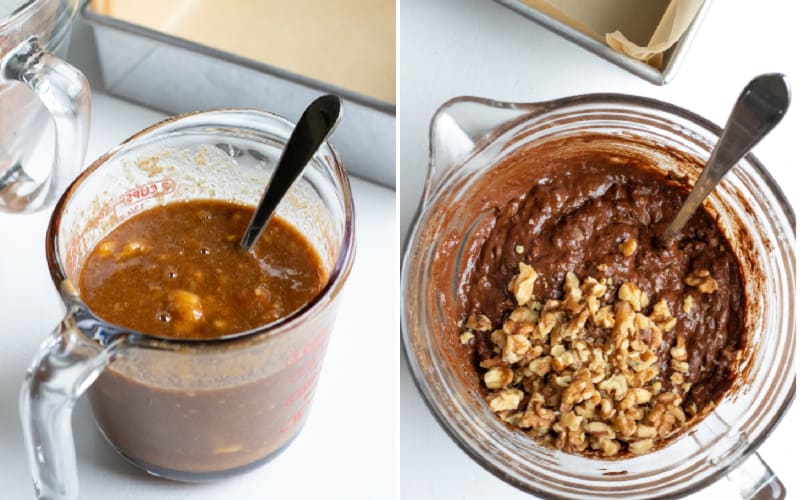 Tips for Slicing
Well, maybe there is just one difficult part, and that's waiting while they cool!
Since these have a very tender, cake-like texture, it's best to wait until they're completely cool before cutting into squares. I know it's tough. But I believe in you!
And hey, if the smell of banana bread and chocolate brownies overtakes your will, and you cut into them a bit early, is a bit of crumbly, moist, chocolatey-ness really such a bad thing? I think not.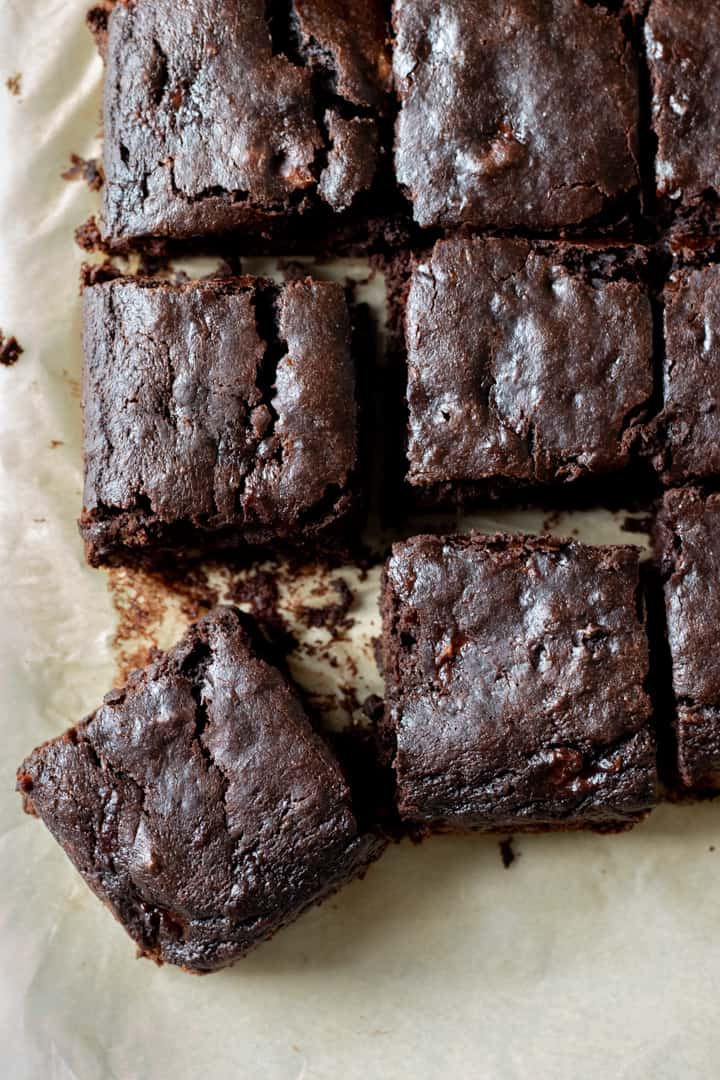 Storage and Serving Suggestions
Once the brownies are cool, I like to leave them on the parchment paper and transfer the whole thing to a storage container with a tight-fitting lid. If you need to stack them up to fit inside the container, just place parchment between the layers to keep them from sticking together.
You can store the brownies at room temperature or in the refrigerator. I've tried them both ways and actually prefer them cool out of the fridge.
For breakfast: imagine this - you wake up the next day, and while enjoying a hot cup of coffee or tea you pull a rich, chocolate-banana brownie straight out of the fridge for breakfast. And maybe you even pair it with a spoonful of peanut butter. There are worse ways to start the day!
After lunch or as a snack: these are perfect on-the-go or as an afternoon snack since they're fine at room temperature all day.
For dessert: I'm perfectly happy having one or two of these babies after dinner as a healthy dessert. But if you want to kick up the dessert-factor, serve these with your favorite non-dairy whipped cream or ice cream plus a dash of cinnamon on top!
Banana brownies taste fantastic with a scoop of any of these dairy-free ice creams:
Vanilla-Maple Oat Ice Cream
Pumpkin Oat Ice Cream
Banana Nice Cream
Butter Pecan Oat Ice Cream
Chocolate Chickpea Ice Cream (nut-free)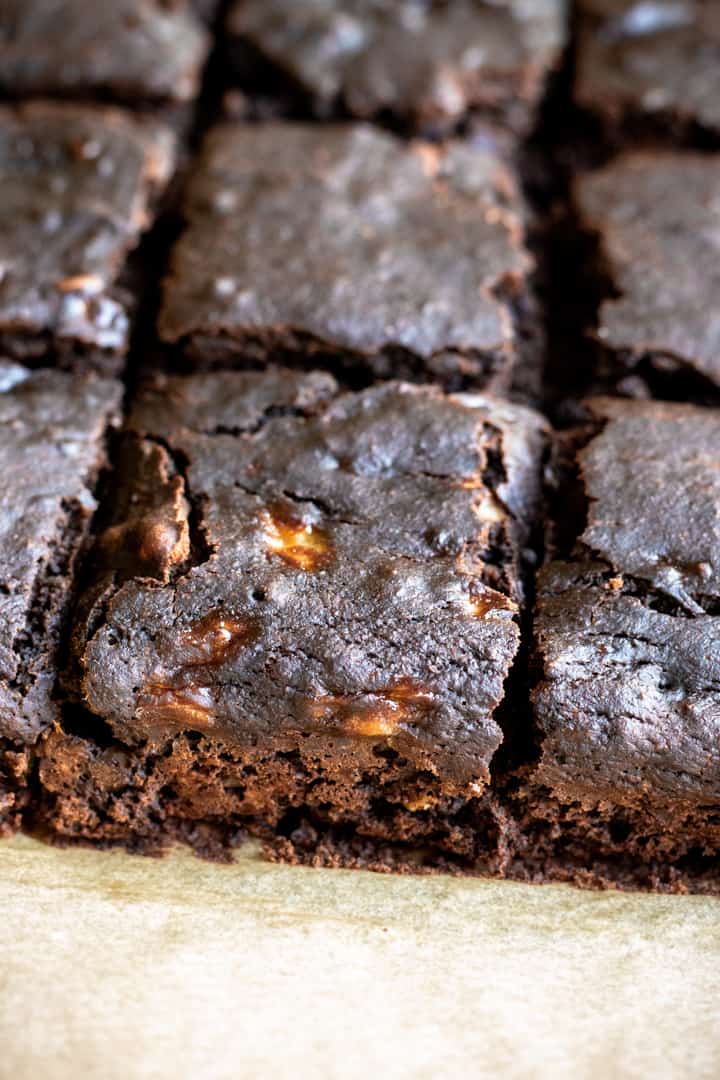 I hope you love these delicious and healthy Vegan Banana Brownies! If you try the recipe please leave a comment below to let us know! You can also tag me on facebook or instagram with @myquietkitchen.
More vegan sweet treats:
Vegan Banana Blondies
Oil-Free Chocolate Cake
Spiced Tahini Oatmeal Cookies
Strawberry-Banana Oat Bars
Chocolate Chickpea Ice Cream!
Double Chocolate Chip Cookies
Peanut Butter Brownies
Follow My Quiet Kitchen on Facebook, Instagram, and Pinterest, and subscribe via email to receive all of the latest recipes!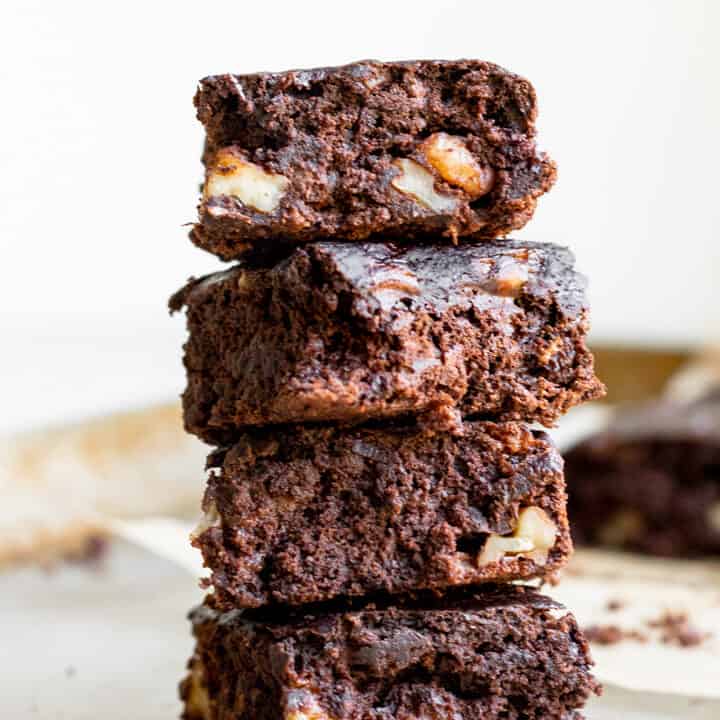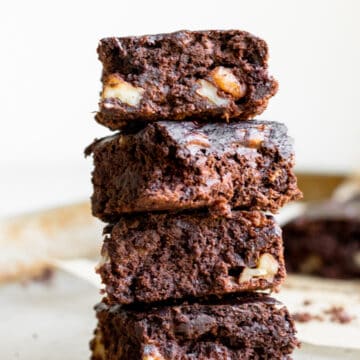 Oil-Free Vegan Banana Brownies
These healthy vegan banana brownies are light yet perfectly chocolatey, with a cake-like texture, crunchy walnuts, and hints of warm, caramel-y banana. Free from refined sugar, oil, dairy, eggs, soy and gluten.
Ingredients
Dry ingredients:
1

cup

oat flour (100 g) Use certified gluten-free oat flour if needed.

½

cup

natural cocoa powder

If using Dutch-processed cocoa (alkalized), replace the baking soda with baking powder.

1

tsp

baking soda (replace with baking powder if using Dutch-processed cocoa)

1

tsp

cinnamon

½

tsp

fine sea salt
Wet ingredients:
1

cup

mashed overripe banana (about 2 large bananas)

Use bananas with a lot of dark spots

¼

cup

maple syrup

¼

cup

coconut sugar

Can sub brown sugar

1

Tbsp

brewed coffee or non-dairy milk

2

tsp

vanilla extract

⅓

cup

unsalted almond butter

Or any nut/seed butter you like; will alter flavor
Addition:
½

cup

chopped raw walnuts
Instructions
Preheat oven to 350 degrees F and line an 8x8 baking pan with parchment paper.

In a mixing bowl whisk together the oat flour, cocoa powder, baking soda, cinnamon, and salt.

Place the bananas in a small bowl, and mash with a fork. It's fine to have a few larger pieces remaining. Measure to make sure you have 1 cup of mashed banana. Add the maple syrup, coconut sugar, vanilla, and almond butter, and stir vigorously until combined.

Pour the wet mixture into the dry, and stir to combine. Fold in the walnuts.

Transfer batter to prepared pan, and bake for 30 to 35 minutes or until a toothpick inserted in the center comes out clean.

Let brownies rest in the pan for 30 minutes, then lift out by parchment paper. Allow to cool completely, then cut into 16 squares.
Notes
Store brownies in an airtight container. If you need to stack them, just fold over the existing parchment paper or place a new piece of parchment between the layers to prevent sticking.
The brownies can be kept at room temperature for up to 3 days, refrigerated for up to 5 days, or frozen for a month or two.
From frozen, the brownies thaw fairly quickly. So just transfer them to the refrigerator about an hour before you'd like to eat.
Serving suggestions:
These taste great straight out of the fridge. You can also warm them slightly before serving and top with whipped coconut cream or vegan vanilla ice cream. And don't forget an extra dash of cinnamon on top!
Estimated Nutrition (per serving)
Calories:
122
kcal
Carbohydrates:
17
g
Protein:
3
g
Fat:
6
g
Cholesterol:
0
mg
Sodium:
80
mg
Fiber:
3
g
Sugar:
8
g
Vitamin A:
10.5
IU
Vitamin C:
2
mg
Calcium:
34
mg
Iron:
1
mg
Nutrition information is an estimate and will vary depending on the exact amounts and specific products and ingredients used. We calculate this information using the online calculator cronometer.com. For the most accurate nutrition information we recommend calculating it yourself to reflect the specific ingredients used in your dish.
Have you tried the recipe?
Comment below to let us know!