Quick Pickled Vegetables are endlessly versatile and an easy way to use up fresh produce before it's too late! Create a fun mixture using the vegetables you have on hand, or pickle individual vegetable varieties in their own jars. The tangy, crunchy, slightly sweet morsels are guaranteed to elevate your salads, sandwiches, snack boards, and stir fries!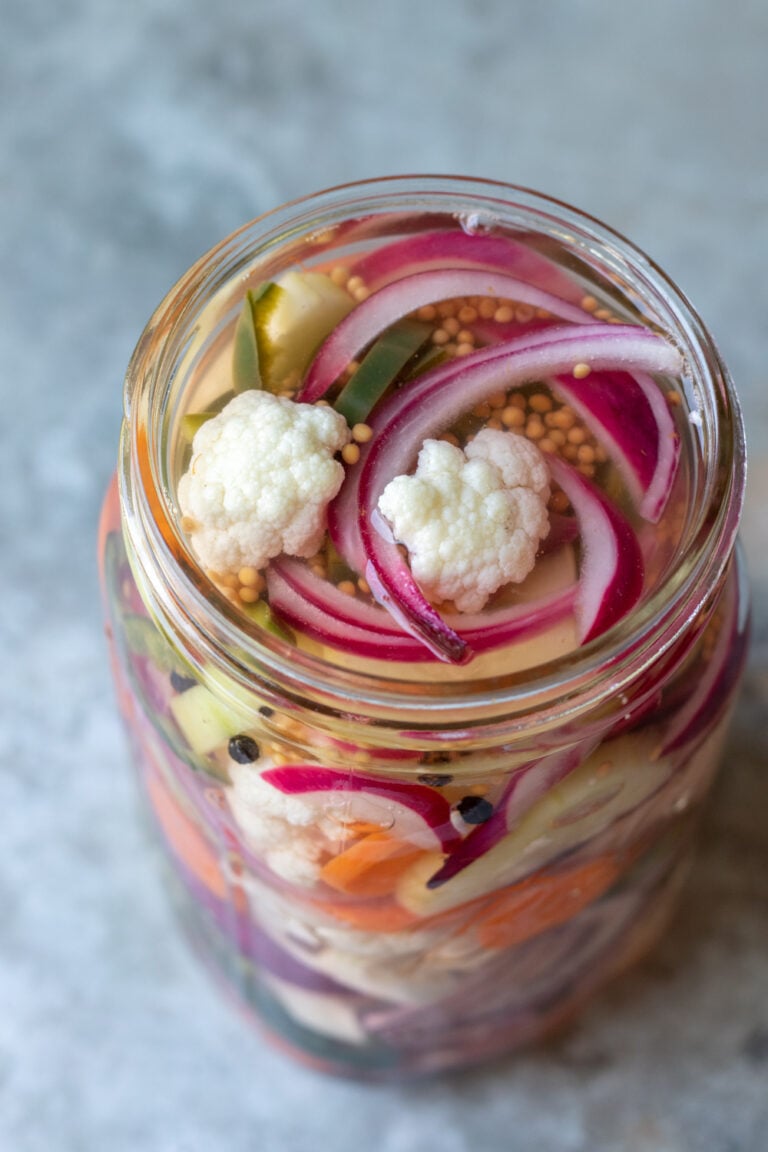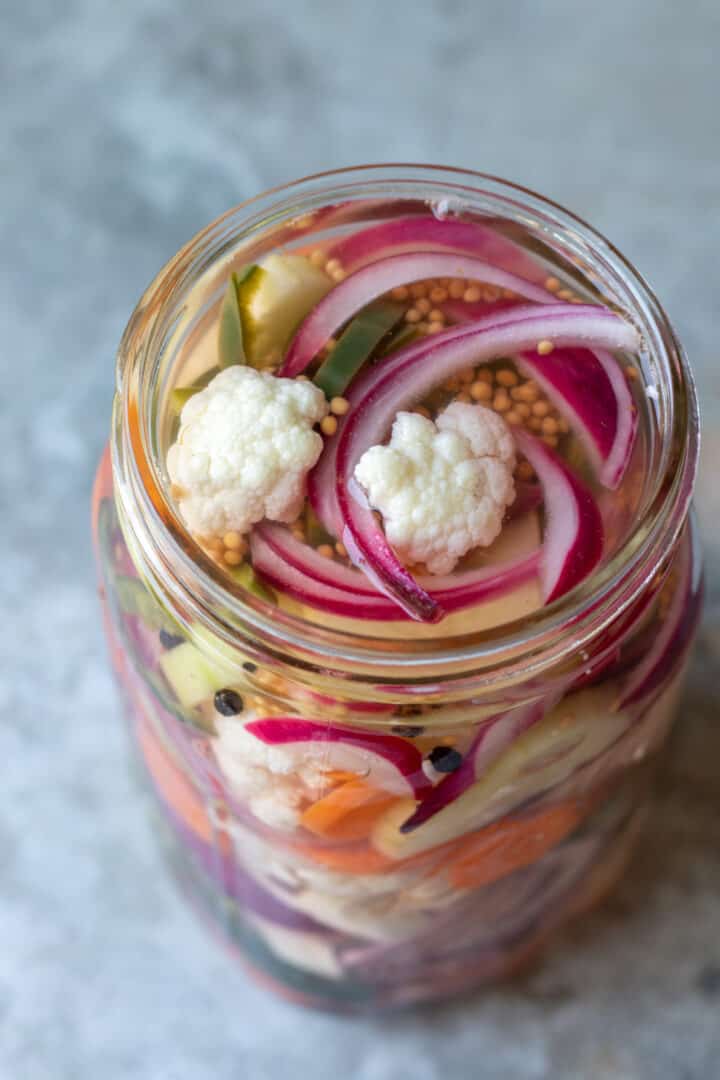 I've been a bit obsessed with quick pickling this summer. Mark has been growing more and more veggies in containers this year. For a while there, I was actually beginning to fear the pots would take over the yard! But thankfully, he pared things down before they got out of control. The jalapeño plants have grown especially well and created far more peppers than we could use or give away. On top of having an abundance of them, these peppers are HOT. Like, really, really spicy.
Having made quick pickled jalapeños before, I thought I'd be clever and use them up like that....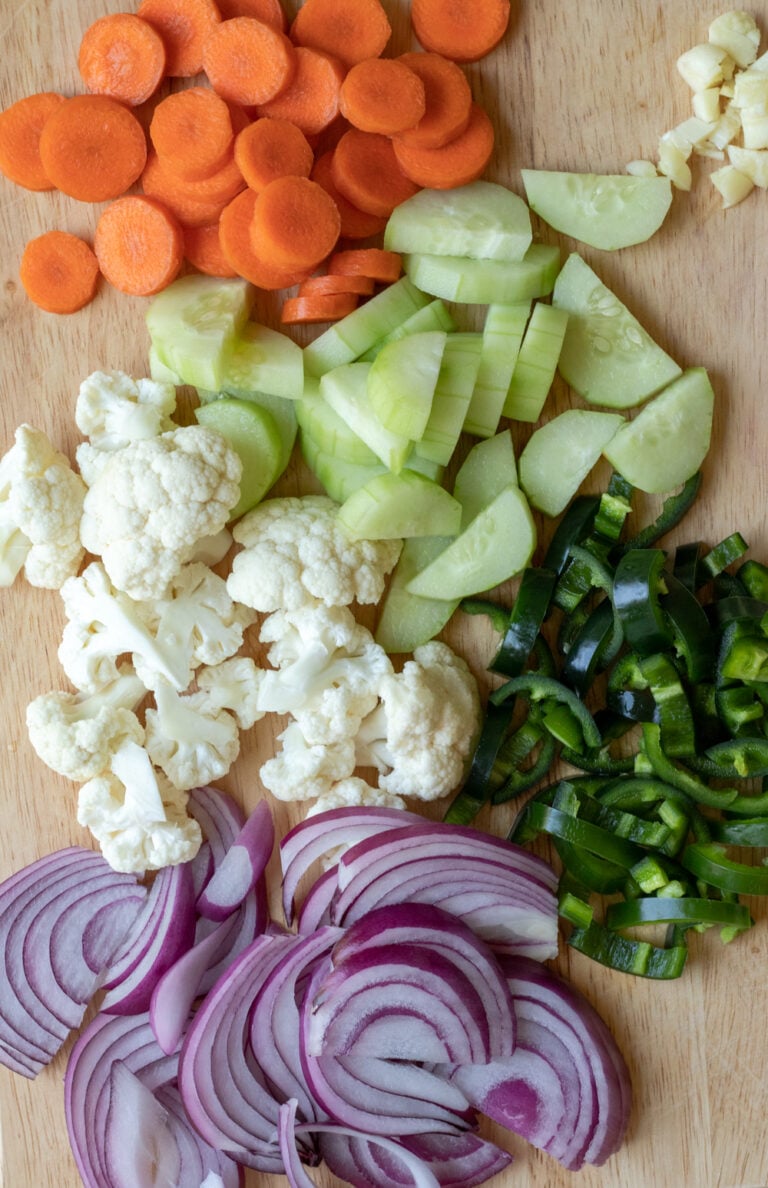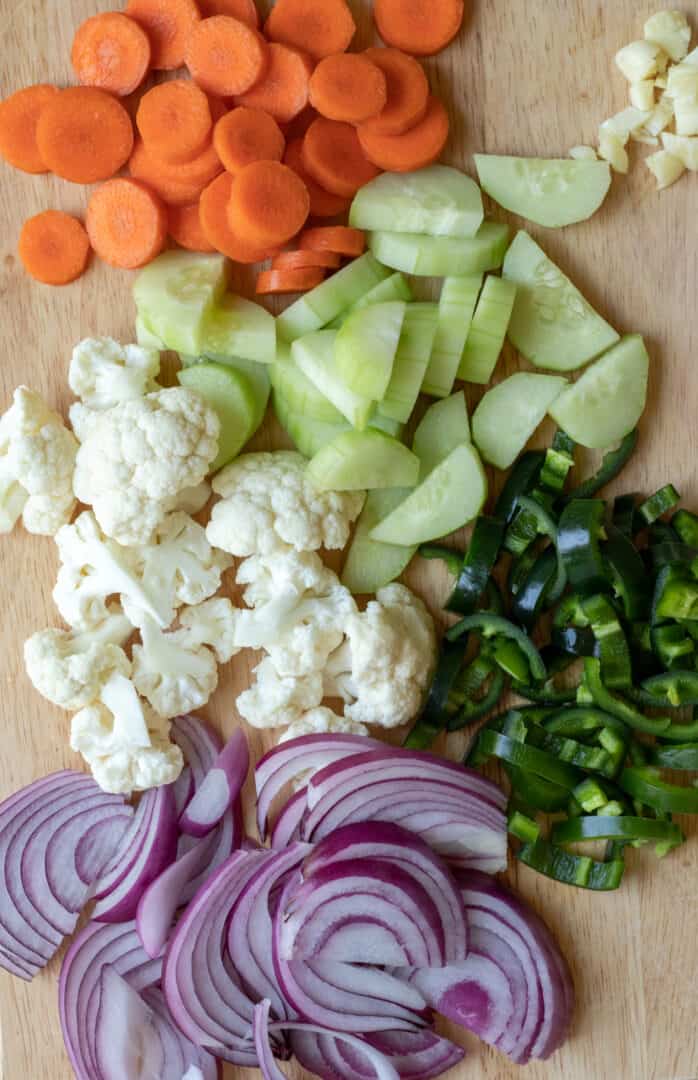 But it took just one batch for me to learn my lesson. Way too hot!
I realized that most, if not all, of the seeds in the jalapeños would have to be removed. I also decided to mix the peppers with other veggies to create a more interesting combination of deliciously tangy, spicy, and crunchy vegetables for snacking and topping our meals. See the photo above? Seedless jalapenos for the win (and only 3 of them).
See the photo below? No bueno! Waaaaaaay too hot. Mark and I both like spicy foods, but the jalapenos in that batch were pretty much inedible. So we ended up picking out the onion and carrots, which were VERY spicy but okay when mixed with other foods.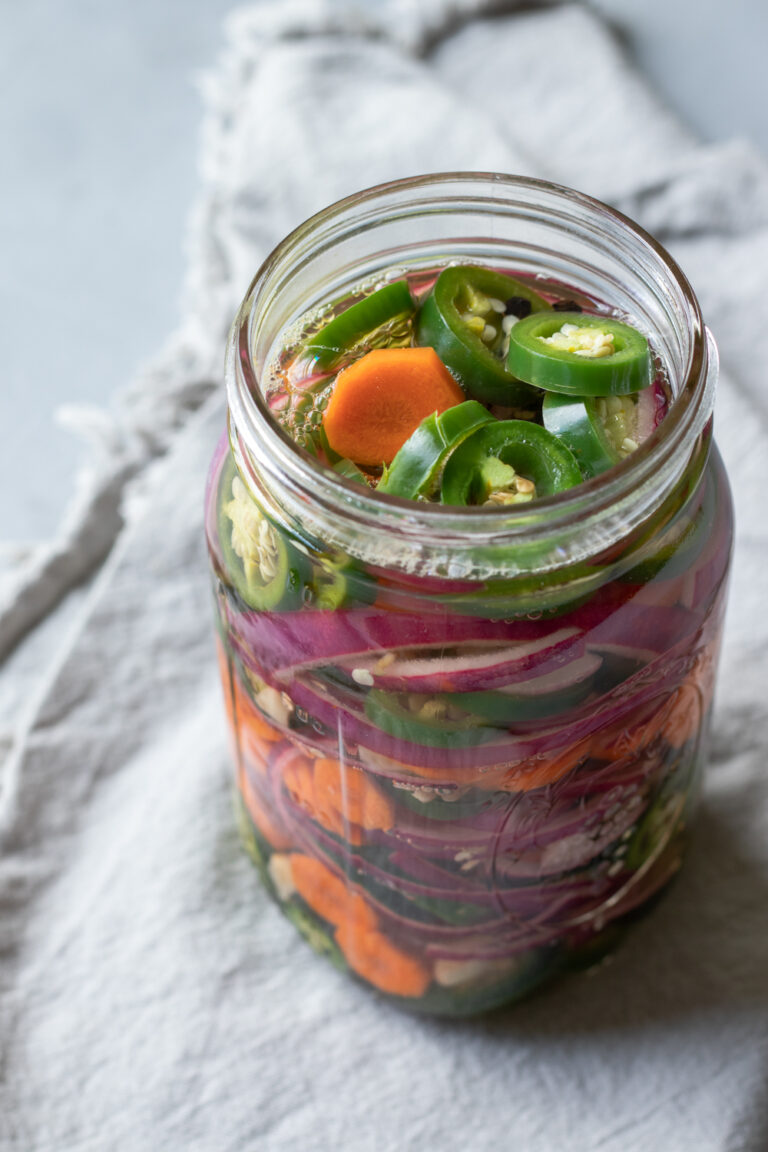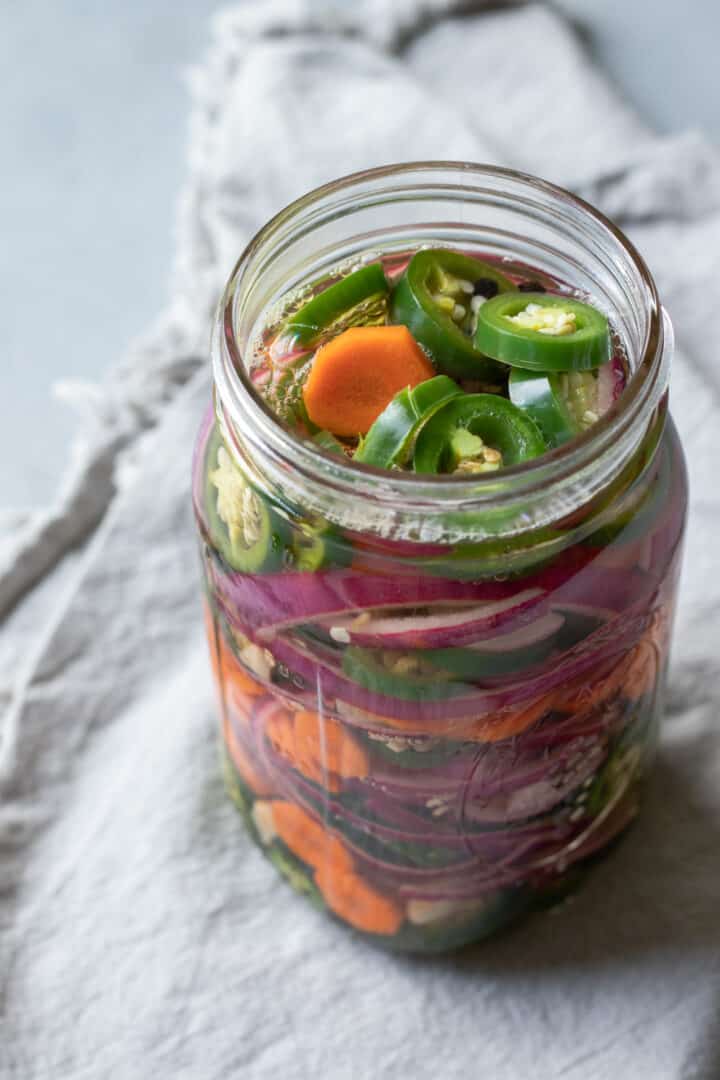 Now, if you're a SUPER fan of all things spicy, and your jalapenos don't seem to be extraordinarily hot, you might enjoy a batch of quick pickles comprised of mostly peppers (and their seeds). The spiciness of jalapenos can vary a lot, so I guess it really all depends.
The blend of cauliflower, carrots, red onion, cucumber, and jalapenos pictured below was SO GOOD we devoured half the jar on the first day. Of course, only using 3 or 4 jalapeños per jar wasn't going to use up the massive pile of jalapenos I had on my hands, but it was a start. Quick pickled vegetables will keep in the fridge for about a month, so I plan to make a jar or two each week until our jalapenos are gone (and share some jars, too). Roasting them has been another delicious way to eat these spicy peppers.
Check out this Roasted Lime and Jalapeño Hummus!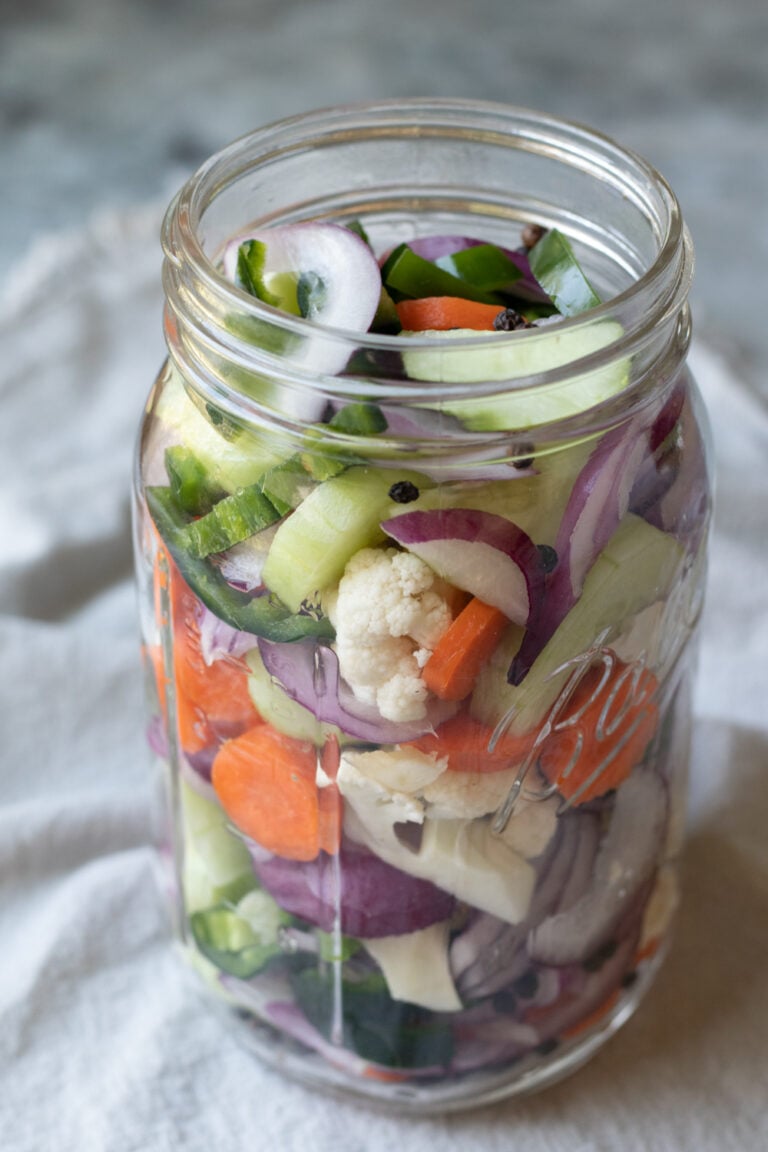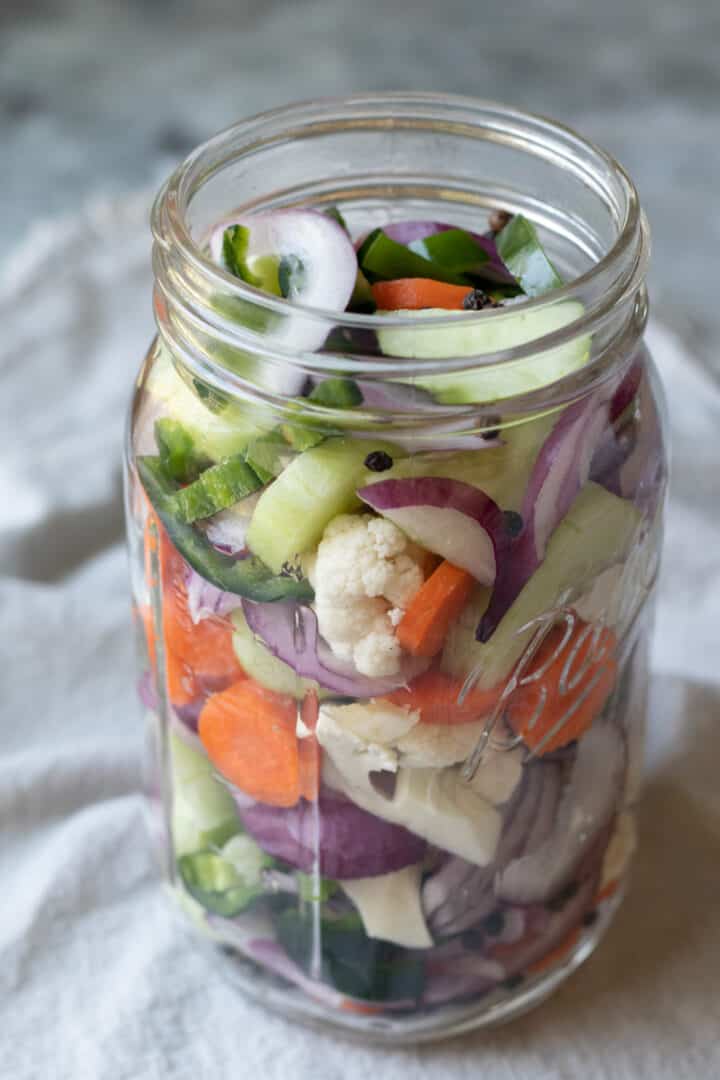 How To Make Quick Pickled Vegetables
As I mentioned, the recipe is very versatile, so don't be afraid to try different vegetables and spices. You can also use any combination of the vinegars listed below. Here are the ingredients you'll need:
For the brine:
1 cup white distilled vinegar
¼ cup rice vinegar or apple cider vinegar
1 ¼ cups water
2 teaspoons sea salt
1 tablespoon sugar
For the veggies:
Amounts will vary depending on the vegetables you use (due to negative space while measuring) but aim for about 3 to 4 cups of chopped/sliced vegetables. Some of my favorites are red onion, cauliflower, carrots, jalapenos, cucumber, radishes and beets. Green beans and asparagus are also fun but benefit from being blanching first. The others can go into the jar raw.
I used the following:
about ¼ small head of cauliflower, cut into bite-sized florets
1 medium carrot, peeled, cut into coins
1 pickling cucumber, peeled and cut into coins (peeling optional)
½ large red onion, thinly sliced
3 jalapenos, sliced lengthwise, seeded, then sliced again
3 cloves garlic, smashed and sliced
The garlic is really more of a flavoring, but since it falls into the produce category I wanted to list it here with the other veggies.
Flavorings I used:
2 teaspoons whole black peppercorns
2 teaspoons mustard seeds
You can get very creative with flavorings! Try different herbs and spices:
Fresh or dried herbs like cilantro, dill, or rosemary
Dried spices like red pepper flakes, paprika, and turmeric
Fresh ginger root
For my next batch of quick pickles I plan to do a ginger-turmeric combo with mostly rice vinegar. Doesn't that sound delicious?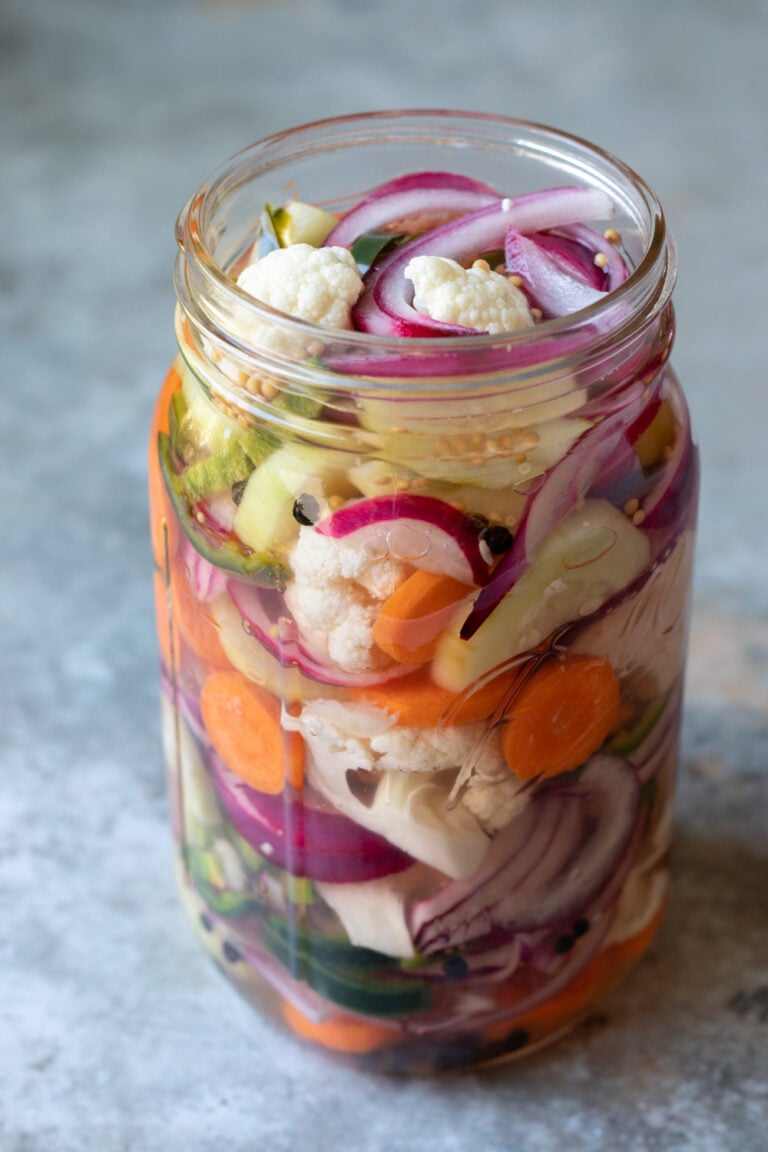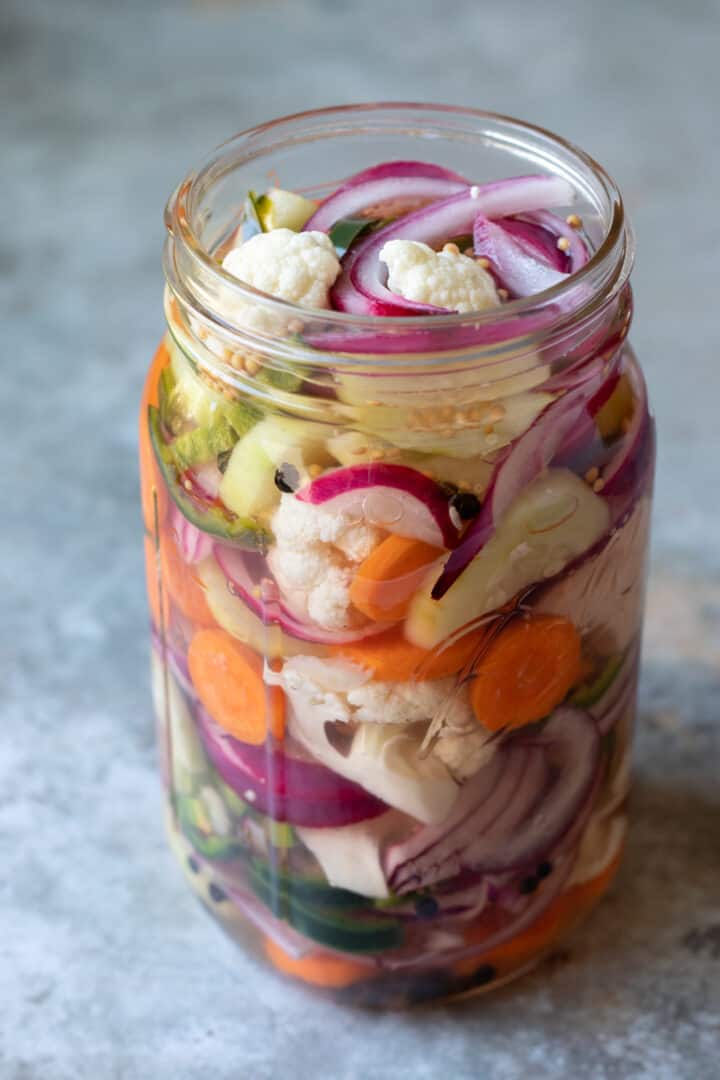 The process for making Quick Pickled Vegetables is very simple. Some recipes call for briefly heating the vegetables in the brine, but I like to put the raw vegetables directly into the jar.
Fill a wide-mouth 32 ounce glass jar (or 2 pint jars) with the prepared veggies and seasonings (peppercorns, mustard seeds, etc).
Combine the brine ingredients in a small sauce pan and cook over medium-high heat until it reaches a low boil. Stir and cook for a few seconds to dissolve the sugar. Pour the hot brine into the jar so that all of the veggies are covered and liquid almost reaches the top. (In the photo above I was a bit eager to take the shot and hadn't really finished filling the jar. The photo below shows it topped off with more brine.)
Allow the jar to cool for a few minutes before covering it. Then let it rest on the counter until it has cooled to room temperature. Transfer the jar to the refrigerator.
Your quick pickles will be cold, crisp, delicious, and ready to eat the next day.... if you can wait that long. We're terrible at waiting!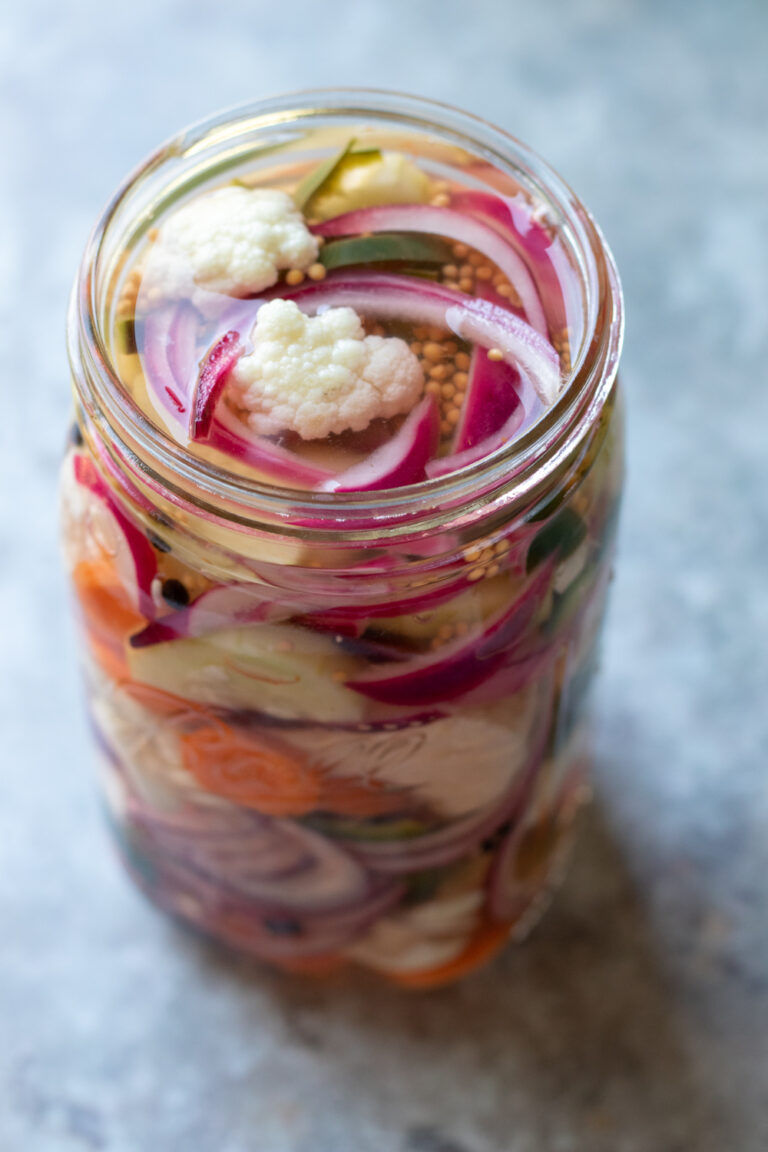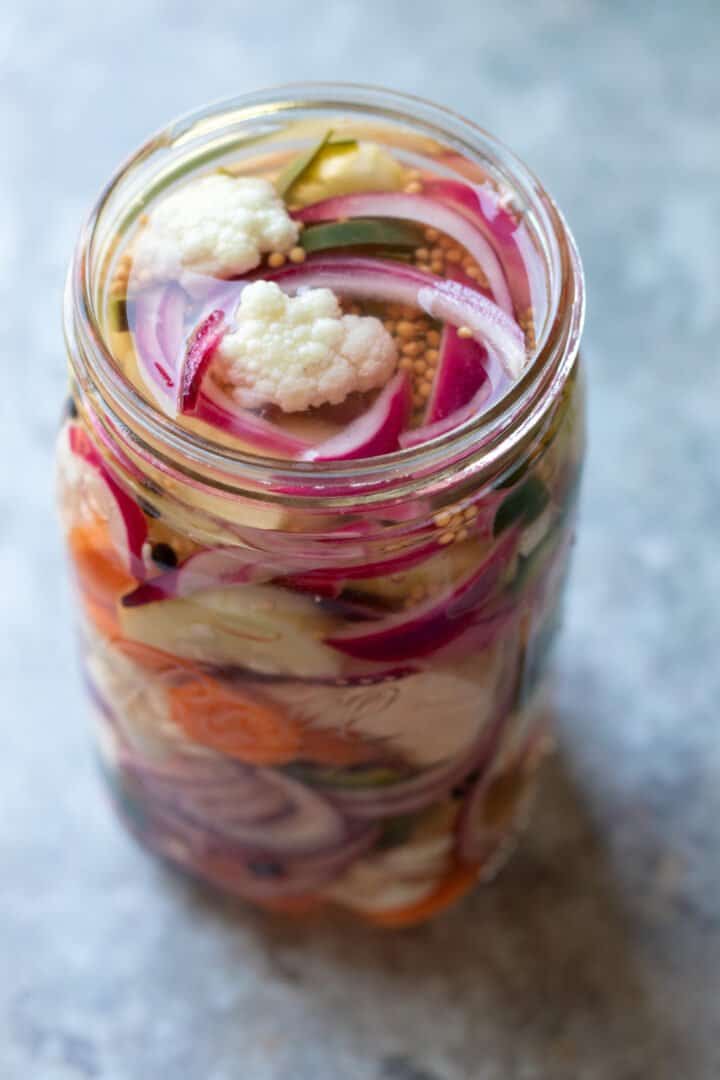 I hope you enjoy these super easy Quick Pickled Vegetables and the extra burst of flavor they add to your meals! If you try the recipe I would love to hear from you. You can click on the stars in the recipe card to leave a rating, comment below, and/or tag a photo of your version of quick pickles on insta with @myquietkitchen. Let us know what flavor combinations you try!
You might also like:
Creamy Harissa Dressing
Thai-Inspired Vegan Larb
Roasted Lime and Jalapeno Hummus
Kimchi-Marinated Tempeh Wraps
Spicy Parsley Pesto
Oil-Free Zhoug Sauce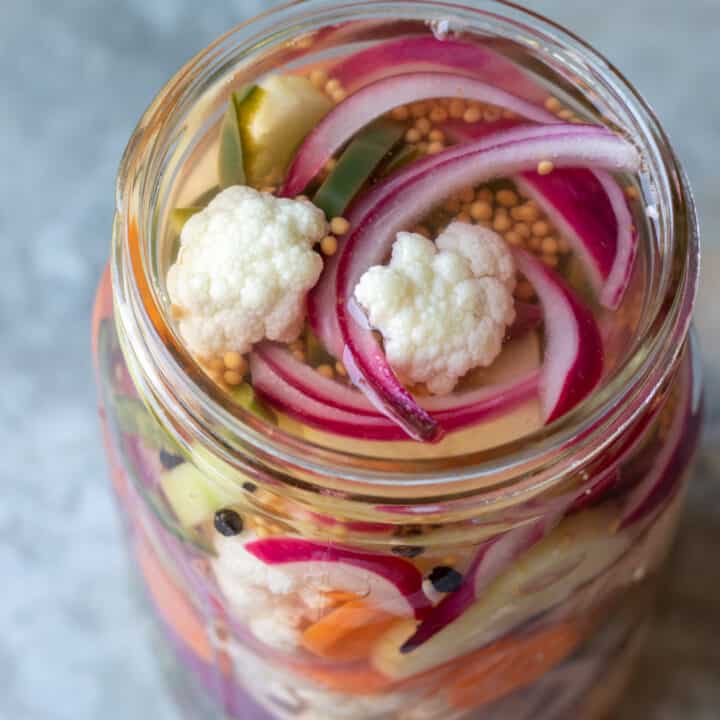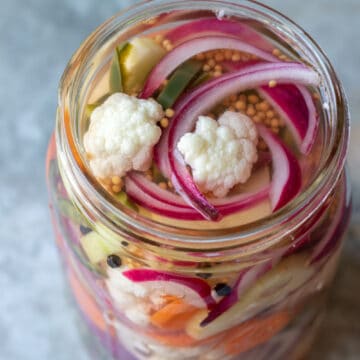 Quick Pickled Vegetables
Quick pickled vegetables are so easy to make and add a finishing touch of flavor to any meal. Use your favorite veggies or whatever you have on hand that needs to be used quickly! Include a few jalapenos for some kick!
Lightly adapted from The Kitchn's How to Quick Pickle Any Vegetable
Yield: one 32 oz jar of pickled vegetables (or two pint jars)
Ingredients
1

medium

carrot, peeled, cut into coins or matchsticks

¼

head

cauliflower, cut into small florets

½

large

red onion, thinly sliced

1

medium

pickling cucumber, peeled, cut into coins or thinly sliced

3 to 4

jalapenos, ends trimmed and seeds removed if very hot, sliced

2 to 3

cloves

garlic, smashed and sliced

2

tsp

whole peppercorns, optional

2

tsp

whole mustard seeds, optional
For the brine:
1

cup

white distilled vinegar

¼

cup

rice vinegar or apple cider vinegar

1 ¼

cups

water

2

tsp

sea salt

1

Tbsp

sugar
Instructions
Locate one 32 ounce glass jar (or two pint jars) with a lid. Make sure the jar is clean by pouring a small amount of white vinegar inside, screwing on the lid, and shaking for a few seconds. Let stand for about a minute, then rinse. (There's nothing scientific about this; it's just a simple step I take to feel better about the cleanliness of the jars.)

Fill the jar with the prepared vegetables and any flavorings you're using, such as peppercorns, garlic, mustard seeds, fresh or dried herbs. Set jar aside.

In a small sauce pan combine the vinegars, water, salt, and sugar, and cook over medium-high heat until boiling. Stir to dissolve the sugar and salt. Pour the brine into the jar so that it covers the vegetables and almost reaches the top of the jar. Let cool for a few minutes, then screw on the lid. When the jar has cooled to room temperature, transfer it to the refrigerator. The quick pickles can be eaten anytime but taste best after at least one day in the refrigerator.
Notes
Quick pickled vegetables will keep in the refrigerator for up to one month, possibly longer.
Estimated Nutrition (per serving)
Nutrition information is an estimate and will vary depending on the exact amounts and specific products and ingredients used. We calculate this information using the online calculator cronometer.com. For the most accurate nutrition information we recommend calculating it yourself to reflect the specific ingredients used in your dish.
Did you try the recipe?
Comment below to let us know!