These vegan sandwiches are perfect for taking on-the-go and easy enough for quick lunches at home. Whether you're packing a lunch for work or heading outside for a hike or picnic, any of these tasty vegan sandwiches is sure to hit the spot! We've included a mix of both classic recipes and really creative vegan sandwich ideas, plus healthy spreads to add tons of flavor to any sandwich!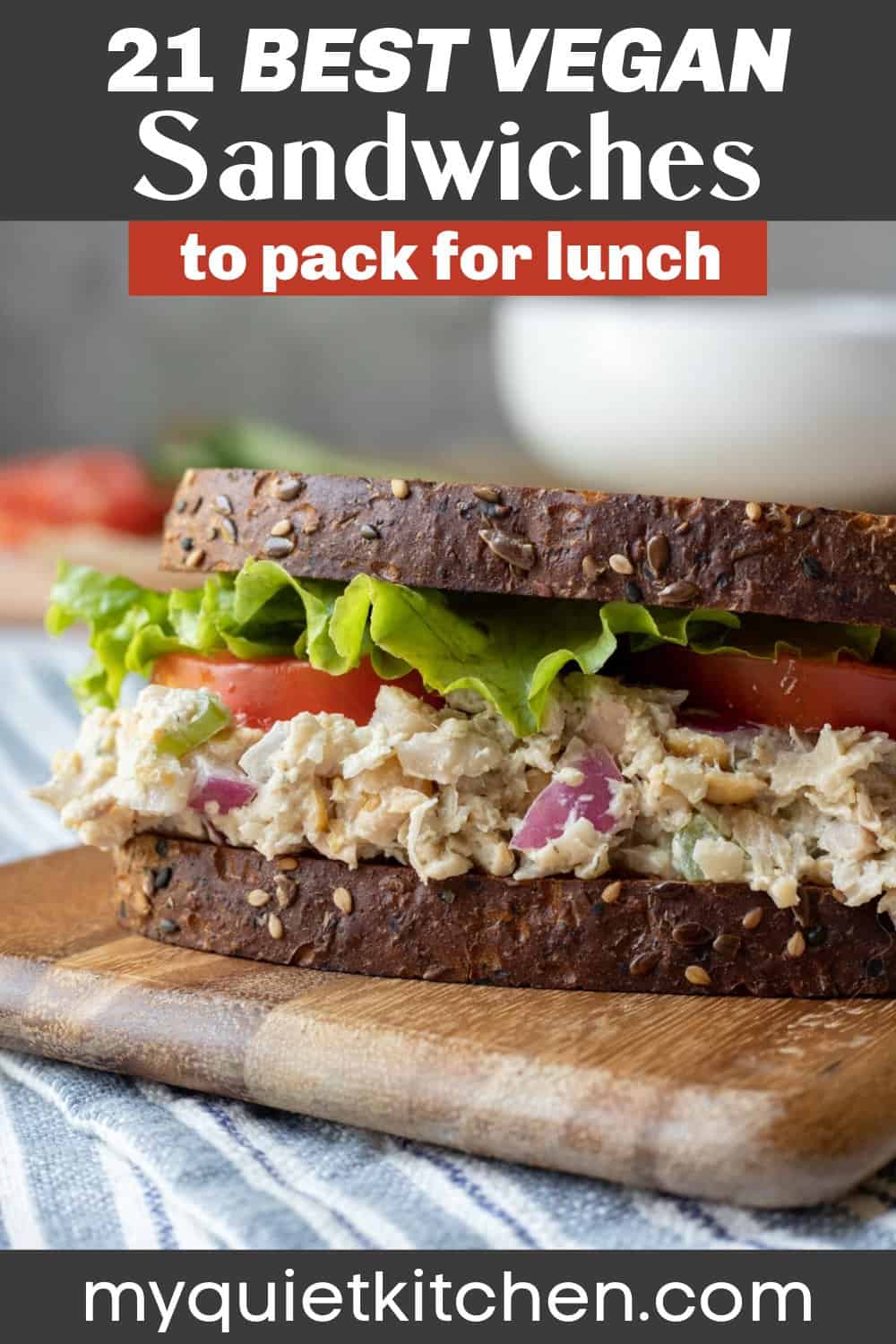 I asked my vegan blogger friends for their best quick and easy vegan sandwich recipes and pulled together this list with an emphasis on:
fun and unique flavors
easy preparation
and of course, the sandwiches need to pack well and be easy to eat at your desk, in your car, in the park, or on the trail!
Jump to:
Flavorful Spreads
For any sandwich that calls for mayo, you can't go wrong with this Oil-Free Aquafaba Mayo recipe. Every time I make it I get excited by the flavor all over again!
As a bonus, this homemade vegan mayo is a lot more affordable than specialty vegan mayonnaise you'll find in stores. If you don't happen to be opening a can of chickpeas or just don't want to use aquafaba, feel free to sub water. Easy as that!
Sometimes it's nice to substitute a flavorful vegan dressing for mayo. Check out these 10 Healthy Salad Dressings.
More vegan spreads to add flavor to sandwiches:
Best Vegan Cheese for Sandwiches
As far as store-bought goes, we love all of the Violife slices, especially the smoked provolone. Chao Original is also amazing.
And if you're into homemade, boy do I have some tasty options for you...
These are quick and easy, and they freeze well, too. So you can keep some in the fridge to add to sandwiches and meals during the week, and freeze a portion for later.
vegan feta (spreads beautifully!)
vegan beer cheese (this stuff is SO good)
plus the epic vegan pimento cheese featured in the list below!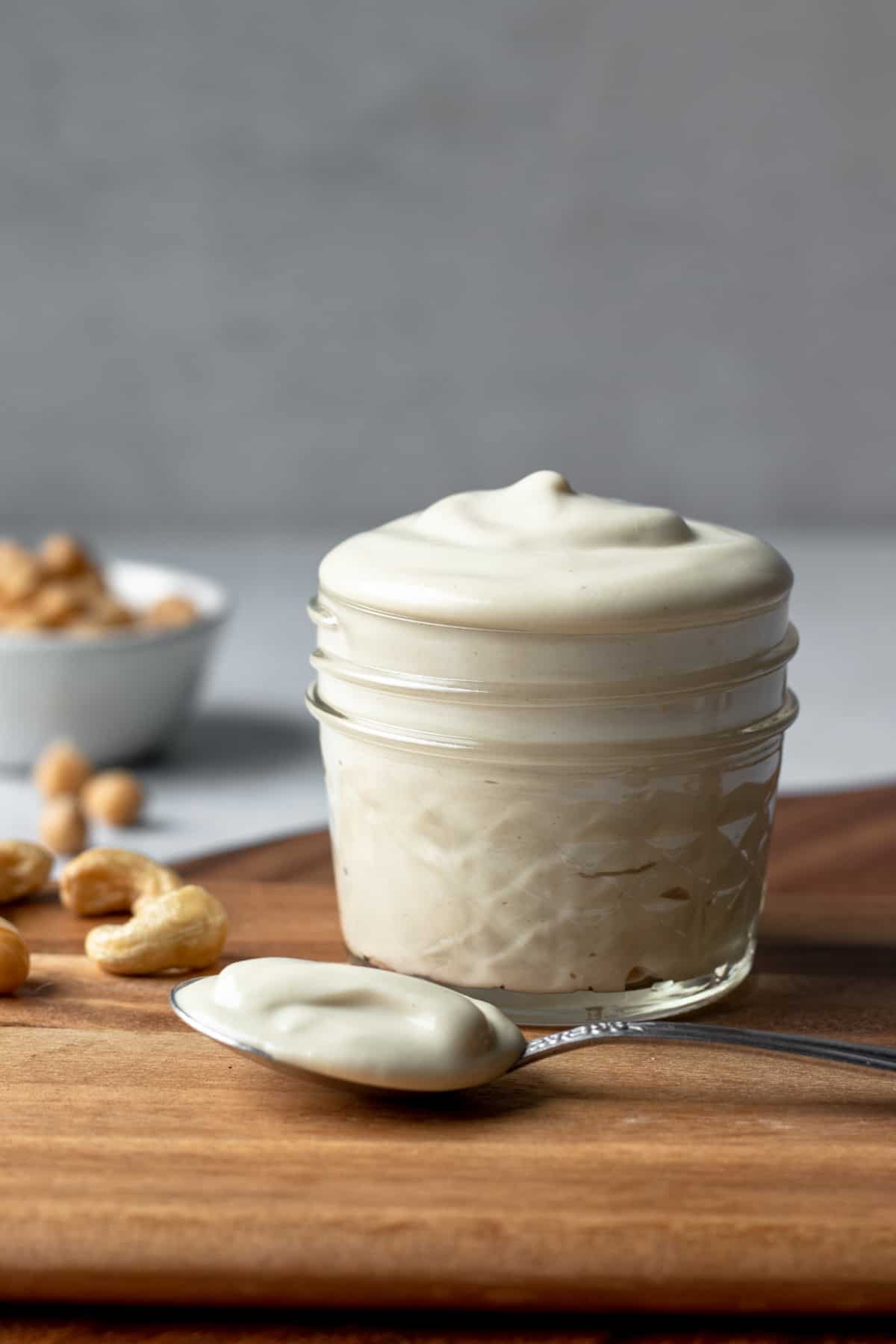 Which breads are vegan?
It's easier than ever to find really great quality plant-based bread at the grocery store. As with most foods, it's important to review the ingredient list because companies often use sneaky non-vegan ingredients like egg and milk powder.
Dave's Killer Bread is one of our favorites when it comes to widely distributed brands. They also have vegan bagel options!
Food for Life (Ezekiel) and One Degree Organic also make some really healthy and hearty options.
Depending on the store where you shop, you just might find the best breads in the bakery!
Whole Foods creates several house-made breads that are vegan-friendly. And it's nice that the ingredient lists are usually short and simple so it's easy to quickly review and check for animal products.
21 Easy Vegan Sandwich Recipes
Browse through these mouth-watering photos, and have fun daydreaming about your next outing.... even if it is just to the office!
This post was originally published in July 2020 and has been updated in 2023 with several amazing new vegan sandwiches!
1. Gochujang and Peanut Butter Sandwiches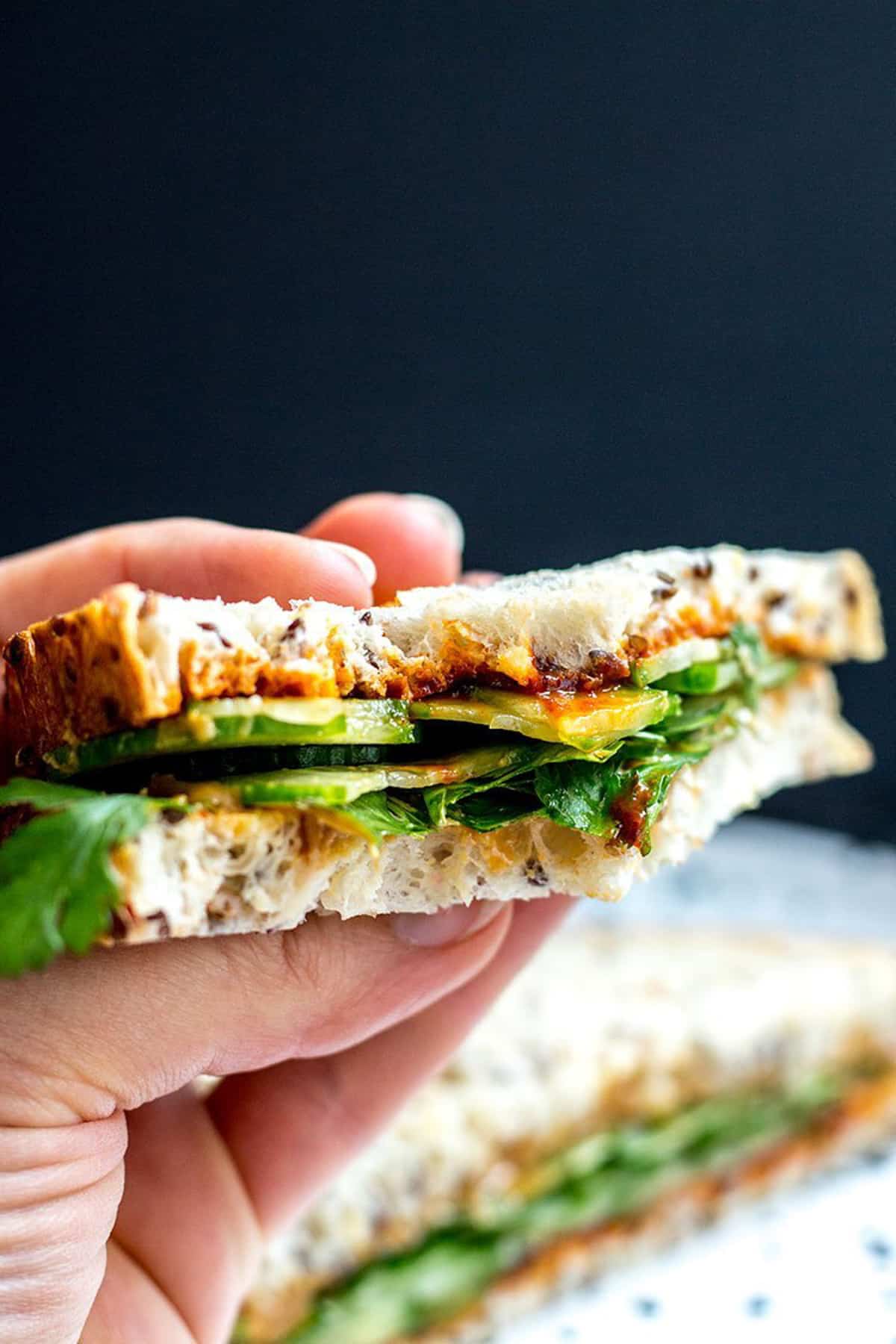 By Quite Good Food
Mmmm, imagine this: spicy Korean gochujang, salty peanut butter, and fresh summer cucumbers and cilantro. This is the amazing, 5-minute sandwich I didn't even know I needed in my life.
2. Vegan Tuna Salad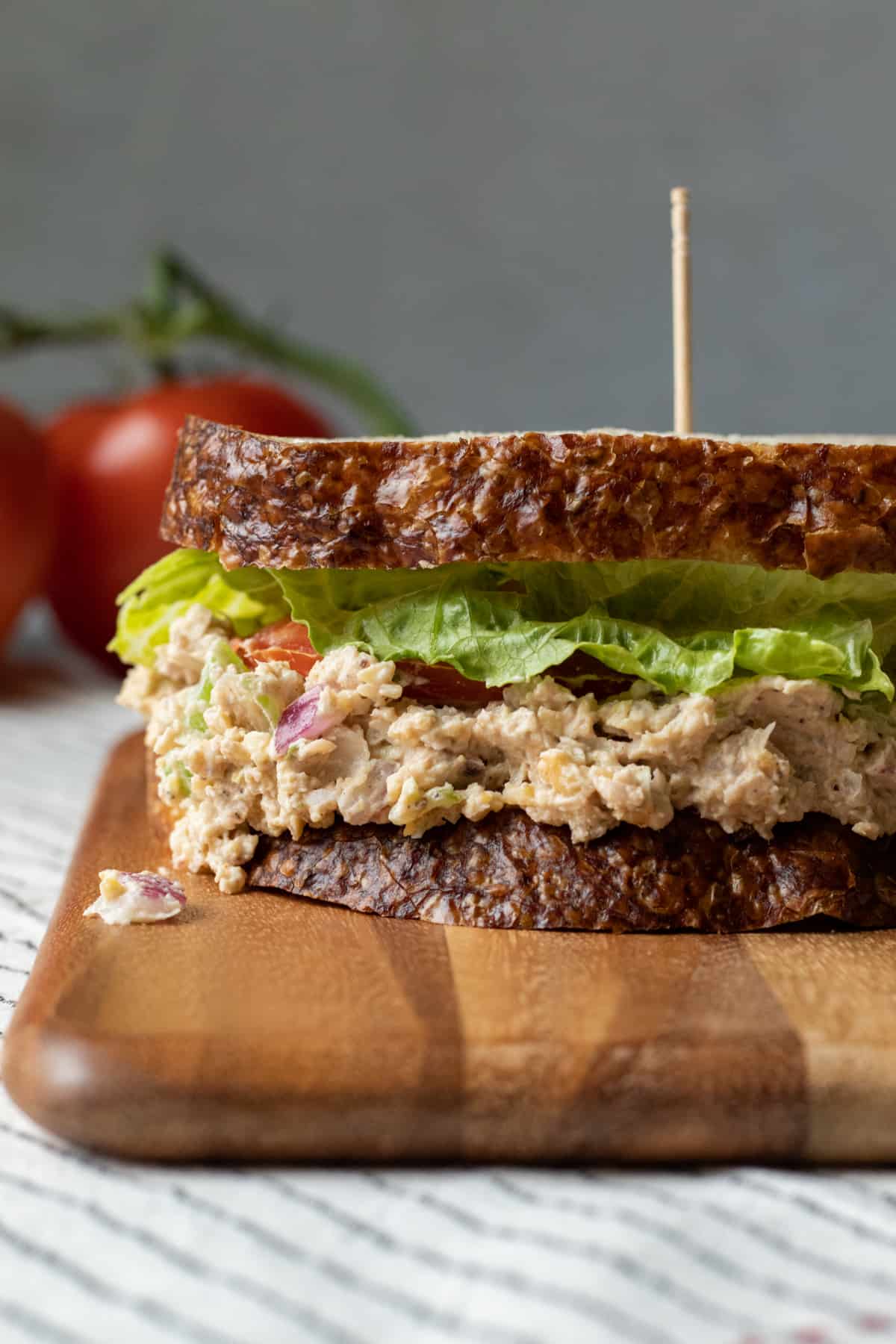 By My Quiet Kitchen
The combination of jackfruit and chickpeas creates a seriously satisfying vegan tuna. I also love that this recipe makes a fairly large amount. Besides making an amazing sandwich, this jackfruit-chickpea salad is a great thing to meal prep and have in the fridge during the week. Scoop it up with veggies and crackers for a quick and healthy snack anytime.

3. Vegan Lox and Cashew Cream Cheese Bagel Sandwich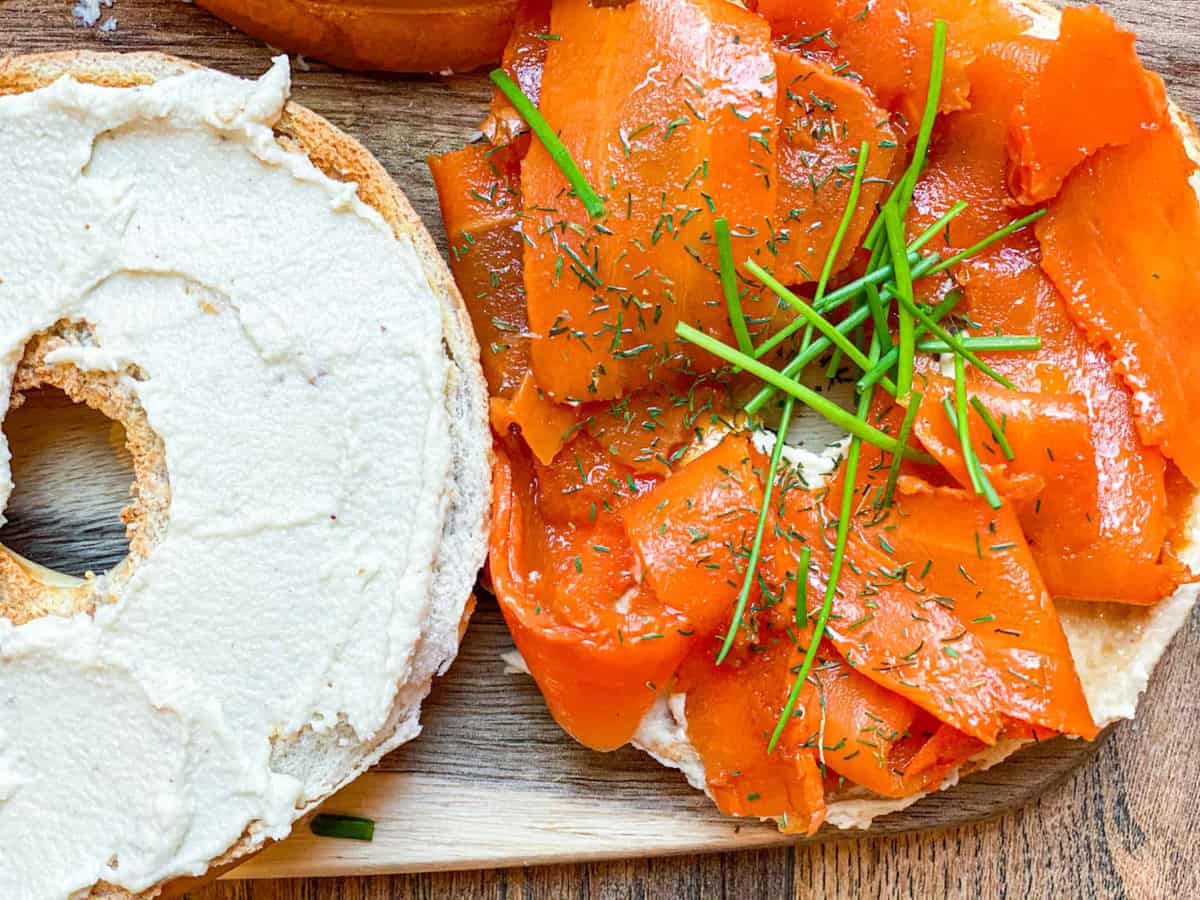 by Yum Vegan Lunch Ideas
With cashew cream cheese and homemade carrot lox, it's easy to imagine enjoying these during an elegant picnic brunch or lunch in the park. And be sure to check out the post for tips on finding vegan bagels!
4. Vegan Chicken Salad Sandwich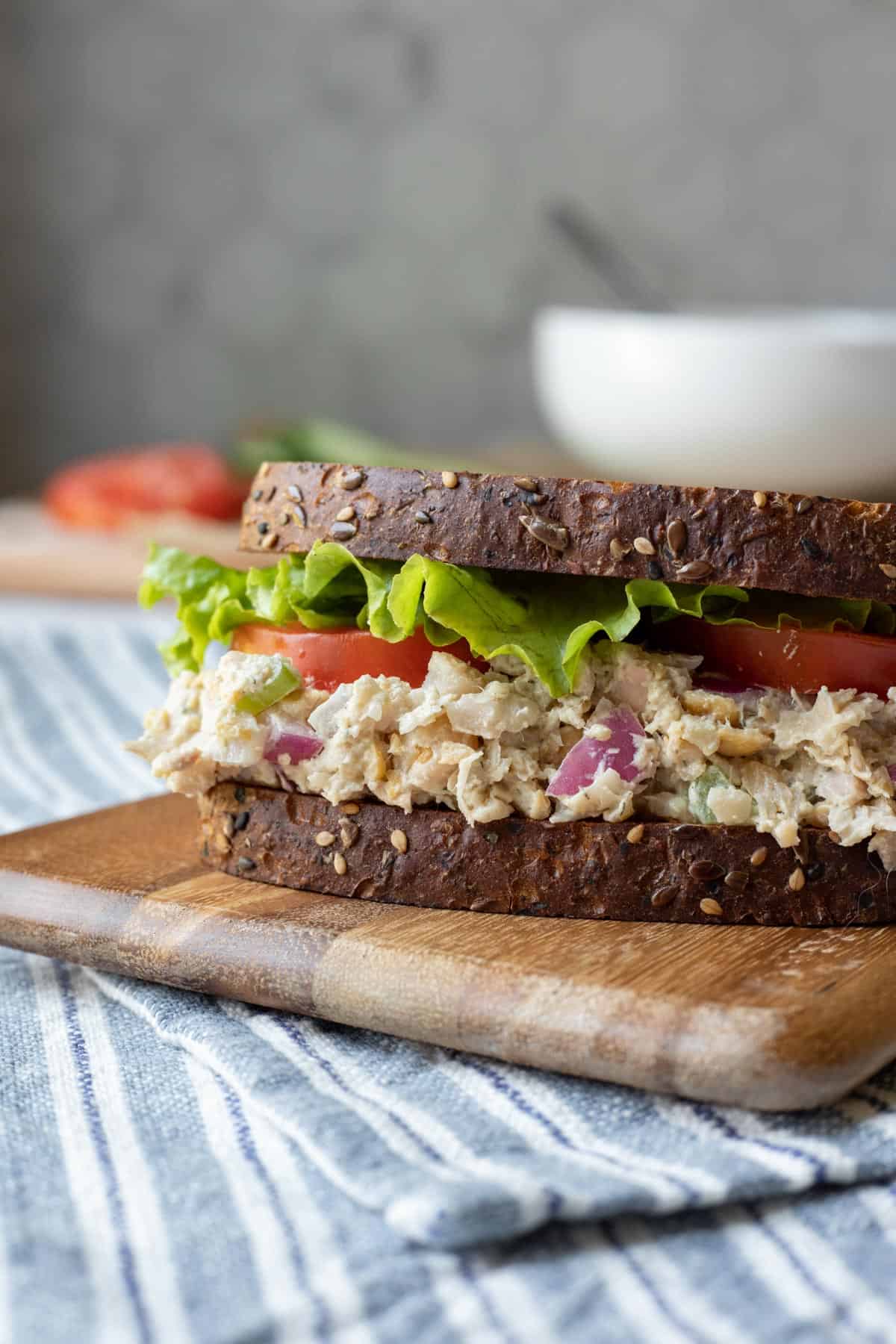 By My Quiet Kitchen
This is a classic you'll return to again and again. This creamy and surprisingly meaty chick-un salad is made with a blend of both chickpeas and jackfruit for irresistible texture! It's perfect for quick lunches, snacks, and parties!
5. Easy Tempeh Bagel Sandwich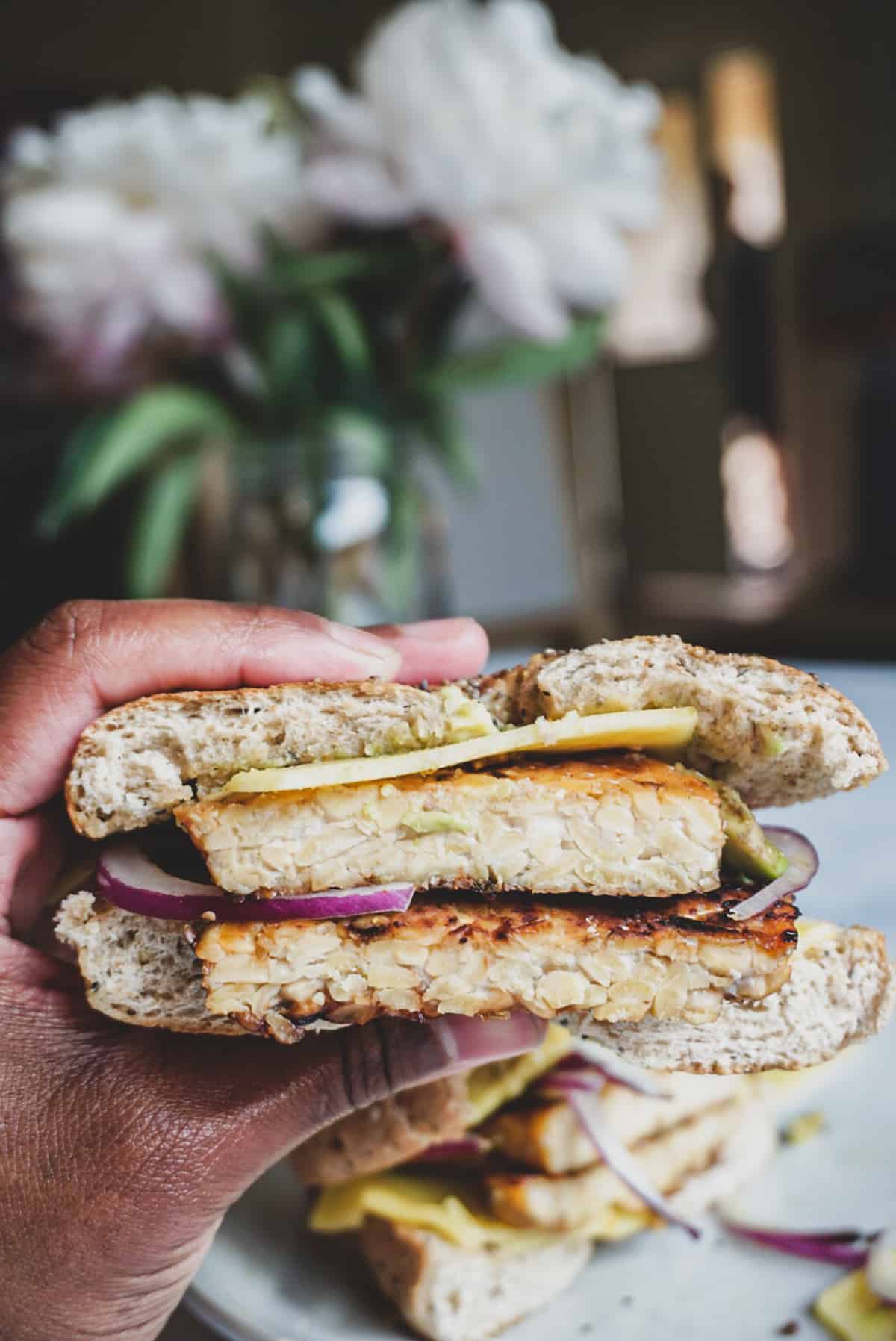 By Baum Ass Foods
Since bagels are so sturdy, they're great for hearty sandwiches like this one. The tempeh in Hilaire's recipe hangs out in a smoky, bacon'ish marinade before being cooked on the stove. Add your favorite cheese, fresh toppings, and your favorite bagel for a sandwich that will keep you full and happy all afternoon!
6. Tofu Egg Salad Sandwich 3 Ways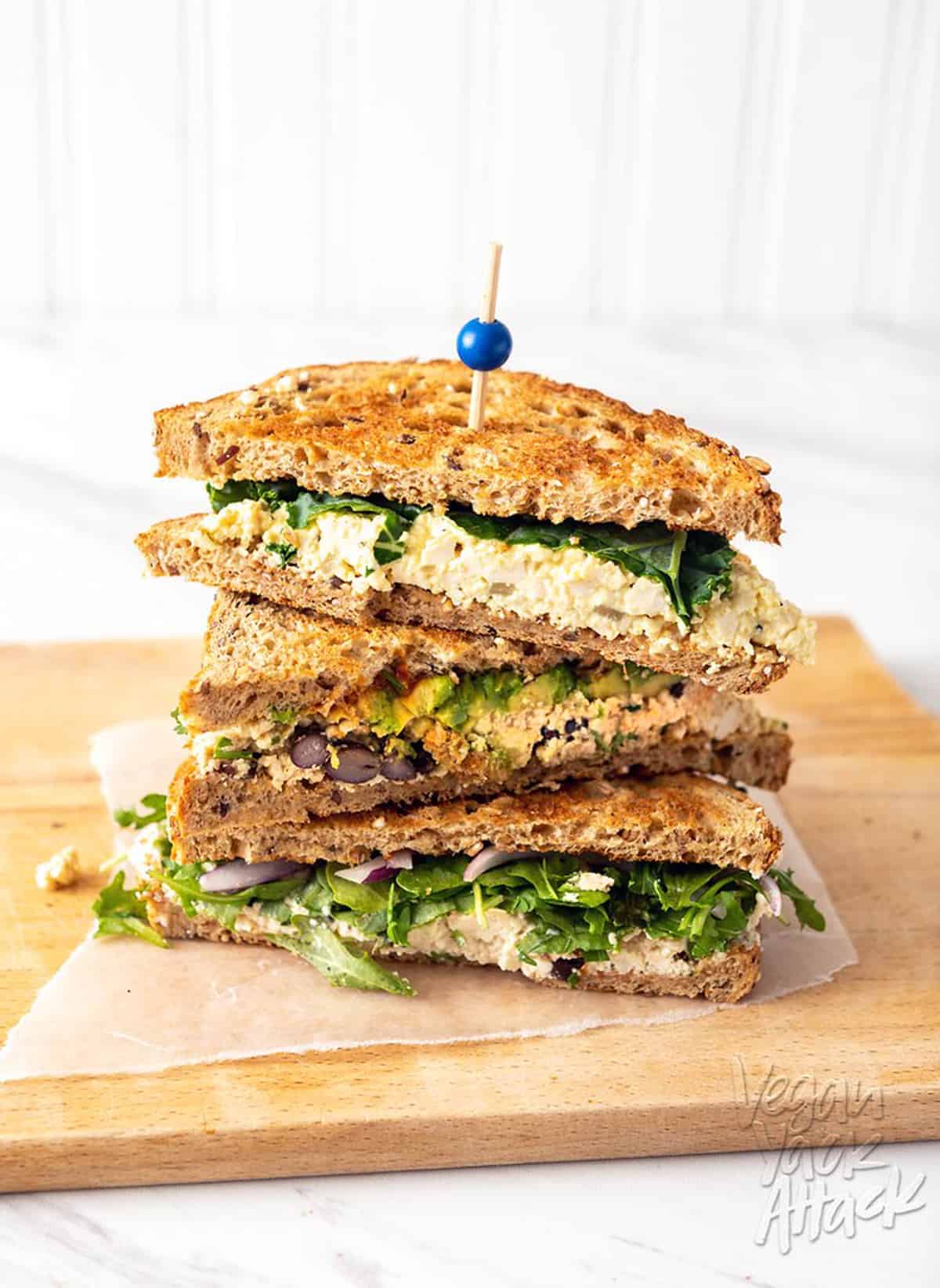 By Vegan Yack Attack
Whether you're in the mood for Original, Mediterranean, or Southwestern, this super quick, 10-minute spread is high in protein and really filling. It's also great for meal prep and keeps up to 7 days.
7. Vegan BLT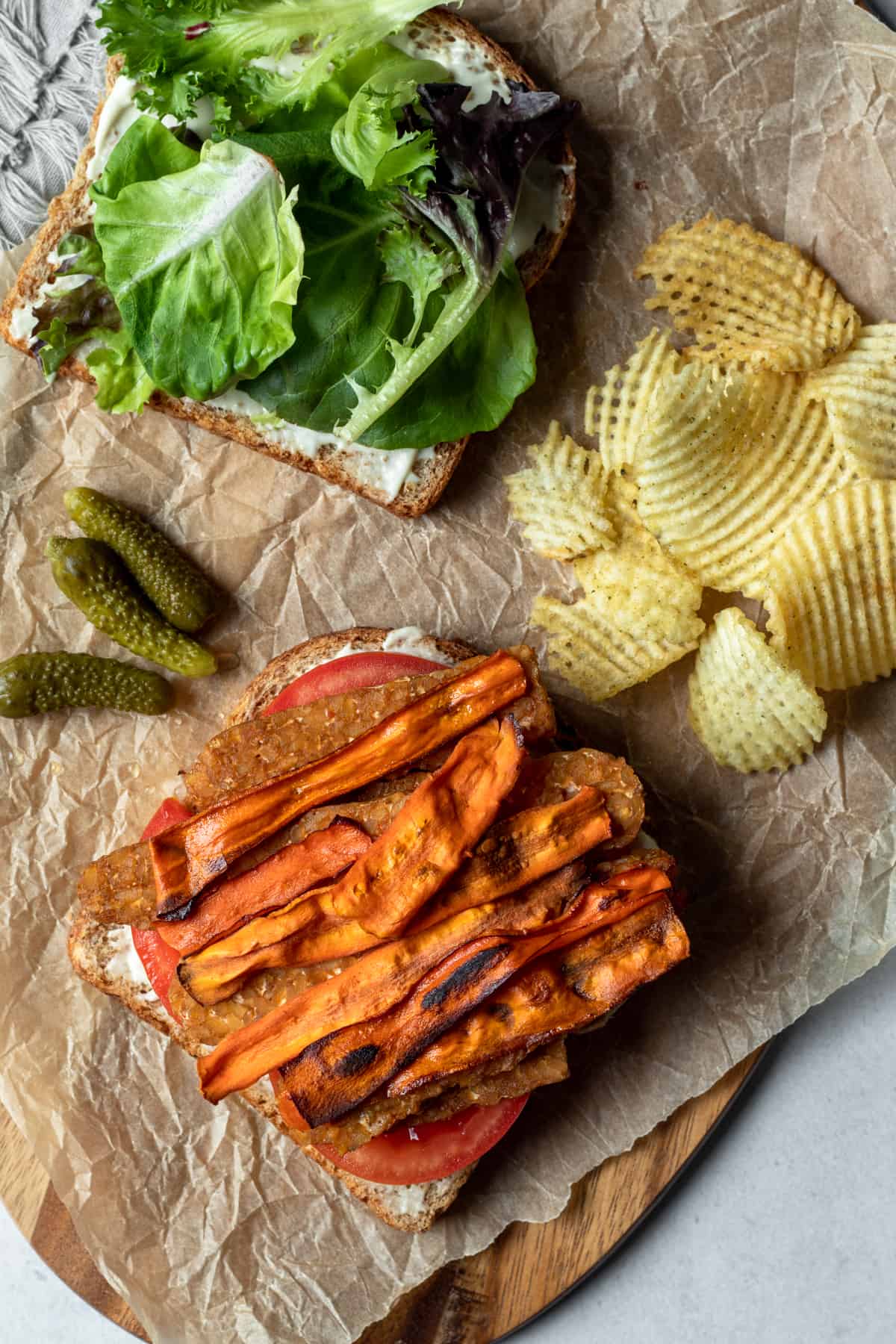 By My Quiet Kitchen
The classic BLT gets a healthy makeover. Smoky and sweet carrot bacon and tempeh bacon are layered on top of whole-grain bread along with oil-free mayo, fresh lettuce, and tomato. If you're packing this to-go and worried about tomatoes making your bread soggy, transport the tomatoes in their own container, and add them when it's time to eat.
8. Curried Chickpea Salad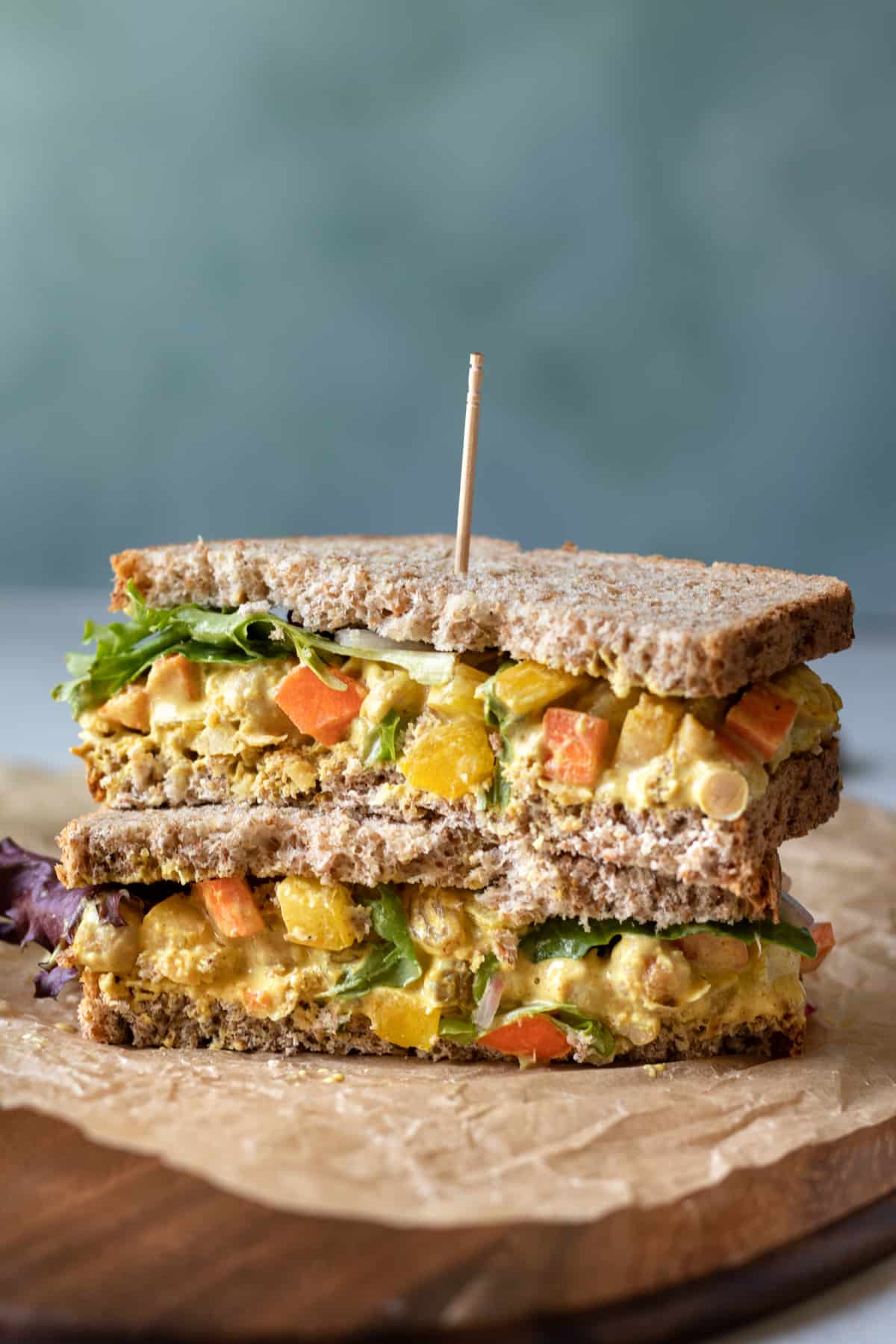 By My Quiet Kitchen
This healthy chickpea salad is loaded with crunchy carrots, yellow peppers, golden raisins, and packing major curry flavor. Not in the mood for chickpeas? Try it with white beans, chopped seitan, tofu, or sautéed soy curls.
9. Breakfast Sandwich with Tofu Egg and Cheese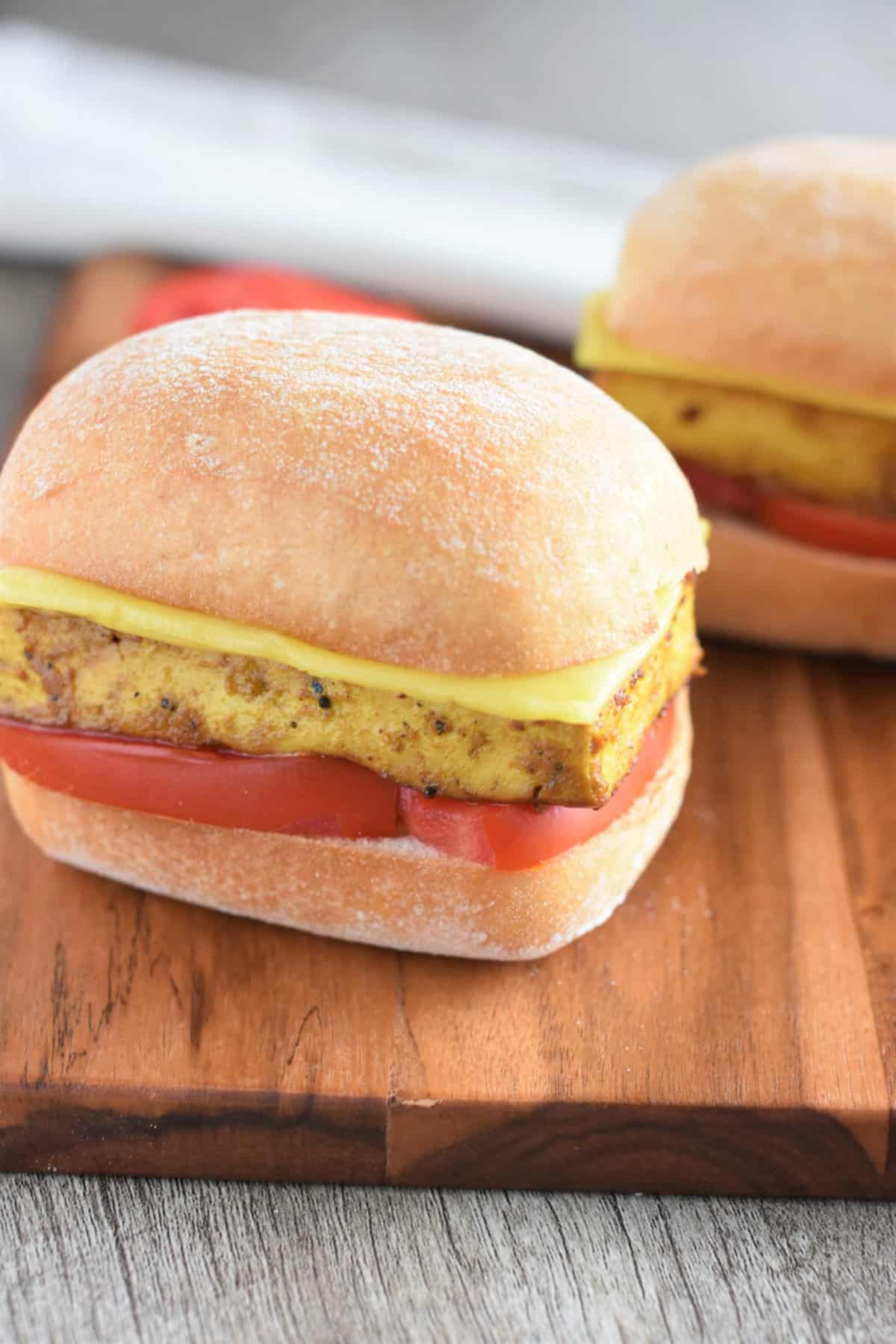 By Watch Learn Eat
This comforting breakfast sammie is a twist on the classic egg and cheese popular in New Jersey and New York delis. Marinated and pan-seared tofu seasoned with kala namak makes this one an eggy hit!
10. Bombay Toast Sandwich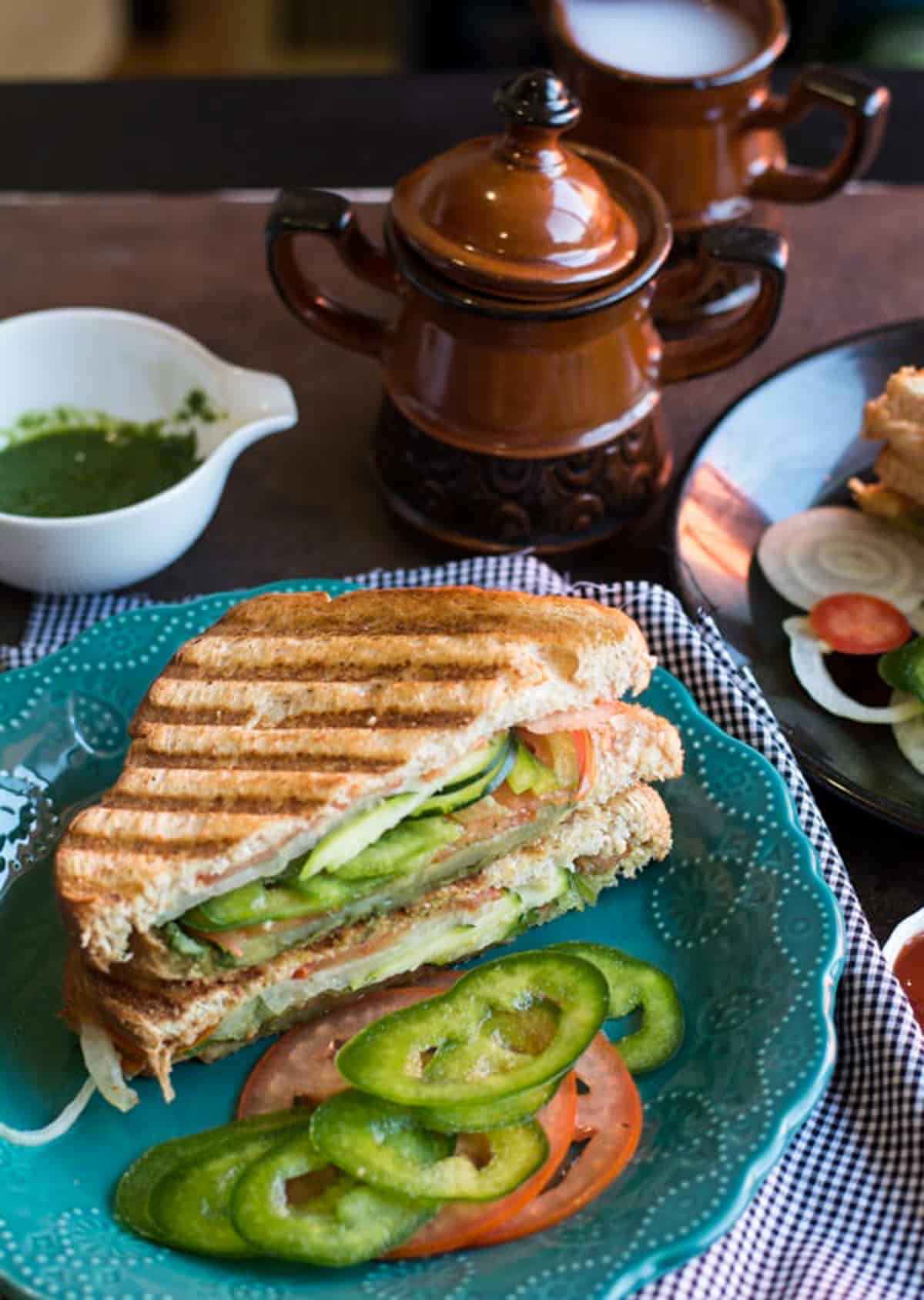 By Pepper Bowl
Sujatha's lighter and healthier version of the popular Bombay street-side dish is loaded with veggies and has an amazing chili-cilantro chutney. It makes a great breakfast or lunch.
11. Mediterranean Veggie Sandwich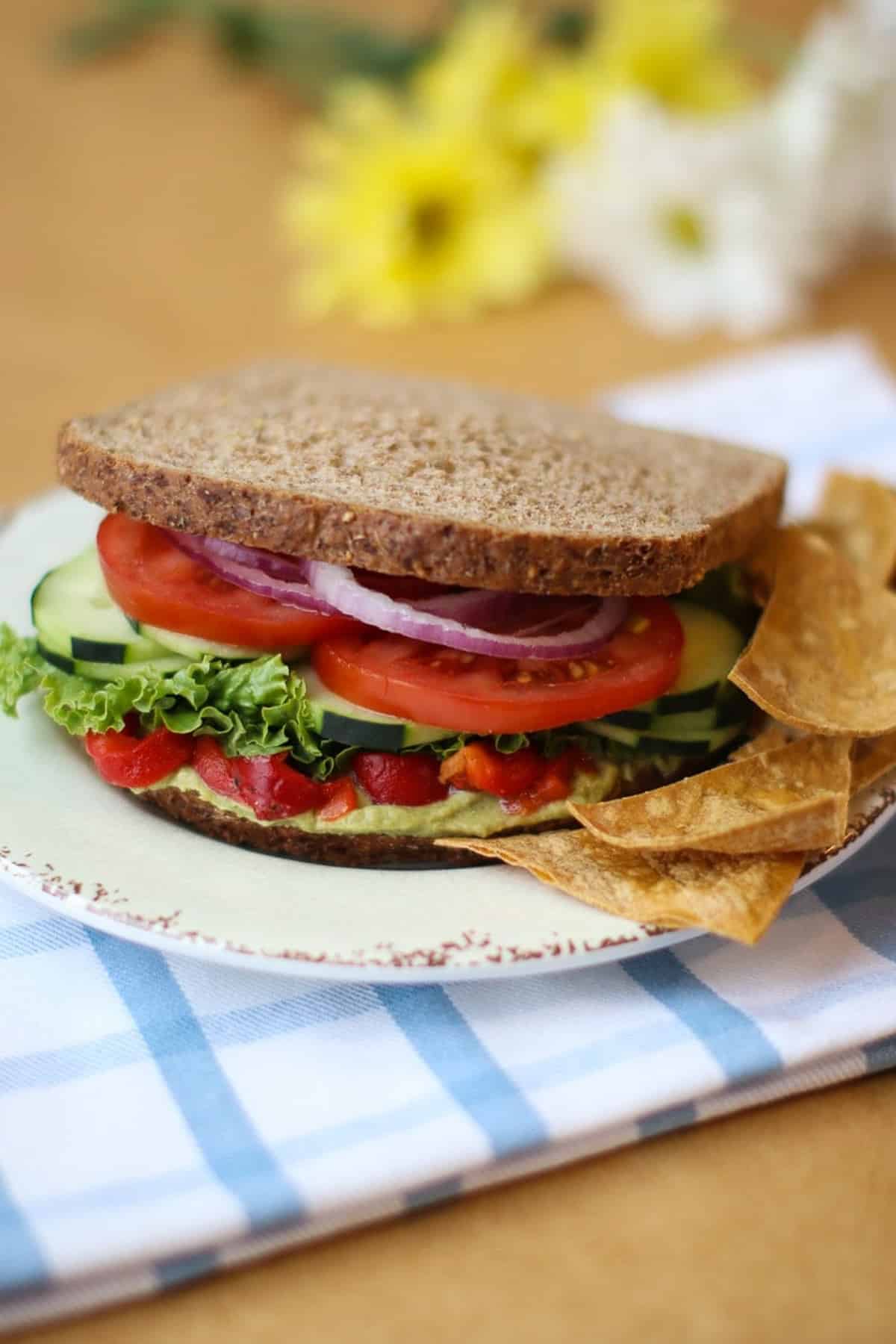 By Healthy Midwestern Girl
Inspired by Panera Bread's Mediterranean sandwich, Elizabeth's version is vegan, oil-free, and filled with pickled sweet red peppers and jalapeño-cilantro hummus.
12. Vegan Pimento Cheese Sandwich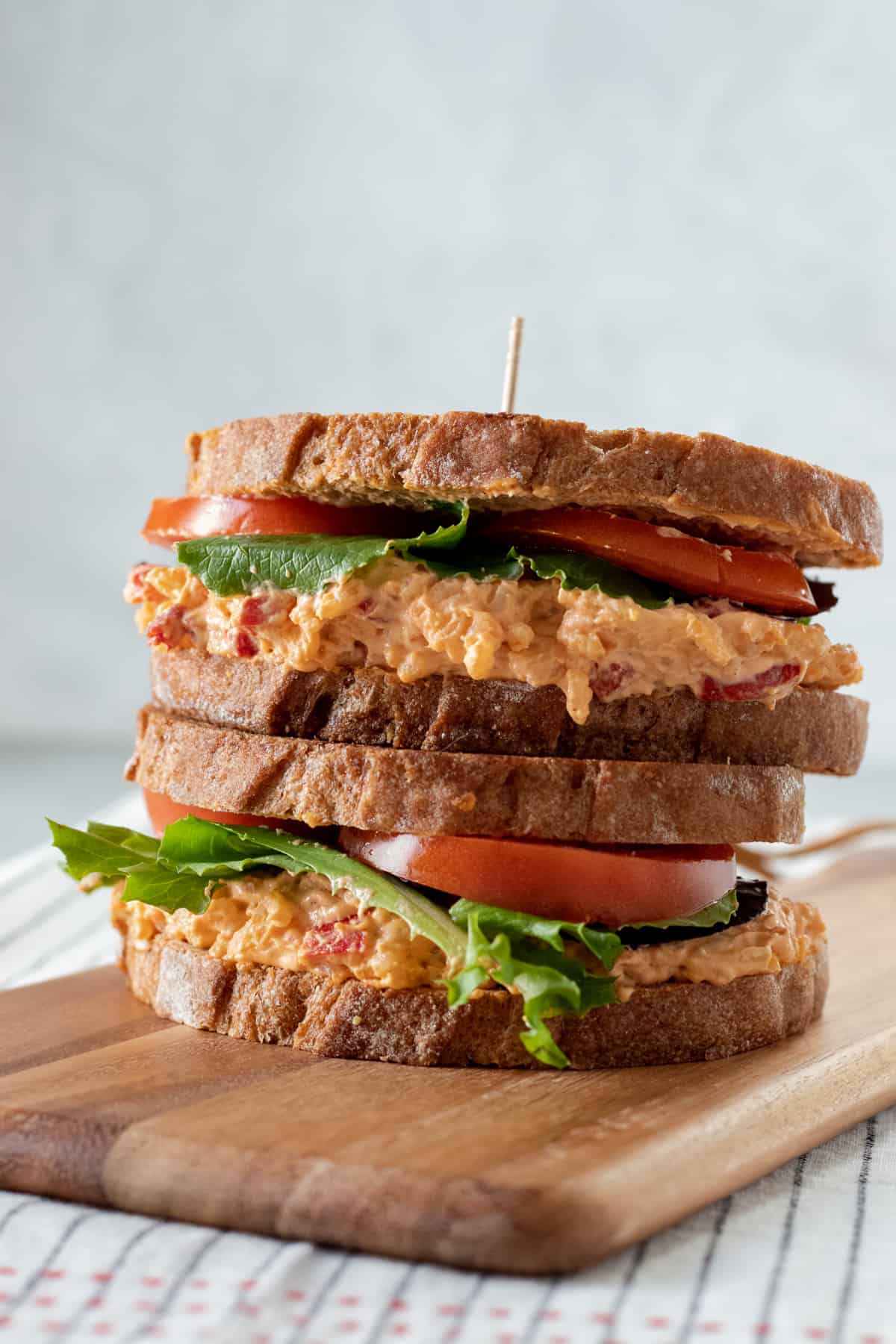 By My Quiet Kitchen
If you're not from the Southern United States, it's possible you've never tasted pimento cheese. Heck, maybe you've never heard of it! Traditionally, it's a mixture of mayo, cream cheese, and shredded cheddar, but this flavorful vegan version has a trick up its sleeve. For anyone struggling to give up cheese, this plant-based pimento cheese is a must-try!
13. Vegan Egg Salad Made With Mushrooms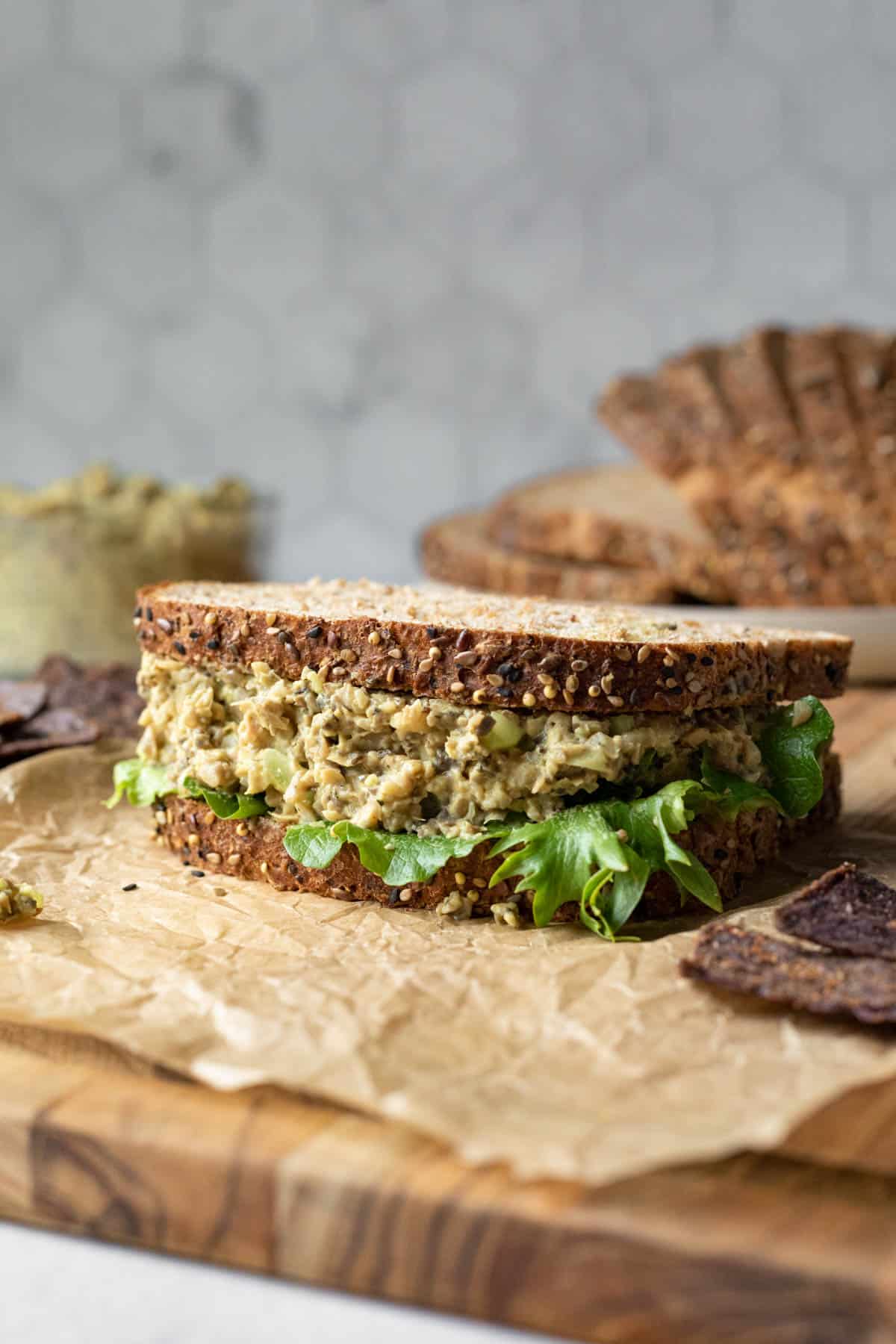 By My Quiet Kitchen
Most vegan egg salad recipes are made with tofu, but this one combines mushrooms and white beans for a uniquely delicious spread! It's also great scooped up with crackers or pita.
14. Chickpea Tahini Salad Sandwich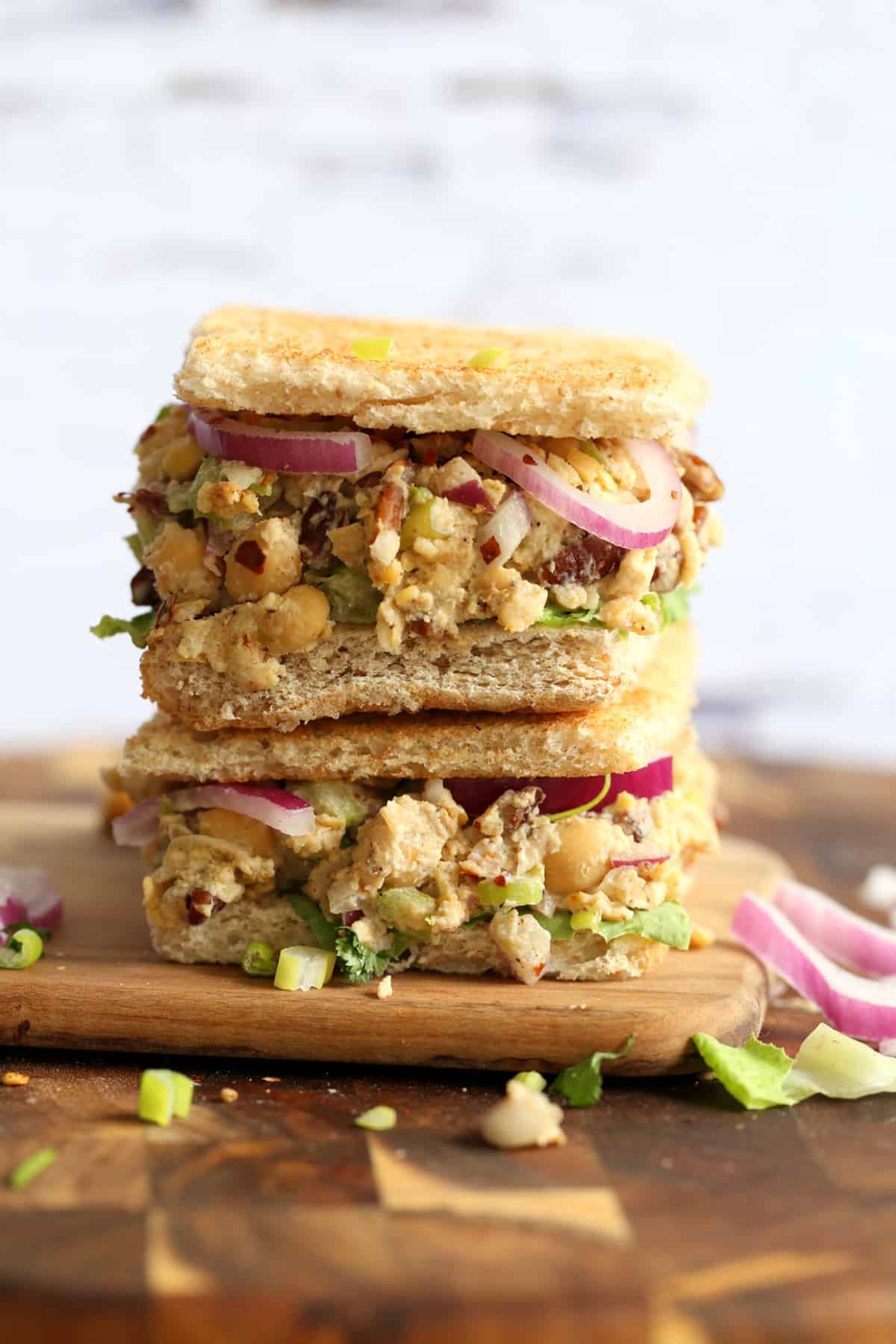 By Vegan Richa
Can't you just taste it now? Chickpea salad made with tahini, shawarma spice blend, toasted pecans, red onion, and lime.... yes, please!!
15. Asian Slaw Wraps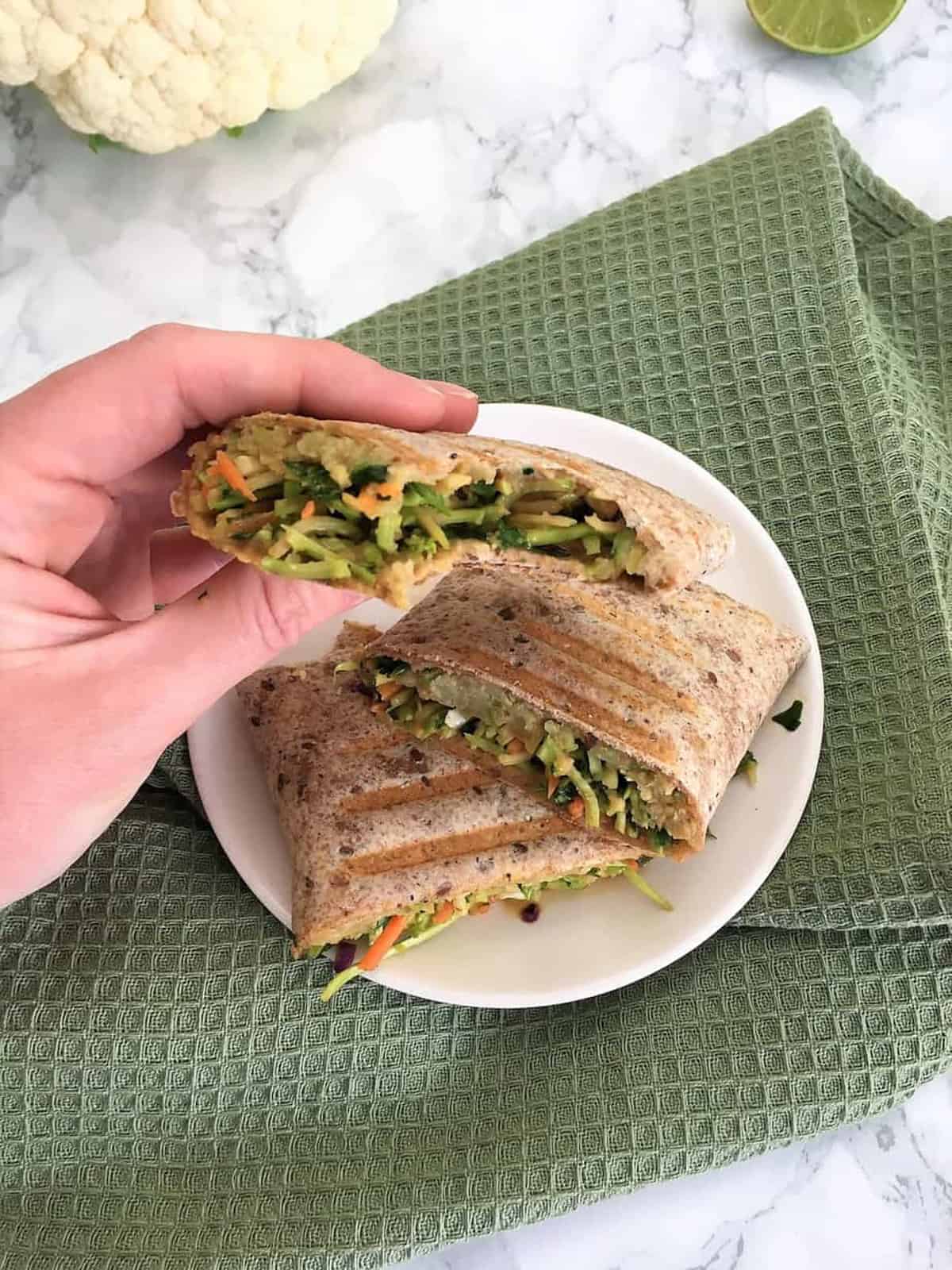 By This Healthy Kitchen
If you're trying to eat more veggies, this wrap is for you! It's loaded with cauliflower rice, slaw, cilantro, and a spicy and tangy peanut butter dressing.
16. Vegan Sabich Sandwich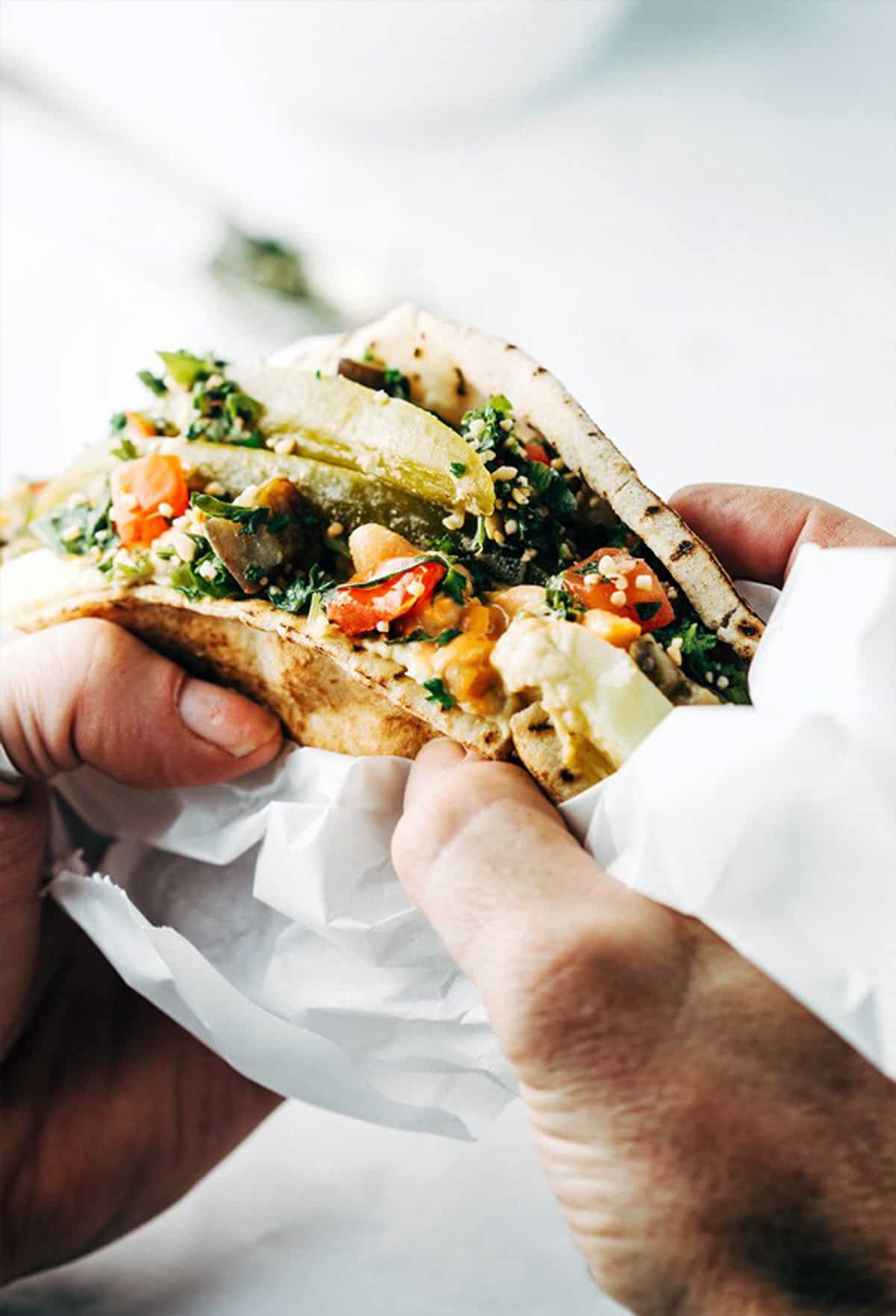 By My Goodness Kitchen
This vegan Sabich sandwich is a twist on the traditional Israeli sandwich using a white bean mixture instead of egg. With eggplant, potato, and tabouli, it's definitely a satisfying meal.
17. Easy Vegan Chicken Salad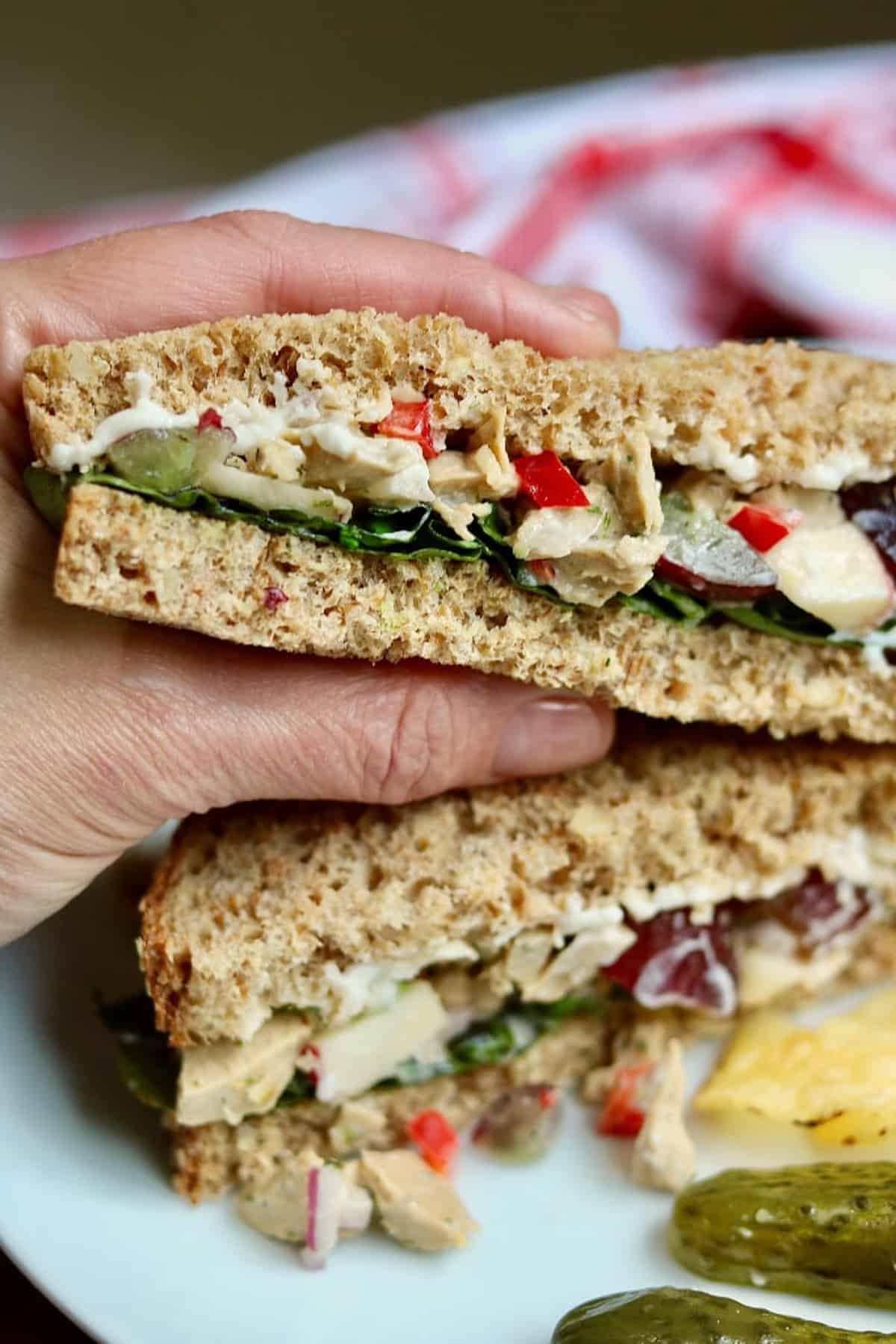 By The Cheeky Chickpea
Here's another chicken salad idea. This one uses tasty store-bought vegan chicken strips. It's also made with crunchy veggies, grapes, apples, and tossed with a delicious creamy mayo dressing. In addition to making an epic sandwich, this vegan chicken salad is perfect for summer potlucks!
18. Buffalo Soy Curl Wraps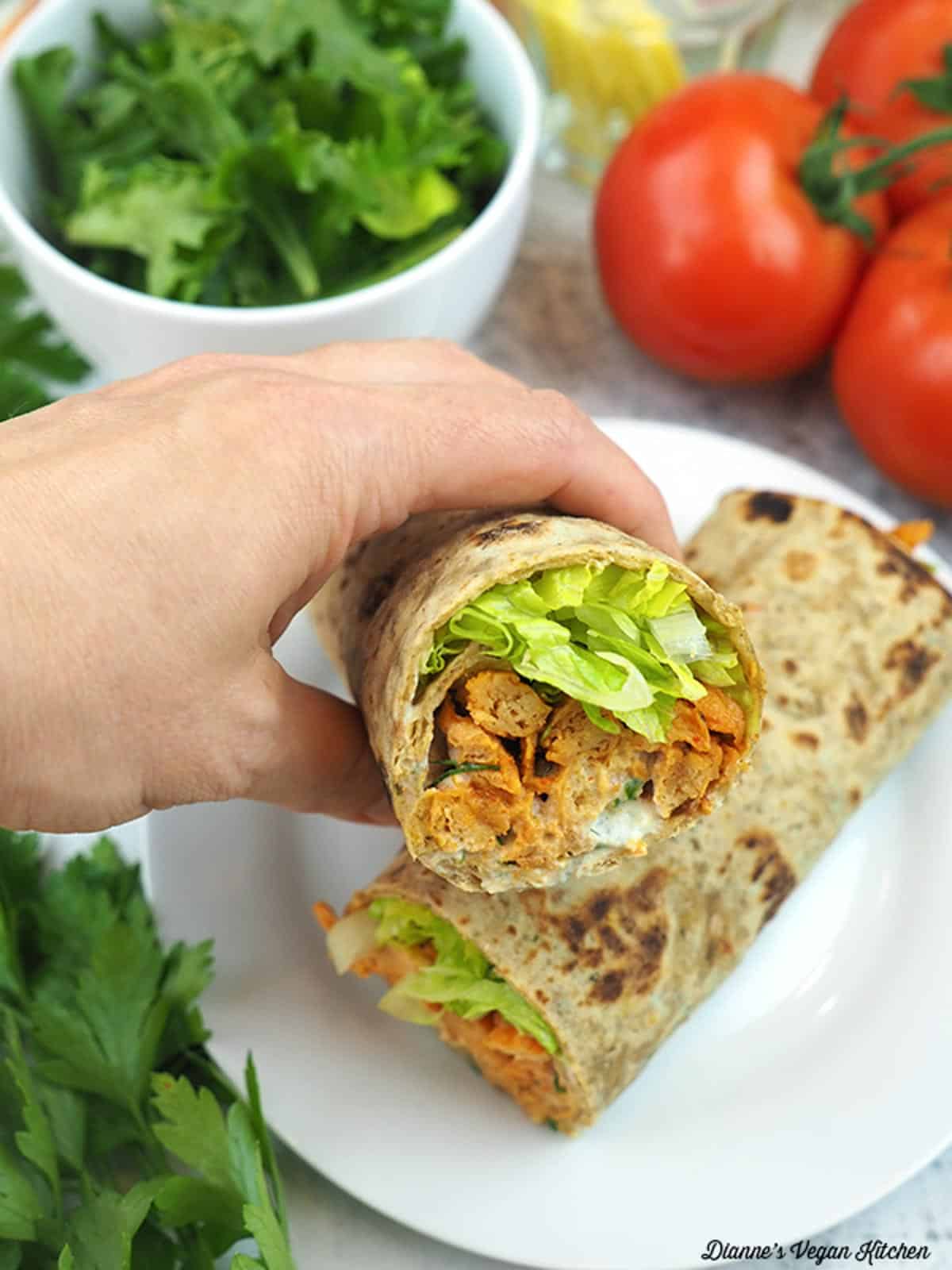 By Dianne's Vegan Kitchen
These hearty wraps feature spicy buffalo soy curls and a cool and creamy cashew ranch dressing.

19. Broccoli Slaw Veggie Wraps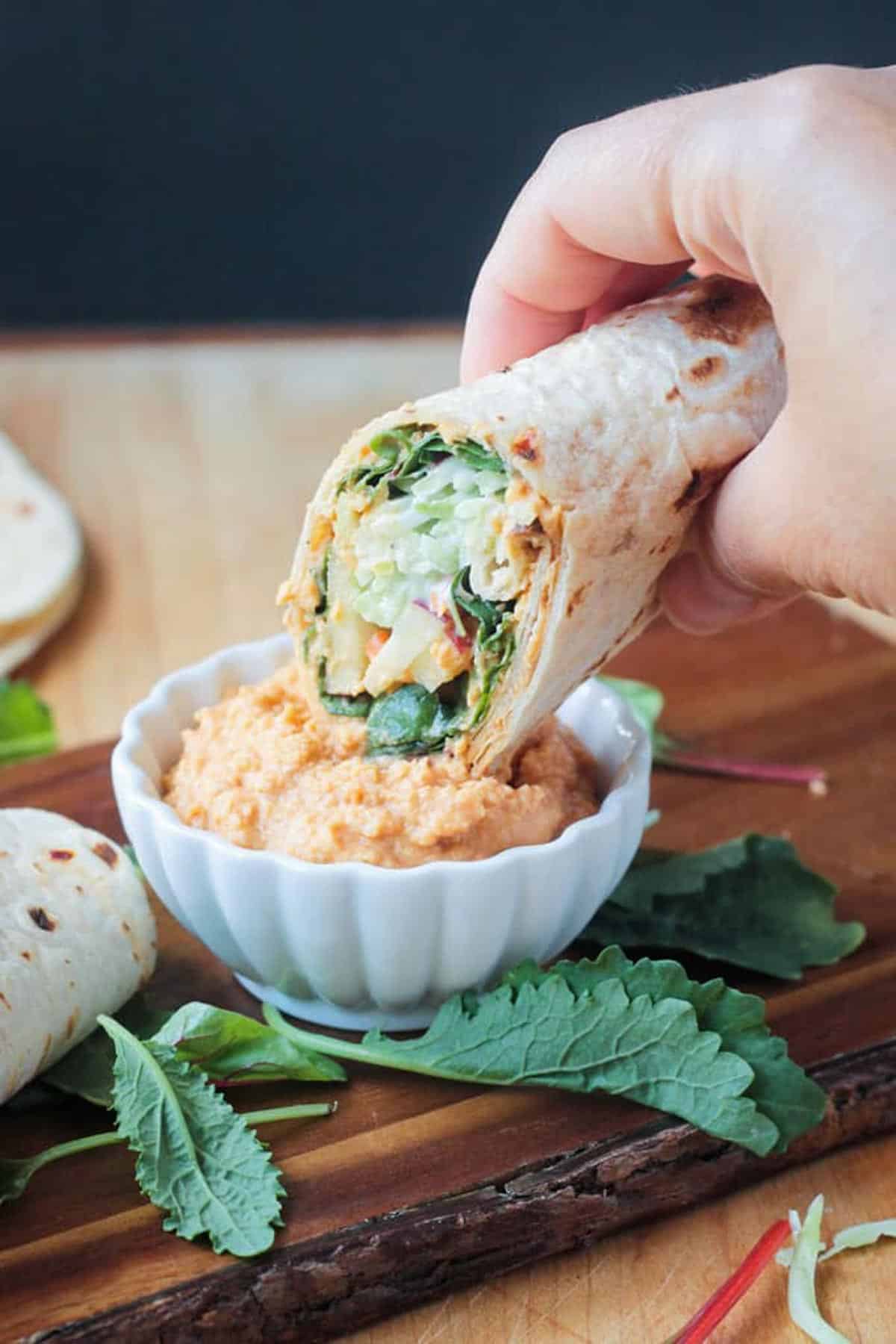 By Veggie Inspired
Here's another healthy and easy vegan wrap loaded with fresh veggies. This one features a totally delicious spicy/sweet vibe thanks to sliced apple and spicy hummus!
20. Smoked Tofu Sandwich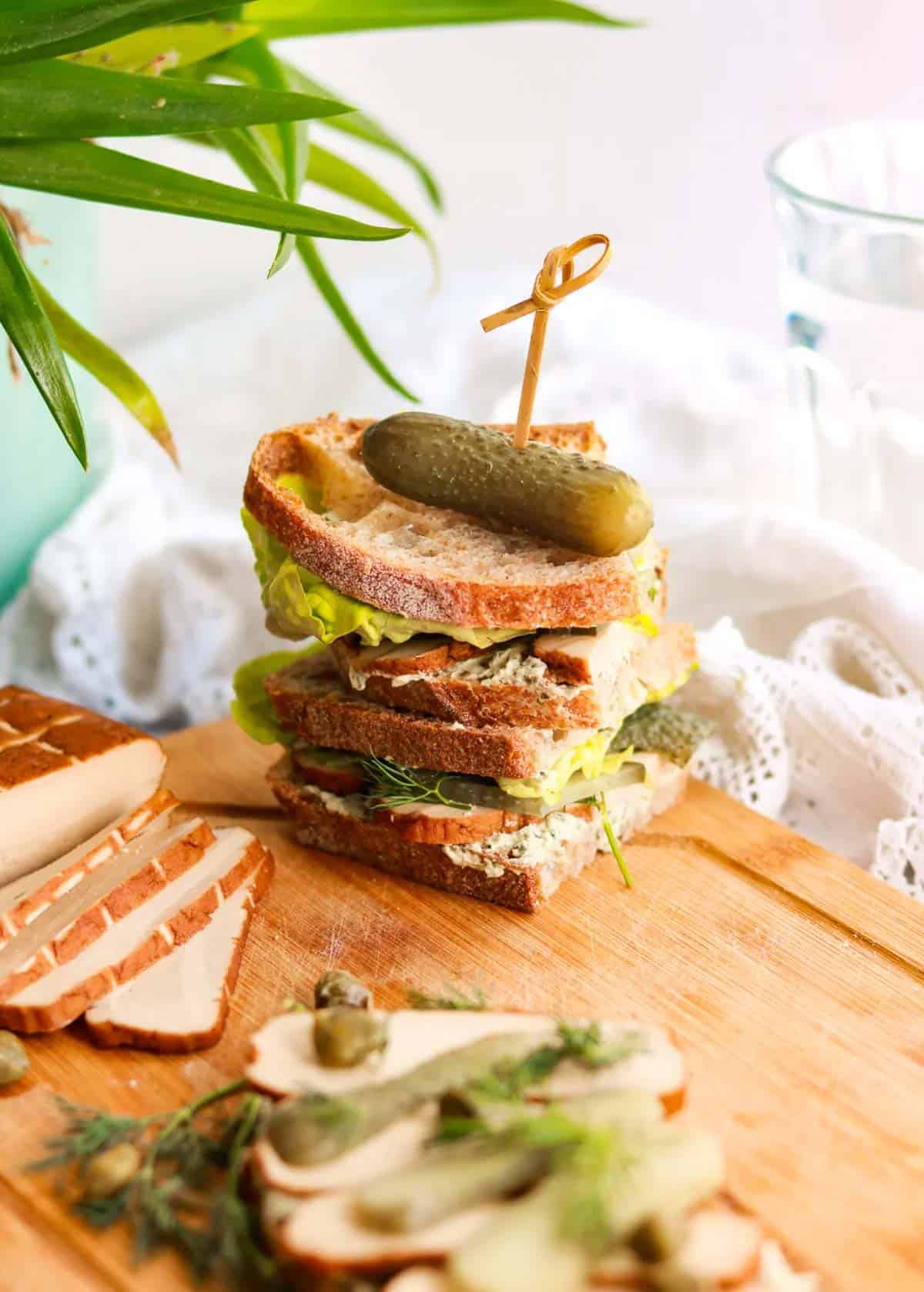 By The Vegan Larder
We've had a couple of smoky tempeh options so now it's time for smoked tofu! This tasty sandwich features pickles, vegan cream cheese, fresh herbs, and hearty sourdough bread.
21. Vegan Banh Mi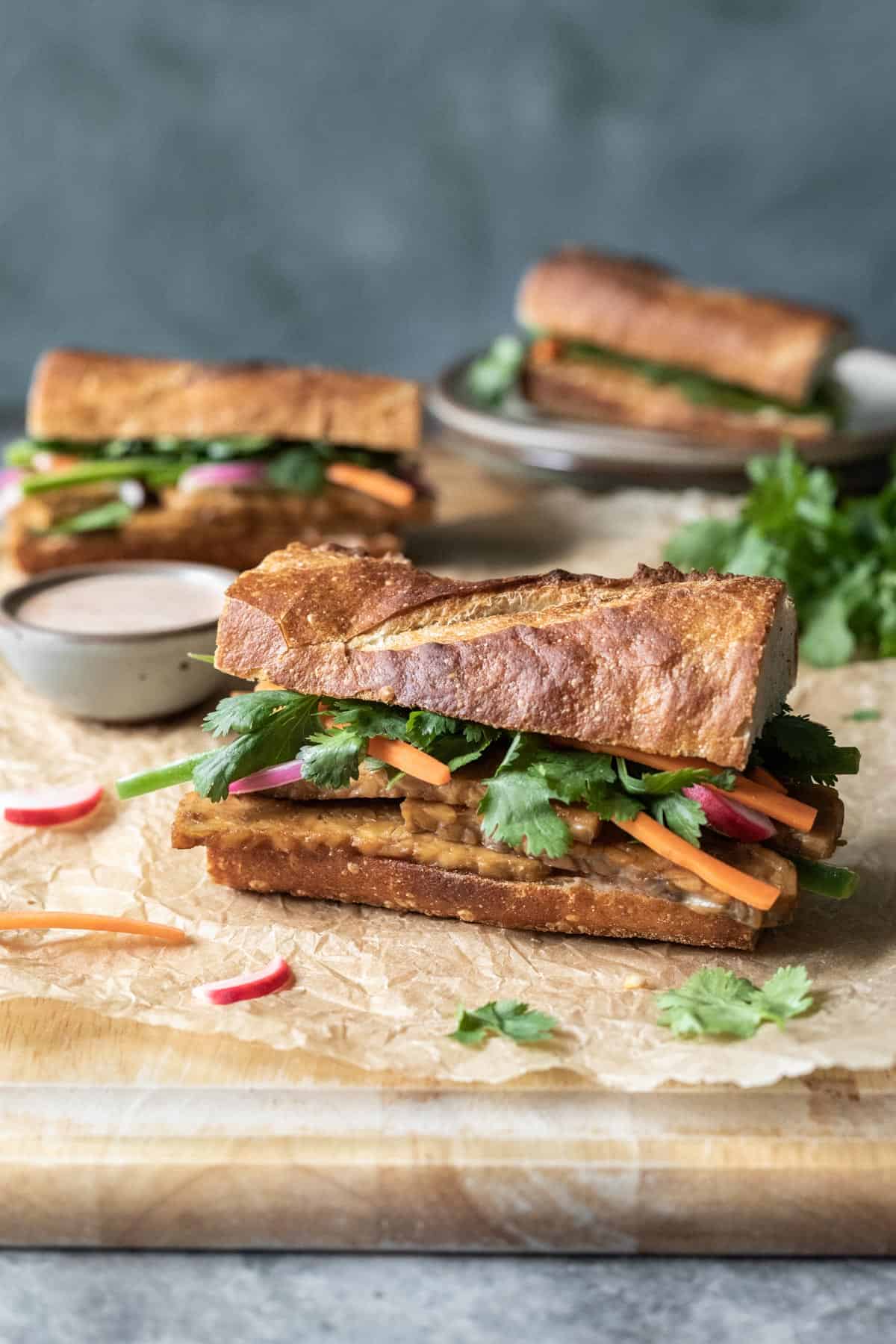 By My Quiet Kitchen
With marinated tempeh, quick-pickled veggies, and hearty baguette, this vegan take on the Vietnamese banh mi sandwich is PERFECT for packing. You'll love the combination of flavors and how easy it is to make.
If you try any of these amazing vegan sandwiches I would LOVE to hear from you. Comment below and let us know!
Save this list on Pinterest!