Savory, creamy, and rich, this simple Tahini Caesar Dressing is a go-to sauce for so many dishes! For this vegan Caesar salad it's paired with crisp romaine, homemade croutons, and oven-roasted chickpeas. Make a meal of this hearty salad, or serve it as a side dish.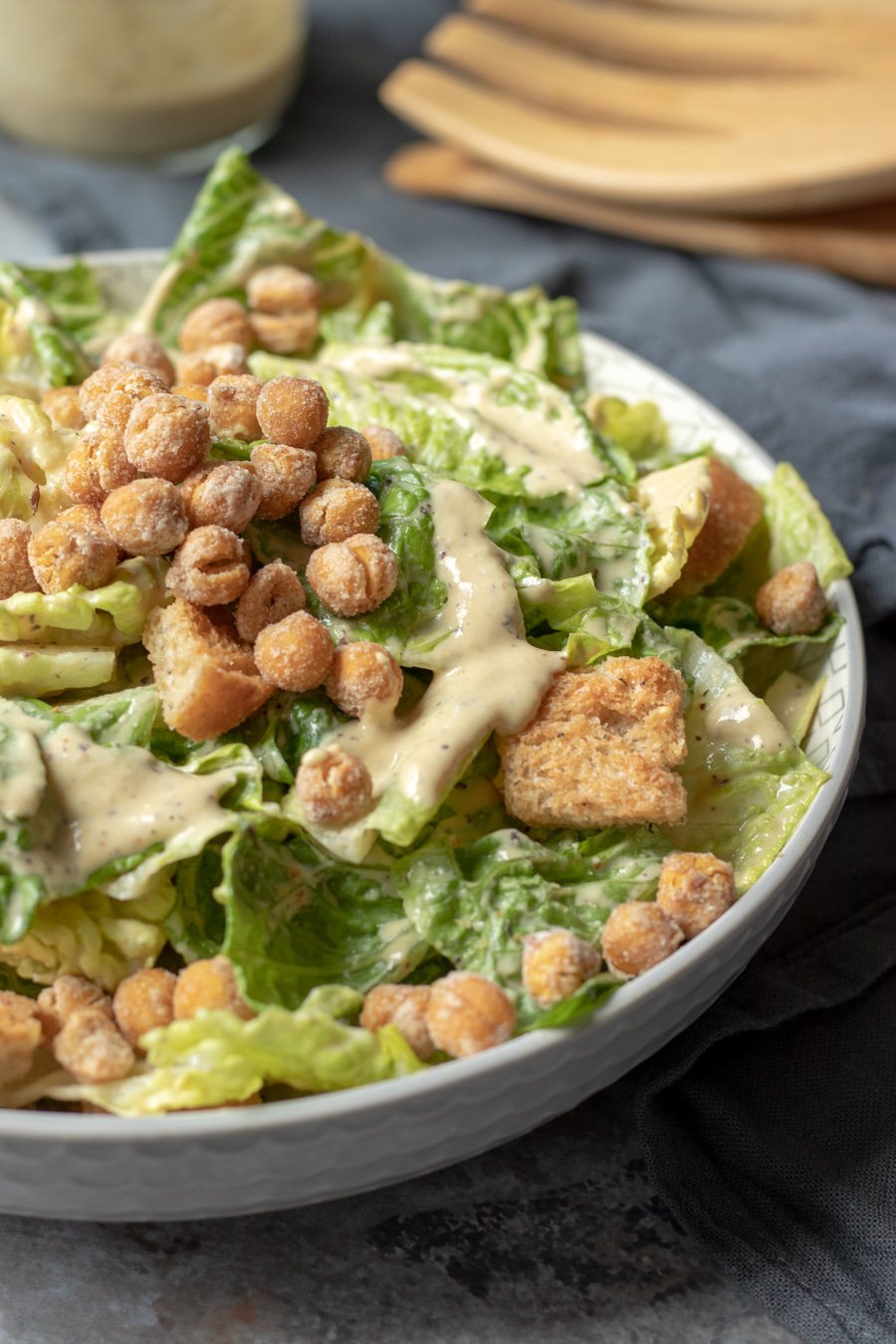 Of all the classic salad dressings, Caesar might be the one that's the least vegan. Sure you have dairy-filled dressings like bleu cheese, but a Caesar salad contains not only Parmesan cheese, but eggs and anchovies, too. Oooof! That's a lot of non-vegan stuff going on.
Lucky for us, fat, salt, and garlic are VERY much accessible to vegans, and in my opinion these are the most important characteristics of Caesar dressing.
There are a number of different ways to achieve a vegan Caesar, but one of my favorites is with a base of tahini.
Tahini is so rich and earthy and nutty and fantastic. I understand that not everyone is a fan of the flavor of sesame seeds, though. And if that's you, no problem! You can also make this dressing with raw cashew butter or whole cashews (just whir it up in a blender).
This tahini Caesar dressing couldn't be easier to prepare. Simply add the ingredients to a bowl and whisk together with a fork (hooray for minimal dirty dishes). But if you choose to use raw cashews, you'll need to make the dressing in a blender.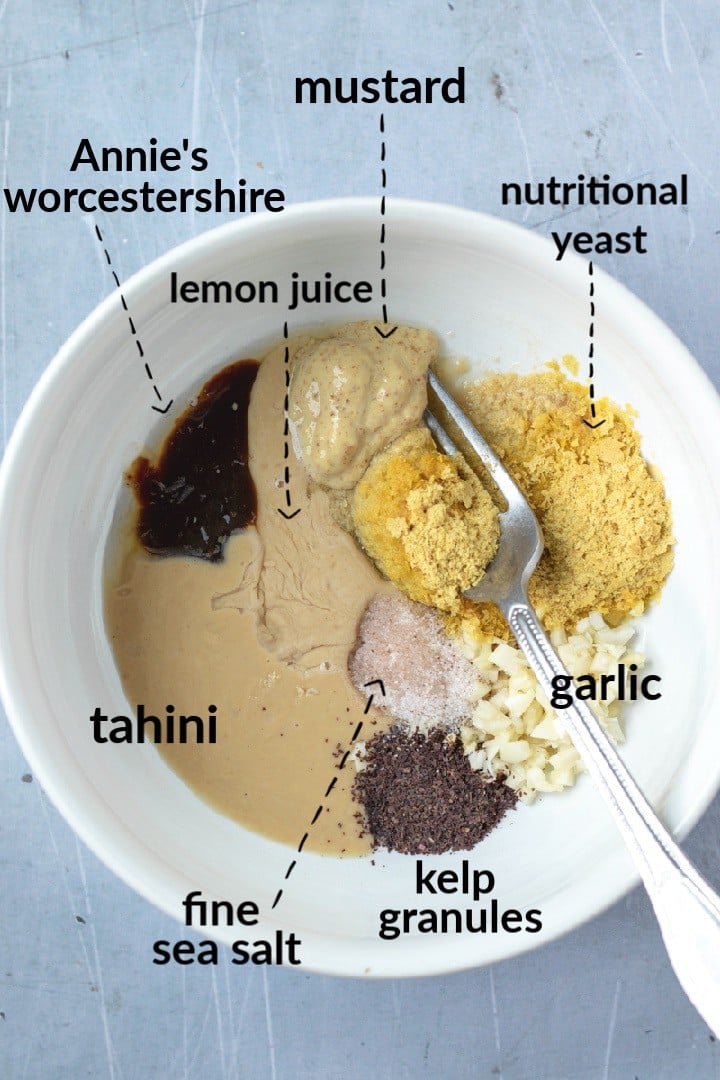 Healthy salad dressing that can be made in less than 5 minutes, with just a fork and a bowl, is definitely one of my favorite things.
Think beyond salad, and use this vegan Caesar dressing as a dip for raw veggies, a spread for sandwiches, and a sauce for Buddha bowls.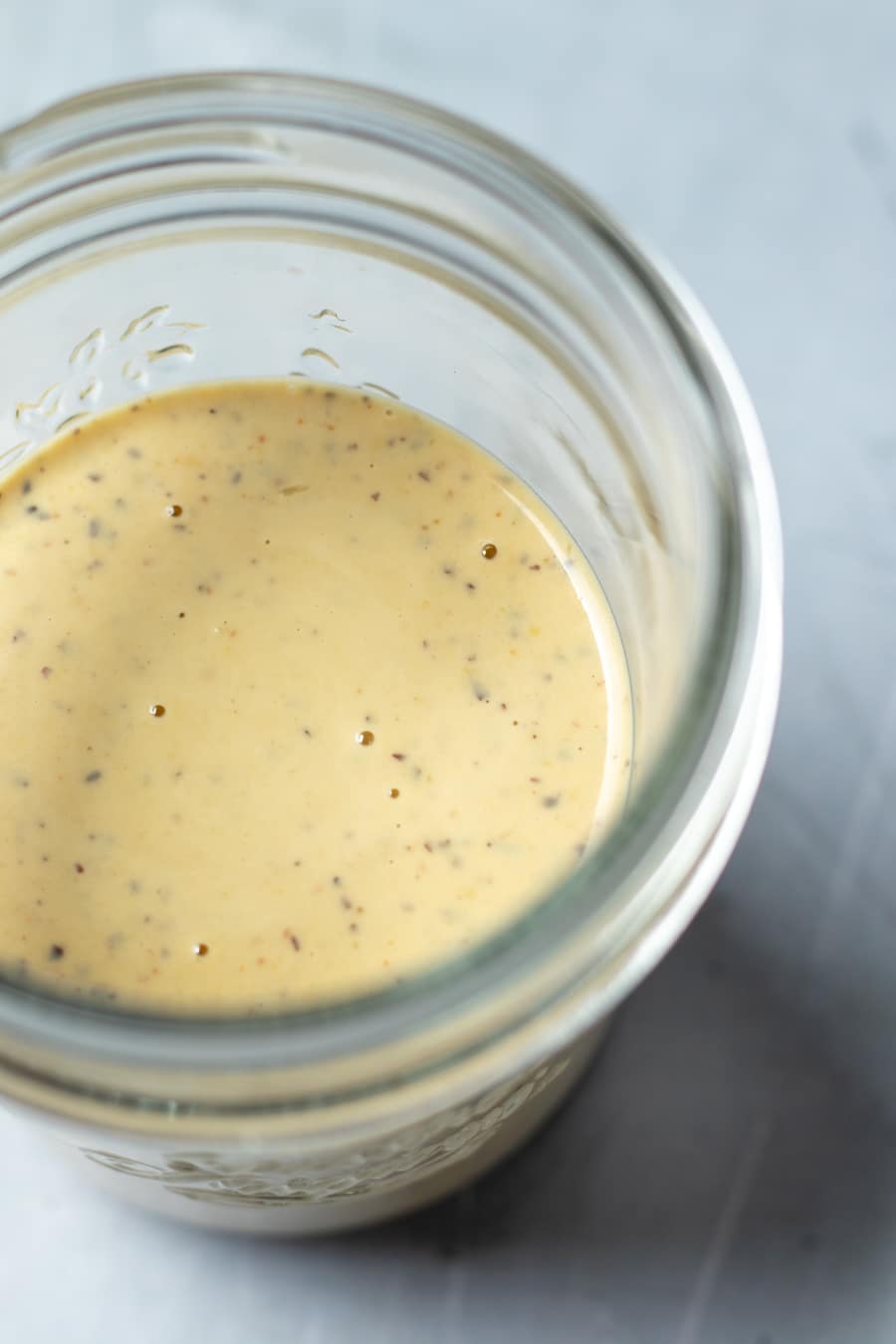 I included dulse granules as a vegan sub for anchovies, just to get that "hint of the sea." But if you choose to leave it out, that's fine, too.
You can usually find dulse (kelp is another option) in specialty markets and health food stores. You can also order this Maine Coast Organic dulse online.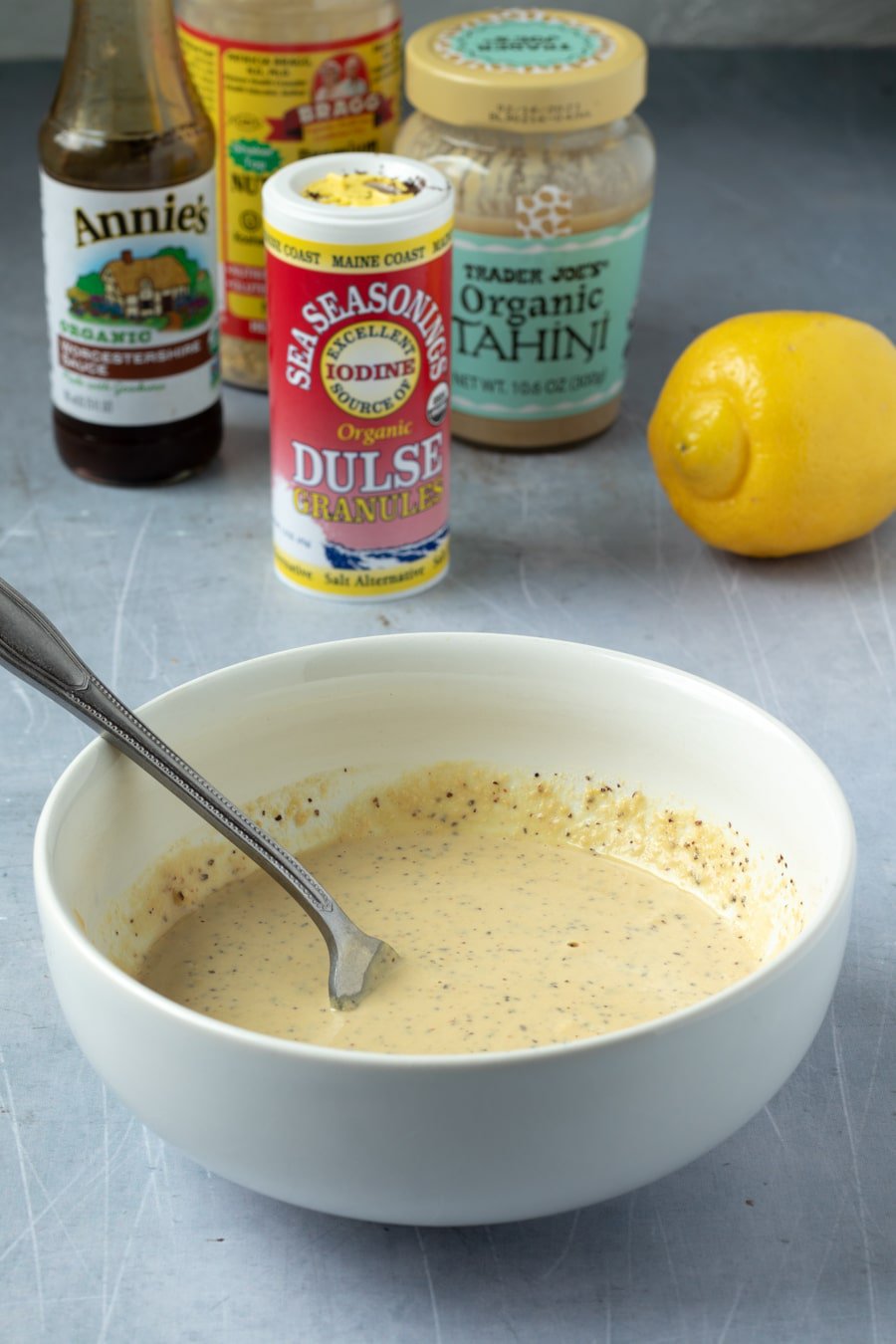 How To Make Croutons
Homemade croutons are seriously the best. If they're not something you make very often (or ever), I hope I can convince you to give it a try.
Sourdough is probably my favorite bread to use for croutons but really, you can make it work with most any sturdy bread.
Pictured are croutons made from whole-grain sandwich bread from a local bakery. It was pre-sliced so I had thinner croutons. The nice thing about buying a whole loaf is that you can cut the bread into any shape you want, thin squares, cubes, or even triangles or rectangles.
With the cubed bread spread out on a baking sheet, simply drizzle it with olive oil, then sprinkle with salt, dried thyme, and garlic powder. You can eyeball the amounts for these. Just go with your gut!
And if you're not sure about the level of seasoning, go ahead and taste a piece or two of bread after you've given everything a good toss. The hard part will be NOT eating the rest of the bread before it goes into the oven!
Bake the croutons for about 10 minutes in a 375 degree oven. If your bread was on the moist side, it may take a bit longer to reach that super crispy crouton stage. This is where taste-testing comes in handy again.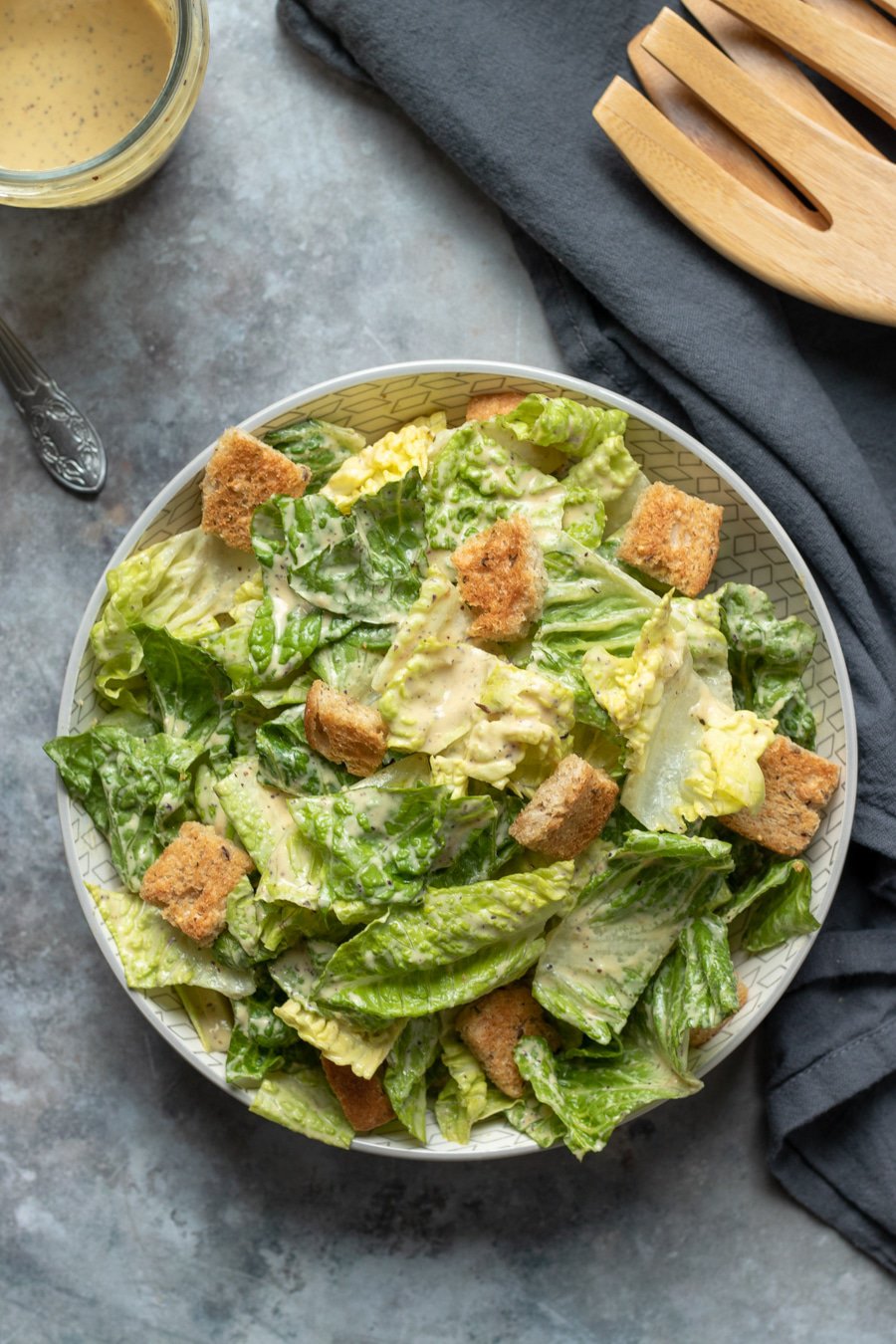 Tips for Roasted Chickpeas
As for the roasted chickpeas, well, they're just for fun. You certainly don't need to add chickpeas to make a delicious vegan Caesar salad, but since you'll have the oven on for the croutons, it just makes sense to multitask!
If you've ever made "crunchy" roasted chickpeas before, you'll understand why I put quotes around that. But seriously, they ARE crunchy for a short period of time, like right out of the oven, and they ARE nutritious and delicious. I just hesitate to refer to them as "crunchy" or "crispy" because I don't want to get your hopes up.
To help the chickpeas along on their journey to crunchiness, after rinsing, draining, and thoroughly drying them with a tea towel, roll them in spelt flour (you can also use whole-wheat or all-purpose; even brown rice flour works).
Then give the chickpeas a quick spray of oil and a sprinkle of salt. I like this trick because the flour absorbs some of the moisture, and the small amount of oil then helps the flour get crispy.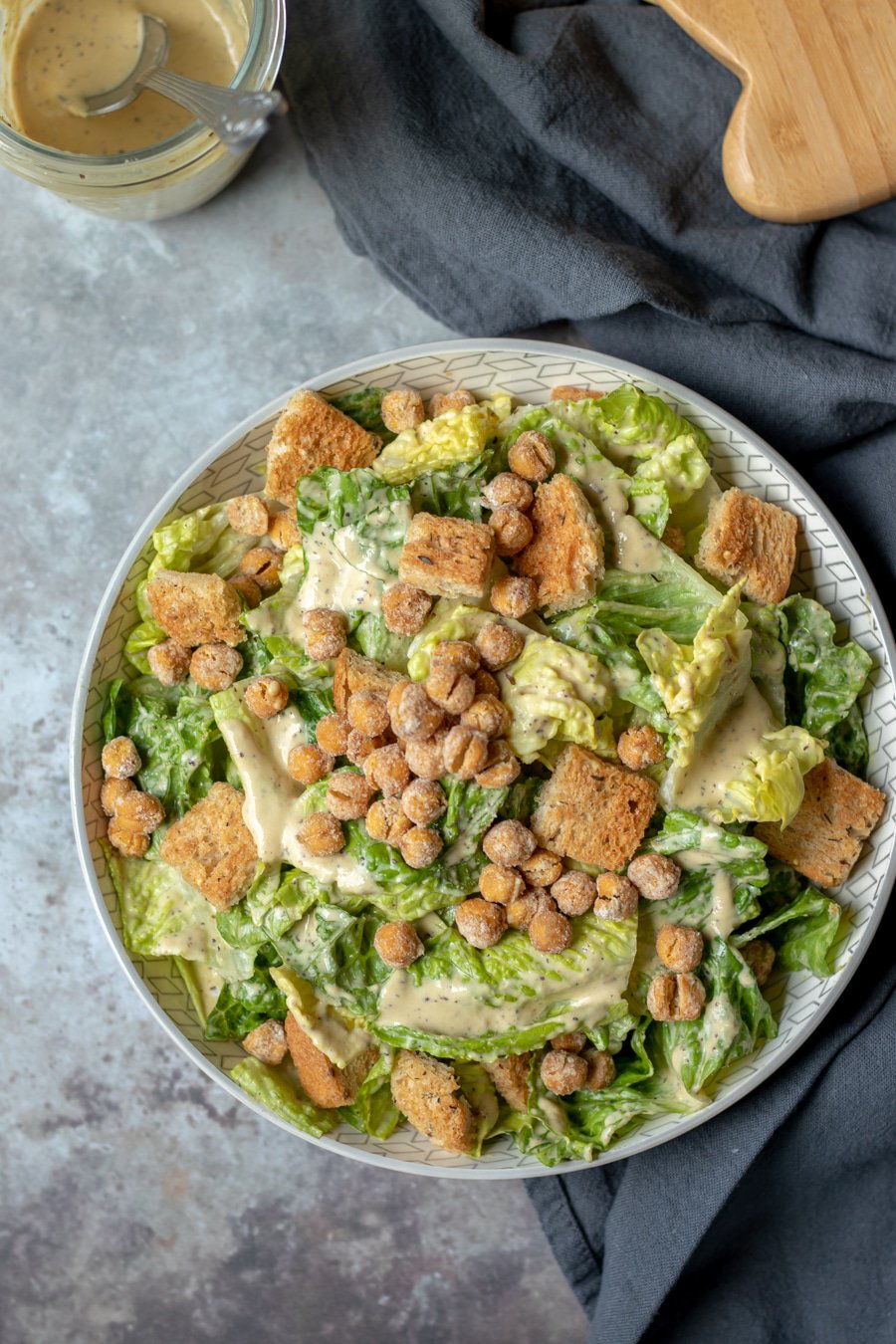 Dress the salad just before serving and top with those irresistible homemade croutons and roasted chickpeas.
I hope you enjoy this garlicky Vegan Caesar Salad! If you feel like snapping a photo of your beautiful meal I would love to see it! Just tag me with @myquietkitchen on instagram.
You might also like:
Creamy Sunflower Seed Dressing
Nut-Free Vegan Ranch Dressing
Creamy Harissa Dressing
Tahini Salad Dressing 5 Ways
Jackfruit, Mango and Dill Salad
Black Lentil Salad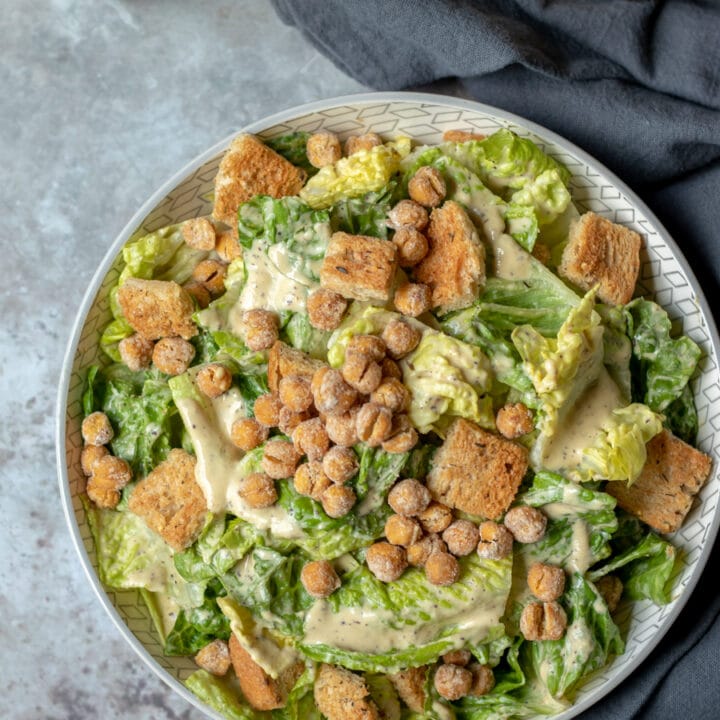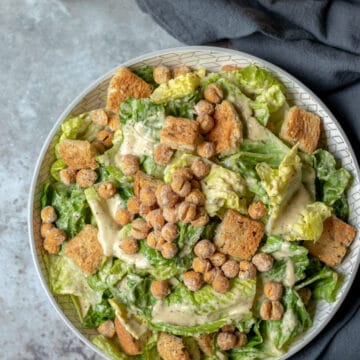 Vegan Tahini Caesar Salad
A classic Vegan Tahini Caesar Salad, with a rich, salty, and satisfying oil-free dressing you'll want to put on everything, plus crunchy homemade croutons and oven-roasted chickpeas.
Ingredients
2

heads

romaine lettuce, washed, cut into bite-size pieces
For the dressing:
¼

cup

tahini or raw cashew butter

-

Alternatively, use ½ cup raw cashews and process the dressing in a blender.

2

cloves

garlic, minced

2

Tbsp

lemon juice

2

tsp

Dijon, stoneground or German mustard

2

tsp

vegan worcestershire

½

tsp

dulse flakes -

This dried seaweed provides a subtle "sea" taste, replacing anchovies in standard Caesar dressing.

2

Tbsp

nutritional yeast

½

tsp

fine sea salt

¼

cup

water
For the chickpeas:
1 ½

cups

cooked garbanzo beans, drained, rinsed, and patted dry

2

Tbsp

flour of choice, such as spelt, all-purpose, whole-wheat, or rice flour

olive oil cooking spray

fine sea salt, a generous pinch
For the croutons:
about 4

slices

sourdough or other sturdy bread, cubed

2

Tbsp

olive oil

salt

dried thyme

garlic powder
Instructions
Preheat oven to 375 degrees, and locate two baking sheets.

Combine the dressing ingredients in a bowl and whisk with a fork until combined. Set aside.

Pat the chickpeas dry with a tea towel, and discard any skins that come loose. Put the flour in a small bowl and drop the chickpeas in the flour a handful at a time. Toss to coat, then place on a baking sheet. Spray the chickpeas lightly with oil. Toss them around and spray again. Sprinkle with salt and bake for 30 to 35 minutes or until golden brown and crispy.

Spread the cubed bread on the other baking sheet. Drizzle with olive oil, sprinkle with salt, thyme and garlic powder. Taste and adjust seasoning. Bake the croutons for 10 to 15 minutes or until golden brown and crisp.

In a large bowl, toss the romaine with dressing. Transfer to individual serving bowls and top with croutons and roasted chickpeas. Serve immediately.
Notes
Dress the salad just before serving.
The dressing can be stored in the refrigerator for up to 4 days.
Store leftover croutons at room temperature in an airtight container.
Store leftover chickpeas in the refrigerator with the container lid not fully sealed.
Estimated Nutrition (per serving)
Calories:
385
kcal
Carbohydrates:
48
g
Protein:
16
g
Fat:
15
g
Saturated Fat:
2
g
Sodium:
830
mg
Fiber:
11
g
Sugar:
7
g
Vitamin A:
21850
IU
Vitamin C:
17.3
mg
Calcium:
200
mg
Iron:
4.5
mg
Nutrition information is an estimate and will vary depending on the exact amounts and specific products and ingredients used. We calculate this information using the online calculator cronometer.com.
Did you try the recipe?
I LOVE hearing from you! Comment below to let us know.