Oil-free salad dressings and sauces are an easy and healthy way to transform any meal from bland to WOW. Ready in minutes with flavors ranging from garlicky and herbaceous to spicy, earthy, and fresh. These homemade salad dressings are so much more delicious than store-bought, healthier, and endlessly versatile.
All of these recipes are vegan and made without oil or refined sugar, and many are nut-free or have the option.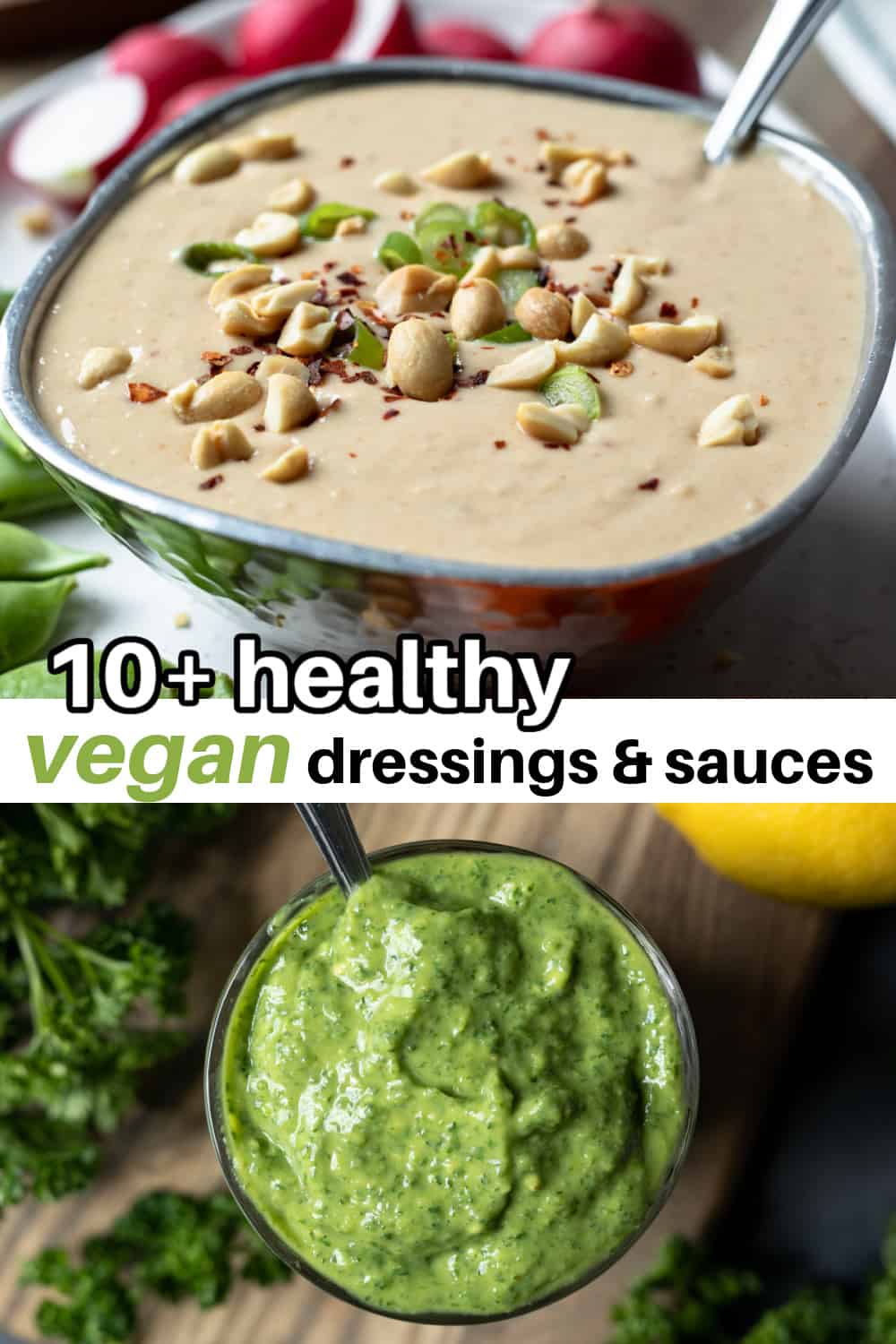 Jump to:
Why make salad dressing without oil?
When we eat foods in their whole state, enjoying the avocado instead of its extracted oil, for example, we consume all of the plant's beneficial nutrients instead of just the concentrated fat. This means we also get fiber, protein, antioxidants, minerals, and more.
Whole-food plant-based (WFPB) diets have been growing in popularity in recent years among both vegans and non-vegans alike. If you're not familiar with the ins-and-outs of a WFPB diet, there are many great resources online, and don't forget about free books at the library!
If you're looking for an easy place to start, the documentary Forks Over Knives is probably the best way to quickly learn the basics, including why people choose to avoid oil.
Homemade vs. Store-Bought
In addition to being naturally lighter and oil-free, the other great thing about these homemade salad dressings is you don't have other unwanted ingredients found in store-bought salad dressings, like stabilizers, preservatives, and refined sugar.
You're also able to adjust the consistency and flavors to suit your preferences.
Common Substitutes for Oil in Salad Dressing
Oil-free vegan salad dressings and sauces can be made in many different ways. Some use a base of aquafaba or citrus juice. These are lower in fat and great for people following a low-fat diet for health reasons (see recipe #1 below).
Other recipes incorporate nuts and seeds for added richness, body, and flavor. Tahini is one of our favorite ways to make super quick and creamy dressings.
Other nut and seed butters can also be used, such as almond or cashew. Or grab a blender and start with whole nuts or seeds.
Soft or silken tofu is another wonderful ingredient to use in creating light and creamy dressings.
Storage
Most of these dressings will keep in the refrigerator for 3 to 4 days. For the best flavor I like to store dressings in glass jars or containers with a tight-fitting lid.
In general freezing isn't recommended, but be sure to refer to the notes on the specific recipe.
Ways to Use Oil-Free Dressings and Sauces
Whether you're looking for an oil-free dressing that's thick and spreadable or thin and pourable, adjusting the consistency is usually as easy as adding (or omitting) a splash of water or citrus juice.
Enjoy these healthy dressings with:
If you try any of the recipes be sure to let us know your favorites in the comments below!
1. Oil-Free Italian Vinaigrette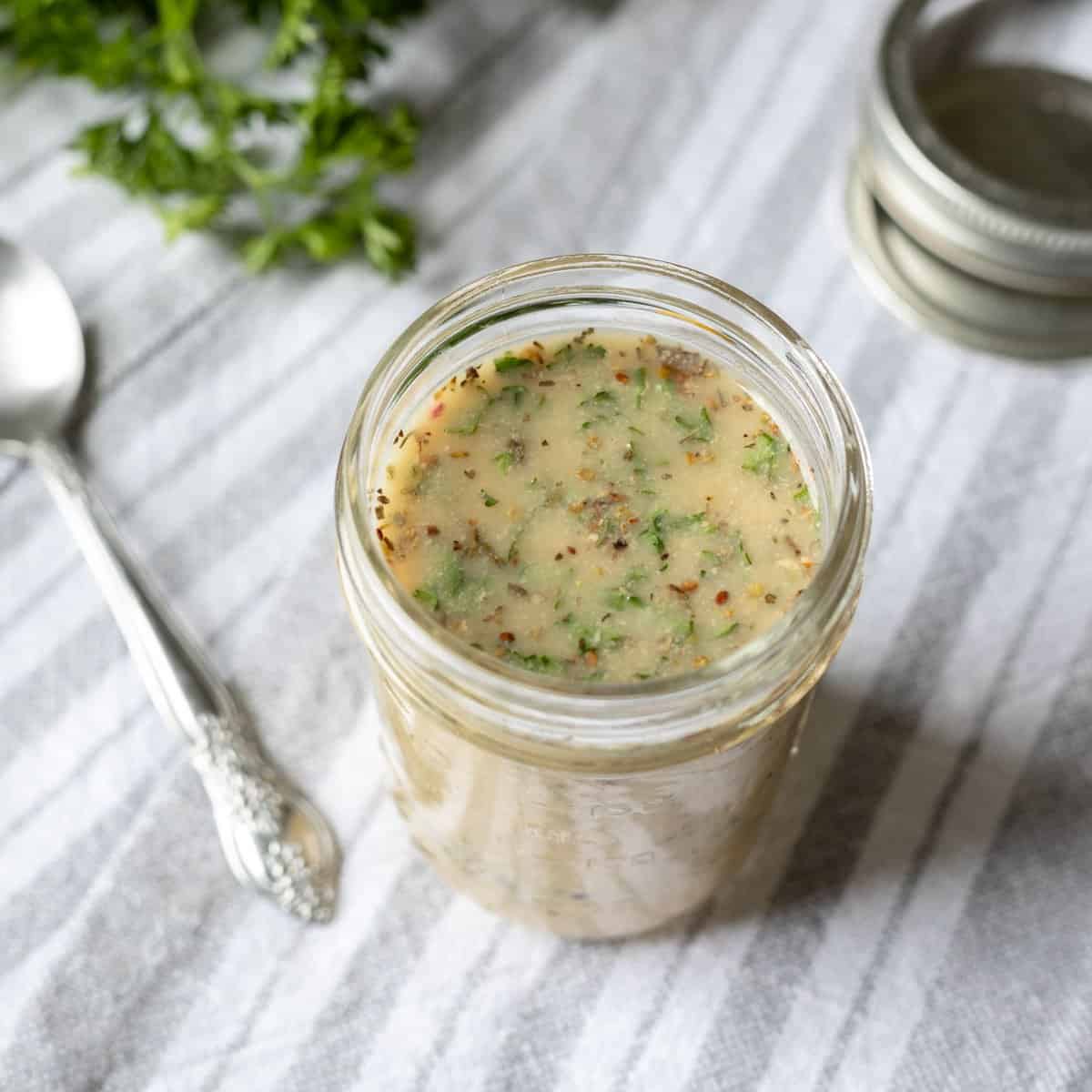 This aquafaba-based oil-free dressing is one you have to try to believe. It is absolutely LOADED with zesty Italian flavor, fat-free, and contains a measly 20 calories per ¼ cup serving. Just mix everything together in a bowl and enjoy.
2. Oil-Free Vegan Ranch Dressing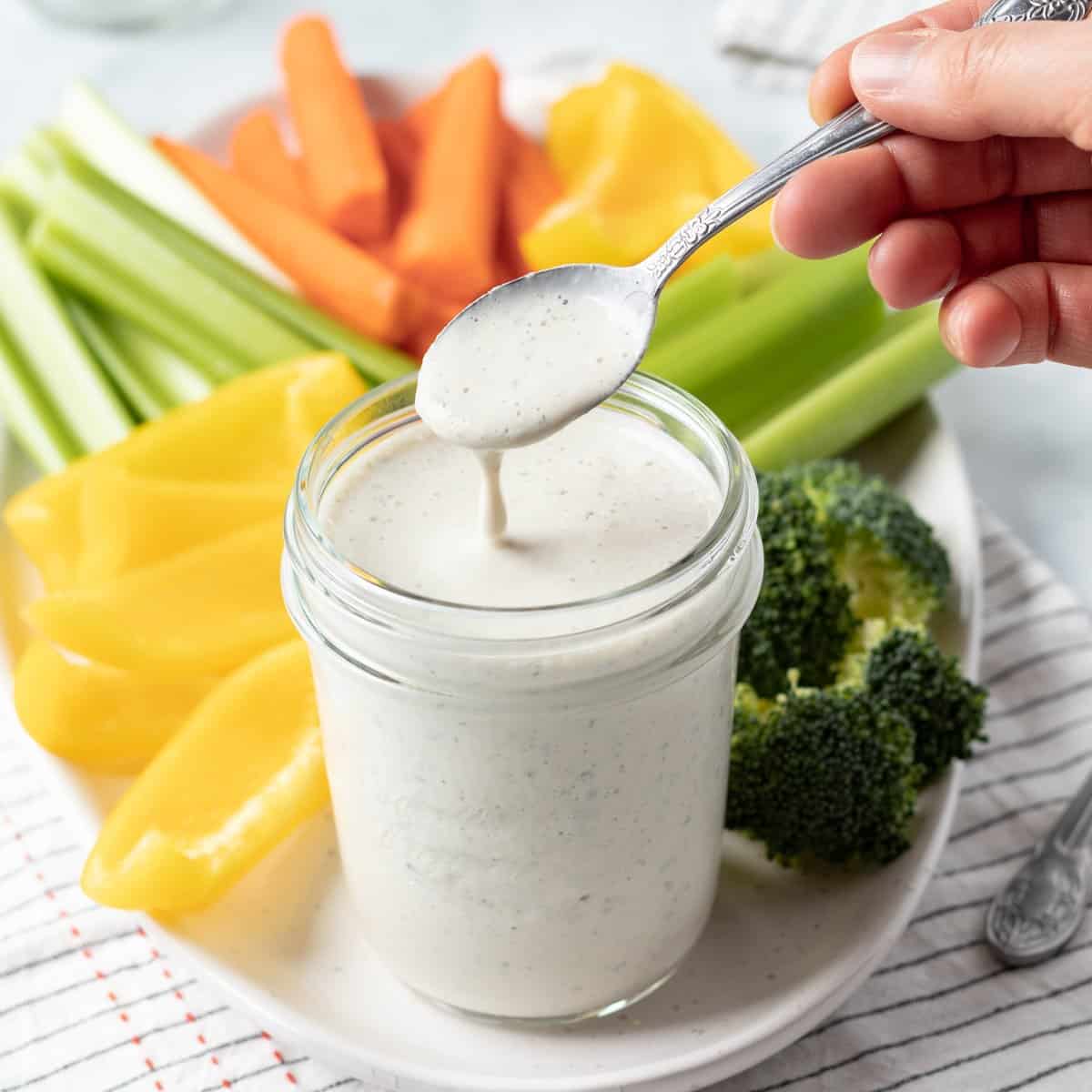 Creamy, milky, herbaceous and not a drop of dairy in sight! Bonus, this oil-free ranch dressing contains no cashews or tree nuts! You'll be amazed how much this nut-free ranch tastes like the real thing.
3. Almond-Turmeric Dressing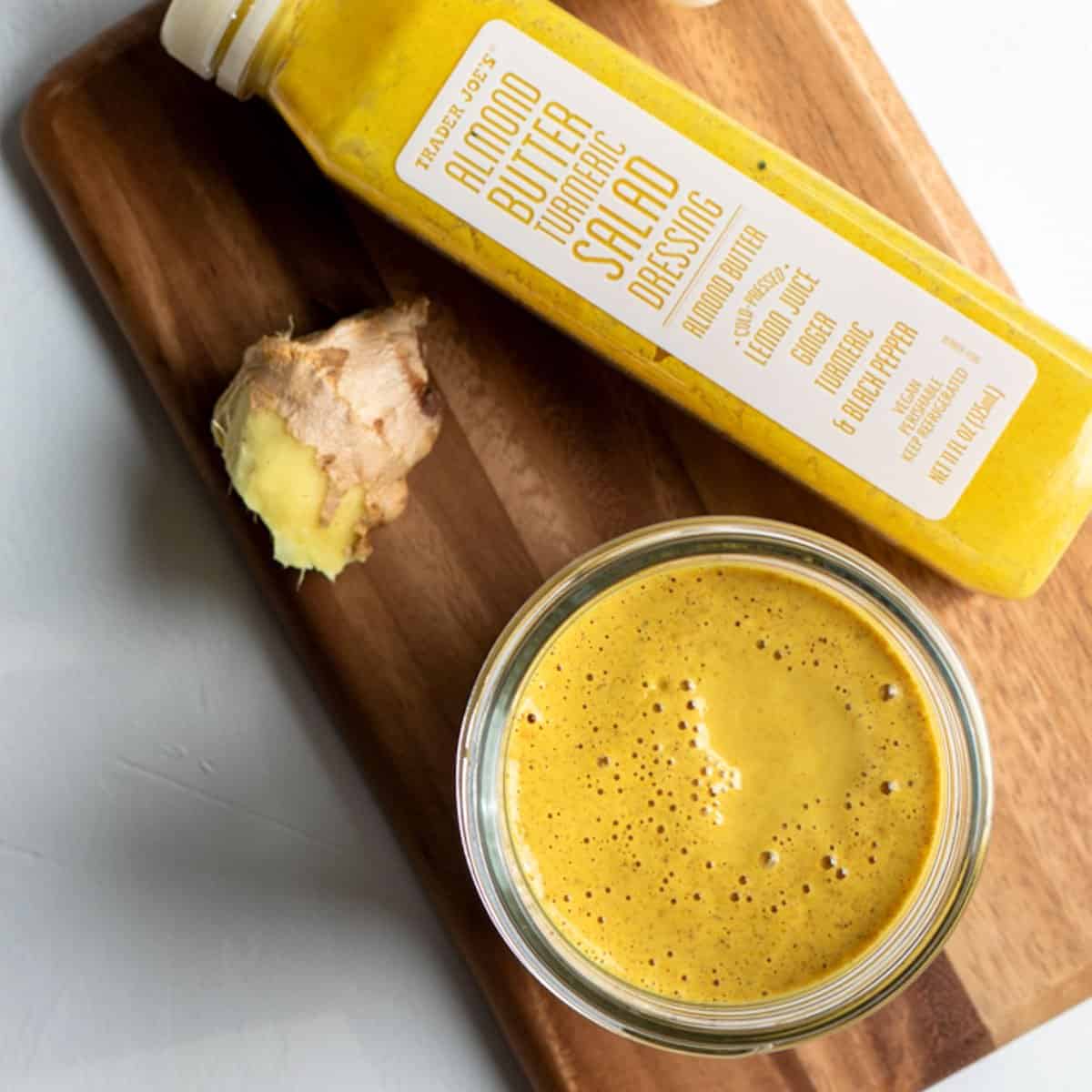 This copycat version of Trader Joe's famous Almond Butter-Turmeric dressing (now discontinued) is made with ground turmeric, fresh lemon, ginger and garlic, and tastes fantastic on everything from hearty grain bowls to salads. Only 6 ingredients and 5 minutes to make a batch.
The lemon and ginger really shine through, so even if you're not a fan of turmeric definitely give this one a try!
4. Tahini Caesar Dressing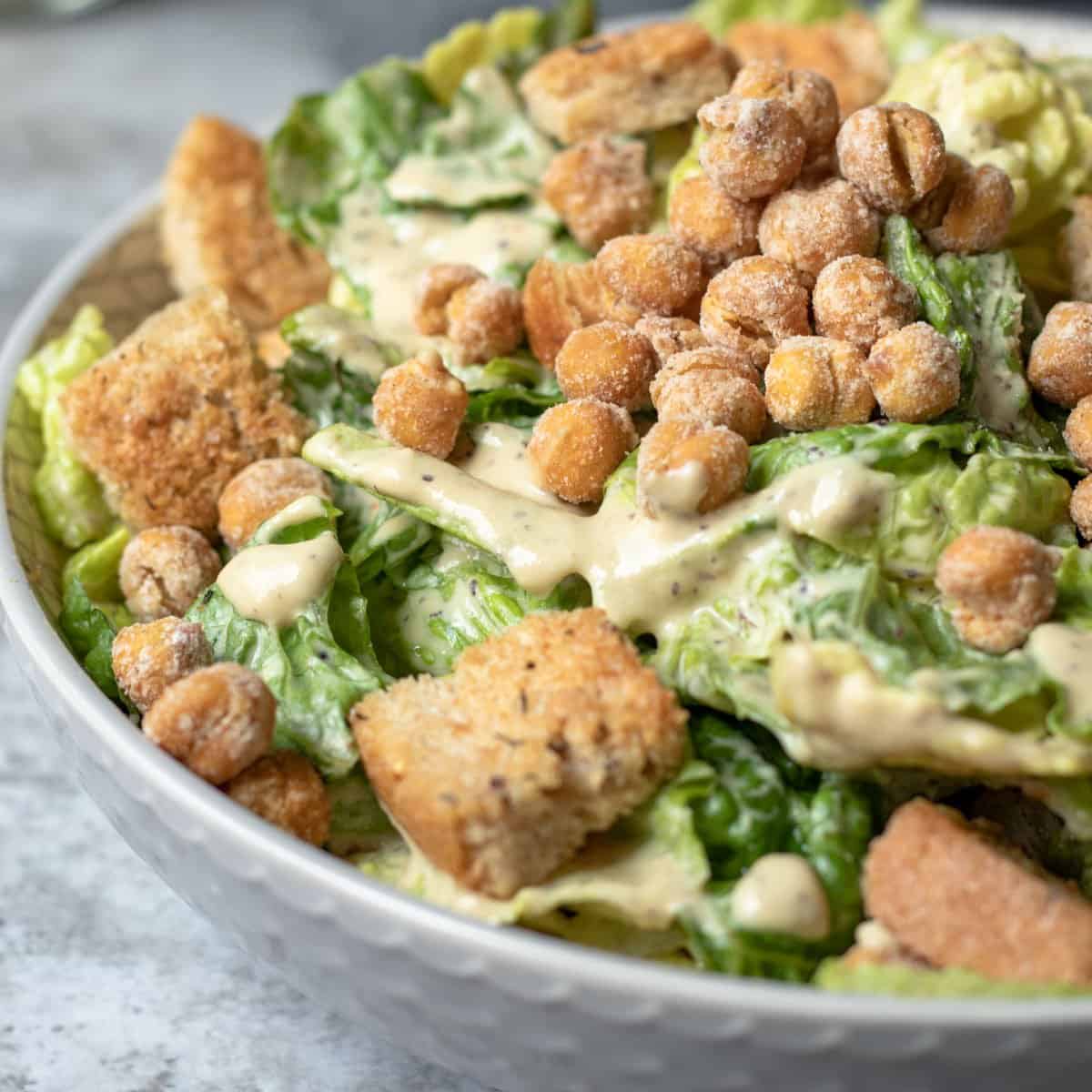 This tahini-based vegan Caesar dressing has all of the savory and rich flavors you crave. No fancy equipment needed - just whisk the ingredients together in a bowl, then pour, dip, and spread.
5. Avocado Green Goddess Dressing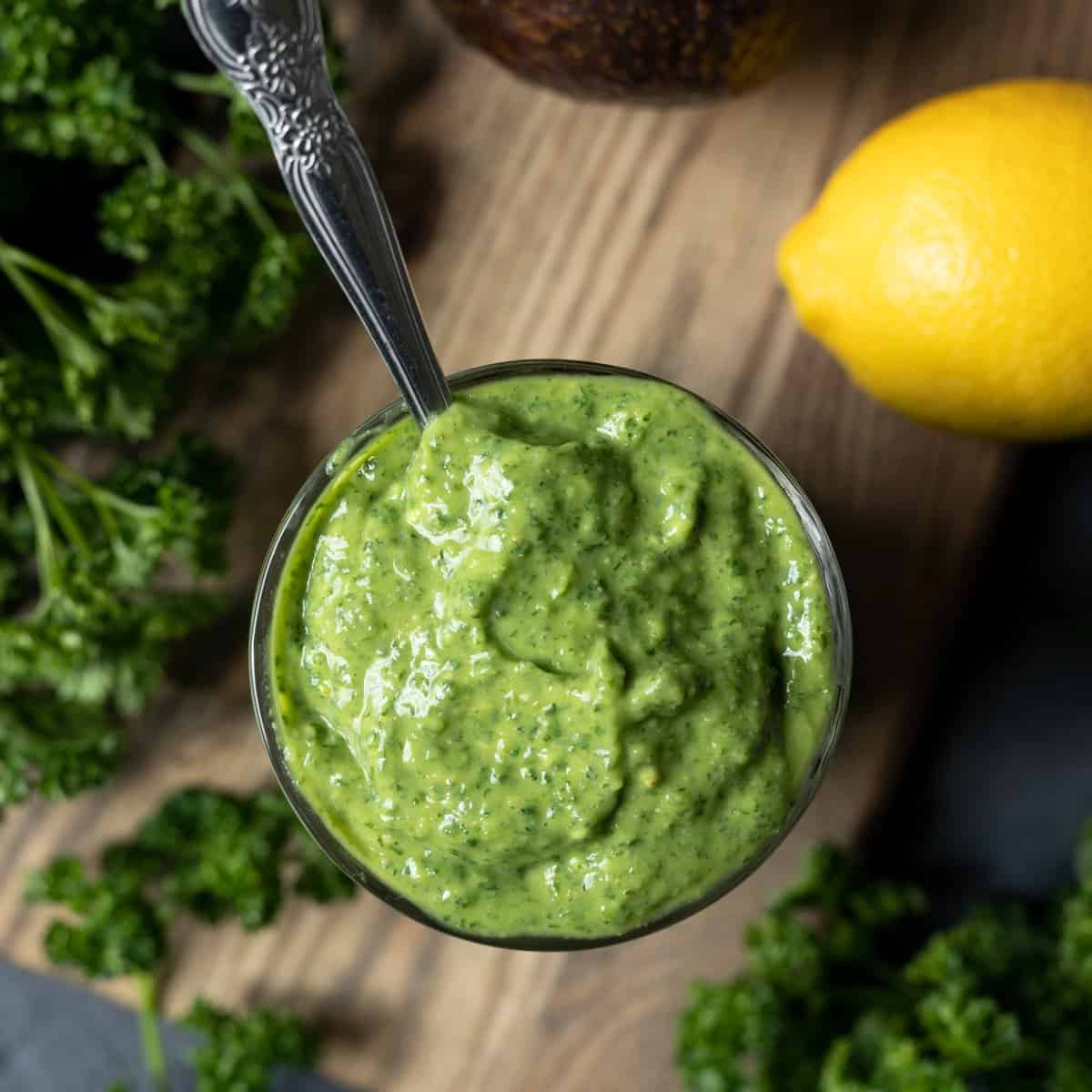 Full of vibrant fresh herbs and lemon, this healthy green goddess dressing is made without oil, getting its creaminess from avocado! It's fantastic tossed with pasta, spread on veggie burgers, and as a dip for raw vegetables.
6. All-Purpose Miso Dressing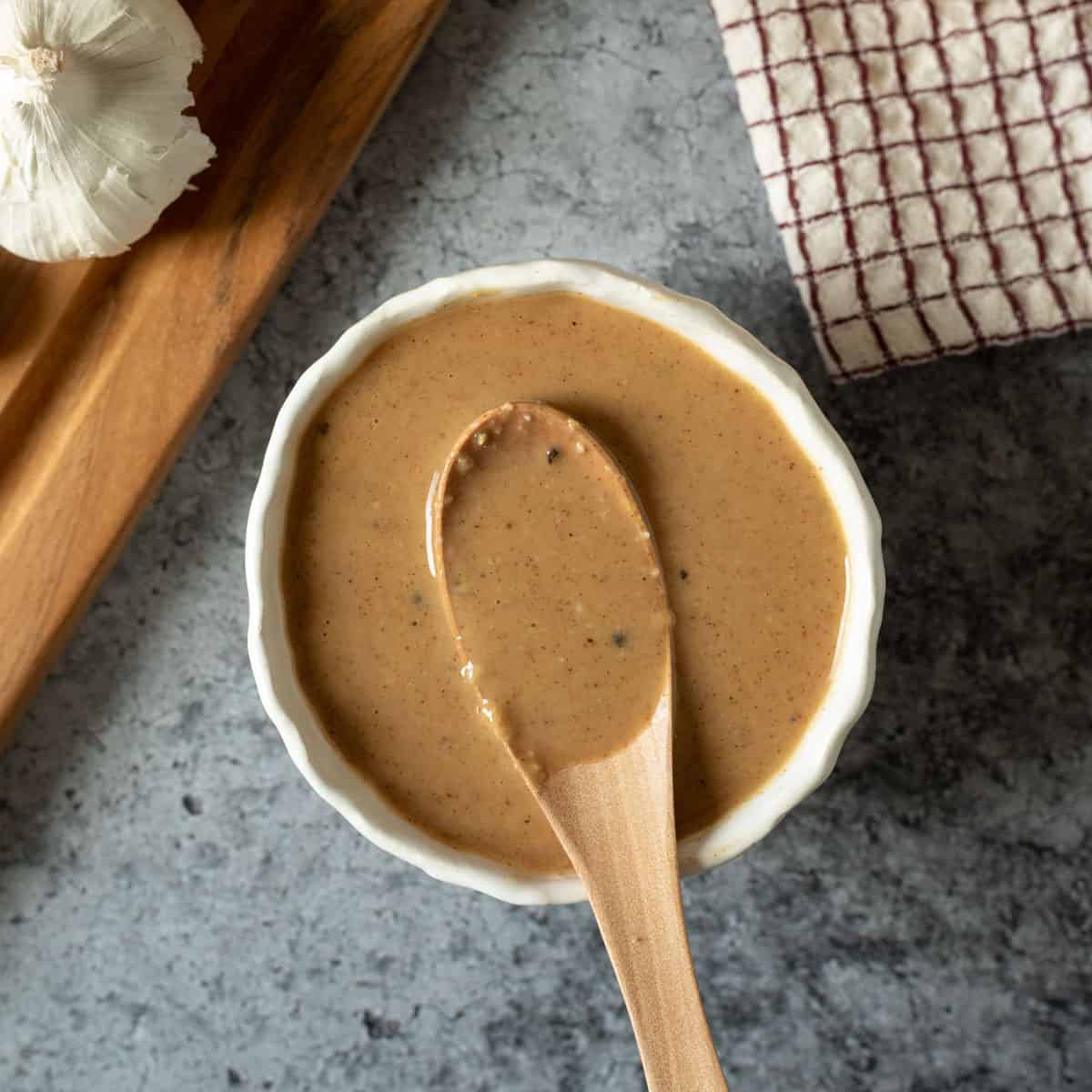 This umami-packed sauce and dressing is fantastic on everything from grains to veggies to salads. Simply skip the toasted sesame oil to make it oil-free.
7. Spicy Zhoug Sauce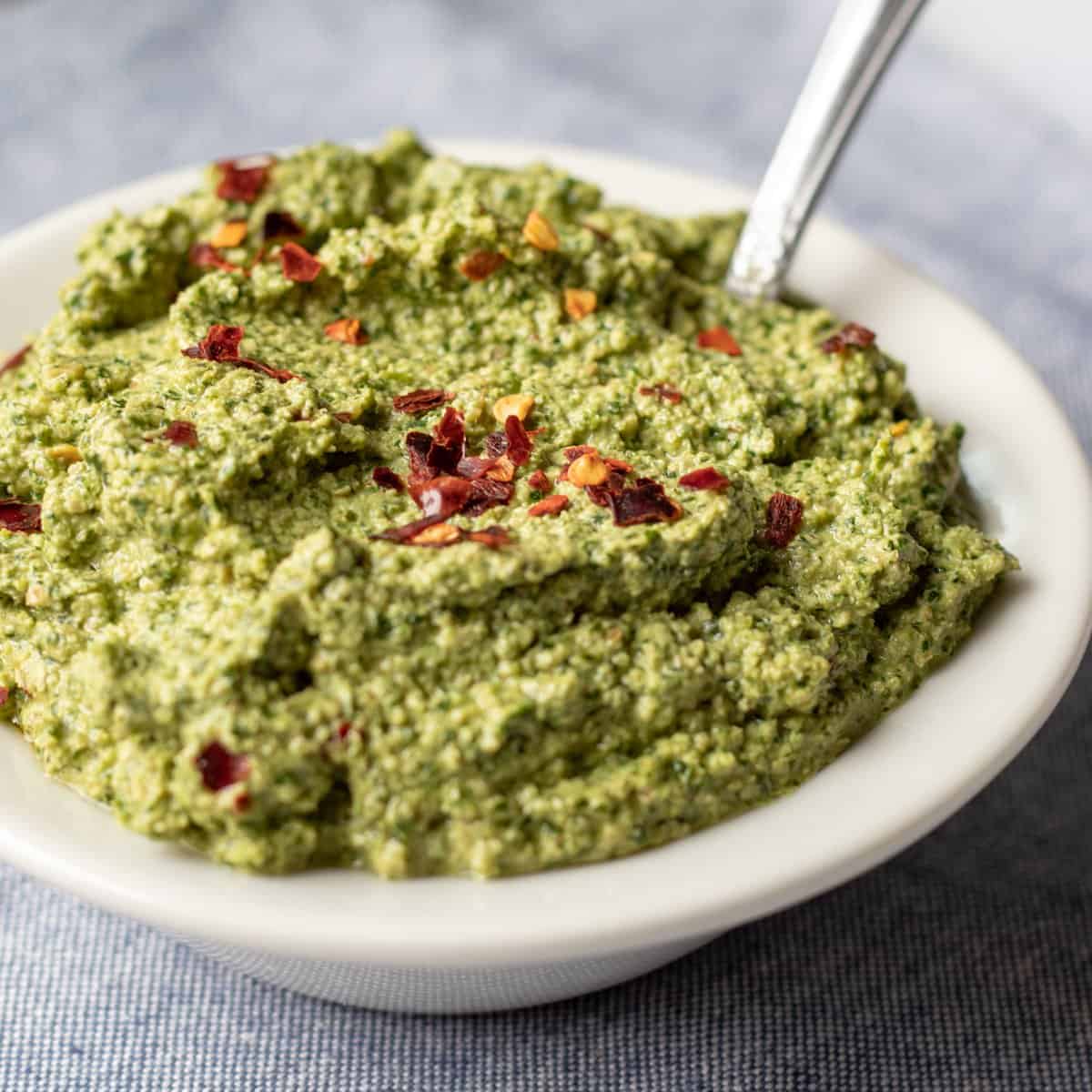 This versatile, oil-free version of the popular Middle-Eastern condiment zhoug is great as a dip or spread, but you can also thin it with water and lemon juice to use as a salad dressing. If you enjoy cilantro and spicy peppers, this one's for you!
8. Creamy Harissa Dressing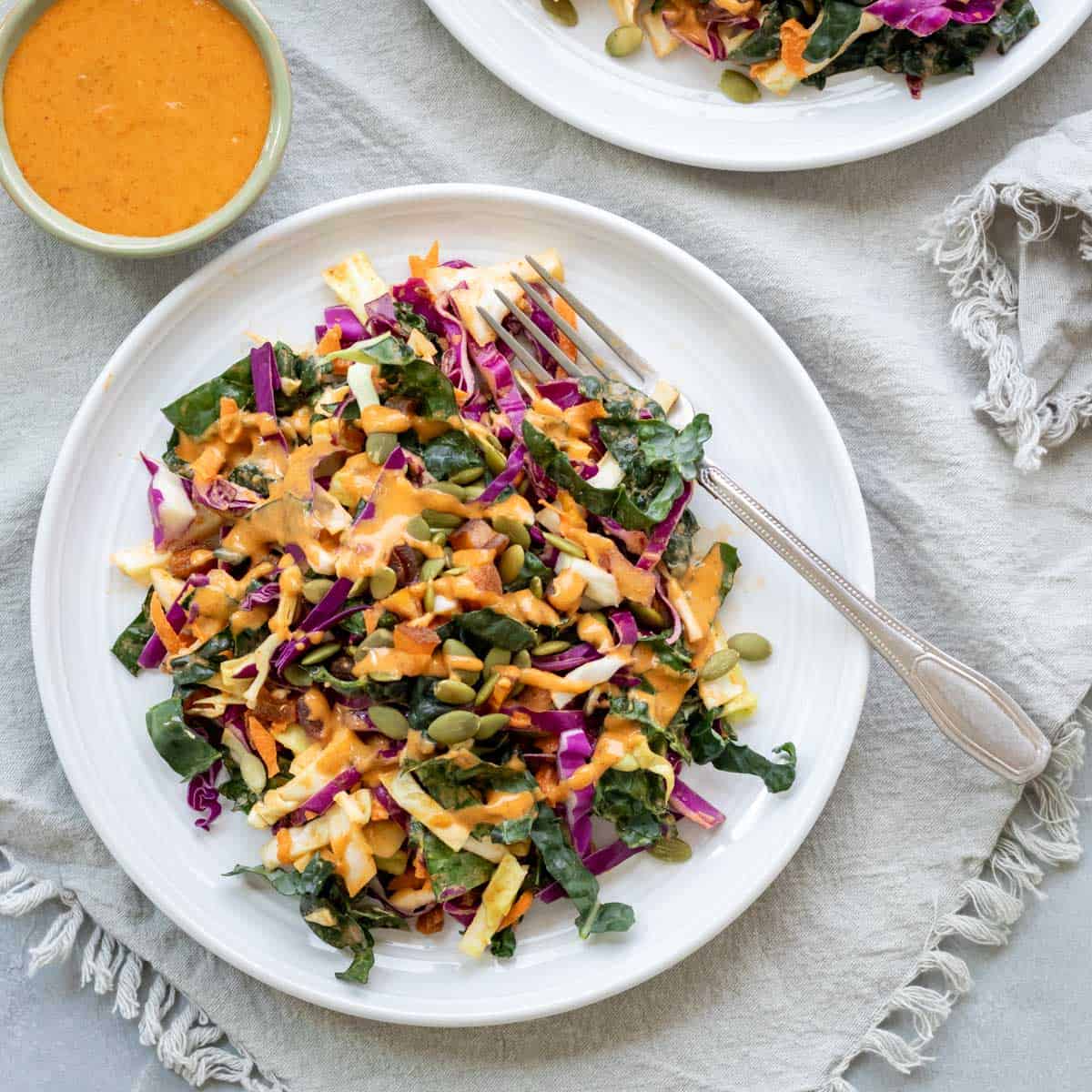 Look at that color! Harissa is a Tunisian chile paste that typically consists of garlic, citrus, and plenty of olive oil. But this tahini-based dressing uses dried harissa seasoning instead of the prepared pastes found on the grocery store's condiment aisle. You'll love the earthy and smoky flavors of this dressing as well as the adjustable spice level. This couscous kale salad is our new favorite way to use it!
9. Tahini Salad Dressing - 5 Ways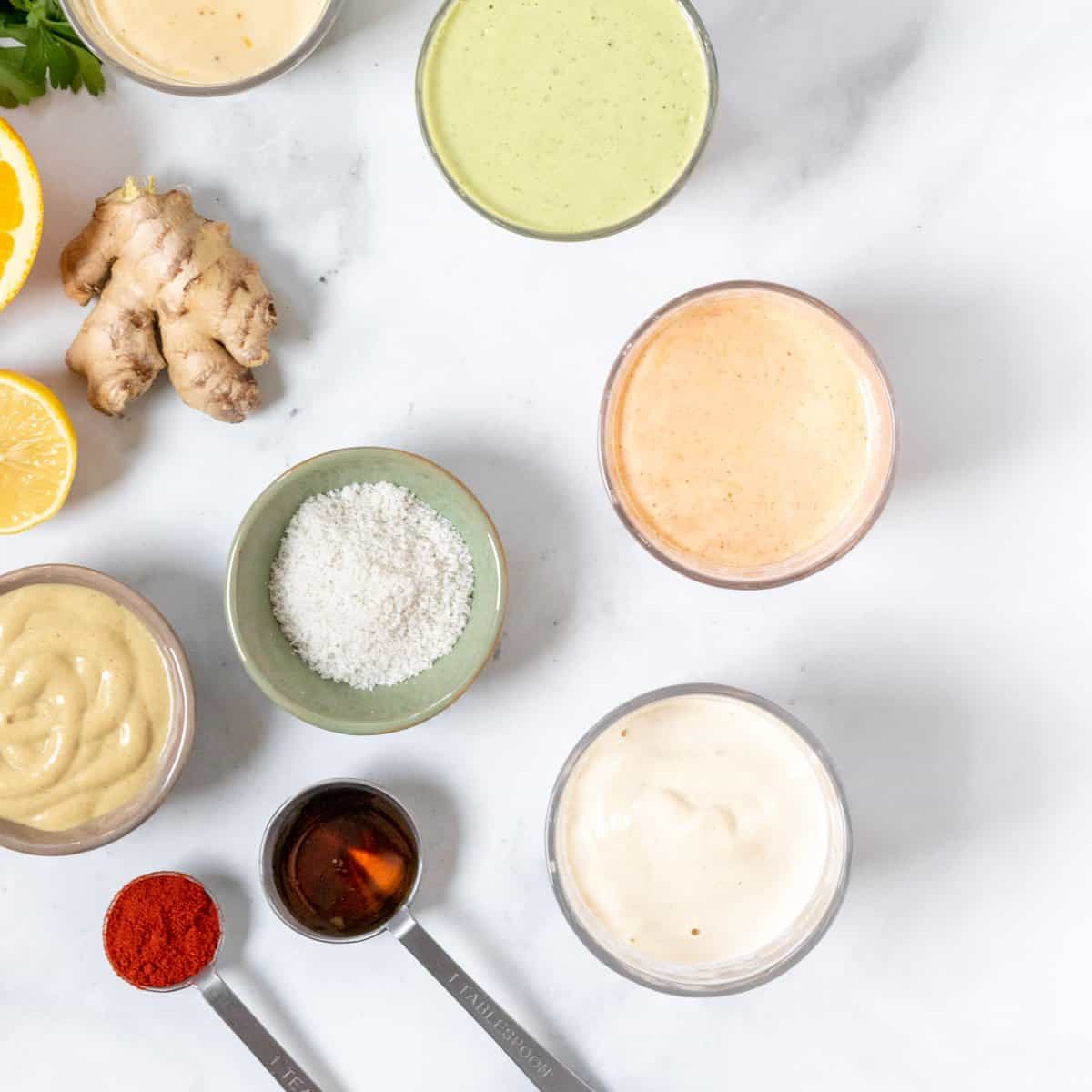 Learn how to make the perfect lemon tahini dressing, and then transform that base recipe into four other flavor variations: 1. smoky, 2. orange ginger, 3. green goddess, and 4. mustard tahini dressing!
10. Creamy Sunflower Seed Dressing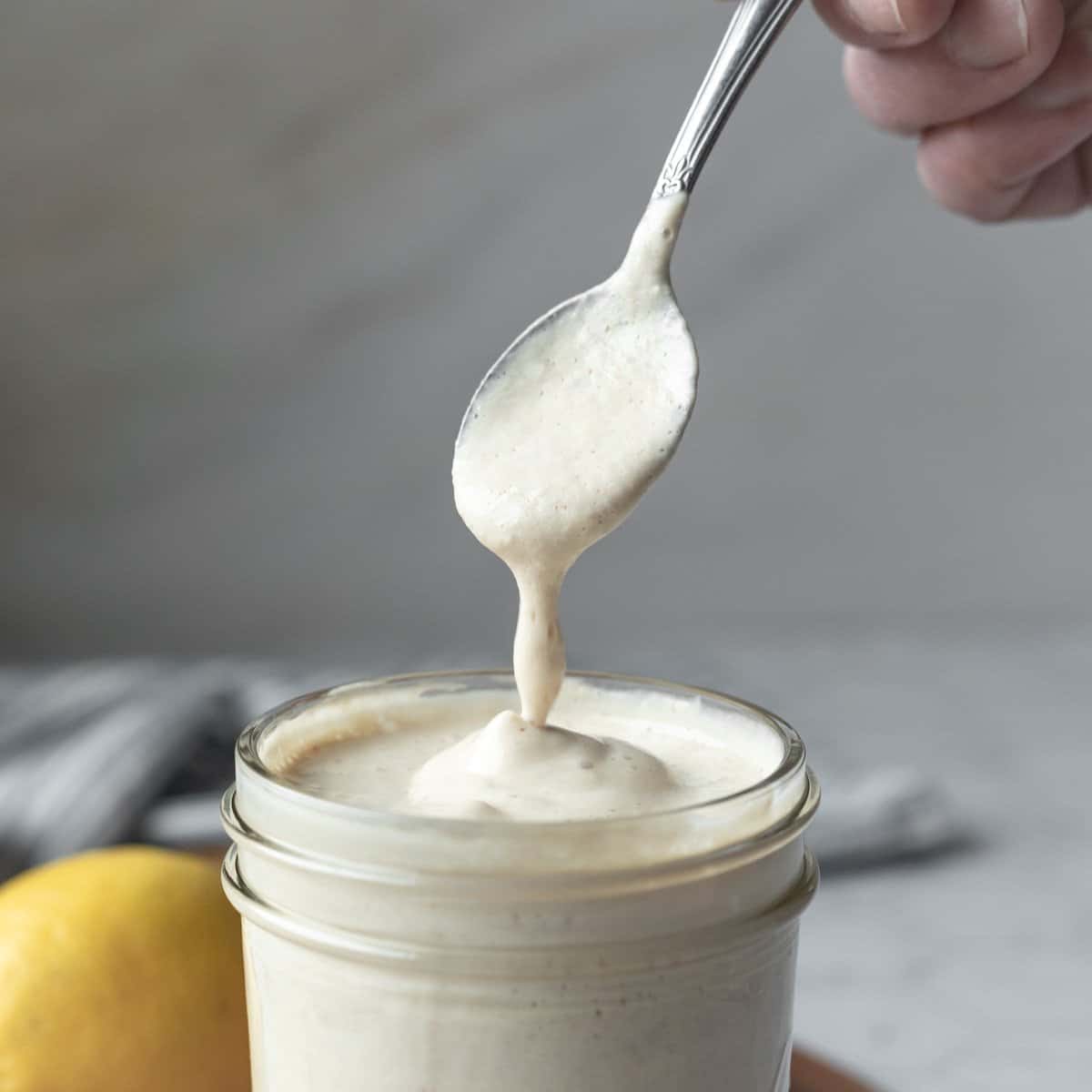 Move over cashews, sunflower seeds are the new cool kid in town! Rich and savory with lemon, garlic, and miso, you'll love this creamy dressing on everything from salads and raw veggies to potatoes and grains. The classic flavor profile pairs well with so many dishes.
11. Creamy White Bean Peanut Sauce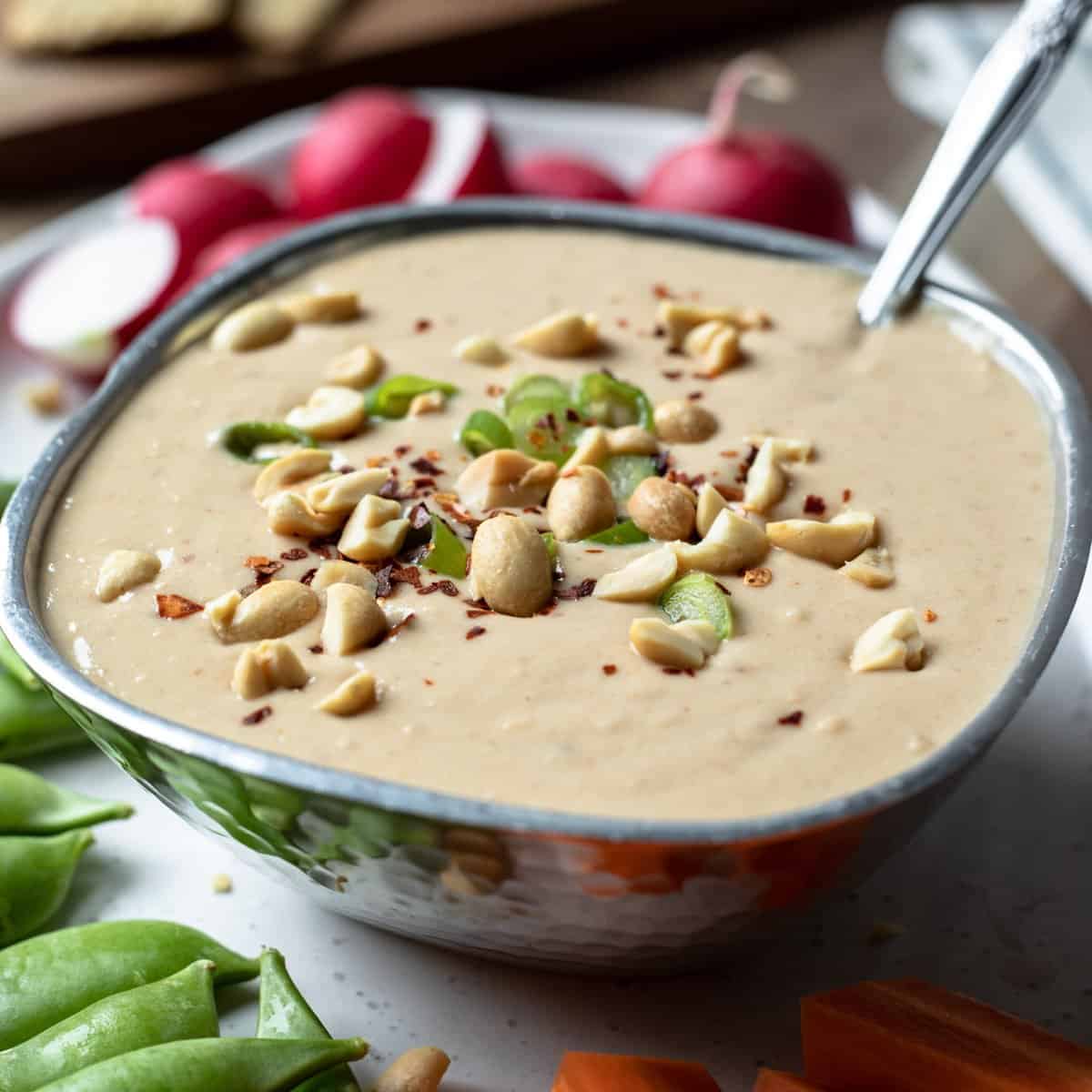 We LOVE this hybrid dip/sauce/dressing. It has all of the fabulous flavors of peanut sauce, with white beans blended in for added nutrition and creaminess. You can easily adjust the consistency depending on how you plan to serve it, and sub sunflower seed butter for a peanut-free dressing!
12. Vegan Honey Mustard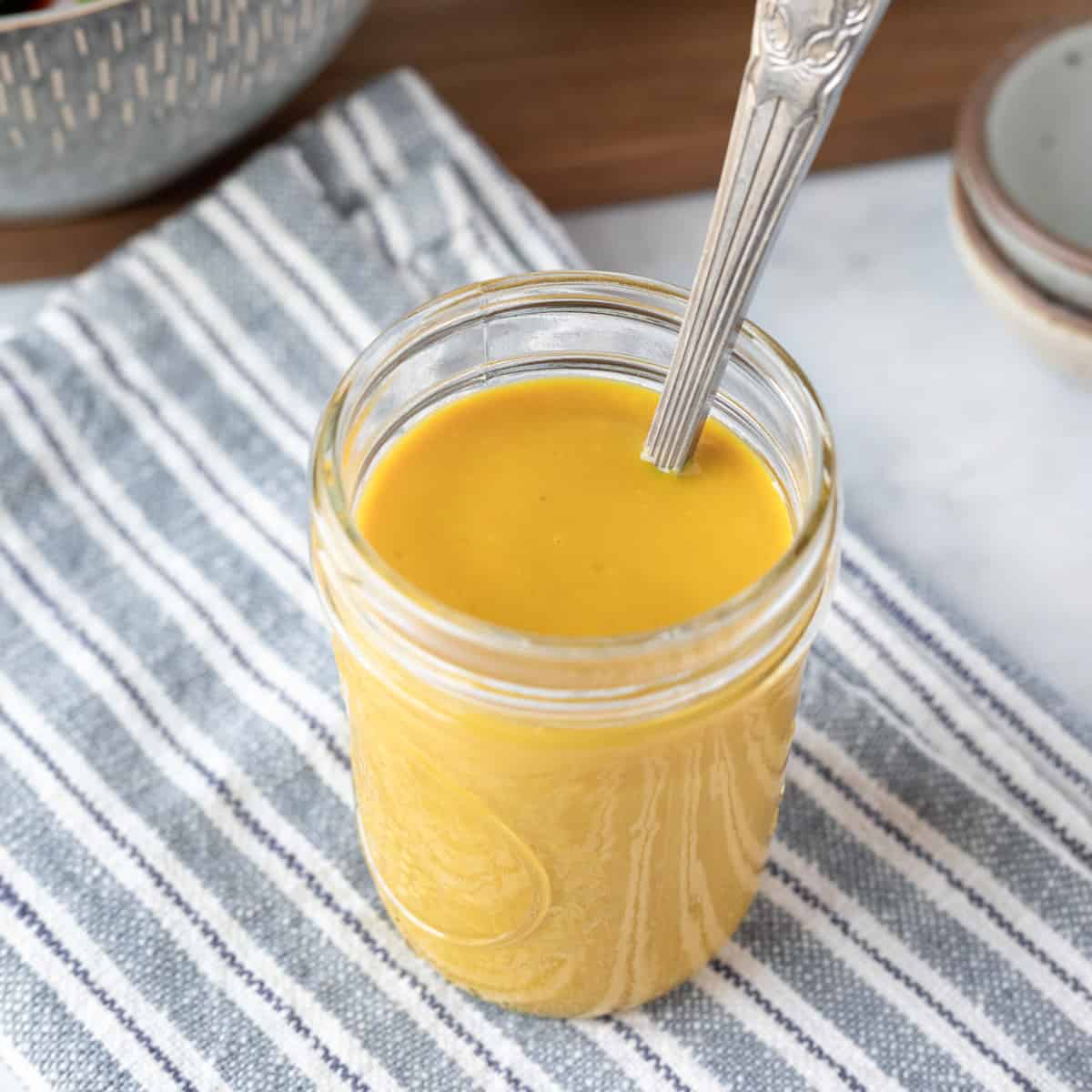 Zippy, tangy, and just sweet enough, this Vegan Honey Mustard Sauce instantly adds flavor to any dish. Beyond salads, enjoy it with potatoes, vegan nuggets, and as a spread for sandwiches. Only 2 ingredients and 2 minutes to whip up this healthy dressing!
13. Oil-Free Bitchin' Sauce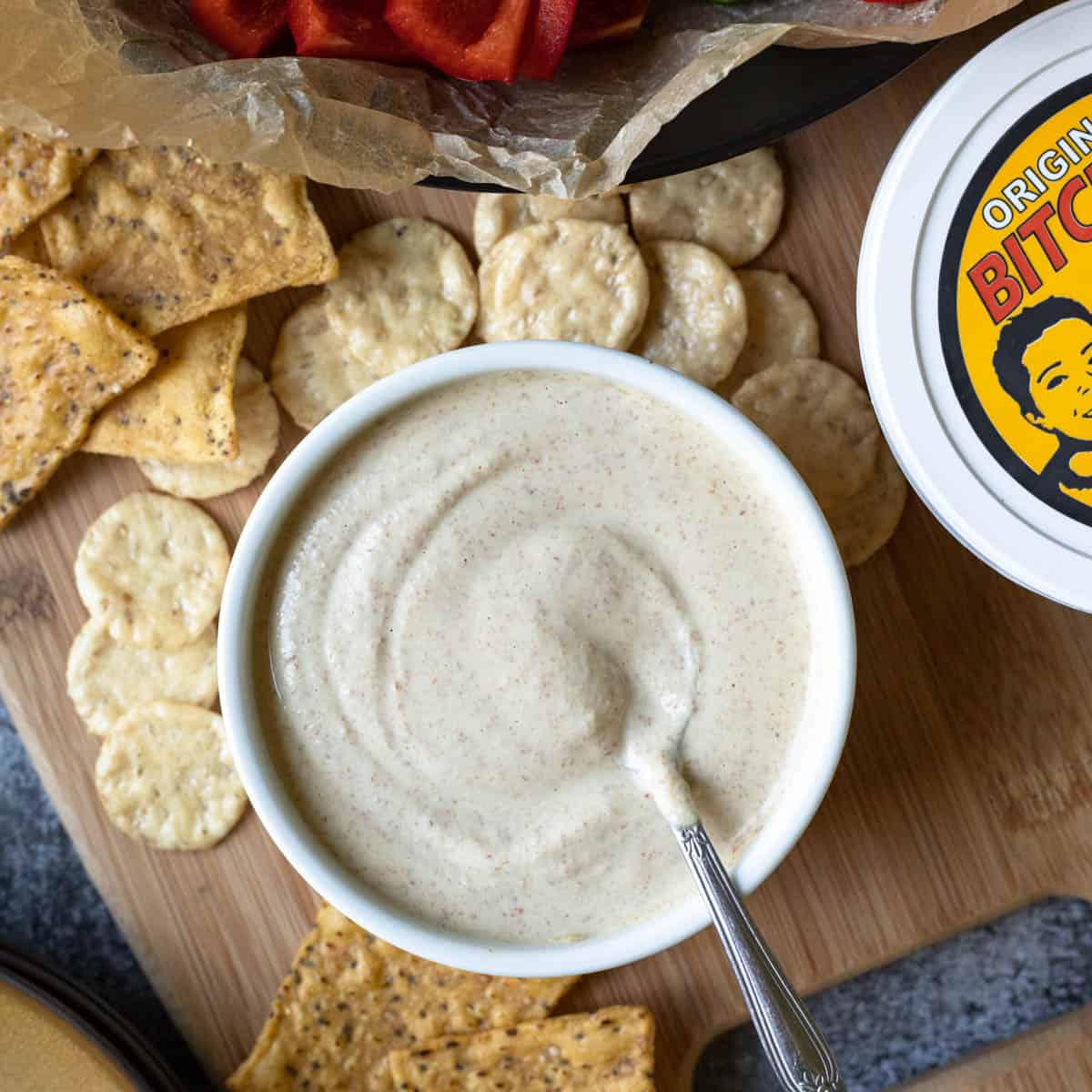 If you've ever tried the original Bitchin' Sauce, you completely understand why it's so popular. Garlicky, tangy, salty, and creamy, it's the ultimate dressing/dip/sauce! This recipe helps you replicate that amazing flavor at home but minus the oil.
BONUS: Oil-Free Aquafaba Mayo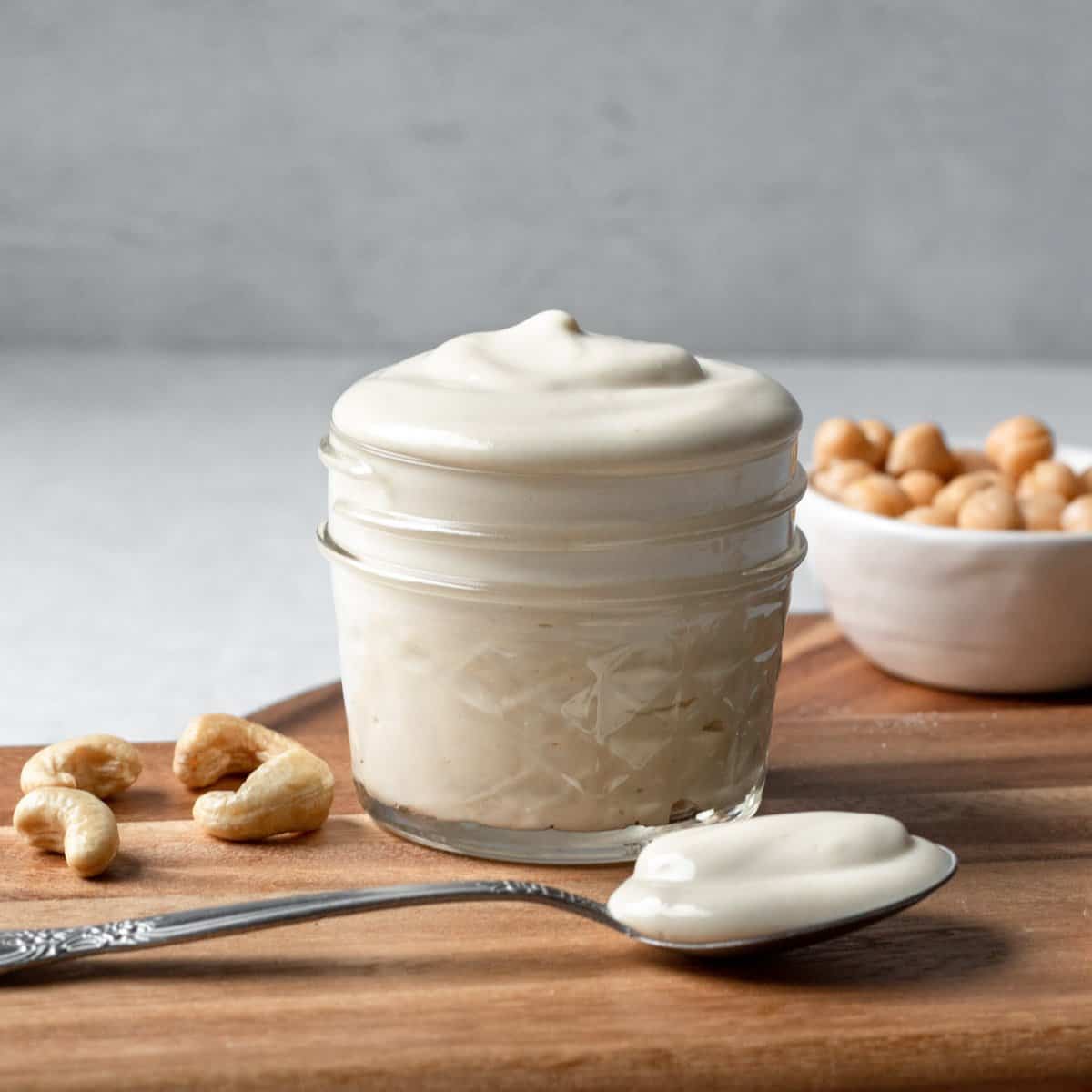 Mayonnaise is the ultimate versatile sauce and dressing. This reduced-fat, oil-free vegan mayo incorporates raw cashews for richness and aquafaba for added lightness without oil. You don't have to worry about emulsification or broken mayonnaise with this recipe, just blend until smooth! Use this vegan mayo as-is or as a base for other dressings and sauces.
If you try any of these healthy, oil-free salad dressings let us know in the comments below.

Your feedback is so helpful to us and also helps other readers find recipes they'll love!