This copycat Trader Joe's Almond Butter-Turmeric dressing is made with ground turmeric, fresh lemon, ginger and garlic, and it tastes fantastic on pretty much everything! A blender makes prep easy, but this turmeric salad dressing can also be whisked together by hand. Just 6 ingredients and 5 minutes to prepare.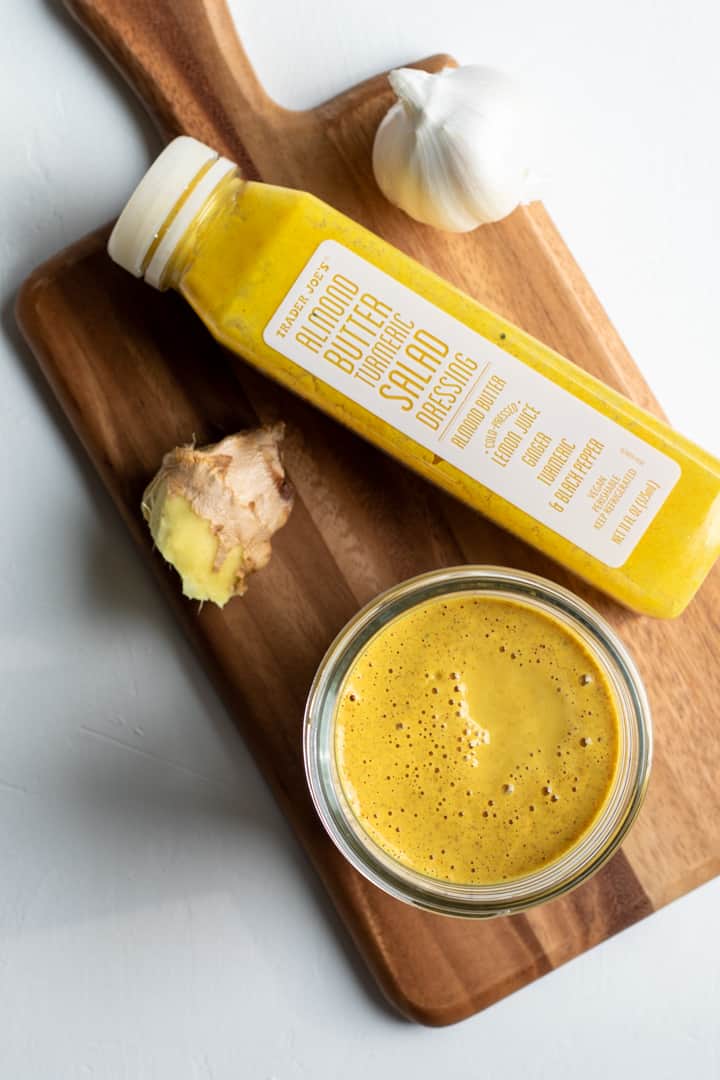 Even though I shop at Trader Joe's weekly, I only recently learned about the phenomenon that is their almond-turmeric dressing.
I would like to blame this on the fact that Trader Joe's is always so busy I never feel like I can take the time to peruse the aisles. But really, I know it's mostly my issue. I get anxious and have a tendency to rush when I'm in busy stores because I don't like feeling like I'm other people's way.
And if you've ever been inside a Trader Joe's, you know you're almost ALWAYS in someone's way.
As our town becomes more and more popular, our one Trader Joe's location gets busier and busier! I make it a point to shop at off times (shout out to the Sunday morning crew), but even still, a get-in-and-get-out mentality is pretty much required for that store.
This led to a bad habit of buying the same things over and over. But thanks to the Vegan Trader Joe's Facebook group, I'm clued in now!
Why You'll Love It
The ingredient list for this particular Trader Joe's salad dressing is simple, so I knew creating a homemade version would be easy. But why create a homemade version? Well, there are a few good reasons...
Most people don't live near a Trader Joe's, and I think everyone should have a chance to try this deliciousness!
Trader Joe's is known for constantly rotating their products. Even though this line of refrigerated salad dressings is very popular, you never know when it might disappear.
If your household uses a lot of this dressing (and believe me, it's easy to do), that also means going through a lot of plastic bottles. Enough said.
This homemade turmeric dressing tastes pretty much identical to the Trader Joe's version!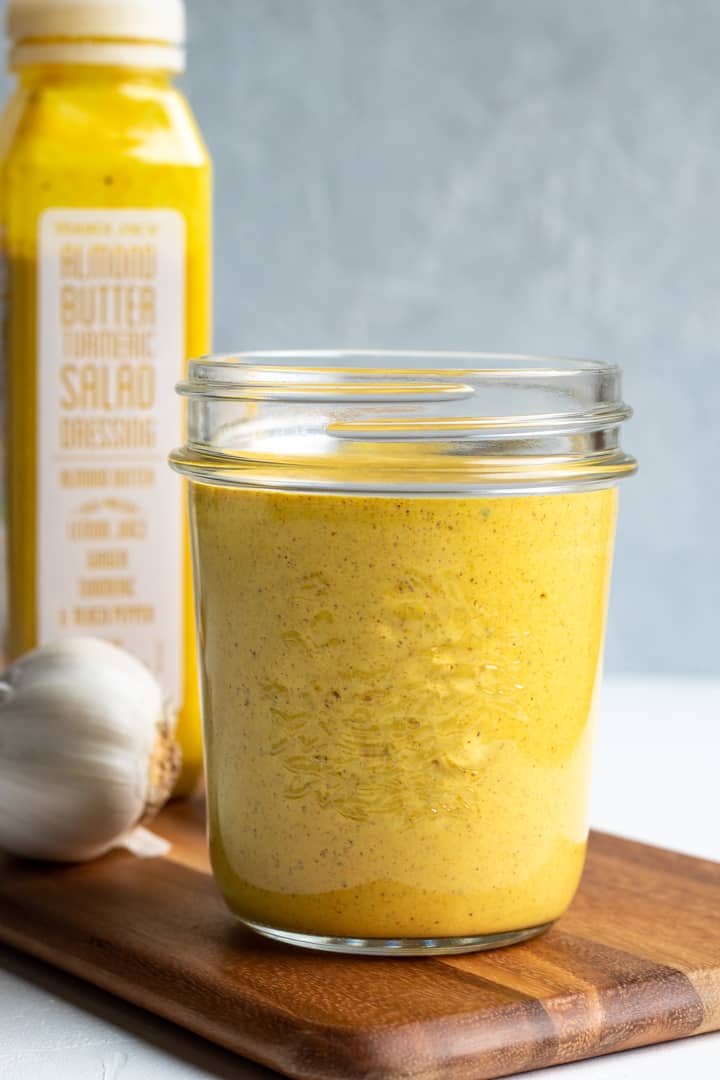 Tips
Use fresh ingredients. This isn't the time to use that dried up old knob of ginger that's been hanging out on the countertop for weeks. Trust me, I did that once.
Use a microplane to grate the fresh ginger root before adding it to the blender. And if you're not using a blender to make the dressing, you can grate the clove of garlic with the microplane, too.
Measure accurately. With strong flavors like lemon, ginger, and turmeric, eyeballing it is risky. So go ahead and use your measuring spoons and cups for this one!
Once you've blended everything together, give it a taste. The salt, water, lemon, and turmeric can all be adjusted pretty easily at the end.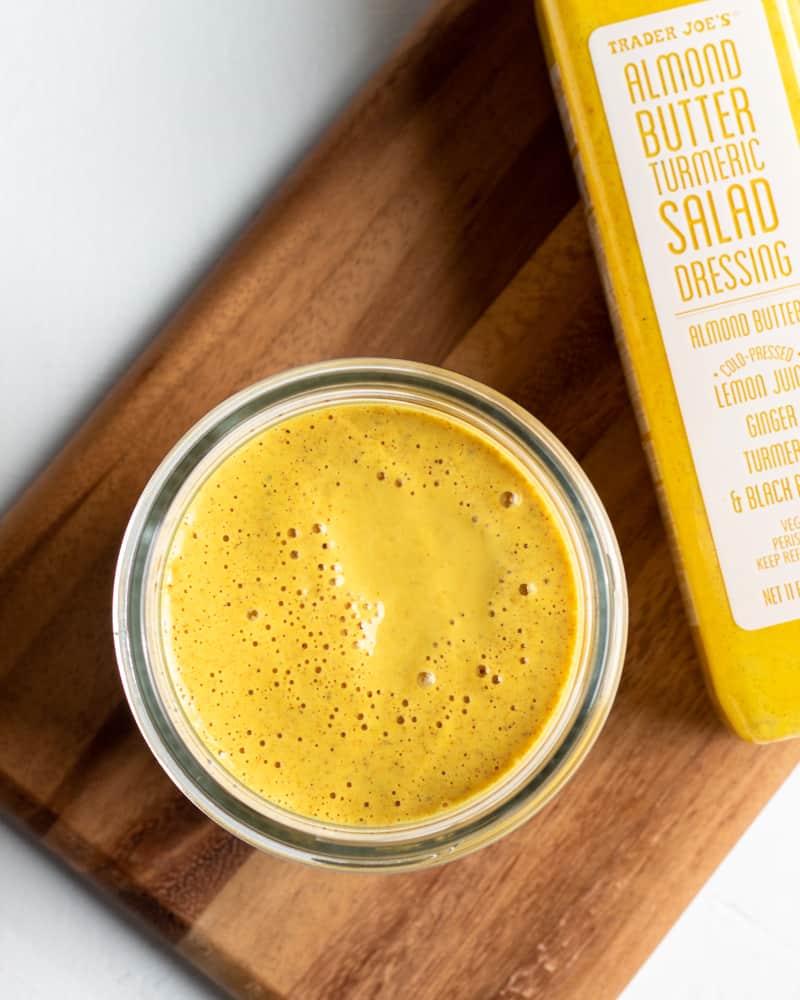 RELATED: Don't miss these other two dressings also inspired by Trader Joe's - Avocado Green Goddess and Creamy Dill Dressing.
If you're a fan of ginger and enjoy Asian-inspired sauces, I think you'll love this easy turmeric dressing! Even if you're not crazy about turmeric, you really have to give this dressing a try. The turmeric is masked surprisingly well by the bold and zesty flavors of lemon and ginger, while still lending its gorgeous color and health benefits.
If you try this Trader Joe's copycat recipe I would love to hear from you! Be sure to leave a comment below along with a star rating.
And if you find a delicious new pairing for this sauce, let us know that, too! (Last night we enjoyed it on roasted Brussels sprouts.) It's also perfect with this Boy Choy Salad.
More healthy sauces and dressings:
📖 Recipe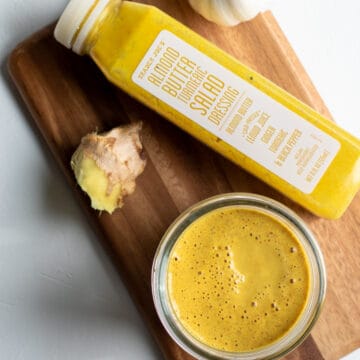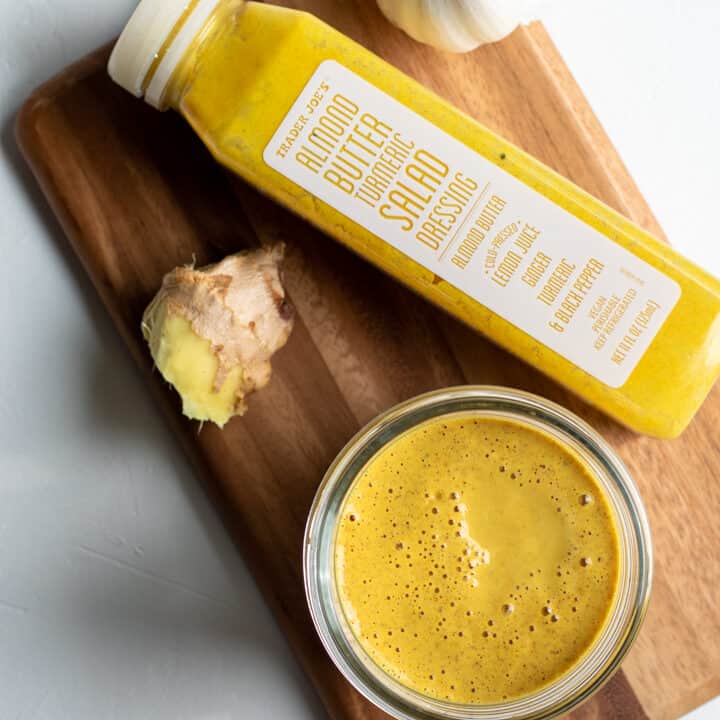 Ginger-Turmeric Dressing (Trader Joe's Copycat)
With fresh lemon, ginger and garlic, this healthy turmeric salad dressing is like liquid gold! Based on Trader Joe's Almond-Turmeric dressing (now discontinued), this copycat TJ's recipe is vegan and free from oil, gluten and refined sugar.
Yield: makes about 1.25 cups or ten (2 Tbsp) servings
Ingredients
¼

cup

raw almond butter, unsalted

½

cup

water

zest from half a lemon

3

tablespoons

fresh lemon juice

1

tablespoon

fresh ginger puree

-

*See Notes for tips on peeling and zesting

1

clove

garlic (for milder garlic flavor, sub ⅛ tsp garlic powder)

2

teaspoons

maple syrup

1

teaspoon

ground turmeric

½

teaspoon

fine sea salt

black pepper (about 8 to 10 turns of a pepper grinder)
Instructions
Instructions if using a blender (recommended):
Combine all ingredients in a blender, and blend until smooth. Taste and adjust salt and lemon as desired. Can be used immediately or refrigerated for later use.
To mix the dressing by hand:
Use a microplane to zest the lemon, ginger and garlic. Whisk all ingredients together in a bowl.
Notes
A microplane zester is handy for so many things, but especially in this recipe. You'll use it to zest the lemon and to create your own fresh ginger puree. If not using a blender to make the dressing, you can also use the microplane to break the garlic clove down into pureed form.
Tip: the easiest way to peel ginger root is with a regular spoon. Just scrape it across the surface to remove the peel. Then your ginger root is ready to be grated/zested.
Storage: store leftover dressing in an airtight container in the refrigerator for up to 4 days.
Estimated Nutrition (per serving)
Calories:
45
kcal
Carbohydrates:
3
g
Protein:
1
g
Fat:
3
g
Cholesterol:
0
mg
Sodium:
115
mg
Fiber:
1
g
Sugar:
1
g
Vitamin A:
2.5
IU
Vitamin C:
2
mg
Calcium:
24
mg
Nutrition information is an estimate and will vary depending on the exact amounts and specific products and ingredients used. We calculate this information using the online calculator cronometer.com.
Tried the recipe?
I love hearing from you! Share your feedback below.