Can't find Bitchin' Sauce where you live? No problem! Make your own version of the popular vegan almond sauce with just 8 simple ingredients. It's wonderfully rich, creamy, garlicky, and cheesy and tastes amazing on pretty much everything!
Vegan, gluten-free, and WFPB, with a nut-free option.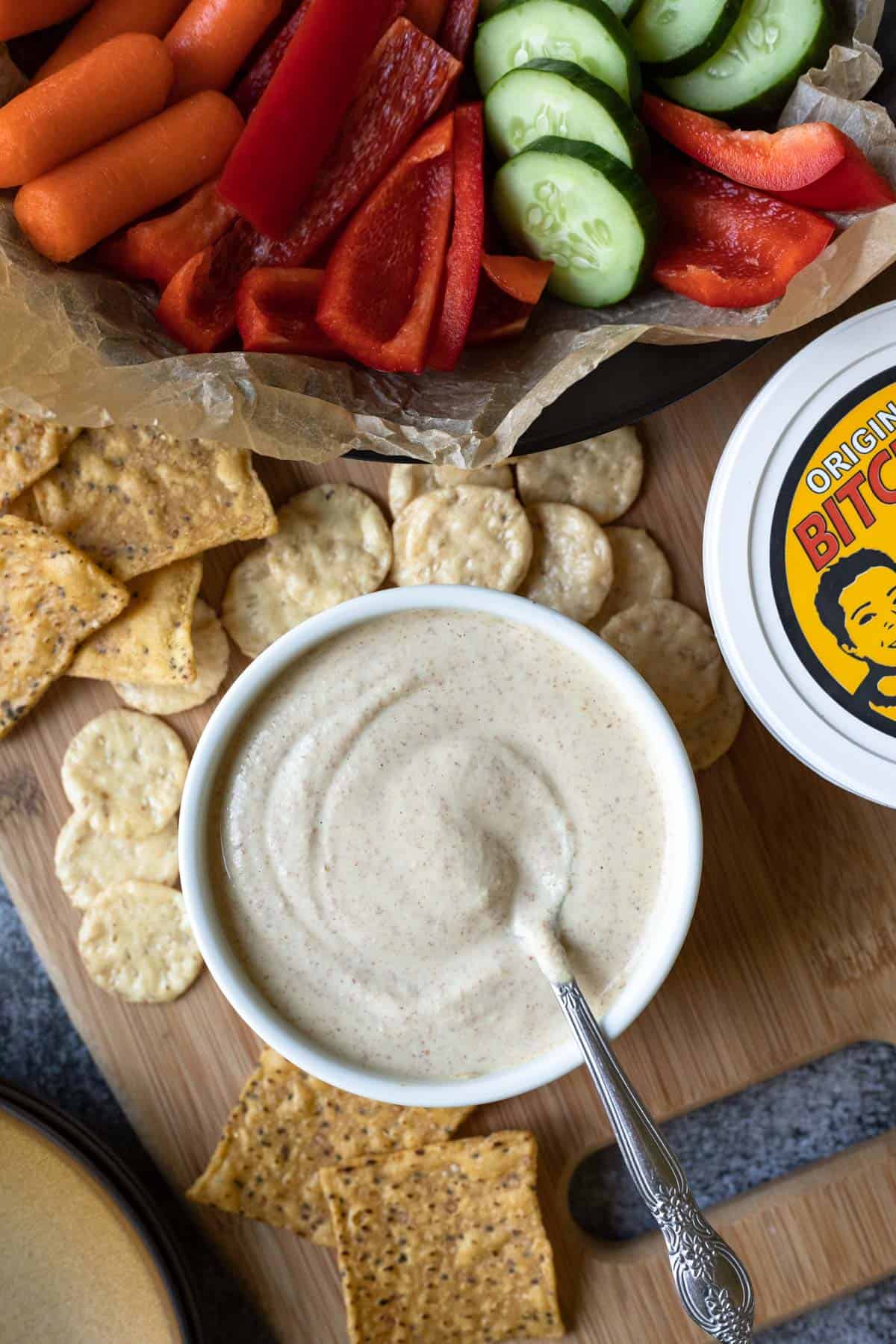 What is Bitchin' Sauce?
Bitchin' Sauce is an almond-based dip, sauce, and spread that was created in California by a woman named Starr Edwards. Starr and her husband began selling their delicious dairy-free dip at local farmers markets, and the rest is history.
The company has grown over the years and now distributes nationally. They make a variety of savory flavors of Bitchin' Sauce (more on this below), like chipotle and cilantro-chili, and even a few sweet flavors that are great for pairing with fruit and baked goods.
Check out the Bitchin' Sauce website to learn more. You can find recipe ideas and order online.
Bitchin' Sauce was actually the inspiration for the almond-parsley sauce I shared last week in this Air Fryer Cauliflower Steak recipe. It's similar to this basic recipe but with fresh parsley.
We enjoyed the parsley sauce so much I decided to go ahead and create a copycat version of Bitchin's original sauce!
Jump to:
Why Everyone Loves It
Bitchin' Sauce is dairy-free, vegan, and gluten-free, and yet it has such a full, rich, and savory flavor that pairs well with so many foods.
Thanks to lemon and nutritional yeast, Bitchin' Sauce might remind you of the homemade vegan cheeses and sauces you've tried.
Flavor-wise, I think part of what makes Bitchin' Sauce so irresistible are some of the same things that make ranch dressing so well-loved. It's savory, creamy, garlicky, salty, and has the perfect amount of acidic lemon zing!
Why no oil?
Though I do use oil occasionally in my recipes, I really enjoy the challenge of omitting oil from dishes when it can be done without compromising the flavor or texture.
I have many regular readers who avoid extracted oils in their diets for health reasons, and it's nice to be able to offer recipes that are inclusive.
With vegan sauces and salad dressings I find it really is easy to avoid oil altogether! And it doesn't mean sacrificing flavor at all.
Original Bitchin' Sauce contains grapeseed oil, which gives it an ultra creamy and fatty mouthfeel.
Of course, you can certainly add grapeseed oil to this recipe if you like.
Surprisingly, the flavors and richness in this oil-free sauce are still ridiculously similar to the original! You may notice a slight difference in the fatty mouthfeel aspect, but we didn't miss the oil in our side-by-side taste tests.
As a bonus, it's nice knowing the calories in the sauce are coming from more nutrient-dense ingredients.
Ingredients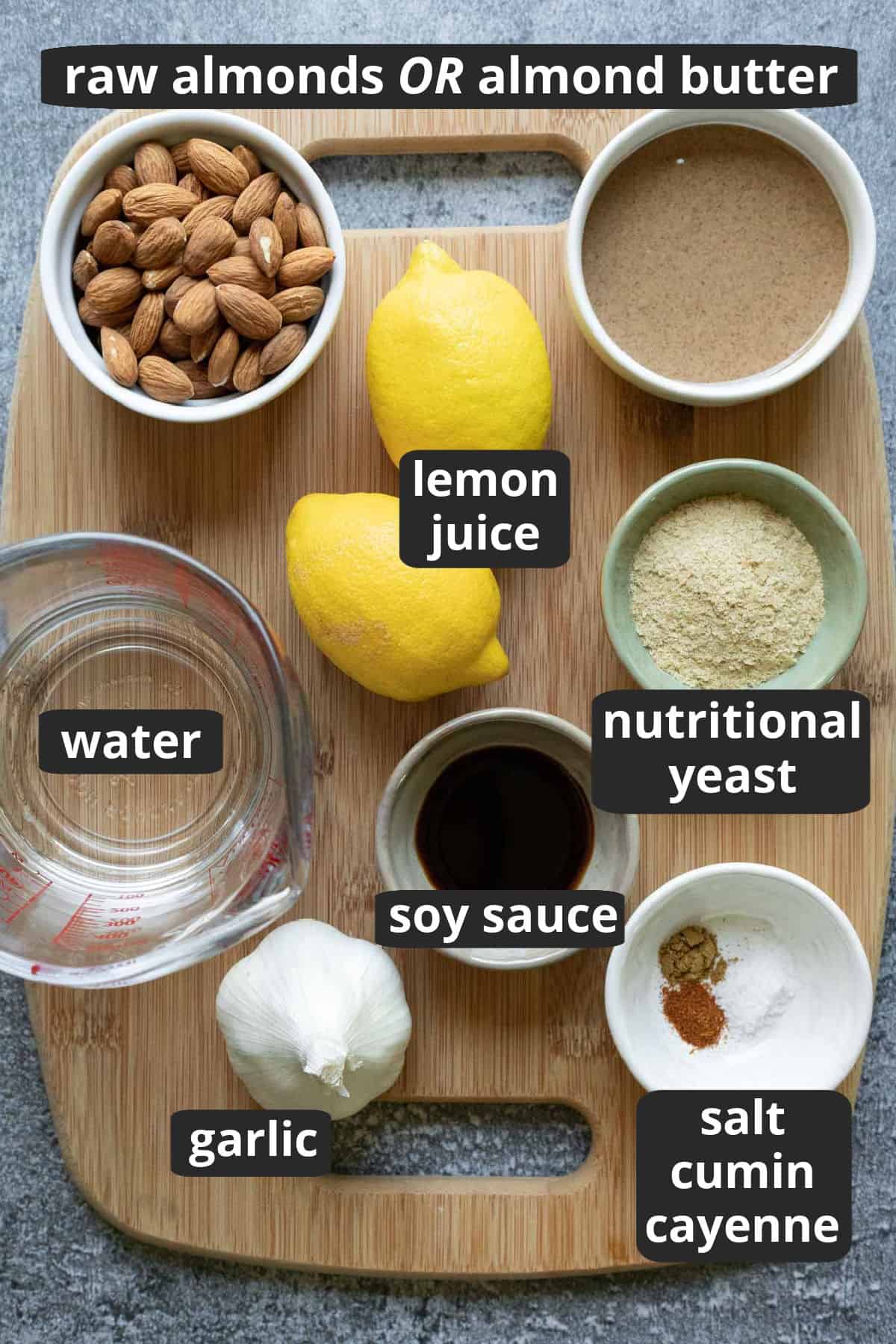 raw almonds - look for almonds labeled as "raw" (although, technically in the U.S. they aren't raw and have been heat-treated for safety). They will be plain nuts, not roasted or salted. Or if you don't have a high-speed blender, raw almond butter can be used instead!
lemon juice - lemon plays a crucial role in the overall flavor of Bitchin' Sauce. I found that when I had less tart and flavorful lemons, I was able to boost the zippiness of the sauce by adding just a touch of rice vinegar at the end (optional).
garlic - if your cloves of garlic are very small you may want to use two.
Bragg's liquid aminos, tamari or soy sauce - use whichever you have and that suits your dietary needs.
nutritional yeast - I like this non-fortified nutritional yeast from Sari. Any brand you enjoy is fine.
salt - I used a fine sea salt. Keep in mind that size of the salt matters! If using table salt you would need much less, for example.
Tip! Original Bitchin' Sauce is very salty, and I tried to replicate it. If you prefer less sodium, start with less then taste and adjust.
spices - the exact spices used in Bitchin' Sauce are "a family secret." So I just used my best judgment and chose cumin, onion powder, and a touch of cayenne.
See the recipe card below for quantities and full instructions.
Instructions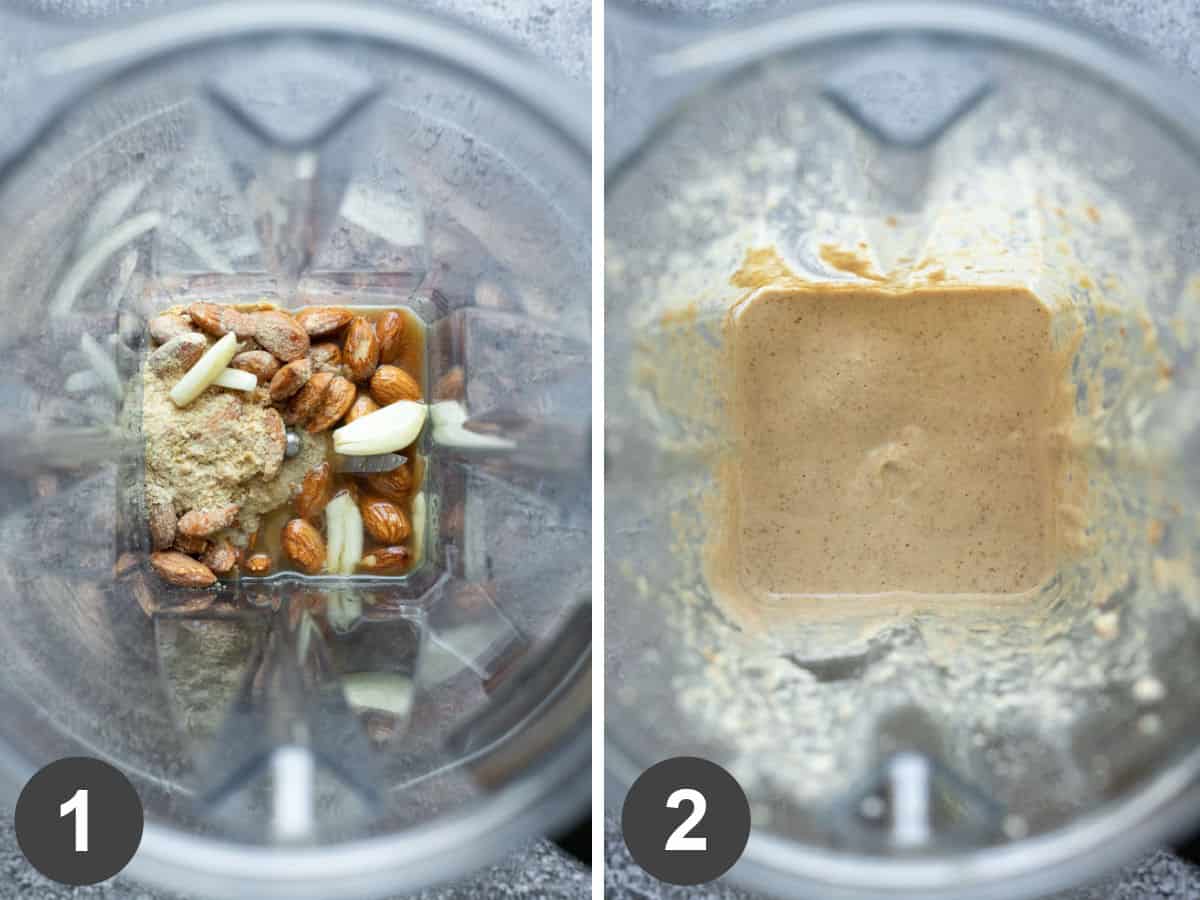 Add everything except the vinegar to a high-speed blender. Blend on high speed until the almonds are fully broken down, stopping to scrape down the sides as needed.
Taste the sauce and add the vinegar if you'd like more acidity. Blend again. Refrigerate to allow the flavors to mingle. The sauce will thicken as it cools.
Equipment tip: if you use almond butter instead of whole almonds, a standard blender gets the job done just fine.
Ways to Use Bitchin' Sauce
Serve Bitchin' Sauce as a dip for everything from vegetable trays to french fries and chips.
Adjust the consistency to be as pourable as you like and drizzle it on:
And use it as a spread for sandwiches and burgers!
Substitutions
almonds - replace the almonds with raw sunflower seeds for a nut-free Bitchin' Sauce!
Bragg's liquid aminos - I haven't purchased liquid aminos in a while but always have soy sauce, tamari, and/or shoyu on hand.
Feel free to use whichever one of these suits your dietary needs. They do have slight differences in flavor and saltiness, but for this recipe consider them interchangeable.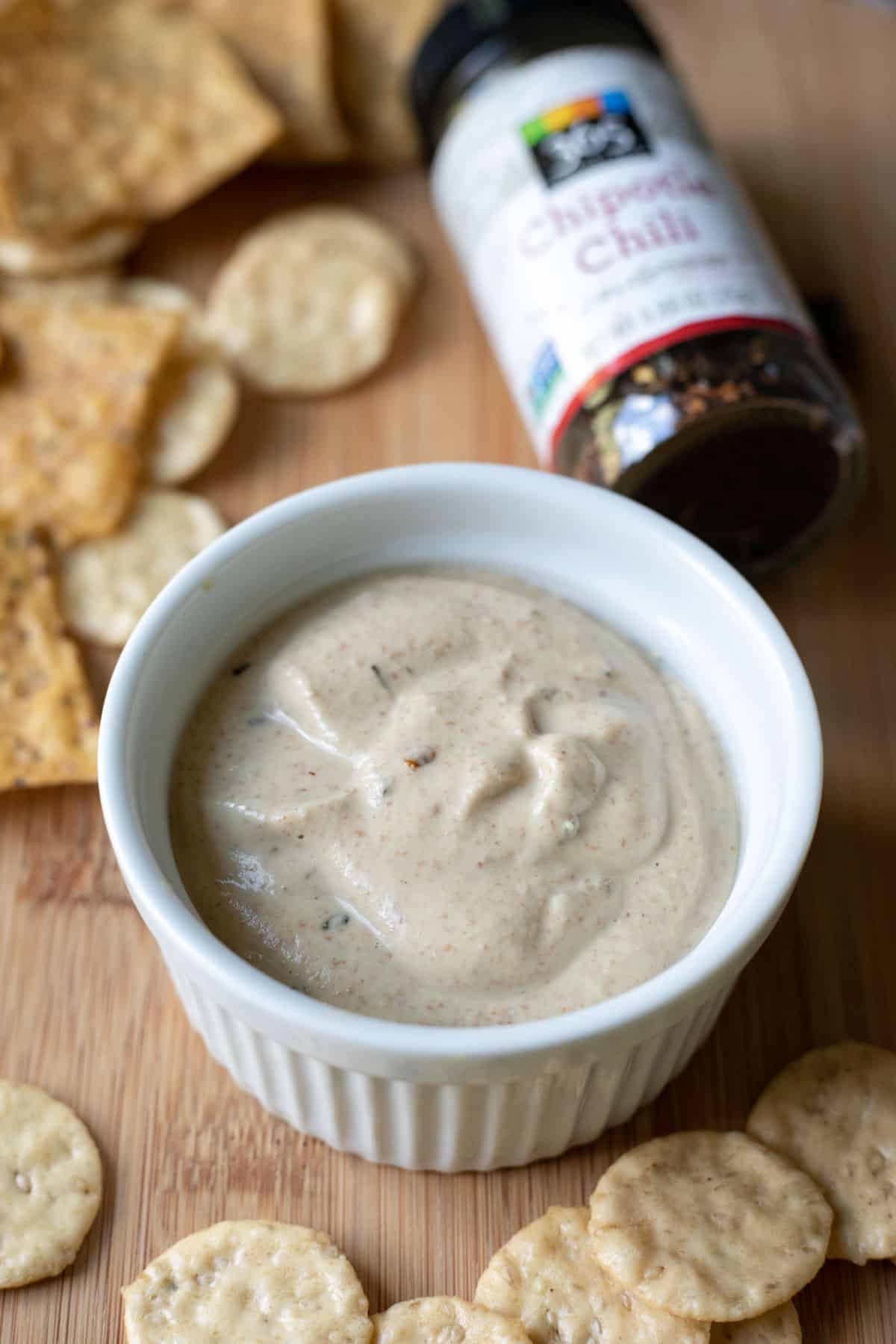 Other Bitchin' Sauce Flavors
In addition to the original flavor, which is hard to beat, the company also makes seven other varieties of Bitchin' Sauce. PLUS, they have a few sweet options and an organic line with four more savory flavors.
In case you feel like experimenting, here are the other flavors in the company's main line:
Chipotle - check out my homemade version in the photo above. I used about 1 teaspoon dried chipotle flakes instead of canned chipotle in adobo since flakes are more convenient.
Cilantro Chili - so far this is the only other flavor I've had a chance to try It's great, but we still prefer the original.
Bombay - I can't wait to experiment with this one! It's made with curry powder instead of the original spices.
Pesto - we have so much basil on hand this summer I really should add some to my next batch of sauce!
Heat - this one includes habanero, ghost pepper, and jalapeno!
Caramelized Onion - I'm curious to try this one but a little worried the sweetness will detract from the awesomeness of the original savory flavors.
Eggplant & Olive - as a huge olive fan, I definitely want to try this one.
Equipment Needed
A high-speed blender like a Vitamix is necessary if you're using whole almonds. It may take a minute or so, but it will create a smooth and creamy sauce.
If you have a standard blender, you can either soak the almonds overnight or follow the instructions in the recipe Notes for using almond butter.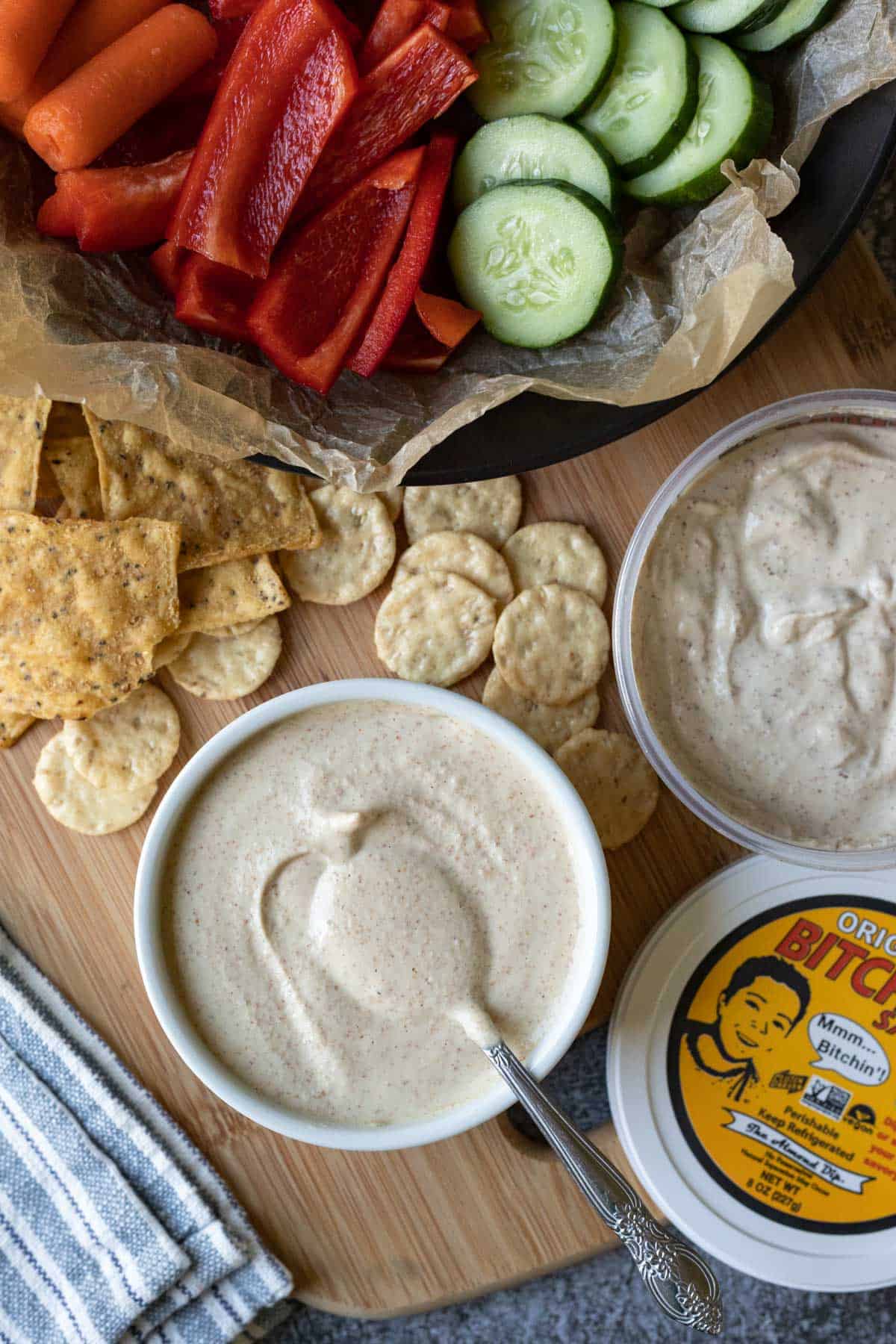 Recipe FAQs
Do I need a high-speed blender to make Bitchin' Sauce?
Not necessarily! You can use raw almond butter instead of whole almonds if you're using a standard blender.
How long does it keep?
Like any perishable homemade sauce or dressing, this DIY Bitchin' Sauce is best consumed within 3 to 4 days. Keep it covered and refrigerated.
Is Bitchin' Sauce gluten-free?
Yes, the original Bitchin' Sauce is gluten-free. This recipe is also gluten-free as long as you use Bragg's liquid aminos or GF tamari instead of soy sauce.
If you try my take on the amazingness that is Bitchin' Sauce, I would love to hear from you! Comment below to let us know your favorite ways to use it!
Recommended Recipes
📖 Recipe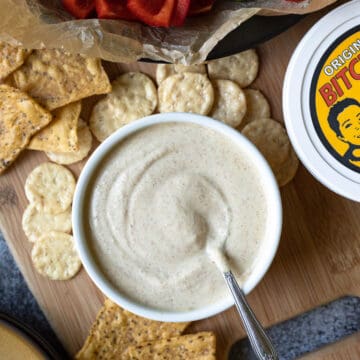 Bitchin' Sauce (Without Oil)
Make your own oil-free version of the popular product Bitchin' Sauce at home. It's wonderfully rich, creamy, garlicky, and cheesy and tastes amazing on pretty much everything!
Yield: makes a little more than 1 cup
Ingredients
⅔

cup

raw almonds

- see Notes for almond butter option

½

cup

water

3

tablespoons

fresh lemon juice

1

tablespoon

Bragg's liquid aminos or tamari

-

or soy sauce if you don't need gluten-free

2 ½

tablespoons

nutritional yeast

1

medium clove

garlic, peeled

-

mince or puree first if using a standard blender

½

teaspoon

fine sea salt

¼

teaspoon

ground cumin

¼

teaspoon

onion powder

⅛

teaspoon

cayenne pepper

½

teaspoon

rice vinegar, optional (for extra zip!) -

or apple cider vinegar
Instructions
Equipment note: if using almond butter, a standard blender is fine. If using whole raw almonds, a high-speed blender like a Vitamix is needed to fully break down the nuts.

Combine all ingredients except vinegar in a blender. Blend on high speed until the almonds are fully broken down, stopping to scrape down the sides as needed.

Taste the sauce and add the vinegar if you'd like more acidity. Blend again.

The sauce will thicken as it cools. If it's already thicker than you want, add another tablespoon of water and blend again. Refrigerate for an hour or two to allow the flavors to mingle. If you need to thin the sauce later, simply blend or whisk in a bit of water.
Notes
Almond butter option - use a heaping ⅓ cup raw creamy almond butter and reduce the water to ⅓ cup. Also reduce the salt to ¼ teaspoon, then add more after blending if desired.
Almond butter creates a thinner sauce, which is why you need to reduce the amount of water. This also means the flavors are more bold. Don't be afraid to tweak the amounts of any ingredient after blending and tasting.
Nut-free - raw sunflower seeds are an excellent replacement for the almonds. Use the same amount, ⅔ cup.
Store leftover sauce in the refrigerator for up to 4 days. If the water separates just give it a good stir. Can also be frozen for up to 1 month.
Estimated Nutrition (per serving)
Serving:
3
Tbsp
Calories:
114
kcal
Carbohydrates:
5
g
Protein:
5
g
Fat:
9
g
Sodium:
325
mg
Fiber:
3
g
Nutrition information is an estimate and will vary depending on the exact amounts and specific products and ingredients used. We calculate this information using the online calculator cronometer.com.
Tried the recipe?
I love hearing from you! Share your feedback below.