Creamy and rich Vegan Caramelized Shallot Dip will be the star of your next party! Made with sweet and tender caramelized shallots, garlic, chives, vegan sour cream (recipe included), and topped with toasted everything bagel seasoning for even more onion and garlic flavor.
No one will ever guess this dip is dairy-free and made with whole-food ingredients!
For an onion-lover like myself, shallots are such a fun and delicious twist, though I fully admit I don't buy them often. They're usually more expensive and are a bit awkward to cut, so I find it easier to use onions for most daily dishes.
But for special occasions like parties, and holidays, why not break out the milder, fancier allium? Something about the word "shallot" just makes a dish feel special, right? And since shallots tend to be sweeter than onions, they're really over the top delicious when caramelized.
How to Make Vegan Shallot Dip
First, a few notes about substitutions because there's a lot of room for them in this versatile recipe.
Sour cream: the recipe below includes a homemade cashew sour cream, but if you want to substitute store-bought vegan sour cream and/or a blend of vegan sour cream and plain, unsweetened vegan yogurt, that would be equally as delicious! I wanted to give you the option for a completely homemade version since not everyone has access to vegan sour cream or unsweetened vegan yogurt at their local stores.
On top of the cashew sour cream option, I've also included a simple tofu-based sour cream recipe for those of you who want to keep this dip on the lighter side.
Sometimes I like to make homemade vegan sour cream with half cashew and half silken tofu, which gives you the best of both worlds - enough fat to make it irresistibly delicious and enough tofu to keep it from being TOO heavy. No matter which sour cream base you choose, this caramelized shallot dip is amazing.
Onion: if you don't have shallots feel free to substitute 1 medium/large onion for a caramelized onion dip!
Everything Bagel Seasoning: this garnish is for appearance as much as it is for flavor, so feel free to omit it if you're just looking for a simple and tasty dip. The seasoning does make it more attractive and fun though, doesn't it?

If you don't have access to pre-made Everything Bagel seasoning, like the one from Trader Joe's, you can easily make your own (also included in the recipe Notes). Or just simply sprinkle a pinch of sesame seeds, poppy seeds, and coarse salt on top of the dip.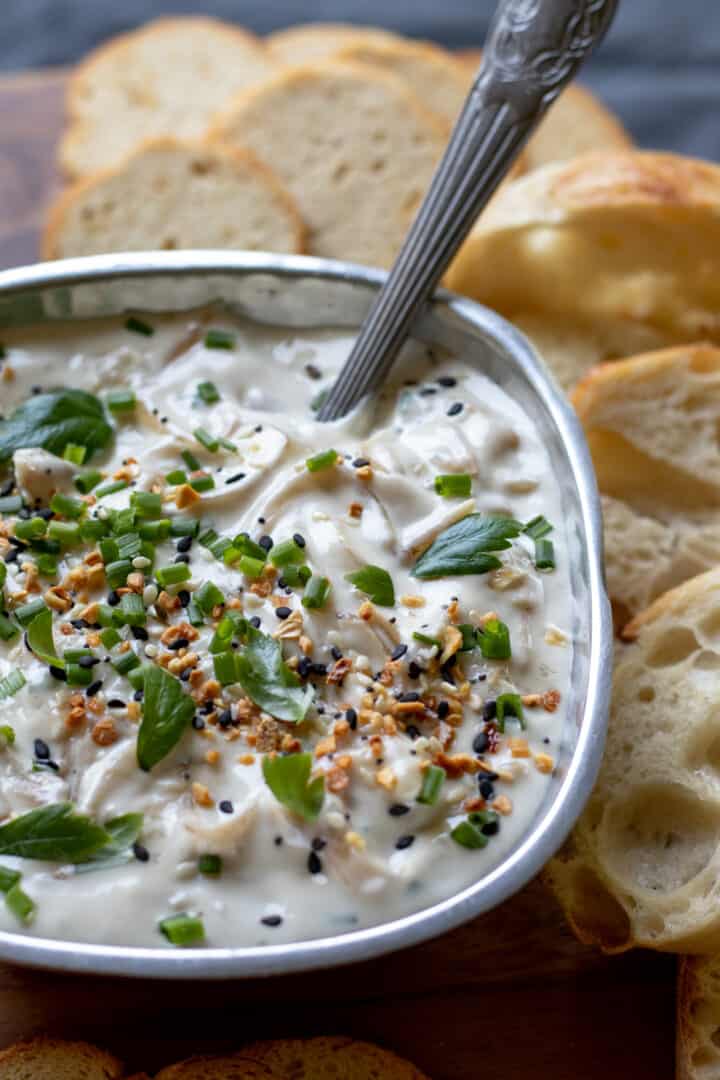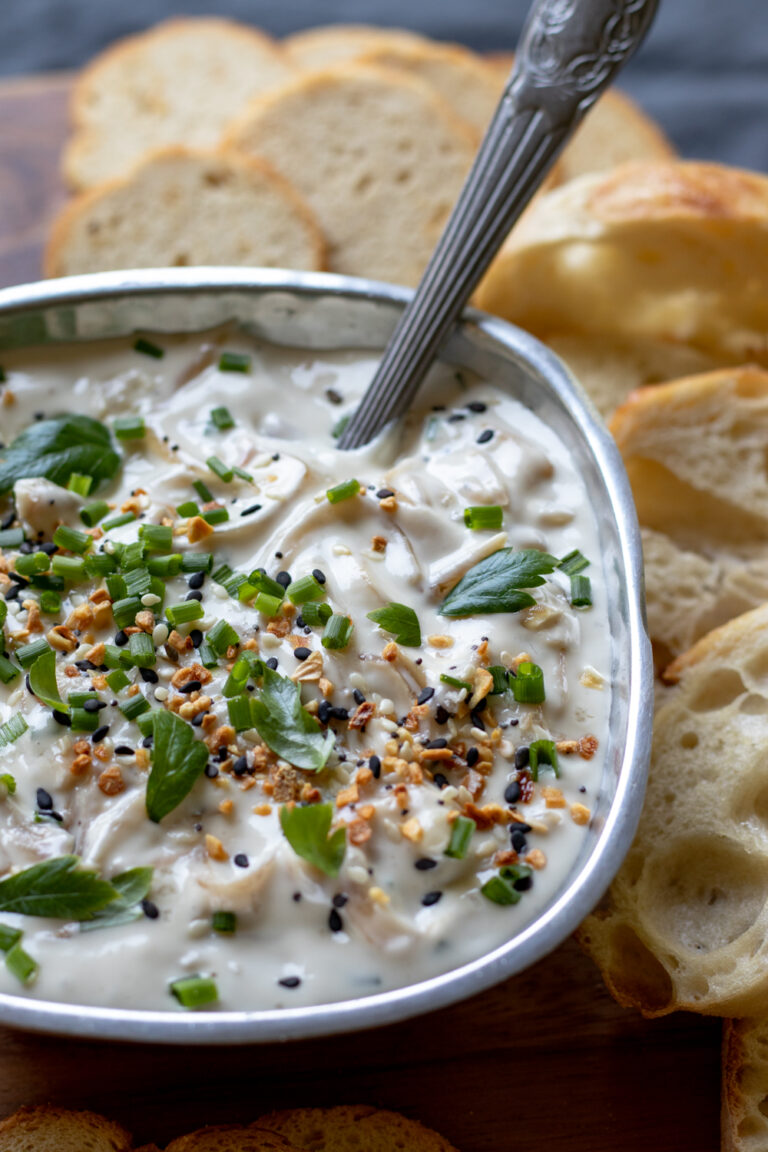 Begin by chopping or thinly slicing the shallots, depending on whether you want smaller pieces in the dip or longer strands of shallot. Then you'll caramelize them in a large sauté pan over low to medium-low heat. This should take about 30 minutes. Reduce the heat if the shallots start to brown too quickly.
For oil-free caramelized shallots:
You'll need about 1 to 1 ½ cups of vegetable broth. Sauté the shallots and ¼ cup of broth over medium-low heat until the broth has evaporated, then let the shallots sit undisturbed for about 15 seconds. Add another splash of broth, stir, and repeat this process until the shallots are tender and golden brown.
For standard caramelized shallots (with oil):
If you include oil in your diet, feel free to use 1 to 2 tablespoons of olive oil and/or vegan butter in the caramelization process. Add the fat, shallots, and a pinch of salt to the preheated pan, stir to coat, and cook the shallots low and slow, stirring only occasionally.
Once the shallots are tender and golden brown, add minced garlic and cook for another minute or two. Then, deglaze the pan with a tablespoon of vinegar. Any pale vinegar is fine, such as white balsamic, white distilled, or apple cider vinegar.
Transfer the shallot mixture to a plate to cool.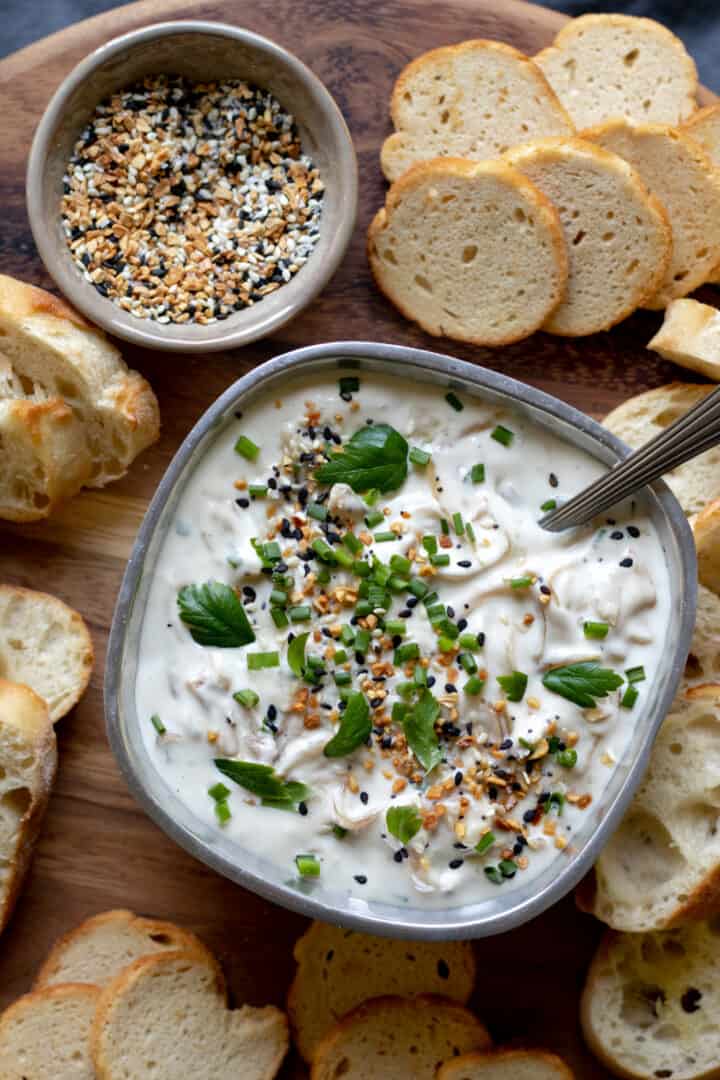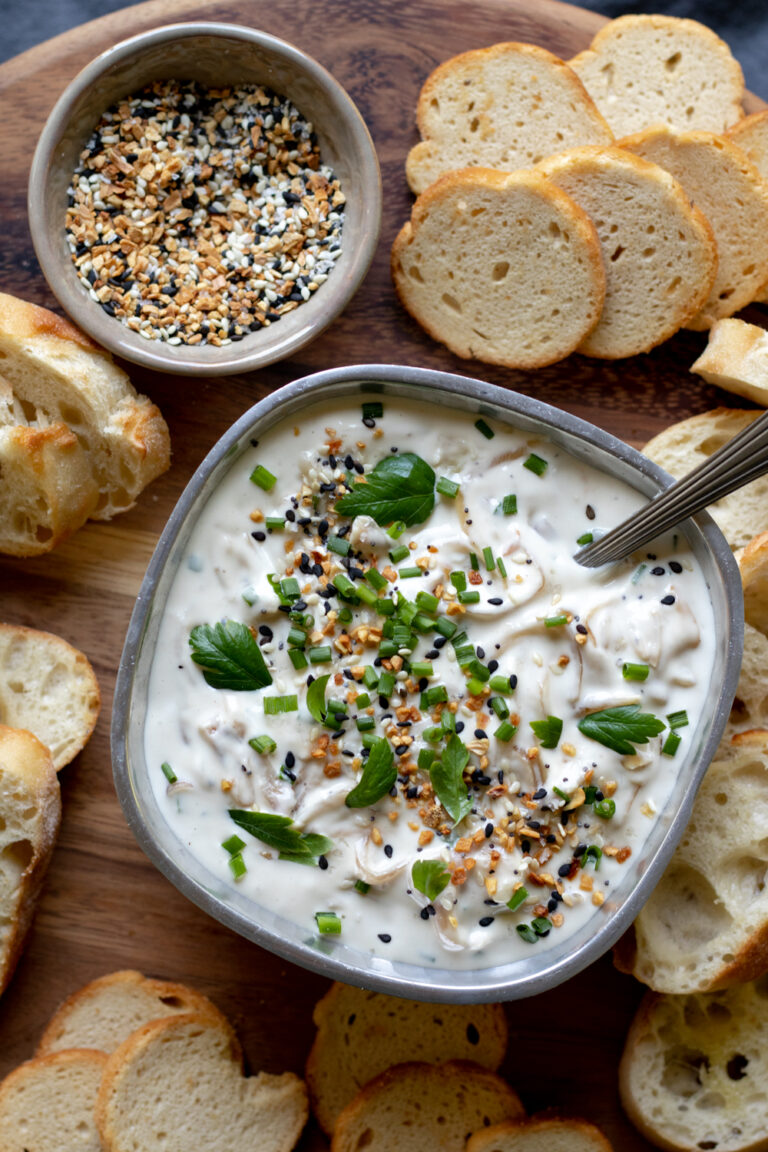 Once the shallots are cool, all that's left to do is stir them into your sour cream of choice, along with the chives. Then sprinkle Everything Bagel seasoning, parsley, and MORE chives on top.
Tips for Making in Advance and Serving
When prepping for parties and holidays, nothing's better than a recipe that can be made in advance! Not only can you make this creamy vegan dip a day or two in advance, it actually tastes BETTER that way.
At least one day in the fridge gives the shallots and chives time to permeate the sour cream with flavor. Wait until just before serving to sprinkle the garnishes on top.
Serve this dairy-free shallot dip with any sort of sturdy toasted bread or crackers that you like, using gluten-free if necessary. We really enjoy crispy, toasted baguette. You want a dipper that's strong enough to dig deep, gathering up plenty of sweet, caramelized shallot goodness.
But realistically, if you're serving this at a party, you'll have a spoon in the dip bowl anyway. So you could even serve it with something like pita bread or chips since folks will be spooning the dip onto their individual plates.
Outside of parties and special occasions.....
The dip thickens as it cools, turning it into an EPIC sandwich spread!
A dollop of this Vegan Caramelized Shallot Dip spooned on top of baked potatoes just might become a new family favorite at dinner time!
I hope you enjoy this versatile, delicious, and easy vegan shallot dip. If you try it I would love to hear from you. Please let me know in the comments below, and you can also click on the stars in the recipe card to give it a rating. Happy dipping!
More party-ready recipes:
Vegan Pimento Cheese
Easy Whole-Wheat Crackers
Roasted Lime and Jalapeno Hummus
Spicy Oil-Free Zhoug Sauce
Oil-Free Vegan Queso
IPA Vegan Cheese Ball
Almond Ricotta
Vegan Pepperoni
Vegan Caramelized Shallot Dip
A rich and creamy dip perfect for parties and holidays. With sweet caramelized shallots, garlic, chive, vegan sour cream, and toasted everything bagel seasoning. For best flavor make it a day or two in advance! Also great as a replacement for sour cream and mayo on potatoes, burgers, and sandwiches.
Makes about 2 ½ cups.
Adapted from Bon Appetit's Caramelized Shallot Dip.
Ingredients
For the dip:
4

large

shallots, chopped or thinly sliced

1 ½

cups

vegetable broth (for oil-free caramelization)

*if using oil, sub 1 to 2 Tbsp olive oil or vegan butter

3

cloves

garlic, minced

1

Tbsp

white balsamic or apple cider vinegar

3

Tbsp

chopped fresh chives, reserve 1 Tbsp for garnish

2

cups

cashew sour cream (recipe below) OR store-bought vegan sour cream OR see Notes for a Tofu Sour Cream recipe

*If going with store-bought, a combination of plain, unsweetened vegan yogurt and sour cream is also delicious.
Garnish:
1

Tbsp

chopped fresh parsley, optional

1

Tbsp

Everything Bagel seasoning, lightly toasted

*See notes for making your own
Homemade cashew sour cream:
1 ⅓

cups

raw cashews

*If using a high speed blender, no need to soak. Otherwise, soak cashews in hot water for 1 hour. Then drain before blending.

¾

cup

water

2

Tbsp

lemon juice

1

Tbsp

white distilled vinegar

⅛

tsp

garlic powder

½

tsp

sea salt or to taste
Instructions
Make the sour cream (skip this step if using store-bought):
See Notes for a lighter Tofu Sour Cream recipe.

In a high speed blender combine the cashews, water, lemon juice, vinegar, garlic powder and salt. Blend on high until smooth. Refrigerate until ready to use.
Caramelize the shallots and make the dip:
For oil-free preparation: Preheat a saute pan over medium-low heat. Add the shallots and ¼ cup broth and stir to coat. When the broth has evaporated, let the shallots cook undisturbed for about 15 seconds, then add 3 or 4 tablespoons of broth, stir, and repeat the process until the shallots are tender and golden brown and most of the broth has been used. Reduce heat if necessary so the shallots don't brown quickly. The entire caramelization process should take close to 30 minutes. Cooking with oil: Preheat a saute pan over medium-low heat and add the oil, shallots, and a pinch of salt. Stir only occasionally, reducing heat if necessary. Caramelization should take about 30 minutes.

Once the shallots are tender and golden brown, add the minced garlic and cook for 1 to 2 minutes. Add the tablespoon of vinegar, and stir to deglaze the pan. Transfer the mixture to a plate to cool.

Stir the cooled shallot/garlic mixture and 2 Tbsp of chopped chives into 2 cups of sour cream. Garnish with toasted Everything Bagel seasoning, chives, and parsley, if using.
Notes
The dip can be made a day or two in advance and tastes best that way! Garnish just before serving.
Store in the refrigerator for up to 4 days.
Tofu Sour Cream Recipe
1 pound silken tofu
2 Tbsp lemon juice
1 Tbsp white distilled or apple cider vinegar
¾ tsp fine sea salt
⅛ tsp garlic powder
Combine all ingredients in a blender or food processor and blend until smooth. Refrigerate up to 4 days.
Homemade Everything Bagel Seasoning
1 tsp white sesame seeds
1 tsp poppy seeds
1 tsp dried chopped onion
1 tsp dried minced garlic
pinch of coarse sea salt
Estimated Nutrition (per serving)
Calories:
94
kcal
Carbohydrates:
9
g
Protein:
3
g
Fat:
6
g
Saturated Fat:
1
g
Cholesterol:
0
mg
Sodium:
150
mg
Fiber:
2
g
Sugar:
3
g
Vitamin A:
50
IU
Vitamin C:
6.6
mg
Calcium:
20
mg
Iron:
1.3
mg
Nutrition information is an estimate and will vary depending on the exact amounts and specific products and ingredients used. We calculate this information using the online calculator cronometer.com. For the most accurate nutrition information we recommend calculating it yourself to reflect the specific ingredients used in your dish.
Did you try the recipe?
Comment below to let us know!