Vegan Potato Skins are the perfect party appetizer or game day snack! The potatoes are seasoned and baked until crisp, filled with melted cheese and tofu bacon, then served with green onion and sour cream. You can also switch up the toppings for endless combinations!
Vegan potato skins are gluten-free and nut-free with an oil-free option.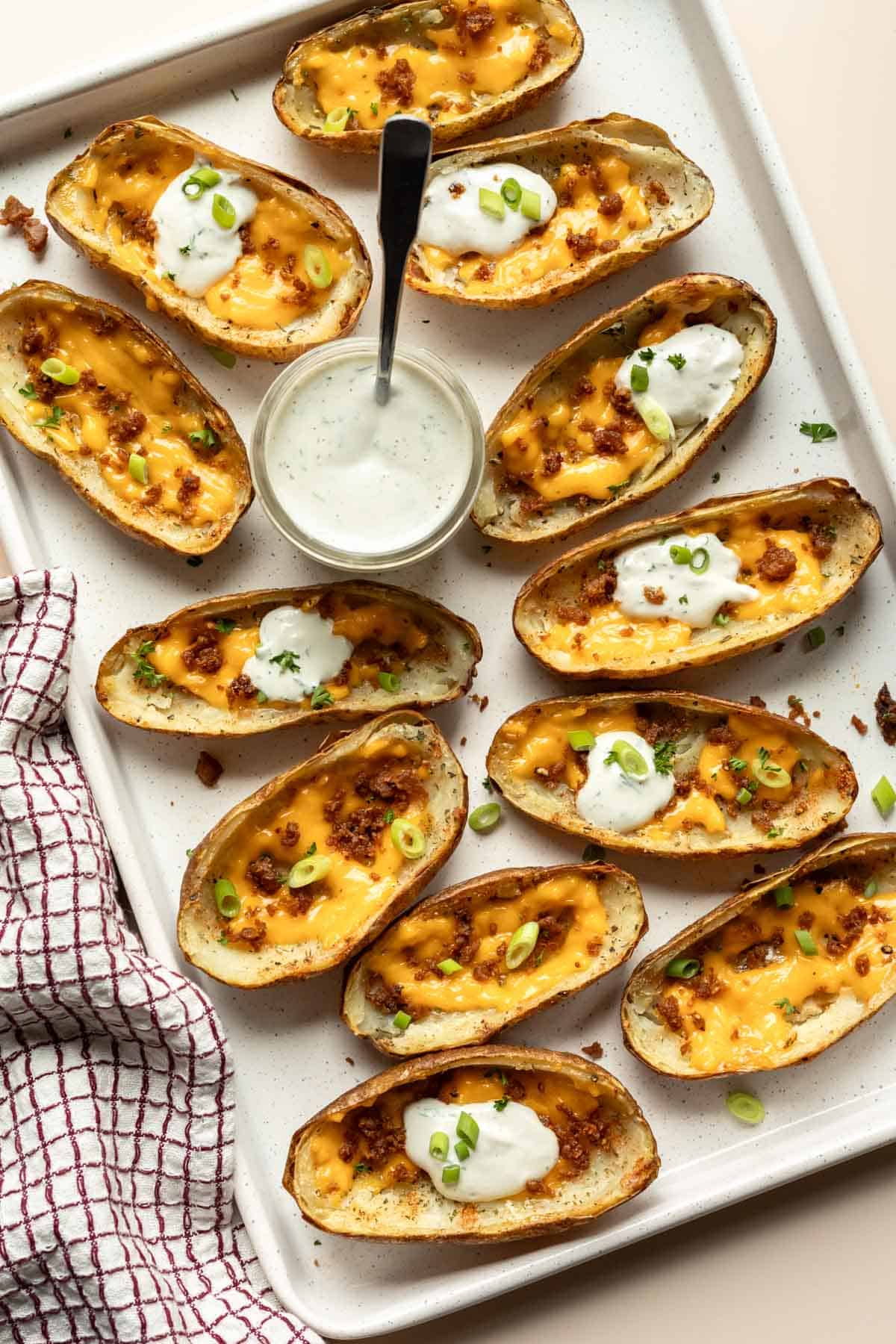 Why You'll Love Them
These vegan potato skins are a bite of pure nostalgia! The classic version of this appetizer was one of my favorite restaurant dishes when I was a kid. There was this kooky theme restaurant in my home town called Darryl's. Imagine Hard Rock Cafe or T.G.I. Fridays but much more creative and weird!
I never missed a chance to order their potato skins. I'm pretty sure that was my first introduction to the deliciousness of crispy potato skins. The great thing about this dish is it's actually super easy to make vegan!
Not only that, vegan potato skins are versatile. With the crispy skins, flavorful seasonings, and customizable toppings, these potato skins are sure to be a hit at your next get together!
Ingredients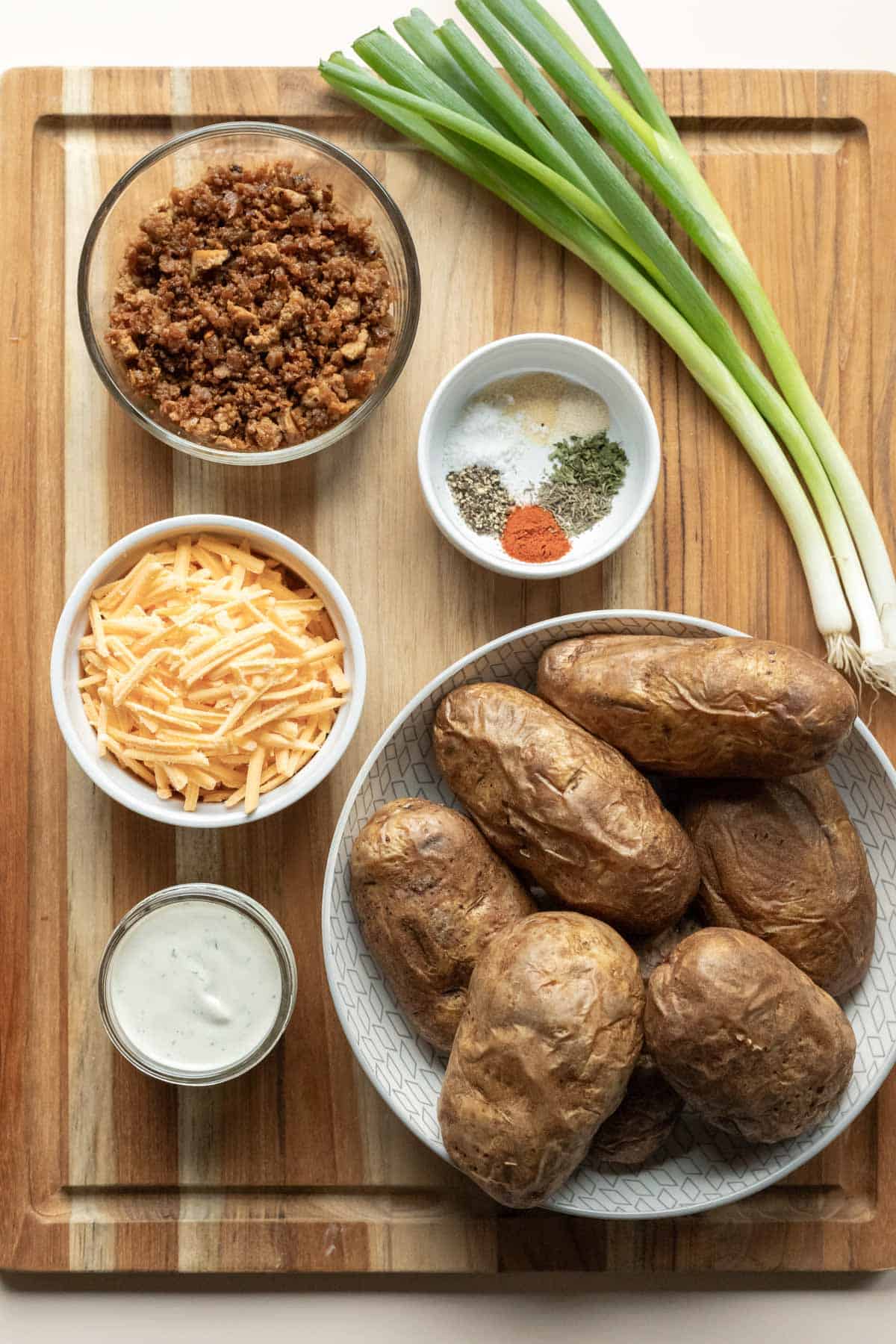 Potatoes: Look for medium-sized russet potatoes. Technically, the shape doesn't matter, but I like longer, oval potatoes here, as opposed to round ones, since they're easier to pick up and eat.
Cheese: Any brand of vegan shredded cheddar or mozzarella you like is fine. Or use my meltable vegan mozzarella, which includes an oil-free option.
Vegan bacon bits: The recipe includes instructions for the tofu bacon you see in the photos, but you can use any type of crumbles you enjoy, like tempeh bacon, seitan, or these soy curl vegan bacon bits! For the tofu bacon you'll need:

extra or super-firm tofu
soy sauce (or similar)
maple syrup
liquid smoke and/or smoked paprika
apple cider vinegar

garlic powder and black pepper

Oil: If you follow an oil-free diet, feel free to omit. Otherwise, we'll rub a bit of high-heat oil on the potatoes to help the skin get crispy.
Spices: we're creating our own "steak seasoning" with a handful of dried herbs and spices.
Fresh chives or green onion
Vegan sour cream, ranch, or creamy dill sauce for dipping!
See recipe card below for quantities and full recipe.
How to Make Vegan Potato Skins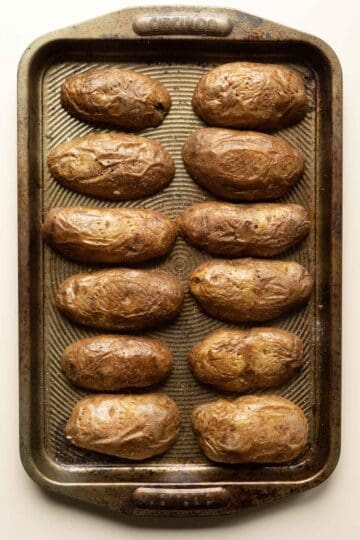 First, bake whole potatoes in a 420°F oven until easily pierced with a knife. Once they're cool enough to handle, slice in half and scoop out most of the potato flesh, leaving a ¼-inch thick shell. Season on both sides and bake cut-side down for 7 minutes.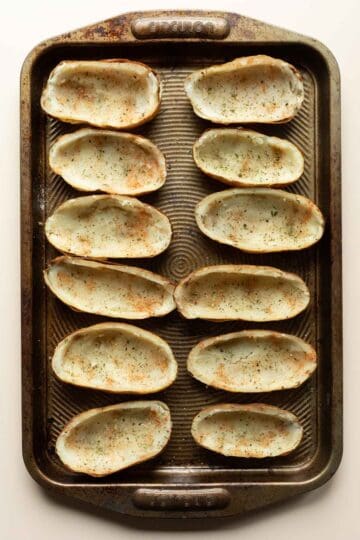 Flip the potatoes and bake for another 7 to 8 minutes. By this point the skins should look crisp and may even be pulling away from the sides in some areas.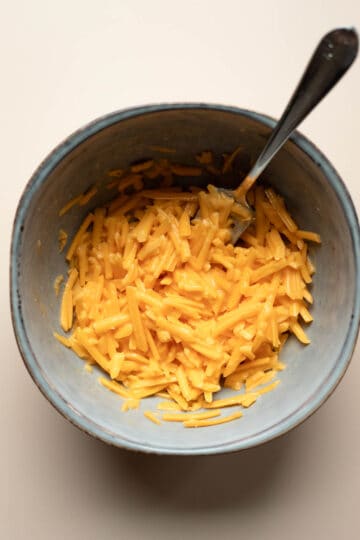 While the potatoes are in the oven, melt the shredded cheese. Or if opting for homemade, prepare this cheese.
Tip! Commercial vegan cheese melts best in a steamy environment. So for this recipe, place in a bowl and add a splash of water. Microwave in 20 second intervals, stirring in between, until gooey and melted.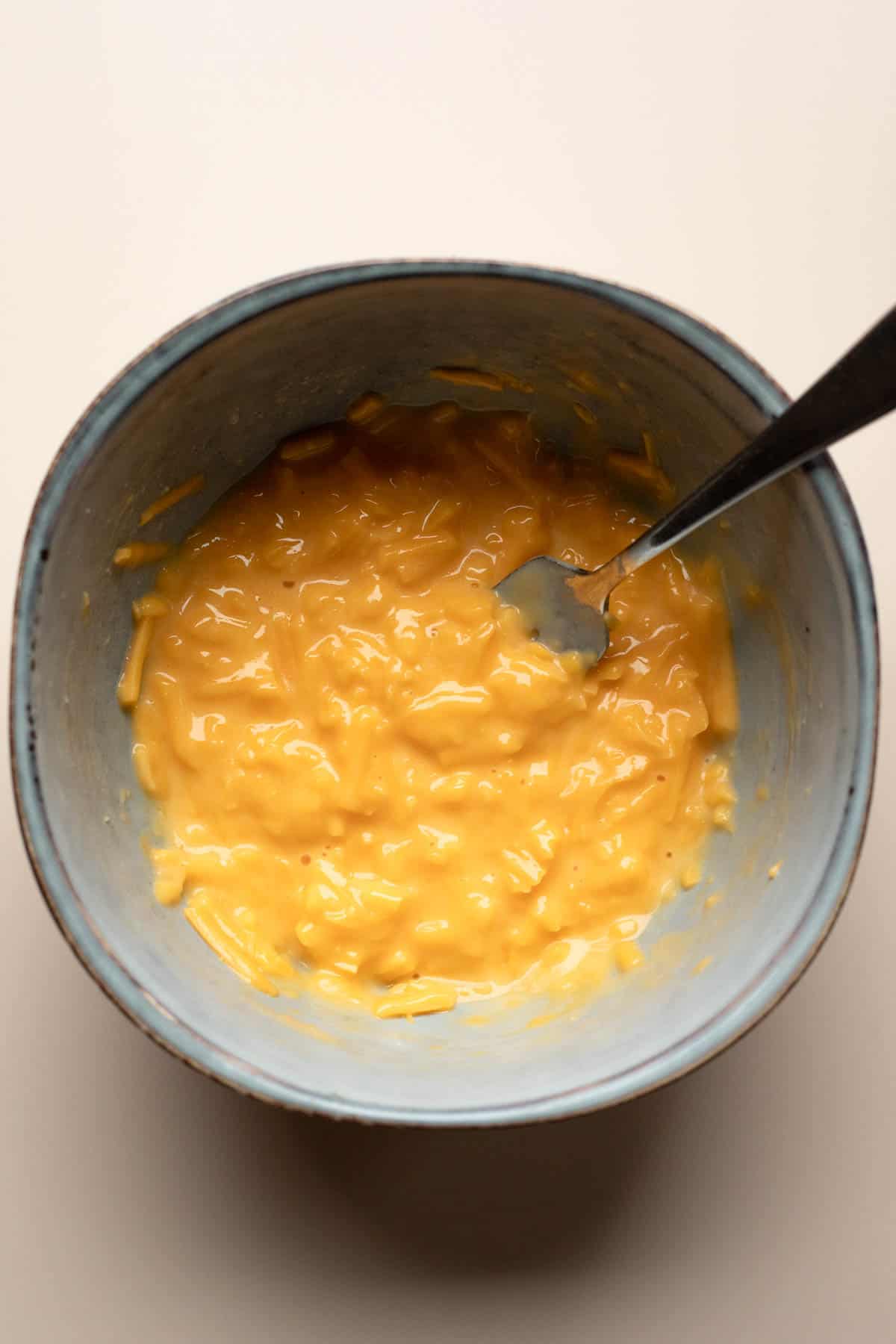 Look how melty it is after just 45 seconds in the microwave! If we put the shredded cheese onto the potato skins "dry," it won't melt this well.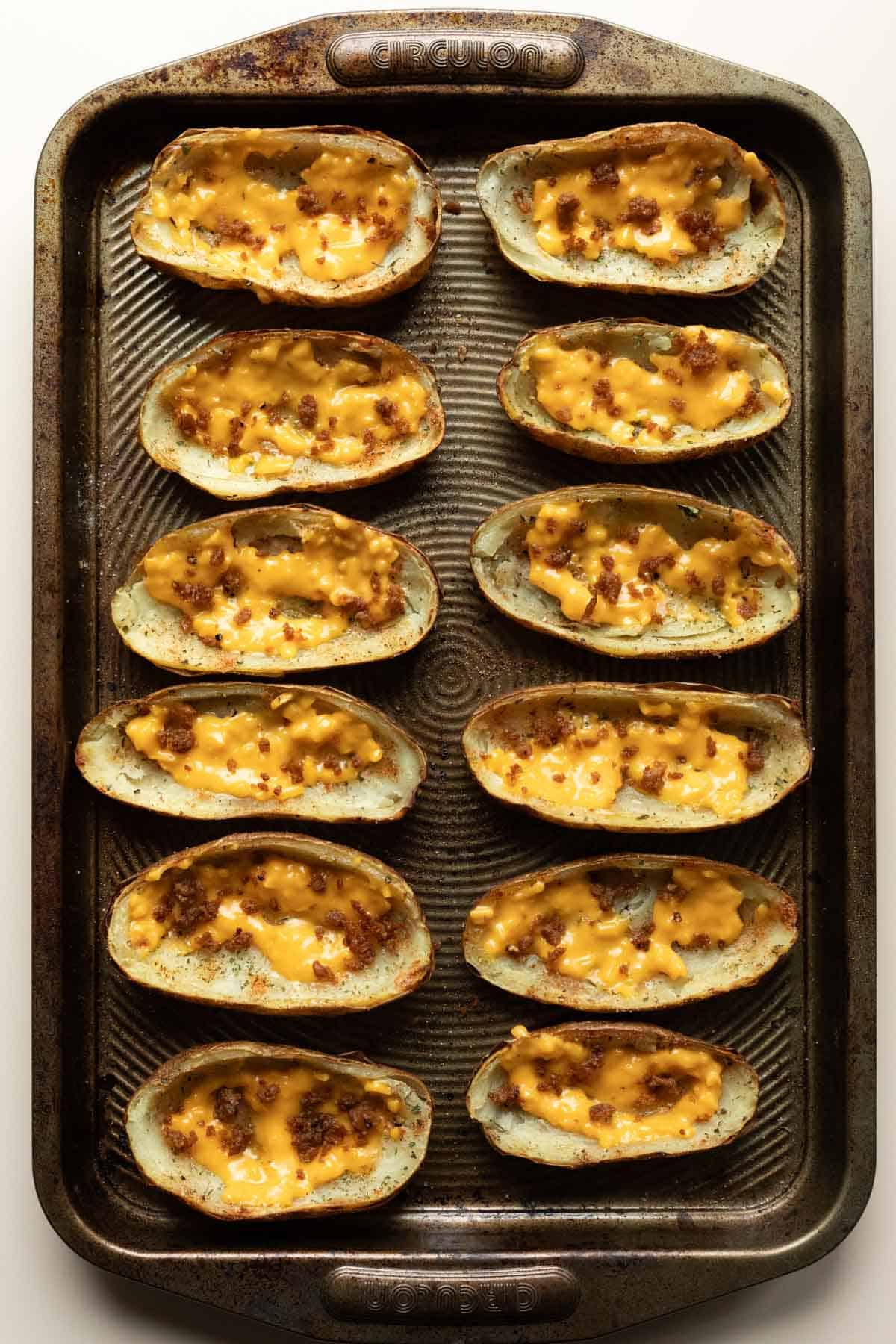 Finally, divide the cheese among the potato skins and sprinkle with vegan bacon. Bake for just 4 to 5 minutes more. Serve immediately with chopped chives or green onion and sour cream, vegan ranch, or my new favorite creamy dill dressing!
Tip! Potato skins are best served hot out of the oven while nice and crisp. As they cool the skins lose their crispiness.
Variations
The toppings you can add to potato skins are nearly limitless! So you can get as creative as you like. Here are some ideas:
Pesto: A spoonful of vegan pesto gives potato skins a burst of freshness.
Sun-dried tomatoes: Chopped sun-dried tomatoes bring intense, rich, tomato flavor.
Vegan feta or blue cheese: For a tangy and stronger cheese flavor, crumble some vegan feta or blue cheese on top (We love Follow Your Heart's blue cheese).
Chili: Top your potato skins with vegan chili for a satisfying twist!
BBQ: A drizzle of barbecue sauce lends a smoky and slightly sweet twist.
Avocado or guacamole: Avocado adds creaminess and is a great sub for sour cream.
Salsa: Salsa brings a zesty and vibrant kick to potato skins.
Black beans: A handful of black beans adds a protein-packed and hearty element to the appetizer.
You can also use this recipe to make vegan twice baked potatoes! Combine the scooped out potato with your choice of additions and toppings, season to taste, and bake until hot.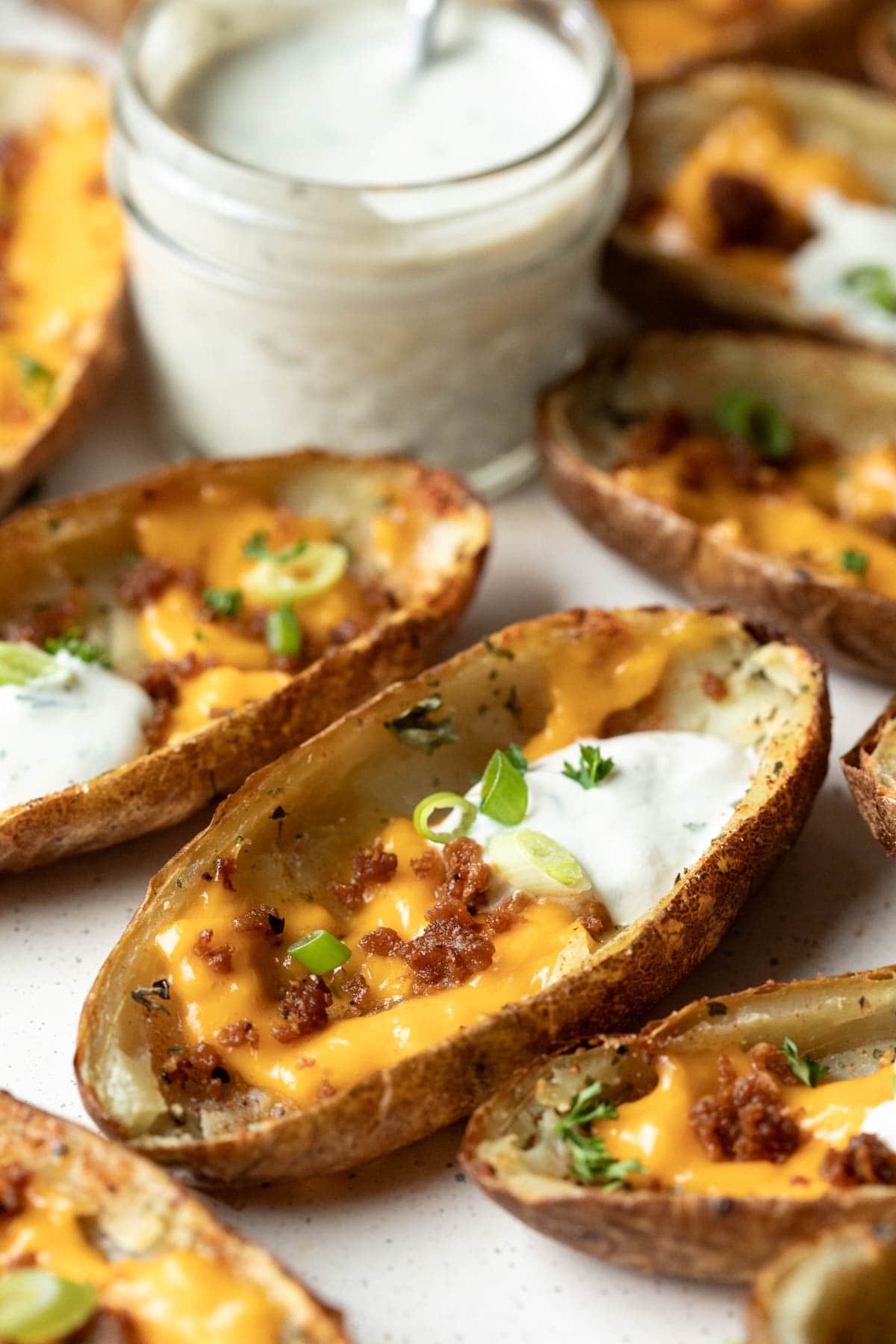 RELATED: Love potatoes? Us too! Check out these recipes:
Storing and Reheating
As mentioned above, potato skins are best hot from the oven, but if you do have leftovers, they'll keep for up to 5 days in the fridge. Air frying is the quickest and easiest way to reheat potato skins and bring back the crispness.
Helpful Tips
For the crispiest potato skin, baking the potatoes is key, as opposed to microwaving or cooking in a pressure cooker. But if you're short on time or your oven is in use, the whole potatoes can be cooked another way. Then the skins can be crisped up in the oven or air fryer.
Save the potato flesh that you scooped out to make vegan mashed potatoes the next day! Simply re-heat and mash with non-dairy yogurt (or some of the leftover ranch or dill dressing). And season with salt and pepper.
To Serve With Potato Skins
I hope you love these cheesy and crispy potato skins! If you try the recipe be sure to leave a star rating and comment below to let us know!
📖 Recipe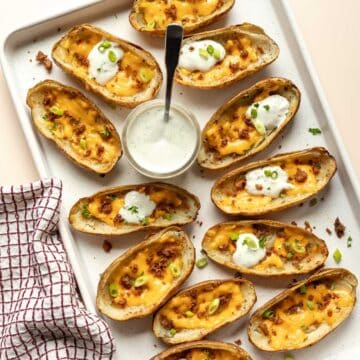 Vegan Potato Skins
Vegan potato skins are a classic, crowd-pleaser and the perfect appetizer for any occasion. Seasoned and baked until crisp, they're filled with smoky tofu bacon and cheese. Serve with green onion and sour cream and watch them disappear! This recipe is easily made gluten-free, nut-free and/or oil-free.
Ingredients
3

pounds

russet potatoes

-

medium-size, about 6 oz. each

1

Tablespoon

oil, optional

1 ¾

teaspoons

homemade "steak" seasoning (recipe below)

-

or your favorite seasoning blend

5

ounces

vegan shredded cheddar

-

1 rounded cup; see Notes for oil-free option

¾

cup

vegan bacon crumbles (recipe below)

-

see Notes for other option

chopped green onion

-

or chives

vegan sour cream

-

see Notes for recipe links
Seasoning blend:
½

teaspoon each

sea salt and black pepper

¼

teaspoon each

garlic powder, onion powder, dried thyme, and smoked paprika
Tofu bacon:
oil for frying

⅓

block

super firm or extra firm tofu

-

about 5 ounces

3

Tablespoons

soy sauce or tamari

3

Tablespoons

maple syrup

1

Tablespoon

nutritional yeast

2

teaspoons

apple cider vinegar

½

teaspoon

garlic powder

½

teaspoon

smoked paprika

¼

teaspoon

liquid smoke

black pepper
Instructions
For the tofu bacon:
Crumble the tofu and pat dry with paper towels. Preheat a saute pan over medium heat, and add just enough oil to coat the bottom. When the oil is hot, add the crumbled tofu and cook undisturbed for a few minutes. Adjust the heat if necessary so the oil doesn't burn.

Stir and continue to cook the tofu crumbles until lightly golden. Whisk together the remaining ingredients and add to the pan, stirring and continuing to break up the tofu into small crumbles. Cook for another minute or two, then remove from heat.
For the potato skins:
Preheat oven to 420°F. Wash and scrub the potatoes. Pat dry and prick each one several times with a fork. Rub with oil and bake for about 45 minutes (depending on size of the potatoes). I like to place the potatoes directly on the oven racks; feel free to use a baking sheet if that's easier. The potatoes are done when soft and easily pierced with a knife.

Let the potatoes cool for 15 minutes. In a small bowl mix together the seasoning blend. Cut potatoes in half length-wise, and use a spoon to carefully scoop out the potato flesh, leaving about ¼-inch shell. (Save the flesh for another recipe, like mashed potatoes.)

Rub the bottoms of the potato skins with half of the spice mixture, and place cut-side down on a baking sheet. Reduce the oven temp to 400°F and bake for 7 to 8 minutes or until they look crispier. Remove from the oven, flip, and sprinkle the tops with the remaining seasoning. Bake for another 5 to 7 minutes.

While the potatoes are in the oven, combine the shredded cheese and 1 Tbsp water in a bowl. Microwave in 20 to 25 second intervals, stirring in between, until melted (or heat it on the stovetop).

Remove potatoes from oven and top each one with cheese and vegan bacon bits.
 Bake for another 4 to 5 minutes or until the skins look sufficiently crispy and the cheese and bacon are hot. Serve immediately with vegan sour cream, ranch, or dill dressing, and green onion.
Notes
Oil-free option: Replace the tofu bacon and store-bought cheese with my meltable vegan mozzarella and these bacon bits (reduce the bake time slightly so they're chewier instead of crisp).
Sour cream alternatives: Both of these are oil-free and nut-free - vegan ranch dressing and creamy dill dressing. To make a thicker dip, simply reduce the liquid just a touch.
Nutrition info will vary depending on the amount and types of toppings used.
Estimated Nutrition (per serving)
Nutrition information is an estimate and will vary depending on the exact amounts and specific products and ingredients used. We calculate this information using the online calculator cronometer.com.
Tried the recipe?
I love hearing from you! Share your feedback below.