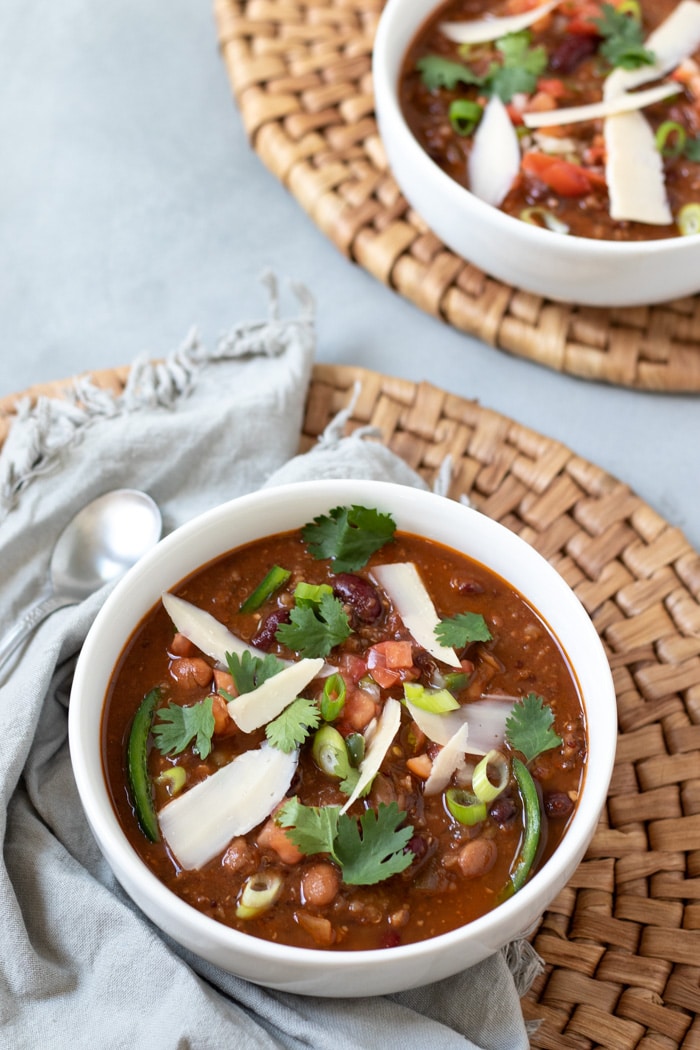 Though chili comes in many styles, this is my go-to. The classic flavors and comforting, hearty, stick-to-your-ribs texture of this vegan chili are hard to beat! If you grew up eating chili that contained both meat and beans, this just might become your new vegan favorite.
Often, vegetarian chili ends up being nothing more than a tomato-y, vegetable stew, but not this one! The recipe I'm sharing today is lightly adapted from an America's Test Kitchen recipe I came across years ago. I have tended to tweak the recipe each time I make it, with a few additions, subtractions, and process changes here and there in an attempt to streamline the process. And for simplicity's sake, I always cook it on the stove top instead of in the oven as the original recipe suggested. This vegan chili is seriously the BEST – meaty, classic, just spicy enough, and rich thanks to ground walnuts. This is a chili that has us looking forward to cooler temperatures every year. And I hope it becomes your family's favorite, too.
You'll find this recipe to be very welcoming of your own substitutions. Want more spice? Add another jalapeño or some hot sauce. Want it thicker or thinner? Adjust the water/broth. Want to add cocoa or other flavor enhancers commonly found in chili? Do it! However, the key components that make this chili SO satisfying, are: 1) the spice mixture made from dried chiles and shiitakes, 2) the ground walnuts, and 3) the bulgur (for gluten-free sub quinoa). Those geniuses at America's Test Kitchen really nailed it with these purposeful ingredients.
The dried chiles and shiitakes add an authentic savoriness and spice.
The ground walnuts thicken the chili and add richness.
The bulgur fills out the chili and gives it a meaty bite similar to ground beef.
I'm not going to ramble on and on about this chili, because well, you just have to try it for yourself! The recipe may seem a bit complicated upon first glance, so read through it a couple of times. As you follow along, the process will start to make sense, and after you make it once you'll see it's actually pretty simple.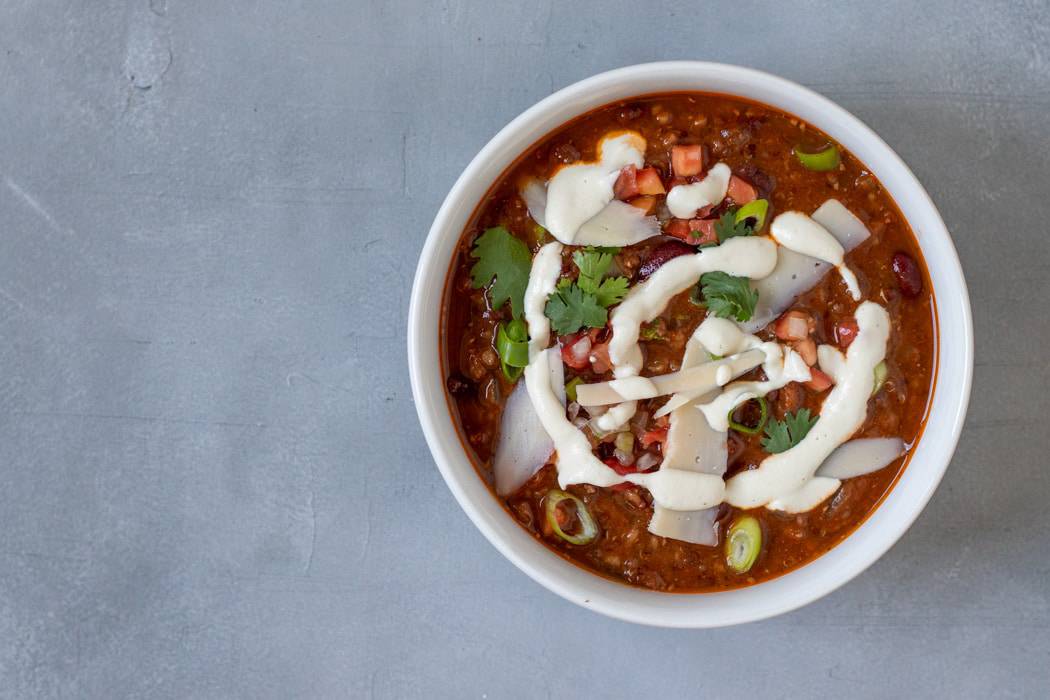 For serving this kick-ass Vegan Chili, here are a few toppings to try:
But I have to admit, I really love to eat my chili plain. I love it so much as is, toppings are only a distraction!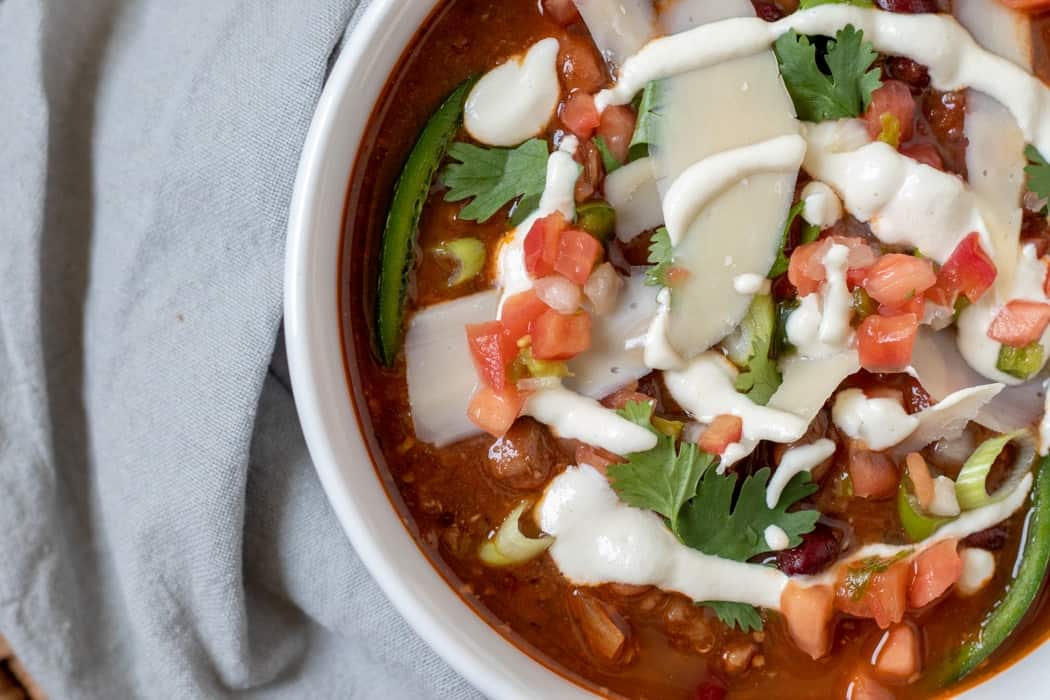 This truly is Vegan Chili for All, and I hope you love it! Leave a comment or tag #myquietkitchen on instagram and let me know what you think!
P.S. Check out the nutrition facts! Aside from the sodium (which you can decrease if you like), this chili couldn't be healthier! Cheers to enjoying tons of flavor and your health, too!
You might also like 1-Pot Curry Black Lentil Soup.
In the mood for cornbread to go with your chili? —-> Vegan Jalapeno Cornbread Muffins
Vegan Chili for All
Award-winning, traditional, vegetarian-style chili everyone will love. Lightly adapted from America's Test Kitchen's Ultimate Vegan Chili (previously called Best Vegetarian Chili).
Gluten-free and oil-free options.
Ingredients
2

dried ancho chiles

2

dried New Mexican chiles

1/2

ounce

dried shiitake mushrooms

(adds savory, depth of flavor)

1

Tbsp

dried oregano

1/2

cup

walnut halves

(adds body and fat for richness and mouthfeel)

2

Tbsp

nutritional yeast

1

tsp

smoked salt

1

(28 oz) can

crushed tomatoes

2

large

jalapeños, stemmed and seeded

1/4

cup

soy sauce, shoyu or tamari (use tamari for GF)

5 to 7

cloves

garlic

2

Tbsp

oil (omit for oil-free; replace with water or broth during sautéing of onion and spices)

2

large

onions, chopped

1

tsp

sea salt

1

Tbsp

ground cumin

scant 1/8

tsp

freshly grated nutmeg, optional

1

(15 oz) can

pinto beans, drained and rinsed

1

(15 oz) can

red kidney beans, drained and rinsed

1

(15 oz) can

black beans, drained and rinsed

5

cups plus 1 cup

water, divided (or sub homemade broth and omit bouillon listed below)

1 1/2

tsp

Better than Bouillon veg variety or equivalent bouillon cube (omit if using broth)

2/3

cup

bulgur (sub quinoa and/or serve with cooked rice)

(bulgur adds meaty texture and thickens)

1/2

cup

red quinoa (optional)

(can be used in addition to the bulgur or in place of)
Instructions
Preheat oven to 300 degrees. Arrange walnuts and chiles on a baking sheet and bake 8 minutes or until the chiles are fragrant. Transfer all to a plate to cool for a few minutes.

Remove stems and seeds from chiles. Add toasted chiles, mushrooms, and oregano to a food processor or coffee/spice grinder and process until finely ground. *Be cautious of chile dust as it's quite an irritant!* Transfer spice mixture to a bowl.


Add walnuts to the empty food processor and process until finely ground. Add the nutritional yeast and smoked salt and pulse to incorporate. Transfer mixture to a separate bowl.

Add 1 cup of tomatoes, jalapeños, soy sauce, and garlic to empty food processor and process until pureed, about 30-45 seconds.


If using bouillon, combine it with 1 cup hot water in a bowl and stir to dissolve.

Heat oil in stock pot over medium heat until shimmering. Add onions and 1 teaspoon salt and cook, stirring occasionally, until onions begin to brown, 8 to 10 minutes. Reduce heat to medium-low, stir in ground chile mixture and cumin, and cook for 1 minute, stirring constantly. Add the 5 cups water and 1 cup broth, beans, and nutmeg. Bring to a boil.

Stir in the bulgur and/or quinoa, ground walnut mixture, tomato mixture from food processor, and the remainder of the can of tomatoes. Return to a boil. Cover, reduce heat to low, and cook 15 to 20 minutes. Uncover, stir well, and let stand 20 minutes before serving.
Notes
Like most soups and chilis, this one tastes even better as it sits (and on day 2). Perfect for making the day before a party or event.
Refrigerate leftovers up to 5 days. Chili can also be frozen for up to one month.
Nutrition
Calories:
360
kcal
|
Carbohydrates:
55
g
|
Protein:
17
g
|
Fat:
10
g
|
Saturated Fat:
1
g
|
Cholesterol:
0
mg
|
Sodium:
1800
mg
|
Potassium:
26
mg
|
Fiber:
14
g
|
Sugar:
8
g
|
Vitamin A:
1000
IU
|
Vitamin C:
28.1
mg
|
Calcium:
140
mg
|
Iron:
4.1
mg
Did you try the recipe?
Let me know with a star rating and a comment. I love hearing from you!