Even though this lentil chili recipe is easy enough for a weeknight, it just might be the BEST vegan chili you've ever eaten. No kidding! There are a few key secrets to making meaty, thick, rich vegan chili, and once you learn those tricks and taste the difference you'll be hooked. But don't take my word for it; check out the reader reviews and comments below!
Recipe includes gluten-free and oil-free options.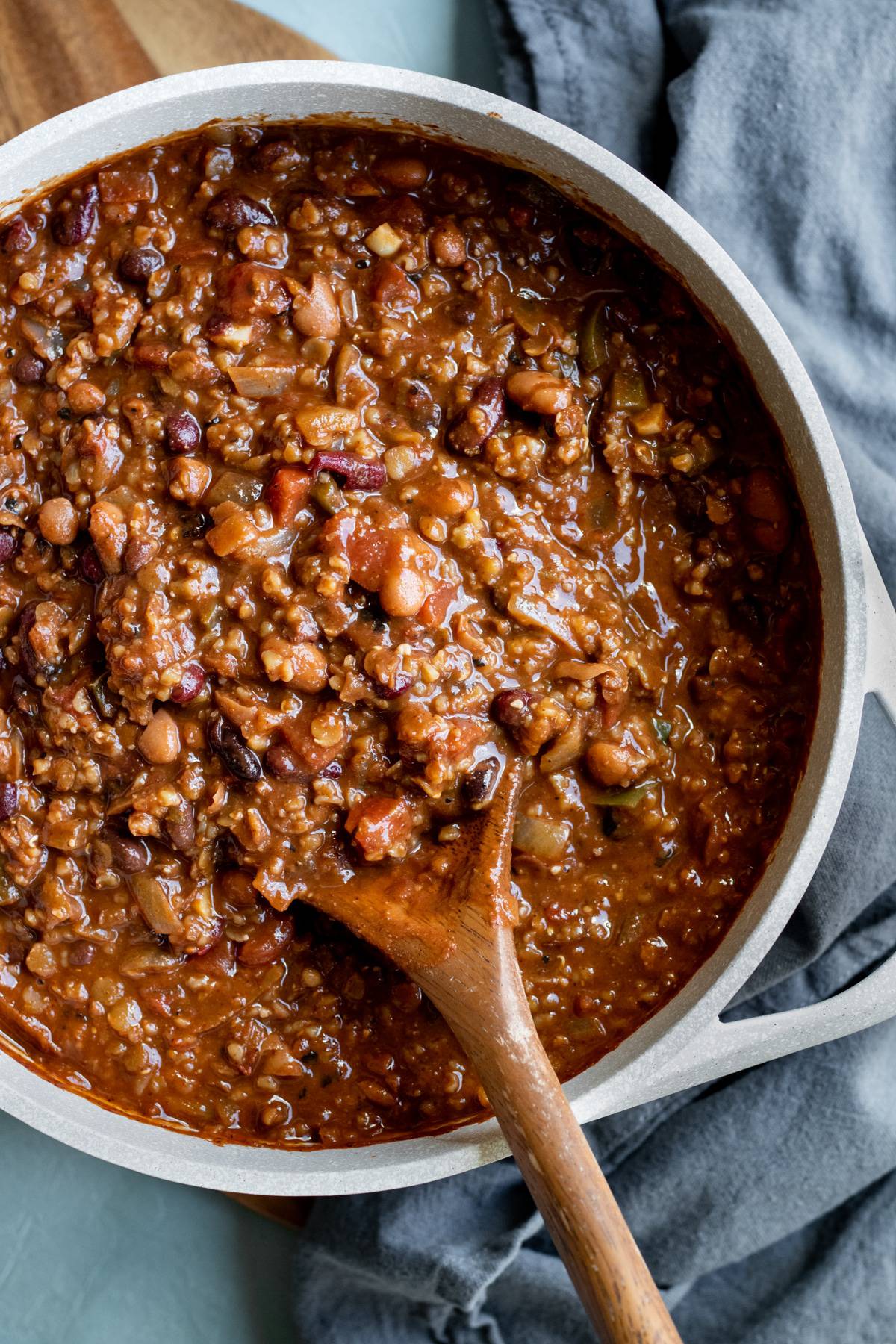 The most difficult thing about this chili was figuring out what to name it because so many awesome descriptors apply! It's simultaneously:
The Best Lentil Chili
The Best Vegan Chili
Easy 3-Bean Chili
The Only Chili Recipe You'll Ever Need!
Basically, this lentil chili is perfect in every way. (In case you can't tell, I'm REALLY excited about it.) The flavor and texture are exactly what you're craving when you want chili. But it's much simpler than my other chili recipe and comes together in just 45 minutes!
While I love that other, more complex vegan chili recipe, it's more of an event, you know? Specialty ingredients. Plenty of dirty dishes. And who has time for that on a regular basis? So I wanted to come up with a chili recipe that's just as exciting, but easy enough to make anytime, even a weeknight.
I know what you're thinking... everyone says they have the best chili. But seriously, take a quick glance at the recipe, and you'll see there are a few interesting ingredients. This isn't some flat, tomatoey, thin chili experience. No ma'am! This lentil chili is rich, thick, meaty, and so balanced.
There's only one way for you to know whether I'm telling the truth (I am!). So I really hope you'll try it and report back.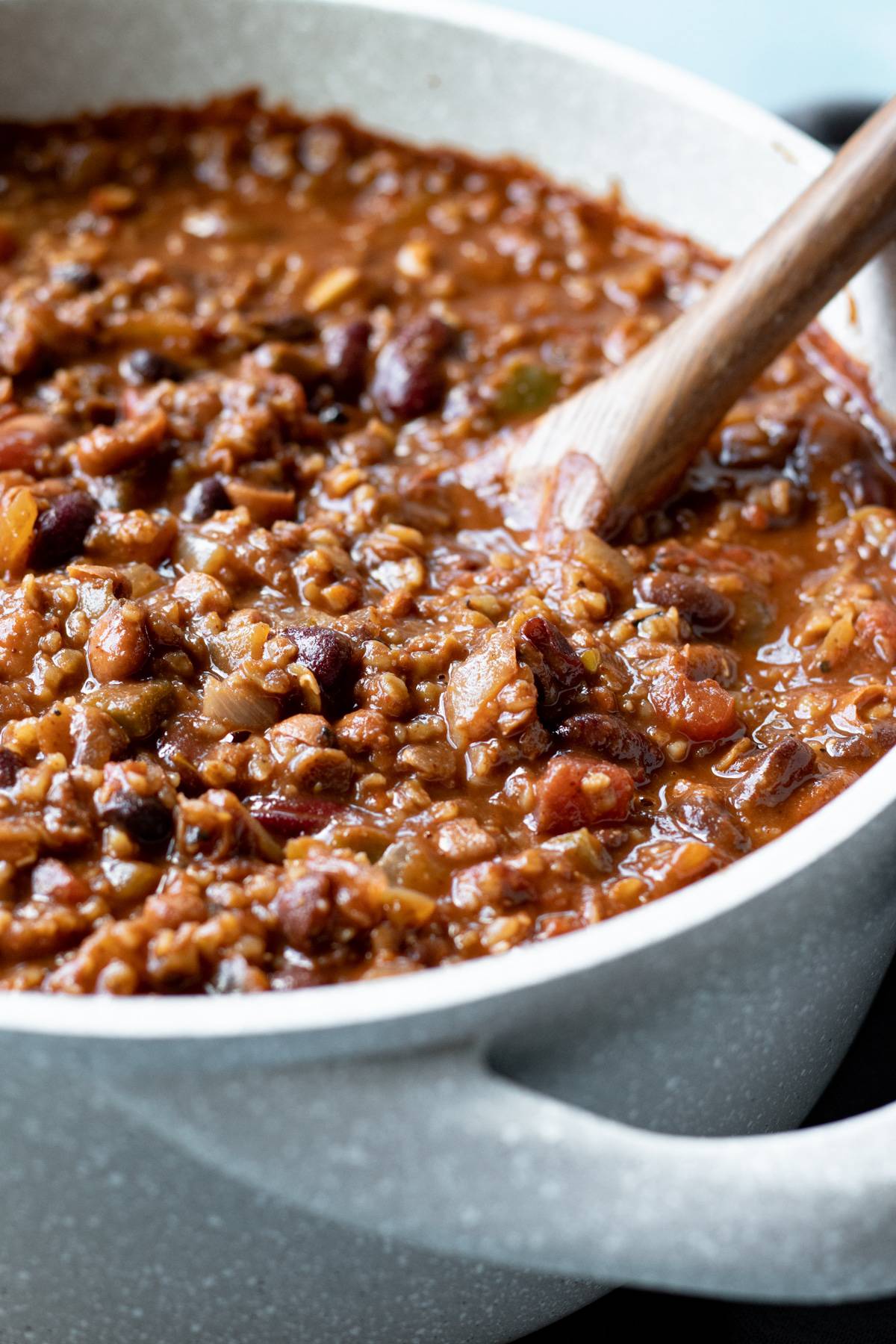 Key Ingredients
The same secret ingredients listed below are used in my other chili and were inspired by an America's Test Kitchen recipe. I came across ATK's version years ago, and kept tweaking it to make it easier. I even won a few local chili cook-offs with my version.
But this time I've simplified it even more. I ditched the process of making your own chili powder because I'm guessing 99.9% of you don't want to track down specialty dried peppers, toast them in the oven, then grind them into powder, right? Yeah, me either. Store-bought chili powder to the rescue!
But we are keeping a few of the America's Test Kitchen ideas because they're critical for making epic vegan chili (while taking shortcuts where we can).
Ground, toasted walnuts - walnuts thicken the chili and add a subtle richness that's missing from a lot of vegetarian chilis. But instead of turning on the oven to toast a few nuts, we give them a quick toast on the stovetop in the same pot we'll use to make the chili.
*If you can't eat walnuts simply omit them, and decrease the water by ¼ or ⅓ cup.
Bulgur - bulgur wheat is inexpensive, easy to find (look for it in bulk bins), and adds a ground beef-like texture while also thickening the chili.
*For a gluten-free option, sub millet or quinoa. Or for extra protein choose TVP (textured vegetable protein).
dried mushroom powder - instead of the dried shiitake mushrooms called for in the original recipe, which then had to be ground into powder, I used Trader Joe's umami mushroom powder as a shortcut. Feel free to omit this if you can't get your hands on any powdered mushroom seasoning.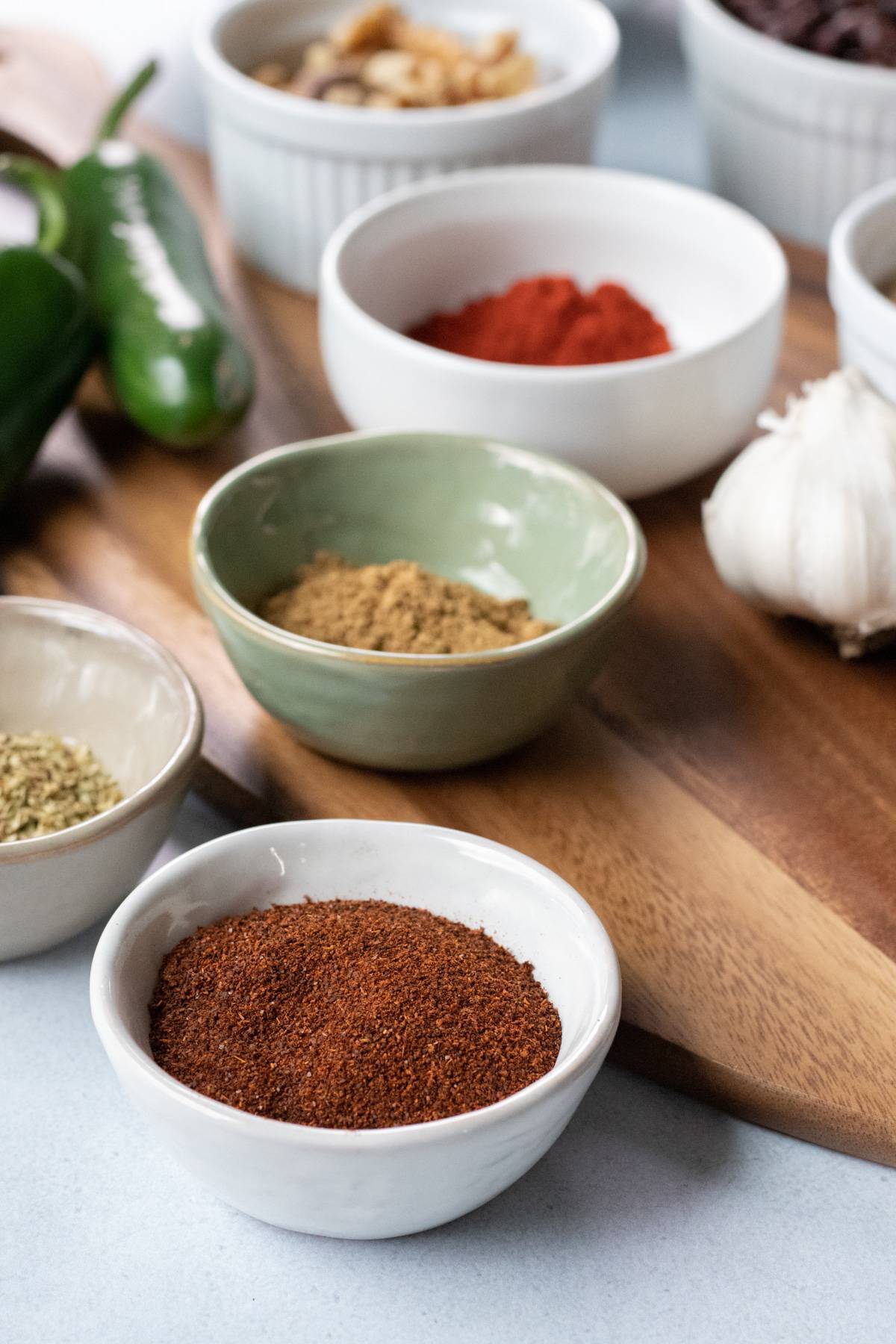 While my "Best Vegan Chili" takes closer to an hour-and-a-half start to finish, this lentil chili recipe is ready in just 45 minutes.
I'd say that's even easy enough for a weeknight! Make this lentil chili on Monday or Tuesday evening and enjoy it the rest of the week.
Tips and Substitutions
Easily make this lentil chili gluten-free by subbing millet or quinoa for the bulgur and using tamari instead of soy sauce.
If you follow an oil-free diet omit the oil used for sautéing the veggies and spices. See the Notes section in the recipe card about reversing the order of Step 3. Basically, you'll add the onion mixture to the pot before adding the spices.
With the addition of red lentils in this chili, you don't necessarily need three types of beans. So unless you just really love a bean-heavy chili, feel free to pare down to your two favorites. I really enjoy it with just pinto and black beans.
In a hurry? Not into lentils? Skip the lentils, and reduce the water by ½ cup. This chili is still loaded with satisfying beans. As an added bonus, omitting the lentils means shaving a few minutes off the cook time!
Allergy-Friendly Tip
If you need to omit the walnuts or bulgur because of an allergy, stir in half a can of refried beans for extra thickening.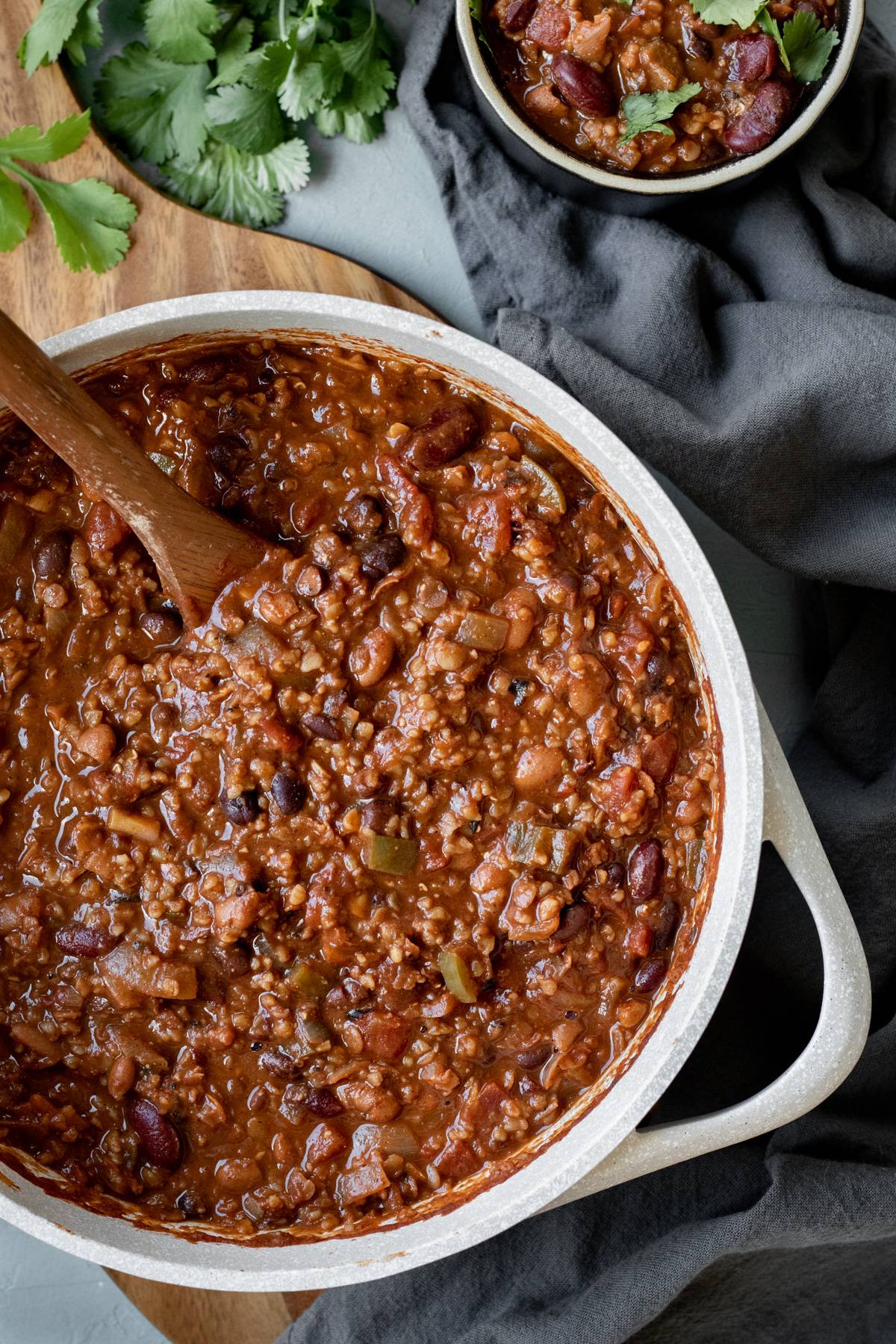 Serving Suggestions
I love this chili so much that, honestly, I don't even like the distraction of toppings. But you do you!
Add your favorite chili fixings like cilantro, green onion, fresh or pickled jalapeños, shredded vegan cheese, and sour cream.
Pair lentil chili with any of these vegan cornbread recipes:
I hope you love this Lentil Chili as much as we do. If you try it be sure to leave a comment and rating below (it not only helps me, but it helps other readers find recipes they'll love).
Happy cooking!
Don't miss these favorites: Vegan White Chili and Beyond Meat chili!
More vegan lentil recipes: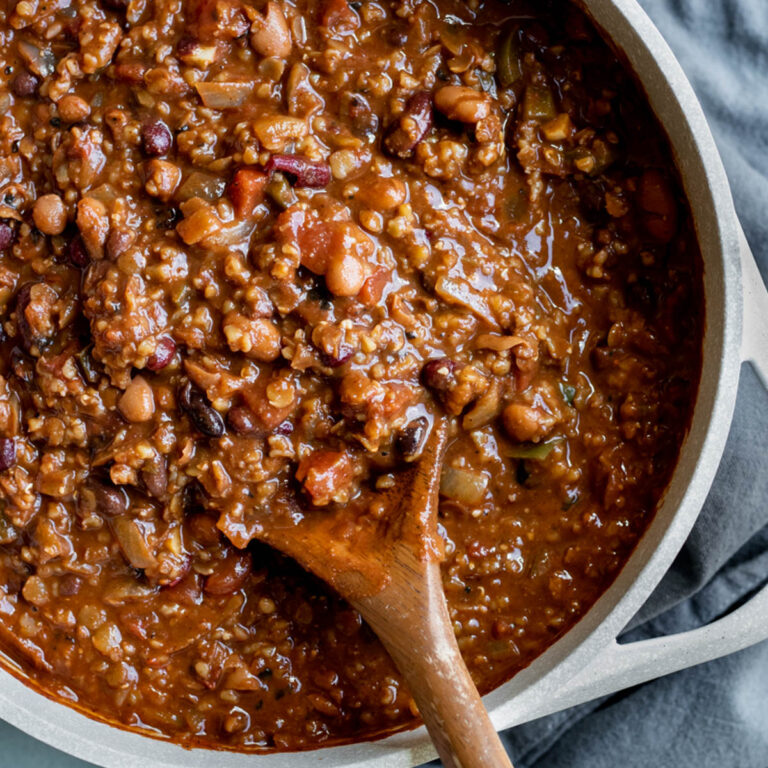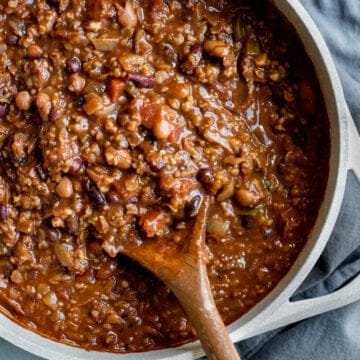 45-Minute Lentil Chili (Vegan)
Are you ready for the BEST lentil chili? It's thick, rich, meaty, so flavorful and won't keep you in the kitchen all day! Adapted from an America's Test Kitchen recipe I've been making for years, this one keeps the select ingredients and methods critical for making the best vegan chili, while streamlining the process and removing unnecessary steps. The result is a vegan chili you'll return to again and again. With gluten-free and oil-free options.
Ingredients
½

cup

raw walnut halves

-

if allergic, omit and reduce water by about ¼ cup. TIP: another option for added thickening is to stir in half a can of refried beans at the end of cooking.

1

large

red or yellow onion, cut into chunks

2

large

jalapeno peppers, stems removed

-

for mild chili remove the seeds; for spicier chili include all or some of the seeds.

5

cloves

garlic, peeled and smashed

2

Tablespoons

oil such as avocado, olive or grapeseed

-

omit for oil-free.

3

Tablespoons

chili powder -

the blend, not a specific chili.

1

Tablespoon

ground cumin

2

teaspoons

dried oregano

2

teaspoons

smoked paprika

2

teaspoons

mushroom powder, optional

1

(28 oz) can

crushed fire-roasted tomatoes

2

Tablespoons

soy sauce

-

Sub tamari for GF.

4

cups

vegetable broth

1 ½

cups

water

⅔

cup

red lentils

⅔

cup

bulgur -

For GF sub millet or quinoa; rinse and drain before adding to pot.

1

(15 oz) can

pinto beans, rinsed and drained

1

(15 oz) can

black beans, rinsed and drained

1

(15 oz) can

kidney beans, rinsed and drained, optional -

Include these if you like a lot of beans in your chili, otherwise, skip 'em.
Instructions
Tip: Once cooking begins in Step 4, things move quickly, so it helps to have all or most of the ingredients gathered and prepped.

Preheat a large soup pot over medium-low heat. Toast the walnuts until warm and fragrant, about 3 minutes, stirring frequently to prevent burning. Transfer walnuts to the bowl of a food processor, and pulse until finely ground. Transfer the ground walnuts to a bowl.

Add the onion, jalapenos, and garlic to the food processor (see Notes section). Blend until mostly pureed.

Note: If omitting oil, reverse the order of this step; add the blended onion/jalapeno mixture to the pot first, then add the spices. Otherwise, for the best flavor, bloom the spices in oil as described below.

Return the pot to the stove, and increase the burner to medium heat. Add the oil to the pot. Add the spices (3 T chili powder, 1 T cumin, 2 tsp oregano, 2 tsp smoked paprika, and 2 tsp mushroom powder). Stirring frequently, cook for about 1 minute. Add the pureed onion mixture to the pot, and cook for 1 to 2 minutes.

Add the smoked salt, tomatoes, soy sauce, broth, and water. Bring to a boil. Add the lentils, bulgur, beans, and ground walnuts, and stir well. Return to a simmer, and cook for 15 minutes, stirring occasionally.

Once the lentils are done, turn off the heat, and give the chili another good stir. Taste and add a pinch more salt or a drizzle of soy sauce, if desired. Let stand 5 to 10 minutes. The chili will continue to thicken as it rests.
Notes
Note on prep: there are two ways to go about preparing the onion, jalapeno and garlic. You can hand-chop them or let the food processor turn them into a puree. I've prepared this chili both ways, and initially published the recipe with instructions to hand-chop the vegetables.
After another try I decided to change the instructions with a preference for using the food processor. Not only is it easier and faster than chopping by hand, it creates a more flavorful chili. But if you prefer chunkier chili with pieces of onion, jalapeno, and garlic, finely chop them and sauté in oil for about 5 minutes (step 3).
Storage: the flavor of the chili continues to improve as it sits. Store leftovers in the refrigerator for up to 4 days.
Chili can also be frozen for up to one month.
Estimated Nutrition (per serving)
Calories:
280
kcal
Carbohydrates:
42
g
Protein:
14
g
Fat:
7
g
Saturated Fat:
1
g
Fiber:
13
g
Sugar:
6
g
Vitamin A:
1307
IU
Vitamin C:
12
mg
Calcium:
114
mg
Iron:
5
mg
Nutrition information is an estimate and will vary depending on the exact amounts and specific products and ingredients used. We calculate this information using the online calculator cronometer.com.
Did you try the recipe?
I LOVE hearing from you! Comment below to let us know.