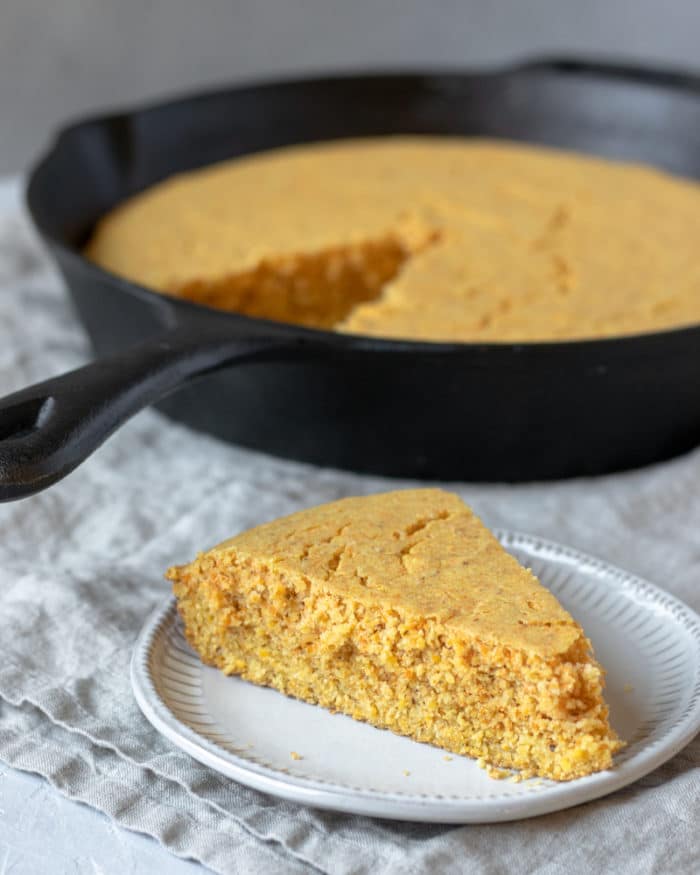 Savory Southern-Style Vegan Cornbread
If you saw my last post, you heard me talk about not really having strong feelings about cranberries. Well, here come the feelings! Haha, just kidding. Sort of. I mean, we're definitely moving into more opinionated territory, but apparently I'm not alone in having a strong preference for a certain style of cornbread.
I've come to learn that cornbread is very regional, so it's to be expected that someone who grew up in the Midwest, West, or North isn't going to like the same cornbread as someone from the South. One glance at the comments sections of many recipes online illustrates this perfectly. One comment will read, "Yuck, all I tasted was salt and butter. I had to drench mine in syrup to make it edible!" while the next proclaims, "This was the best cornbread I've ever had!"
You get the picture. So I started to realize, perhaps it's all just one big misunderstanding and what we need is for more people to realize that "cornbread" means significantly different things to different people. Sure chefs, professional cooks, food writers, and the like know about the regional differences, but your average person who has always lived in the same part of the country may not realize exactly how much variation there is among cornbread recipes. Once we know which style we prefer, searching for our new favorite cornbread recipe will become much more successful!
Even within regional styles you find varying ratios of cornmeal to flour, different amounts and types of sugar, and different fats.
Today I'm sharing a recipe for the type of cornbread I really love. Reminiscent of the version my mom has always made, which is the stone-ground, so-called savory, yellow cornmeal variety referred to as southern-style. (If you're interested in learning more about the different types of cornbread, this brief summary will get you started.)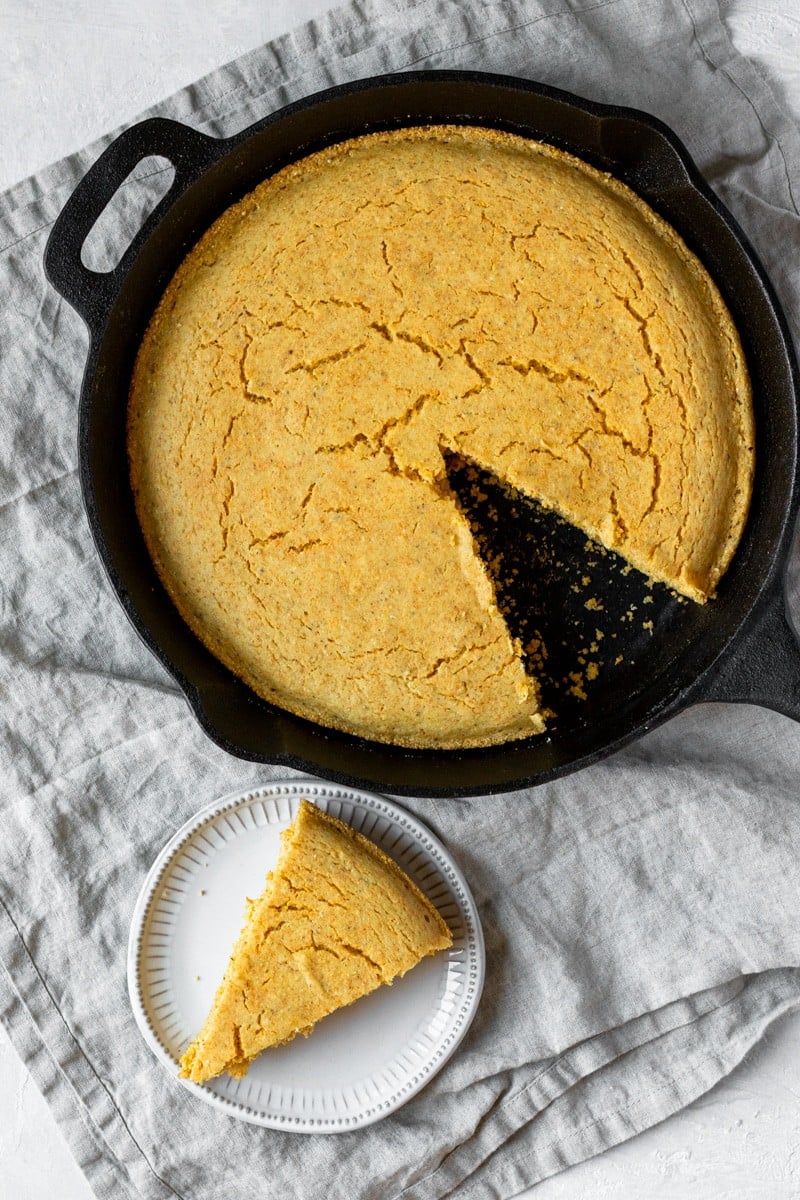 Here comes the fun part...
Now that I've stated my love for southern-style cornbread, I'm going to stray from it completely by making it vegan! Good ol' southern cornbread usually contains lard, eggs, buttermilk, and/or dairy butter. But the fact that cornmeal is the real star is exactly why it's so easy to make a perfectly delicious and satisfying vegan version.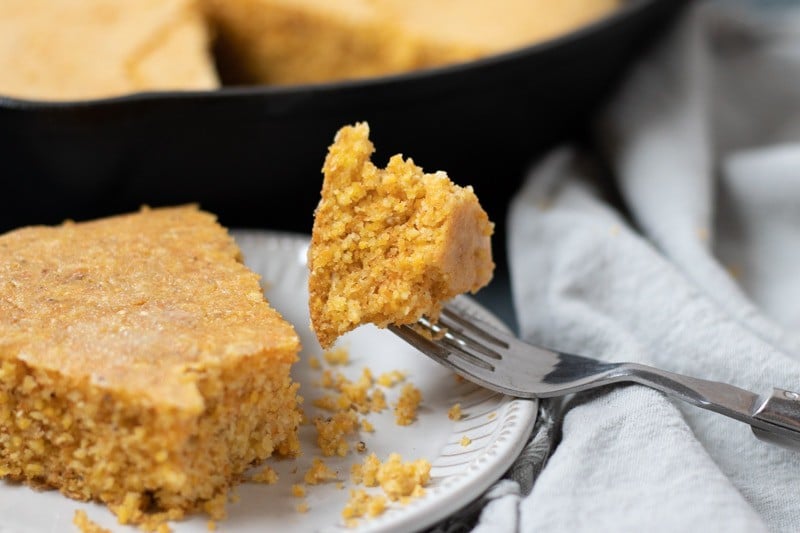 How to scale the cornbread recipe for different pans
In case homemade cornbread is new to you, you'll be happy to know it's ridiculously easy to make. You need just one bowl, a mug for melting the vegan butter, and a large cast iron skillet. On that note, let's talk about scalability for a moment. In testing this recipe I found that cooking it in a pre-heated 12-inch cast iron skillet is my favorite method. However, I realize you may want to use a standard 8x8 baking pan or a different size skillet, and I don't want to leave you hanging with no guidance on how to do that!
You can find many great explanations about scaling recipes online, so I won't bore you with too much math. But it is helpful to understand how it's done, so just bare with me for a moment. Essentially, all we need to do is compare the surface area of the pans, adjust the ingredient amounts by the percentage of difference, and then keep an eye on the doneness of the center of the cornbread during cooking in case there's a bit of variance.
*If you've seen my Chocolate Chia Tart post before, this formula will look familiar.*
To calculate surface area of a round pan:
3.14 (aka π) x half the diameter of your round pan/skillet (aka radius) x half the diameter of your round pan again = surface area in square inches
For example, I calculated the area of my 12-inch skillet to be 113.
3.14 x 6 x 6 = 113 inches
Let's say you want to use a 10-inch skillet:
3.14 x 5 x 5 = 78.5 inches
Now, divide the area of the larger pan (113) by the area of the smaller one (78.5), and you get 1.44. Now, divide the amount of each ingredient by 1.44 to know how much you need.
Example: 3 cups corn meal divided by 1.44 = 2.08 cups
That's close enough to 2. So for a 10-inch skillet you would use 2 cups of cornmeal instead of 3. Make sense?

Want to use a square pan?
Example: 8-inch x 8-inch = 64 square inches
Now, just like we did above, divide 113 inches (area as recipe is written) by 64 and you get 1.76. Divide the amount of each ingredient by 1.76, and you're ready to go!
There are times when you might need to know the volume of a baking dish instead of just the surface area, but since we're not altering the thickness of our cornbread we don't really need to worry about that here.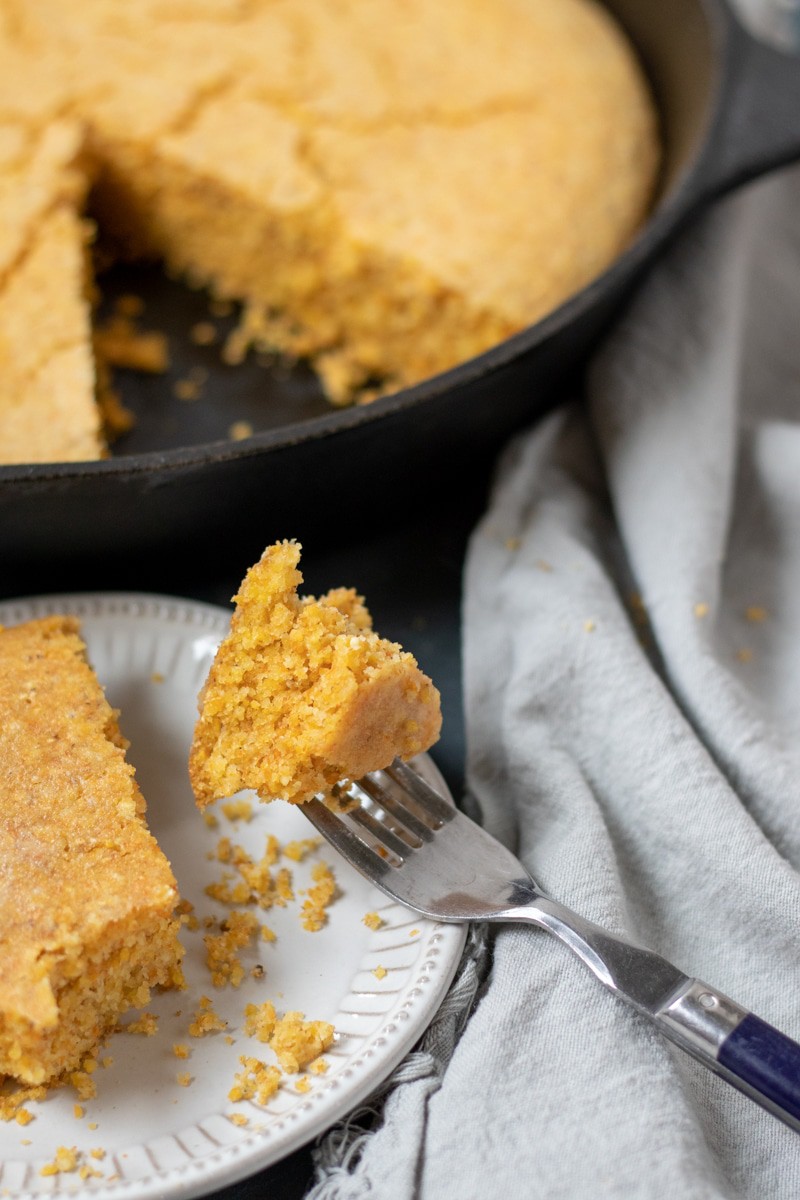 A few notes about cornbread ingredients:
Cornmeal: It's important to use good quality, stone-ground yellow cornmeal. It typically has variations in texture, with some smaller pieces and some larger grit. This is a good thing and is important for the overall texture of the cornbread (it's not completely uniform like bread flour).
Fats: I've experimented with both grapeseed oil and butter with good results. Just keep in mind that butter adds more salt, so if you like a saltier cornbread, bump up the salt just a tad when using oil. (However, I did not increase the salt when I made mine with oil and liked it just fine. Saltiness is very much a personal preference, so go with your gut.)
Milk: I suggest plain, unsweetened soy milk for this recipe. With higher protein and fat than some other non-dairy milks, I find it works well for most baking. Because I was testing so many other variables in this recipe (corn meal/flour ratios, sugars, fats, etc), I haven't had time yet to test different milks. Though I can't vouch for the results, my guess is that because the milk is primarily for moisture in this recipe other milks should work just fine.
Flour: Other than 3 cups of cornmeal the recipe also calls for ¼ cup of flour. I've tested a gluten-free all-purpose blend, whole-wheat flour, and regular all-purpose flour. All are fine, but I actually preferred the flavor and texture of the batch made with the gluten-free flour blend. As an added bonus, this makes your cornbread suitable for friends and family who avoid gluten.
Finally, let's get to the recipe, shall we?!
Need some chili to go with your cornbread?
Try my NEW favorite chili recipe ---> 45-Minute Lentil Chili

Or its predecessor... Vegan Chili For All

And if you like jalapeño cornbread check out these Vegan jalapeño Cornbread Muffins
📖 Recipe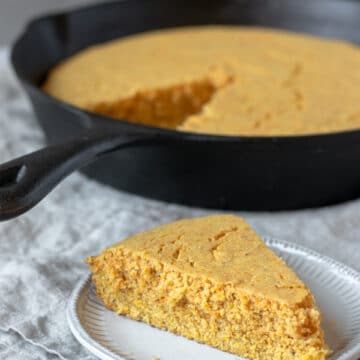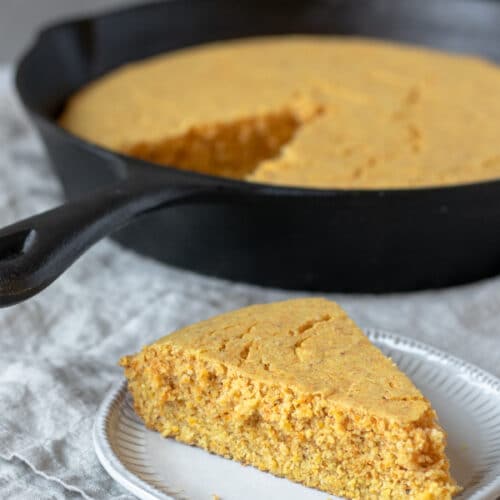 The Best Vegan Southern-Style Cornbread
Just 9 ingredients in this vegan version of a southern classic. Unlike its sweeter counterpart enjoyed in other parts of the country, this cornbread is slightly buttery and salty and celebrates the texture and flavor of stone ground corn. Delicious with beans and greens, soup, chili, or simply with a pat of vegan butter.
Ingredients
2 ¾

cups

stone-ground yellow cornmeal

-

(sometimes called medium-grind)

¾

cup

gluten-free all-purpose flour or regular all-purpose flour

2

teaspoons

baking powder

1

teaspoon

baking soda

2

teaspoons

fine sea salt

2

cups

unsweetened, unflavored soy milk

2

tablespoons

apple cider vinegar

5

tablespoons

vegan butter, divided

3

tablespoons

maple syrup or agave nectar

3

tablespoons

grapeseed oil or other neutral-tasting oil
Instructions
Place a 12-inch cast iron pan in the oven and preheat to 425 degrees.

In a large bowl whisk together the cornmeal, flour, baking powder, baking soda, and salt.

Make "buttermilk" by combining the milk and vinegar in a medium-size bowl. Set aside. Place 4 tablespoons of the butter in a mug or small bowl. Microwave in 15 second intervals until just melted.

Add melted butter, maple syrup, and oil to the buttermilk, and whisk to combine. Pour wet ingredients into the dry ingredients, and whisk or stir just until there is no visible dry flour. The batter will look a bit lumpy.

Carefully remove the hot skillet from the oven and add the extra tablespoon of butter. Again, carefully (remember to put on your oven mitt before grabbing the handle) tilt the pan to swirl the butter around so that it coats the bottom. Immediately pour the batter into the pan. Bake for 19 to 23 minutes. Use a toothpick or knife inserted in the center to test for crumbs/doneness.

Allow the cornbread to cool in the pan for at least 20 minutes before slicing.
Notes
Store cornbread in an airtight container in the refrigerator for up to 4 days.
Estimated Nutrition (per serving)
Serving:
1
slice
Calories:
250
kcal
Carbohydrates:
33
g
Protein:
4.5
g
Fat:
11
g
Saturated Fat:
2.5
g
Cholesterol:
0
mg
Sodium:
555
mg
Fiber:
7
g
Sugar:
3
g
Nutrition information is an estimate and will vary depending on the exact amounts and specific products and ingredients used. We calculate this information using the online calculator cronometer.com.
Tried the recipe?
I love hearing from you! Share your feedback below.