Vegan cornbread dressing with celery, mushrooms, garlic, thyme, sage, and savory cornbread. In our house, it's not Thanksgiving without this veganized classic! Gluten-free and oil-free options.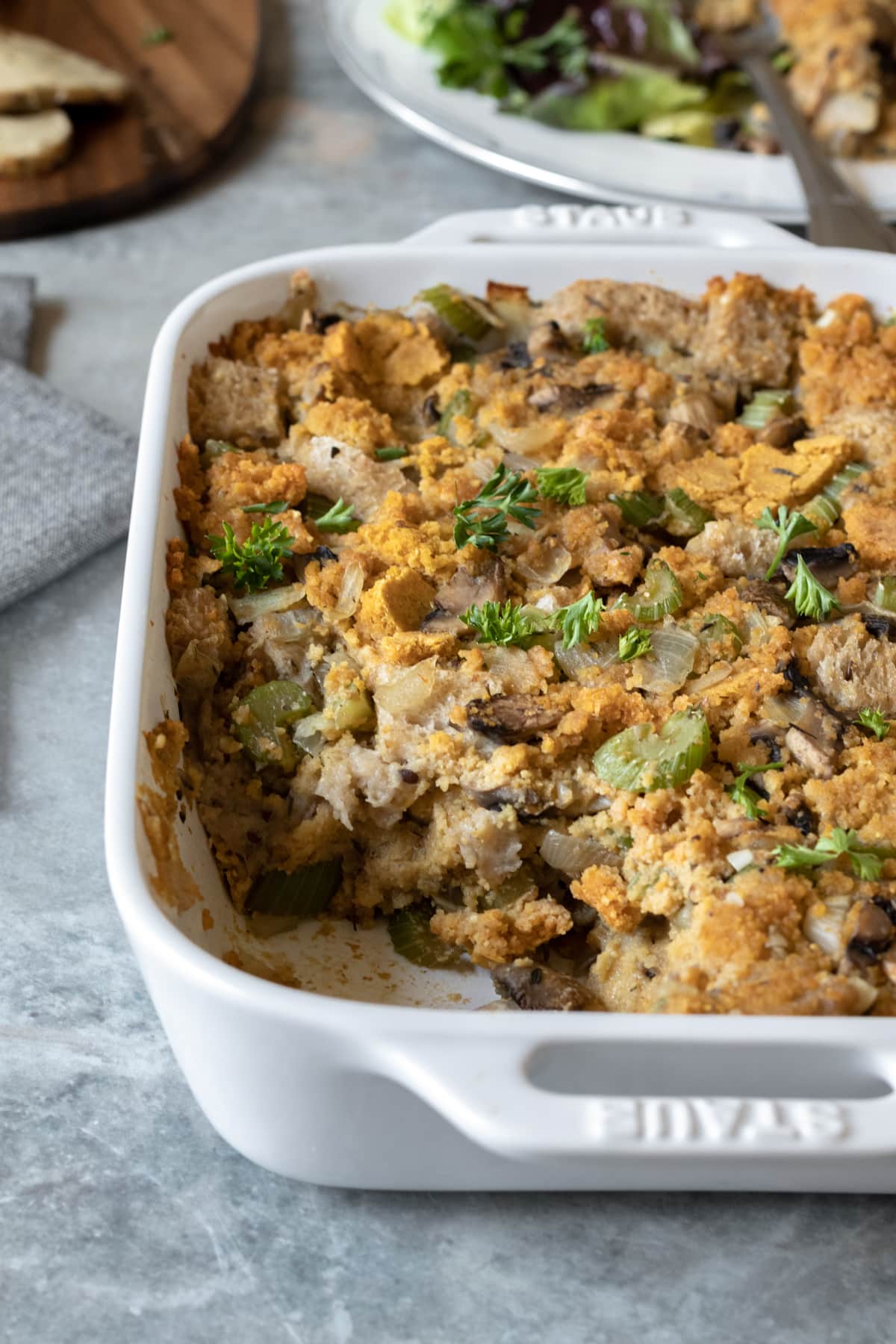 Here it is, friends, the best part of any holiday meal. It's cornbread dressing, y'all!
Or stuffing, if you prefer. But since we're not stuffing this inside anyone, let's just roll with "dressing."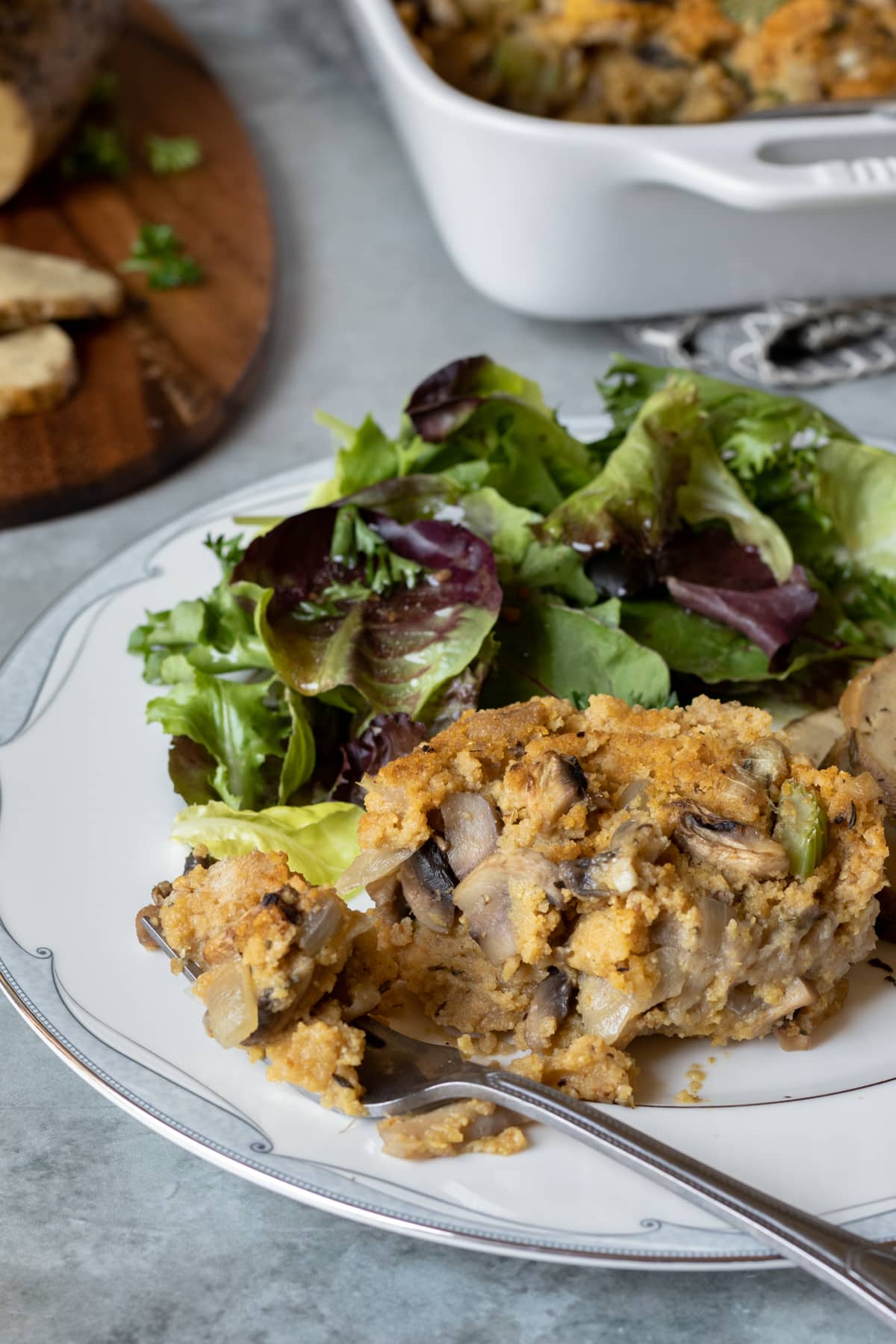 This recipe is based on my mom's famous cornbread dressing. Okay, maybe it was only famous to our family, but that definitely counts! As much as I love desserts, this was always the dish I looked forward to the most each holiday season. Of course, none of us were vegan back then, so Mom's version contained buttermilk, eggs, and chicken broth.
Also, she didn't add mushrooms to hers. But you know how we vegans are, always sneaking more veggies into recipes (especially umami-rich mushrooms). I figured they would only make the dressing better, and of course, they do! I made one test batch without mushrooms and definitely prefer it with them, but if you're not a fan, simply leave them out. For the onion, I typically use one large yellow or red onion, but leeks would also be wonderful.
I want to give Mom credit for making vegan dressing for Mark and me in the past. I know she has, but I can't remember exactly how she made hers. I thought about asking her the last time we talked, but I decided to just get to work veganizing it myself (I had an old hand-written copy of the non-vegan version stashed in my recipe notebook).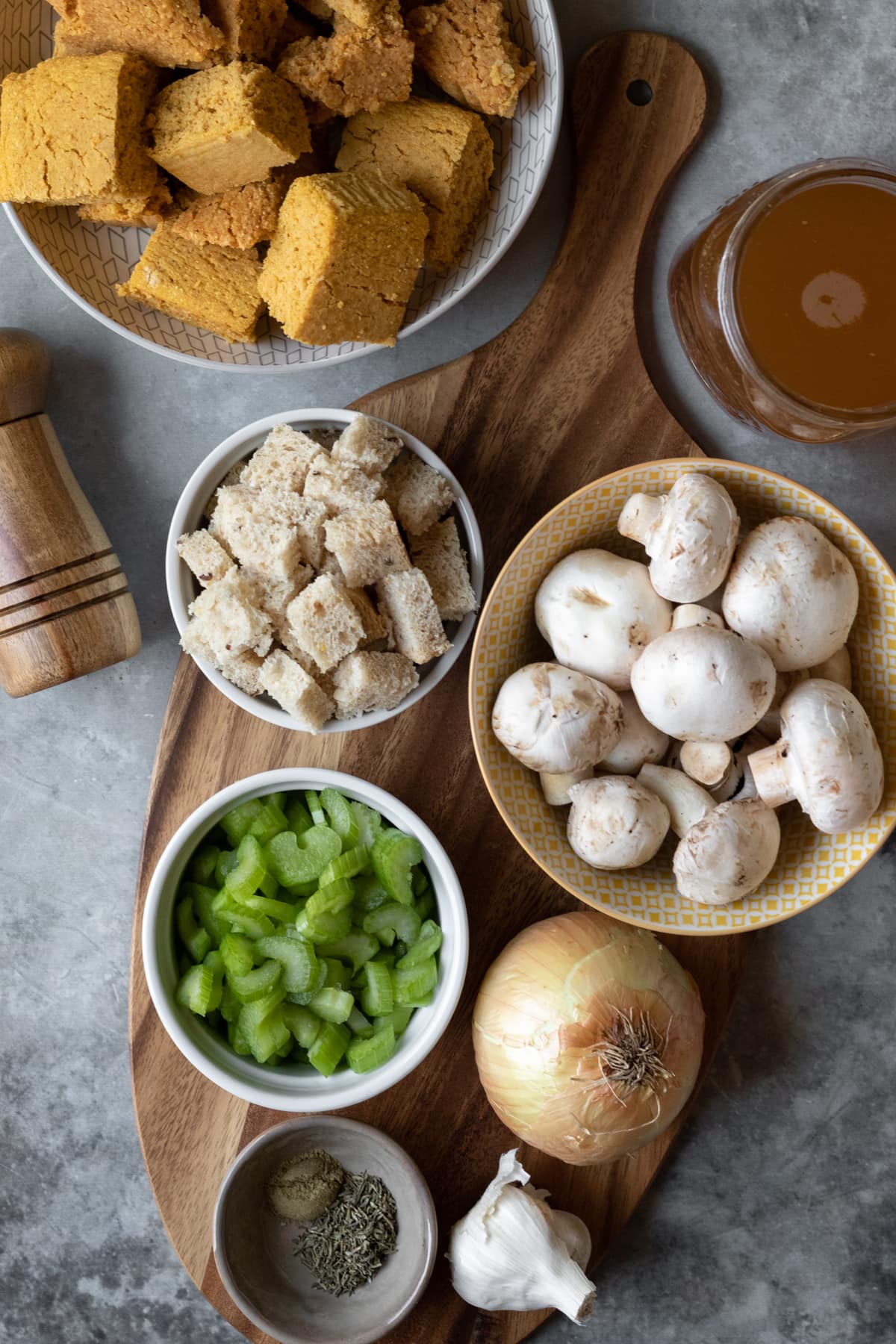 How To Make It
One thing I love about cornbread dressing is how easy it is to prepare. It may not be quick, but it is simple! The basic process goes like this:
Make cornbread the day before, and leave it out overnight to dry. (See Tips below for a quick option.)
When you're ready to make dressing, preheat the oven and a sauté pan. Sauté the veggies and herbs, which takes about 15 minutes.
Crumble about half of the cornbread into a casserole dish. Cube a few slices of your favorite whole-grain or gluten-free bread, and add that to the dish.
Add the sautéed veggies, and stir to distribute.
Add 3 to 4 cups of salty vegetable broth, just enough to soak everything but not so much that it's soupy (see photo below).
Cover the dish with foil, and bake for 30 minutes. Remove the foil, and bake for another 30 minutes or until the center is hot.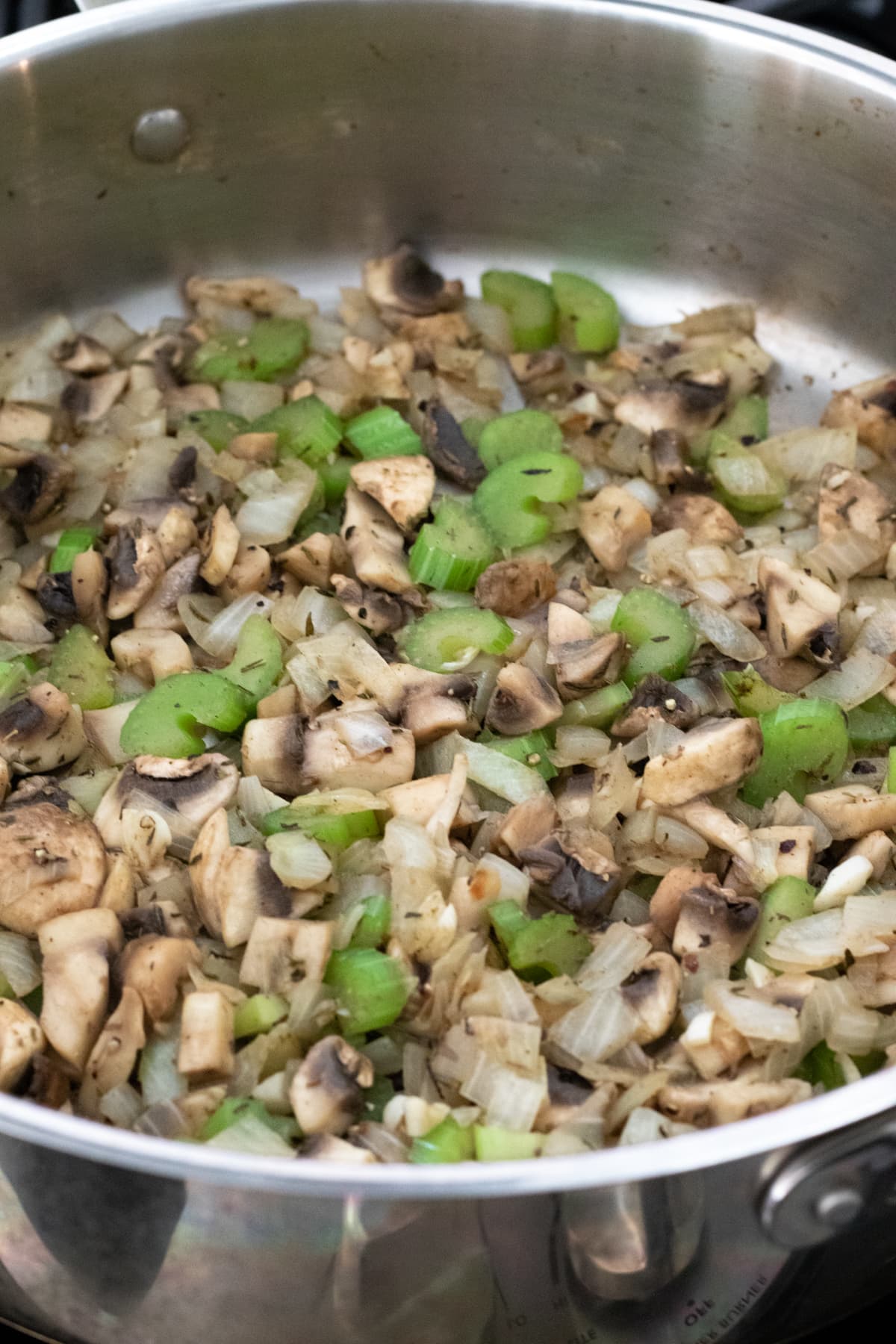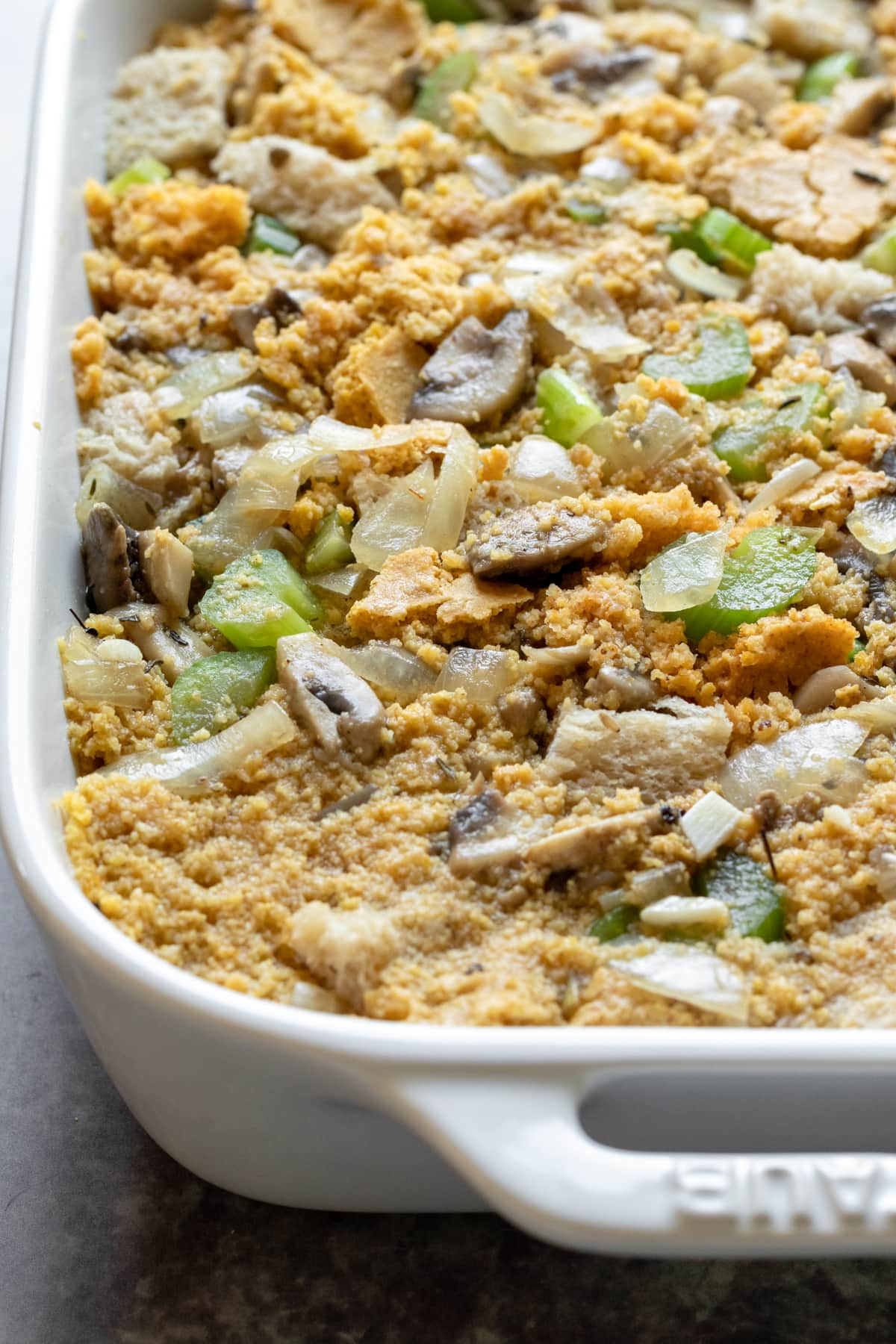 Tips and Options
Gluten-Free
Whether you use this buttery Southern-Style Cornbread or this Oil-Free Cornbread, use a gluten-free 1:1 baking blend for the flour. You'll also want to make sure you use a gluten-free broth.
Oil-Free
With so much flavor from the veggies, herbs, broth, and cornbread, no one will even miss the fat if you decide to make an oil-free version of this dressing! Simply omit the oil used to sauté the veggies, and use a bit of broth or water as needed for sticking. If using store-bought broth, check labels for oil. And use my favorite Oil-Free Vegan Cornbread.
Quick-Dry the Cornbread
If you're baking cornbread the same day you plan to make the dressing, then obviously you don't have time for the cornbread to dry out properly. But a quick toasting in the oven can help! Cut the cornbread into large cubes, and spread it on a baking sheet. Bake in a 300 degree oven for about 15 minutes or until dry.
Bouillon/Broth
I really love the flavor of Better Than Bouillon's No-Chicken variety in this particular recipe, but any salty broth will do. Add a bit of tamari or sea salt to standard broth if you don't think it's salty enough.
Now, let's get to it! This Vegan and Gluten-Free Cornbread Dressing is simple, irresistibly delicious, and so much healthier than traditional Thanksgiving dressing. I hope you love it as much as we do.
P.S. I bought this white Staub baking dish specifically for Thanksgiving this year and am so glad I did! I love its smaller footprint (10.5 x 7.5 inches) and that it's deeper than a standard casserole dish. You can also bake this dressing in a standard 13 x 9 casserole dish.
More Vegan Thanksgiving Recipes:
Vegan Turkey Roast
Easy Vegan Mushroom Gravy
Modern Cauliflower Gratin
Brussels Sprouts with Raisin-Balsamic Reduction
Vegan Bourbon Pecan Pie
Salted Chocolate Pecan Pie
The BEST Healthy Pumpkin Pie
Cranberry Citrus Tart with Hazelnut Crust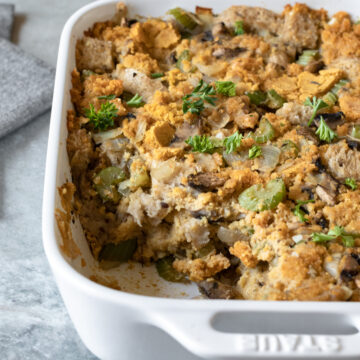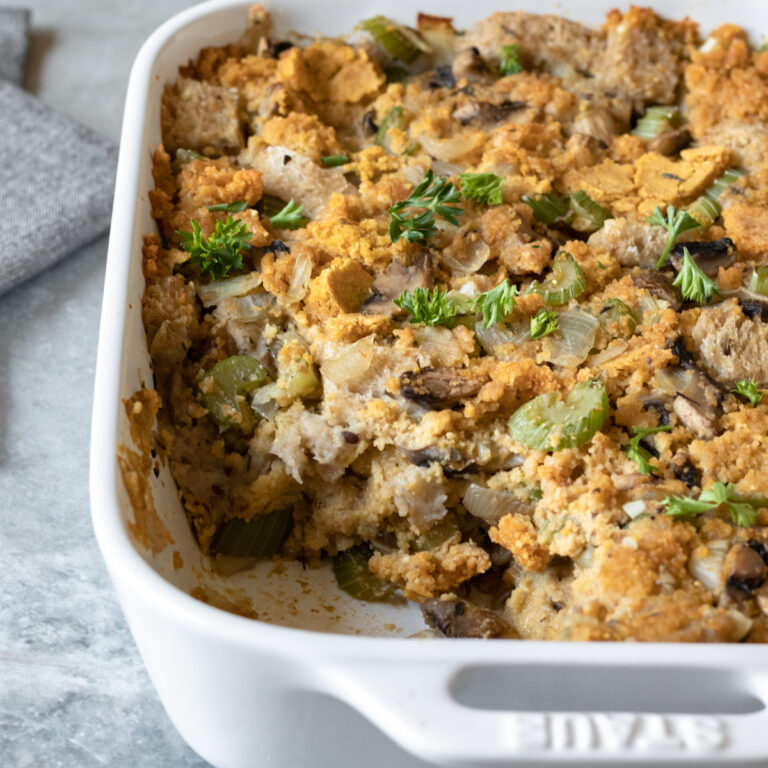 Vegan Cornbread Dressing
Easily made gluten-free, this vegan version of my mom's cornbread dressing is made with Southern-Style Cornbread, sautéed vegetables, a few slices of whole-grain bread (use gluten-free, if desired), plus salty broth, thyme and sage. A new classic.
Make it oil-free by sauteing the vegetables in broth and using this Oil-Free Vegan Cornbread.
Ingredients
¾

batch

The Best Vegan Southern-Style Cornbread, left out overnight to dry; or a full batch of Oil-Free Cornbread, linked above

Depending on the size of your casserole you may need slightly less or more.

4 to 5

slices

sturdy whole-grain bread, such as Ezekiel 4:9, crusts removed, cubed

Or your favorite gluten-free bread.

1

Tablespoon

olive oil

Omit for oil-free.

1

large

onion, chopped

5 to 6

stalks

celery, chopped (should equal about 1 ½ cups)

10

ounces

baby bella mushrooms, roughly chopped

5 to 6

cloves

garlic, minced

1

teaspoon

dried thyme

½

teaspoon

ground sage

freshly cracked pepper

pinch of

salt

1

Tablespoon

Better Than Bouillon No-Chicken Base dissolved in 4 cups warm water or 4 cups salty vegetable broth (oil-free option)

For strict gluten-free, Better Than Bouillon does not claim to be GF, so substitute suitable veg broth.
Instructions
The day before you plan to make the dressing, cut the cornbread into squares and leave it out on the counter overnight to dry.

Preheat oven to 400 degrees and lightly oil a 9 x 13 (3 Qt.) or 10 ½ x 7 ½ (2.5 Qt.) casserole dish. Also preheat a sauté pan over medium heat.

Add the oil and onions to the sauté pan and cook until translucent, about 5 minutes. Add the celery and mushrooms and cook until the mushrooms are softened, 7 to 10 minutes. Add the garlic and cook 1 minute, stirring frequently. Add the thyme, sage, black pepper and a generous pinch of salt, and stir to combine. Remove from heat.

Crumble about half of the cornbread into the prepared casserole dish (texture can vary from crumbs to some larger chunks). Add the bread cubes, sautéed vegetables, remaining cornbread, and pepper (if using) and carefully stir to combine. Add just enough vegetable broth so that everything is well-soaked but not overly soupy, 3 to 4 cups.

Cover the dish tightly with foil, and bake for 30 minutes. Remove foil and bake for another 30 to 40 minutes or until lightly browned on top and hot in the center. Cover again if the top begins to look too brown before the center is done.

Remove from the oven and let stand for a few minutes. Serve hot.
Notes
If using a 9 x 13 inch casserole dish, cooking time may be slightly reduced. This also depends on how dry your cornbread is. Just test the center, using a butter knife, skewer, or chopstick, for heat and moisture. When done it should still be moist inside but not soupy.
Store leftover dressing in the refrigerator for up to 4 days.
Estimated Nutrition (per serving)
Calories:
240
kcal
Carbohydrates:
35
g
Protein:
6
g
Fat:
9
g
Saturated Fat:
2
g
Cholesterol:
0
mg
Sodium:
680
mg
Fiber:
8
g
Sugar:
4
g
Vitamin A:
100
IU
Vitamin C:
4.1
mg
Calcium:
40
mg
Iron:
2.2
mg
Nutrition information is an estimate and will vary depending on the exact amounts and specific products and ingredients used. We calculate this information using the online calculator cronometer.com. For the most accurate nutrition information we recommend calculating it yourself to reflect the specific ingredients used in your dish.
Did you try the recipe?
Comment below to let us know!