Whip up this amazing vegan mushroom gravy in minutes. It calls for easy-to-find ingredients and contains no oil or butter, not that you can tell! Creamy and full of flavor, this is the best mushroom gravy for everything from mashed potatoes to biscuits! Nut-free with a gluten-free option.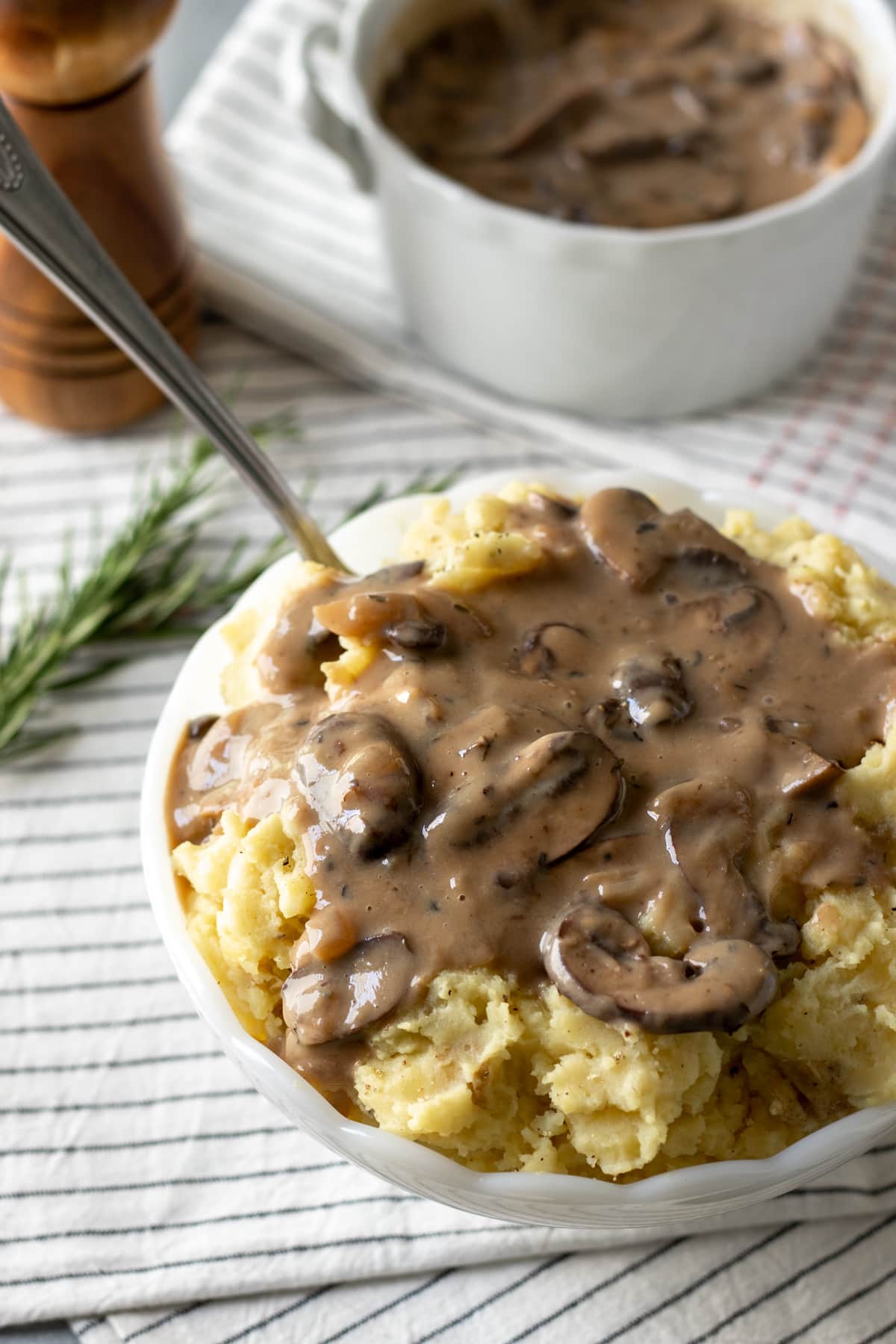 Isn't gravy the best? I mean, there are so many different types of gravy, and it has a way of making any dish feel extra special and comforting. I'm a HUGE mushroom fan, so for me, having an easy, creamy, go-to mushroom gravy is a must. That's why I'm really excited to finally share this one on the blog!
No need to hunt down specialty mushrooms or fresh herbs for this recipe. You can use almost any type of mushroom you have on hand, with white button or cremini being the most common and affordable. On that note, here's some fun trivia...
Did you know white button and baby bella (aka cremini) are different strains of the same species? White buttons are softer and have a mild flavor, while baby bellas are firmer, with a deeper, bolder flavor.
And of course, as hinted by the name "baby bellas," larger portobello mushrooms are simply mature creminis.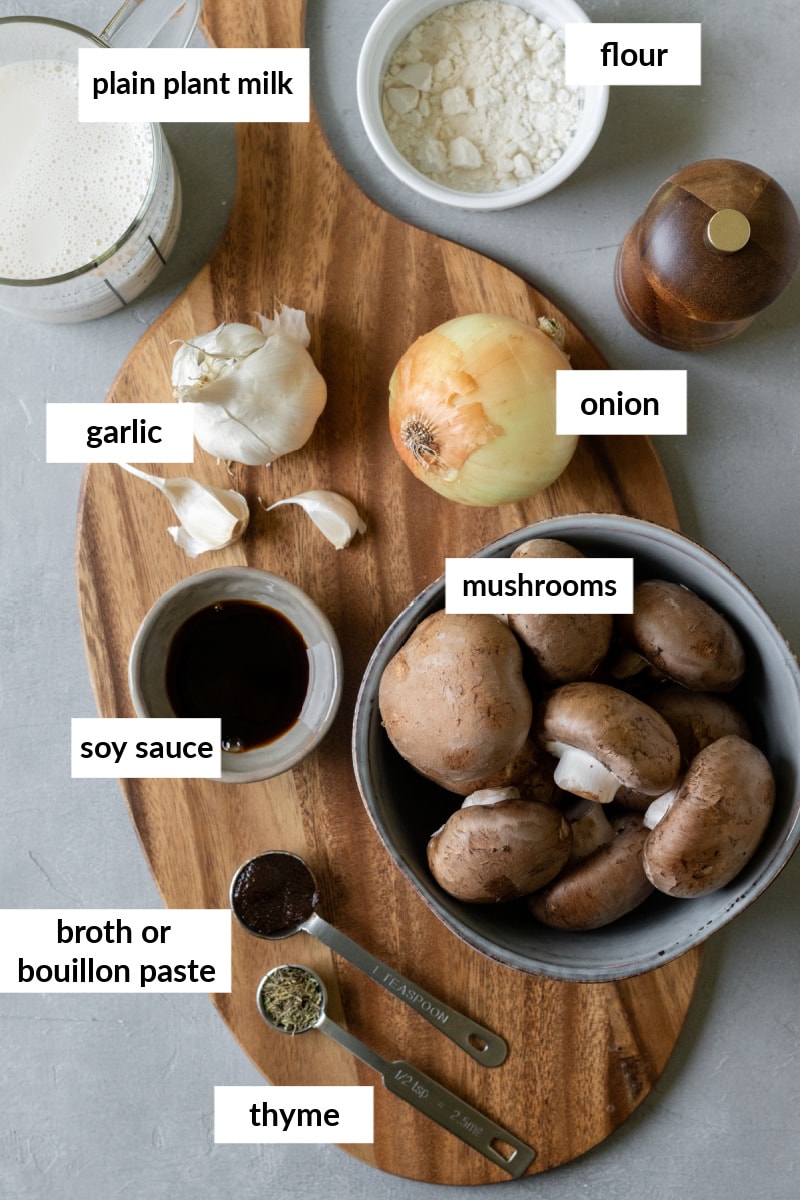 Ingredient Notes
Mushrooms
As mentioned above, both white button and baby bellas work great here. If you're feeling fancy try shiitakes (just be sure to remove the woody stems and slice the caps only).
Herbs
I always have dried thyme on hand, but if you happen to have fresh thyme, use that instead. If you're a fan of rosemary, feel free to go that route. Both herbs taste amazing with mushrooms and create an irresistible gravy.
Broth/Bouillon
You want a salty and complex vegetable broth here. If you don't have broth, feel free to substitute water plus bouillon powder or paste, such as Better Than Bouillon's veggie variety. Or if you don't think your broth is very flavorful, simply add a bit more tamari or soy sauce at the end.
Flour
I opted for unbleached all-purpose flour, but if you prefer to use a whole-grain flour, it will thicken the gravy just as well. You'll end up with visible specks of grain in the finished dish because of the natural fiber, but that doesn't hurt anything! You can also use a gluten-free flour blend or substitute arrowroot or corn starch for thickening. If using one of those starches, dissolve it in the milk or broth before adding it to the pan.
Milk
I'm a sucker for creamy gravy, so I went for a combination of milk and broth in this recipe. But you can definitely use all broth if you don't have unflavored, unsweetened non-dairy milk on hand.
And this is an important thing to note! Watch out for milks that claim to be unsweetened but have hidden natural flavors that make them taste a bit vanilla-y or sweet. Here's an example...
Years ago, Whole Foods' 365 brand unsweetened soy milk used to actually be plain, but somewhere along the way they changed the flavor so that it now has a hint of something sweet. I'm not exactly sure what they added, but it made their *supposedly unsweetened/plain* soy milk completely unusable for savory purposes. It's still great for baking, smoothies, oatmeal, etc, but for savory dishes, these days I go with Trader Joe's plain unsweetened soy milk or a boxed one like Westsoy.
Unsweetened almond milk is another good choice.
Step By Step Process
In case you've never made gravy before and are afraid it requires fancy skills or something, let me assure you, it's nearly foolproof. If you can sauté onion and mushrooms, you can make gravy.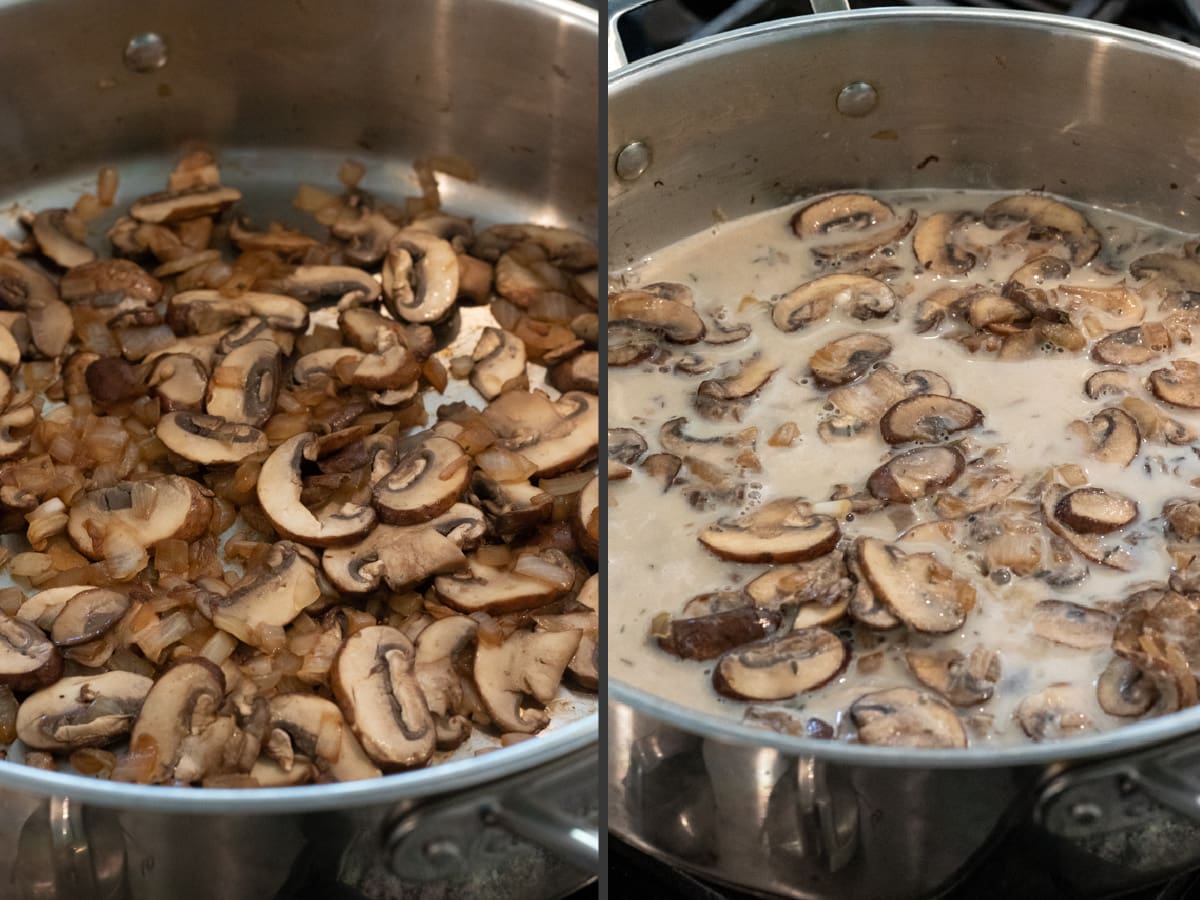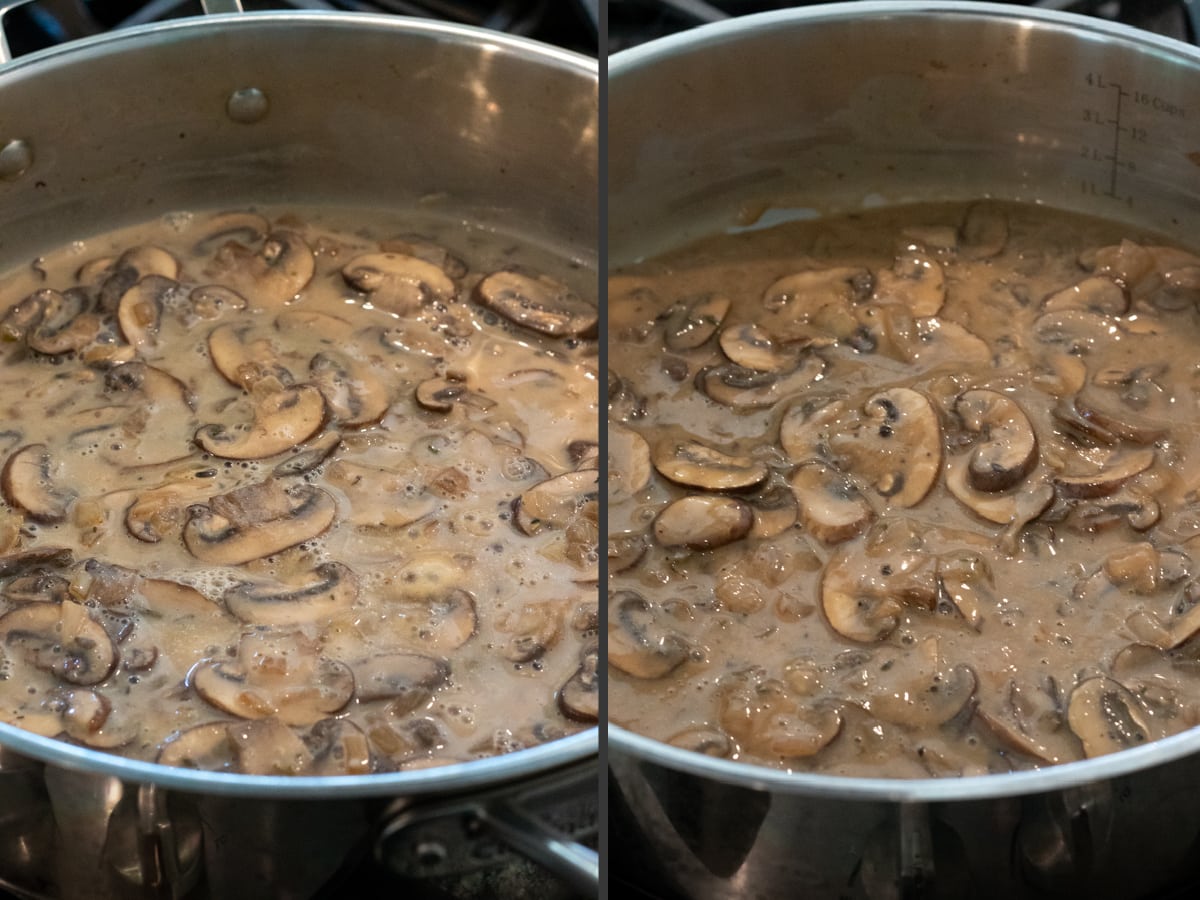 Saute the onion and mushrooms until dry and lightly browned, about 10 minutes.
Add the garlic and thyme, and give it a stir. Sprinkle in the flour, stir, and cook for about one minute. Pour in the milk and broth and stir well, scraping the bottom of the pan.
Stir occasionally as the gravy thickens.
Season with pepper and tamari. Taste and adjust seasoning as desired.
Tips
As long as the pan is fully preheated you shouldn't have trouble with the onion and mushrooms sticking. But if you do, add a splash of water or broth.
If you're not interested in having an oil-free gravy, feel free to add 1 to 2 tablespoons of olive oil or vegan butter to the preheated pan.
Batch Size
This recipe makes a modest amount, about 1 ⅔ cups. If you're feeding more than a few people and want to double the recipe, there's no need to double the mushrooms, unless you just want to!
This is a fairly mushroom-heavy gravy as written. So it's definitely okay to double the other ingredients while only increasing the mushrooms to 12 to 16 ounces.
Storage
Leftovers reheat perfectly and will keep in the refrigerator for up to 5 days.
Gravy can be frozen for longer storage. Thaw overnight in the refrigerator and reheat on the stovetop.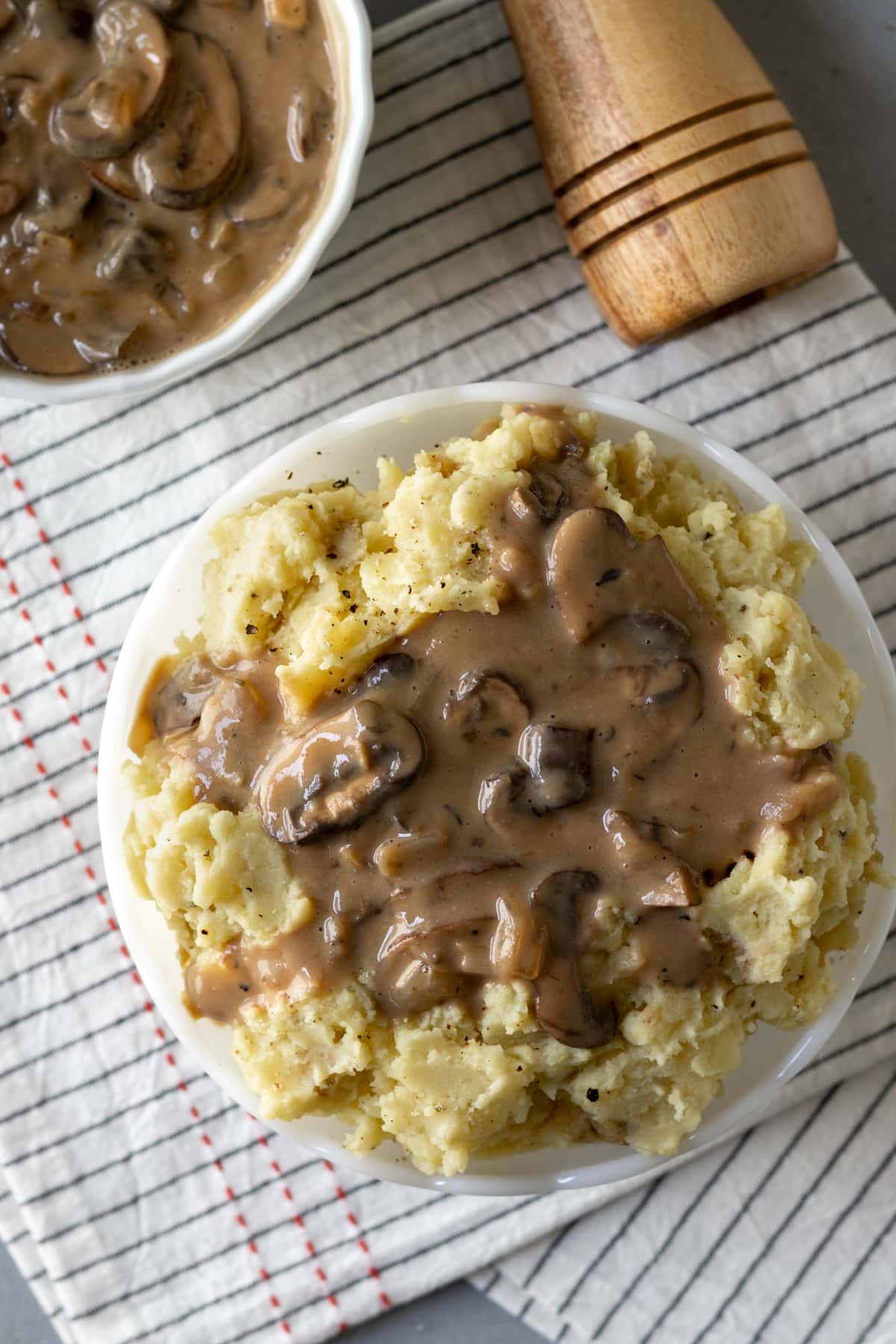 I hope you LOVE this vegan mushroom gravy. It's:
low in fat, with only 1 gram per serving (but doesn't taste like it)
ready in 25 minutes
perfectly creamy
versatile
and sooooo mushroom-y!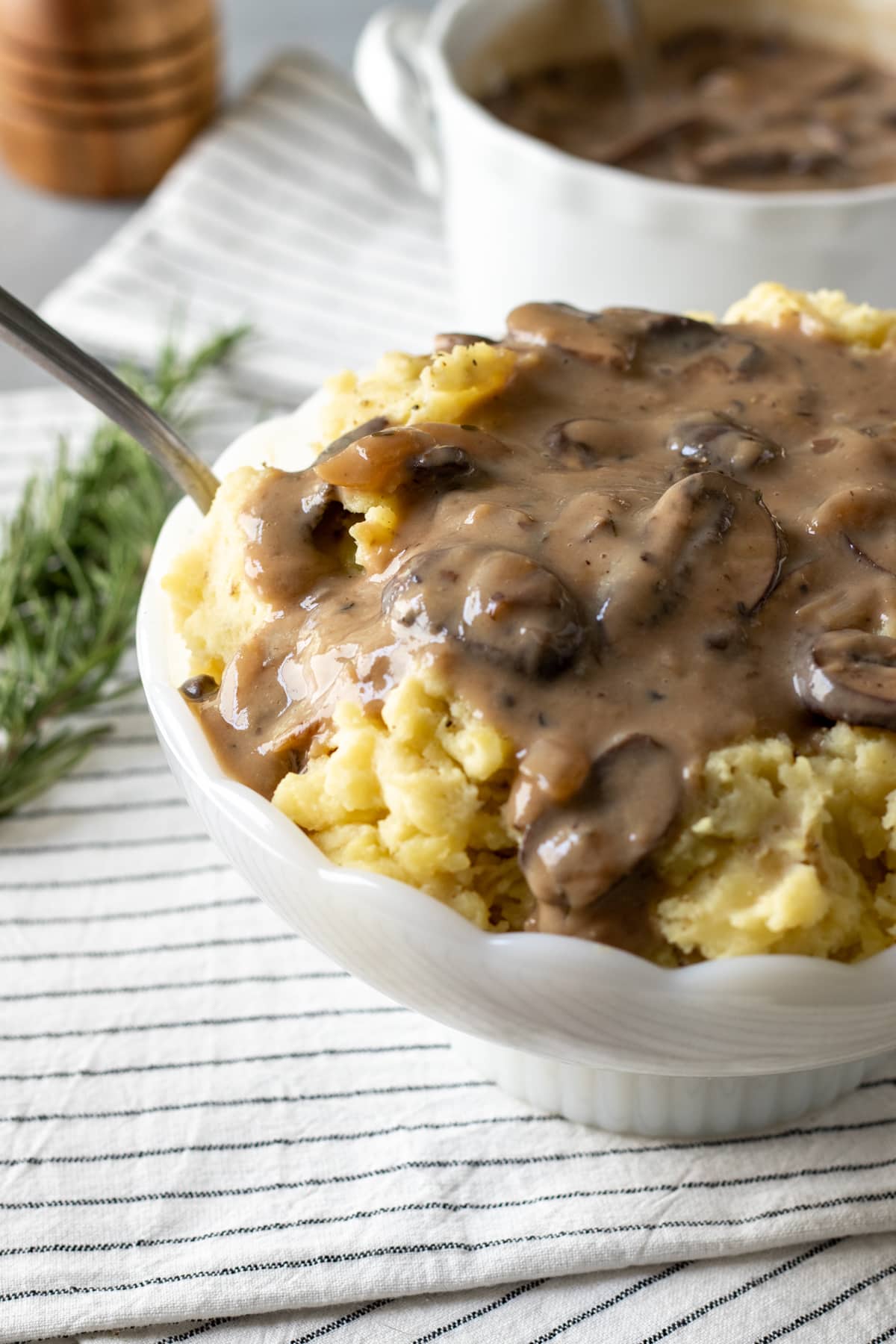 And if you enjoy mushroom gravy, definitely check out this new Creamy Vegan Mushroom Stew!
You might also like:
Oil-Free Vegan Mashed Potatoes
Harvest Chickpea Meatloaf
Vegan Cream of Mushroom Soup
Simple Seitan Roast
Mushroom-Sage Orzotto
Mushroom-Barley Burgers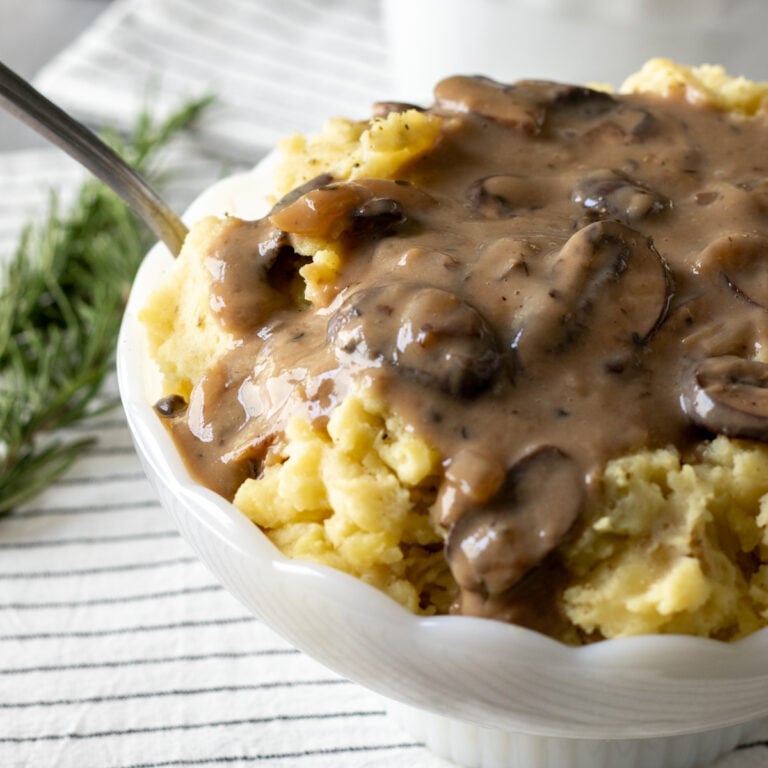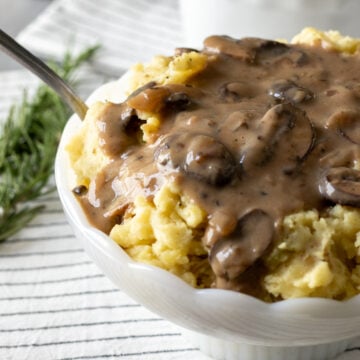 Easy Vegan Mushroom Gravy (Oil-Free)
Perfect vegan mushroom gravy that's so rich and delicious no one will believe it contains NO butter or oil. Just 25 minutes and 8 simple ingredients.
Adapted from Natasha's Kitchen's mushroom gravy.
Yield:
makes about 1 ⅔ cups (see Notes for doubling recipe)
Ingredients
1

small

yellow onion, finely chopped

10

ounces

cremini or white button mushrooms, thinly sliced

4

cloves

garlic, minced

¾

teaspoon

dried thyme or about 1½ teaspoons chopped fresh thyme

-

Sub rosemary if desired.

2

tablespoons

all-purpose flour

-

Sub GF or whole wheat flour if preferred.

¾

cup

unflavored, unsweetened non-dairy milk

- Even some unsweetened plant milks taste sweet, so be sure to taste first. I used Trader Joe's soy.

1

cup

salty vegetable broth

-

Or water plus bouillon, or water plus extra soy sauce.

black pepper

1

tablespoon

tamari or soy sauce
Instructions
Preheat a large saute pan over medium heat. Add the onion and mushrooms. Stirring occasionally, cook until dry and softened, about 10 minutes.

Add the garlic and thyme to the pan, stir, and cook for about 30 seconds. Evenly sprinkle flour into the pan, stir and cook for about 1 minute or until lightly browned.

Add the milk and broth, and stir to dissolve the flour. Return to a low simmer, and cook for about 5 minutes or until thickened. Add pepper to taste.

Stir in the tamari, and reduce heat. Taste and adjust seasoning as desired. Serve immediately, or allow gravy to cool, then refrigerate until ready to re-heat and use.
Notes
This recipe makes a modest amount, so if you plan to double it for a crowd, double everything except the mushrooms, which you can increase to 12 to 16 ounces, depending on how mushroom-heavy you want it to be.
Storage
Store in the refrigerator for up to 5 days. Gravy can also be frozen. Thaw overnight before re-heating.
Estimated Nutrition (per serving)
Calories:
63
kcal
Carbohydrates:
10
g
Protein:
4
g
Fat:
1
g
Cholesterol:
0
mg
Sodium:
345
mg
Fiber:
3
g
Sugar:
3
g
Nutrition information is an estimate and will vary depending on the exact amounts and specific products and ingredients used. We calculate this information using the online calculator cronometer.com.
Did you try the recipe?
I LOVE hearing from you! Comment below to let us know.