These vegan stuffed mushrooms are a simple, irresistible, perfect appetizer for so many occasions. Tender mushroom caps are filled with a cheesy and garlicky breadcrumb filling. Even better, prep is SO easy! All you need are a bowl, baking sheet, and about 35 minutes!
This vegan stuffed mushroom recipe is also gluten-free and nut-free.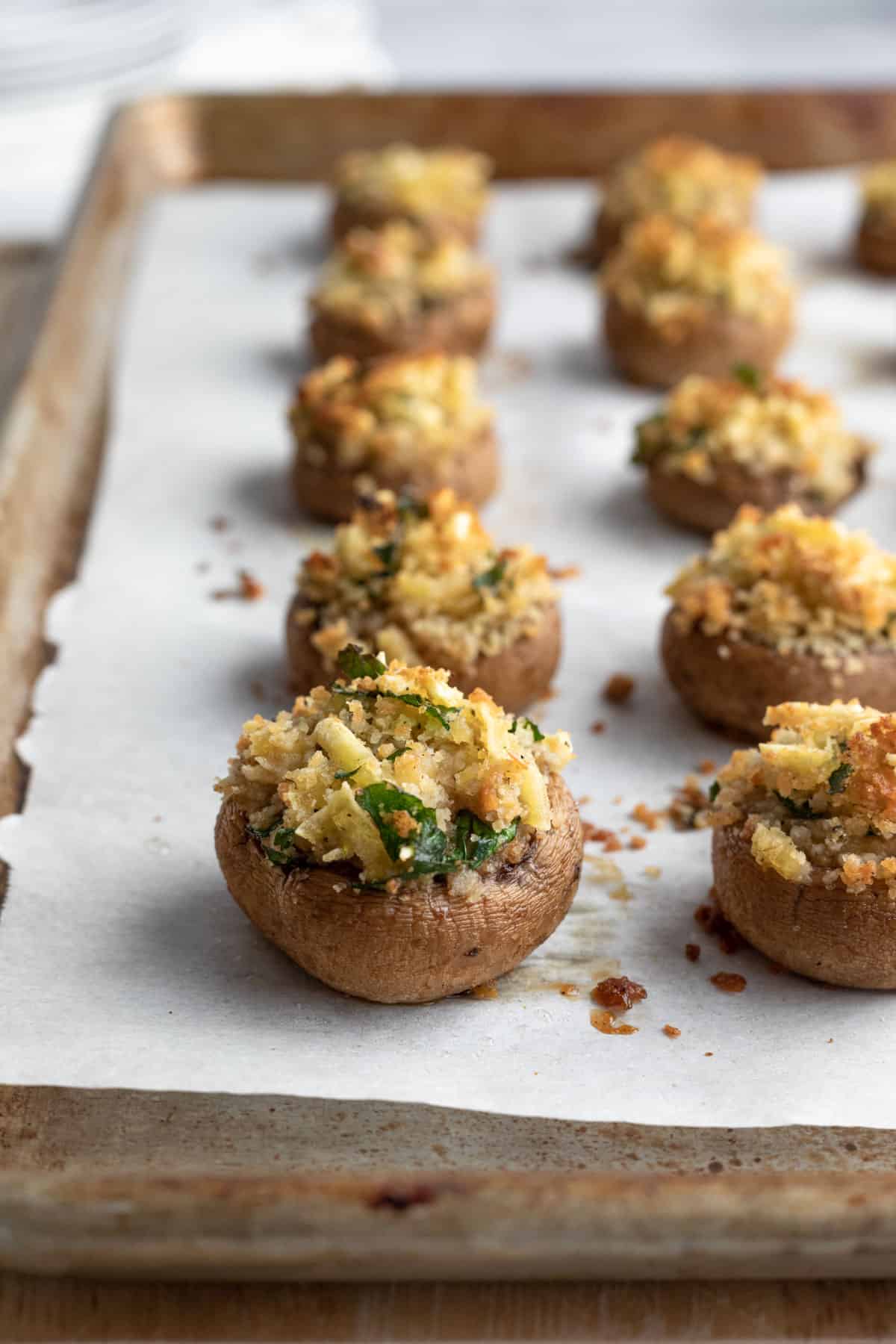 Why You'll Love Them
Vegan stuffed mushrooms are great for so many occasions, from Thanksgiving to Christmas, dinner parties, birthdays, and game day.
They're wonderfully savory, tender and juicy with crisp tops, and taste great hot, warm, or at room temperature. In other words, stuffed mushrooms are fairly fuss-free as far as appetizers go!
So what makes this recipe different? First of all, they're vegan and free from gluten and nuts.
Also, prep is so easy you just might find yourself whipping up a batch of vegan stuffed mushrooms any old day of the week!
There's no sautéing or pre-baking involved. All you do is pluck out the mushroom stems, stir together the filling, stuff the shrooms, and BAKE!
But don't think that by taking shortcuts we're sacrificing flavor. These Italian vegan stuffed mushrooms turn out perfectly tender and juicy every time.
We also love that they're just rich enough to taste amazing but not so heavy they'll ruin your appetite.
Ingredients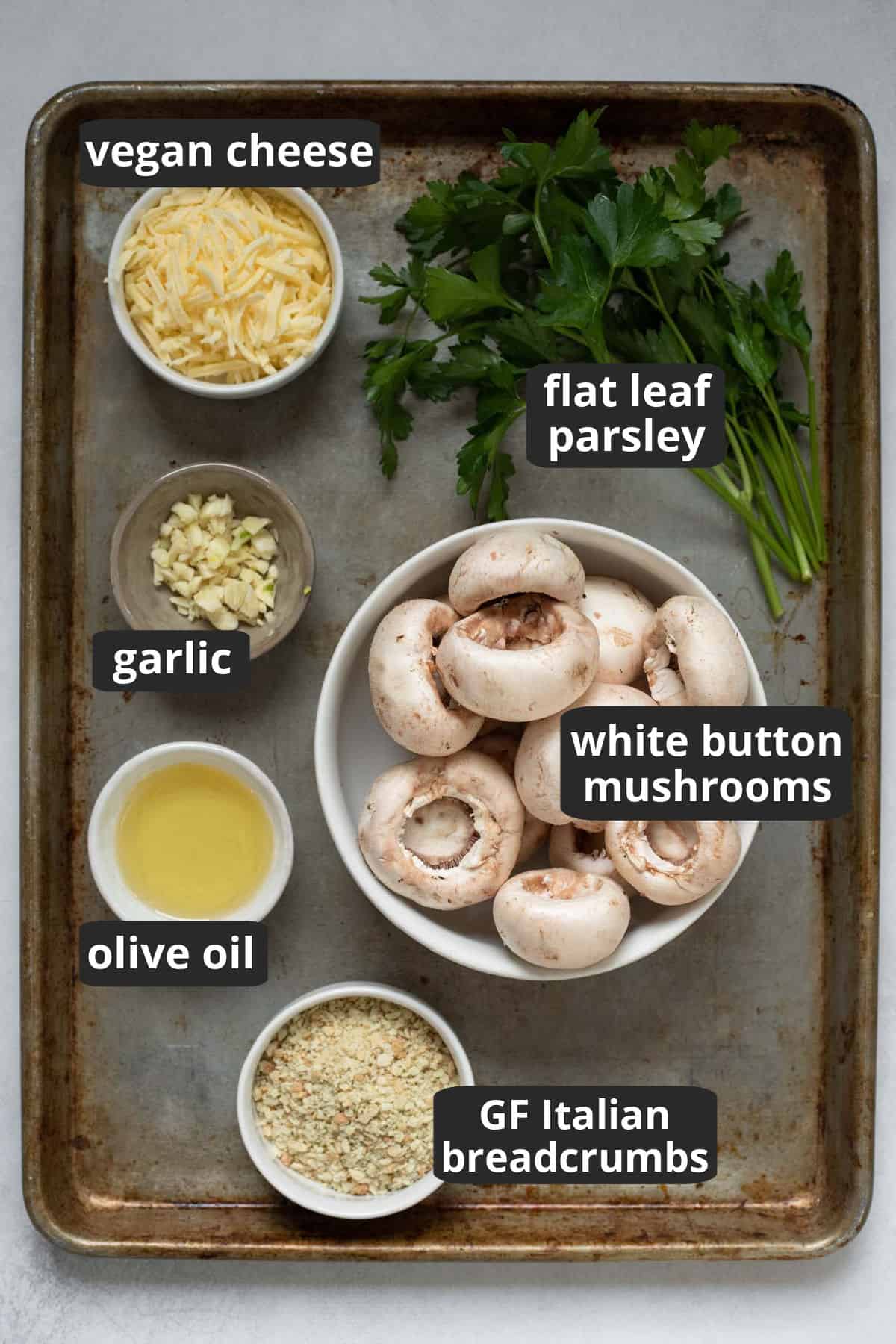 Mushrooms - look for medium-large button mushrooms, either white or baby bella. If your store carries mushrooms in bulk in the produce cooler that's the best option because you can hand-pick larger, similarly-sized ones.
Cheese - I spotted some Chao Original shreds at Whole Foods and took this opportunity to try them for the first time. I'm also a fan of Violife's Mature Cheddar block, which you can grate by hand. But any shredded vegan cheese you like is fine here. You can even use a homemade nut parm (more on this below).
Breadcrumbs - any Italian breadcrumbs you like will work fine here; I went with Ian's gluten-free. They have a crunchy, panko texture that pairs well with the creamy cheese.
Olive Oil - I often share oil-free recipes but for today's dish I decided to go with a more traditional preparation. ---> I've linked to some oil-free options in the Variations section below.
Parsley - a small amount of fresh Italian parsley adds flavor and a beautiful touch of color. Curly parsley is also fine.
Garlic - you'll need 2 or 3 cloves, depending on their size.
Salt and pepper
See recipe card below for quantities and full recipe.
Voila! Gorgeous, golden brown, vegan stuffed mushrooms.
Tip: I like to use a teaspoon to scoop the filling into the mushrooms. It's about the same diameter as the cavities which makes for neater and easier stuffing than using a larger spoon.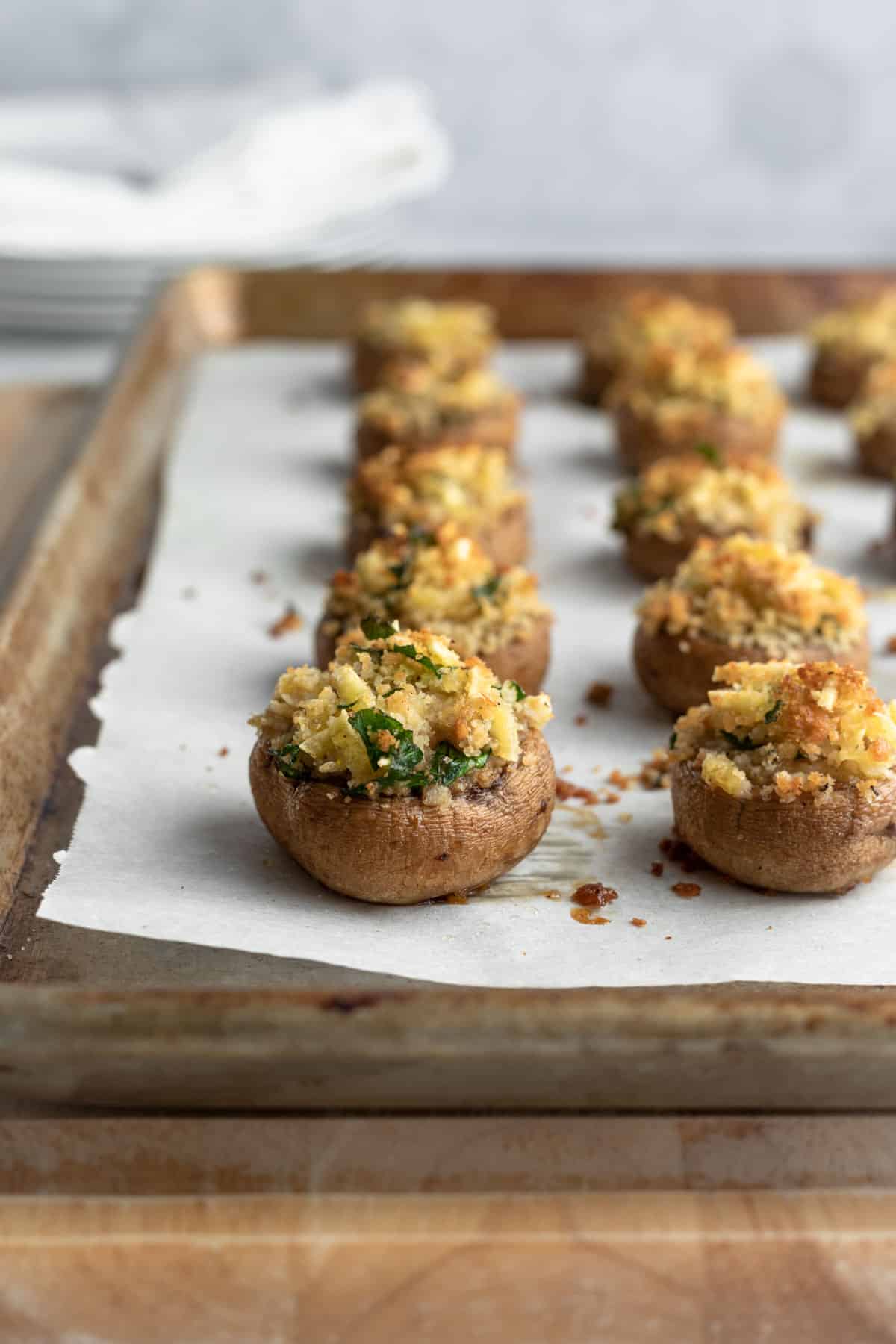 Substitutions
Breadcrumbs - since easy is the name of the game with these stuffed shrooms, I opted for store-bought breadcrumbs, but you can also make your own from a couple of pieces of toasted bread. Season with a dash of garlic powder and oregano.
Cheese - as mentioned above, I was going for super simple prep, but if you'd rather use an oil-free homemade cheese, that's totally up to you! Try my Almond Ricotta, Vegan Tofu Ricotta, Nut Parmesan, or Vegan Feta.
The creamier cheeses will add more moisture to the filling so you may want to reduce the amount slightly and increase the amount of breadcrumbs.
Parsley - curly parsley can be used instead of flat leaf Italian parsley if needed.
Seasonings - for more Italian flair add a generous pinch of dried oregano to the filling. And for a spicy kick add crushed red pepper flakes or a few dashes of cayenne pepper.
Variations
Interested in an oil-free version? Here are some options:
Do Ahead
If you're making these for a party or holiday meal and want to do some prep ahead of time, you can mix the filling and prep the mushrooms the day before. It's best to bake the mushrooms just before serving.
Storage
Stuffed mushrooms are best served fresh, but if you do have some leftover they'll keep for several days in the refrigerator. They reheat well in a microwave or toaster oven.
Stuffed mushrooms are not freezer-friendly.
Helpful Tips
If the stems on your mushrooms are short and difficult to remove, it helps to take the handle end of a spoon and run it around the perimeter of the stem. Then carefully pop out the stem.
Finally, a teaspoon works best for filling the mushrooms because the diameter is similar to that of the mushroom cavities. You'll use about 2 teaspoons of filling per mushroom.
You Might Like
I hope you love these super easy Vegan Stuffed Mushrooms! If you try the recipe be sure to leave a star rating and comment below to let us know!
📖 Recipe