This vegan feta cheese is perfectly salty, creamy, crumbly, and surprisingly easy to make. The combination of almonds and tofu creates amazing texture. As an added bonus, this vegan feta cheese is made with healthy, whole-food ingredients (no coconut oil) and just 20 minutes of hands-on prep time! Oil-free and gluten-free, with a nut-free option.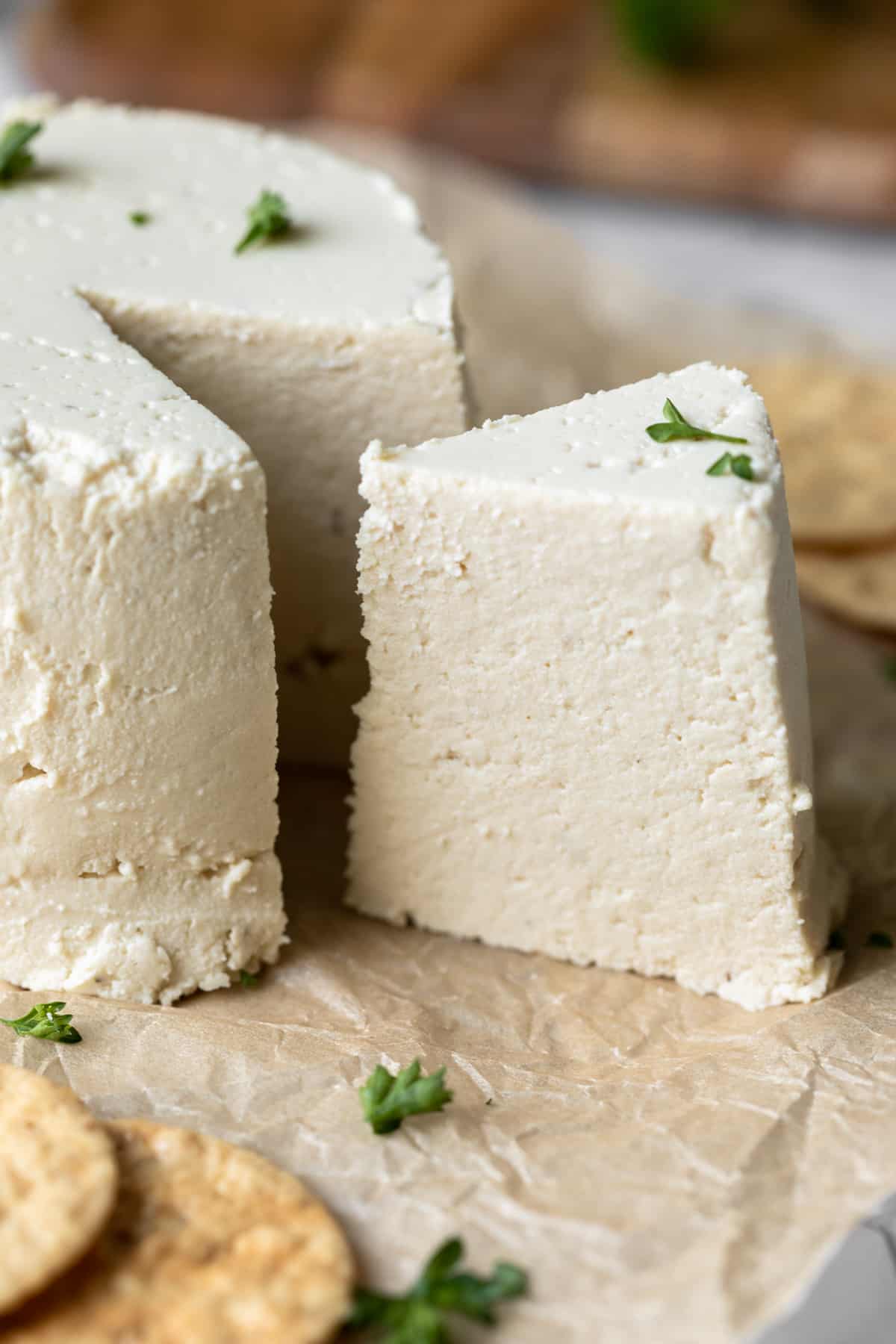 Why You'll Love This Recipe
It's easy.
I've experimented with a lot of vegan cheese recipes over the years, mostly "quick cheeses" like this one, not cultured or aged. I love un-aged vegan cheese recipes because they're more accessible for the average person.
Cultured nut cheeses are awesome, but the process is really more of a hobby than an everyday cooking skill! This vegan feta recipe is truly simple and can be made the same day you plan to enjoy it.
The flavor and texture are just right.
Creating a quick vegan feta was more challenging than I anticipated, in part because we have very specific expectations from feta.
Other vegan cheeses can get away with simply being salty, creamy, and cheesy tasting. But feta needs a certain briny acidity and needs to crumble while also having a creamy mouthfeel. This recipes checks all the boxes!
AND it's oil-free!
We also love that this vegan feta is oil-free, getting its creaminess from a little bit of tofu. Instead of using coconut oil to help the cheese set when chilled, we're using agar agar to help the cheese firm up, similar to this popular Almond Queso Fresco.
Jump to: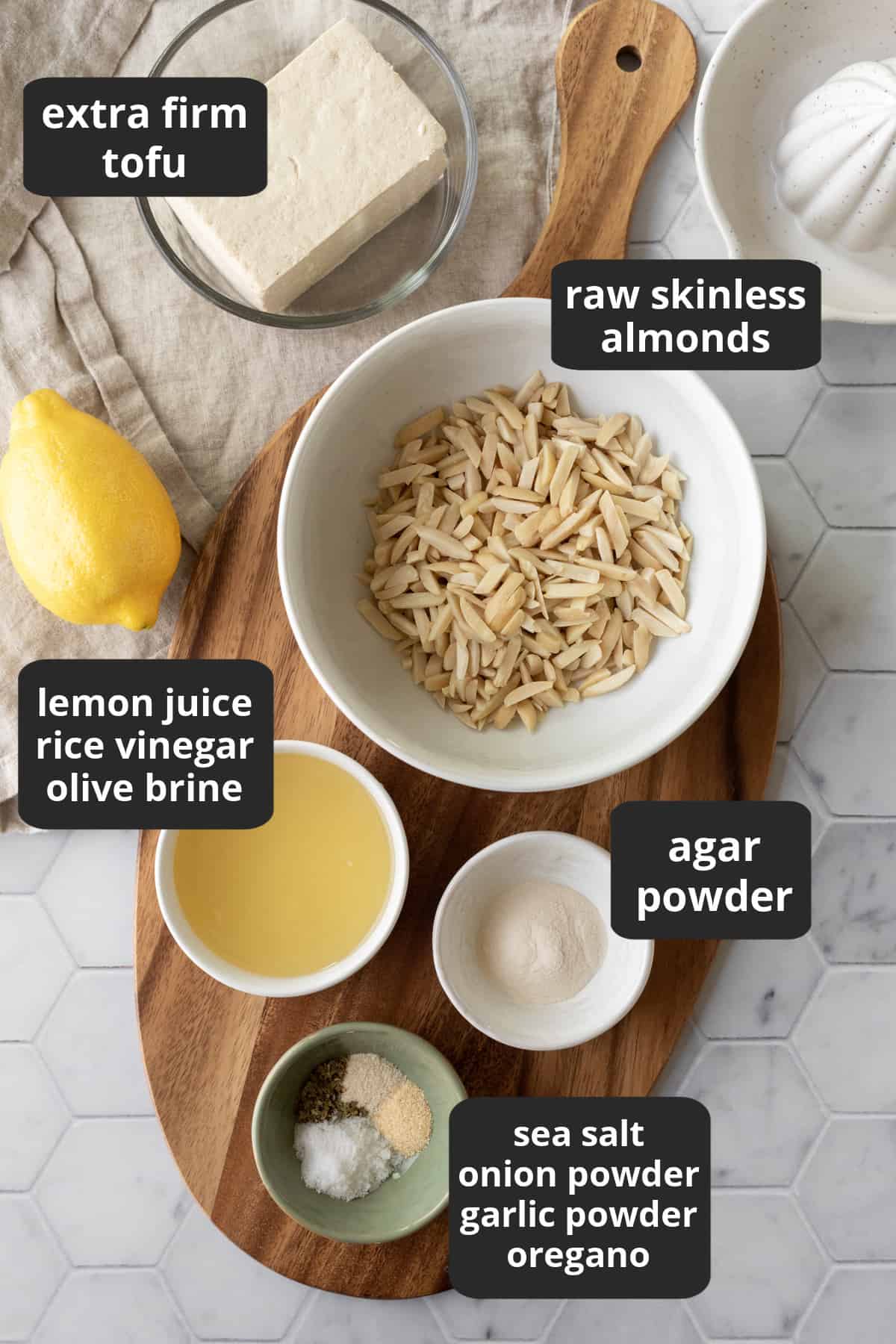 Key Ingredients
blanched slivered almonds - starting with slivered almonds makes this recipe a bit easier, but whole blanched almonds can also be used. If you don't have access to either, check out this post by Serious Eats to learn how to remove the skins from whole raw almonds.
extra firm tofu - usually found in a refrigerated section near the produce, extra-firm tofu works well here because it adds a creaminess, plus extra protein, but without adding too much moisture. There's no need to press the tofu first, simply pat it dry.
agar agar powder - if you're not familiar with agar, it's a fantastic ingredient to have in your vegan pantry because it can be used to help desserts and cheeses set without the need for a lot of saturated fat. It also makes delicious "jell-o" (as you probably know, gelatin isn't vegan). I use this agar powder by Living Jin.
More ways to use agar: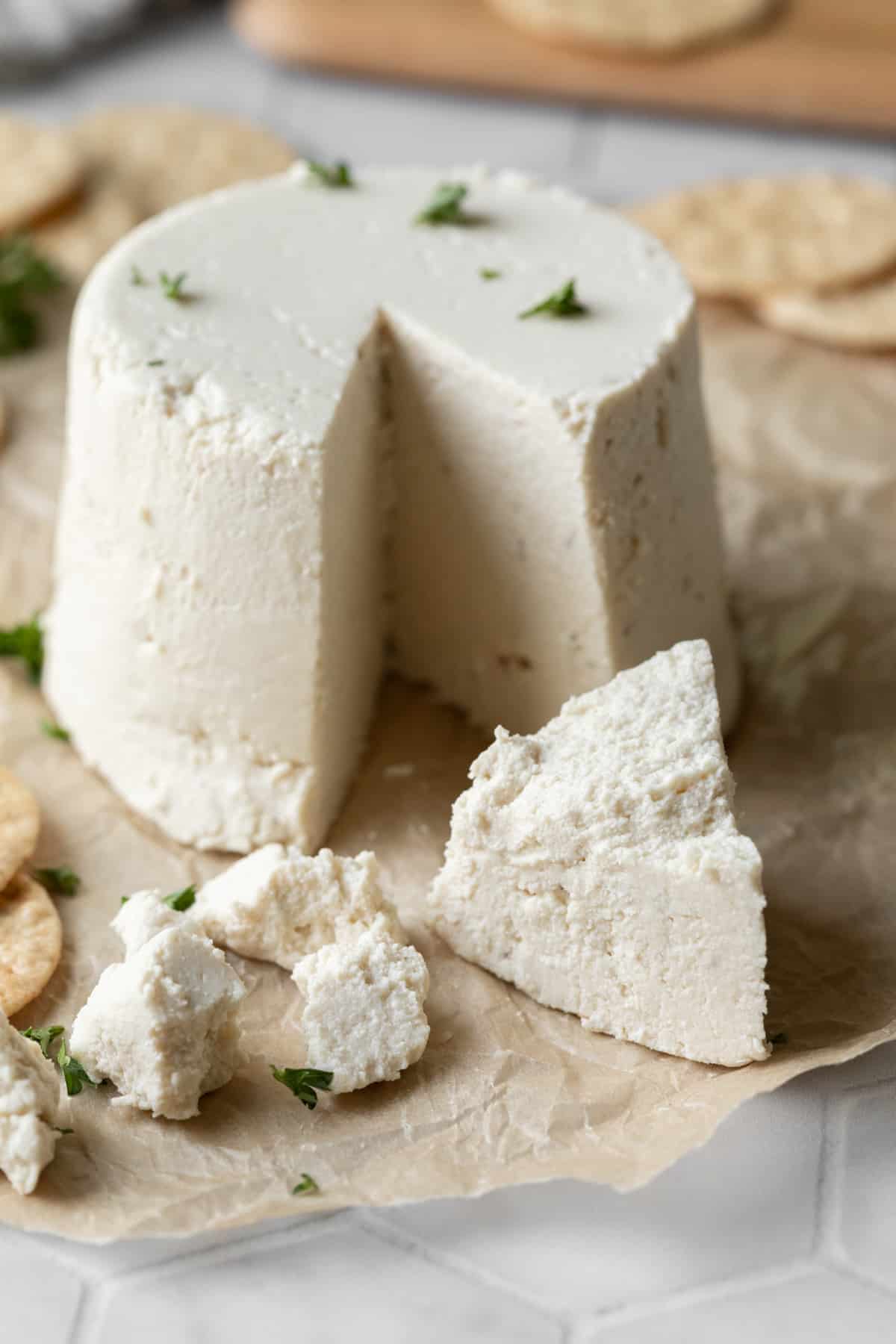 How To Make Vegan Feta Cheese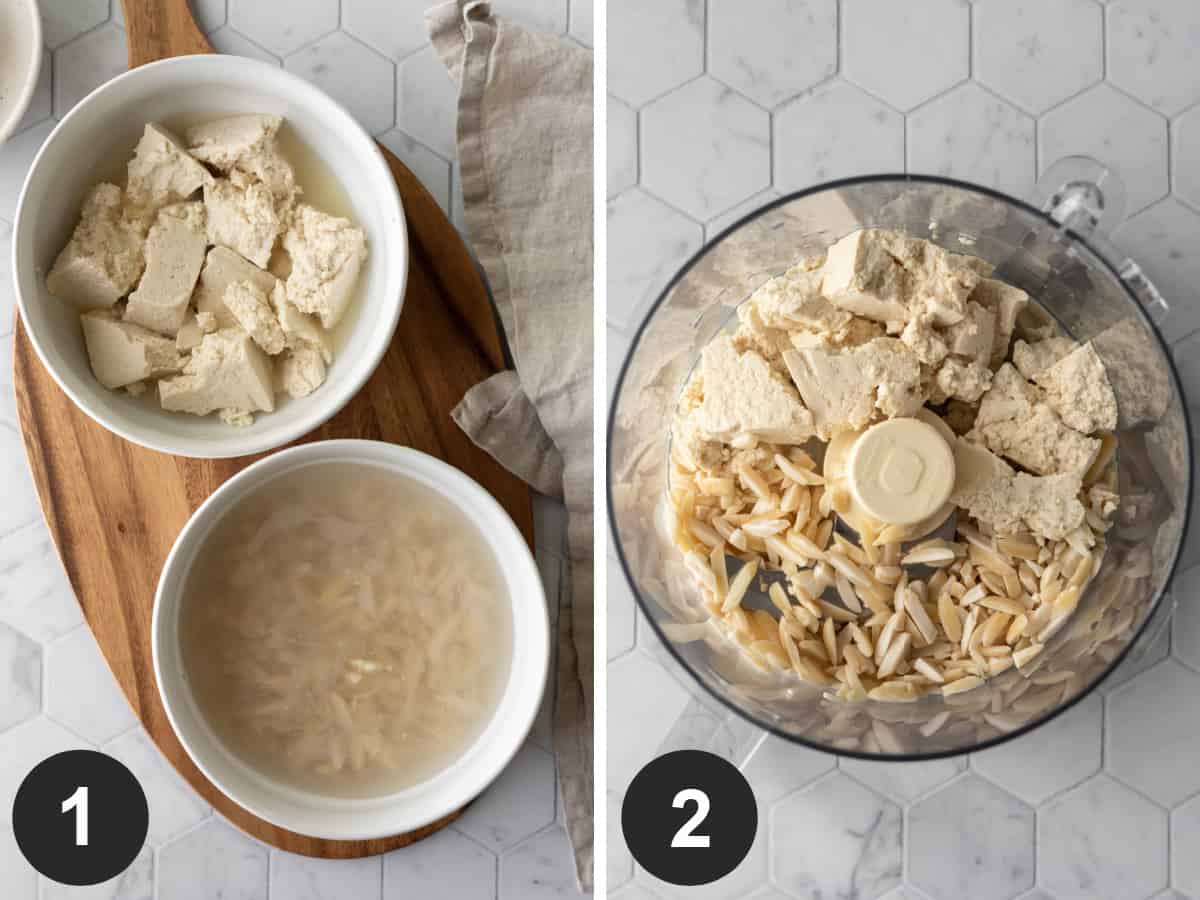 Begin by soaking the slivered almonds in hot water for 1 hour. Then drain and pat dry.
To the bowl of a large food processor add the almonds, tofu, lemon juice, brine, vinegar, salt, onion powder, garlic powder, and oregano. Blend until mostly creamy, stopping to scrape down the sides as needed. Give it a taste, and add a bit more lemon or salt, if desired.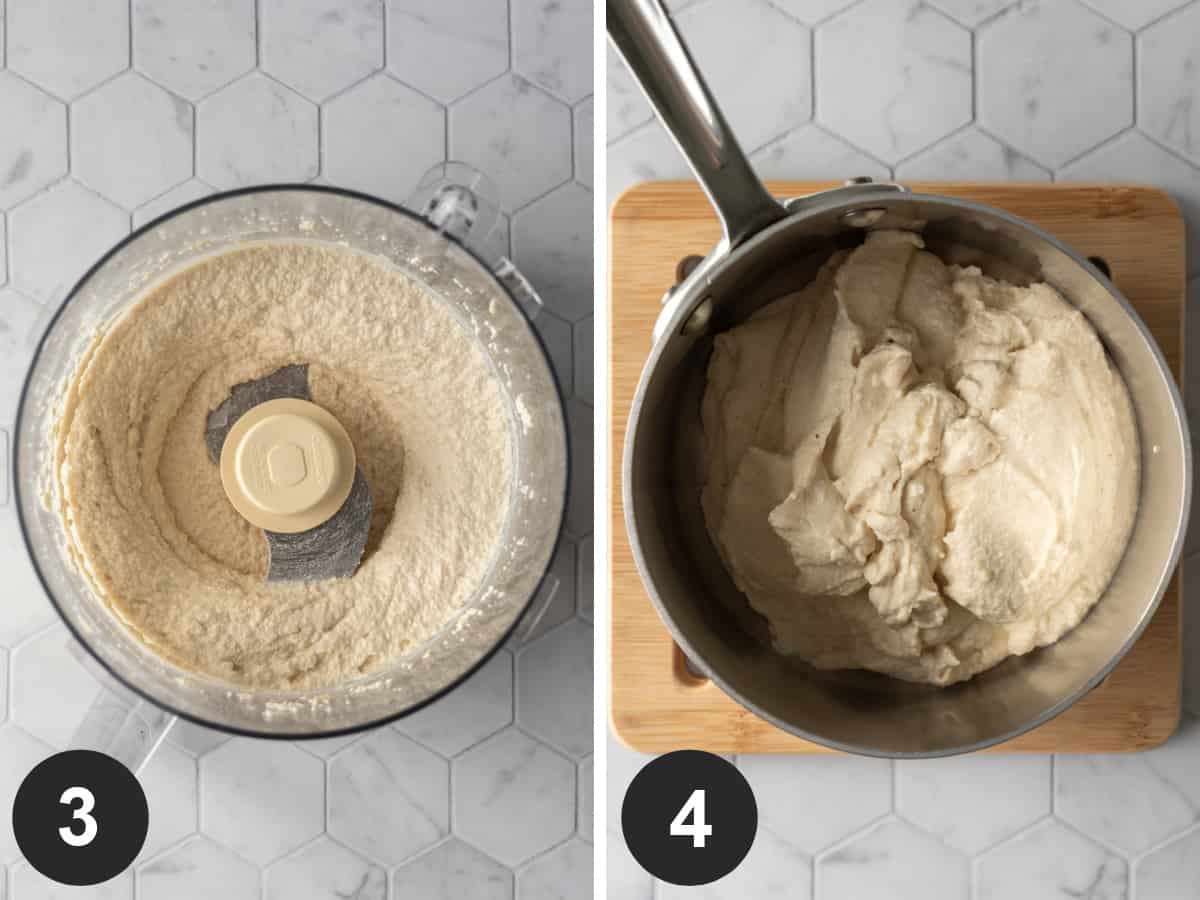 Process again until the consistency is fluffy, creamy, and only slightly textured (see photos). Add the agar powder, and pulse to combine.
Transfer the mixture to a small sauce pan over medium heat.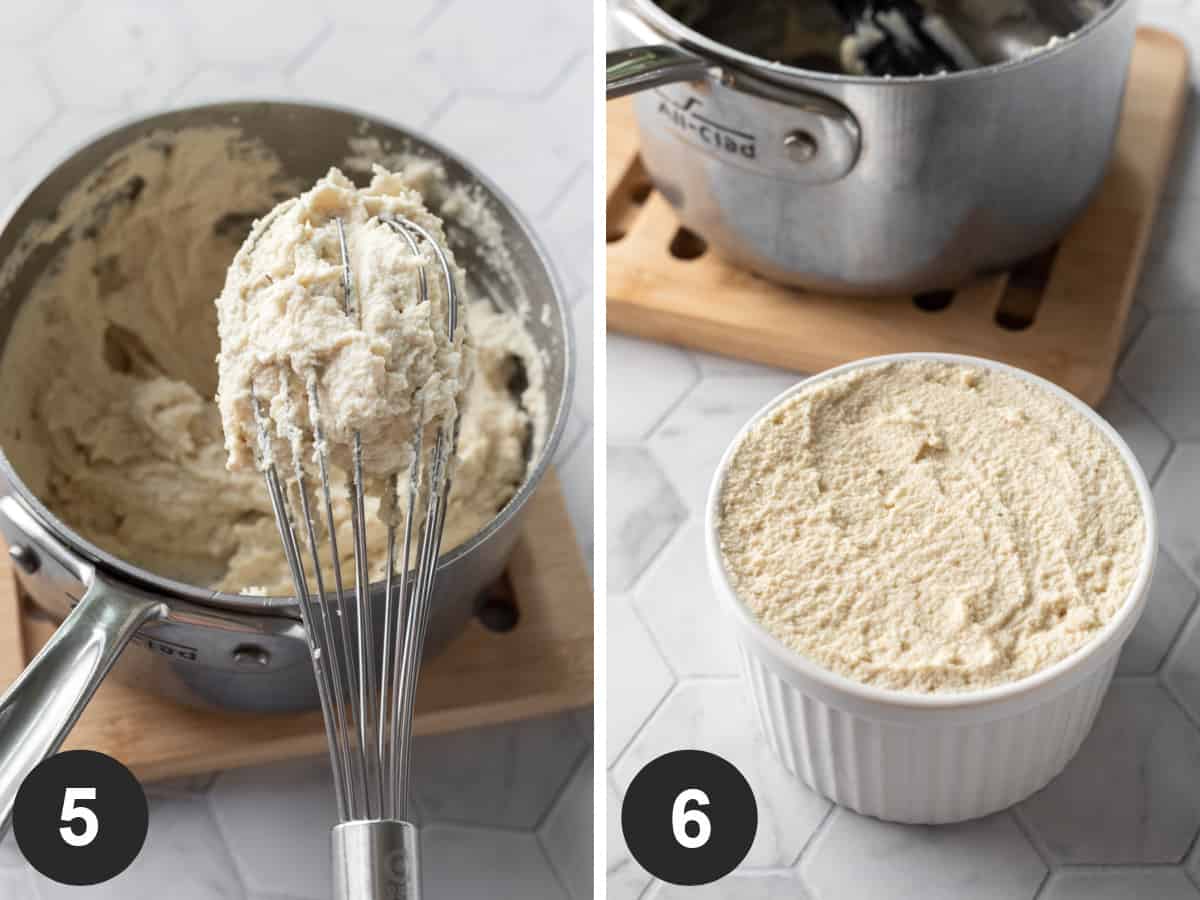 Whisking constantly, heat the cheese until thickened and it has reached boiling temperature (this activates the agar).
Transfer to a ramekin or other mold. Allow to cool for a few minutes, then cover with plastic and refrigerate until cold, about 2 to 3 hours.
Serving Suggestions
Take advantage of the fact that this vegan feta is both crumbly AND creamy enough to spread.
Add it to green salads, kale salad, and pasta salad.
Spread it on avocado toast, wraps, and sandwiches.
And crumble it on top of your favorite beans and grains.
Vegan Feta FAQs
Does vegan feta cheese melt?
Not exactly, but it can be used in hot dishes. It's possible that incorporating tapioca starch and refined coconut oil into this recipe could transform it into a meltable feta alternative.
How long does it keep?
Stored in the refrigerator, I feel comfortable keeping this homemade vegan feta cheese for up to 1 week.
Is it freezer-friendly?
Yes! This quick cheese can be frozen for extended storage. Make sure it is well-protected from air, then thaw overnight in the refrigerator.
Can it be made without nuts?
Absolutely! Raw sunflower seeds work very well as a substitute for the almonds. See the Notes section of the recipe below for full details.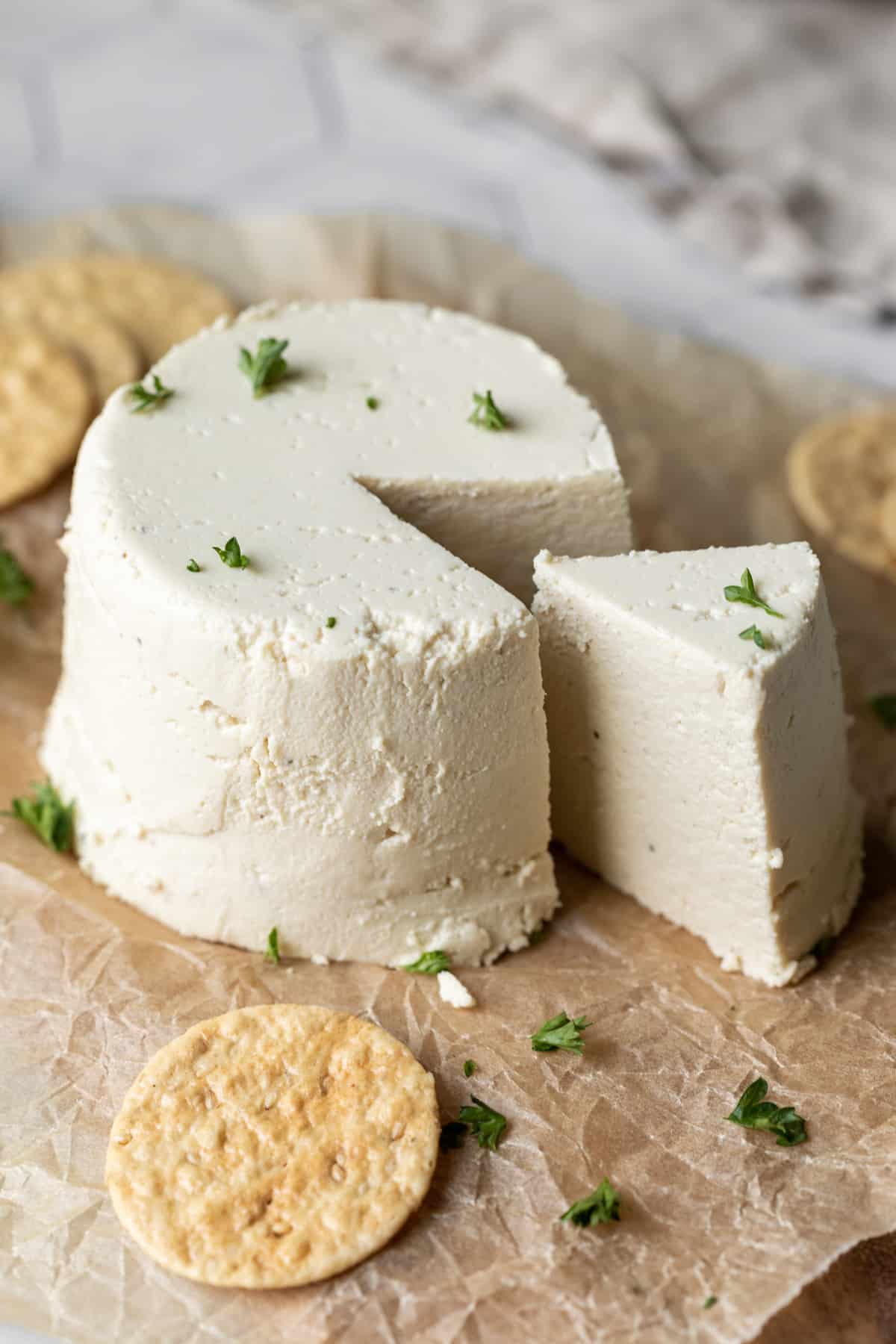 Top Tip
Allow at least 2 to 3 hours for the feta to chill and set. Actually, the flavor develops and improves overnight, making this cheese perfect for preparing in advance for holidays and parties.
I hope you love this Vegan Feta Cheese recipe. If you try it be sure to comment below and leave a star rating to share your feedback!
More quick vegan cheese recipes:
Recipe Video
Watch the video to see how easy this vegan feta is to make!
📖 Recipe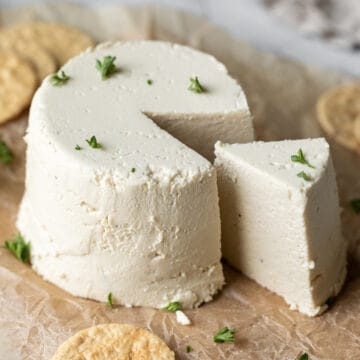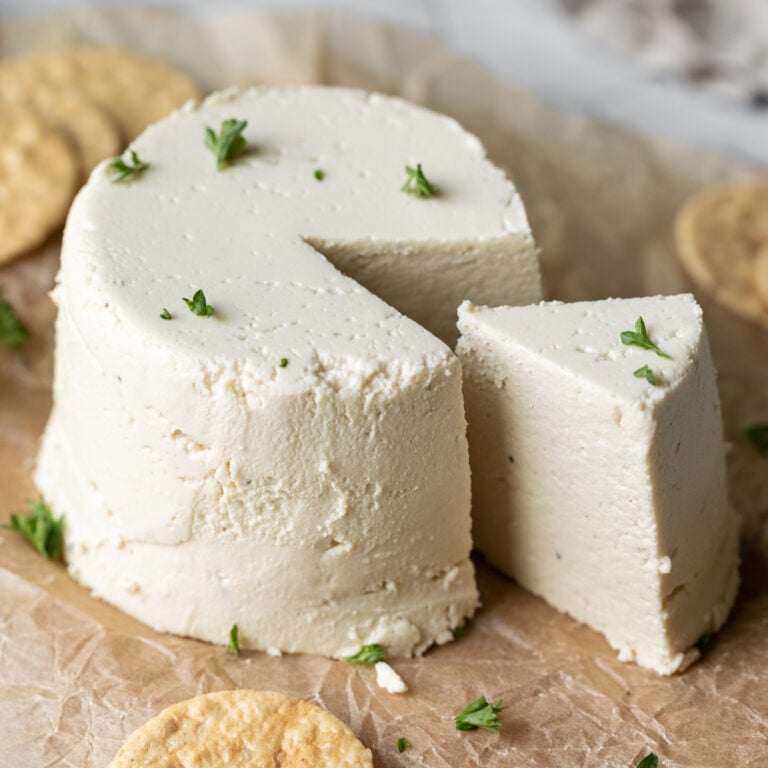 Vegan Feta Cheese
Make amazing vegan feta cheese at home from whole, healthy ingredients! It's creamy and crumbles perfectly for everything from salads to pasta. No oil, cashews, or coconut milk and only 20 minutes of prep time!
Inspired by and adapted from my recipe for Vegan Queso Fresco.
Instructions
Place almonds in a bowl, and cover with hot, but not quite boiling, water. Soak for 1 hour, then drain and pat dry.

To the bowl of a food processor, add the drained almonds, tofu, lemon juice, brine, vinegar, 1 tsp salt, onion, powder, garlic powder, and oregano. Process until creamy, about 1 minute, stopping to scrape down the sides as needed.

Taste the mixture, and add more lemon or salt, if desired. *After the cheese is heated in the next step the flavors become more muted. So you want it to taste very tart and salty at this point. Run the processor again until the consistency is fluffy, creamy, and only slightly textured. Add the agar powder, and pulse several times to incorporate.

Transfer the mixture to a small sauce pan. Whisking constantly, cook over medium to medium/low heat until the cheese is steamy hot and thickened, about 3 or 4 minutes. When you see bubbling and are certain the mixture has reached boiling temperature, continue to whisk and cook for another 30 seconds. Transfer the cheese to a ramekin(s) or small container, and smooth the top.

Allow to cool on the countertop for about 15 minutes, then cover with plastic wrap and refrigerate until cold, 2 to 3 hours. The flavor develops and improves overnight.

When ready to use, simply scoop individual servings straight from the ramekin/mold, or run a butter knife around the edge, and turn the whole wheel of cheese onto a serving platter.
Notes
Can't find blanched almonds at the store? No problem! Removing the skins from whole, raw almonds isn't difficult, even if it is a bit tedious. Check out these instructions for blanched almonds over at Serious Eats. Or use raw cashews instead.
Nut-Free Option
One cup raw sunflower seeds can be substituted for the almonds. Soak as instructed, then drain and briefly rinse under running water. Pat dry, and proceed with the recipe as written.
Storing the Cheese
Store in an airtight container in the refrigerator for 5 to 7 days. It's also freezer-friendly (just make sure it is well-protected from air). From frozen, transfer the feta to the refrigerator to thaw overnight before using.
Estimated Nutrition (per serving)
Calories:
116
kcal
Carbohydrates:
5
g
Protein:
7
g
Fat:
9
g
Saturated Fat:
1
g
Cholesterol:
0
mg
Sodium:
405
mg
Fiber:
2
g
Sugar:
1
g
Nutrition information is an estimate and will vary depending on the exact amounts and specific products and ingredients used. We calculate this information using the online calculator cronometer.com.
Tried the recipe?
I love hearing from you! Share your feedback below!