If you want vegan cheese that melts, homemade vegan mozzarella is the way to go! It's so easy and delicious and perfect for pizza, calzones, lasagna, and grilled cheese. Best of all, this cheese is allergy-friendly, made without soy or gluten, and easily made oil-free, nut-free and coconut-free!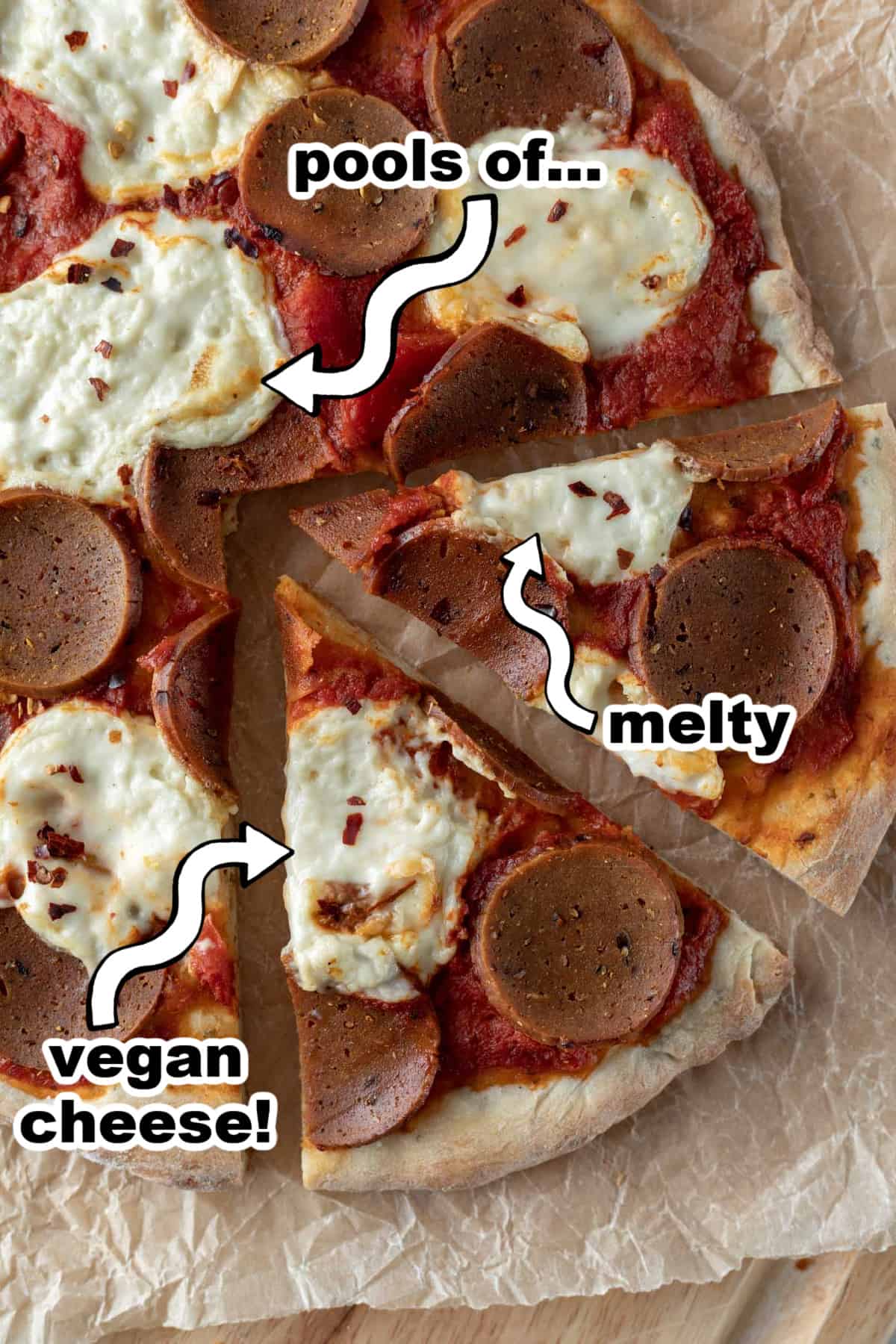 I'm not exaggerating when I tell you that homemade vegan mozzarella is SO. EASY. It's basically instant gratification. In less time than it would take you to drive to the store and buy some vegan cheese shreds, you can have this healthier and much more delicious version in your mouth.
I originally shared this cheese as part of our favorite stuffed crust pizza recipe and have used variations of it over the years in dishes like quesadillas and cheese-stuffed breadsticks.
Vegan mozzarella is such an all-around useful and delicious vegan cheese to know how to make, I figured it was about time this creamy, meltable vegan mozzarella cheese got its own post!
Homemade vegan mozzarella is really versatile, too. Make it:
with or without oil.
with or without agar, depending on how you plan to use it.
with cashews OR sunflower seeds as the base.
and easily adjust the salt and acidity to get the flavor just right for use in your favorite cheesy recipes.
Jump to:
Ingredient Notes
You'll need 7 or 8 ingredients and 15 minutes to make the best meltable vegan cheese.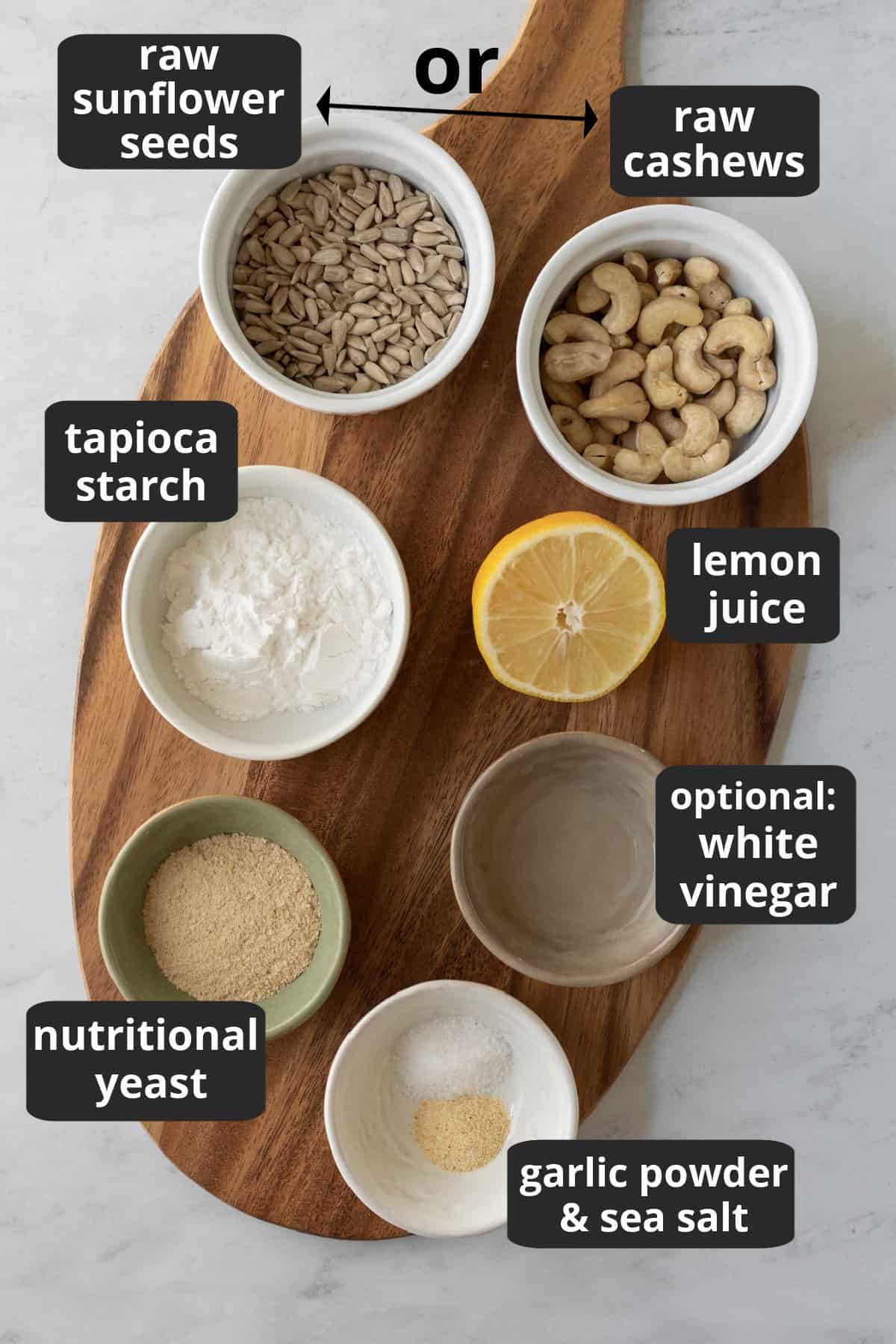 Raw cashews or raw sunflower seeds - you only need ⅓ cup nuts/seeds for the whole batch, making this cheese relatively light (even though it tastes rich).
Nutritional yeast - all "nooch" is not created equal! I highly recommend this non-fortified one by Sari Foods. Non-fortified refers to it not having added folate or B12, but it's still rich in other naturally occurring B vitamins.
Tapioca starch - tapioca is important for achieving the best melty, stretchy consistency. See below for more ideas and ways to use it.
Lemon juice - adds a fresh and cheesy acidity.
Garlic powder - adds a touch of savoriness without tasting too garlicky.
Sea salt - in the interest of keeping the recipe simple I opted for sea salt for 100% of the saltiness, but you can also use white miso or chickpea miso to replace some of the salt.
Optional ingredients:
Agar powder (optional) - this seaweed-based vegan gelatin substitute isn't necessary for the recipe, but it can come in handy if you'd like the cheese to set slightly when cool. More on this below.
Refined coconut oil (optional) - this is the type of coconut oil that does NOT smell or taste like coconut. Adds richness and a more authentic cheesy mouthfeel but isn't necessary for a deliciously meltable cheese.
White vinegar (optional) - after more testing I decided to remove this ingredient from the recipe below. Feel free to add a teaspoon of vinegar to your mozzarella if you prefer an extra tangy cheese.
See recipe card below for quantities.
Step-By-Step Instructions
First, blend all of the ingredients until smooth. A high-speed blender works best here, but if you remember to plan ahead and soak the cashews (or seeds) a standard blender is fine, too.
Next, grab a small sauce pan and get ready for the magic!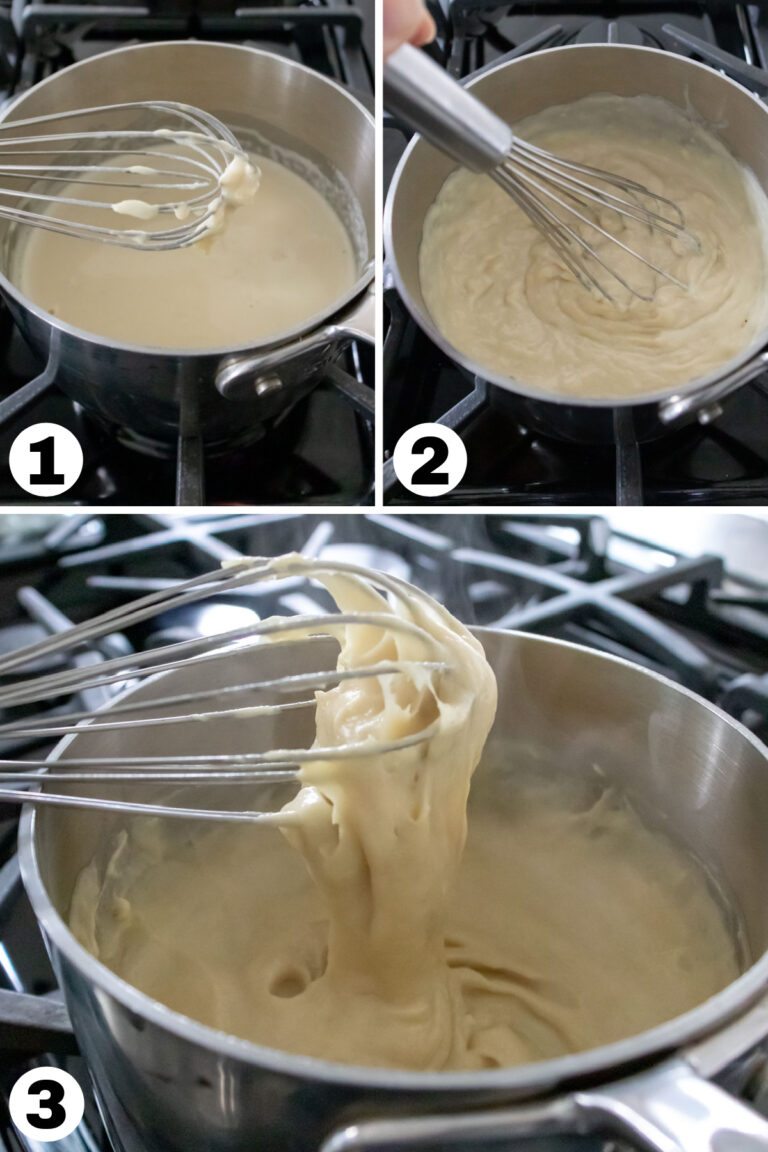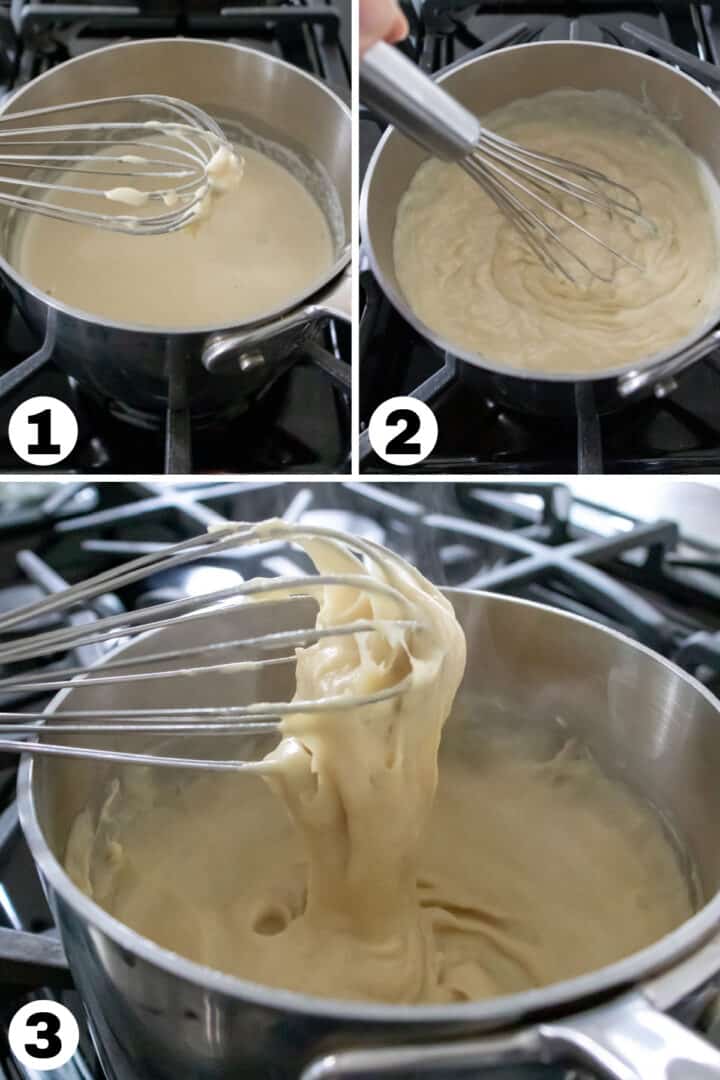 As the mozzarella mixture is coming to temperature, be sure to stir or whisk the bottom and corners of the pot. You'll start to see signs of thickening.
The cheese will quickly become more uniformly thick. Keep whisking.
And after just a few minutes, your vegan mozzarella is ready! Use it warm dolloped on top of pizza or other hot dishes, or transfer it to a bowl or container to cool.
Once the cheese has cooled, refrigerate until ready to use. It will firm up and set quite a bit after chilling. However, this particular cheese won't ever be firm enough to grate or shred. That would require a few changes to the recipe.
Hint: a few minutes under the broiler really gets the cheese bubbling!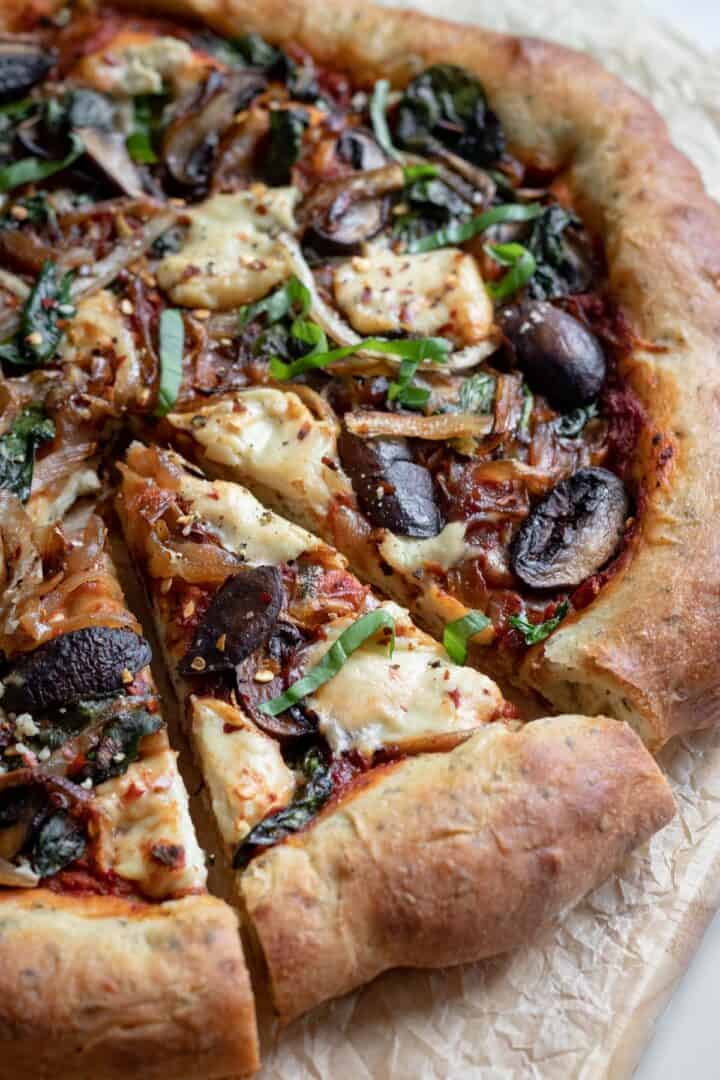 Do I need the agar and oil?
Agar
As mentioned, the agar powder is optional. So how do you know whether to use it or not? If you want the cheese to have a bit more shape once it cools, agar comes in handy. For example, this is useful when making stuffed crust pizza because the cheese is easier to handle as you arrange it around the perimeter of the pizza dough.
The agar isn't enough to make it shreddable, though. That would require more oil, more cashews, and some kappa carrageenan. If you'd like a firm, grateable cheese let me know, and I'll get to work on it!
Oil
Refined coconut oil is often used in vegan cheese recipes because it's high in saturated fat like dairy. So not only does it melt when hot, it causes the cheese to firm up when cool, too.
Oil also creates a more decadent mouthfeel, and yet it's 100% optional for flavor and meltability. So if you avoid oil in your diet don't feel like you'll be missing out on the full melty experience by omitting it.
Substitutions
With recipes that have so few ingredients there usually isn't much room for substitutions. But there are a few ways you can switch up this recipe to accommodate the ingredients you have on hand.
Tapioca Starch - if possible, I don't recommend replacing the tapioca. But if you don't mind sacrificing the stretchy texture, corn starch or arrowroot can be used in a pinch. The flavor will still be great.
Nut-Free - raw sunflower seeds are a perfect nut-free option.
Lemon Juice - if you don't have a lemon on hand, 2 teaspoons of apple cider vinegar, distilled white vinegar, or white wine vinegar may be used instead.
Ways to Use Vegan Mozzarella
This cheese can be eaten cold, but where it really shines is in hot recipes where you want melted mozzarella like:
RELATED: If you love homemade vegan cheeses, don't miss this Vegan Pimento Cheese Spread. Just like the mozzarella, it's a gamechanger!
Equipment
A high-speed blender works best for blending nuts and seeds, but if you don't have one you can always soak the cashews. Soak overnight or quick-soak in hot water for about an hour. Then drain very well before adding to the blender. If using sunflower seeds, a quick-soak in hot water should be enough to help with blending.
You'll also need a whisk and a small saucepan.
Storage
Store vegan mozzarella in the refrigerator for up to 5 days. It's also freezer-friendly. Place in an airtight container, and thaw before use.
More Ways to Use Tapioca Starch
If you're concerned about buying yet another specialty ingredient and then not knowing how to use it, I'm here to help! Check out all these fun ways to use tapioca flour:
More Ways to Use Agar Agar
Agar is known for being a plant-based substitute for gelatin, so of course it makes amazing vegan jell-o. Try it in this veganized Strawberry Pretzel Salad!
And it adds fantastic crumbly texture to Vegan Queso Fresco and Vegan Feta Cheese.
Use it to help desserts set like in this Oil-Free Lemon Tart and Lightened-Up Lemon Bars.
More easy vegan cheese recipes:
I hope you LOVE this vegan mozzarella. It always makes my day to hear from you, so if you try the recipe be sure to give it a star rating and comment below to let us know!
📖 Recipe
Easy Meltable Vegan Mozzarella Cheese
Homemade vegan mozzarella cheese is the way to go if you're looking for vegan cheese that melts. It's perfect for pizza, lasagna, quesadillas, and so much more. Best of all, it's easy, made without soy or gluten, and easily made oil-free, nut-free, and coconut-free!
Inspired by the two mozzarella recipes in Miyoko Schinner's book Artisan Vegan Cheese.
Yield: makes approx. 1 ⅓ cups
Ingredients
1

cup

water

⅓

cup

raw cashews or raw sunflower seeds

-

See Note 1.

2

tablespoons

tapioca starch

1

tablespoon

nutritional yeast

1 ½

tablespoons

fresh lemon juice

1 ½

tablespoons

refined coconut oil, optional -

See Note 2. Adds richness but can be omitted without issue.

2

teaspoons

agar agar powder, optional -

See Note 3.

¾

teaspoon

fine sea salt

¼

teaspoon

garlic powder
Instructions
Combine all ingredients in a high speed blender and blend until completely smooth.

Pour mixture into a small saucepan over medium heat. The mixture cooks quickly so don't walk away! Whisking constantly, bring to a low simmer. Cook for about 3 minutes or until thickened (see photos above for reference).

Immediately pour into ramekins or a bowl, and refrigerate until ready to use. Can be used warm to top pizza, casseroles, etc. The cheese will firm up slightly as it chills but won't ever be shreddable.
Notes
Note 1: if not using a high-speed blender, soak the cashews overnight, or quick-soak them in hot water for about an hour. Then drain well. If using sunflower seeds, a quick-soak in hot water should be enough to help with blending.
Note 2: refined coconut oil is also sometimes referred to as "deodorized" because it does not smell or taste like coconut. Don't use virgin coconut oil for this recipe.
Note 3:
if using agar flakes (instead of powder) use 2 tablespoons. Agar is useful for recipes like stuffed crust pizza because it helps the cheese set, making it easier to handle, but otherwise it's not needed.
Storage: keep leftover cheese in the refrigerator for up to 4 days. Can also be frozen for up to 1 month.
Estimated Nutrition (per serving)
Calories:
68
kcal
Carbohydrates:
7
g
Protein:
2
g
Fat:
4
g
Cholesterol:
0
mg
Sodium:
350
mg
Fiber:
1
g
Nutrition information is an estimate and will vary depending on the exact amounts and specific products and ingredients used. We calculate this information using the online calculator cronometer.com.
Did you try the recipe?
I love hearing from you! Comment below with your feedback.