Vegan white lasagna is a dairy-free take on the classic creamy dish. Made with layers of tender pasta, vegan ricotta, sautéed vegetables, and a quick garlic white sauce, all topped off with melted mozzarella. It's a delicious plant-based comfort food dish the whole family will love!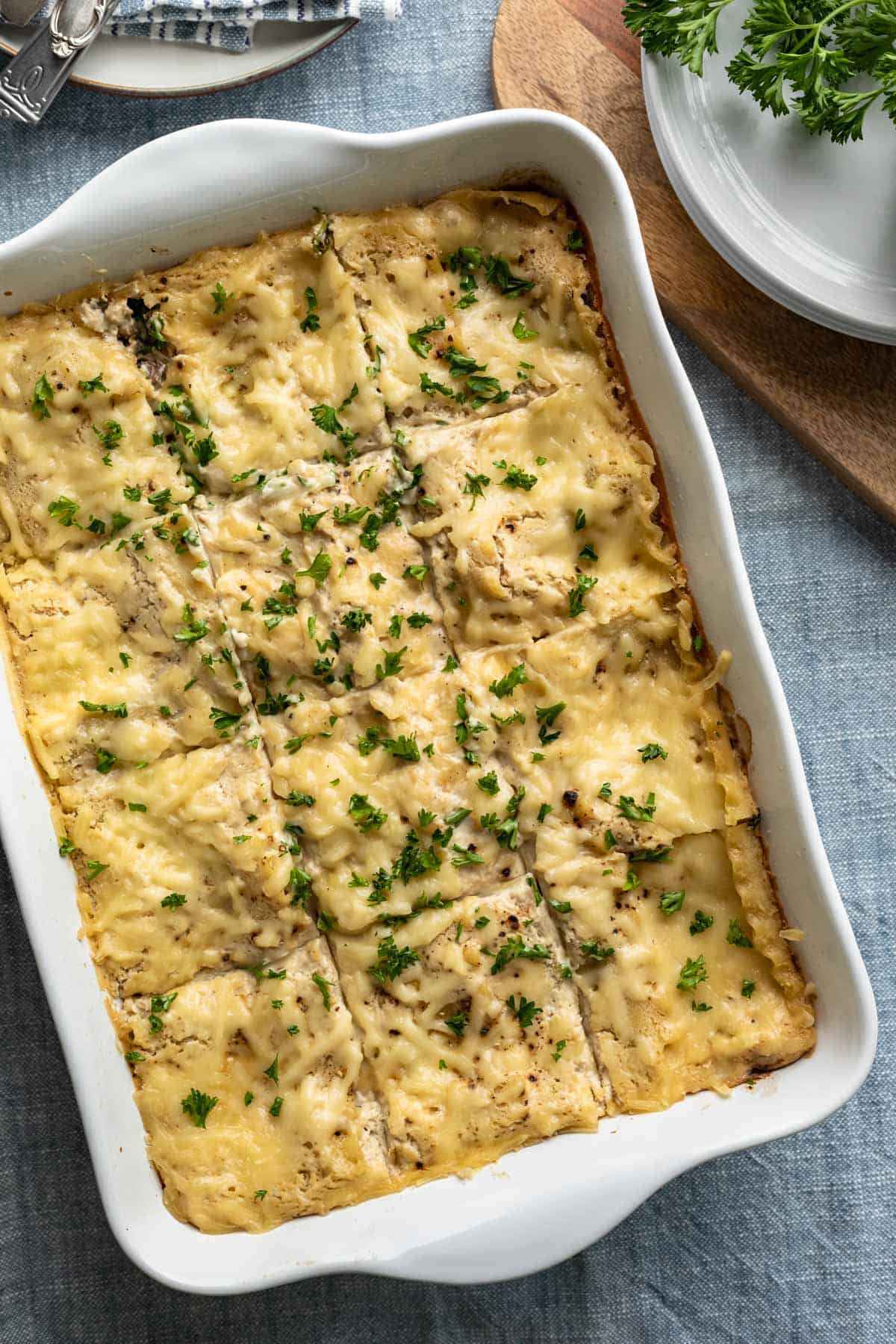 What is white lasagna?
In case white lasagna is new to you, it's pretty much exactly what the name implies. Instead of the red tomato sauce you find in classic lasagna, white lasagna has a white sauce. Usually this is a simple béchamel (butter, flour, and milk).
Although, some white lasagna recipes use alfredo sauce (butter and Parmesan) instead of béchamel.
Jump to:
How to Make It Vegan
All we need to do is replace three dairy-based components with vegan ingredients:
béchamel sauce
ricotta
mozzarella
For the sauce, I took inspiration from my oil-free vegan alfredo. My vegan bechamel includes plenty of sautéed garlic plus a few other key "cheesy" ingredients like miso, lemon, and nutritional yeast to create a seriously delicious dairy-free white sauce!
For my first test batch I included cauliflower in the sauce (slightly altered from the above-mentioned alfredo recipe). And honestly, it was good! Even my hungry, calorie-loving, weight-lifter hubby loved it.
But in the end we both agreed that a slightly richer sauce would be more appropriate for vegan white lasagna. So for the next test batch I ditched the cauliflower and added cashews.
For the cheeses usually found in white lasagna - ricotta and mozzarella - we're simply using vegan versions.
If you're familiar with homemade vegan cheese recipes you know there's room for customization here. I opted for this tofu vegan ricotta because it's just SO good. I also like that tofu adds satisfying protein to the dish.
But if you're not a fan of tofu there are many ricotta recipes online that use nuts, like my almond ricotta.
For the mozzarella I went with store-bought shreds for convenience and because I wanted to add more richness. But you can certainly use any homemade vegan mozzarella you like, even an oil-free one.
Ingredients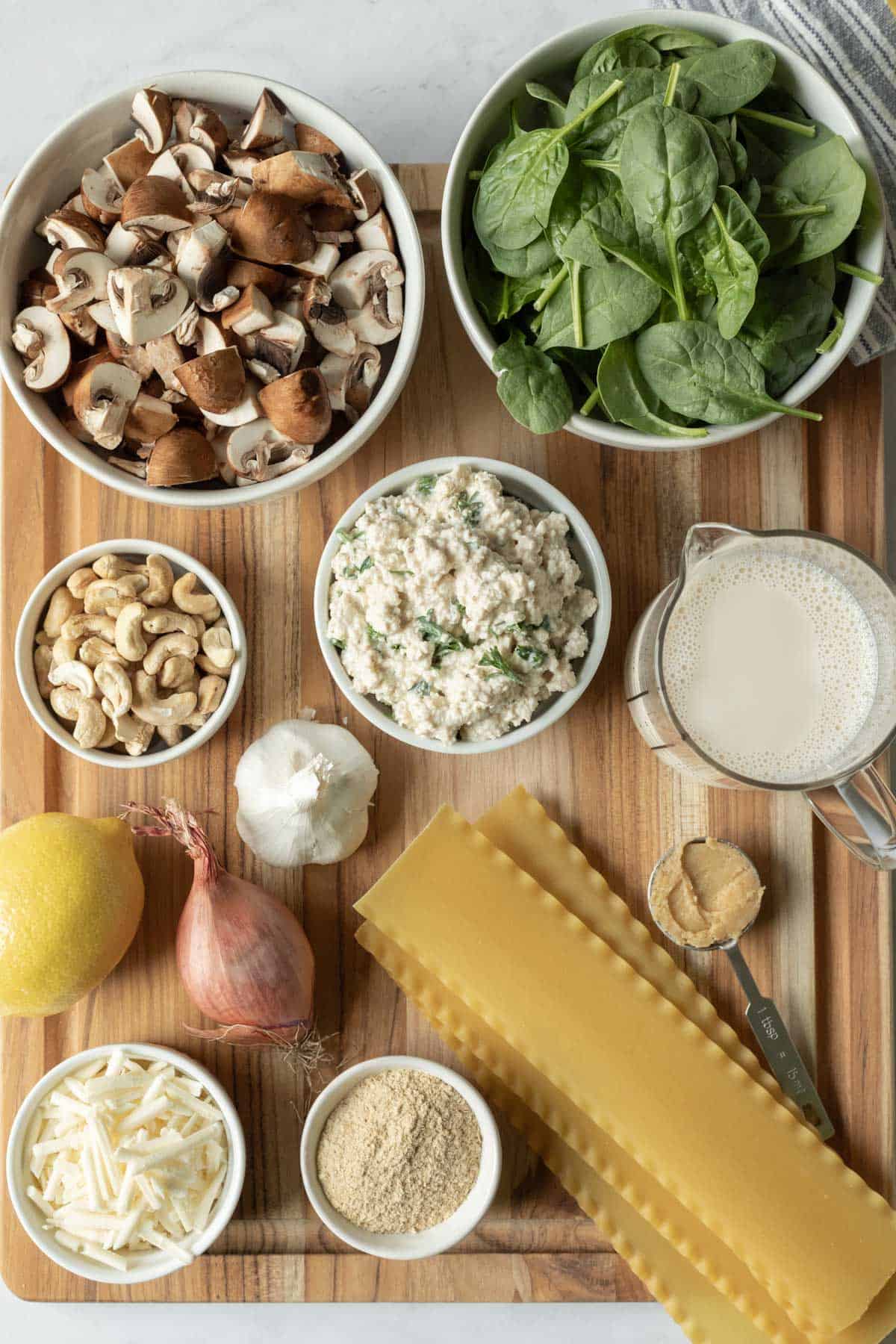 For the white sauce:
plant milk - I used plain, unsweetened soy milk because it's nice and creamy and has a neutral flavor. Watch out for refrigerated milks that claim to be unflavored but actually aren't! The shelf-stable boxes of unsweetened soy milk are the safest bet.
garlic - important to the overall flavor of the savory, cheesy sauce
oil or broth - for sautéing the garlic
lemon juice - adds the perfect amount of tangy, cheesy flavor.
miso - either white or chickpea. If you're new to using miso, I hope I can convince you to give it a try. It's fantastic for vegan cheeses and savory sauces. You'll usually find it in the refrigerated section near the tofu.
nutritional yeast - adds a cheesy, umami flavor. I like this non-fortified one by Sari.
raw cashews
Other lasagna ingredients:
vegan ricotta - my top choice is the tofu-yogurt ricotta linked above (and in the recipe), or the 2-ingredient almond ricotta also linked above.
You can use a store-bought vegan ricotta like the one by Kite Hill, but it's very pricey! And you'll need two containers.
parsley - this is optional; I folded chopped parsley into the ricotta for an extra touch of green.
veggies - feel free to experiment here. I wanted to add volume to the lasagna without using vegan sausage, so chopped mushrooms and onion were an easy choice. Spinach is another classic ingredient found in white lasagna.
lasagne noodles - I prefer regular lasagne to no boil varieties. The added step of boiling the pasta is easy enough and only takes a few extra minutes.
Fun fact: did you know the word lasagne is plural and refers to the actual sheets of pasta? And lasagna is singular and refers to the finished dish!
How to Make Vegan White Lasagna
First, make the tofu ricotta (click for the recipe). This only takes a few minutes. Stir in the parsley then set aside.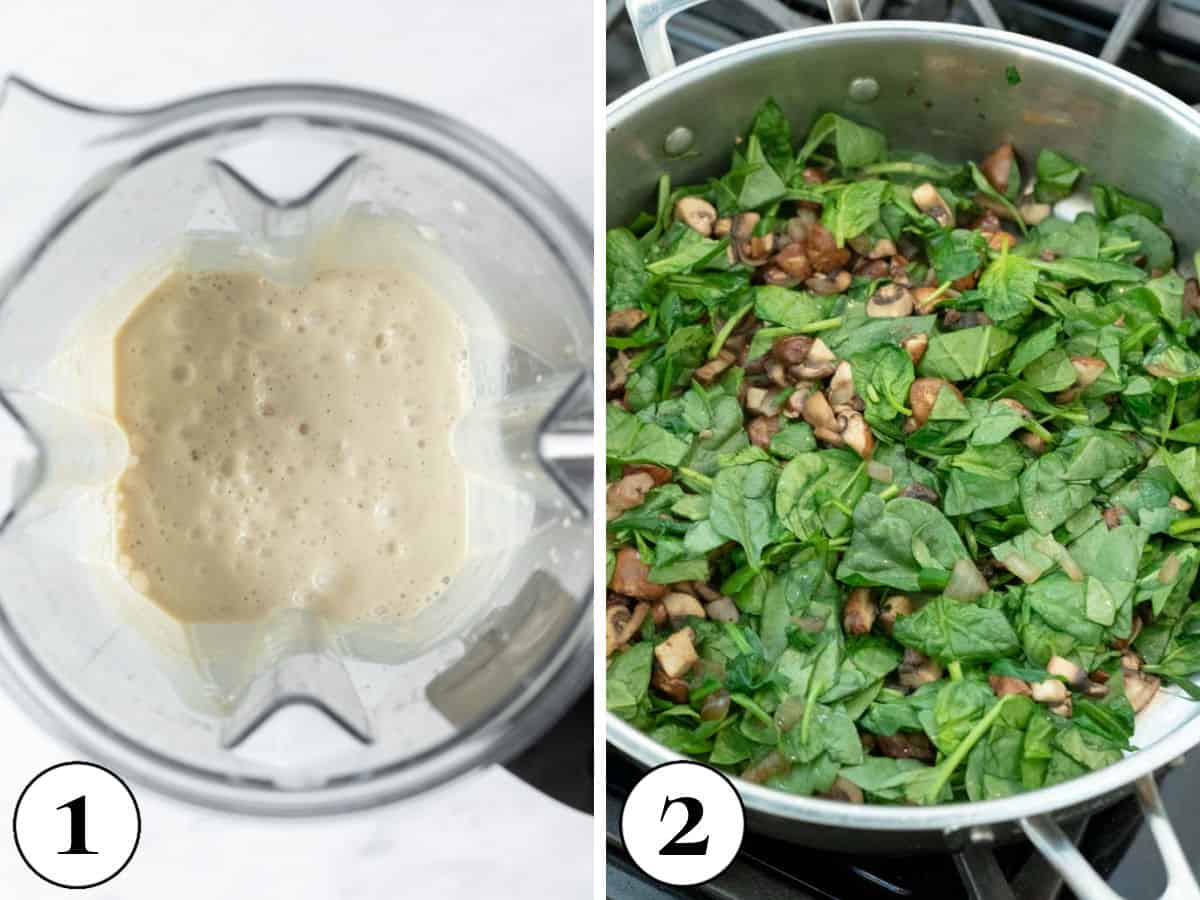 Saute garlic over low heat for 2 to 3 minutes, then transfer it to a blender. Add the other white sauce ingredients and blend until completely smooth. Set aside.
Multi-tasking tip! Heat the water for the lasagne noodles while sauteing the garlic. Cook the pasta according to package directions while the mushrooms are cooking.
In the same saute pan used for the garlic, saute the onion and mushrooms over medium heat for 8 to 10 minutes or until dry. Add the chopped spinach and cook until wilted and dark green. Set aside.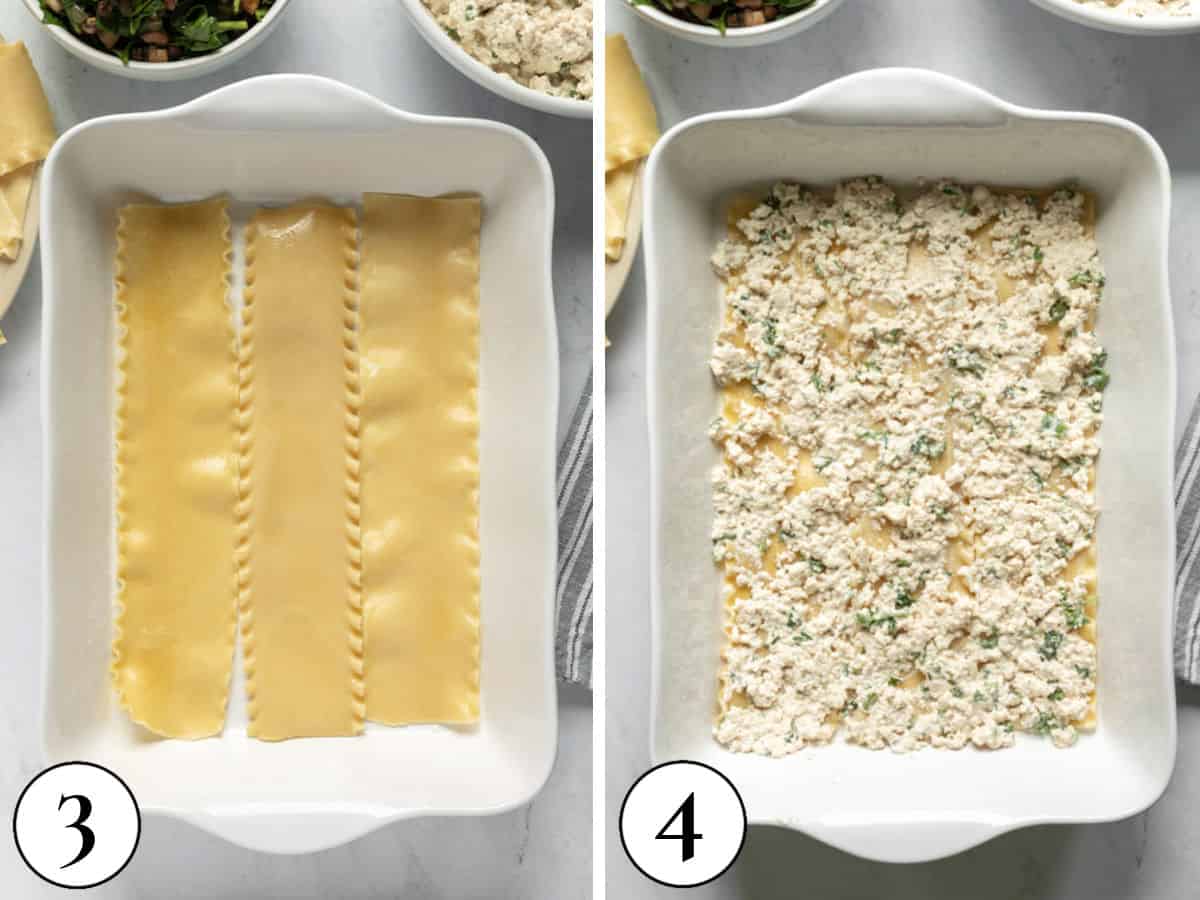 Lightly oil a glass or stoneware 9 x 13-inch casserole dish. Lay 3 or 4 pasta sheets on the bottom. The number you use is totally up to you. If you use 4 they'll need to slightly overlap.
Spread half of the ricotta on top.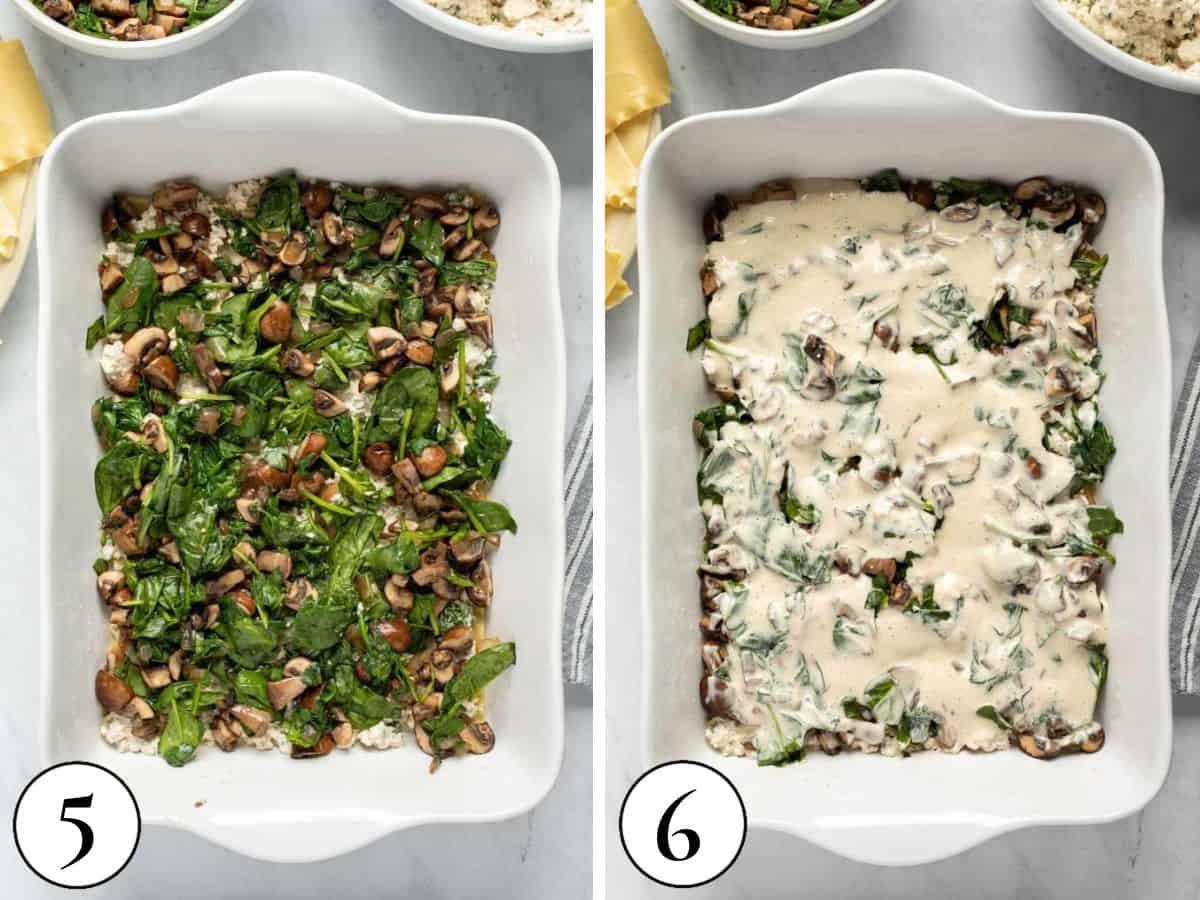 Spread half of the sautéed veggies over the ricotta.
Pour about 1 ¼ cups of white sauce over the vegetables. Then repeat the layers one more time:

3 or 4 lasagne noodles
the rest of the ricotta
the rest of the veggies
about 1 ¼ cups sauce (you should still have some left for the top layer)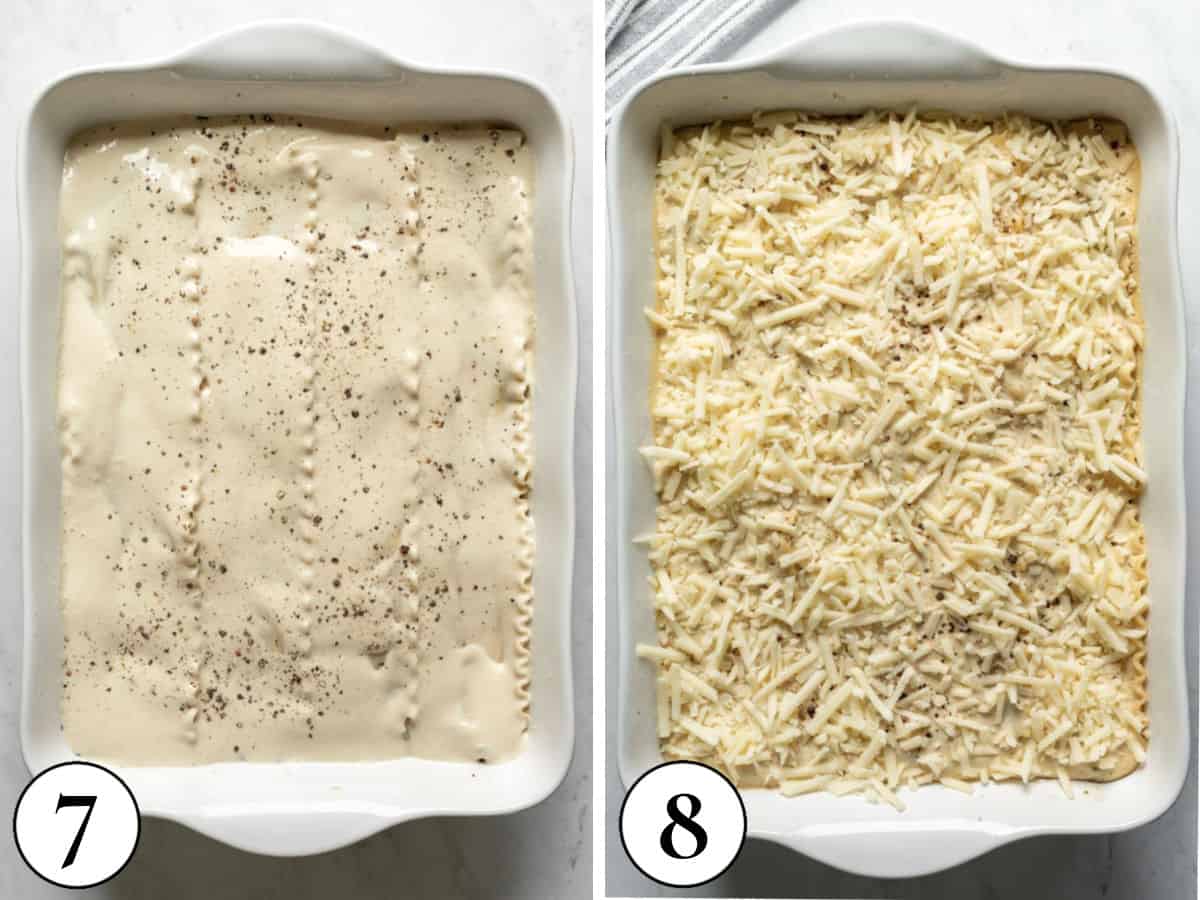 Now place the final layer of lasagne noodles on top. Cover them with the remaining sauce. Add freshly cracked black pepper. Bake uncovered in a 375 degree oven for 15 minutes.
Remove from oven and sprinkle vegan mozzarella on top. Carefully cover the hot dish with foil, using oven mitts so you can crimp the edges tightly. Bake covered for another 25 minutes.

Remove from the oven and let stand covered for 5 minutes (to make sure the cheese is fully melted). Then uncover and let rest for about 15 minutes.
Hint: it's important to let the lasagna rest for 15 to 20 minutes before slicing and serving. This allows it to cool slightly and set, making it easier to get clean slices.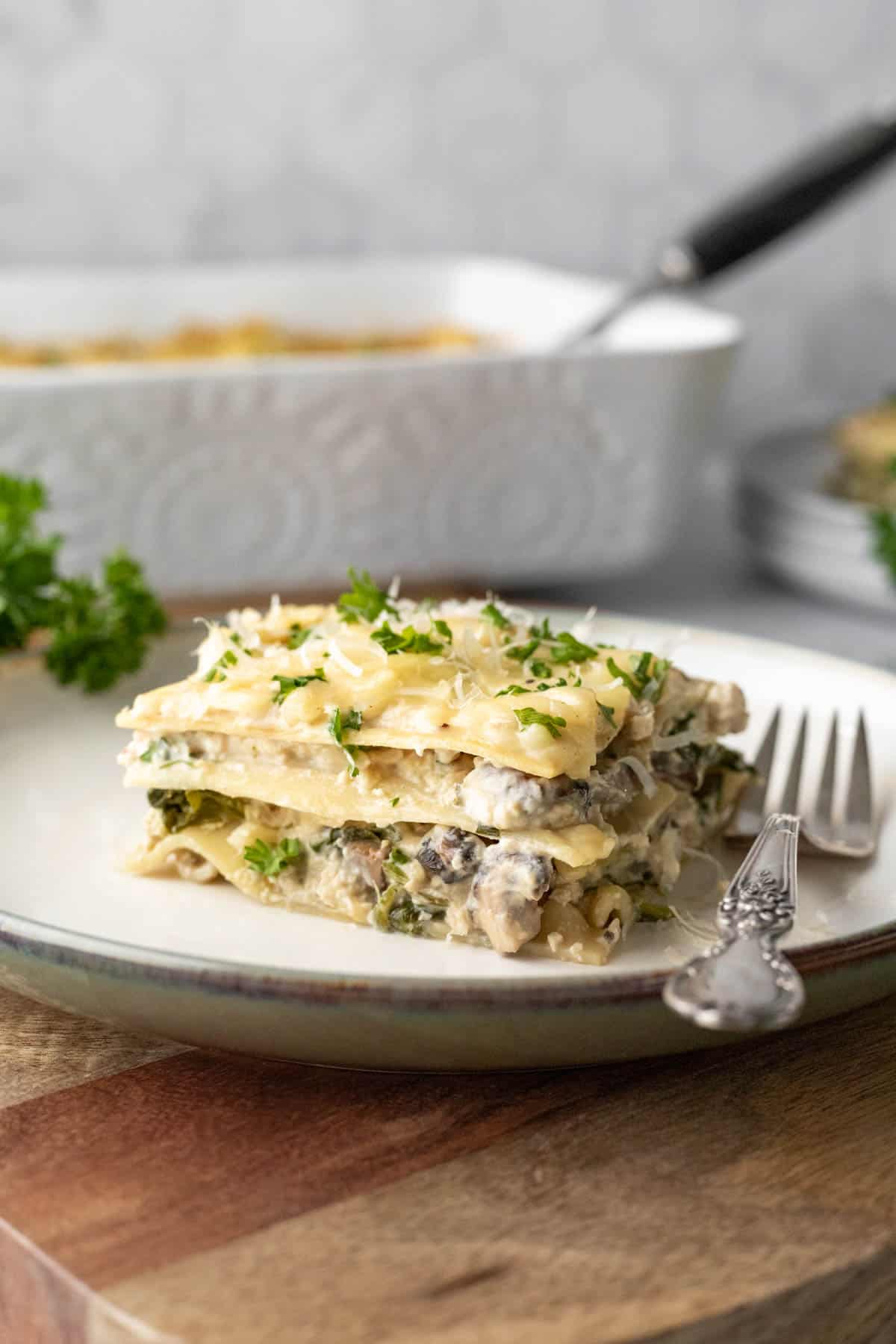 Serving Suggestions
Since the flavors in white lasagna are primarily cheesy and creamy, it's nice to have a fresh green salad on the side. Try this popular fat-free Italian dressing if you're in the mood for something light.
A colorful kale salad is another option.
And as with any pasta dish, you can't go wrong with a side of garlic bread, made with vegan butter, of course!
Substitutions
gluten-free - for an entirely vegan and gluten-free white lasagna, all you need to do is replace the pasta. Super easy, right?
There are many brands of gluten-free lasagne available, such as Jovial, Tinkyada, and Barilla. If you can't find one at your local store, ordering online is an option.

oil-free - replace the store-bought cheese with your favorite homemade oil-free vegan mozzarella. It doesn't even need to be shreddable! If you use my vegan mozz recipe, simply dollop it on top of the lasagna.

Also, for my first test batch of the recipe I did NOT oil the dish, and had no problems with sticking. Keep in mind this may vary depending on the type of baking dish you use. Glazed stoneware like you see in the photos is a good choice.

cashews - for a nut-free lasagna replace the cashews with raw sunflower seeds OR 2 cups of raw cauliflower florets.

mushrooms - to replace the volume and texture, try crumbled vegan Italian sausage or plant-based beef. If you like a little heat, the Beyond Hot Italian Sausages are a delicious addition.
Variations
slow cooker - don't want to turn on the oven? Follow the cooking instructions in this vegan crockpot lasagna recipe.
Equipment Needed
blender - you'll need a blender for the white sauce. Since we're blending whole cashews, a high-speed blender like a Vitamix makes it easy. Otherwise, it's a good idea to soak the cashews first. You can do this overnight or in hot water for 1 to 2 hours.
saute pan - you'll also need a large saute pan for the vegetables.
9 x 13 baking dish - I use a glazed ceramic dish, similar to this. A standard glass casserole dish is also great.
If you don't mind splurging, there are some nice, high quality casserole/lasagna dishes that come with an oven-safe lid. Those are perfect for recipes like this and replace the need for aluminum foil.
Keep in mind that a metal baking dish conducts heat more quickly and less evenly. If you use a metal pan you will likely need to reduce the cook time.
FAQs
How long does it keep?
Store leftover lasagna in the refrigerator for up to 5 days. Reheat individual servings in the microwave.
Can I freeze vegan white lasagna?
Yes. Place the lasagna in a freezer-safe container or bag. Freeze for up to 1 month. Thaw overnight in the refrigerator before reheating.
Can I use no boil lasagne noodles?
Absolutely. I used regular lasagne noodles mainly because I prefer the texture and appearance of the ruffled edges, which is difficult to find in no-boil varieties.
Top Tips
It's important to let lasagna rest for 15 to 20 minutes before slicing and serving. This helps it set and makes it easier to get clean slices.
Also, if you're using store-bought vegan mozzarella on top, covering the dish with foil is key! It traps moisture inside which helps the cheese melt AND prevents it from drying out!
You Might Also Like
I hope you enjoy this rich and creamy vegan white lasagna!
If you try the recipe be sure to leave a comment and star rating below to let us know how it turned out! ⭐️⭐️⭐️⭐️⭐️
📖 Recipe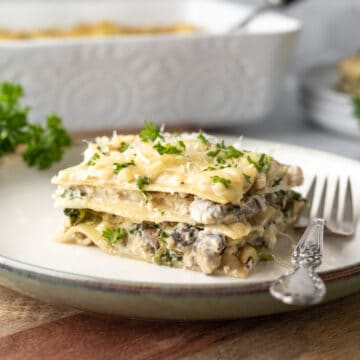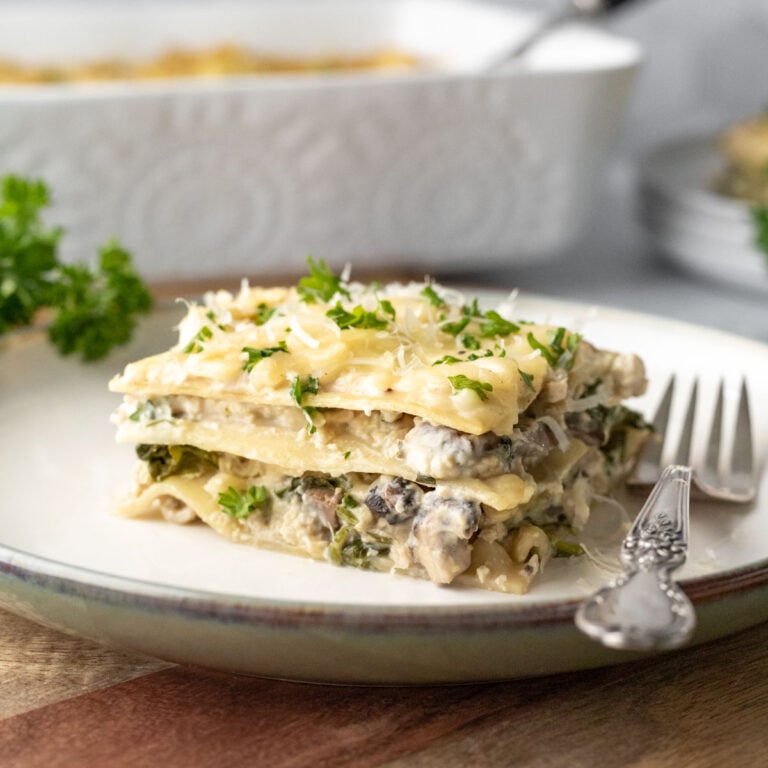 Vegan White Lasagna
This creamy vegan white lasagna is rich, comforting, and perfect when you want something special. With ricotta, garlicky white sauce, and sautéed vegetables. Like most lasagna recipes, it's very customizable with different veggies and cheeses.
Ingredients
1

batch

vegan ricotta (tap for the recipe) -

see Notes

⅓

cup

finely chopped fresh parsley, optional -

plus more for garnish

12

sheets

regular lasagne noodles

-

sub GF, whole-wheat, or no-boil if desired

6

large

cloves garlic, minced

1

tablespoon

oil, optional -

or ¼ cup vegetable broth

½

of a large

yellow or white onion, chopped

-

or 1 large shallot

16

ounces

baby bella or white button mushrooms, chopped

6

ounces

baby spinach, chopped

2

cups

plain, unsweetened soy milk

-

or another neutral tasting plant milk like cashew

¾

cup

raw cashews

-

see Notes; soak overnight if not using a high-speed blender

¼

cup

nutritional yeast

2 ½

tablespoons

lemon juice

1

tablespoon

white miso

-

or chickpea miso

½

teaspoon

sea salt

pinch of

nutmeg, optional

black pepper

7

ounces

shredded vegan mozzarella

-

I used Violife. See Subs above for oil-free ideas.
Instructions
First, make the ricotta and stir in the parsley, if using. Set aside.

Preheat the oven to 375 degrees F, and lightly oil a glass or ceramic 9x13 baking dish.

Cook lasagne noodles according to package directions. Note: feel free to cook 9 sheets instead of 12, and use 3 sheets per layer instead of 4. Begin step 4 while the pasta water is heating.

Preheat a large saute pan over low heat. Add the oil or broth and the garlic. Stirring frequently cook for 2 minutes. Transfer to a blender.

Increase heat for the saute pan to medium. Cook the onion and mushrooms for 8 to 10 minutes or until dry. Season with a pinch of salt and pepper. Add the spinach and cook for 1 minute or until wilted.

When the pasta is done, carefully drain. Lightly spray a plate or baking sheet with oil to prevent sticking. Use tongs to pick up each pasta sheet, and lay them out flat on the plate. Set aside.

To the blender with the sauteed garlic, add the remaining sauce ingredients: milk, cashews, nutritional yeast, lemon, miso, salt, nutmeg, and black pepper. Blend on high speed until completely smooth. Taste and adjust the seasonings as desired.

Assemble the lasagna: arrange 4 (or 3) sheets of pasta in the bottom of the dish. Spread half of the ricotta on top, followed by half of the mushroom mixture. Spread 1 ¼ cups of the white sauce on top.

Repeat the layers: pasta, the remaining ricotta, the remaining veggies, and 1 to 1 ¼ cups sauce (you should still have about 1 cup left for the top). Place a final layer of pasta on top, and completely cover it with the remaining sauce. Add black pepper (or crushed red pepper flakes), if desired.

Bake uncovered for 15 minutes. Remove from oven and add the mozzarella evenly on top. Carefully (it's hot!) cover the entire dish with foil, as tightly as possible. This traps moisture and melts the cheese. Bake for another 25 minutes. Remove from the oven and let stand for 5 minutes. It's fine to take a peek under the foil and make sure the cheese has melted. Pop it back into the warm oven if needed.

Uncover and let stand 15 minutes before slicing into 12 squares.
Notes
Options and Substitutions
ricotta - if you're not a fan of tofu, try this easy almond ricotta.
cashews - can be replaced with ½ cup raw sunflower seeds. Or for a lighter sauce, use 2 ½ cups fresh cauliflower florets. For both of these options reduce the milk to 1 ¾ cups.
mushrooms - or crumbled vegan Italian sausage or beefy crumbles. Saute for a few minutes with the onion to heat through.
Store leftover lasagna in the refrigerator for up to 5 days. Reheat individual servings in the microwave. Or freeze for up to 1 month.
Nutrition was calculated as recipe is written (not with the lighter options). It represents one serving, or 2 squares.
Estimated Nutrition (per serving)
Calories:
465
kcal
Carbohydrates:
48
g
Protein:
24
g
Fat:
21
g
Cholesterol:
0
mg
Fiber:
6
g
Nutrition information is an estimate and will vary depending on the exact amounts and specific products and ingredients used. We calculate this information using the online calculator cronometer.com.
Tried the recipe?
I love hearing from you! Share your feedback below.