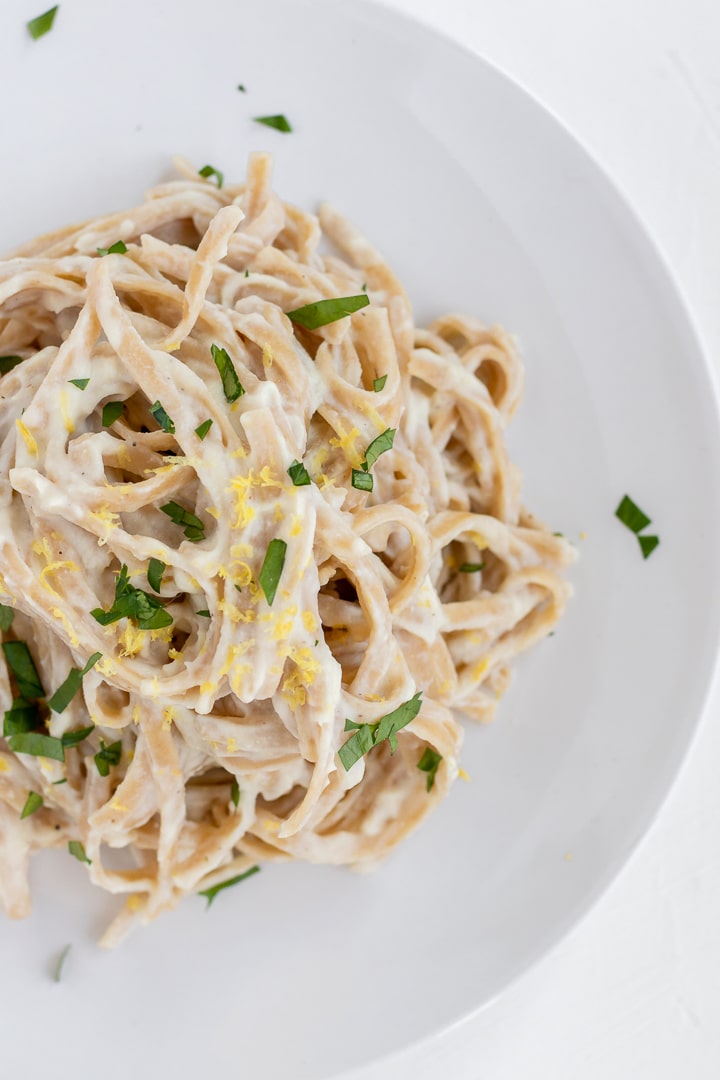 Healthy Vegan Alfredo is made from just eight wholesome ingredients and comes together in less than 30 minutes. The creamy, garlic-infused cauliflower sauce gets an extra bit of richness from your choice of nuts (cashews or walnuts) and tastes AMAZING on pasta, rice, steamed veggies AND potatoes!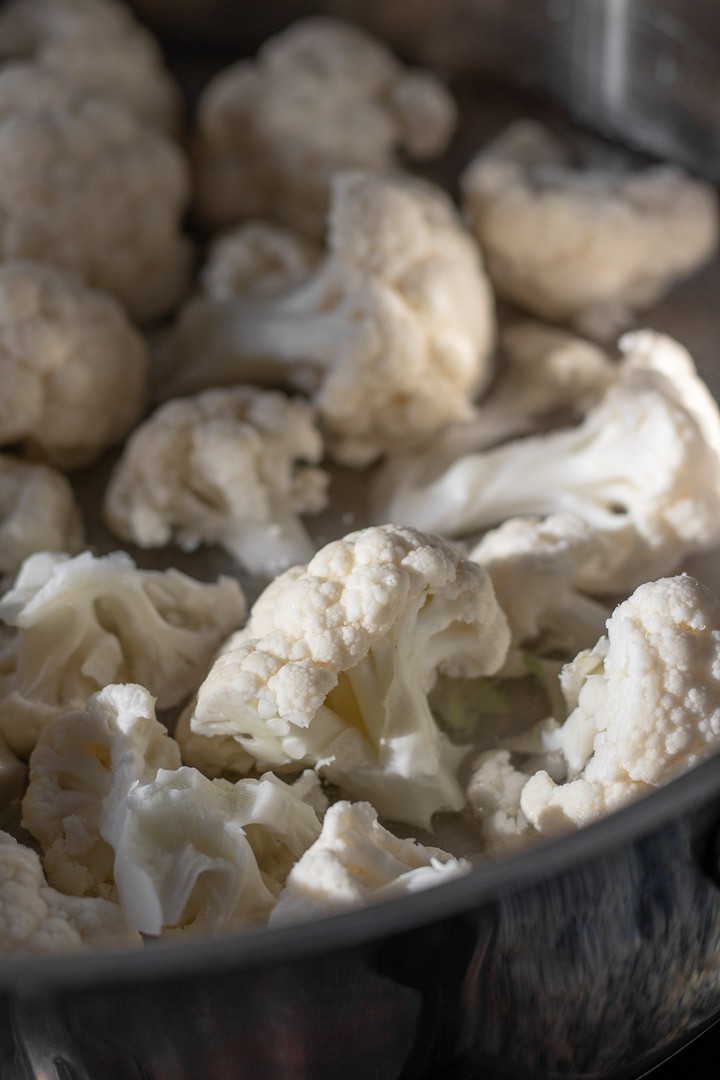 Cauliflower, a Healthy Eating Superstar
There's no shortage of cauliflower love in current healthy eating trends. From riced to mashed, roasted to steamed, cauliflower has proven its versatility and ability to either blend in or add something delicious to almost any dish. And that's a good thing considering the MANY health benefits of cruciferous vegetables. The recipe I'm sharing today for Healthy Vegan Alfredo gets its bulk and creaminess from simple, steamed cauliflower. Until I started planning this post I actually didn't realize how many cauliflower alfredo recipes already exist out there! But after a bit of research I realized the recipe I'd developed was different in a few ways....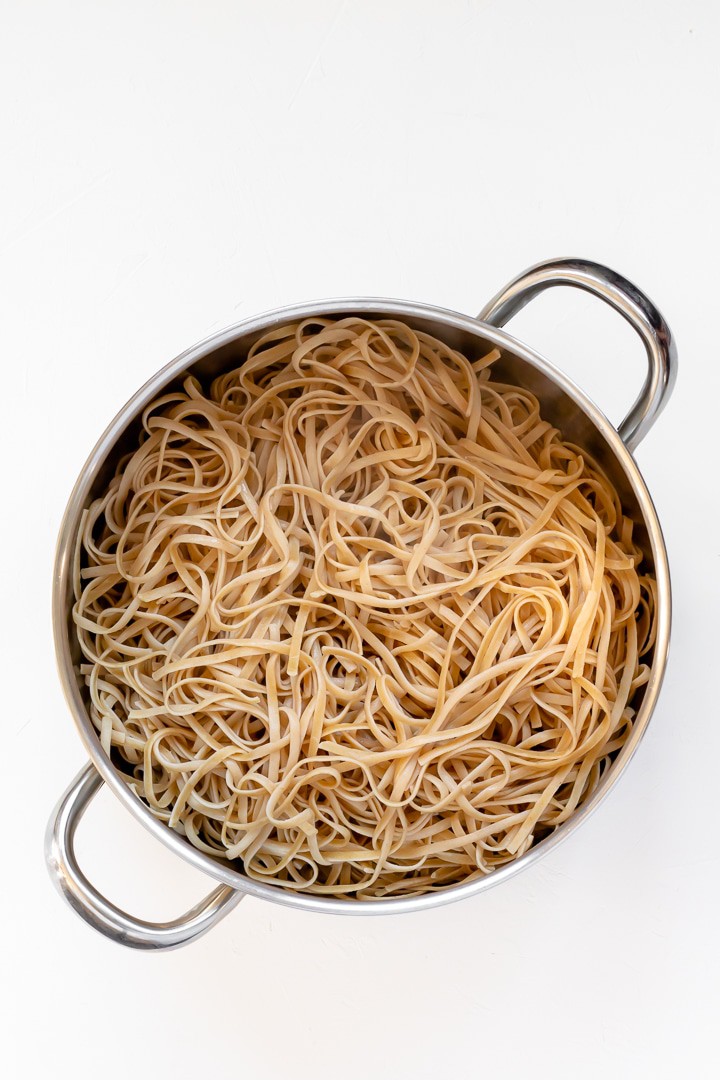 This Healthy Vegan Alfredo is Oil-Free but Not Fat-Free
I have friends who avoid oil, and I avoid using it at home probably 95% of the time. So I'm always thinking about creating oil-free recipes (if you're not familiar with my approach to food and recipe creation, check out the About page). But I'm also always thinking about ways to use small amounts of whole-food fat sources to boost flavors and make food more satisfying. Instead of making this alfredo with vegan butter, which would certainly be delicious and more traditional, I wanted to start with a base of garlic sautéed in tahini. While water sautéing is a perfectly acceptable cooking method for oil-free diets, using a small amount of nut or seed butter gives the garlic a better medium for spreading its irresistible flavor.
In case you're wondering whether the sesame flavor of tahini comes through in the final dish, the answer is nope! You really can't taste it at all. And another option, if you don't have or don't like tahini, is to use cashew butter to sauté the garlic. In either case, you want to keep the heat fairly low so that the tahini or cashew butter is just barely bubbling and the garlic is nowhere close to browning (note: you will probably need to add a tablespoon or two of water to the mixture once it's hot to achieve a thinner consistency and keep the garlic in contact with the pan). It's all about low, slow, and brief when cooking the garlic for this sauce. We just want to give it a little heat and remove that raw garlic bite.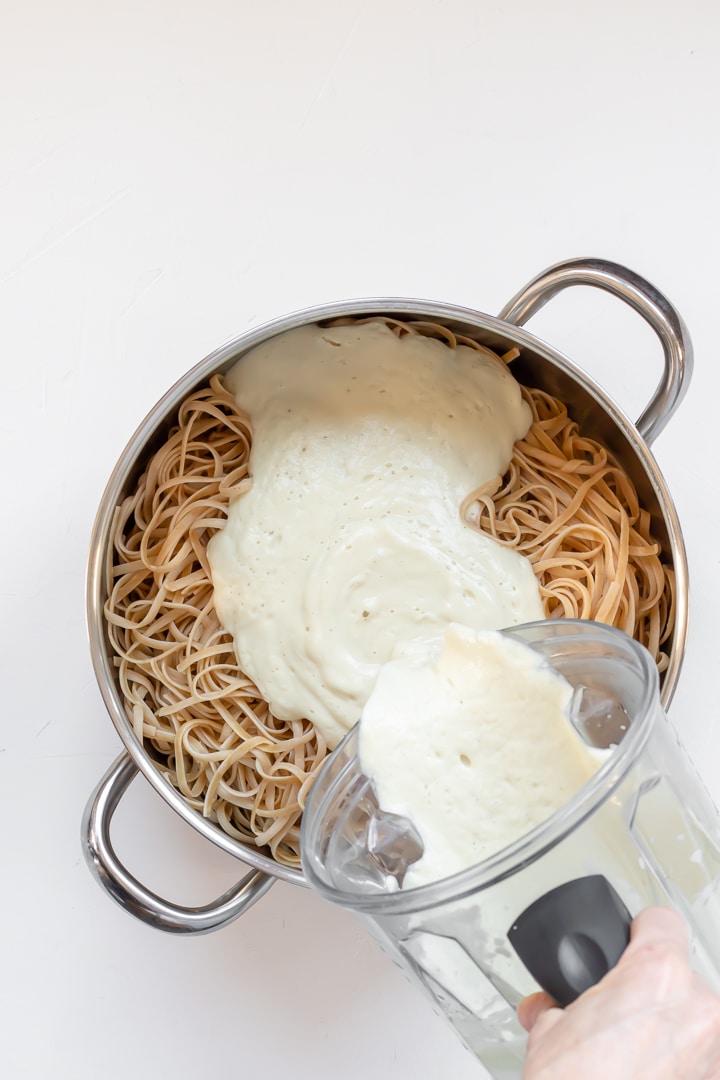 How to Make Vegan Cauliflower Alfredo Sauce
Okay, now that we've talked a bit about the sautéed garlic in this sauce, here's a summary of the overall process so you can see how simple it is:
Sauté the garlic in tahini or cashew butter and transfer it to a blender. (Don't have a high speed blender? No problem! See the recipe for notes.)
Steam the cauliflower and add it to the blender.
Cook the pasta.
While the pasta cooks, add the remaining sauce ingredients to the blender and blend until smooth.
Drain the pasta and pour the sauce into the now empty pasta pot. Heat the sauce for just a couple of minutes, return the pasta to the pot, and stir to coat.
Garnish with fresh basil or parsley and serve.
Sometimes I like to add a bit of lemon zest for color and fresh lemon pop, but that's up to you. Mark and I both found this to be one of those recipes that tastes even better the next day. So if you're only cooking for one or two people, don't worry about having too much food leftover. Enjoy it over several days! I haven't tried freezing this sauce but my guess is that it would not freeze well. I could be wrong, though! So if you have experience with that please let us know in the comments.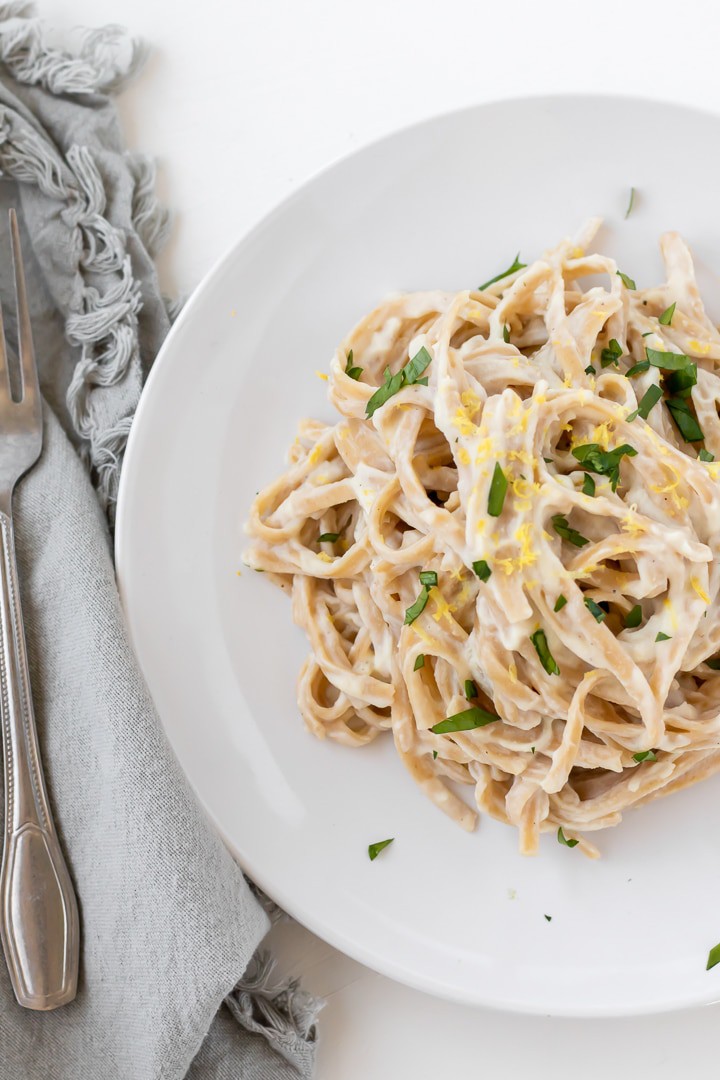 With less than 300 calories per serving, 9 grams of fiber, 13 grams of protein, and only 7 grams of fat, you can see how this compares to traditional dairy-based alfredo. To say that this version is lightyears healthier is an understatement! And of course, we know that what truly makes food healthy or not comes down to so much more than just its macronutrient breakdown. But these numbers are a reminder of the goodness plants provide.
I hope you enjoy this creamy, garlicky, and light Healthy Vegan Alfredo. Let us know in the comments below if you try it. Enjoy!
More healthy pasta dishes: Penne With Roasted Garlic White Bean Puree, Baked Ziti With Vegetables, and Pasta Bake With Sausage, Squash and Kale
And for the ultimate in creamy, cheesy comfort food check out The Best Vegan Stovetop Mac and Cheese!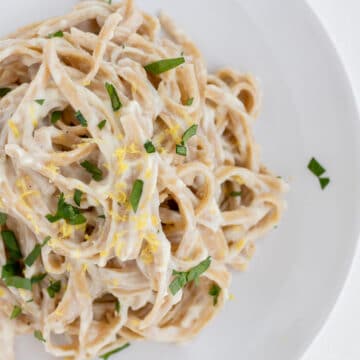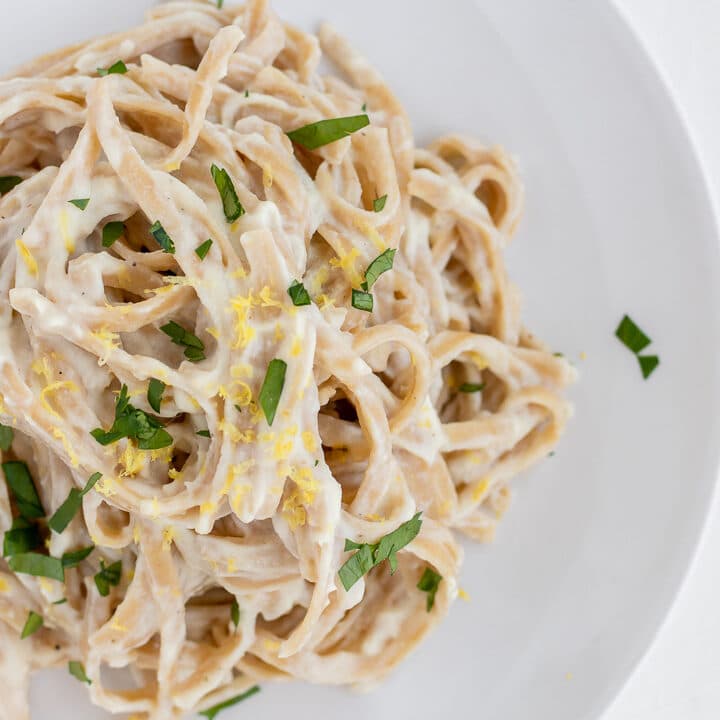 Healthy Vegan Alfredo
This 8-ingredient vegan version of fettuccini alfredo is oil-free and made with creamy, steamed cauliflower. Ready in 30 minutes! Make it gluten-free by using your favorite GF pasta.
Ingredients
1

pound

dry pasta (regular, whole-wheat or gluten-free)

6

cloves

garlic, minced

2

Tbsp

tahini or cashew butter

1

medium

head cauliflower, cut into florets
Other sauce ingredients:
1

cup

water

⅓

cup

raw cashews or walnuts (NOTE: walnuts will darken the sauce color, so if you care about the appearance you may want to stick with cashews)

3 to 4

Tbsp

lemon juice (about one large lemon)

2

Tbsp

nutritional yeast

1 ½

tsp

salt

½

tsp

onion powder

½

tsp

mustard powder

black pepper
Garnish:
fresh basil or parsley, chopped
Instructions
Preheat a large pot or sauté pan over medium-low heat. Add the tahini/cashew butter to the pan, then the garlic. Stir to combine, mashing the garlic into the pan with the back of a spoon. After a minute, add a splash or two of water to thin the mixture. Stir and cook for another 2 to 3 minutes. Transfer the garlic mixture to a high speed blender and set aside.

Spread the cauliflower evenly in the same pan used to sauté the garlic. Sprinkle with a pinch of salt and add water for steaming, about half inch deep. Steam the cauliflower until tender, 5 to 7 minutes. Transfer the cauliflower to the blender and discard the cooking water.

To the blender add the remaining sauce ingredients: 1 cup water, nuts, lemon juice, nutritional yeast, salt, onion powder, mustard powder, and pepper. Blend until completely smooth. Taste and adjust seasonings.

Cook pasta according to package directions. Drain pasta in a colander, and pour the alfredo sauce into the pot. Cook over medium-low heat for about 2 minutes, just until heated through. Return the pasta to the pot and stir to coat.

Garnish individual servings with fresh parsley or basil, vegan parm, and extra black pepper, if desired.
Notes
Store leftovers in the refrigerator up to 4 days.
If you don't have a high speed blender, substitute 3 Tbsp raw cashew butter for the cashews/walnuts.
Estimated Nutrition (per serving)
Calories:
290
kcal
Carbohydrates:
50
g
Protein:
13
g
Fat:
7
g
Cholesterol:
0
mg
Sodium:
455
mg
Fiber:
9
g
Sugar:
4
g
Vitamin A:
0
IU
Vitamin C:
66
mg
Calcium:
50
mg
Iron:
3.2
mg
Nutrition information is an estimate and will vary depending on the exact amounts and specific products and ingredients used. We calculate this information using the online calculator cronometer.com. For the most accurate nutrition information we recommend calculating it yourself to reflect the specific ingredients used in your dish.
Did you try the recipe?
Comment below to let us know!