A perfect weeknight meal, 7 simple ingredients become an irresistibly creamy lemon pasta dish in minutes. With garlic and fresh lemon, pair it with your favorite steamed veggie for healthy vegan comfort food everyone will love! Vegan and gluten-free with an oil-free option.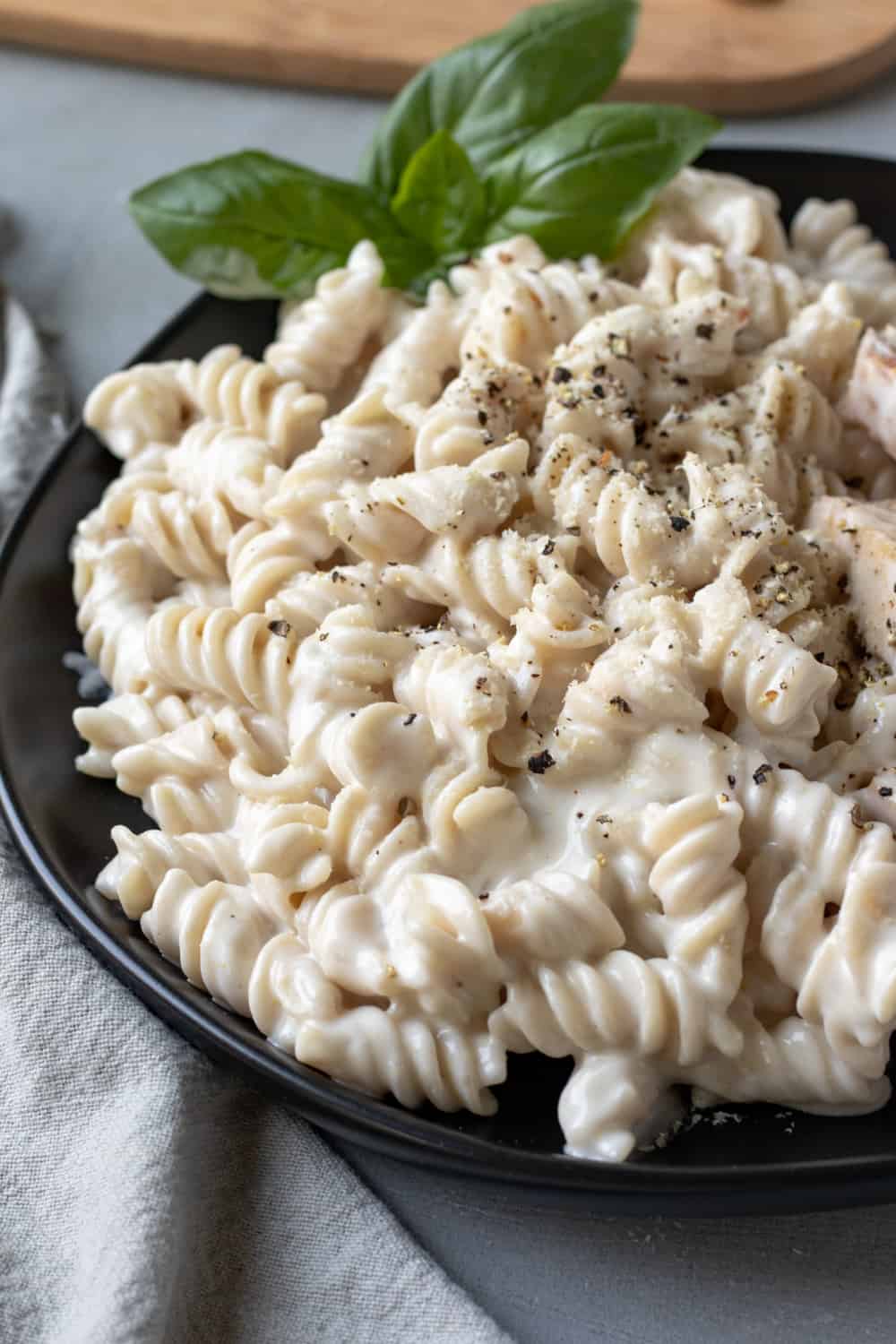 If you enjoy the creaminess of mac and cheese and the fresh zing of lemon, you're going to LOVE this pasta! It's simple enough to throw together on a weeknight yet special enough for a dinner party.
Dress it up with fresh herbs and a sprinkle of Vegan Parm (OR see the grated cashew trick below). And for additional fiber and protein, cannelini or garbanzo beans would be perfectly at home stirred into this velvety sauce.
Round out the meal with a side salad or some lightly steamed broccoli or asparagus, and you're all set!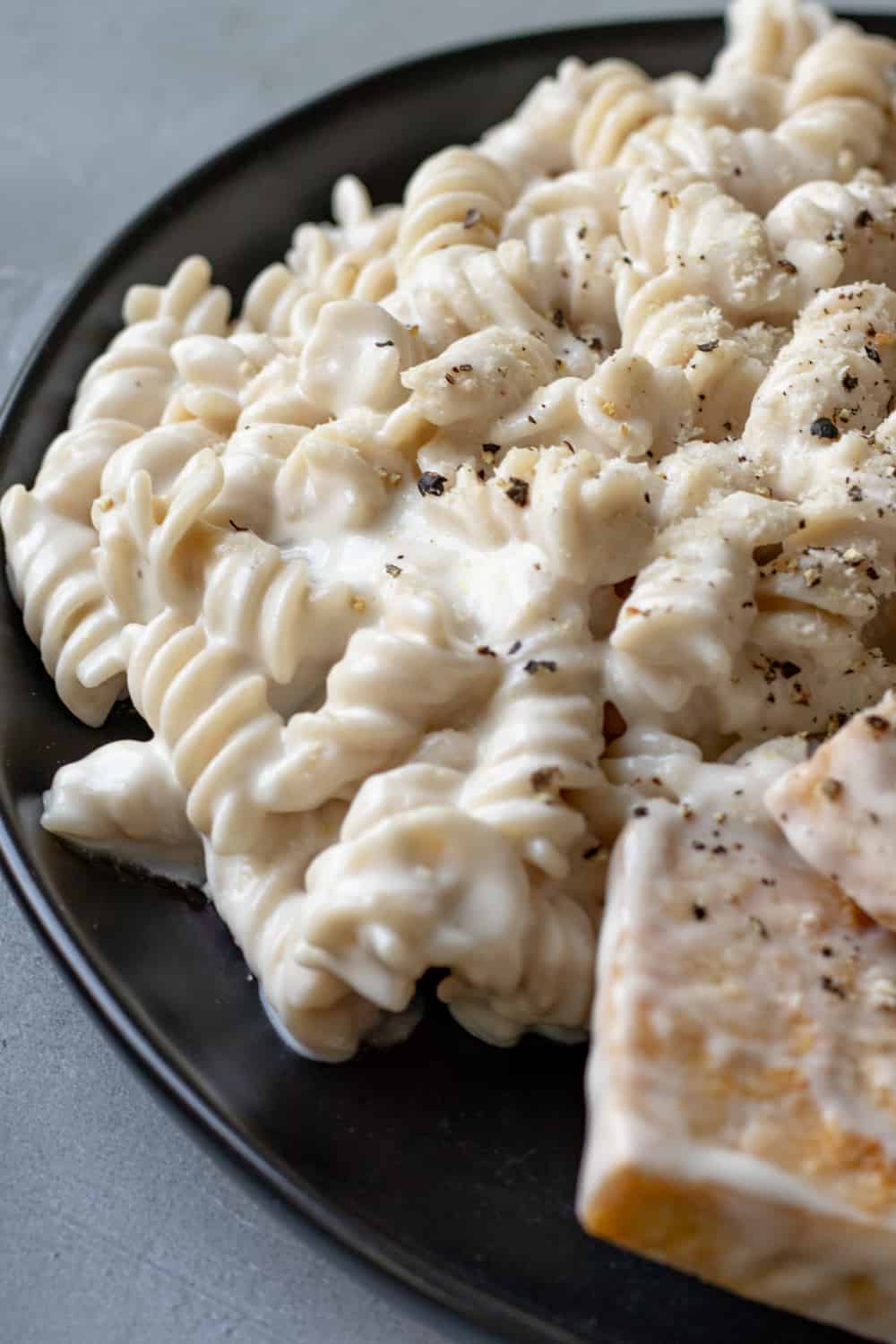 How to Make Creamy Vegan Lemon Pasta
Here's a quick run down of the process:
Cook your pasta of choice. I used Trader Joe's gluten-free fusilli, but any pasta you like will work just fine. And as far as shapes go, try spaghetti, penne, bowtie, angel hair, fettuccini, or shells. Drain in a colander and set aside.
Sauté 6 to 8 cloves of minced garlic for 1 to 2 minutes, just enough to deepen and soften the flavor. You can do this in a tablespoon of olive oil or vegan butter, or if you follow an oil-free diet use a splash of water or vegetable broth.
Blend the sauce. Combine the garlic, zest of one lemon, water, raw cashews, arrowroot starch, and salt in a high speed blender.
*If you don't have a high speed blender, you can sub ½ cup raw cashew butter for the whole nuts. Or you can soak the raw cashews in hot water for about 30 minutes first, and use a regular blender.
Pour the sauce into the pasta pot. Whisking constantly, cook over medium heat until thickened, just a few minutes. Whisk in ¼ cup fresh lemon juice.
Add the cooked and drained pasta to the pot, stir to combine, and serve! Garnish with vegan parmesan cheese and fresh herbs, if desired.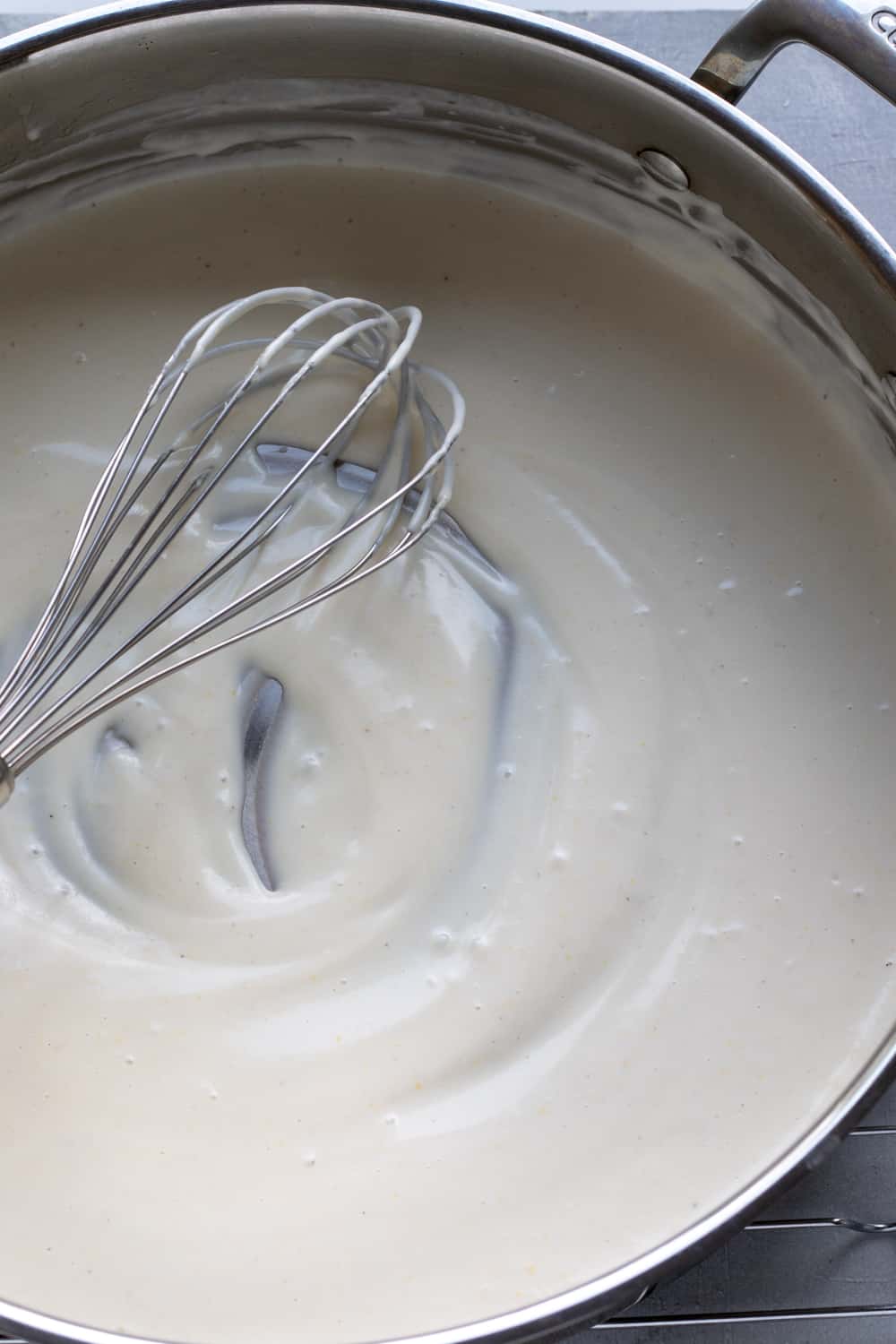 About Arrowroot Starch
In the photo above you can see how deliciously creamy the sauce gets as you heat it. It looks almost like a country-style white gravy! But you won't find any butter or all-purpose flour here.
I really love arrowroot starch for creamy sauces like this. It takes on such a silky texture, making it ideal for this type of vegan sauce.
You can find arrowroot in most well-stocked grocery stores these days or online from sites like Amazon. It's great for thickening soups (vegan cream of mushroom, anyone?) and gravies.
According to Bob's Red Mill, you can also use arrowroot in homemade ice cream to help prevent the formation of ice crystals. I haven't tried this trick yet but am certainly intrigued!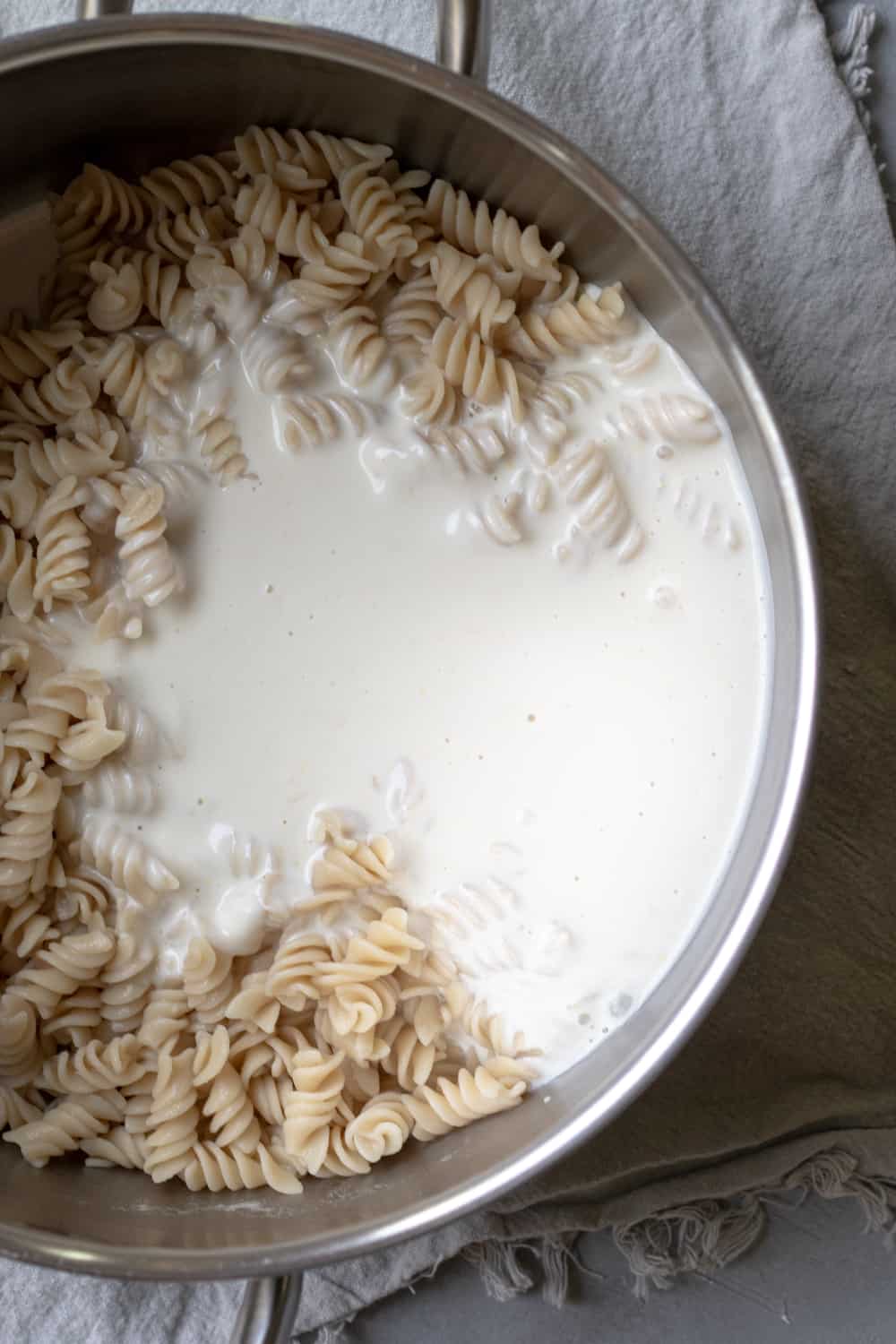 See how the creamy lemon sauce clings to the corkscrew edges of fusilli? Just scrumptious.
Similar to what I love about my Best Vegan Stovetop Mac and Cheese, this sauce stays very creamy even as it cools. Some vegan cream sauces get dry, even sort of pasty- and clumpy-looking, as they cool. But arrowroot works wonders in this one.
Just make sure not to overcook the sauce. If heated for prolonged periods, arrowroot can lose its thickening abilities. Other than that, it's very easy to work with. Another perk is that it can withstand acidic ingredients like lemon juice, whereas corn starch doesn't always thicken well in the presence of acids.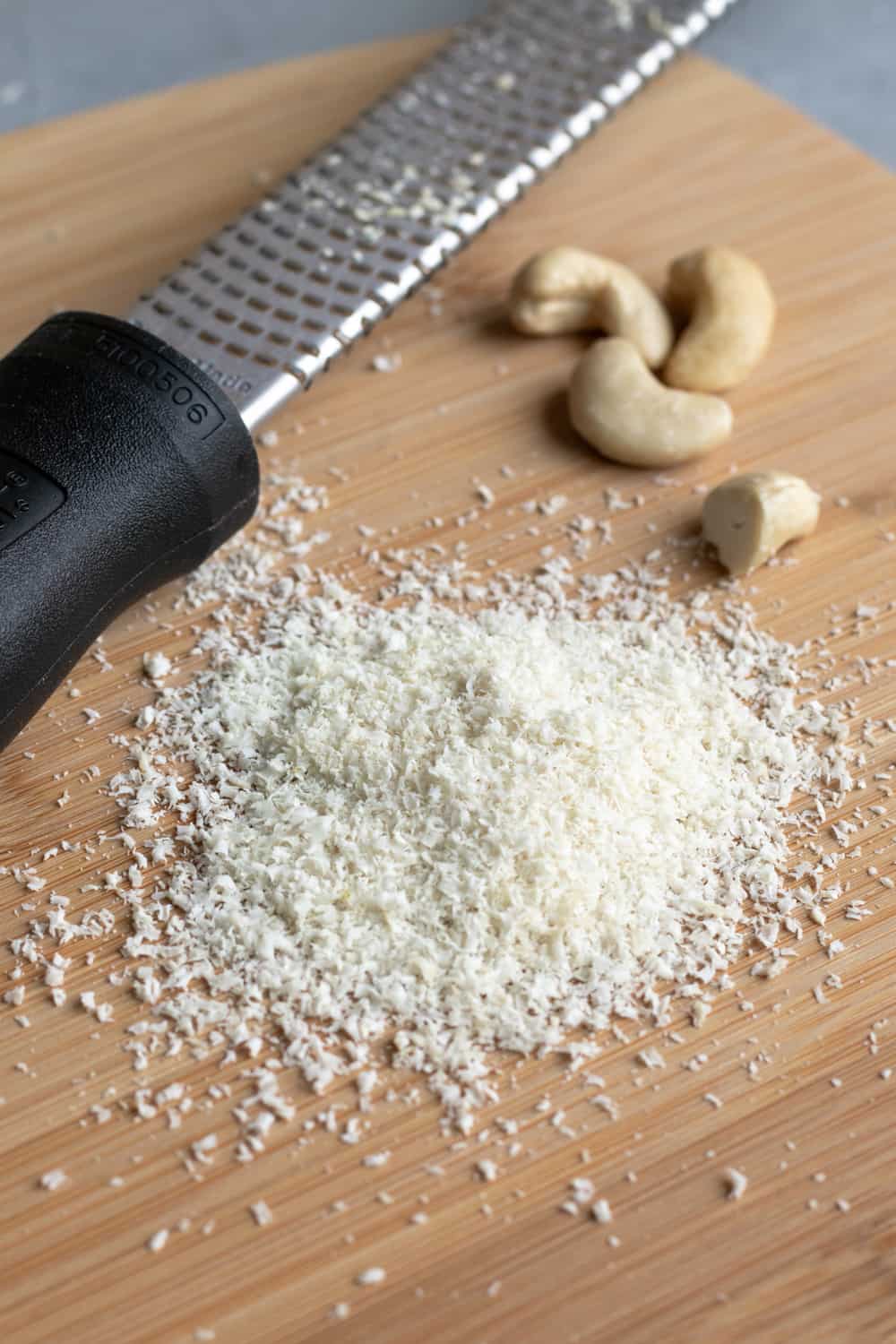 Grated Cashews as a Sub for Parmesan
One last fun little tidbit!
While you have your microplane zester out for zesting the lemon, go ahead and grate a few cashews. Can you believe how much that looks like grated cheese? Since the nuts are small, just be careful not to zest your fingers!
You'll be amazed how much you get from just 2 or 3 nuts. After you grate the cashews, mix in a pinch of sea salt, maybe even a pinch of nutritional yeast, and then sprinkle this on the plates before serving.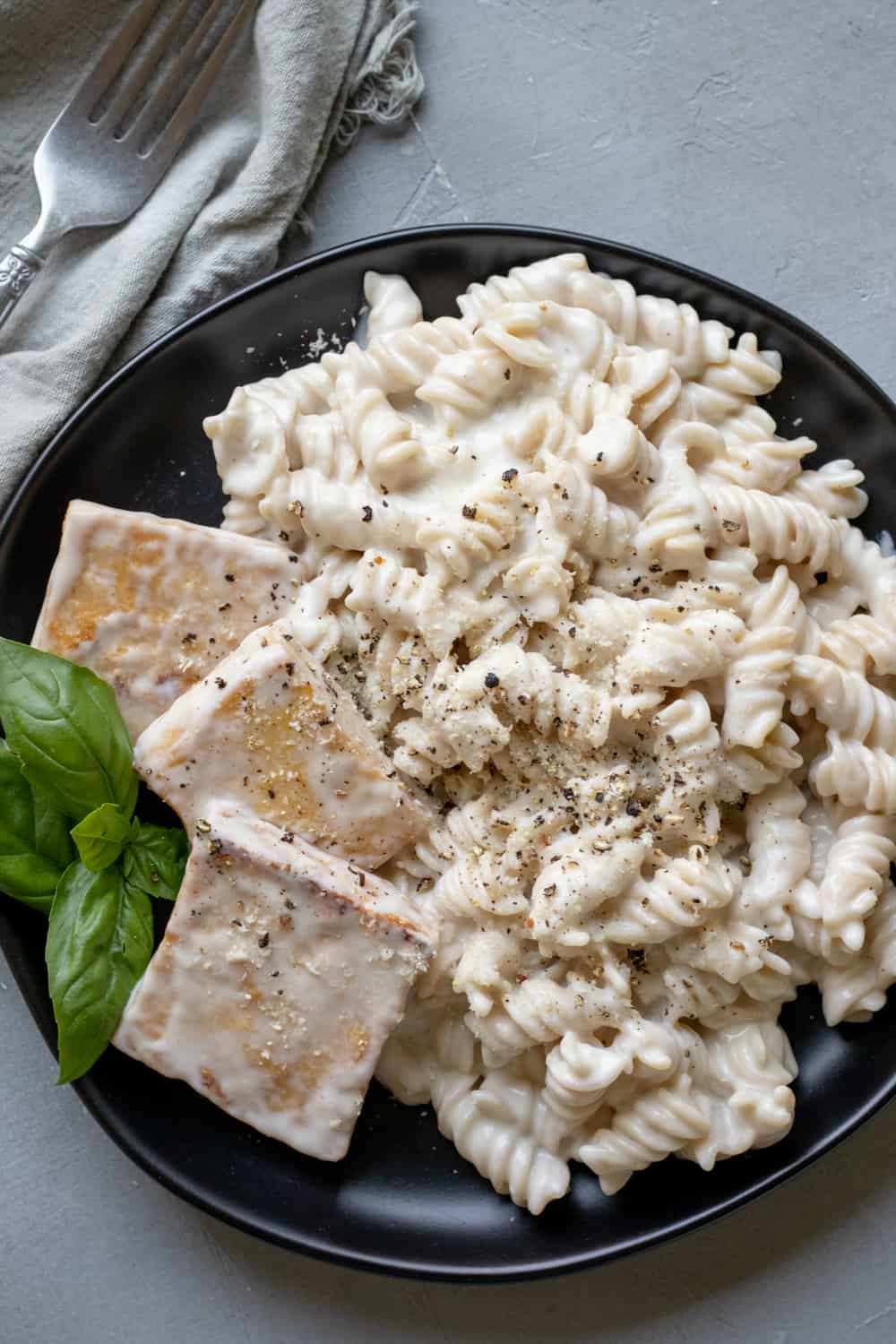 I hope you enjoy this simple, comforting Creamy Vegan Lemon Pasta. If you try it be sure to give it a star rating below, and leave a comment to let us know how you customized your dish.
Enjoy!
You might also like:
Butternut Squash Noodles With Sausage and Sage
Penne with Roasted Garlic White Bean Puree (oil-free option)
Baked Ziti with Vegetables
DIY Easy Frozen Pizzas (oil-free option)
Equipment needed for this dish:
microplane zester, blender, and pasta/soup pot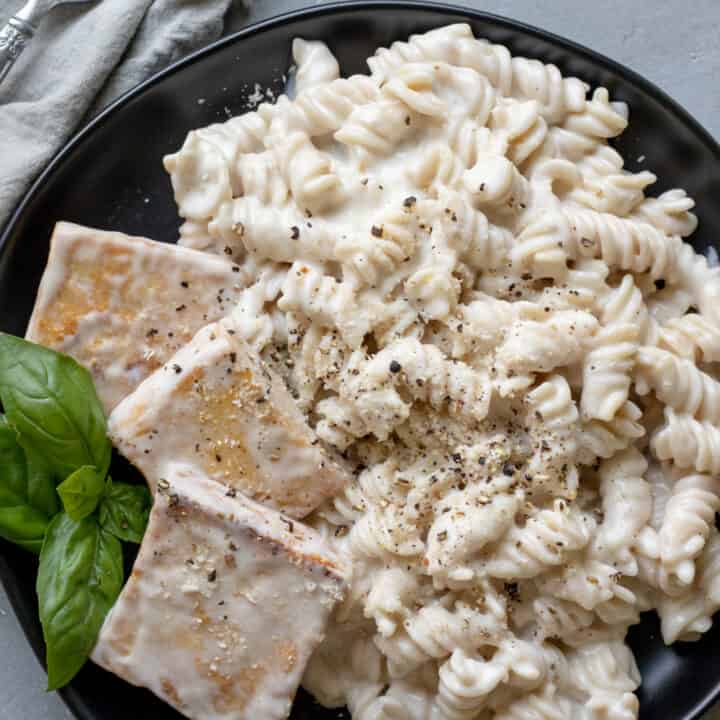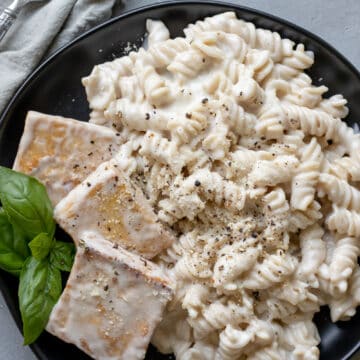 Vegan Lemon Pasta
A creamy and satisfying, plant-based pasta dish with the brightness of lemon. Pair it with your favorite vegetable for a simple, 30-minute meal. Gluten-free with an oil-free option.
See Notes for tips on making this dish without a high speed blender.
Ingredients
6 to 7

cloves

garlic, minced

1

Tbsp

olive oil, optional

For oil-free sub water or vegetable broth

2

lemons

3 ½

cups

water

1 ¼

cups

raw cashews

See Notes for tips if you don't have a high speed blender

2

Tbsp

arrowroot starch

2 to 2 ½

tsp

fine sea salt

black pepper

16

ounces

gluten-free pasta

Or whole-grain pasta of choice
Optional toppings/garnish:
grated cashews (as mentioned in post)

Or store-bought vegan Parmesan, grated

fresh basil or parsley
Instructions
Heat a pot of salted water for cooking the pasta. Cook according to package directions, and drain in a colander.

Heat a saute pan over medium-low heat. Add oil or water/broth, and saute the garlic for 1 to 2 minutes. Reduce heat if necessary so that it doesn't brown. Transfer the garlic to a blender.

Zest one of the lemons, and add the zest to the blender along with the water, cashews, arrowroot, and salt. Blend until smooth.

Cut and squeeze the lemon(s) to get ¼ cup fresh lemon juice. Set aside.

Pour the blended sauce into the pasta pot. Whisking, cook over medium heat until thickened, 4 to 5 minutes. Remove from heat, and whisk in the ¼ cup lemon juice. Add the pasta, and stir to combine.

Season with black pepper, and serve with desired garnish.
Notes
If you don't have a high speed blender, you can sub ½ cup raw cashew butter for the whole nuts. Or soak the raw cashews in hot water for about 30 minutes first, and use a regular blender.
Leftover pasta can be stored in an airtight container in the refrigerator for up to 5 days. Reheat on the stove or in the microwave.
I haven't tried freezing this sauce yet, so if you do please let us know how it turns out!
Estimated Nutrition (per serving)
Calories:
320
kcal
Carbohydrates:
51
g
Protein:
9
g
Fat:
10
g
Saturated Fat:
1.5
g
Cholesterol:
0
mg
Sodium:
585
mg
Fiber:
3
g
Sugar:
1
g
Vitamin A:
0
IU
Vitamin C:
5.8
mg
Calcium:
20
mg
Iron:
2.2
mg
Nutrition information is an estimate and will vary depending on the exact amounts and specific products and ingredients used. We calculate this information using the online calculator cronometer.com. For the most accurate nutrition information we recommend calculating it yourself to reflect the specific ingredients used in your dish.
Have you tried the recipe?
Comment below to let us know!