Vegan pasta casserole combines all of your favorite pizza flavors in a casserole dish! Made with vegan pepperoni, onion, bell pepper, marinara, melted cheese, and your choice of pasta. It's cheesy, satisfying, a little spicy, and always a hit!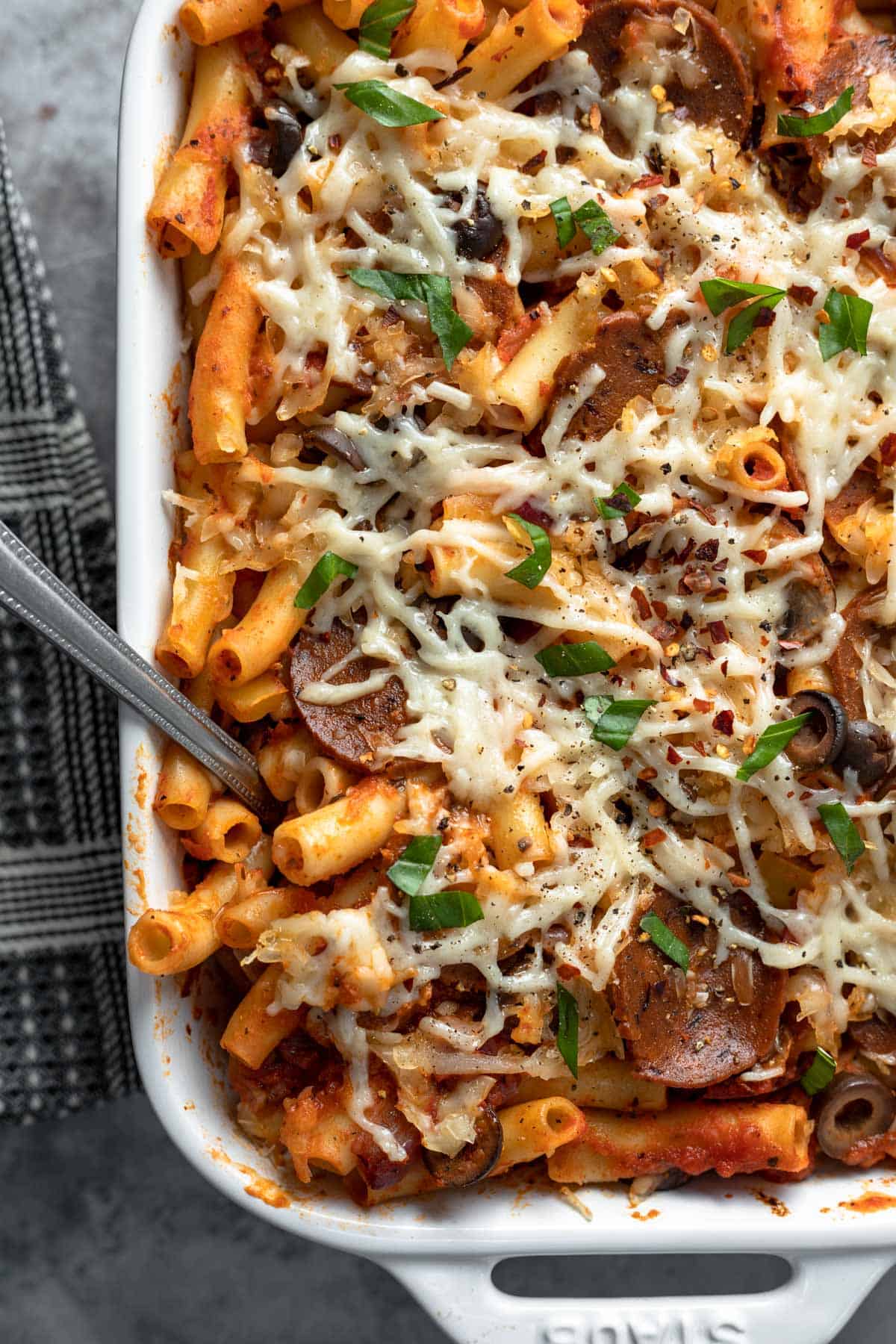 If you're craving pizza but not in the mood to make pizza dough, this vegan pasta casserole is the answer!
It's loaded with flavor and very customizable. Add different meats, cheeses, and veggies, and use different types of pasta. This dish is pretty much impossible to mess up so don't be afraid to experiment!
My easy homemade vegan pepperoni was the inspiration for today's recipe. We just love it so much!
The savory, spicy flavors of the seitan pepperoni really add to the overall pizza vibes. So if you have time to prepare the pepperoni in advance, I think you'll love it!
Otherwise, store-bought vegan pepperoni or sausage is great, too. Prep involves just a few steps, but thankfully none of them are difficult. Let me show you how it's done!
Jump to:
Ingredient Notes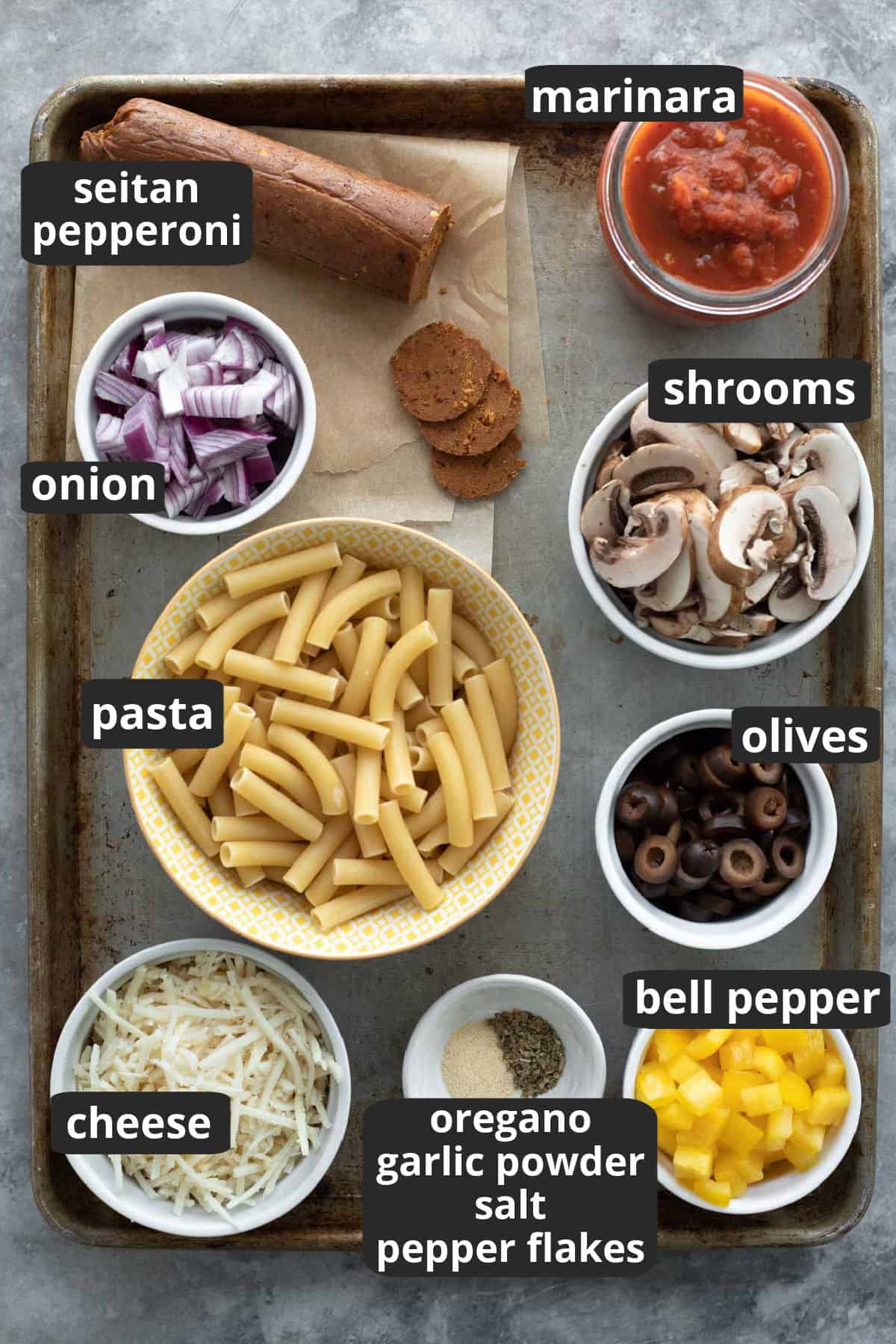 pepperoni - either homemade seitan pepperoni or store-bought is fine; or use a different vegan meat (see ideas below).
marinara - homemade or store-bought; any sauce you enjoy will work great here! Check labels for allergens as needed.
pasta - I prefer rotini or fusilli in this dish, but ziti was all I could get my hands on thanks to a recent snow storm. Honestly, any shape you like will work in this dish, even spaghetti or angel hair.
veggies - we went with the classics - onion, mushrooms, and bell pepper (any color). Spinach or zucchini would also be tasty and nutritious.
cheese - for store-bought, Violife is our favorite; either pre-shredded or select a block of cheese and grate it yourself. If you prefer homemade, my meltable vegan mozzarella is perfect for this dish! The recipe has two versions - use the pourable cheese for this casserole.
See recipe card below for quantities and full recipe.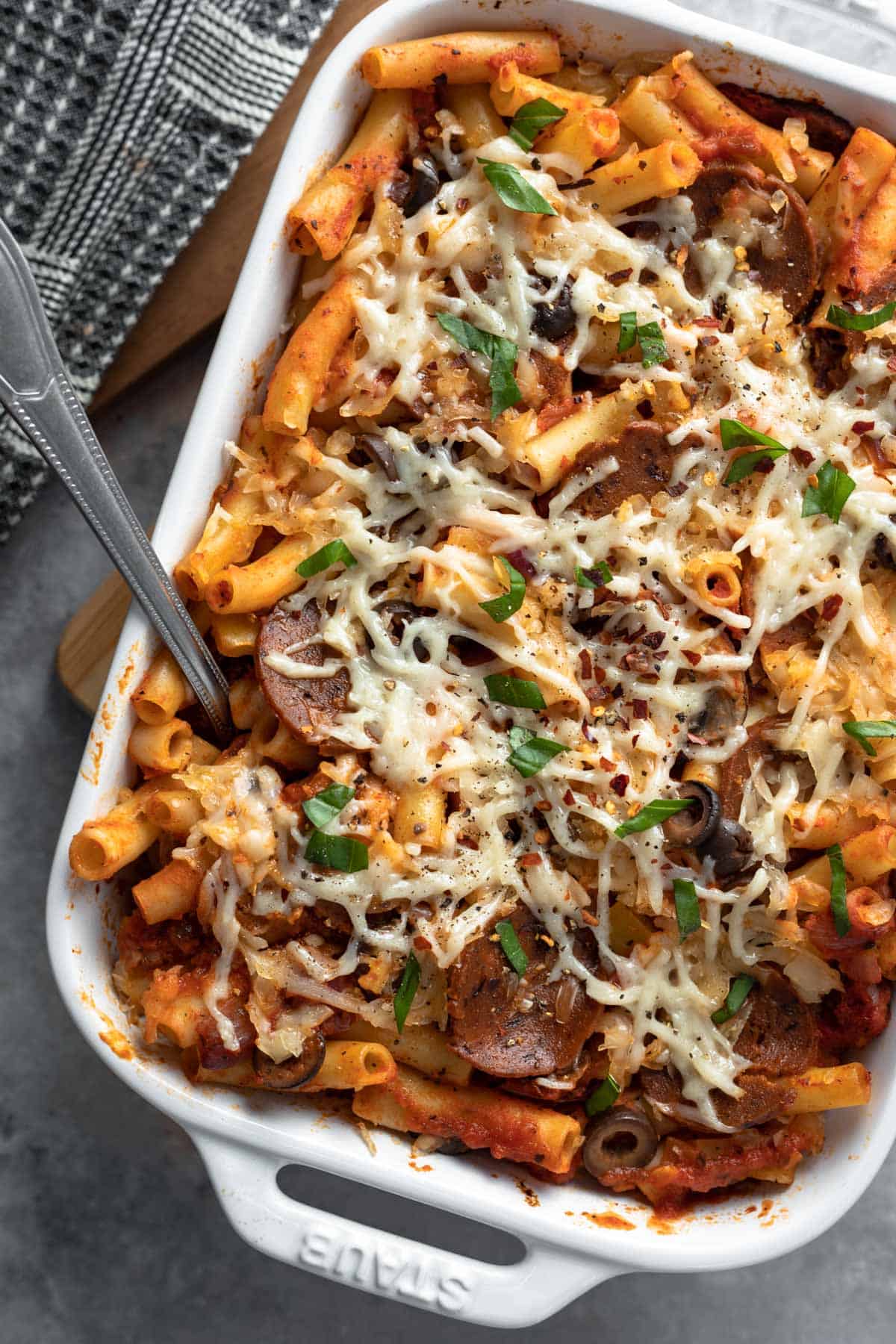 Substitutions
Gluten-free - replace the seitan pepperoni with a gluten-free option like tofu pepperoni, and use your favorite GF pasta.
Oil-Free - use this meltable mozzarella recipe instead of store-bought cheese, and follow the "All Veggie" variation mentioned below. Simply dollop the cheese throughout the dish and on top. Cover and bake as directed.
Pepperoni - vegan Italian sausage or beefy crumbles are great substitutes if you're not into seitan pepperoni.
Veggies - any vegetables you enjoy on pizza are right at home in this dish! Try artichoke hearts, broccoli florets, zucchini, and spinach.
Variations
Vegan Meat Lovers - why stop at just one vegan meat? Go crazy with a combination of your favorites. The only thing you have to worry about is fitting it all in the casserole dish!
All Veggie - not into vegan meats? No problem, bump up the veggies to your heart's content, and add extra Italian seasoning, black pepper, and red pepper flakes to the saute pan.
If you're into pizza, don't miss our popular Vegan Stuffed Crust Pizza!
For a delightfully simple weeknight meal, try this Tuscan White Bean Skillet Bake.
Equipment Needed
If you plan to make the homemade pepperoni, no special equipment is needed for that recipe. You can use a food processor to make the dough, or simply mix it in a bowl. It's seriously easy!
For the pasta casserole you'll need a pasta pot, a saute pan, and a casserole dish, either 13x9 or a 10-inch gratin dish.
Storage
Leftover pasta casserole keeps in the refrigerator for up to 5 days.
This dish can also be frozen. Make sure the food is well-protected from air, and freeze for up to 1 month.
Top Tips
The pasta finishes cooking in the oven so boil it for about 2 minutes less than indicated on the package.
Covering the dish with foil holds in steam and helps the cheese melt.
More Vegan Casseroles
📖 Recipe