This modern, vegan version of cauliflower gratin features tender cauliflower florets wrapped in a smooth and creamy, dairy-free sauce that includes blended cauliflower. This surprisingly light cauliflower gratin is perfect anytime, from holidays and special occasions to a plain old Saturday night in!
I think you're going to LOVE this healthier version of a classic, rich and cheesy gratin. For those of you who like to know how recipes come about, let me tell you a bit about this one...
Around the time that I posted my Healthy Vegan Alfredo recipe and my super cheesy Best Vegan Stovetop Mac and Cheese, I came across America's Test Kitchen's recipe for Modern Cauliflower Gratin. Just like with my alfredo, America's Test Kitchen incorporates steamed cauliflower into their gratin sauce, which adds a lot of creaminess and body. Their recipe isn't vegan, though, and uses a hefty amount of butter and cheese.
Having recently seen how easy it is to make a delicious cheese sauce using store-bought slices like Violife, Follow Your Heart, and Chao, I thought, "Hey, I'll marry both of these ideas and create a dreamy, rich vegan cauliflower gratin!" But....
Round 1 of recipe testing included a sauce that was basically a combination of the sauce from my mac and cheese plus steamed cauliflower for extra body. It turned out great but needed a few tweaks. It was definitely cheesy, but right out of the oven the sauce was thinner than I wanted. It thickened as it sat, but I wanted to try adding a bit more starch to the sauce so the consistency would be more what you expect in a typical cheese-filled gratin.
I also overdid it with the cayenne the first time around, so I dialed that back. But hey, if you're a fan of heat you might enjoy doubling the amount of cayenne listed in the recipe below.
As I prepared to test the recipe a second time, I decided at the last minute to nix the store-bought cheese altogether and replace it with whole-food options.
The cheesy vibes come from a small amount of cashews, nutritional yeast, chickpea miso, lemon juice, tapioca starch, and salt. To my surprise, Mark and I both actually liked this one better! You can see from the photos how velvety the sauce is. I love that it manages to simultaneously be decadently creamy AND light and pillowy. Three cheers for cauliflower!
The panko topping provides just a bit of crunch and contrasting texture, while the thyme adds an irresistible, savory aroma. During the holiday season this would be amazing with a bit of sage, too.
Substitutions for Tapioca Starch
I'm a big fan of tapioca starch and love using it to make different cheeses, like Easy Oil-Free Queso and mozzarella for stuffed crust pizza. It's great for vegan cheese making because it provides a stretchy, melty element. But..... if you're in the mood to make this gratin and don't have any tapioca starch, don't fret. Just add another tablespoon of corn starch. And if you would rather use arrowroot than corn starch in this sauce, that's fine, too!
You won't believe how light and healthy this Cauliflower Gratin is!
Doesn't it look like the richest, most sinfully delicious dish? Well, guess what.... it has a measly 140 calories per serving! Just wait until you taste it. You won't believe such a large amount of creamy, tasty goodness can pack so little fat and calories. But thanks to two heads of cauliflower, 'tis true!
You get the rich mouthfeel of eating a heavy, cheesy gratin, but afterwards won't feel like you ate a concrete block and need a nap. Hooray!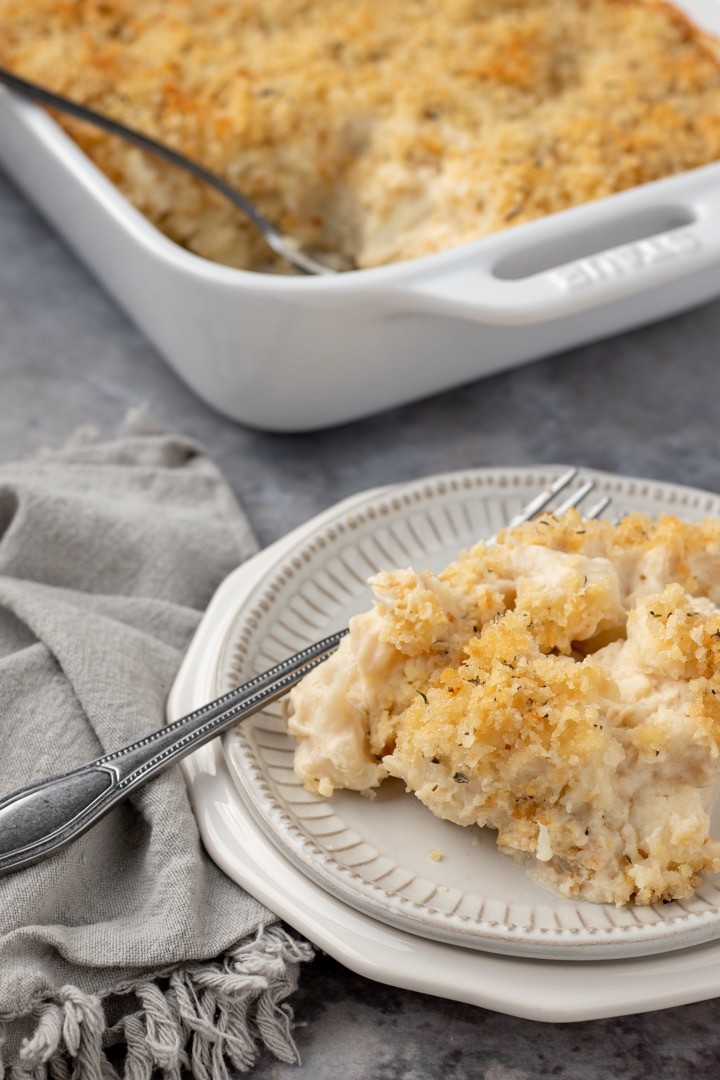 So even though I originally set out to create a full-fat, cheese-filled cauliflower gratin, my bent toward healthier foods won out in the end. But when "good" tastes this good, why not enjoy it?
This recipe is very versatile. Experiment and feel free to incorporate your favorite vegan cheese if you're looking for more decadence! You can also mix shredded vegan cheese into the cooled panko topping just before sprinkling it on top and baking it. There really is a lot of room for customization here. I hope you enjoy it!

You might also like these light and healthy dishes:
Kalamata Olive Pasta With Cauliflower (oil-free; gluten-free option)
Penne With Roasted Garlic White Bean Puree (gluten-free; oil-free option)
Healthy Vegan Alfredo (oil-free; gluten-free option)
And these holiday-worthy recipes:
Caramelized Shallot Dip (oil-free option)
Vegan Cornbread Dressing (gluten-free option)
Brussels Sprouts with Raisin-Balsamic Reduction (gluten-free)
Vegan Cauliflower Gratin
Ingredients
2

medium

heads cauliflower

1 ½

cups

water

½

cup

cashews*

-

*If you don't have a high speed blender, soak the cashews first in hot water for 1 hour, then drain, OR sub ¼ cup raw cashew butter.

1

Tbsp

chickpea miso

2

Tbsp

corn starch

1

Tbsp

tapioca starch

2

Tbsp

nutritional yeast

⅛

tsp

freshly grated nutmeg

⅛

tsp

cayenne

2

Tbsp

fresh lemon juice

1

tsp

salt
For the bread crumb topping:
2

Tbsp

vegan butter

½

cup

panko bread crumbs

¾

tsp

dried thyme

salt

pepper
Instructions
Make the topping: in a saute pan melt the butter over medium-low heat. Add the panko and thyme. Stirring often, cook for about 2 minutes. Transfer to a bowl to cool.

Cut one of the heads of cauliflower into equal-sized florets. You can also use most of the stem, cutting it into smaller pieces since it's more dense and takes longer to cook than florets. Cover the bottom of a large pot with about two inches of water. Add the cauliflower and sprinkle with salt. Bring to a boil and cook for about 5 minutes or until tender. Drain the cauliflower, and transfer it to a blender.

To the blender add the water, cashews, miso, corn starch, tapioca, nutritional yeast, nutmeg, cayenne, lemon juice and salt. Blend until smooth, and set aside.

Preheat oven to 375 degrees F. Locate a 2.5 quart gratin dish or 3 quart casserole. Prepare the second head of cauliflower by discarding the stem and cutting into equal-sized florets. Cook the cauliflower just as you did the first batch. Drain well.

Transfer the cooked florets to the casserole dish. Pour the sauce on top and use a spoon to gently stir the cauliflower and distribute the sauce.

Evenly sprinkle the panko mixture on top. Sprinkle with salt and pepper. Bake until hot and bubbling and the panko is golden brown, about 40 minutes for a gratin dish (deeper) or 30 minutes for a casserole dish (more shallow). Let stand 10 minutes before serving.
Notes
Store leftover gratin in the refrigerator for up to 3 days.
Estimated Nutrition (per serving)
Calories:
140
kcal
Carbohydrates:
16
g
Protein:
6
g
Fat:
7
g
Saturated Fat:
1
g
Cholesterol:
0
mg
Sodium:
433
mg
Fiber:
4
g
Sugar:
4
g
Vitamin A:
0
IU
Vitamin C:
88.3
mg
Calcium:
30
mg
Iron:
1.1
mg
Nutrition information is an estimate and will vary depending on the exact amounts and specific products and ingredients used. We calculate this information using the online calculator cronometer.com. For the most accurate nutrition information we recommend calculating it yourself to reflect the specific ingredients used in your dish.
Did you try the recipe?
Comment below to let us know!