This vegan seitan roast is loaded with flavor and surprisingly easy to prepare. Generously-sized, it's a great way to feed a crowd during the holidays or any time of year! This vegan roast is also great for weekly meal prep (leftovers make awesome sandwiches)! Bake it in the oven or cook it in the Instant Pot in about half the time. Soy-free, no nutritional yeast, nut-free option.
Jump to:
A Seitan Roast for Any Occasion
Like most things, making seitan is only as complicated as you want it to be. If you've never tried your hand at it before, maybe you're under the impression that it's always complicated. But no way!
There are actually a lot of ways to enjoy seitan, like in the form of sausages and steaks, that are pretty darn simple.
And then there are the aficionados out there who insist that washing your own flour to strip away the starch (versus starting with store-bought vital wheat gluten) is the only way to go. Some skilled folks have even carefully mastered various kneading and cooking techniques to create a stringy, shredded seitan "meat" texture.
Sometimes I'm all about that experimental stuff. In fact, I have a new vegan turkey recipe that uses a few of those more complicated methods. But today's recipe is about simplicity and easy-to-find ingredients!
My goal is to help you create a beautiful, protein-packed, moist, and delicious seitan roast in the easiest way possible, and I think you're going to love it! It's:
moist and meaty, like vegan roast beef
made with ingredients you can find in most grocery stores
as easy to prepare as kneading pizza dough
FREE from soy and nutritional yeast (with a nut-free option)
almost 100% hands-off during cooking!!
and shhhh, don't tell anyone I said this, but... it tastes SO much better than store-bought vegan holiday roasts!
Equipment Tips and Planning
Every detail you need is in the recipe card at the bottom of the post. But for those of you who really like to feel prepared before you dive into a recipe, I'll point out a few things to get you started.
Blender - any blender will do! No need for a fancy high-speed one with this recipe.
Cheesecloth - a lot of seitan recipes call for wrapping the roast in foil since that keeps the moisture locked inside. But since we're using steam cooking methods (either in a roasting pan in the oven or in the Instant Pot), we can wrap ours in cheesecloth.
I prefer cheesecloth for this recipe because it's easier to feel the firmness of the roast after cooking to determine whether it's done. There's nothing more disappointing than cutting into underdone seitan!
Seitan expands as it cooks, so foil can end up feeling very tight, fooling you into thinking the roast is ready. Cheesecloth is also great for anyone who prefers not to have aluminum foil in contact with their food.
Twine (optional) - tying the roast with twine is really just for fun, to give the seitan the appearance of a tied roast. But as long as the ends of the cheesecloth are tucked underneath, with the weight of the roast keeping it secured, twine isn't required.
Yield/size of the roast - if you have an Instant Pot, I highly recommend using it for this recipe. It's so easy and probably more dependable than the oven (since oven temperatures can vary quite a bit). Just make sure the roast will fit inside your IP. I have the 6 quart model linked above, and the roast just barely fits.
You'll shape the seitan into a log about 9 inches long and 3 ½ inches wide. So if you plan to bake it, also keep this in mind when choosing a baking dish. I used this 10-inch Staub gratin dish, which worked perfectly.
Kneading - either keep it simple and knead the dough by hand, or use a stand mixer with a dough hook.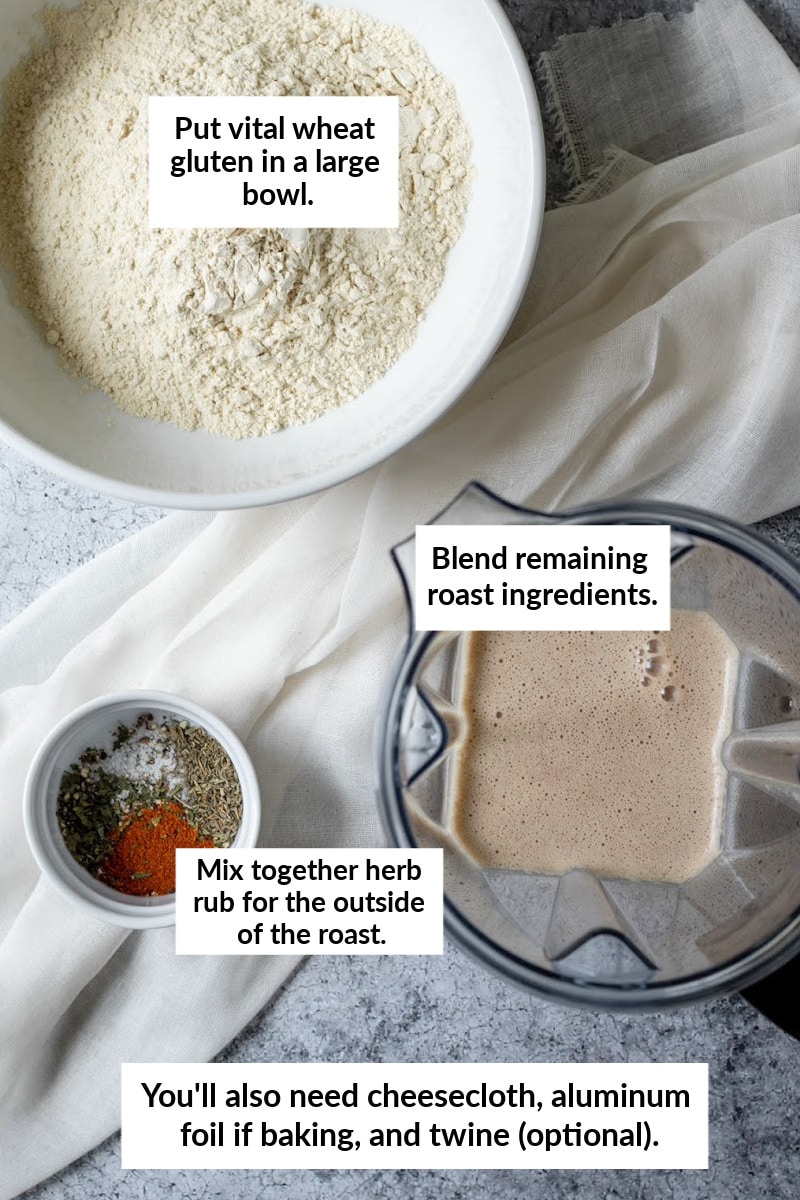 How to Make a Holiday-Worthy Seitan Roast
Now that I've given you a few tips and things to keep in mind, let's review the basic process.
Add vital wheat gluten to a large bowl.
Blend the other roast ingredients.
Pour the wet mixture into the vital wheat gluten, and stir until a dough forms.
Now it's time to knead the dough to develop the gluten. Knead for about 5 minutes by hand or 3 to 4 minutes with a stand mixer on low speed.
Shape the dough into a log approximately 9 inches by 3 ½ inches. If cooking in the Instant Pot it's okay if the roast is a bit shorter and thicker than this, but if baking the seitan try to stay close to this size.
Mix together the herb rub. Coat the outside of the roast with oil, then apply the rub.
Cut a piece of cheesecloth large enough to wrap around the roast a few times and with enough excess on the ends so that they can be securely tucked underneath. See photos below. If using twine, cut 3 to 5 pieces (however many you want), and tie around the roast. You want them to be only lightly snug, not super tight.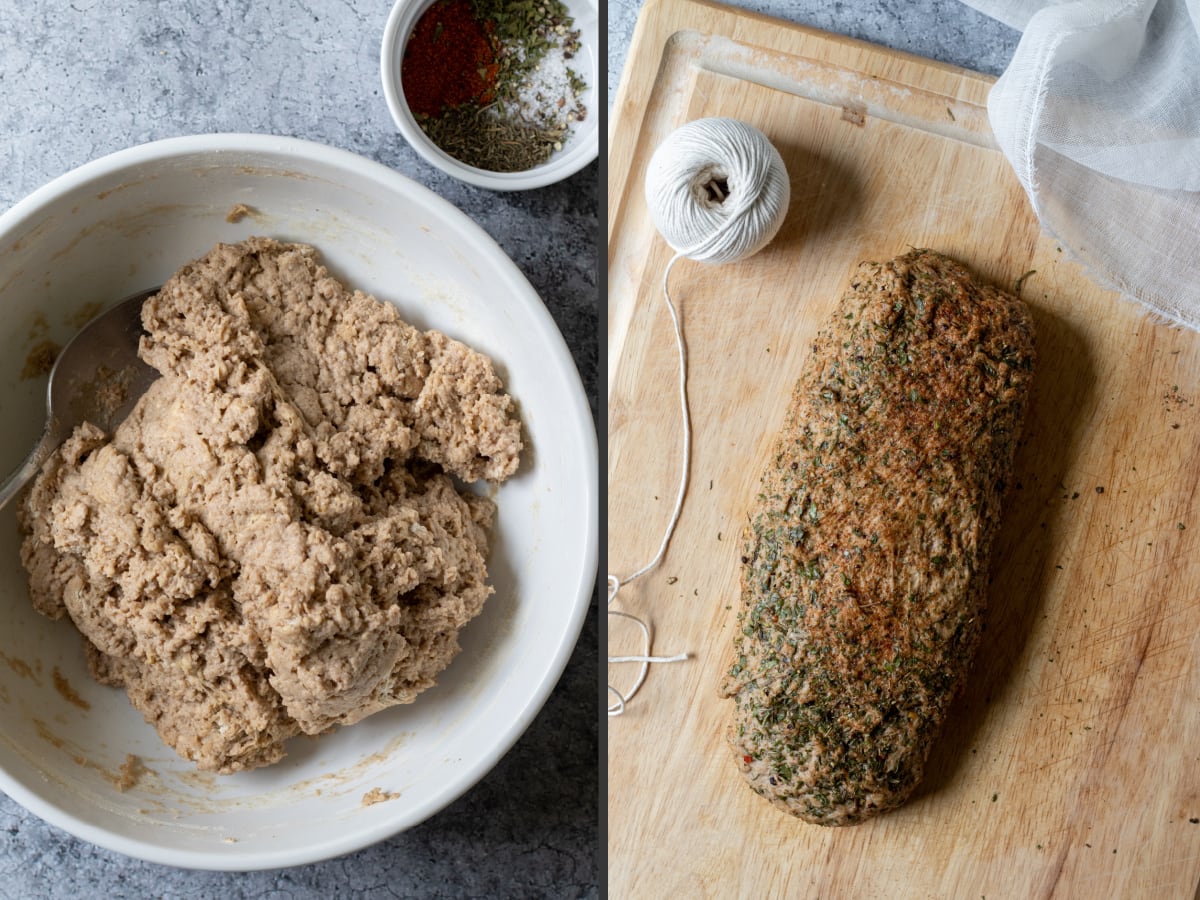 Now choose your cooking method.
Instant Pot Instructions
Keep in mind that the roast is large! So a 6-quart Instant Pot is the smallest size that will work unless you adjust the recipe to make a smaller roast.
Add just enough broth to reach the bottom of the trivet. Place the wrapped seitan on the trivet, secure and lock the lid, and pressure cook on high for 65 minutes.
Allow natural pressure release for 10 minutes, then quick release the remaining pressure.
Oven Instructions
Add remaining 2 cups of broth to a baking dish. Place the roast in the broth and flip to dampen the cheesecloth. Cover tightly with foil.
Bake for 1 hour 45 minutes, flipping at the halfway mark.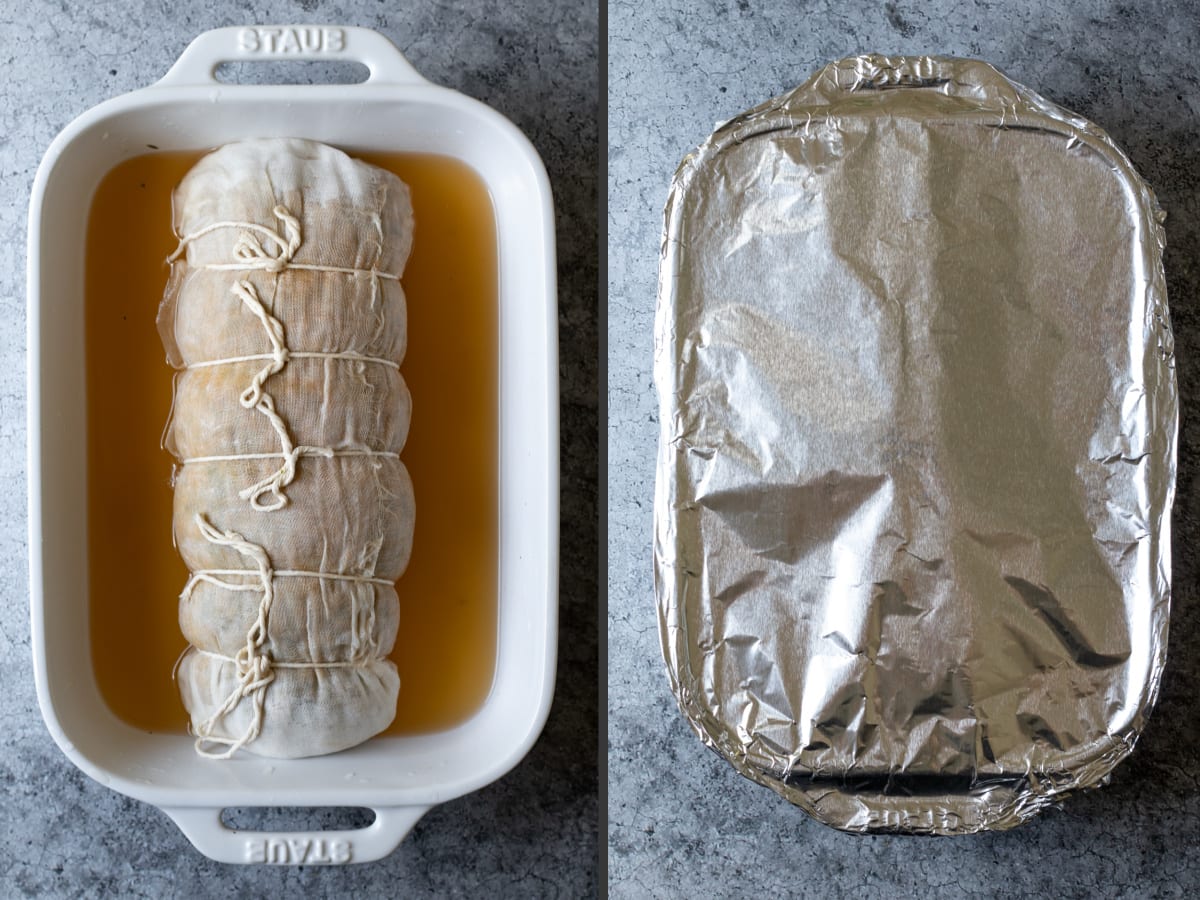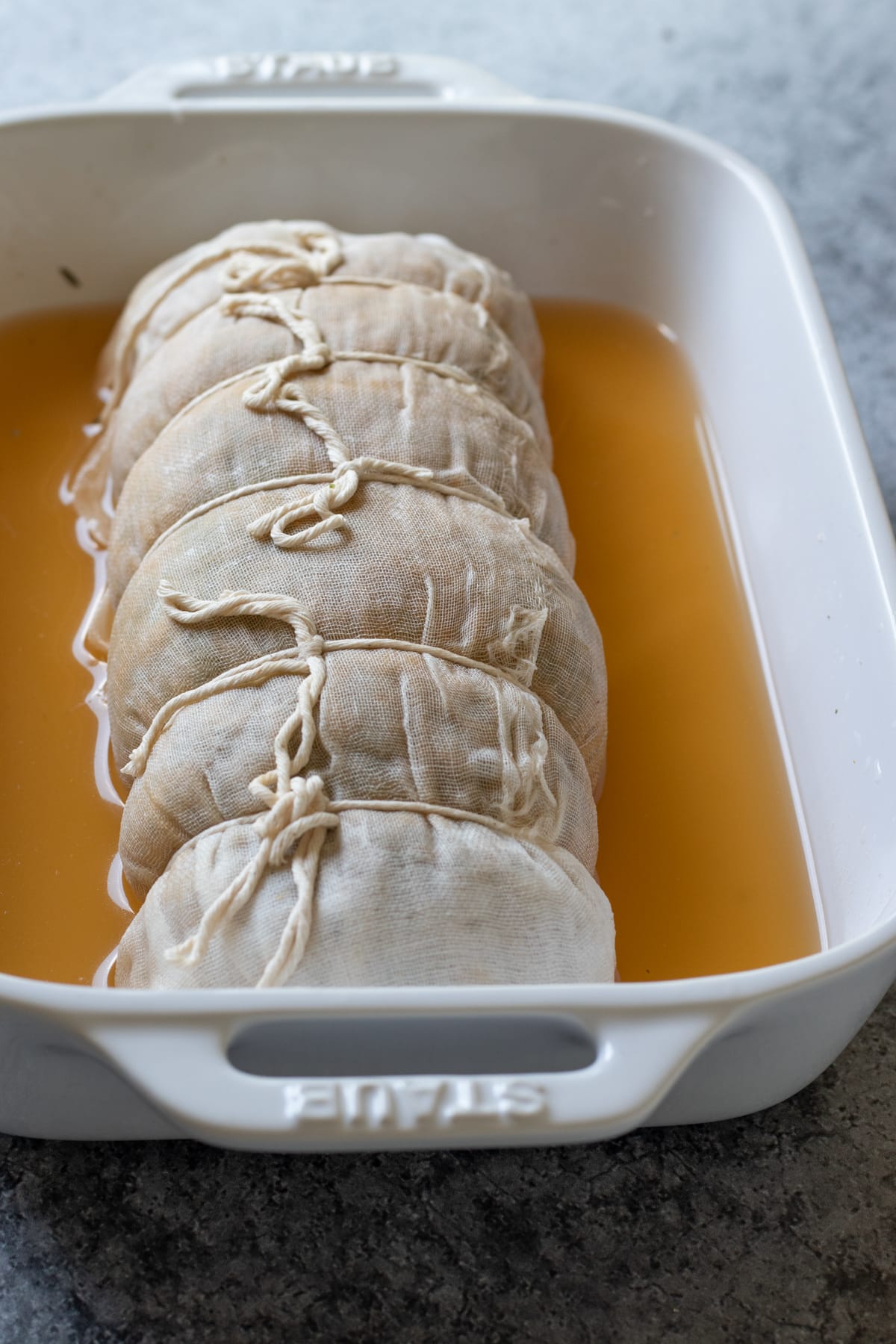 Finishing Touches
For the best flavor and texture, I recommend refrigerating the cooked roast overnight. Straight from the fridge you can slice it for sandwiches and pile it on salads, noodle dishes, and grain bowls.
If serving as a whole roast, I think it looks extra lovely with a quick sear in a pan. After browning the "skin," brush on a mixture of maple syrup and olive oil just before serving. This gives the roast a dark, golden glisten.
Serve with your favorite roasted vegetables, mushroom gravy, and fresh sprigs of rosemary or thyme.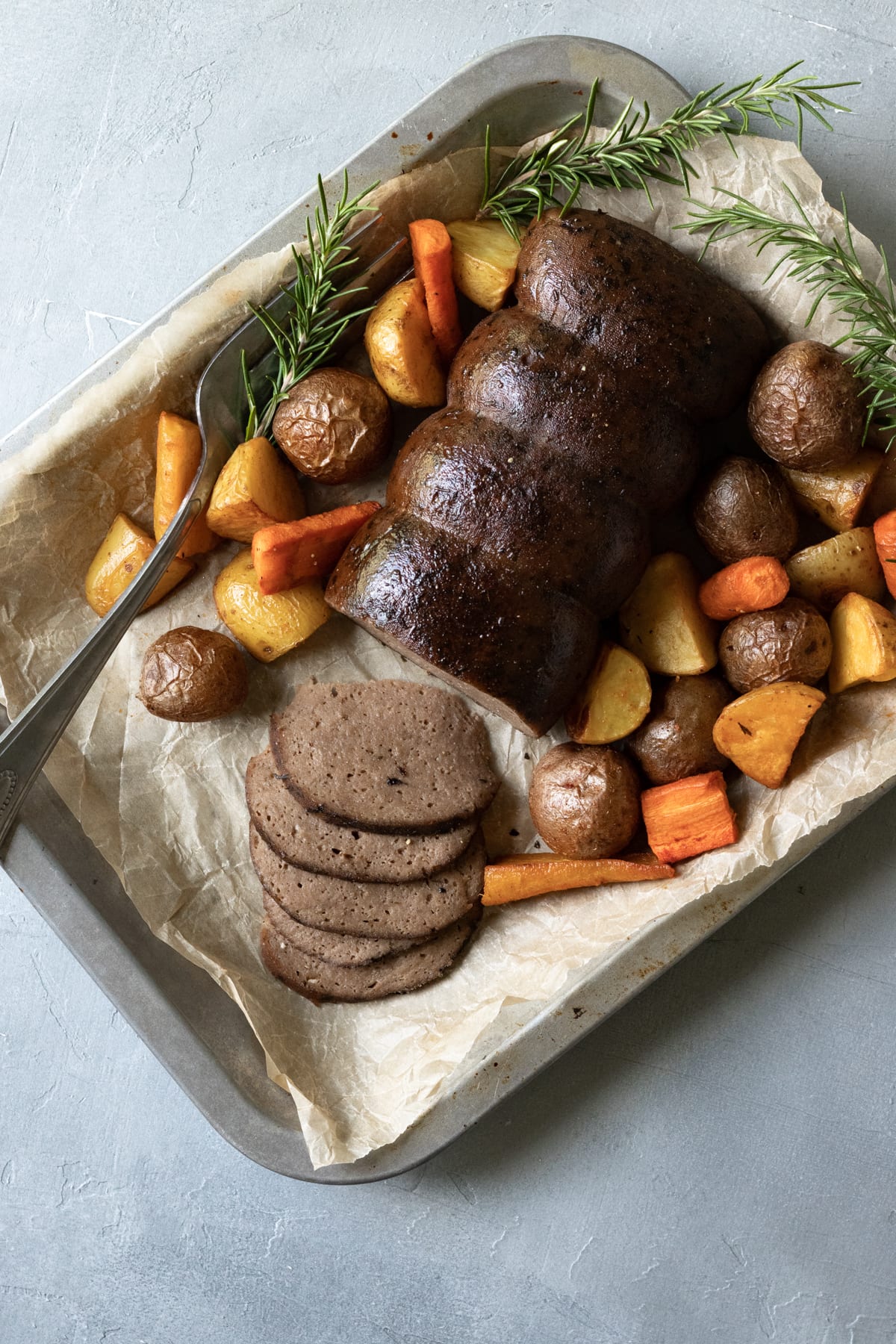 What to Serve With Seitan Roast
These holiday-worthy vegan side dishes pair perfectly with the roast.
And for dessert: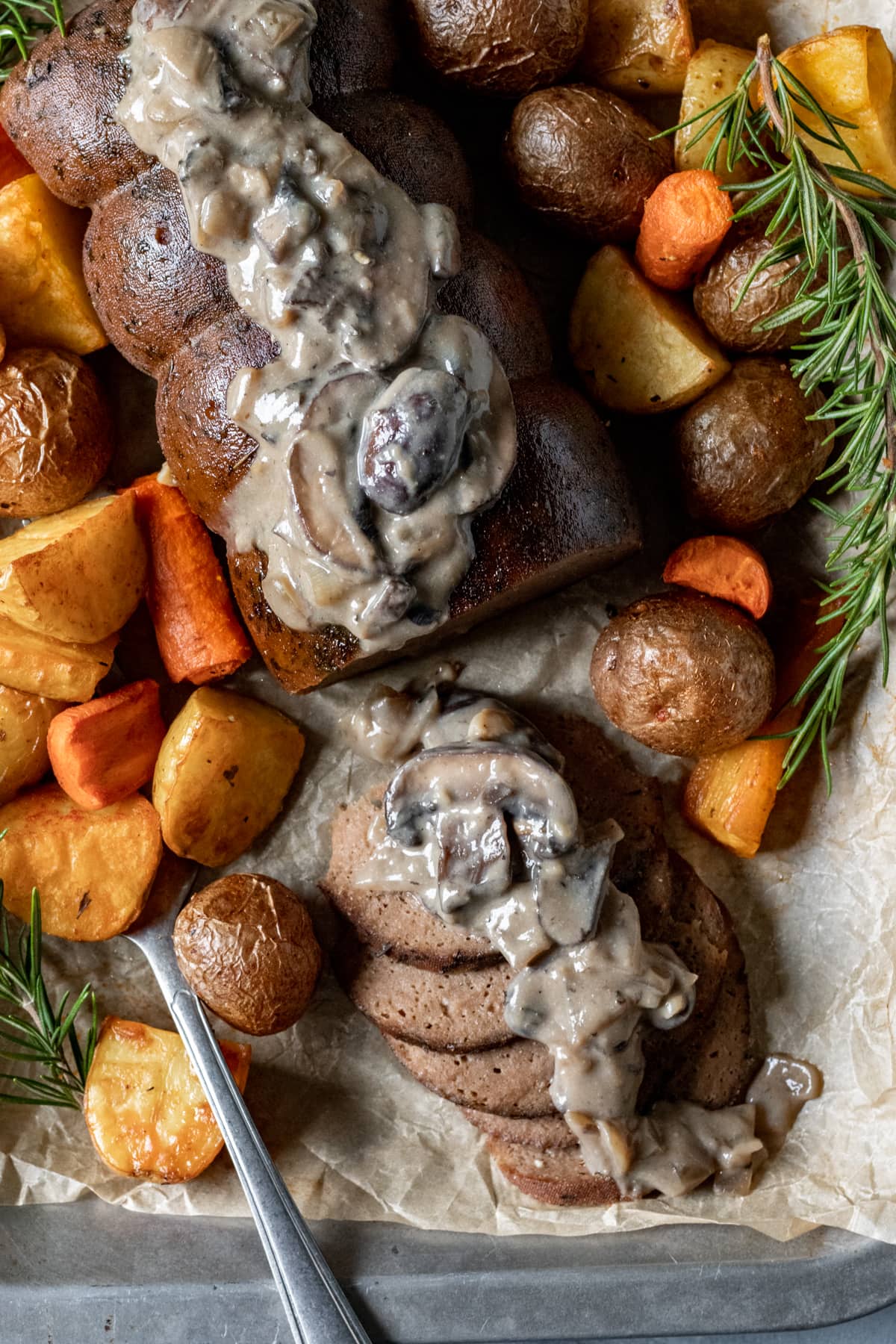 Other Vegan Holiday Main Dishes
If you enjoy this seitan roast be sure to try our Vegan Turkey Roast!
For a gluten-free vegan main dish option, check out this Beyond Meat Meatloaf with Shiitake Stuffing or this wholesome Chickpea Meatloaf.
More popular seitan recipes:
📖 Recipe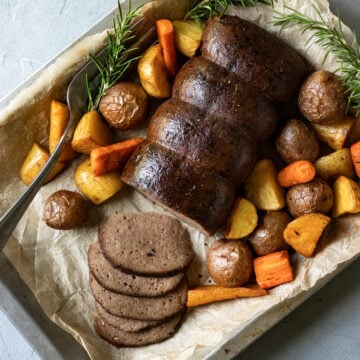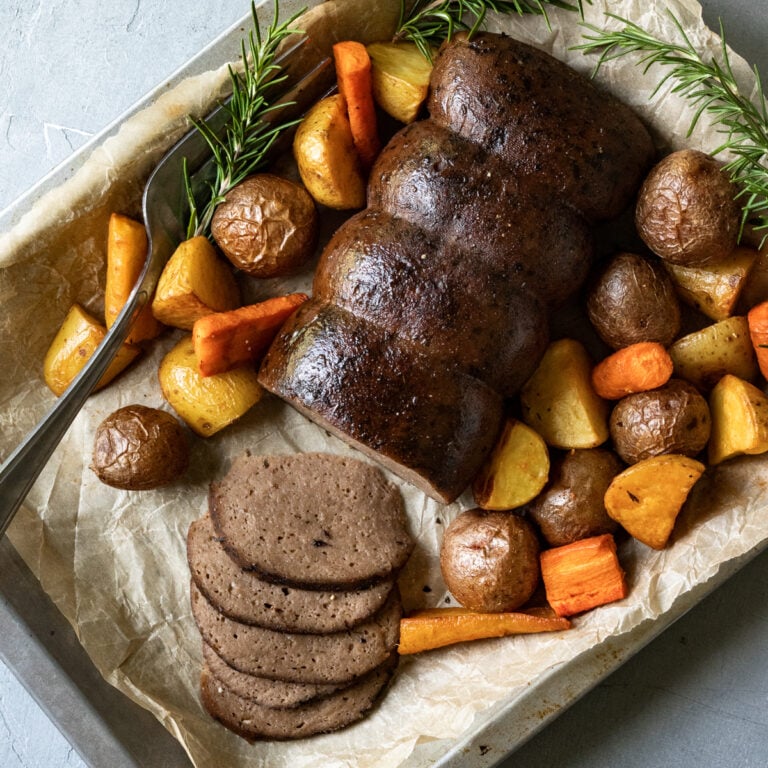 Vegan Seitan Roast (Instant Pot or Baked)
An impressive yet easy homemade seitan roast! This generously sized vegan roast is perfect anytime, from Thanksgiving dinner to weekly meal prep (leftovers make awesome sandwiches)! With Instant Pot pressure cooker instructions.
Soy-free, nutritional yeast-free, with a nut-free option.
Note: Equipment needed depends on the cooking method you choose. Read through the instructions first to make sure you're prepared.
Yield: makes one 2 lb. roast; serves 7 to 10, depending on the occasion and appetites!
Inspired by and adapted over the years from Isa's seitan roast on the PPK.
Ingredients
For the roast:
2½

cups

vital wheat gluten

¾

cup

Cannellini beans, rinsed and drained

-

Or sub pintos or other white bean.

⅓

cup

raw walnut halves

-

For nut-free, sub 2 Tbsp olive oil.

5

cloves

garlic

1½

teaspoons

onion powder

1½

teaspoons

poultry seasoning

1½

teaspoons

dried rosemary -

Not powdered.

¼

teaspoon

ground sage

1½

teaspoons

fine sea salt

¼

teaspoon

freshly ground black pepper

3 to 3½

cups

vegetable broth, divided -

1½ cups are for the roast, the rest is for cooking.

1

tablespoon

apple cider vinegar

1

tablespoon

prepared mustard

1½

tablespoons

maple syrup

1

teaspoon

liquid smoke
Optional glaze for serving:
1

tablespoon

olive oil, divided

1

tablespoon

maple syrup
Instructions
Plan: If cooking in an Instant Pot, make sure it's large enough to hold the roast, which is approx 9 inches long. I use this 6 quart model. If cooking in the oven, locate a high-sided baking dish that can hold the roast plus about an inch of broth, and that can be tightly covered with foil. Preheat oven to 375 degrees F (190 C).

Place vital wheat gluten in a large mixing bowl, and set aside. In a blender combine the beans, walnuts, garlic, onion powder, poultry seasoning, rosemary, sage, salt, pepper, 1 ½ cups broth (354 ml), vinegar, mustard, maple syrup, and liquid smoke. Blend on high speed until smooth.

Pour wet ingredients into vital wheat gluten, and stir until a dough forms. Move dough to a flat surface and knead by hand for 4 to 5 minutes. The dough will continue to firm up as you knead, and you'll see the gluten strands forming. *Alternatively, you can use a stand mixer with a dough hook attachment to do the kneading. Let it run on low (speed 2) for 3 to 4 minutes.

On a flat work surface use your hands to shape the dough into a log approximately 9 inches long x 3 ½ inches wide. Note, this will barely fit in a 6 Qt. Instant Pot; for the IP you can make it a bit shorter and wider if needed.

In a small bowl, combine the dry ingredients for the herb rub. Coat the outside of the roast with oil, then apply the rub. Let the seitan rest for a few minutes.

Cut a piece of cheesecloth large enough to wrap around the roast several times and with enough overhang on the ends to be securely folded underneath (the entire roast should be contained). Refer to photos above if needed. Wrap the roast, then tightly fold the ends underneath. Optional: wrap with 3 to 5 pieces of twine to create a "tied roast" appearance.

Instant Pot instructions: place trivet inside the insert, and add just enough of the remaining broth to reach the bottom of the trivet. Place wrapped roast on trivet, close and secure the lid. Cook on high pressure for 65 minutes. Allow pressure to naturally release for 10 minutes, then quick release remaining pressure. Carefully remove Instant Pot lid. Let roast cool for a few minutes, then lift out by trivet handles and place on counter to cool. Oven instructions: place wrapped roast in baking dish and add remaining 2 cups of broth. Flip the roast a couple of times so that the cheesecloth gets saturated with broth. Cover dish tightly with foil, crimping the edges. You want to contain as much of the steam as possible to keep the roast moist. Bake for 1 hour and 45 minutes, flipping the roast at the 1 hour mark.

To test for doneness, use tongs to press the center of the roast. It should feel very firm. It's okay if it feels slightly less firm than the ends, but if the center feels at all squishy, cook for another 5 minutes in the Instant Pot or 10 minutes in the oven. Remove the cheesecloth once cool enough to handle.
Serving options:
The roast can be served after cooling for about an hour, but the texture is best the next day. To store, remove the cheesecloth and allow roast to cool completely. Transfer to an airtight storage container, and refrigerate overnight.

If using for salads or sandwiches, the roast can be sliced and eaten cold. If serving as a whole roast, remove from refrigerator 1 hour before serving so that it can warm up. Then, pan-sear as described below.

Preheat a heavy skillet over medium heat. Add about a teaspoon of oil, and sear the top of the roast until browned, about 2 minutes. Flip the roast, and sear the underside. If desired, hold in place with tongs to sear the sides, as well. Place on a serving platter. Stir together the remaining 2 teaspoons of olive oil and the maple syrup. Brush onto the outside of the roast, and serve.
Notes
As mentioned above, the roast can be eaten the day it's cooked, but the texture improves (firms up) overnight and tastes best over the next several days. Store the roast in the refrigerator for up to 5 days.
Slice the seitan right out of the fridge for awesome sandwiches. You can also chop or slice it and add to salads, grain bowls, and noodle dishes.
Reheating
Use care when reheating seitan as it can dry out easily. Here are a few options for easy reheating:
Briefly reheat individual slices in the microwave.
Generously baste with broth, cover and bake at 375 degrees for about 10 minutes or until hot.
Reheat on the stovetop as part of sautés, soups, or stir fries.
Freezing
Seitan can also be frozen for longer storage. Wrap well to protect from air. Thaw in the refrigerator overnight before using and reheating by one of the above methods.
Estimated Nutrition (per serving)
Serving:
96
g
Calories:
188
kcal
Carbohydrates:
11
g
Protein:
27
g
Fat:
4
g
Saturated Fat:
1
g
Cholesterol:
0
mg
Sodium:
478
mg
Fiber:
2
g
Sugar:
2
g
Vitamin A:
94
IU
Vitamin C:
0.65
mg
Calcium:
35
mg
Iron:
2.5
mg
Nutrition information is an estimate and will vary depending on the exact amounts and specific products and ingredients used. We calculate this information using the online calculator cronometer.com.
Tried the recipe?
I love hearing from you! Share your feedback below!