Spicy and flavorful Andouille-Style Vegan Sausage is easy to prepare and incredibly versatile. Add this homemade vegan sausage to your favorite grain bowls, stews and soups, snack boards, sandwiches, and Cajun recipes! Oil-free option.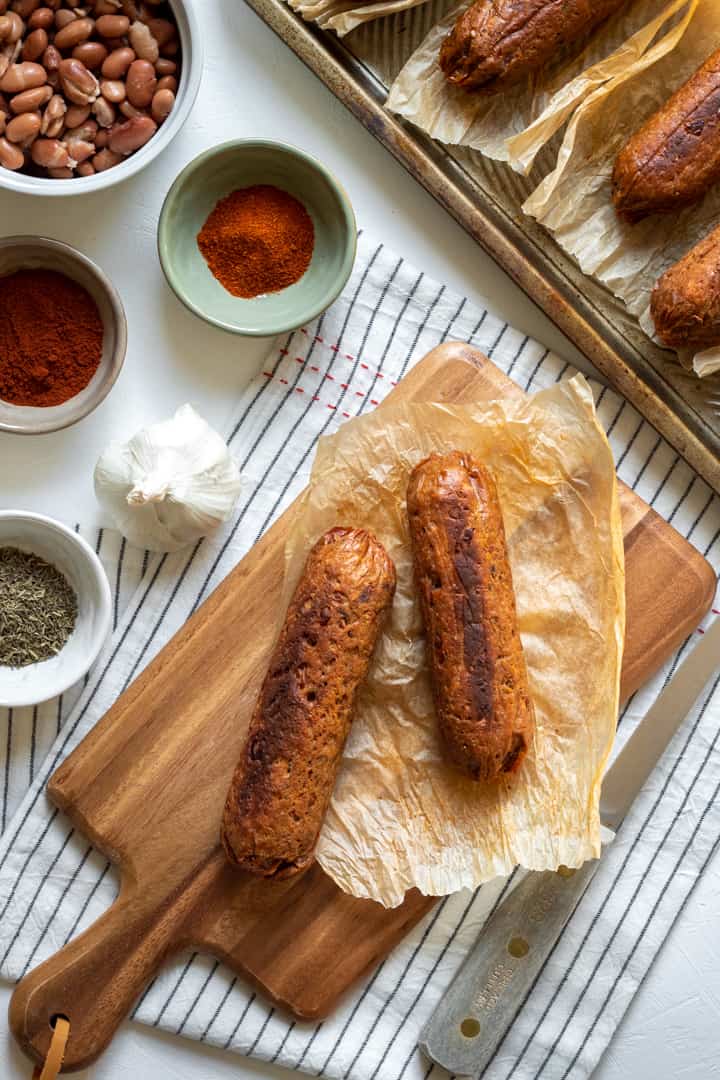 I've made homemade vegan sausages plenty of times over the years, but usually those were Italian-inspired, based on Isa Chandra's recipe for Simple Italian Sausages.
It wasn't until last year that it occurred to me to try adding traditional andouille seasonings to my favorite seitan sausage. And from the very first test batch Mark and I both loved it!
I kept meaning to make it again for the blog, but before I knew it months and months had passed.
Recently I've found myself craving all sorts of spicy foods, so I revisited this one and dialed it in! If you love a bit of kick from cayenne, I think you'll LOVE these vegan andouille sausages.
They also get flavor and color from smoked and sweet paprika, ground mustard, pepper, soy sauce, pinto beans, thyme, and garlic.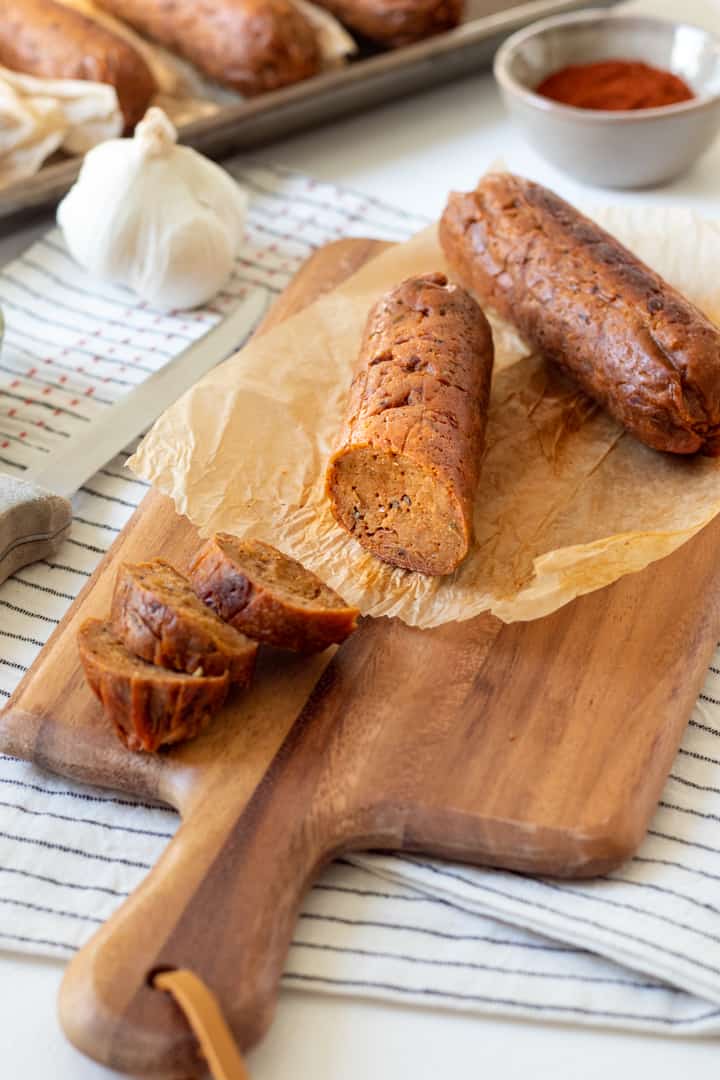 And since you're here, I'm guessing you also love spicy vegan meats. So be sure to check out this Vegan Chorizo!
How to Make Vegan Sausage
If you've never made seitan sausages before, please don't be intimidated. It really is incredibly easy. I'll break it down for you...
First, you need to cut 8 pieces of foil large enough to wrap up each individual sausage link (about 7 or 8 inches long). And if you prefer not have foil directly against your food, you'll also cut 8 pieces of parchment paper. The parchment can be considerably smaller, though, about 5 inches.
In a large bowl mix together the dry ingredients. In a smaller bowl whisk together all wet ingredients except the pinto beans.
Pour the wet mixture and the beans into the dry ingredients. And here comes the fun part...get your hands in there! No spoon required. You're going to mix everything together by squishing, squeezing, mixing, punching, and kneading. See the photo on the right below? That's how the dough will look after mixing everything together in the bowl, soft and fluffy.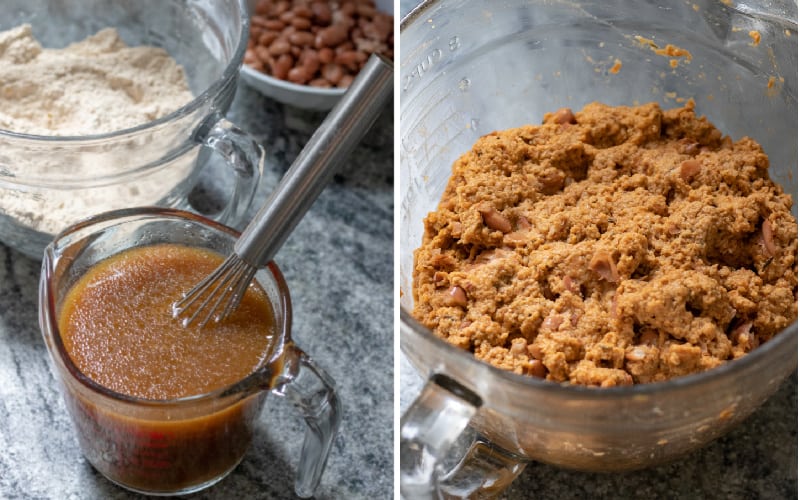 Next, transfer the dough to a flat surface (if you have a porous countertop that stains easily I recommend using a cutting board). Knead the dough for about 3 to 4 minutes, and don't be afraid to get rough with it. This isn't like kneading bread.
You can tear it, squish it between your fingers, and really mash it up! If any whole pinto beans fall out just mash them and press them back into the dough.
Once the dough feels fairly firm, shape it into a rectangle. This doesn't have to be precise. Cut the rectangle into 4 equal-sized pieces (photo on the left below). Then cut each of those 4 pieces in half, so that you have 8 pieces of dough.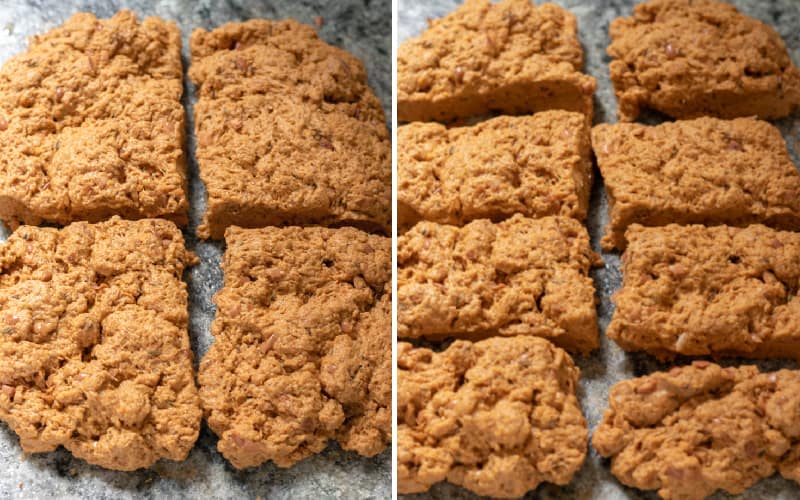 Wrap one log in parchment (if using), then in foil. Secure the ends by twisting the foil like a tootsie roll wrapper.
TIP: Wrap the sausages nice and tight! They need to be securely wrapped to help them snap into shape and to maintain their moisture.
Place the foil-wrapped sausages on a baking sheet and bake in a preheated 375 degree oven for about 55 minutes. To test for doneness, press the center of one of the sausages with tongs. If it feels firm, carefully unwrap it to check the color and texture.
Now you have eight spicy, gorgeous vegan sausages ready to eat or use in your favorite recipes!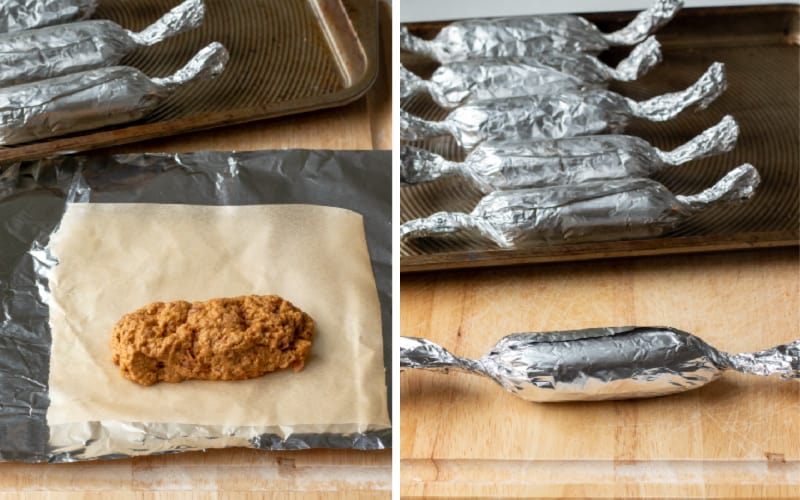 Baking vs Steaming
I've also cooked these sausages by steaming them, but I preferred their texture when baked. The contact with the hot baking pan browns them like a skillet, and the overall texture and firmness was better.
If you prefer to steam the sausages, cook time will be about 45 to 55 minutes.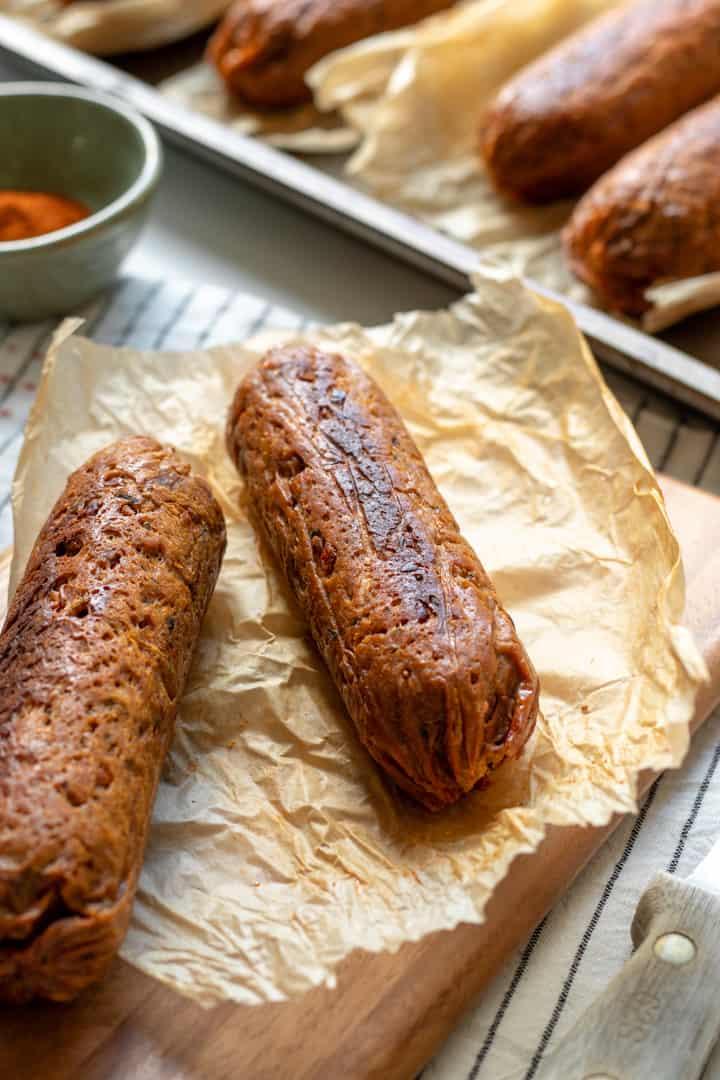 Serving Suggestions
We're in the midst of party season, and I can absolutely see these sausages gracing a gorgeous vegan snack board. Slice 'em up and serve alongside an assortment of vegan cheeses, veggies, crackers, bread, olives, mustards, pickles, hummus, etc.
You can also slice these sausage links or crumble them in a food processor, and add them to stir fries, tofu scrambles (like this Cajun Tofu Scramble), pastas, soups, wraps, and sandwiches.
Of course, these can be eaten straight out of the oven when hot or refrigerated for later use.
If you plan to serve later, the best way to reheat these seitan sausages is in a hot skillet, briefly in the microwave, or on a grill. Reheating seitan in the oven tends to dry it out pretty quickly.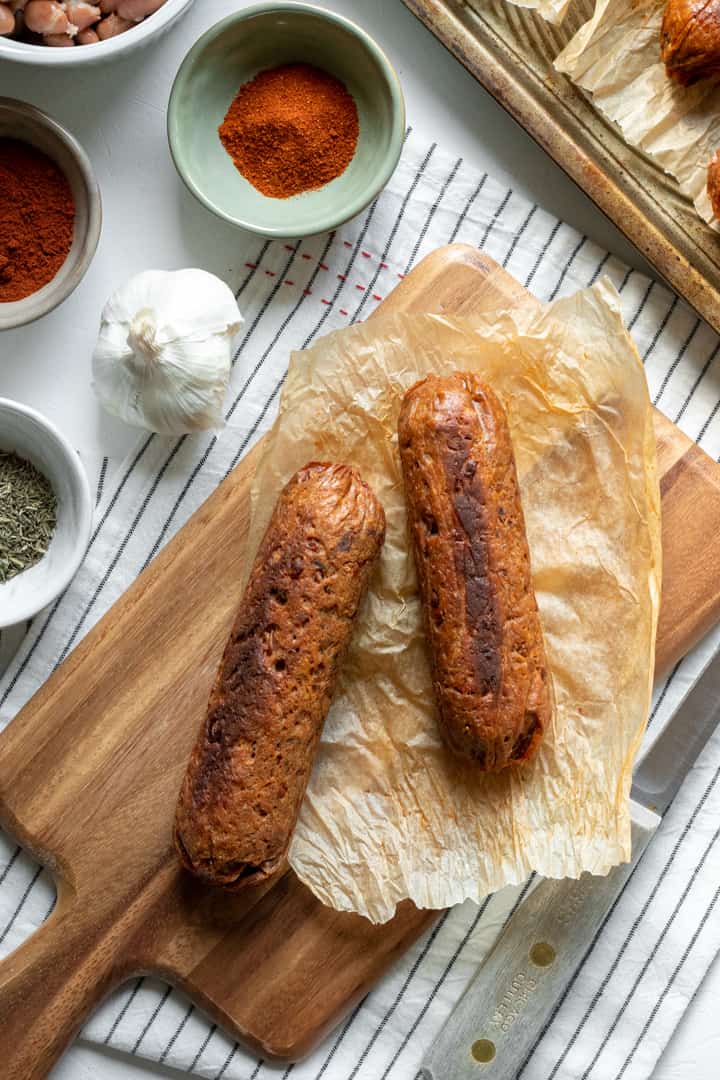 Are they spicy?
The recipe calls for a range of 2 to 2 ½ teaspoons of cayenne pepper. I would consider both of those amounts to create a moderately spicy sausage.
Mark and I both liked the spicier batch the best, but only you know your palate! If you want just a hint of heat you could always reduce the cayenne to 1 or 1 ½ teaspoons, though I haven't tested that amount.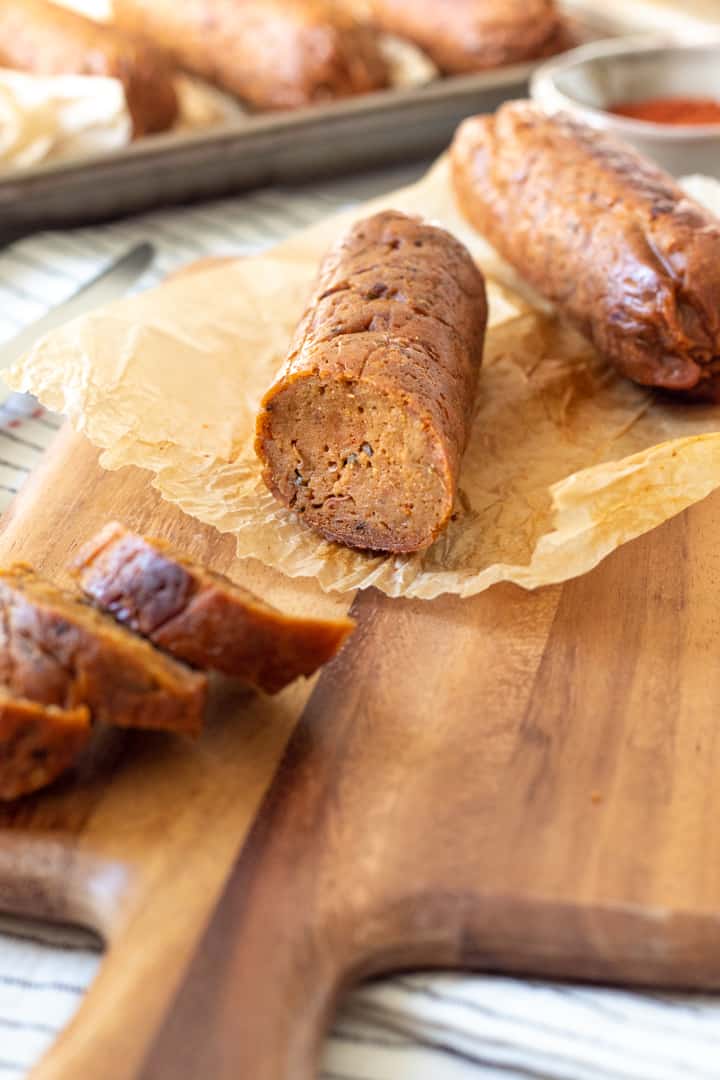 I hope you enjoy this Vegan Andouille Sausage recipe! If you try it I would love to hear from you. Snap a pic and tag me on facebook or insta with @myquietkitchen. You can also leave a comment and star rating below to let everyone know how they turned out!
Enjoy!
You might also like:
Maple Vegan Breakfast Sausage
Easy Seitan Roast (Baked or Instant Pot)
Cajun Tofu Scramble
Basic Homemade Seitan
Seitan Jerky Two Ways
Thai-Inspired Vegan Larb
📖 Recipe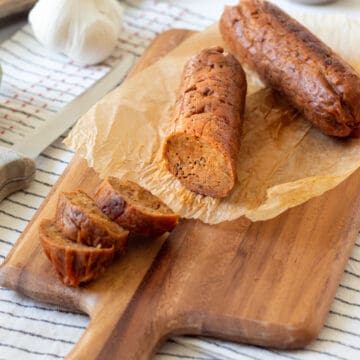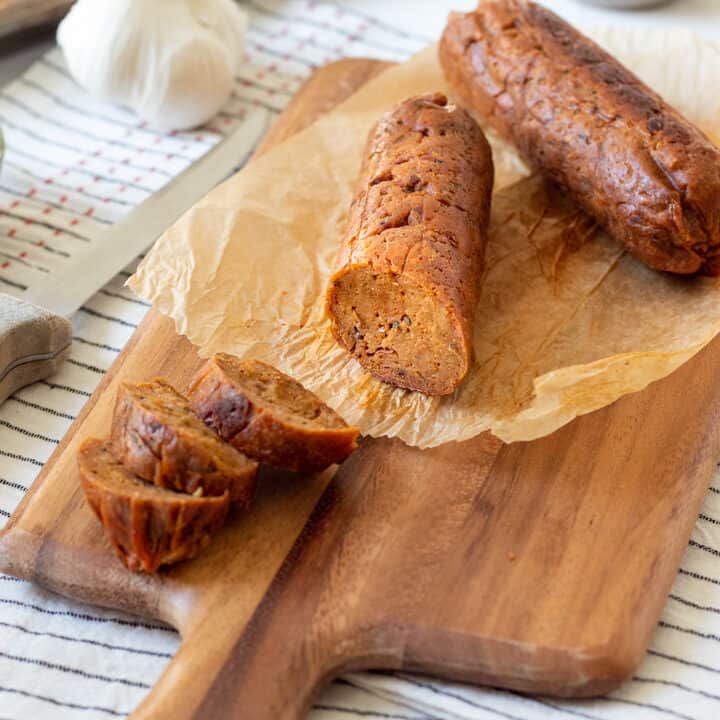 Vegan Andouille Sausage
This spicy vegan andouille sausage is made in the oven and adds a delicious kick of heat and protein to any dish! Oil-free option.
Inspired by and adapted from Isa Chandra's recipe for Simple Italian Sausage.
Ingredients
Dry ingredients:
2 ¾

cups

vital wheat gluten (330 g) -

Use a scale to weigh flour or "whisk and fluff," then spoon into measuring cup.

⅓

cup

nutritional yeast

2 ½

tsp

cayenne

1 ½

tsp

smoked paprika

2

tsp

sweet paprika

2

tsp

dried thyme

1

tsp

ground mustard

½

tsp

black pepper

1

tsp

sea salt
Wet ingredients:
2

cups

vegetable broth

3

Tbsp

olive oil

-

For oil-free diets, sub 2 Tbsp tomato paste.

¼

cup

soy sauce

1

Tbsp

garlic puree, freshly grated from about 4 large cloves

1

Tbsp

apple cider vinegar

2

tsp

molasses

1

cup

cooked pinto beans

-

If using canned beans, rinse, drain, and pat dry to remove excess moisture.
Instructions
Cut 8 pieces of foil just large enough to securely wrap the sausage links, about 7 x 12 inches. If you like a layer of parchment between food and foil, cut 8 smaller pieces of parchment, about 5 x 7 inches.

Preheat oven to 350 degrees F.

In a large mixing bowl whisk together the dry ingredients: vital wheat gluten, nutritional yeast, cayenne, smoked paprika, regular paprika, thyme, mustard powder, pepper and salt.

In a small/medium bowl, whisk together the broth, oil, soy sauce, garlic, vinegar and molasses.

Pour the wet ingrediens into the bowl with the dry ingredients, and add the cup of pinto beans. Push up your sleeves and get in there with your hands! Squish and squeeze everything together for about one minute or until well combined. Mash the beans with your fingers, and press them into the dough.

Transfer the dough to a flat surface and knead for several minutes or until it becomes stretchy and firm. Feel free to tear and squish/squeeze the dough with your hands combined with more traditional kneading.

Shape the dough into a rectangle. Cut the dough into four equal-sized pieces, then cut each of those in half so that you have 8 links/logs. The dough will look bumpy and rough but will snap into shape inside the foil while cooking.

If using parchment, wrap a sausage link in parchment. Then place that on a piece of foil and wrap tightly. Twist the ends like a tootsie roll wrapper so that the sausage is completely sealed within the foil (to keep moisture in).

If not using parchment, simply place each sausage link on the foil and wrap as described above.

Place the foil-wrapped sausages on a baking sheet, and bake for 50 to 60 minutes, flipping at the halfway point. When the sausages are done they will feel firm when pressed with tongs. You can also check by carefully unwrapping one foil package. There should be some browning on the outside and the sausage should be firm when pressed.

Unwrap each sausage and allow to cool.
Notes
Storage
Once the sausages have cooled to room temperature, transfer to an airtight container and store in the refrigerator for up to 5 days.
Vegan sausages can also be frozen. Thaw in the refrigerator before reheating in a skillet or in the microwave. Reheating in the oven is not recommended as the sausages will dry out.
Estimated Nutrition (per serving)
Calories:
252
kcal
Carbohydrates:
13
g
Protein:
35
g
Fat:
6
g
Saturated Fat:
1
g
Sodium:
688
mg
Fiber:
3
g
Sugar:
1
g
Vitamin A:
132
IU
Vitamin C:
1
mg
Calcium:
42
mg
Iron:
3
mg
Nutrition information is an estimate and will vary depending on the exact amounts and specific products and ingredients used. We calculate this information using the online calculator cronometer.com.
Tried the recipe?
I love hearing from you! Share your feedback below.