Spicy vegan chorizo is wonderfully meaty and flavorful and can be used in a variety of dishes. It's so easy to prepare, too, with no special equipment required! It's loaded with spices, low-fat (unlike traditional chorizo), and made entirely with pantry-friendly ingredients. Use it for everything from tacos and queso to snack boards! Seitan chorizo is oil-free with nut-free and soy-free options.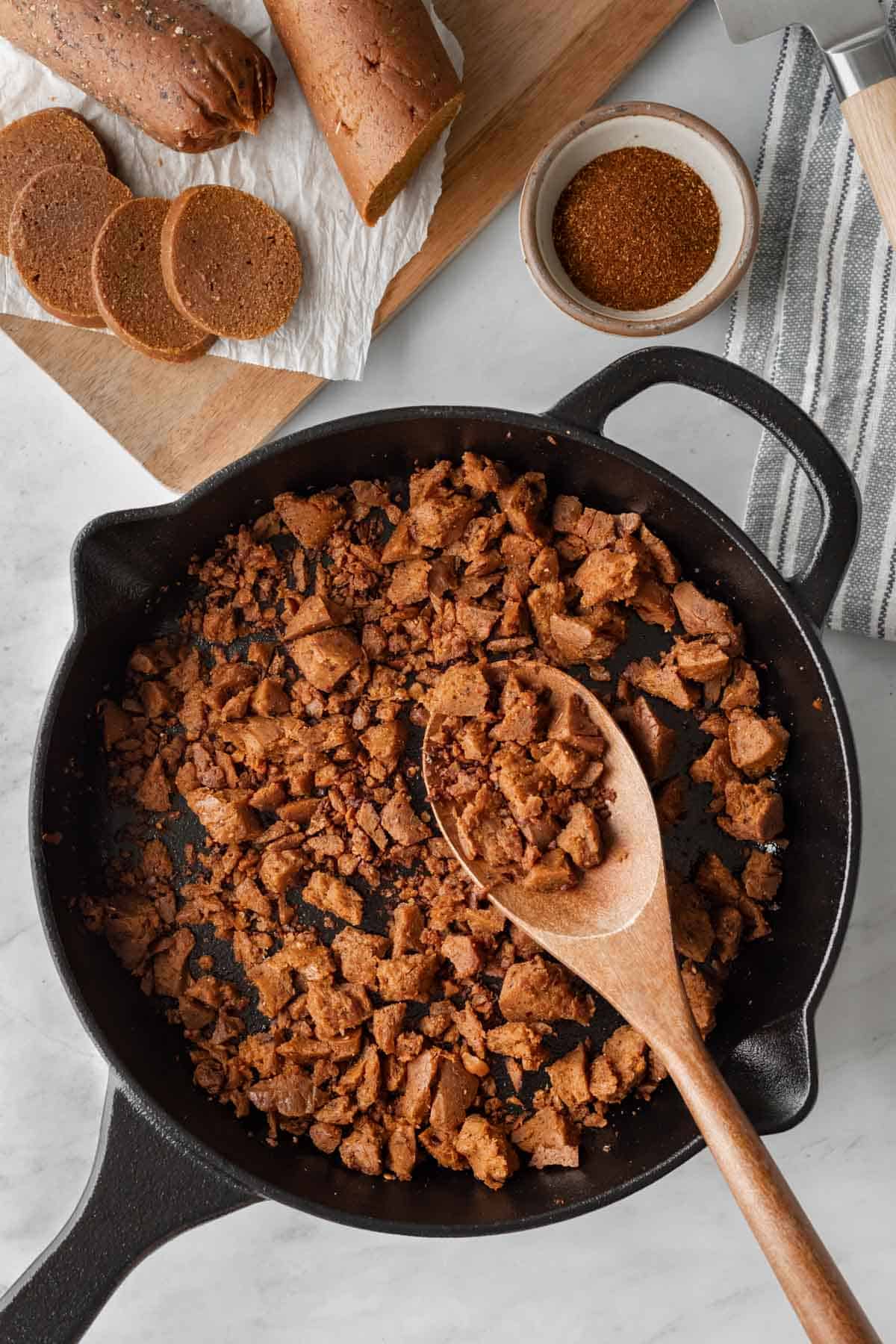 Why You'll Love It
We're huge fans of store-bought soyrizo and vegan chorizo, like the ones from Trader Joe's and No Evil Foods. While those two products are very different, they're both delicious in their own ways.
I love sharing simple, beginner-friendly seitan recipes, like this pepperoni and our favorite vegan breakfast sausage. Because for new vegans, I think it's empowering to realize how easy it is to make affordable meat substitutes at home. So that was my goal with this chorizo recipe.
I wanted a Mexican-inspired spice profile similar to the seitan chorizo made by No Evil Foods. I also wanted it to be oil-free for those of you who avoid added oils.
On the other hand, if you want a greasier, more authentic-ish vegan chorizo all you need to do is pan-sear it in your preferred cooking oil.
I think you'll love the versatility and punch of flavor this vegan chorizo brings to the table. Enjoy it sliced, crumbled, chopped, or ground:
on sandwiches
crumbled and pan-fried for tacos and grain bowls
piled on top of salads
with your favorite vegan cheeses and crackers on a cruelty-free, vegan charcuterie board!
on top of nachos, french fries, and baked potatoes
tucked inside quesadillas and taquitos
and straight from the fridge as a savory, high-protein snack!
Jump to:
Ingredients
First, don't be overwhelmed by the length of the ingredient list because half of them are spices! The base for this seitan chorizo is actually really straightforward.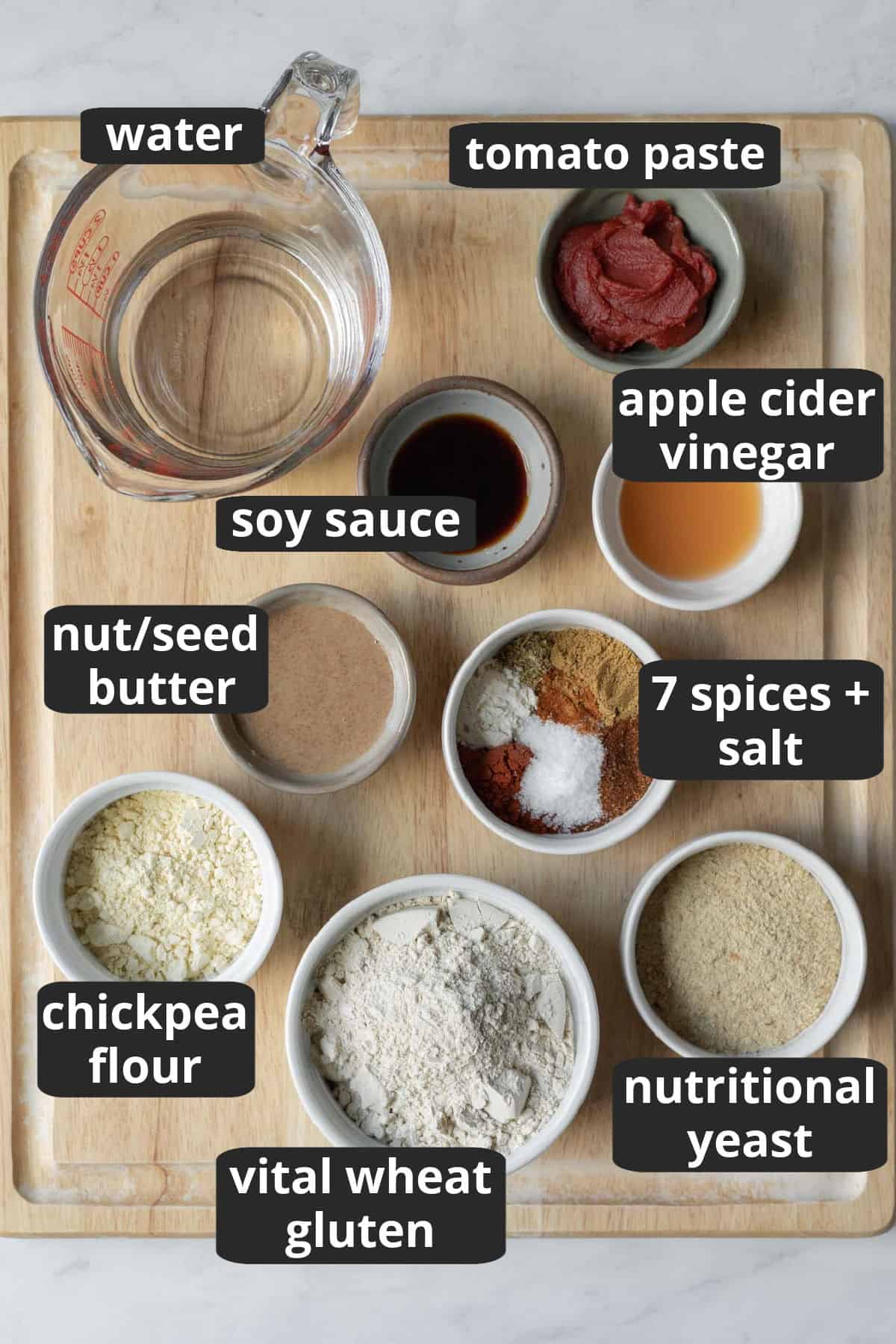 vital wheat gluten - this is the base for our seitan chorizo. I use this one by Anthony's.
nutritional yeast - adds umami and also tenderizes the chorizo by disrupting the formation of gluten strands. I'm a big fan of this non-fortified nutritional yeast by Sari, but other brands are fine, too.
chickpea flour - just a few tablespoons helps soften the texture. Feel free to use a different type of flour if needed.
spices - come on down to flavor town! This is where all of the magic happens.
nut or seed butter - adds a small amount of fat and subtle roasty flavor. Choose from peanut butter, almond butter, sunbutter, or tahini. For a richer chorizo, feel free to experiment with oil or slightly increasing the amount of nut butter.
soy sauce - adds saltiness and umami. Replace with coconut aminos to make this recipe soy-free.
tomato paste - gives our vegan chorizo a reddish hue and more authentic flavor.
See the recipe card below for amounts and full recipe.
How to Make Vegan Chorizo
I told you it's easy, right? Here's how to do it...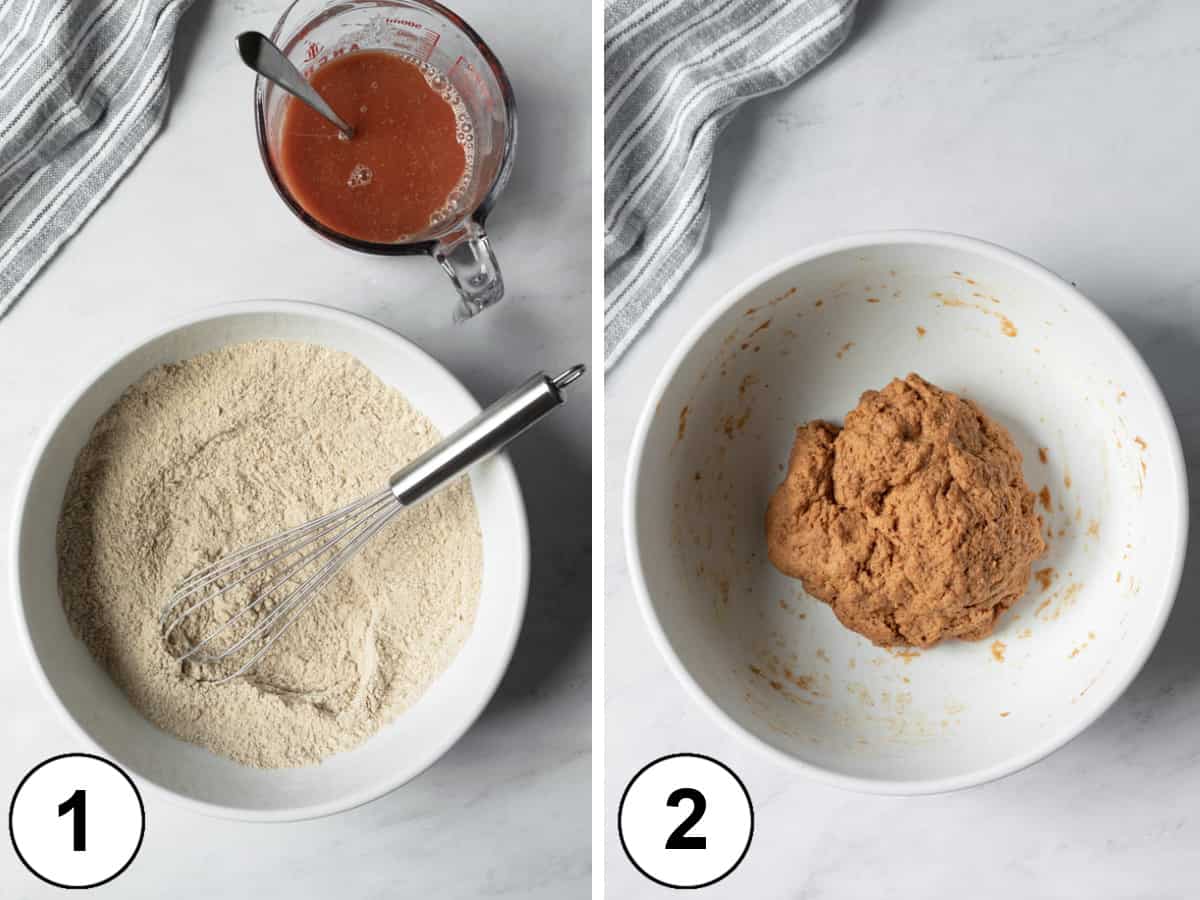 First, locate a steamer pot or create one using a small colander or other heat-proof "basket" that will fit inside a large pot.
Whisk together the dry ingredients in a mixing bowl, and combine the wet ingredients in a smaller bowl.
Pour wet into dry, and combine to form a dough. Knead the dough for about 2 minutes or until it has firmed up a bit.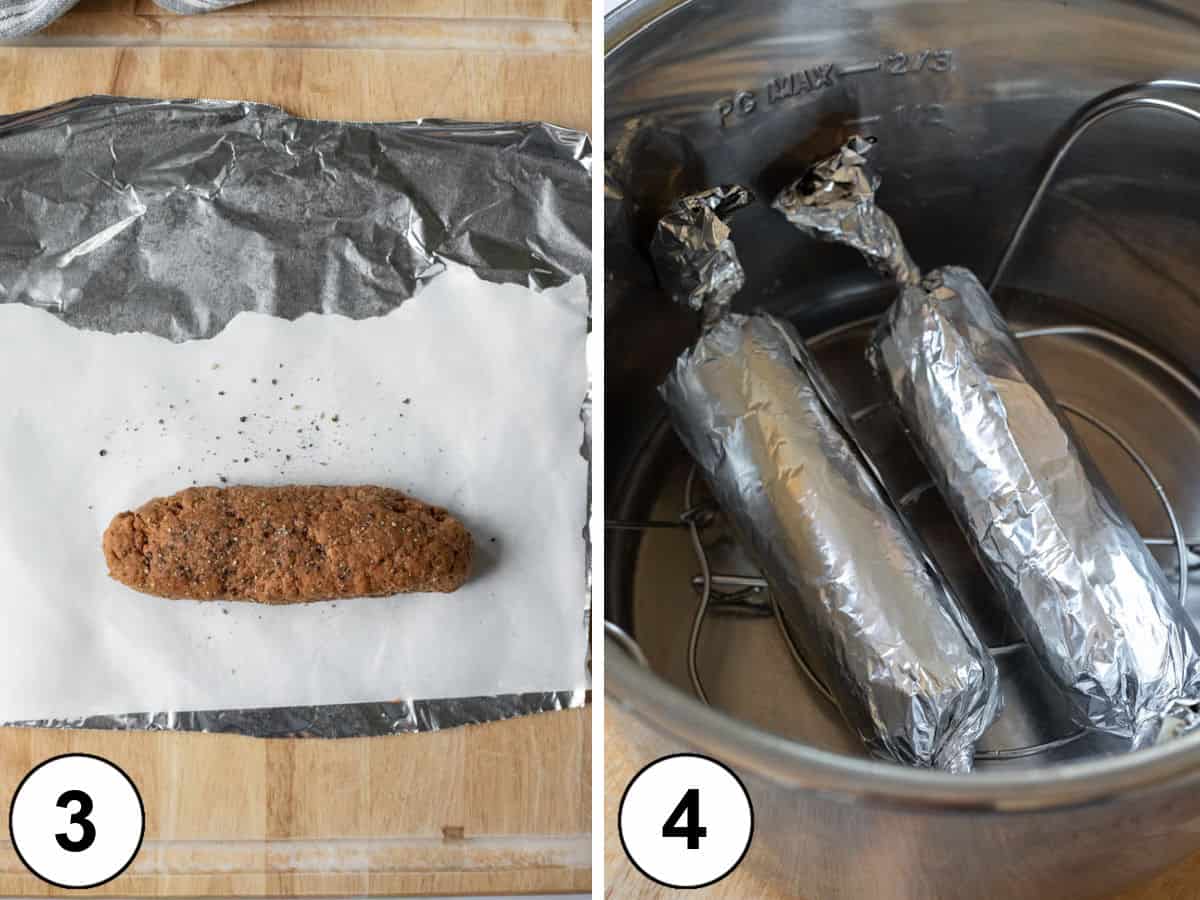 Divide the dough in half, and form each piece into a log about 6 inches long. Cut a piece of heavy duty foil about 12 inches long, and a piece of parchment paper just large enough to wrap around the pieces of chorizo. Wrap VERY tightly.
Excuse the Instant Pot in photo 4. That photo is actually from my pepperoni post because I forgot to snap a photo of the chorizo inside my steamer pot.
Add a few inches of water to the steamer and bring to a boil. Place the seitan chorizo in the steamer basket, cover, and reduce heat to maintain a simmer. Cook for about 40 minutes or until the foil pouches feel firm when pressed.
Ways to Use Vegan Chorizo
As I mentioned above, the ways you can enjoy this vegan chorizo are limited only by your imagination! Slice it, chop it, tear it into chunks, or pulse it in a food processor.
Enjoy it straight from the fridge as a snack or in hot recipes like vegan taco bowls.
Seitan chorizo is perfect for tacos and burritos. You can also layer it into sandwiches and wraps.
Add a handful of chorizo crumbles to tofu scramble, Just Egg scramble, and quiche for a spicy Mexican twist at breakfast time.
For a richer chorizo, as shown in the first photo, pulse in a food processor. Then pan fry in oil over medium to medium-high heat until browned and beginning to crisp on the edges.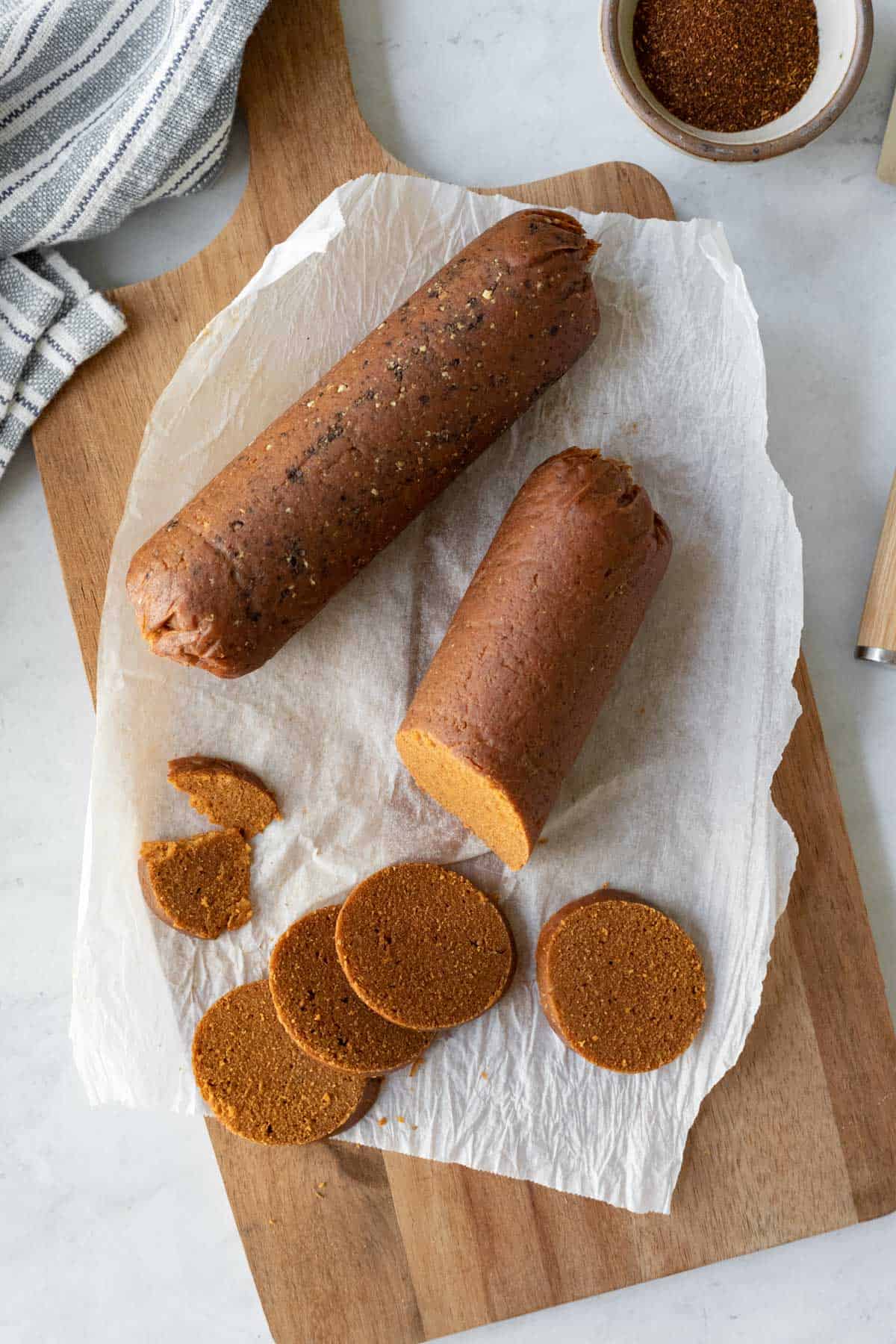 FAQs
What is vegan chorizo made of?
Plant-based chorizo can be made different ways. Some recipes and products use tofu or other soy-based ingredients. This recipe is for seitan chorizo, which means the primary ingredient is vital wheat gluten.
Is there a gluten-free option?
Since this recipe is seitan-based, it is not gluten-free. Feel free to use these same spices on tofu, tempeh, or soy curls for a gluten-free vegan chorizo. We really love this tofu chorizo recipe!
Is vegan chorizo healthy?
Compared to traditional chorizo which is very fatty and contains animal protein, yes, this plant-based chorizo is significantly healthier. But keep in mind that "healthy" is a subjective term. This recipe may not meet your particular dietary needs or restrictions.
Is it spicy?
With ½ teaspoon cayenne and the other spices, the chorizo is mild to moderately. Feel free to adjust the amount of cayenne pepper to suit your taste!
How to Store and Reheat
Once completely cool, store vegan chorizo in an airtight container in the refrigerator for up to 6 days.
It also freezes well. Thaw the seitan chorizo in the fridge overnight before using.
Top Tips
For seitan recipes like this that are wrapped in aluminum foil, it's VERY helpful to use heavy duty foil.
I also like to include a small piece of parchment paper between the chorizo and the foil. This prevents sticking and makes the foil wrapper even stronger.
This is important so you can wrap the seitan dough nice and snug and tight!
You Might Like
I hope you love this easy vegan chorizo recipe and find many delicious ways to use it. If you try the recipe be sure to comment below and let us know!
📖 Recipe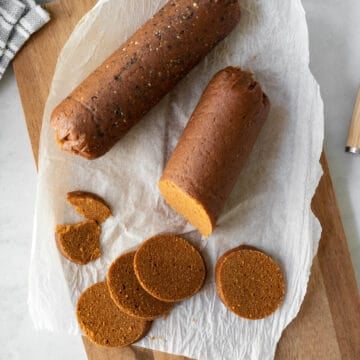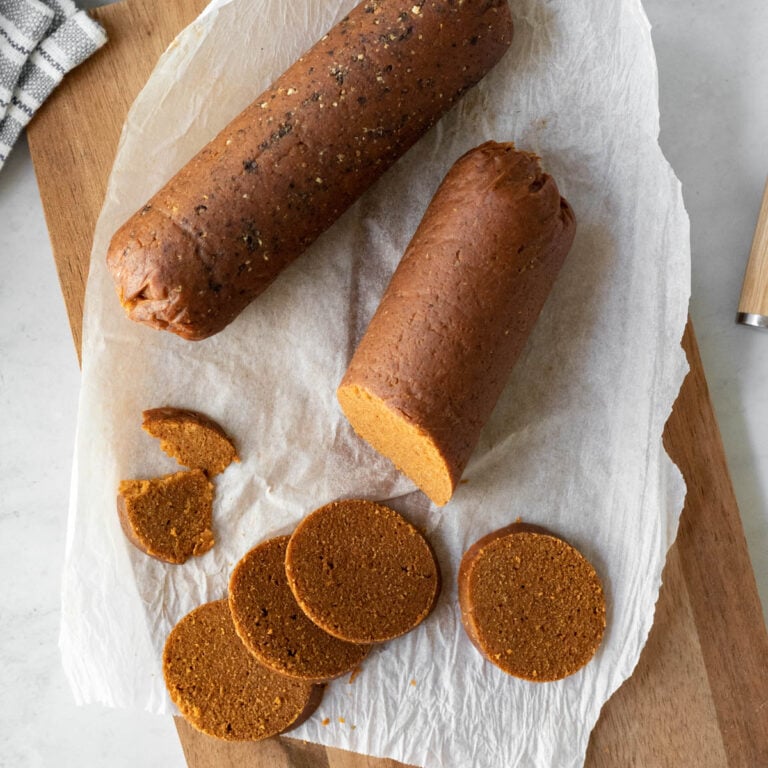 Vegan Seitan Chorizo
You'll love this vegan chorizo for everything from appetizer platters to grain bowls to Taco Tuesday. No special equipment needed, pantry-friendly ingredients, and it's freezer-friendly in case you want to make a double batch!
Ingredients
Dry ingredients:
1 ¼

cups

vital wheat gluten (160 g - adjust if altering batch size) -

*see Notes for tips

3

tablespoons

chickpea flour (22 g - adjust if altering batch size)

-

or other flour such as oat or all-purpose

2 ½

teaspoons

ancho chili powder

-

or a chili powder blend

2

teaspoons

smoked paprika

1 ½

teaspoons

ground cumin

1 ½

teaspoons

garlic powder

1 ¼

teaspoons

fine sea salt or mineral salt

1

teaspoon

onion powder

½

teaspoon

dried oregano

½

teaspoon

ground cayenne pepper
Wet ingredients:
2 ½

tablespoons

tomato paste

1 ½

tablespoons

apple cider vinegar

1

rounded tablespoon

smooth peanut butter or other nut/seed butter

1

tablespoon

soy sauce

-

or coconut aminos for soy-free

¾

cup

water
Instructions
Cut two, 12-inch pieces of aluminum foil, preferably heavy duty. Also cut two small pieces of parchment paper just large enough to wrap around each log of chorizo. The parchment prevents sticking and makes the foil package even stronger so you can tightly wrap the chorizo.

In a mixing bowl whisk together all of the dry ingredients. In a medium-size bowl combine the tomato paste, vinegar, nut butter, and soy sauce. Stir until smooth. Add the water and whisk to incorporate.

Pour wet ingredients into dry, and stir to combine. Use your hands to knead the dough for about 2 minutes. It will become more firm as you knead. Form into a ball and divide the dough in half. Shape each one into a log about 6 inches long. It's okay if they look a bit rough; they'll snap into shape inside the foil.

Place a piece of foil on a work surface, and place a piece of parchment on top, near the edge closest to you. Place one log of chorizo on the parchment. Optional step: for appearance and extra spice, lightly coat the outside of each log with freshly cracked black pepper. Wrap the chorizo as tightly as possible. Twist the ends closed like a candy wrapper. Do the same with the other piece and set both aside.

On the stovetop set up a steamer with a lid. If you don't have a designated steamer pot, there are other ways to build/create one. (Try a colander inside a large pot. Just make sure the water level is below the colander/basket.) Bring the water to a boil. Set the foil packages in the steamer, cover, and reduce heat to maintain a simmer. Cook for 40 to 43 minutes. To check for doneness, press the foil with tongs. They should feel very firm.

Remove the chorizo from the steamer and let cool for 5 to 10 minutes. Carefully unwrap the foil. Serve now, or let cool completely then store in an airtight container in the fridge. Note: if you prefer firmer seitan, the chorizo will firm up overnight in the refrigerator.
Notes
*I highly recommend using a kitchen scale to weigh vital wheat gluten. if you don't have one, whisk the VWG first to fluff it up. Then lightly scoop it up with the measuring cup and level off the excess on top. This is the best way to make sure you don't accidentally use too much.
Be sure to check out to the "Ways to Use" section in the post above for serving suggestions.
Store leftover vegan chorizo in the refrigerator for up to 6 days. It also freezes very well. Wrap to protect from air and freezer burn. Thaw in the fridge overnight before using.
Estimated Nutrition (per serving)
Calories:
160
kcal
Carbohydrates:
11
g
Protein:
25
g
Fat:
3
g
Cholesterol:
0
mg
Sodium:
645
mg
Fiber:
3
g
Nutrition information is an estimate and will vary depending on the exact amounts and specific products and ingredients used. We calculate this information using the online calculator cronometer.com.
Tried the recipe?
I love hearing from you! Share your feedback below.