Have you seen recipes that call for soy curls and thought, "What the heck is that?" Well, you're not alone! There's a reason soy curls remain a bit mysterious to most of us, even though they've been around for decades.
This post will hopefully answer all of your soy curl-related questions like where to buy them, how to use them, and how they're made. Plus, I've rounded up 19 fantastic vegan soy curl recipes that prove soy curls are the versatile, 1-ingredient meat replacement you need in your plant-based kitchen.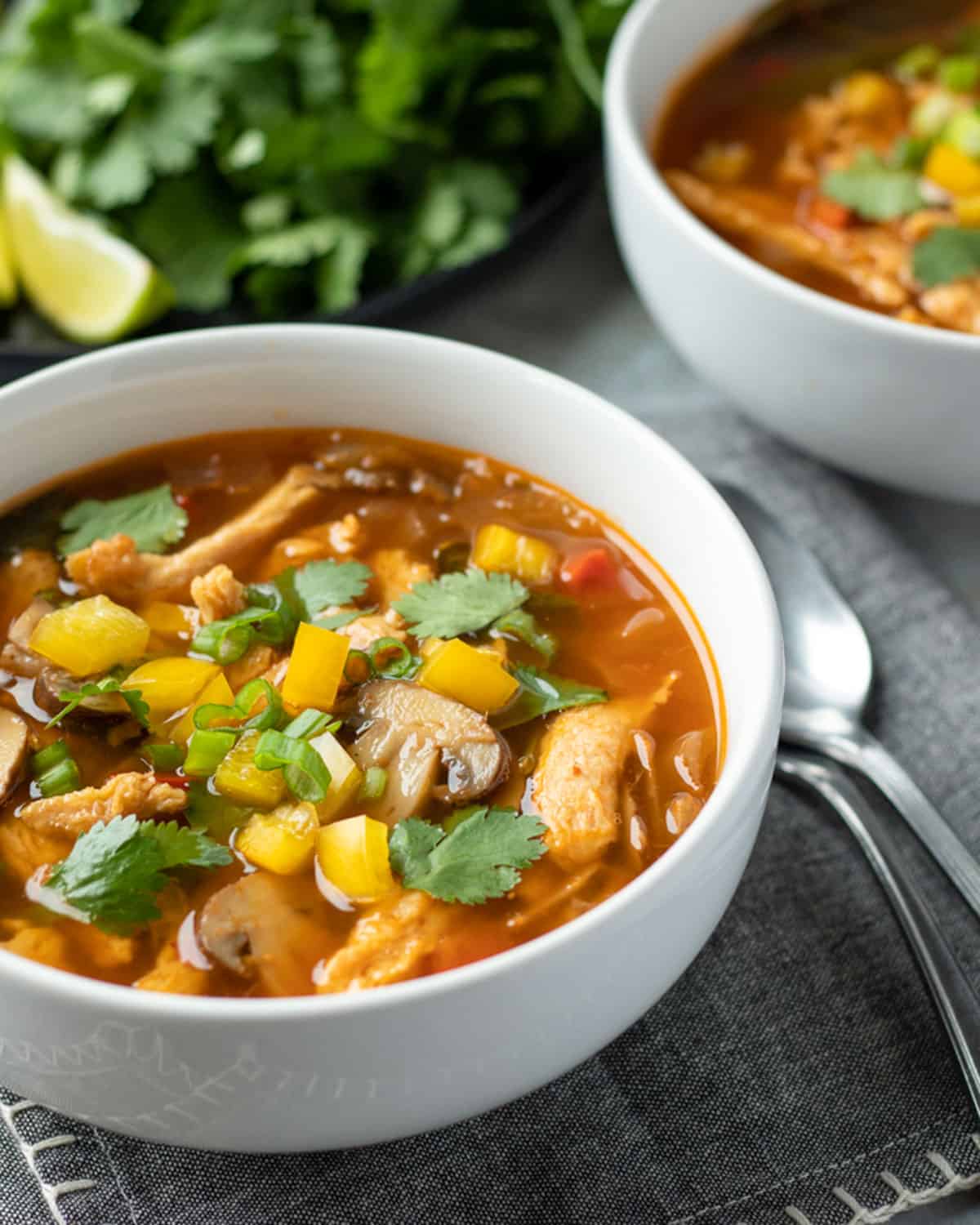 What are soy curls?
Soy curls are a unique and healthy whole-food product made by a family-owned, Oregon-based company named Butler Foods.
Unfortunately, Butler soy curls aren't widely distributed to grocery stores, but don't let unfamiliarity keep you from trying this amazing vegan meat replacement!
Soy curls are made from just one ingredient, whole, non-GMO soybeans. This makes them unique in the world of meat replacements, since most soy-based meats are made from isolated parts of the bean (as well as a lot of additives, usually).
The whole soybeans are slowly cooked, then textured and processed by special machinery that breaks them into strands (I like to picture a Willy Wonka-type environment for vegan meat).
The strands are then dehydrated and packaged, giving them an extended shelf life.
Soy Curls vs. TVP
If you were to grind up soy curls and add them to a recipe, texturally they might seem pretty similar to TVP (textured vegetable protein).
But TVP doesn't contain all parts of the soybean. The fat has been removed, and it is a considerably more processed food.
To clarify, it's not that TVP has had its fat removed, it's that TVP is a byproduct of soybean oil production.
While less fat might sound like a good thing, and sometimes it is, soybeans are rich in healthy Omega-3 fatty acids. That's the kind of fat we want in our vegan diets.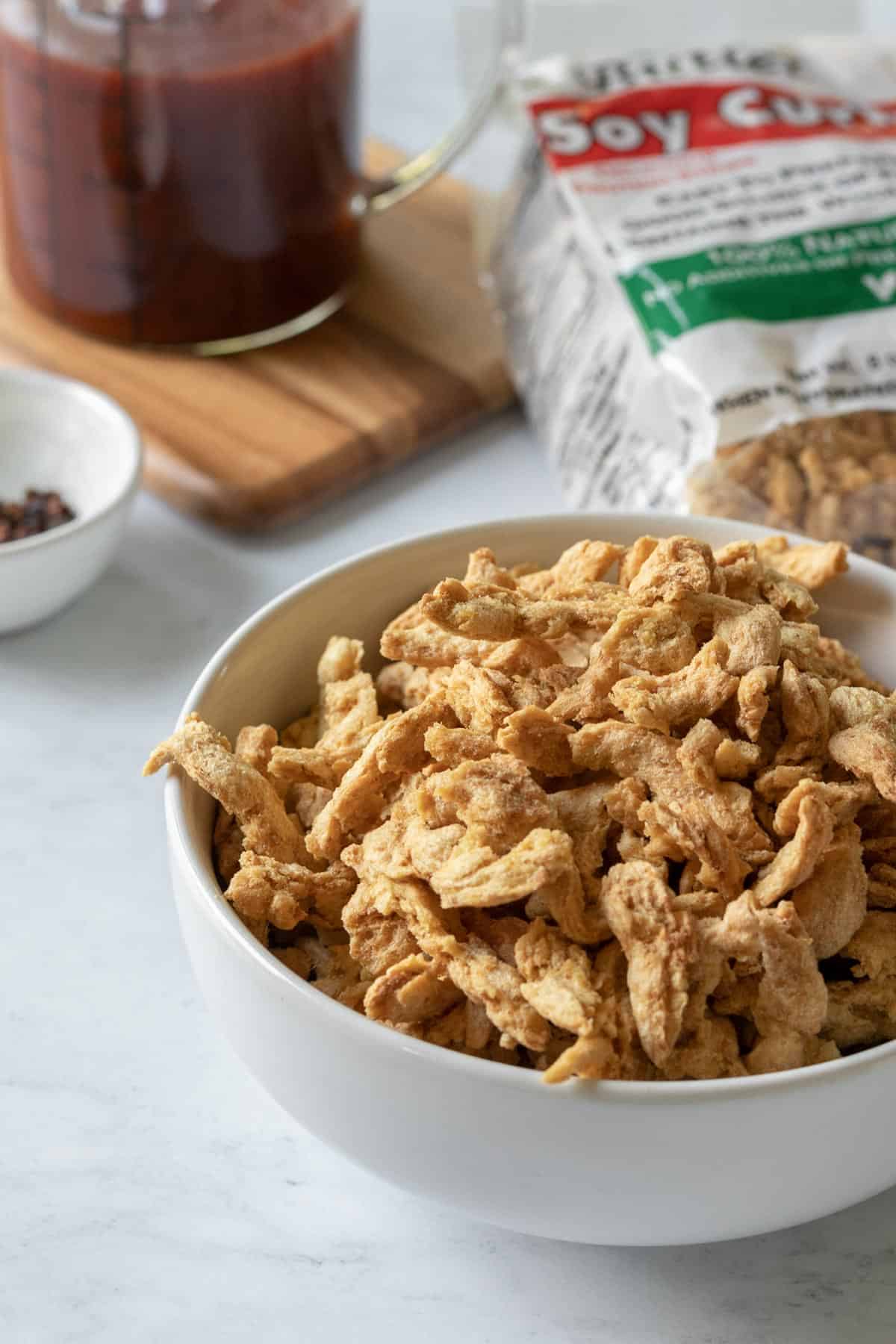 What do soy curls taste like?
Dry soy curls straight from the bag are pretty much flavorless. So think of soy curls like you would tofu or tempeh, a blank slate for flavor.
Depending on how you plan to use them, you can begin building flavor right from the start when rehydrating the soy curls.
Since soy curls are dehydrated, they're basically a sponge ready to soak up your favorite seasonings and spices.
Instead of rehydrating soy curls in water as stated on the package, you may want to use a rich vegetable broth or mushroom broth.
You can also simply add a few dashes of salt and seasonings to the water. Keep in mind that for some recipes you won't need to rehydrate the soy curls. More on this below.
Tip: Always out of vegetable broth when you need it? Try this Homemade Vegan Chicken Broth Powder. Use it to rehydrate soy curls for maximum flavor!
Where to Buy Soy Curls
According to the Butler Foods website, soy curls are available in the U.S., Canada, and the Caribbean.
Even here in the U.S., locating soy curls can seem tricky because they're not widely distributed to grocery stores. Your local co-op or health food store might carry them, but there's no guarantee.
Ordering soy curls online is the safest bet. They are available on Amazon in a variety of package sizes (the 6-pack is usually the best deal).
You can also order directly from the Butler Foods website. And for the true soy curl super fans there's even a 12 pound bulk box!
How to Use Butler Soy Curls
Now the fun part! Soy curls are great for quick dinners because unlike tofu, there's no pressing involved. Simply rehydrate the soy curls in water or broth for about 10 minutes, then squeeze out the excess liquid and add them to a saute or stir fry.
Sometimes you may not need to rehydrate soy curls before using them in a recipe. For example, in this bacon bits recipe a minimal amount of liquid is added so the soy curls get nice and crispy.
And in this lentil curry, the soy curls go into the pot dry and soak up all the delicious coconut curry flavor during cooking.
You can also chop or pulse rehydrated soy curls in a food processor for a ground meat texture. The taco meat recipe below is a perfect example of how much soy curls can resemble ground meat in both mouthfeel and appearance.
Soy curls can also be added to a pot or pressure cooker while cooking grains, like in this millet recipe, and added whole or chopped to chili, stews, and soups.
Are soy curls healthy?
Yes, soy curls are generally considered healthy. Butler Foods sources its soybeans from a family farm that does not use chemical pesticides.
And since soy curls are made from the whole soybean they retain important nutrients.
One serving of soy curls contains:
120 calories
11 grams protein
8 grams total carbohydrate
6 grams fiber
Omega-3 fats
No trans fats or preservatives
How to Store
Store soy curls in a cool, dry place, ideally the refrigerator or freezer. Soy curls don't contain any preservatives (other than being dried). So according to the Butler website, keeping soy curls cold is the best way to extend their freshness.
The package is also printed with a "best by" date, which is helpful.
Ready to start cooking? Check out these 19 tasty soy curl recipes!
1. Soy Curl Taco Meat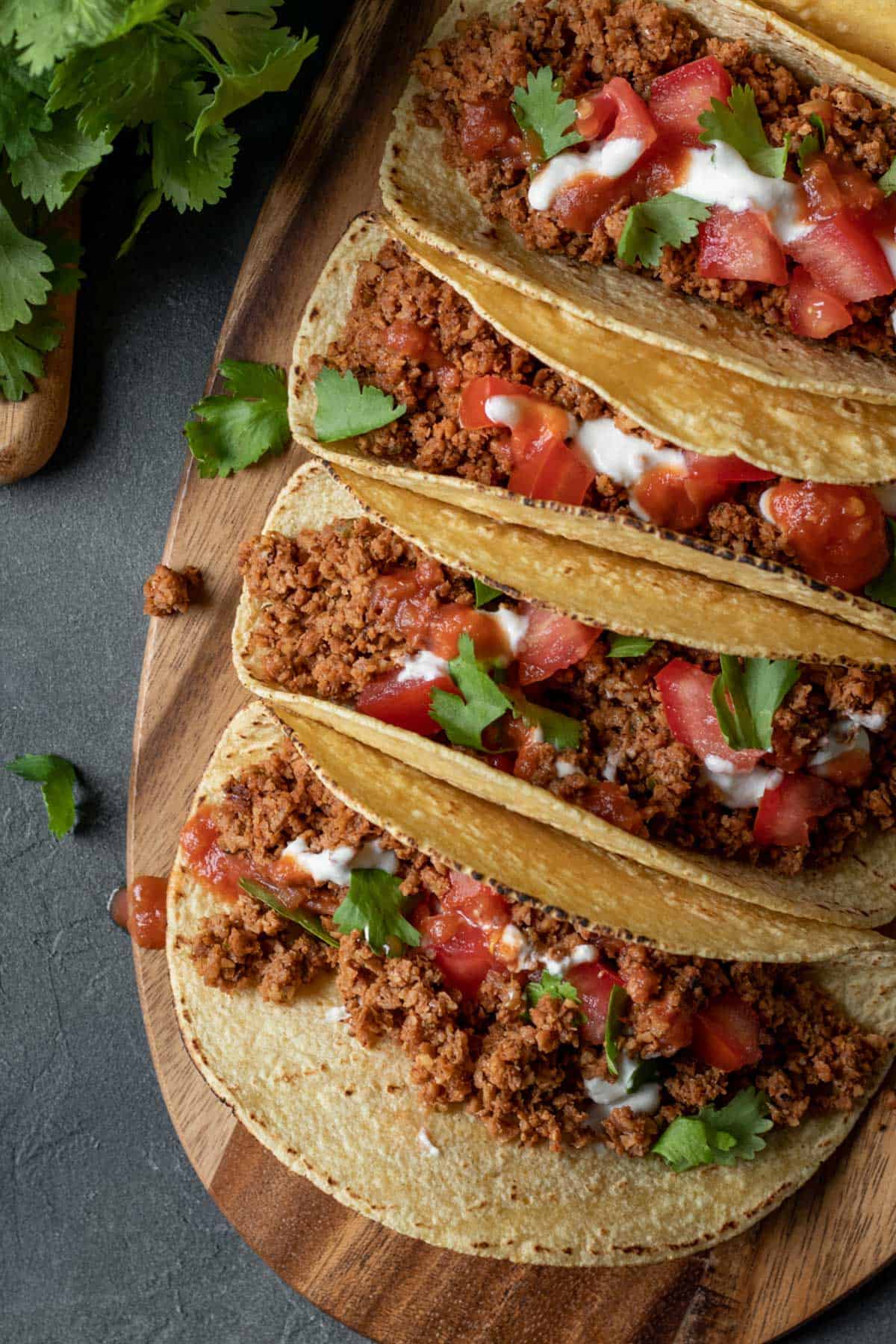 This taco meat is one of our all-time favorite soy curl recipes. Generously seasoned and sautéed with onion and jalapeño, the soy curls are then pulsed in the food processor to create the best vegan taco meat. It's also perfect for nachos, salads and grain bowls.
2. BBQ Soy Curls (Instant Pot, Slow Cooker)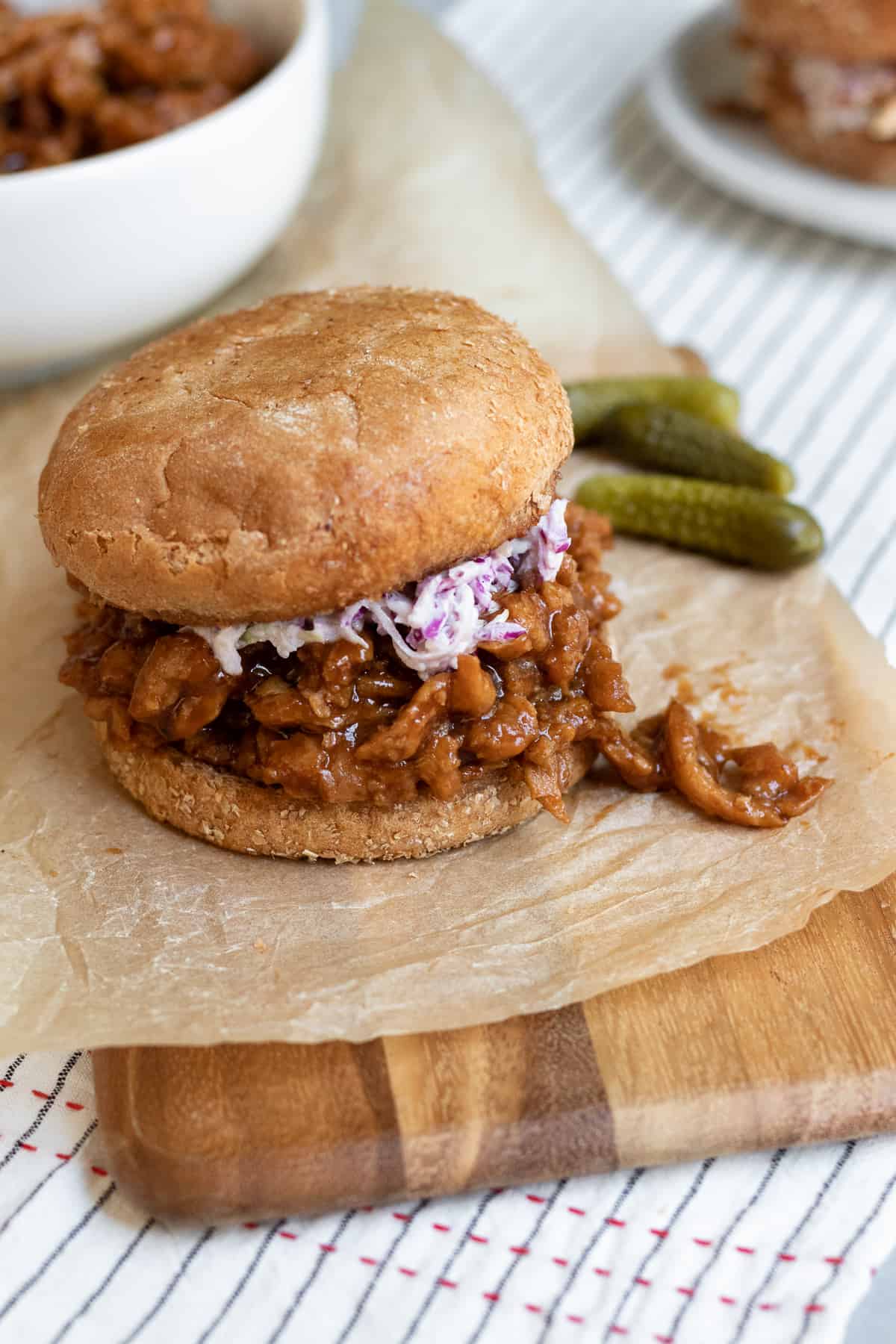 Talk about easy, all you need are 3 ingredients and a few minutes of prep time to make slow-cooker barbecue with soy curls.
3. Instant Pot Red Lentil Curry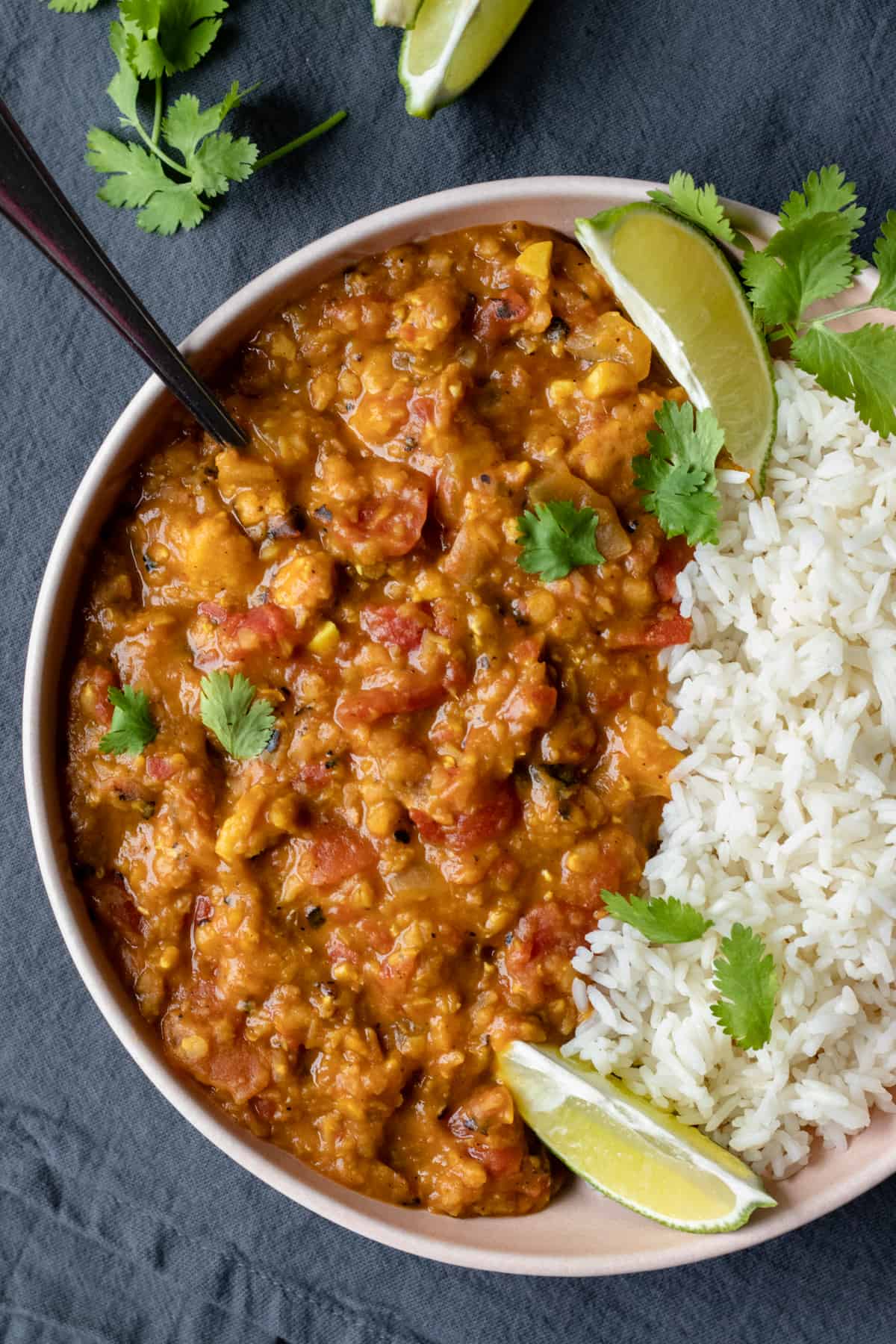 This popular recipe is so easy to prepare and absolutely FULL of flavor. Soy curls (or TVP) make this vegan curry extra thick and satisfying.
4. Soy Curl Chicken Strips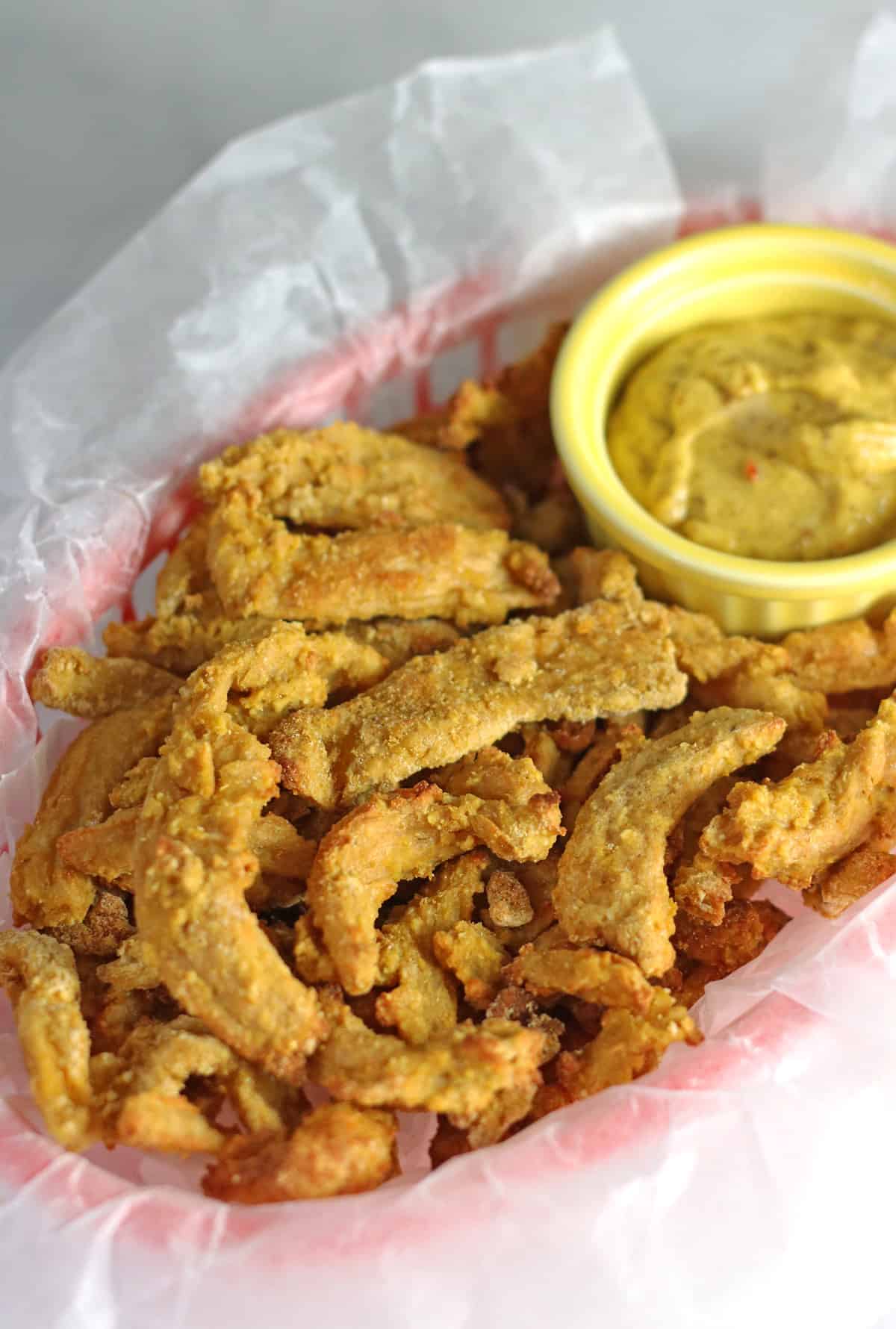 How great do these look? Tender Vegan Chicken strips from soy curls are easy to make in the air fryer or oven for a healthy snack, lunch, or dinner. Pair with your favorite dipping sauce and dig in.
5. Soy Curl Ground "Beef"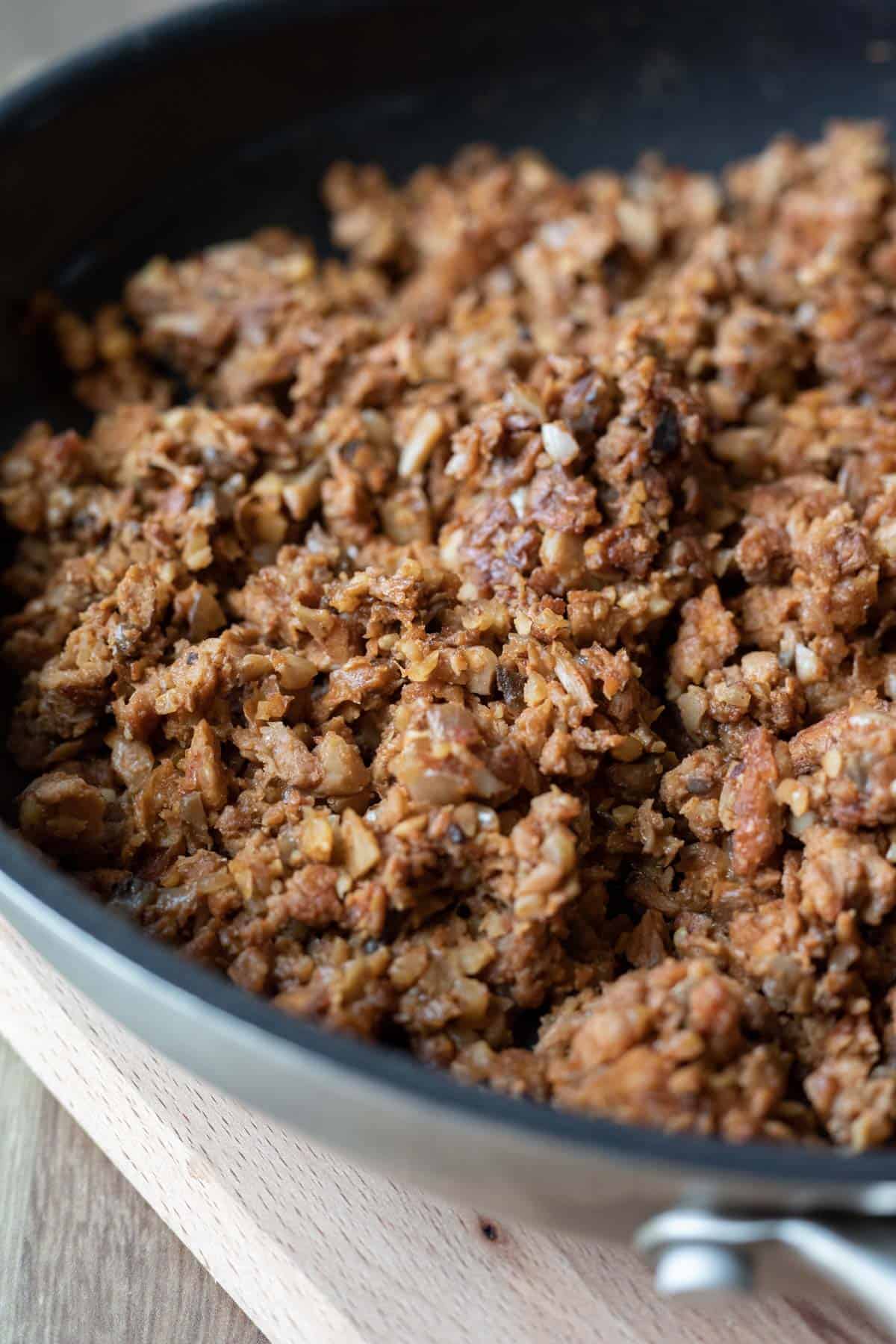 Made with healthy, whole-food ingredients, this oil-free, gluten-free beef substitute is perfect for everything from stuffed peppers to spaghetti!
6. Vegan Fried Chicken and Biscuits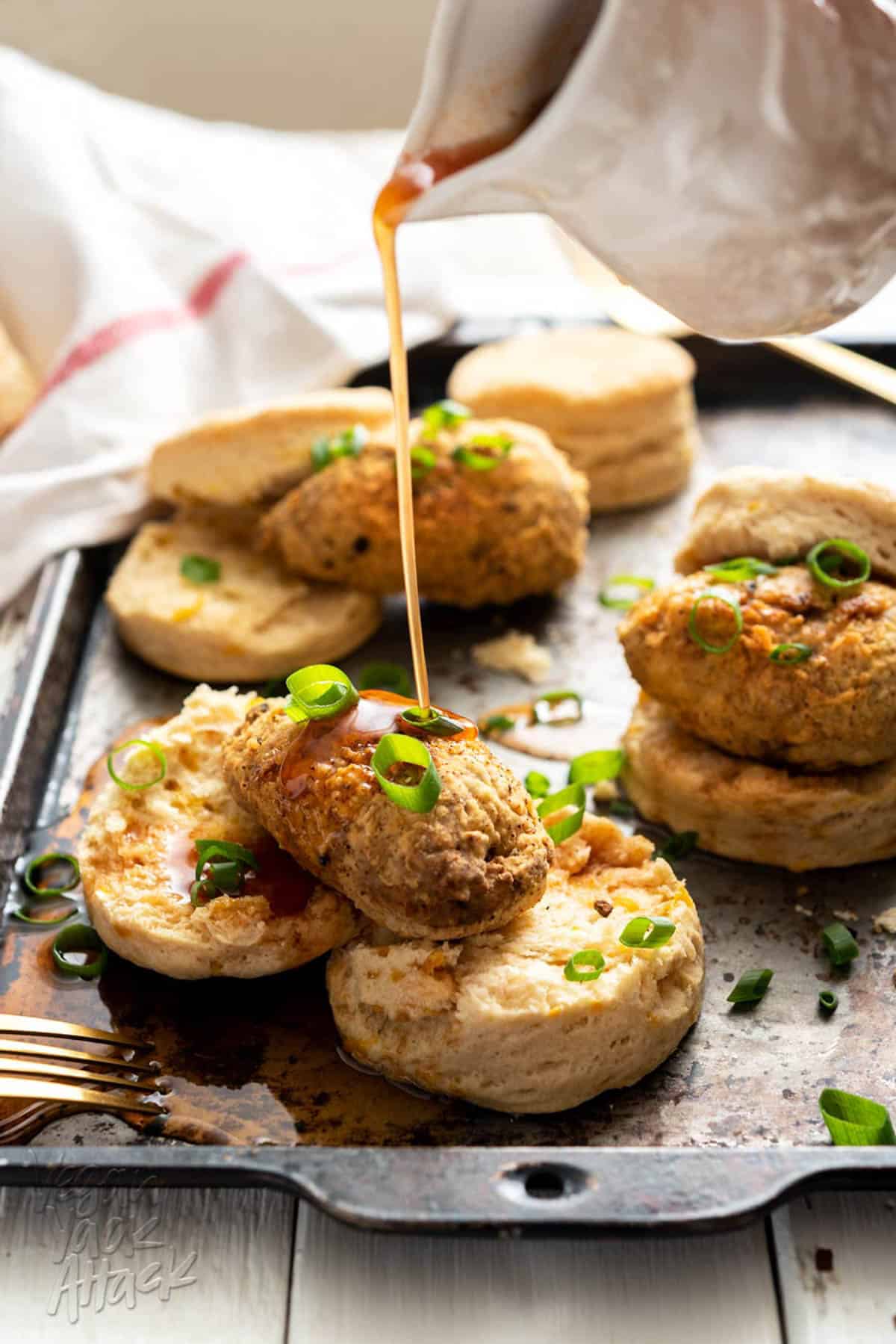 Check out this unique use of soy curls. Jackie combines ground soy curls with seasonings and vital wheat gluten to make a delicious soy curl seitan! This meal of vegan chicken and biscuits is one that'll comfort you and stick to your bones! Hearty, flavorful, and perfect for weekend brunch.
7. Soy Curl Pot Pie With Sweet Potato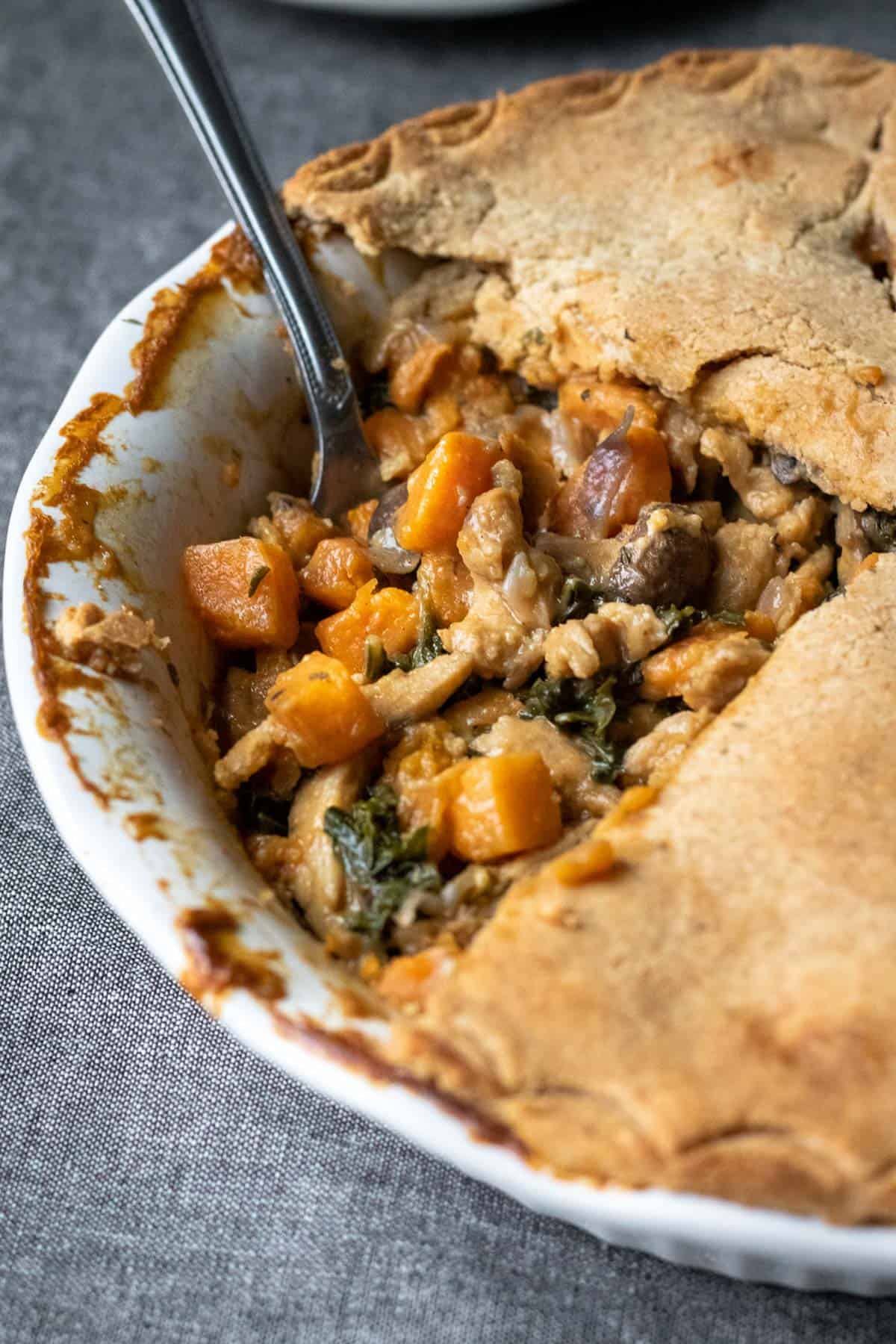 This whole-food plant-based (WFPB) pot pie is filled with colorful sweet potato and kale and made extra satisfying with meaty soy curls. Paired with this easy and healthy pie crust, you'll especially love this comforting pot pie in fall and winter months.
8. Soy Curl Bacon Bits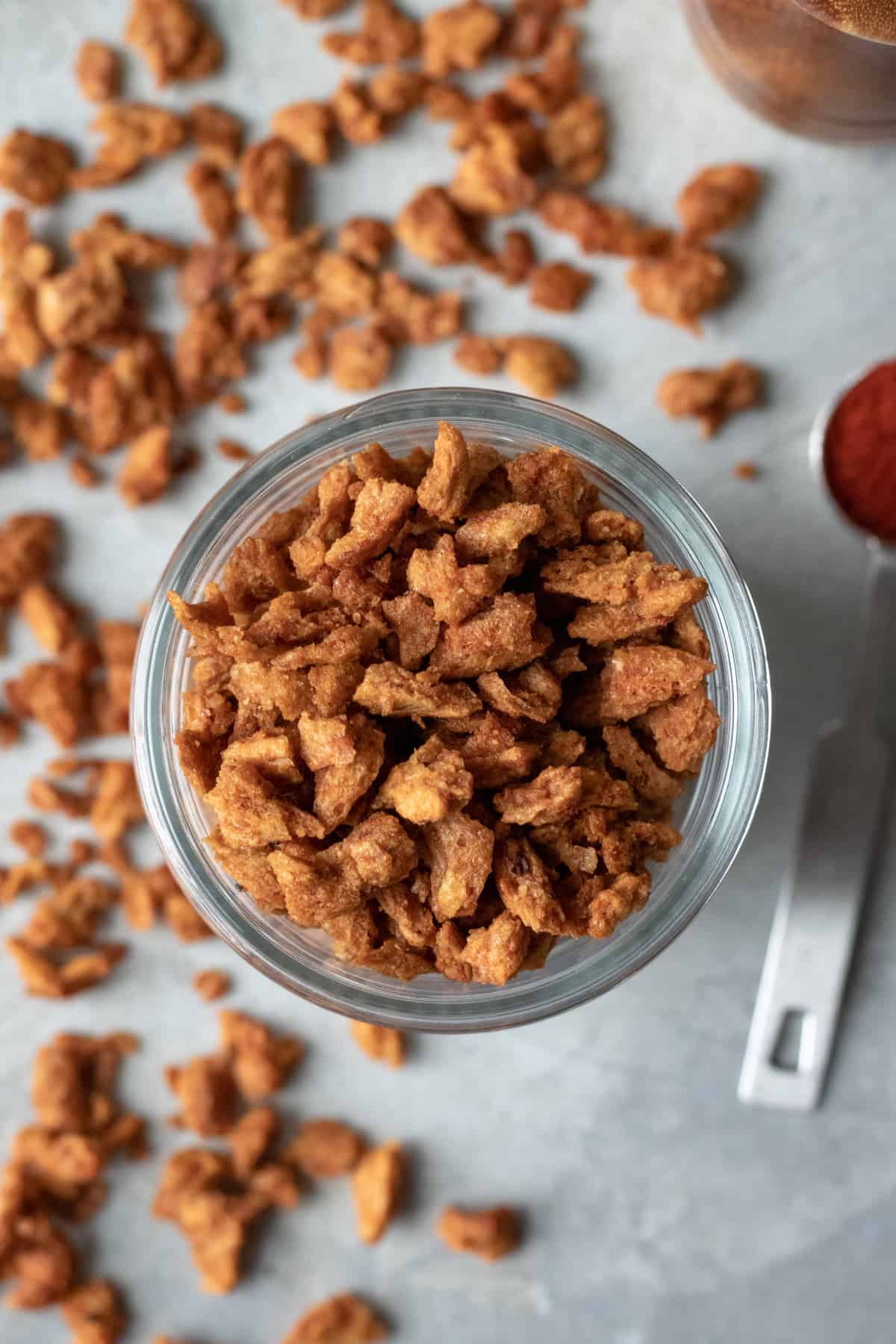 One day I thought, "Hmmm, I wonder what would happen if I didn't fully rehydrate soy curls and instead infused them with salty and smoky bacon flavor before baking in the oven?" Friends, the result was even more irresistible than I could have hoped! These vegan bacon bits are way too good to be so healthy.
9. Vegan Bacon Pancakes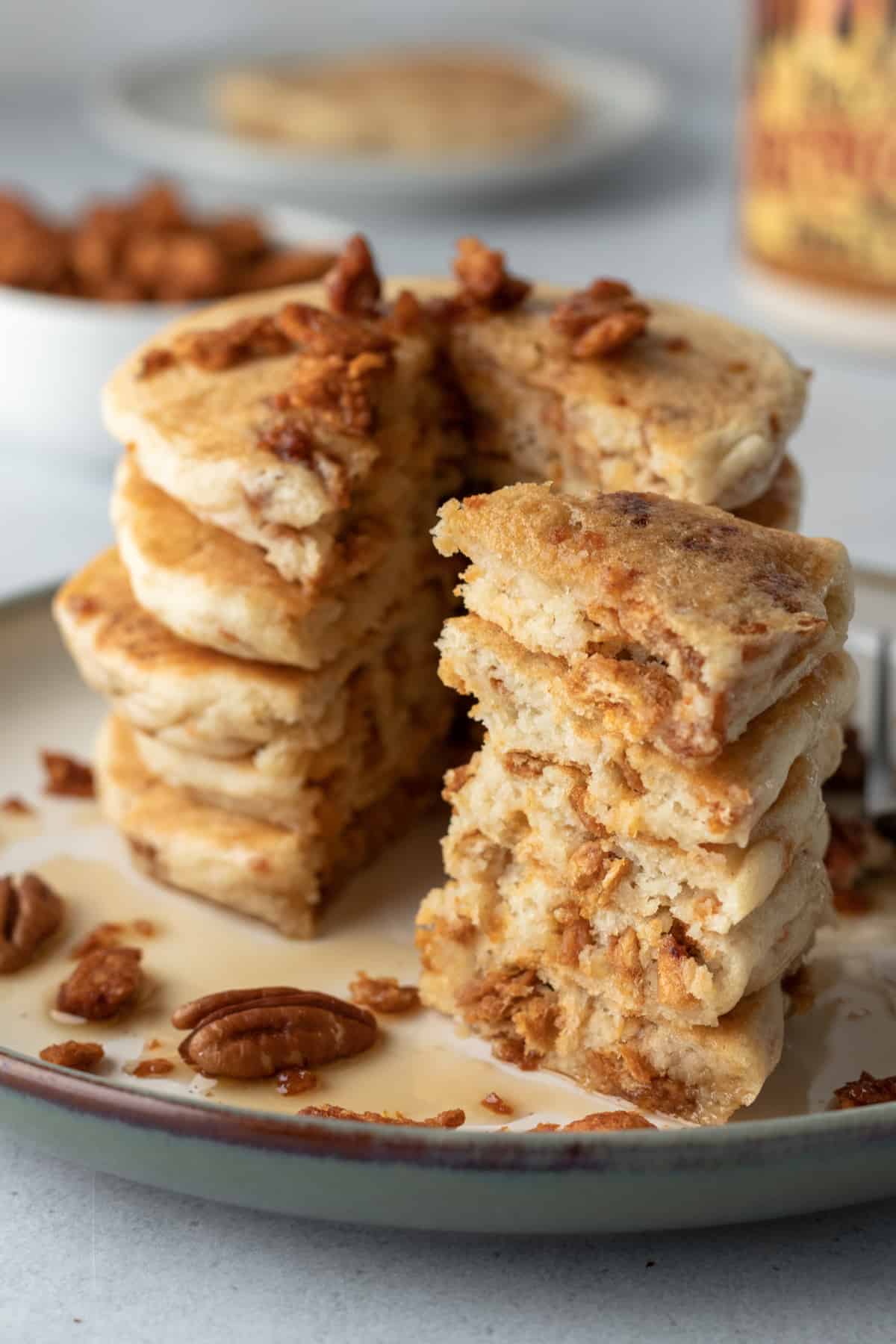 Speaking of bacon... after you whip up a batch of those bacon bits above, set some aside for the next morning, and make these sweet and salty Vegan Bacon Pancakes.
10. Vegan Pulled Pork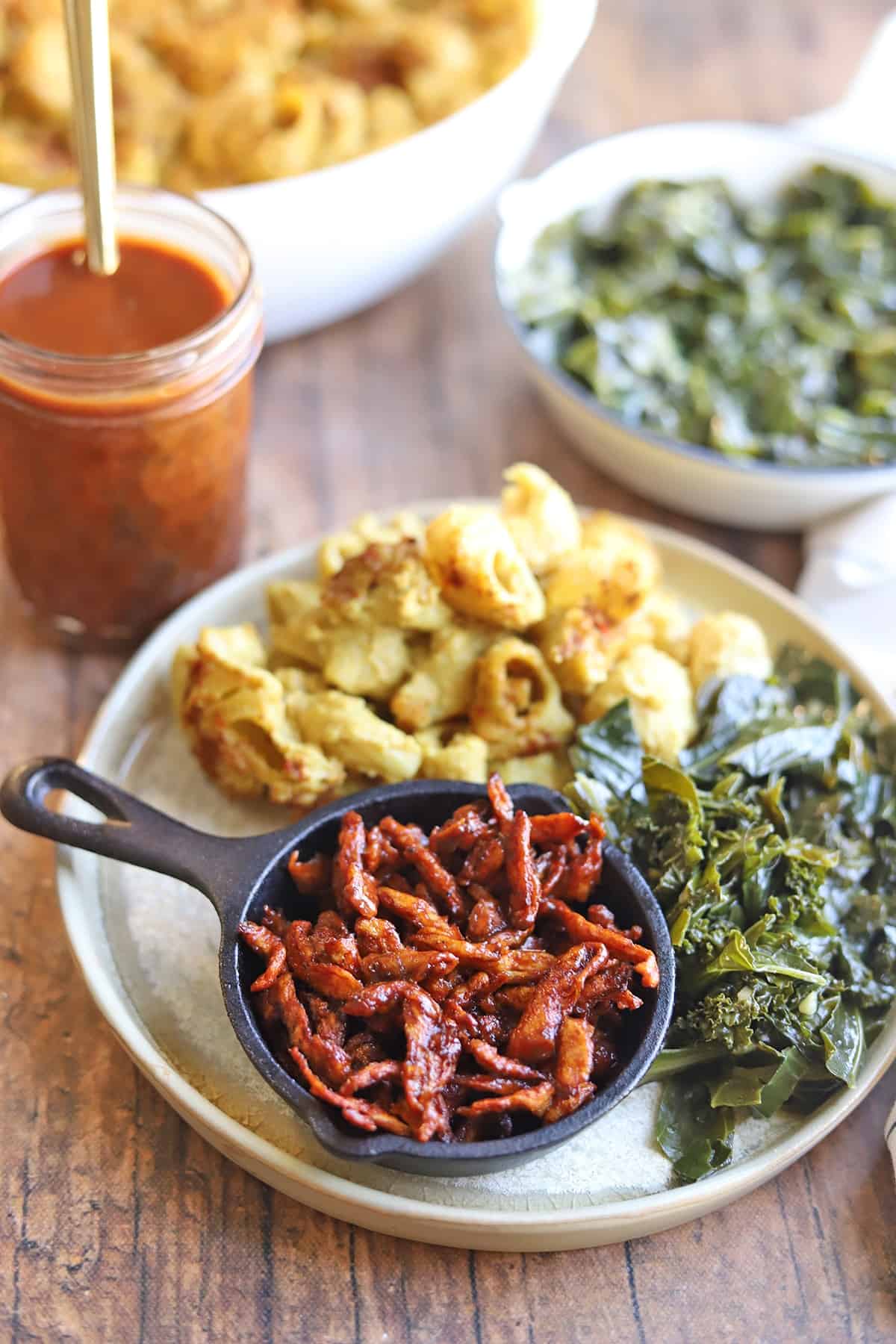 This soy curls recipe creates a wonderfully textured, chewy bite thanks to the air fryer. Toss the pulled "pork" in barbecue sauce, and serve as a main course or on a sandwich.
11. Vegan White Chili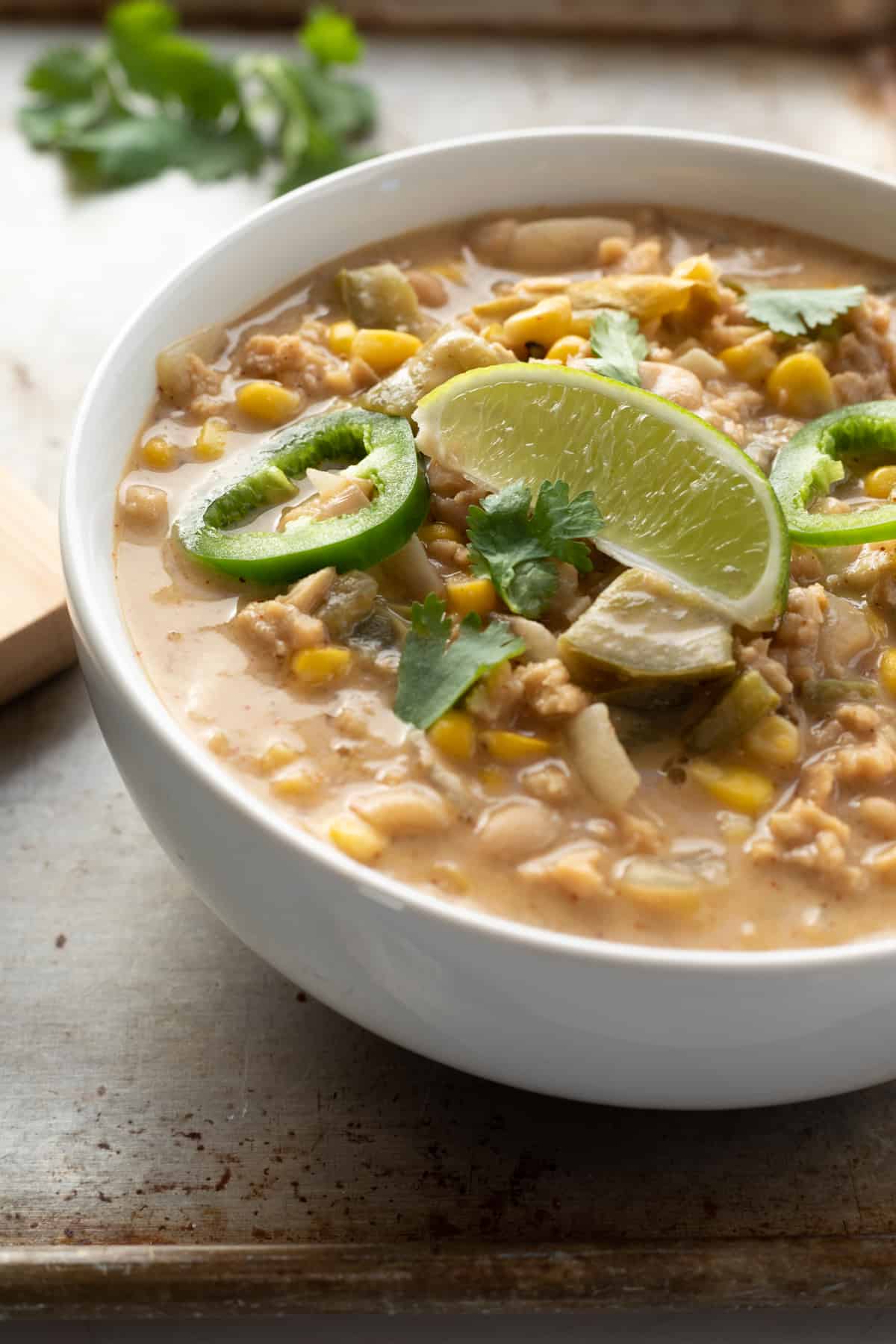 This creamy vegan white chili can be made on the stovetop or in an Instant Pot. It's a great alternative to to traditional-style chili and a really satisfying, protein-packed dinner thanks to white beans and soy curls. Great for meal prep!
12. Vegan Orange Chicken With Soy Curls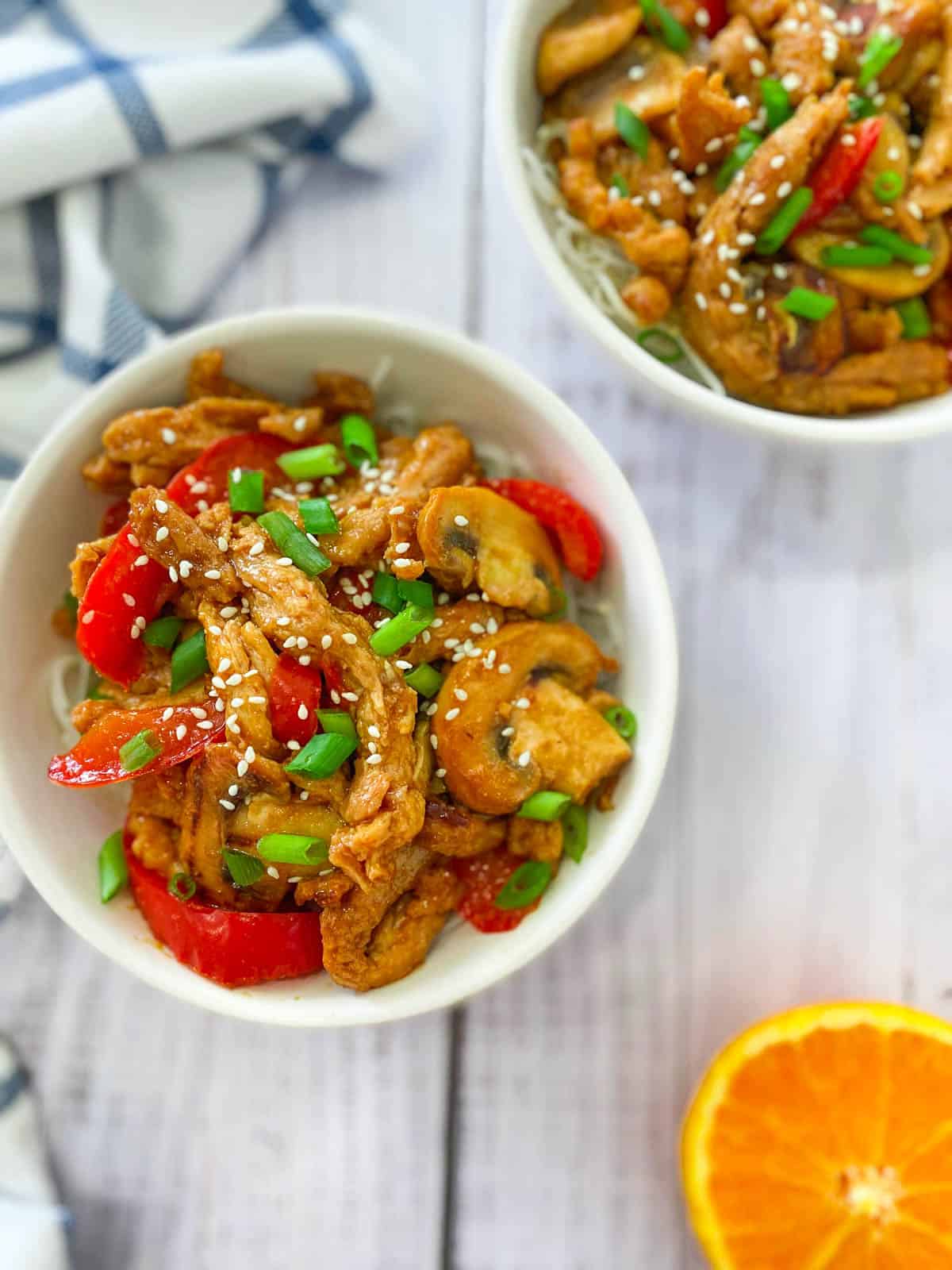 Did you know soy curls make excellent vegan orange chicken? This recipe pairs perfectly with noodles or rice and will have your taste buds doing a happy dance.
13. Texas 3-Bean Vegan Chili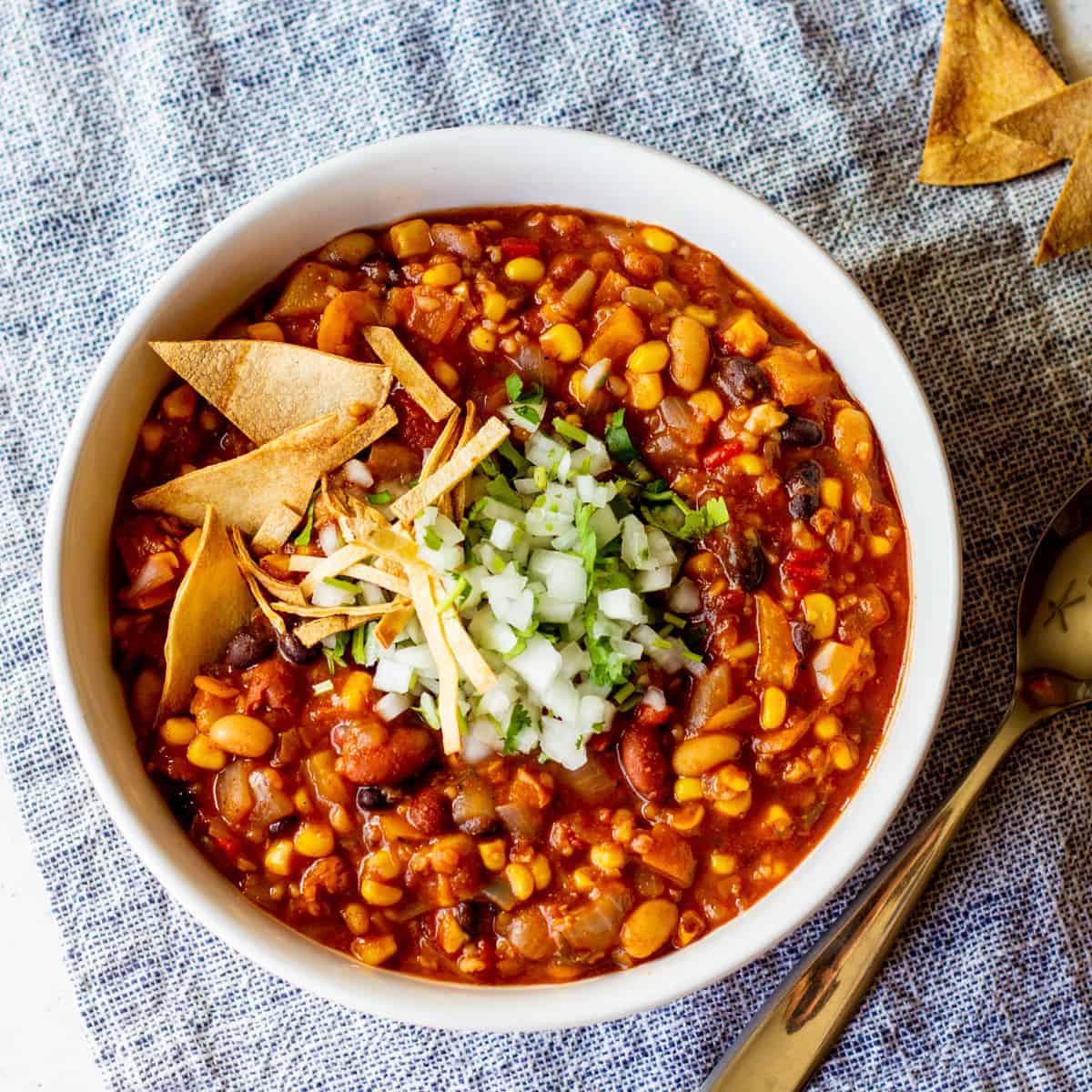 Hearty, filling and chock-full of beans, peppers and spices, this Texas 3-Bean Chili is a real crowd pleaser. It's easy to make, oil-free, and gets extra texture from diced soy curls.
14. Buffalo Soy Curls Salad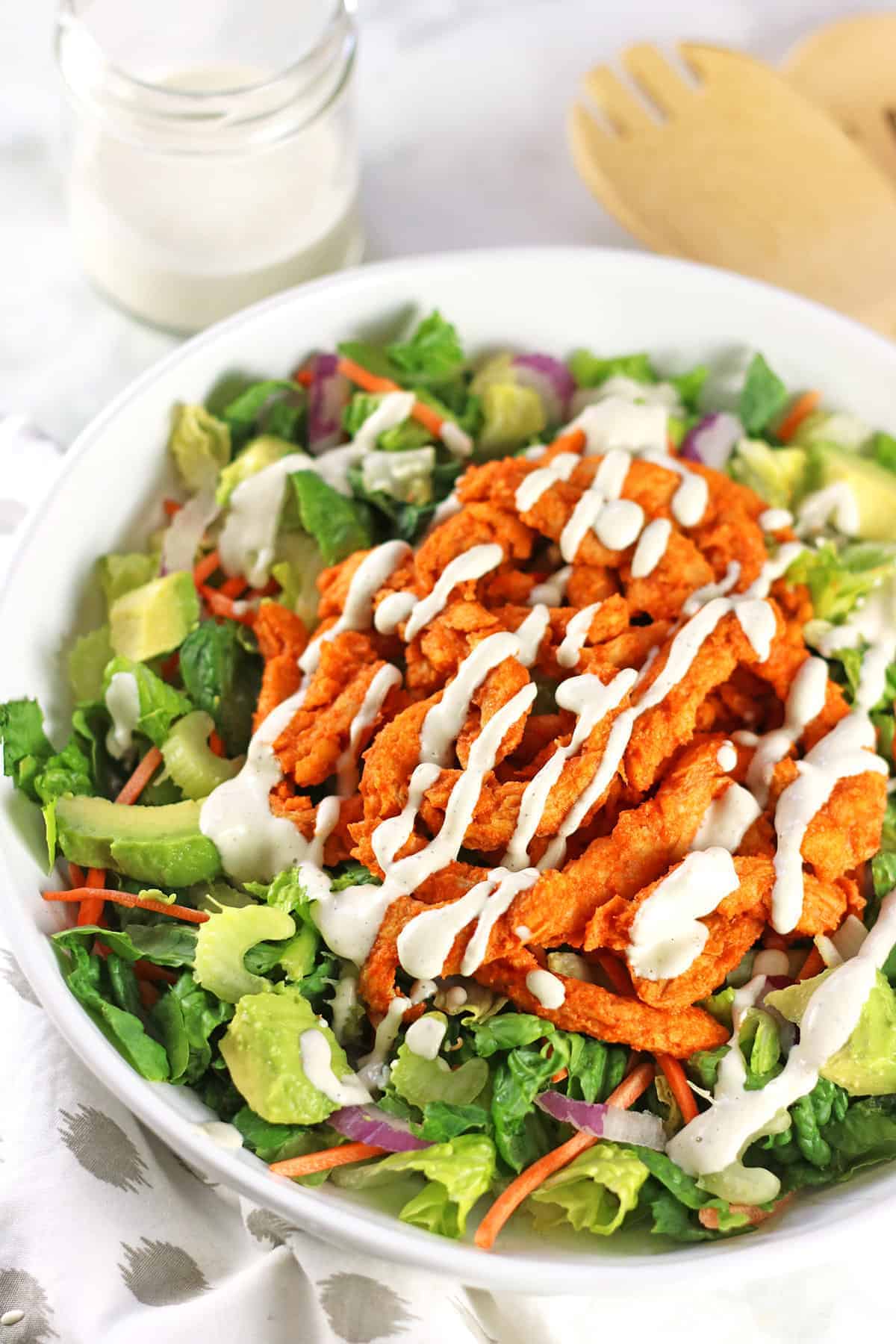 This flavor-packed salad combines buffalo soy curls with lettuce, carrots, celery, onion, and avocado and is topped with a creamy vegan ranch dressing. The soy curls can be air fried, pan fried, or baked.
15. Vegan Clam Strips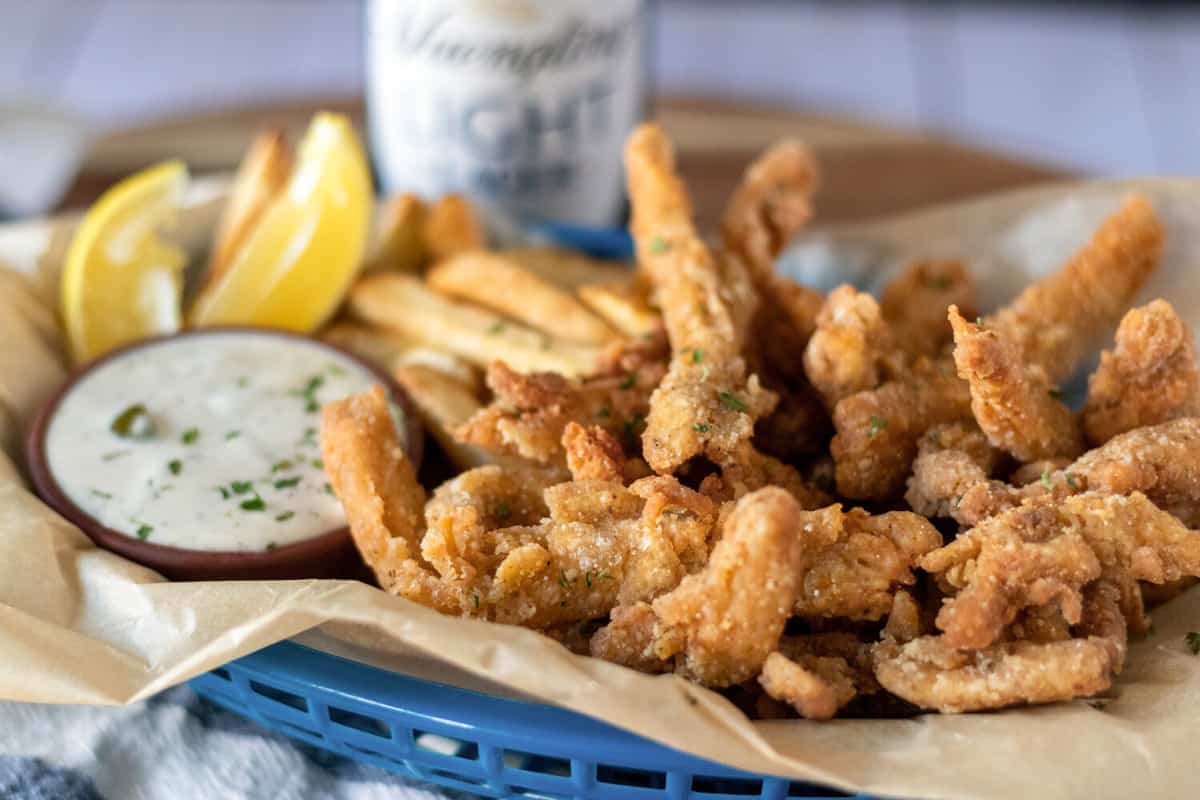 Soy curl clam strips are crispy, chewy, and oh-so-delicious! Seasoned with Old Bay and cayenne and served with a side of extra dilly tartar sauce.
16. Instant Pot Millet With Soy Curls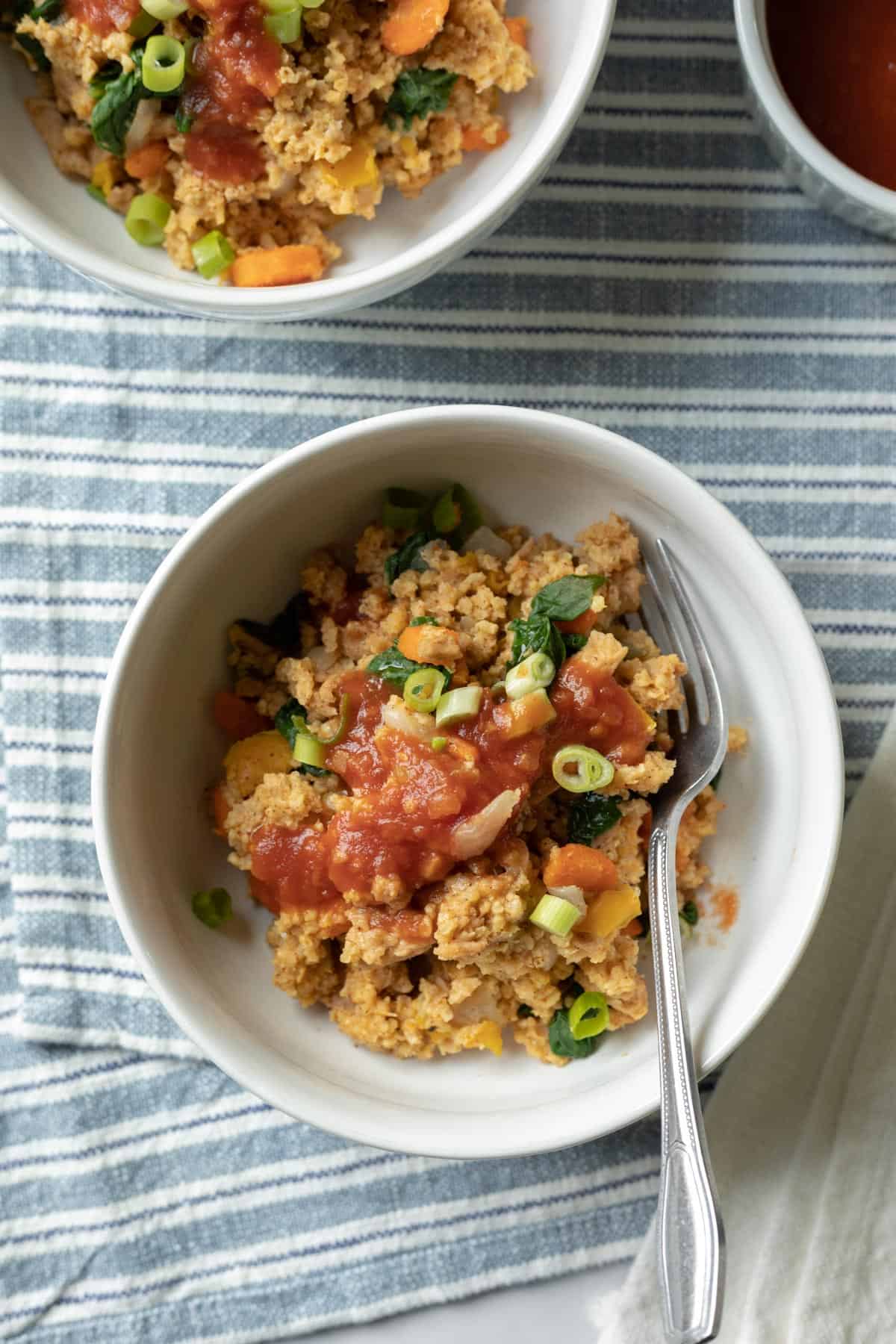 If you like easy, dump-and-start Instant Pot recipes, you'll love this creamy millet with vegetables and soy curls. It's a healthy, full meal that's ready in no time!
17. Vegan Hamburger Helper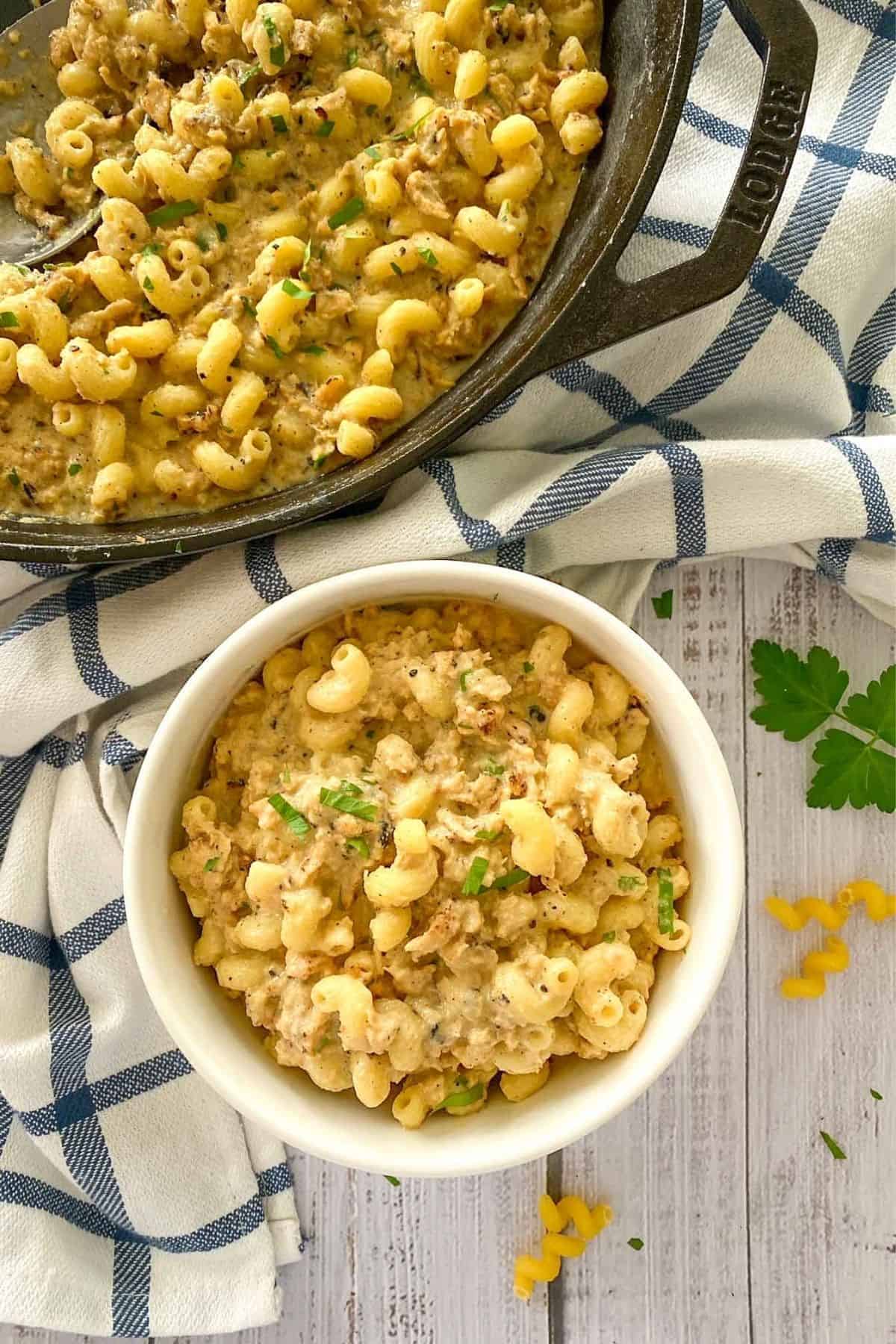 Soy curls stand in for beef in this classic American dish. Perfectly seasoned homemade cheesy sauce and pasta make this hamburger helper a recipe the whole family will love!
18. Vegan Mongolian Beef With Soy Curls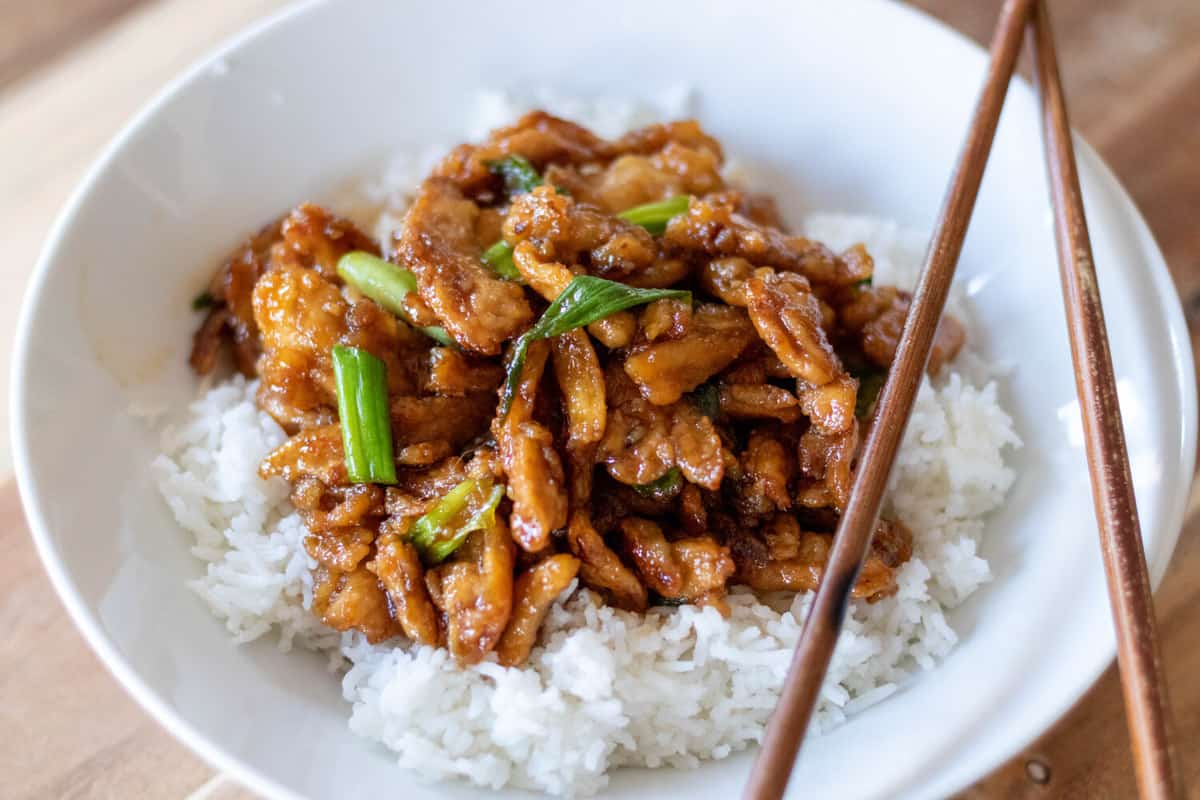 If you've never had Mongolian beef, vegan or otherwise, and you are a fan of garlicky, gingery, sweet, sticky sauces, then this is definitely one to try!
19. Soy Curl Jerky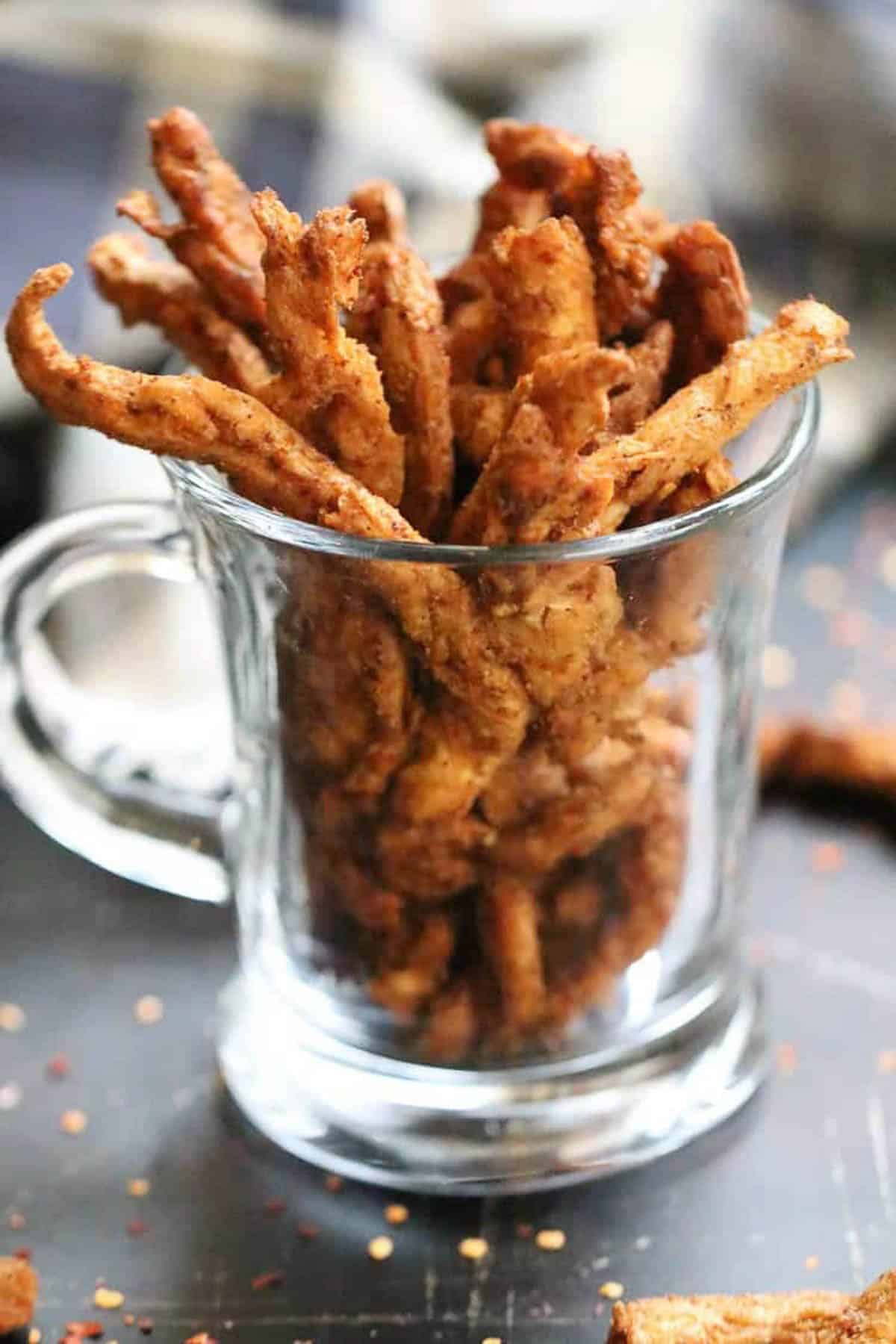 Smoky, savory soy curl jerky has plenty of spice and an awesome chewy meat-like texture. A go-to healthy snacks for work, camping, and road trips!
---
Isn't it incredible how versatile soy curls are? Their meaty texture and neutral flavor are perfect for so many vegan recipes.
Have other questions about Butler soy curls?
Let us know in the comments below, and if you try any of these amazing soy curl recipes be sure to let us know!
You might also like: