Homemade vegan chicken-less broth and seasoning is healthier than store-bought products and much more affordable! Use it to add umami and depth of flavor to soups, gravy, casseroles, grains, and sauces. This quick and easy seasoning tastes so good you might find yourself sipping hot bowls of broth just for the flavor and nutrients! Contains no oil and is free from the top 8 allergens. Ready in 5 minutes!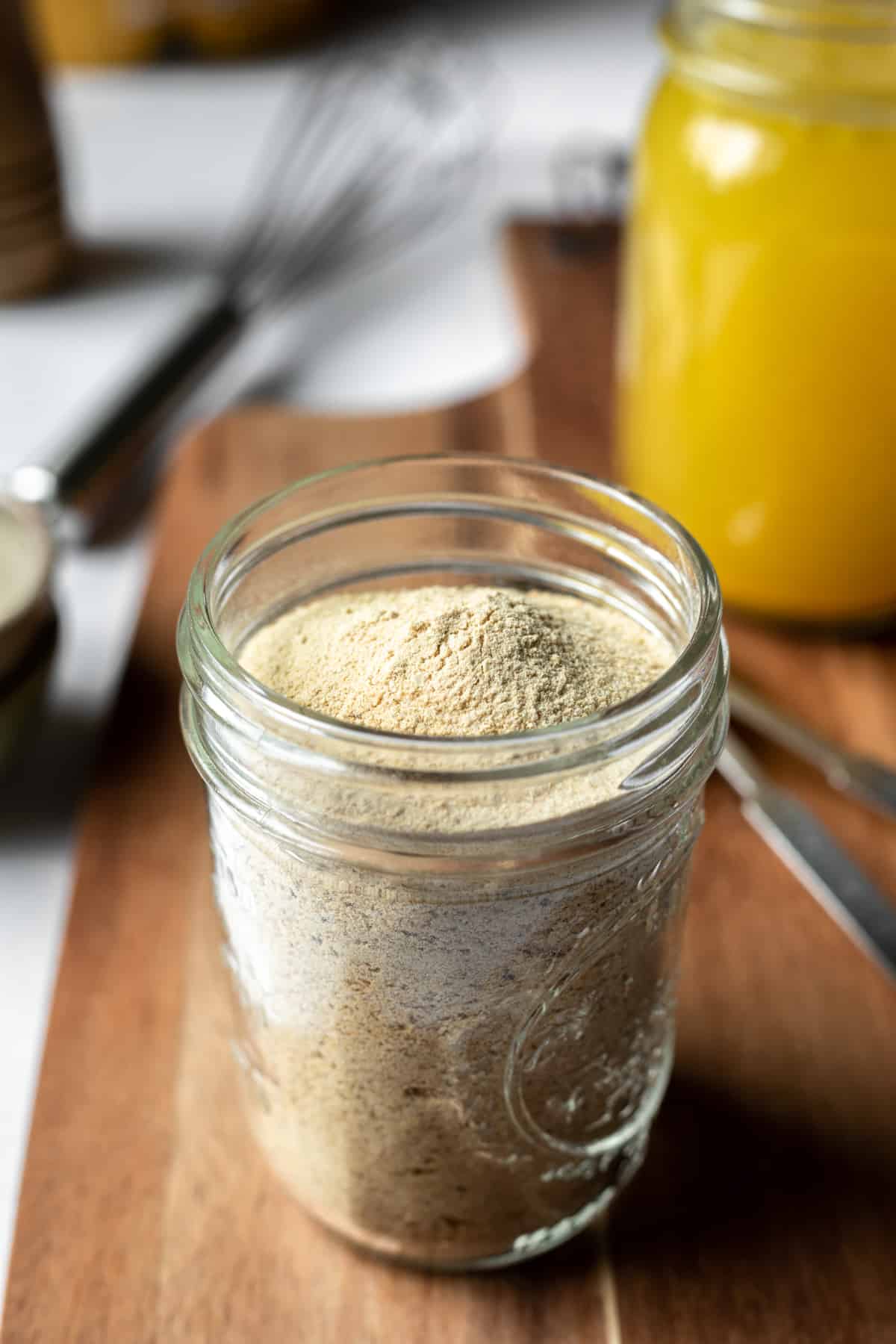 Jump to:
Why You'll Love This Recipe
I've purchased my fair share of vegan chicken bouillon over the years, especially last year while working on this Vegan Turkey Roast.
Some of those broths and bouillons taste better than others, but all of them are rather pricey and not exactly made with the healthiest ingredients.
For example, Better Than Bouillon's No-Chicken Base contains ingredients like hydrolyzed corn protein, maltodextrin, canola oil, and corn syrup solids. And theirs isn't even the worst.
So after sharing this Vegan Rice-A-Roni recipe I decided it was time for a DIY vegan chicken seasoning on the blog.
Also, since the Trader Joe's vegan chicken-less seasoning was discontinued, we need a quick and tasty homemade option more than ever!
Speaking of Trader Joe's copycat recipes, check out this easy Ginger-Turmeric Dressing and this super crunchy Ginger-Turmeric Granola.
With just 9 pantry staples and 5 minutes you can make irresistibly delicious (no kidding, I actually crave it now) vegan chicken broth. It's oil-free, gluten-free, soy-free, AND nut-free. And thanks to nutritional yeast it contains important vitamins and minerals.
If you're not sure how you'll use this powder besides just making soup, keep reading for ideas!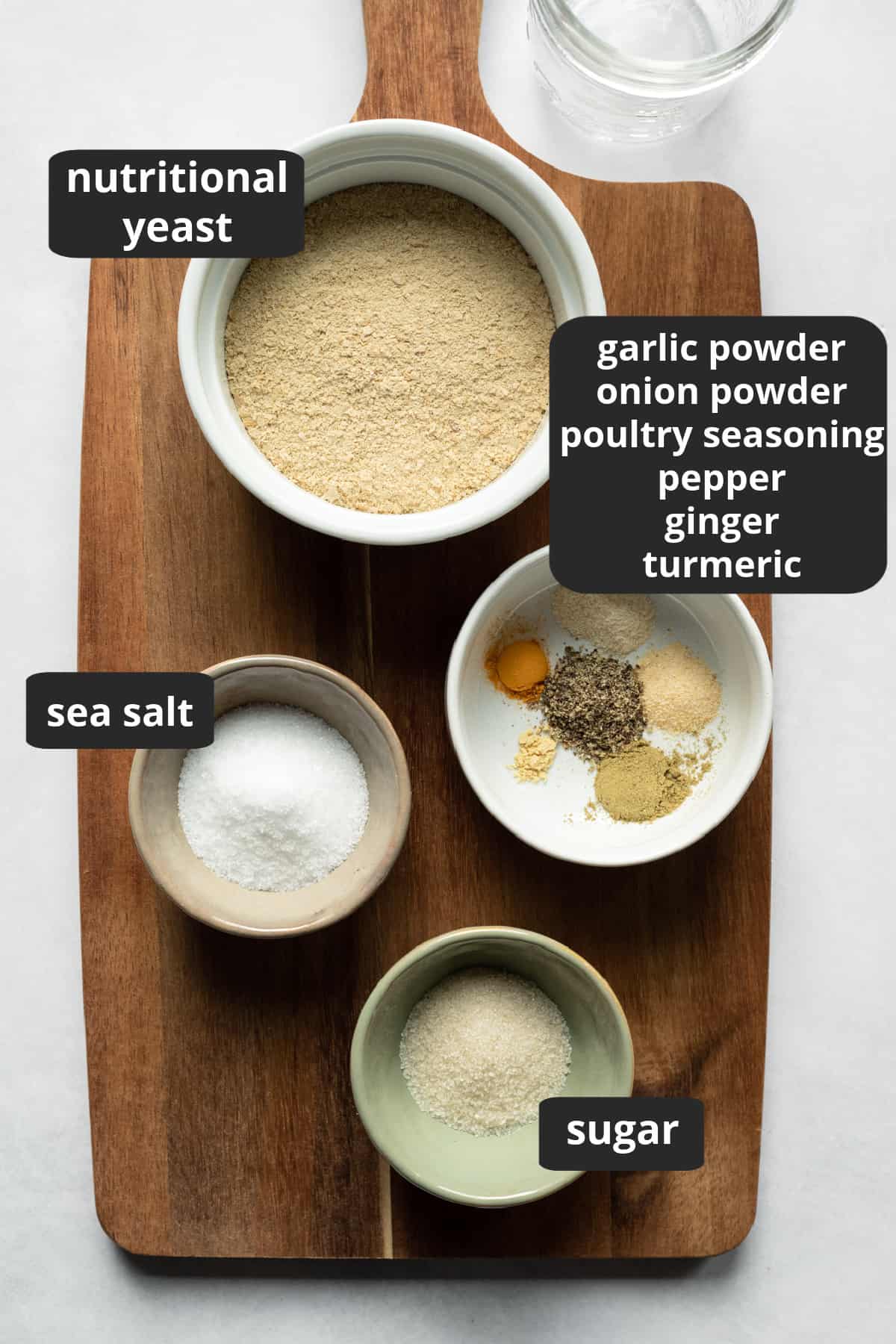 Ingredients
While there isn't much room for substitutions in this recipe, a few of the ingredients are flexible.
For the best chicken bouillon flavor, I highly recommend trying the recipe exactly as written before making adjustments.
Nutritional yeast - this is the most important ingredient in this recipe and can't be replaced.
NOTE: If you think you don't like nutritional yeast but have only tried fortified brands (e.g., Bragg's), I highly recommend this non-fortified one by Sari Foods. Their nutritional yeast contains naturally occurring B1, B2, B5, and B6, as well as 18 amino acids and 15 minerals. It does not contain B12 or Folate, which are usually added to other brands of nutritional yeast. You can learn more about fortified vs. non-fortified nutritional yeast on the Sari website.
Fine sea salt - salt is important for the overall flavor but can be reduced if needed. That's the great thing about homemade!
Sugar - I use organic cane sugar. This can be omitted if you strictly avoid added sugars.
Poultry seasoning - this is a blend of dried herbs and aromatics, usually sage, thyme, onion, pepper, marjoram, and celery seed. I'm currently using this one by Frontier, since SpiceWalla discontinued theirs.
If you have sage, thyme, and ground celery seed on hand but not poultry seasoning, feel free to use a tiny pinch of each. The problem is that it's difficult to measure such small amounts.
Turmeric - this gives the vegan chicken broth a golden hue and very subtle earthiness but can be omitted if necessary.
Onion and garlic powder - these are important for the overall savory flavor.
Ground ginger - this one's optional, but I do like to include a tiny pinch for subtle flavor.
Black pepper - depending on how you plan to use the seasoning, you may or may not want to include pepper. For example, if you're making broth for someone who's feeling under the weather or highly sensitive to spicy foods, feel free to omit it.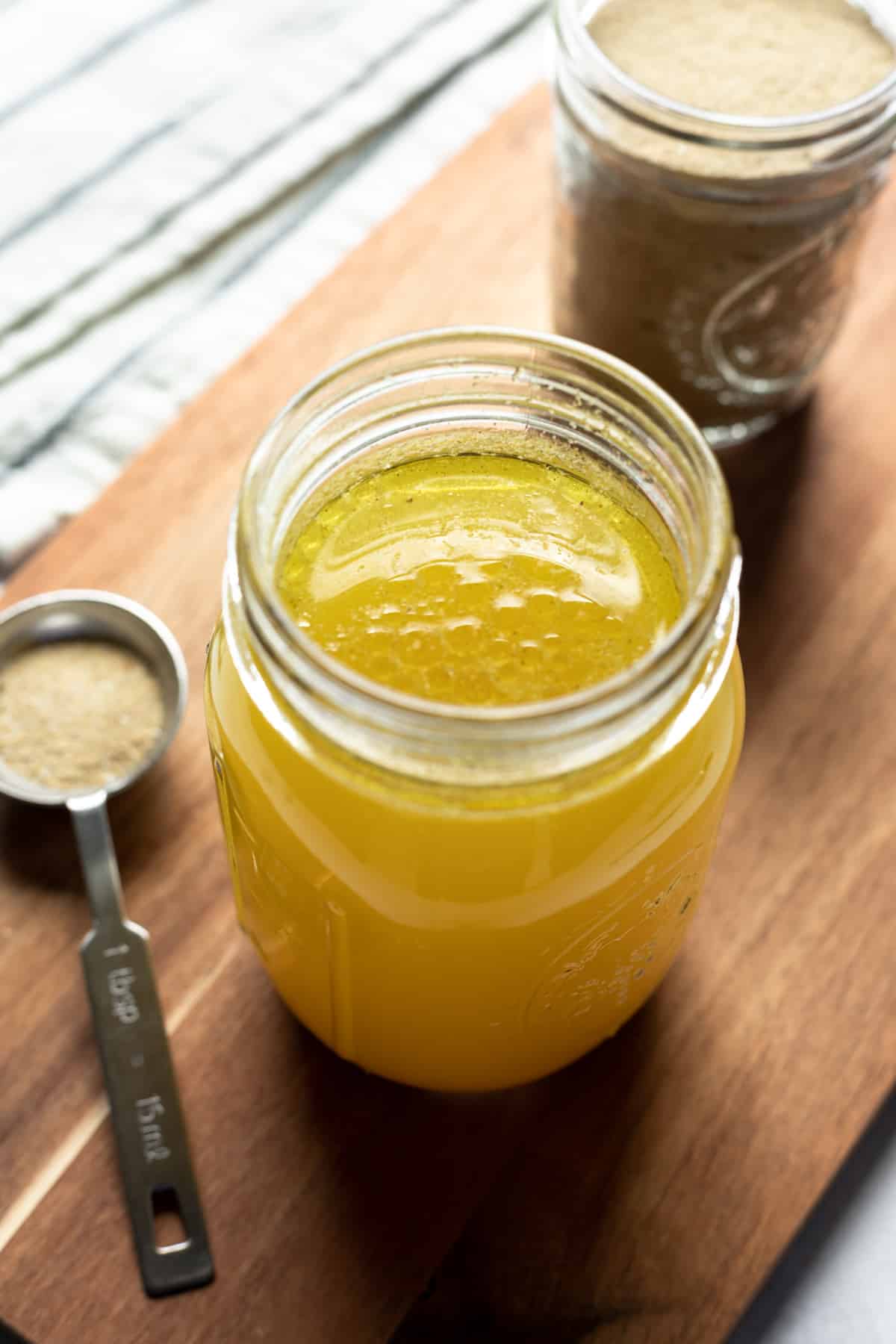 Instructions
It's oh so easy! Are you ready for this? Simply combine the ingredients in a bowl or lidded jar, then whisk or shake it to combine. Voila! You now have homemade chicken-less seasoning.
Tip: If the nutritional yeast you're using contains large flakes you may want to pulse the mixture in a blender for a more powdered texture, but that's totally up to you.
Preparation Tip
If you include oil in your diet, try adding just a few drops of a mild-tasting olive oil to the prepared broth. Oil contributes a richness that would normally be found in chicken stock and broth (which obviously includes fat from the chickens). 🙁
Ways to Use It
Now the fun part! Use this vegan chicken bouillon to make vegan chicken noodle soup. Try it with soy curls, cubed tofu, or shredded seitan to make it extra filling.
Speaking of soy curls, use this broth to re-hydrate soy curls and use them in all kinds of recipes. Why re-hydrate with plain water when you can add so much flavor?
Use this chicken-less seasoning in the breading for tofu nuggets and seitan nuggets.
Replace the no-chicken bouillon called for in my seitan turkey roast with this DIY version, and add it to seitan sausage for extra flavor.
I also like to include 1 or 2 tablespoons of this seasoning when cooking rice, quinoa, and other grains.
You can boost flavor with this powdered seasoning when cooking lentils, curries, stews, and chili. Reduce the salt you would normally add to account for the saltiness in the powder.
Also, stir it into creamy pasta sauces, macaroni and cheese, mashed potatoes and gravy.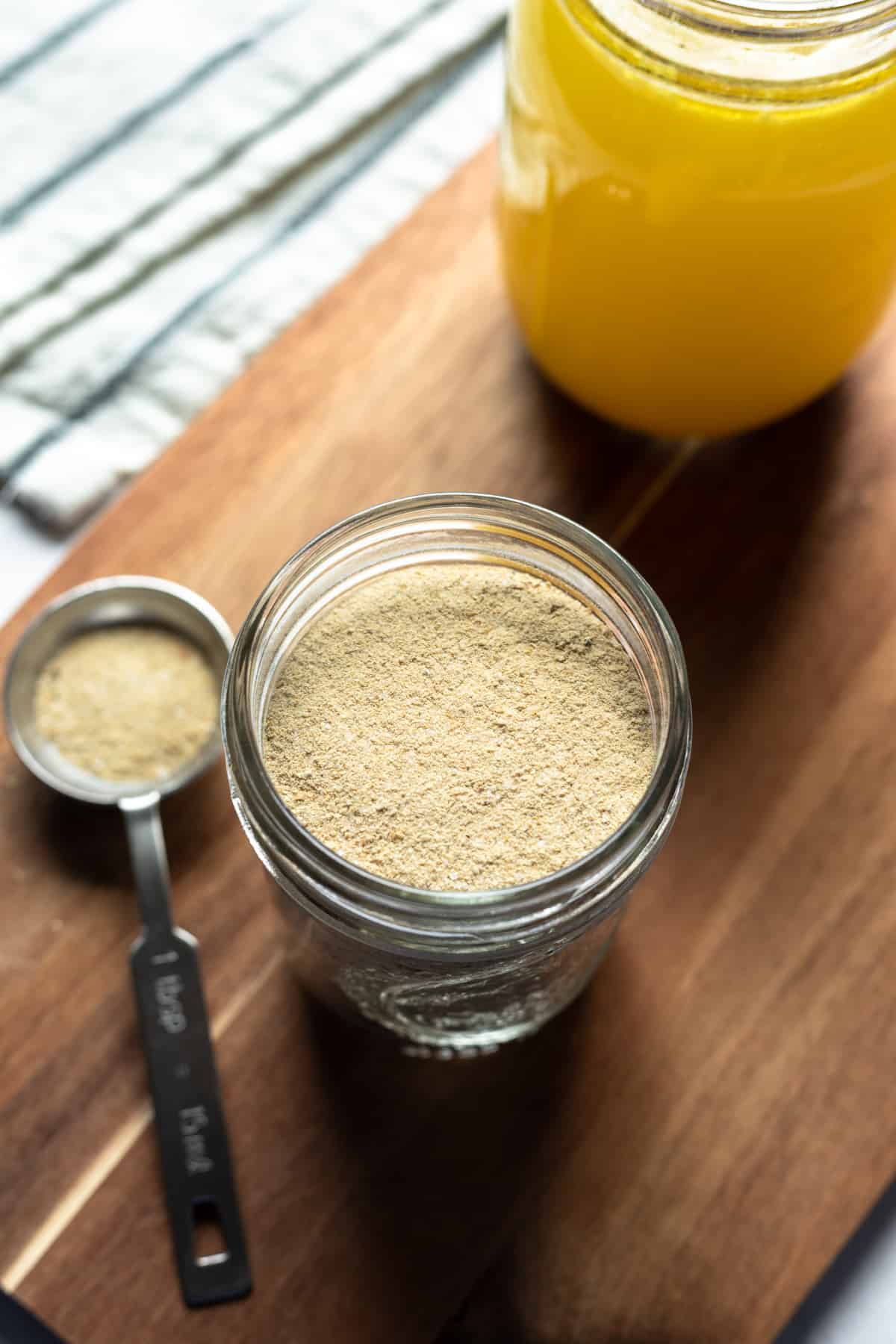 Frequently Asked Questions
Do vegans cook with chicken broth?
No, broth and stock made from chicken meat and bones is not vegan. However, there are vegan-friendly products on the market that imitate the flavors of chicken broth. If you prefer homemade, it's very easy to make a versatile, pantry-friendly, chicken-style broth at home with this recipe.
What is vegan chicken flavor?
Plant-based chicken products often use yeast extract and certain vegetables and herbs to create savory chicken flavor. Instead of yeast extract, our homemade seasoning calls for nutritional yeast, which is an inactive form of yeast rich in B vitamins and other nutrients.
How long does it keep?
Since the recipe is made entirely with dried ingredients, it lasts for many, many months. I prefer to store it in the refrigerator, but it's also fine at room temperature or in the freezer, if preferred.
The next time you see a recipe that calls for vegan chicken broth or bouillon, you're all set! No need to search the store aisles or order specialty products online.
I hope you love the recipe as much as we do! If you try it I would love to hear from you in the comments below.
More Homemade Vegan Staples
RELATED: check out this Vegan "Beef" Broth Powder & Umami Seasoning!
📖 Recipe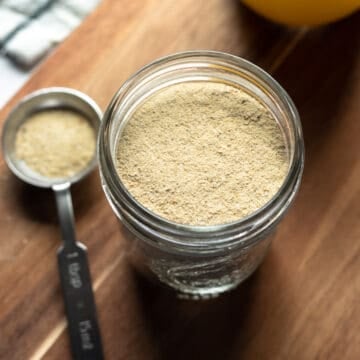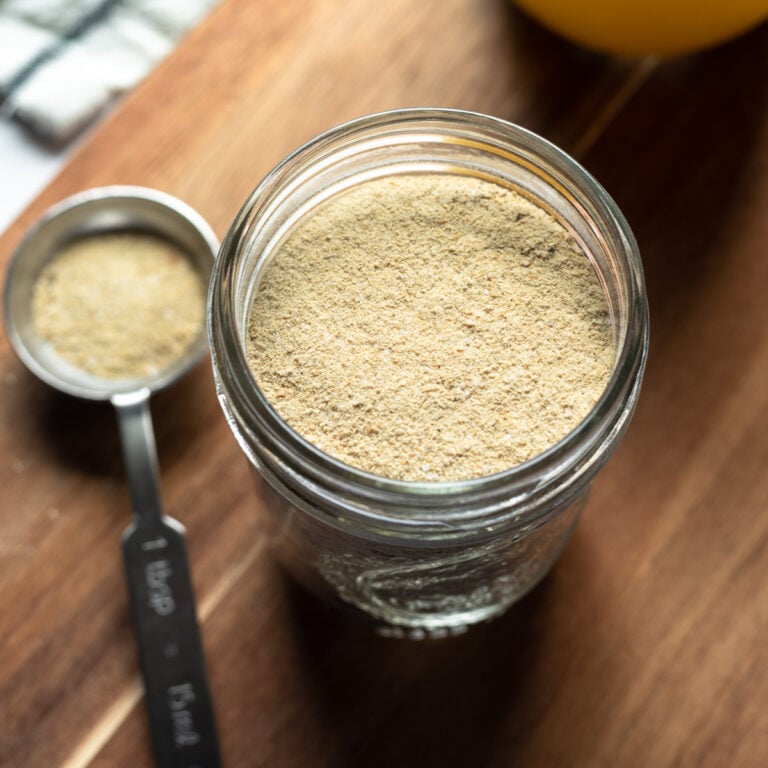 Vegan "Chicken" Broth, Bouillon & Seasoning
Now you don't have to track down specialty vegan chicken broth or bouillon products to make your favorite recipes. This combination of simple ingredients tastes so good you may find yourself sipping on bowlfuls of chicken-less broth! Of course, it's great in other recipes, too. Try it in Chick-un Noodle Soup, Vegan Rice-A-Roni and Seitan Turkey Roast.
Yield: makes about ⅔ cup powder. Use approx. 2 teaspoons powder per 1 cup hot water for broth.
Ingredients
½

cup

nutritional yeast -

Any type is okay, but I highly recommend this non-fortified one by Sari.

1

tablespoon

fine sea salt -

Feel free to decrease to suit your dietary needs or if you prefer less salty broth.

2

teaspoons

organic cane sugar, optional

¼

teaspoon

onion powder

¼

teaspoon

garlic powder

¼

teaspoon

poultry seasoning

⅛

teaspoon

ground turmeric

tiny

pinch of

ground ginger, optional

½ to 1

teaspoon

freshly ground black pepper

-

Amount depends on how much you enjoy black pepper.
Instructions
Combine all ingredients in a bowl or lidded jar, and whisk to combine. If the nutritional yeast you're using contains large flakes you may want to pulse the mixture in a blender for a more powdered texture.

Always whisk or shake before using so that the flavors are well combined. To make broth, use approximately 2 teaspoons powder per 1 cup of hot water (this creates a fairly salty broth). Refer to the post above for more ideas and ways to use this powder.
Notes
Preparation tip:
If you include oil in your diet, try adding just a few drops of a mild-tasting olive oil to the broth once it's prepared (not to the powder). Oil contributes a richness that would normally be found in chicken stock and broth.
Storage:
Since this broth powder is made with all dried ingredients it has a very long shelf life. I like to store it in the refrigerator, but it will also be fine at room temperature.
Estimated Nutrition (per serving)
Serving:
2
teaspoons
Calories:
15
kcal
Cholesterol:
0
mg
Sodium:
495
mg
Nutrition information is an estimate and will vary depending on the exact amounts and specific products and ingredients used. We calculate this information using the online calculator cronometer.com.
Tried the recipe?
I love hearing from you! Share your feedback below.