These tofu nuggets are wonderfully seasoned, healthy, and SO easy to prepare! Baked or cooked in the air fryer, they're coated with a simple nutritional yeast "breading." There's no frying or complex steps involved!
This recipe is vegan, gluten-free, and can be made without oil. Ready in 45 minutes!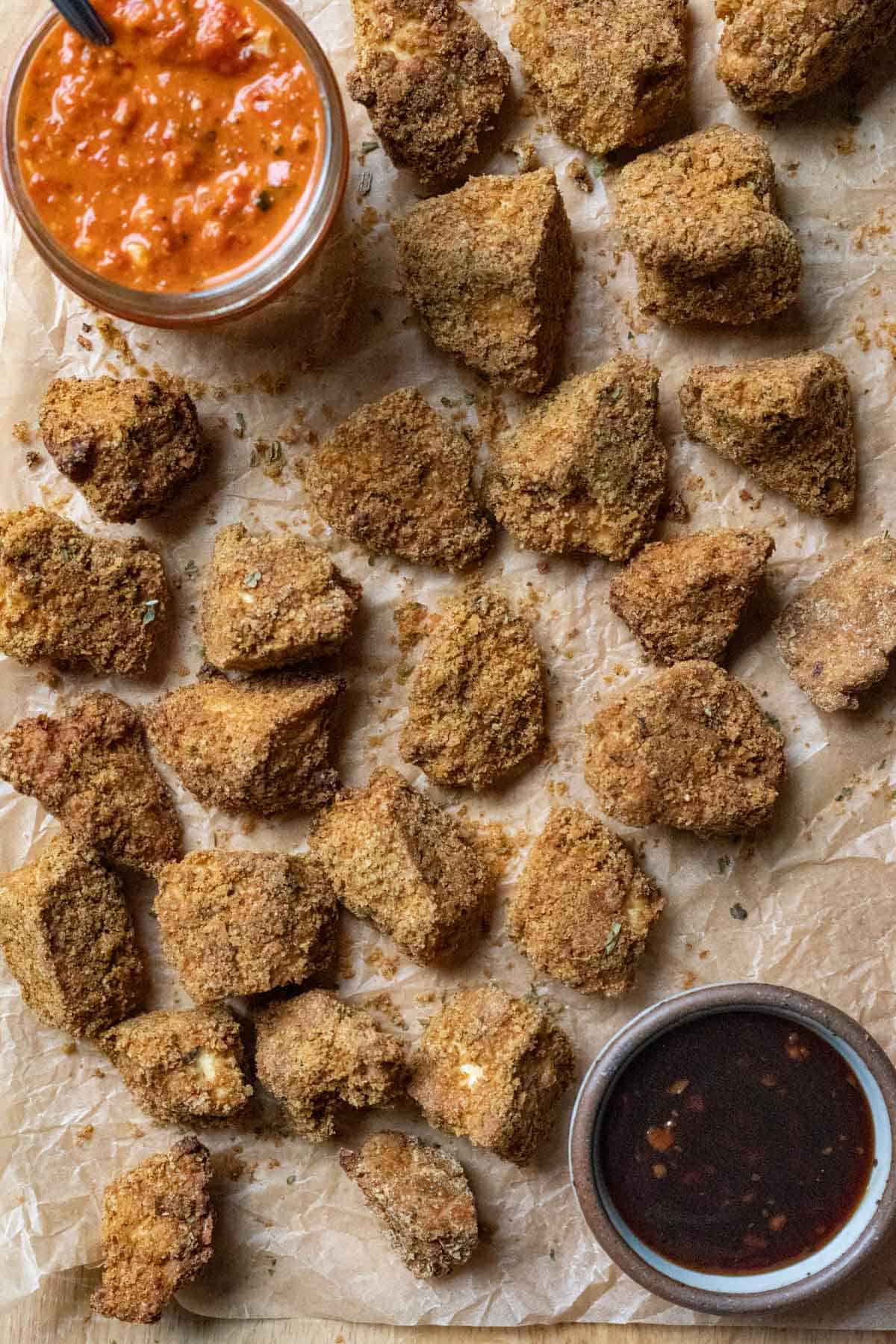 About the Recipe
As much as I love tofu, the main thing that keeps me from preparing most tofu nugget recipes is that they're so complicated. Sure, I love to cook and I develop recipes for a living. But I'm also hungry, tired, and busy just like everyone else!
Similar to this seitan nuggets recipe, I wanted to put my own spin on tofu nuggets, to make it as simple as possible.
For this recipe there's no need to plan ahead to freeze and thaw tofu or marinate it. But you still get tasty, homemade tofu nuggets with the savory flavors we all crave!
We also love that these tofu nuggets are:
nut-free
sesame-free
gluten-free
and can be baked in the oven OR cooked in the air fryer!
I hope you enjoy these super easy tofu "chicken" nuggets as much as we do!
Jump to:
Ingredients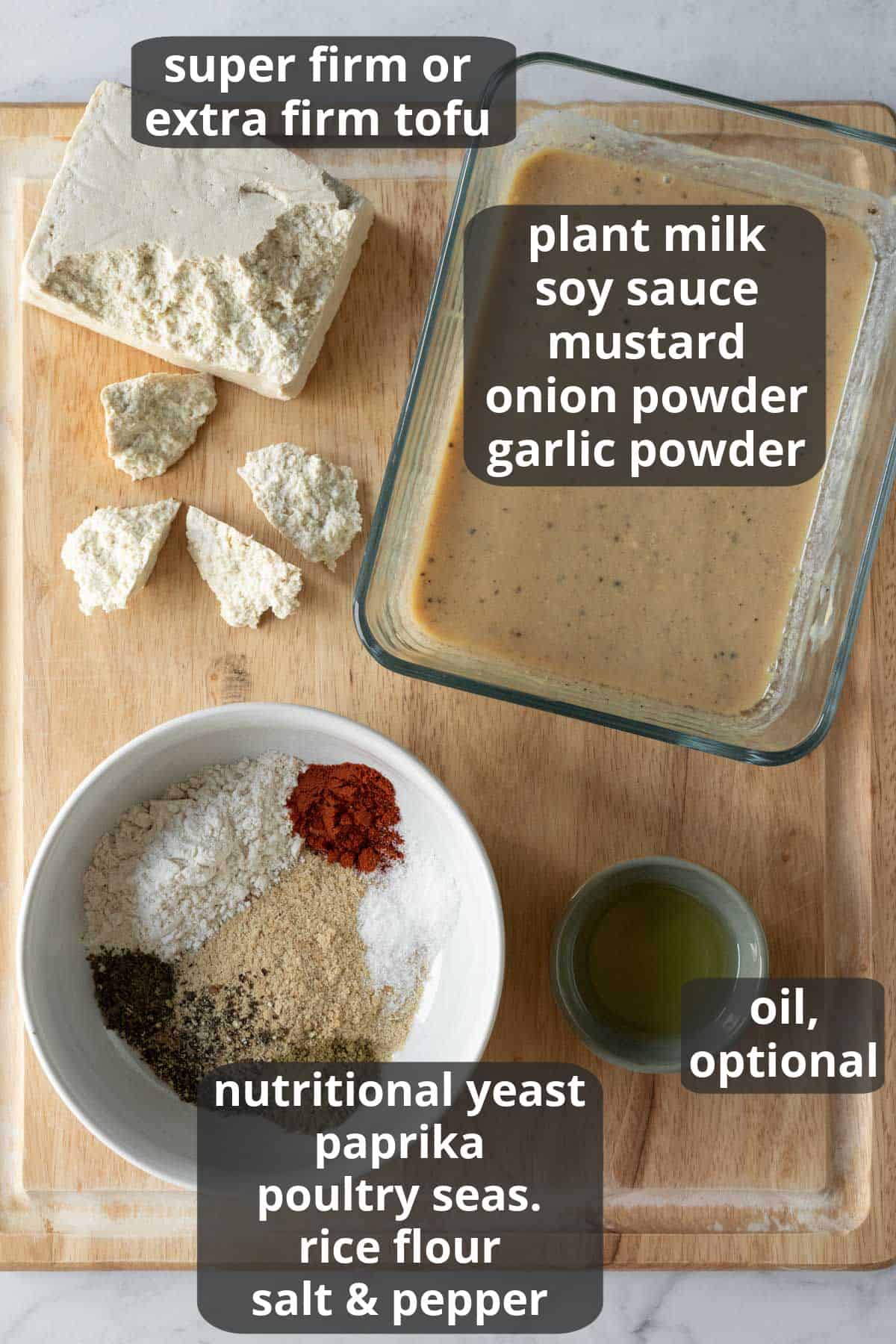 tofu - I recommend super-firm tofu if you can find it. It's very dense and does not need to be pressed. The next best choice is extra-firm tofu, which will benefit from a quick pressing to remove some of the water. Here's a quick guide on how to press tofu.
wet batter - unflavored soy milk plus mustard, tamari (or soy sauce), and a few seasonings creates a savory batter.
breading - instead of breadcrumbs, I went with nutritional yeast mixed with a bit of brown rice flour. I use this one by Sari.
Tip! For more texture and extra crispy tofu nuggets, replace the brown rice flour and most of the nutritional yeast with gluten-free panko breadcrumbs. More on this below.
See the recipe card below for quantities and full instructions.
How to Make Tofu Nuggets
The perk to using super firm tofu is that it's ready to use right out of the package. Simply pat it dry, then tear into chunks. No need to press the tofu first.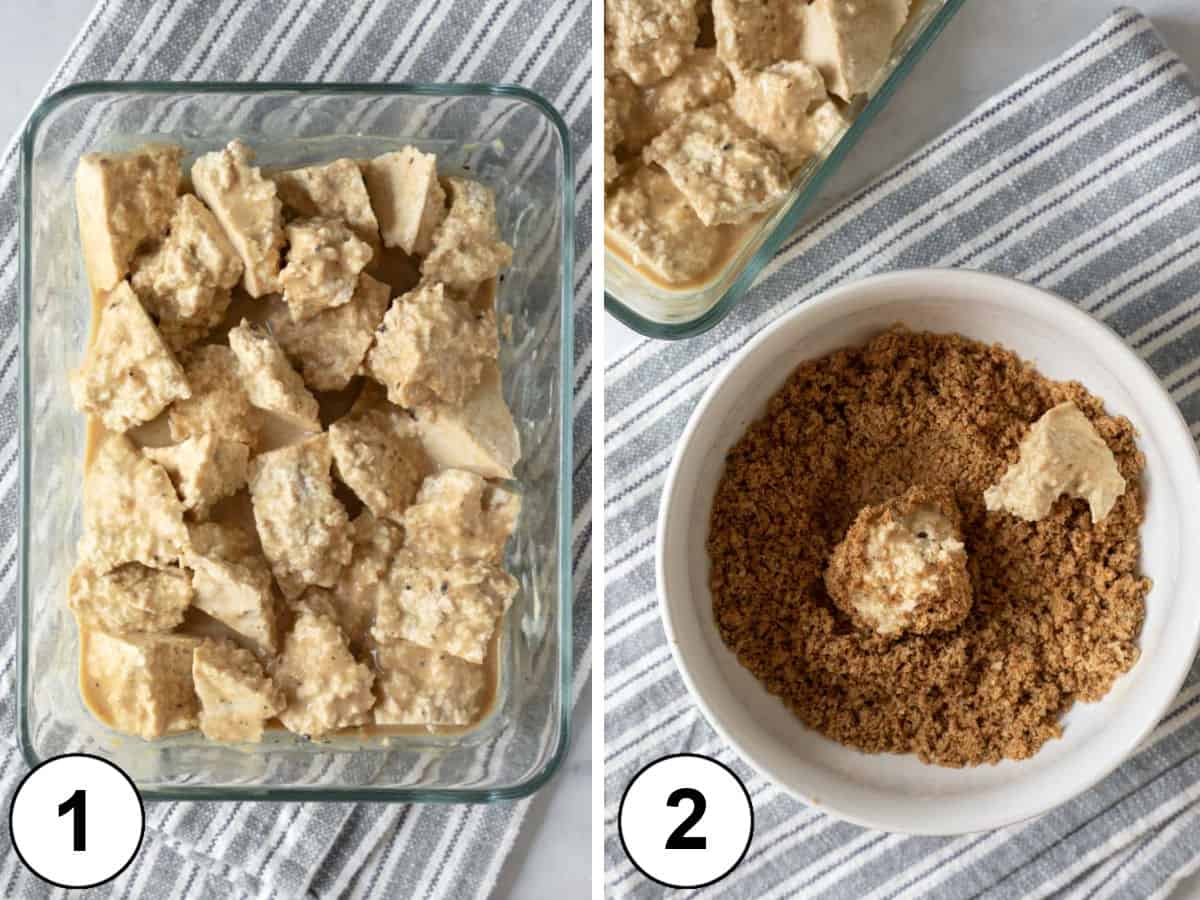 Mix the wet batter in a large shallow bowl or dish. Break the tofu into nugget-sized pieces and coat with the batter. You can also cut the tofu into cubes, but we tend to prefer the uneven surface created by tearing the tofu with your hands.
Combine the breading ingredients in a bowl, adding the oil last, if using. Coat each piece of tofu with the dry mixture.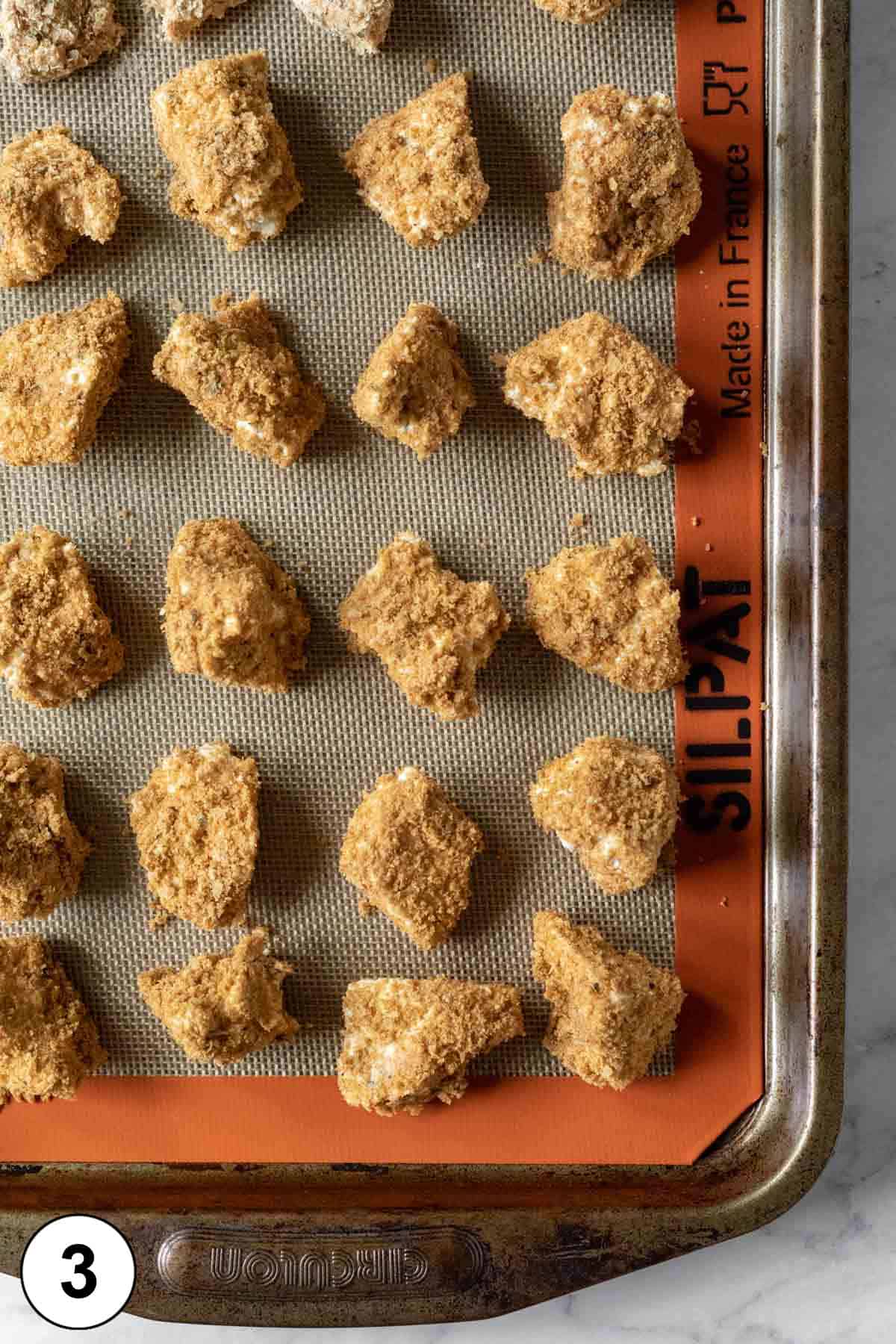 For Baked Tofu Nuggets
Preheat the oven to 375 degrees F. Place nuggets on a baking sheet lined with parchment or a silicone mat. Bake for about 30 minutes, flipping at the halfway point.
For Air Fryer Tofu Nuggets
Preheat the air fryer to 355 degrees and cook the nuggets for 10 to 12 minutes or until golden and crisp.
Serving Suggestions
Tofu nuggets are perfect for dipping in your favorite sauces, like vegan honey mustard, ketchup, BBQ, ranch, and Korean BBQ sauce.
Serve with salad, inside a wrap, or alongside mac and cheese, chips, or french fries.
They're also great as an appetizer with raw veggies, hummus, and other dips.
These are best served fresh out of the oven or air fryer. Since the coating is made of nutritional yeast instead of panko or fried breadcrumbs, it doesn't stay crispy as long.
Substitutions
Nutritional Yeast - if you're not a fan, use the gluten-free panko breading in this seitan nuggets recipe. Replace the ⅓ cup nutritional yeast in that recipe with additional panko.
Oil-free - see the 3 nuggets in the bottom right corner of the photo below? Those are 100% oil-free. They look a bit drier but are just as delicious! Simply omit the oil from the dry breading mixture.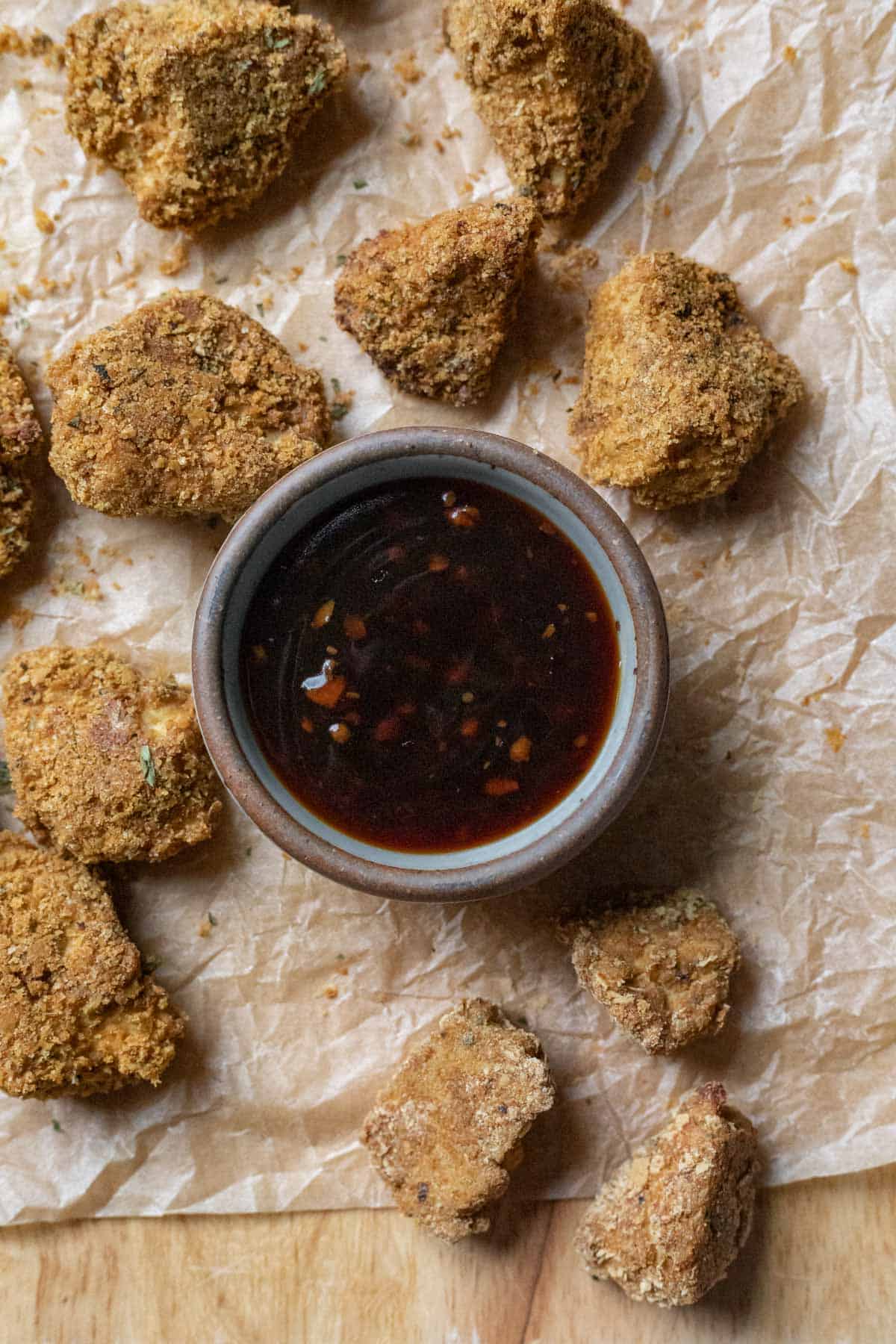 The oil-free nuggets still taste great! The coating just looks a bit more dry.
Recipe FAQs
Are tofu nuggets gluten-free?
Most vegan nuggets are not gluten-free, but this particular recipe is free from gluten. Be sure to use a certified GF tamari, if needed. All of the other ingredients are naturally GF.
Are homemade vegan nuggets healthier than store-bought?
Absolutely. You can see and control exactly what goes into your homemade tofu nuggets. There are no preservatives or refined flour or sugar, and you can even reduce the sodium and choose whether to add fat or not.
How do you reheat tofu nuggets?
During storage, the breading on the nuggets is exposed to moisture, which makes it soft. The best way to re-crisp the exterior is to reheat the nuggets in the oven or air fryer.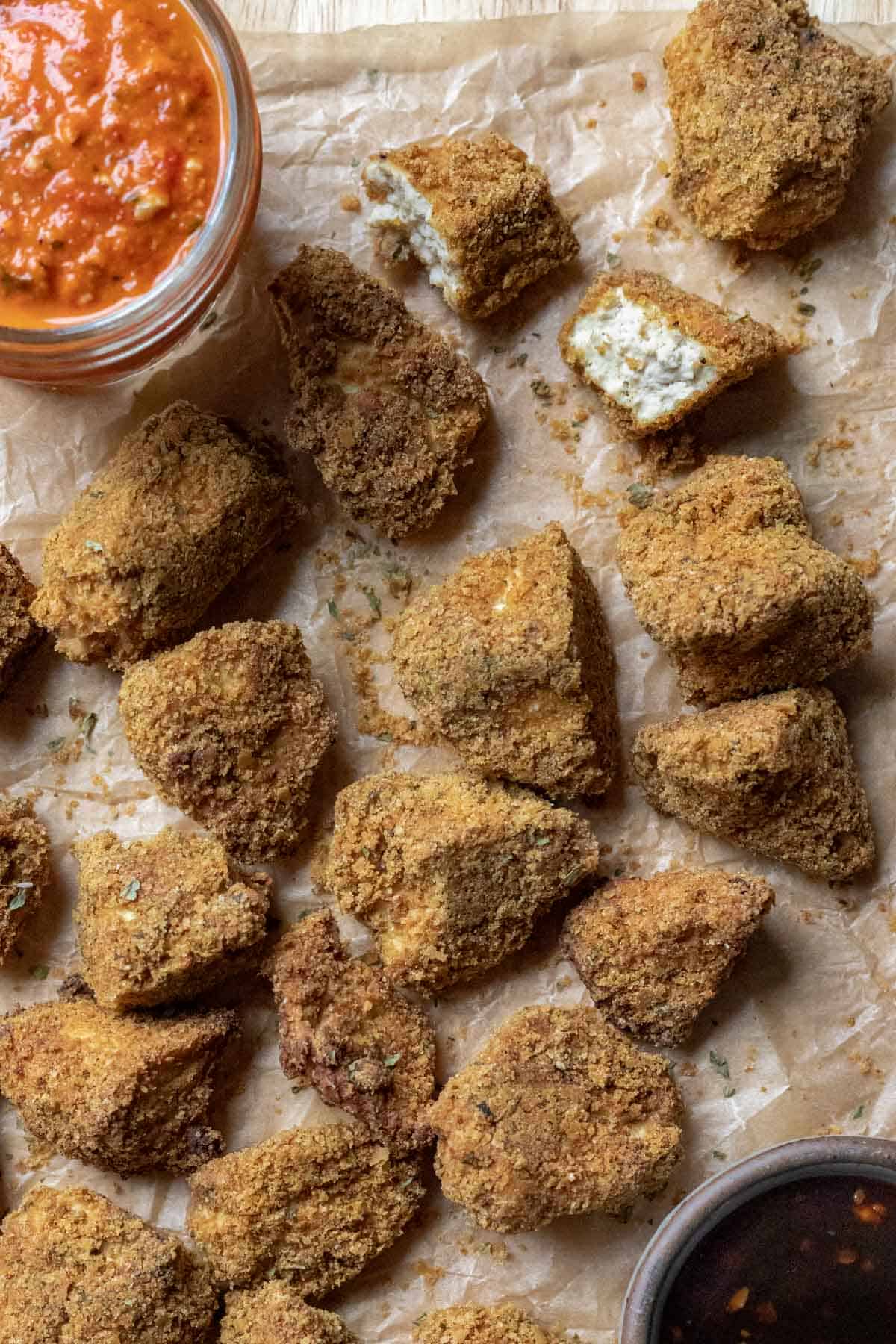 Air Fryer Tip
If you plan to cook tofu nuggets in the air fryer, keep in mind that air fryers can vary quite a bit. It's always a good idea to keep a close eye on the food the first time you try a recipe.
Check the nuggets at the halfway point and during the final 2 to 3 minutes of cooking. You may find you need to slightly increase the temperature and/or adjust the time for your next batch.
I hope you love how easy, healthy, and tasty these tofu nuggets are. If you try the recipe let us know in the comments below!
You Might Like
📖 Recipe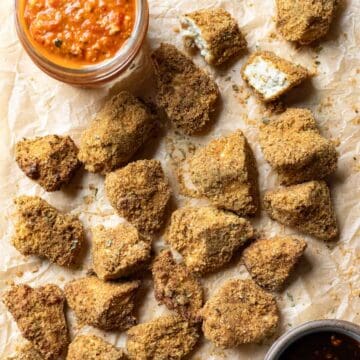 Easy Tofu Nuggets (Air Fryer or Oven)
These tofu nuggets are tasty, filling, and so simple to make! With a quick batter and gluten-free breading, tofu nuggets can be air fried or baked in the oven. Vegan and free from gluten and nuts. Oil-free option.
Yield: about 25 nuggets
Ingredients
The tofu:
16

ounces

super firm tofu, patted dry

-

or extra-firm tofu, pressed; see Note 1
For the wet mixture/batter:
⅓

cup

plain, unsweetened soy milk

-

or your favorite unflavored non-dairy milk

1

tablespoon

gluten-free tamari

-

or soy sauce if you don't need GF

1

tablespoon

mustard

1

teaspoon

onion powder

½

teaspoon

garlic powder

½

teaspoon

maple syrup

-

or agave

⅛

teaspoon

black pepper

⅛

teaspoon

liquid smoke, optional
For the breading:
½

cup

nutritional yeast -

if omitting oil use less, ⅓ cup; I prefer Sari brand non-fortified

3

tablespoons

brown rice flour, optional -

if omitting oil reduce to 2 Tbsp; see Note 2 for panko option

1

teaspoon

poultry seasoning -

this is a blend of sage, thyme, etc.

1

teaspoon

smoked paprika

¾

teaspoon

fine sea salt or mineral salt

-

if omitting oil reduce to scant ½ tsp

½

teaspoon

dried parsley, optional

⅛

teaspoon

black pepper, optional

2 ½

tablespoons

avocado oil (omit for oil-free)

-

or another neutral cooking oil
Instructions
If using super firm tofu, there's no need to press it first. Remove from the vacuum-sealed package and pat dry.

Preheat the oven to 375 degrees F and locate a baking sheet. Line the baking sheet with parchment paper or a silicone baking mat. If air frying, preheat the air fryer to 355 degrees F.

Whisk together the wet ingredients in a large bowl or rectangular dish. Use your hands to break off nugget-size pieces of tofu, and place in the batter. You should get about 25 nuggets. It's fine if they are irregular in shape and size. Use a large spoon to carefully toss the tofu so that it is fully coated. Set aside.

In a smaller bowl combine the dry breading ingredients first, then mix in the oil, if using. For oil-free, simply omit the oil and note the reduced ingredient amounts (they still turn out great!).

One piece at a time, pick up the tofu and place in the breading. Toss to coat, gently shake off excess, and place on the baking sheet. If air frying, set the breaded pieces on a plate. Once the air fryer is preheated, add all nuggets at the same time.

Bake for 30 to 32 minutes, flipping at the halfway mark. Or air fry for 10 to 12 minutes, checking them at the halfway point (no need to flip). The nuggets are done when golden and crisp. Serve immediately with your favorite dipping sauces.
Notes
Note 1: Super firm tofu works well because you don't need to press it first (saves time). It's also very sturdy and easy to break into nuggets. If using extra firm, press it for about 20 minutes before placing in the batter. See these easy instructions for pressing tofu (by Karissa's Vegan Kitchen).
Note 2: if you don't have brown rice flour, replace with panko or additional nutritional yeast. Crispness - nutritional yeast doesn't create a breading that's quite as crisp as breadcrumbs or flour that has been fried. But I wanted to offer an easy, wheat-free option to all of the flour-breaded nuggets out there. If you prefer a crispier breading, use 1 cup gluten-free panko breadcrumbs + ¼ cup nutritional yeast instead of the rice flour and nutritional yeast in this recipe.
Storing and Reheating - during storage the nuggets will absorb moisture and won't be crispy. They're best reheated in the oven or air fryer. Tofu nuggets will keep in the fridge for up to 5 days.
Estimated Nutrition (per serving)
Calories:
250
kcal
Carbohydrates:
13
g
Protein:
20
g
Fat:
13
g
Cholesterol:
0
mg
Fiber:
2
g
Nutrition information is an estimate and will vary depending on the exact amounts and specific products and ingredients used. We calculate this information using the online calculator cronometer.com.
Tried the recipe?
I love hearing from you! Share your feedback below.