Looking for the best vegan mac and cheese? You're in luck! This is truly the best, cheesiest, creamiest, most convincing dairy-free mac and cheese we've ever tasted. But don't take my word for it - check out the reviews below!
This vegan mac and cheese is simple to prepare and calls for classic ingredients like cashews, plus a few key secret ingredients that take the savory, deeply flavorful vibes to the next level! It's a recipe you'll return to again and again for special occasions (or anytime you're craving vegan comfort food). Easily made gluten-free and/or cashew-free.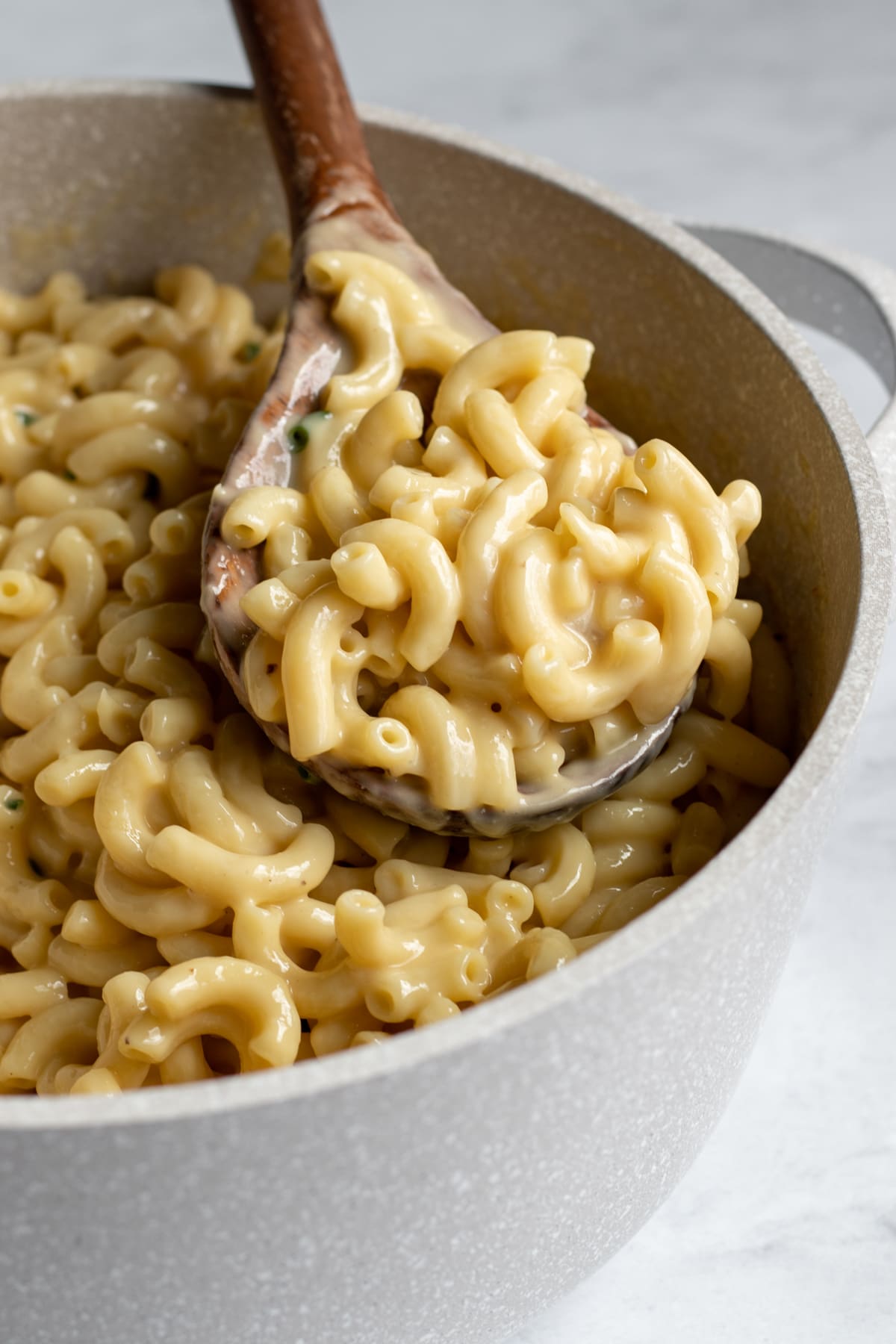 Recipe Feedback:
"I just made this, and it is the absolute best vegan mac and cheese I have ever tasted. It also passed the picky little boy test with flying colors!"
Jump to:
What Makes This Recipe Different
I've been vegan since 2011, and have tried my share of vegan mac and cheese recipes.
Unfortunately, none of them ever really blew me away. I know that sounds harsh, but the only way I know how to write this post is with total honesty!
And it's not like I'm sharing a national secret. Hang out long enough in any plant-based recipe group online and you quickly realize vegan mac and cheese is one of the most complained about dishes out there.
So let's get the awkward part out of the way. 😬 In my experience, vegan mac and cheese recipes tend to have at least one of these 3 problems:
too sweet - because of the addition of vegetables for texture and/or color.
too dry - because cashews and liquid don't necessarily create a sauce that stays creamy.
and they rarely actually tastes like cheese.
Okay, now that we've identified our problems we can focus on the solutions!
First, I should point out this is a vegan mac and cheese recipe meant to taste as much like its traditional counterpart as possible. I wasn't aiming for "healthy" with this one.
I love healthy recipes as much as the next person. But this mac and cheese? It's meant to be the best.
After taking a bite it should cause your eyes to go wide while you mumble through a mouthful of food, "Mmmmmmmm omg!"
In fact, the whole reason this recipe came about was because I planned to enter a local vegan mac and cheese competition.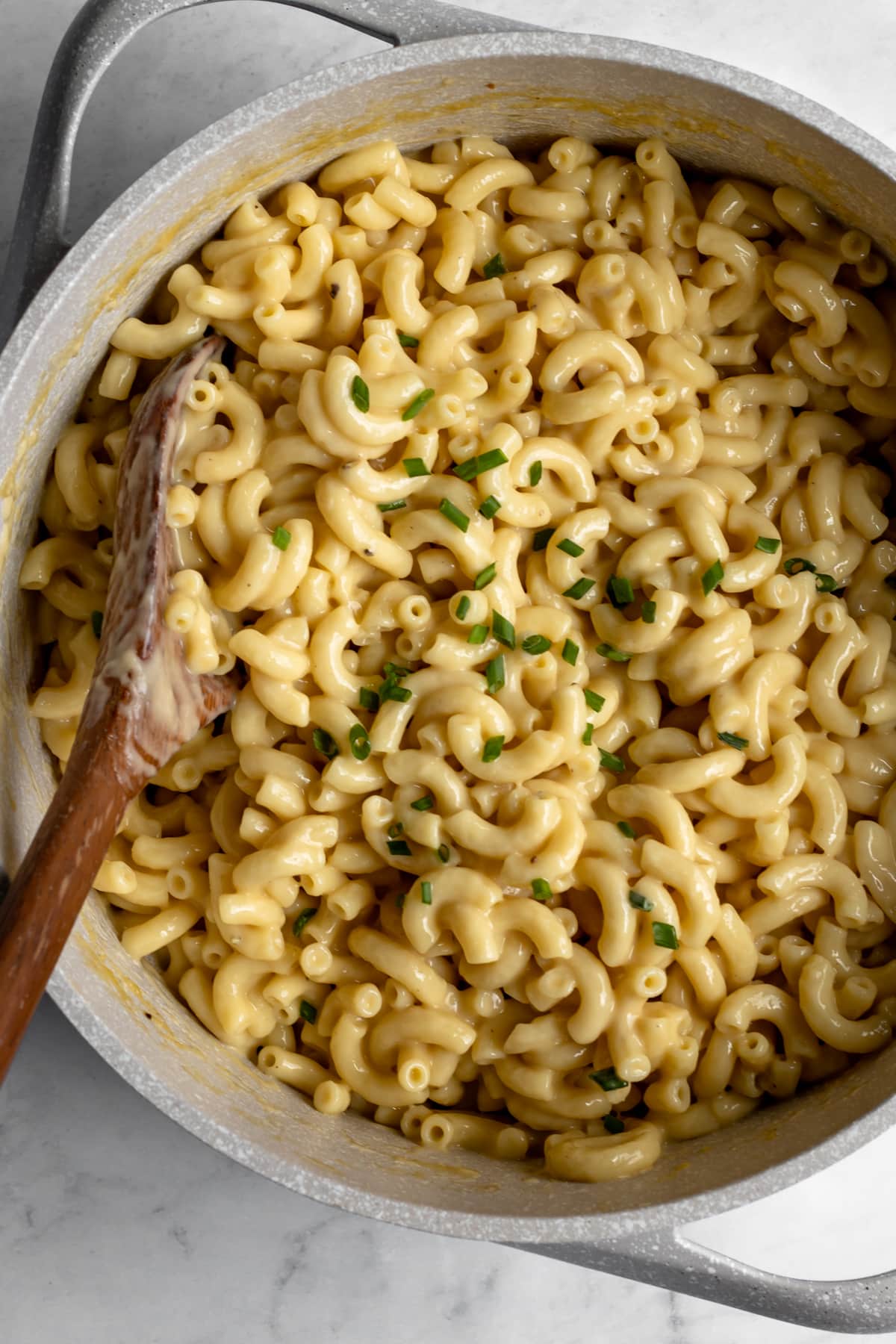 Vegan Mac and Cheese That Wows
Our local Vegan Society used to hold a mac and cheese cookoff each year. In 2019 I decided to enter, but the problem was I didn't actually have a favorite vegan mac and cheese yet.
Around that time I happened to see an instagram post by Timothy Pakron (Mississippi Vegan) about his White Truffle Mac and Cheese.
As soon as I read Timmy's recipe I knew he'd cracked the code! For me, the main takeaway was this: it's 2019, and we now have delicious, store-bought vegan cheese options, which means it's time to rethink the way we've been making plant-based macaroni and cheese.
When a home cook wants to make traditional, dairy macaroni and cheese what do they do? They go to the store and buy cheese, right? They don't try to make their own cow's milk cheese from scratch (although, if they had to we would probably have a lot more vegans).
So let's rid ourselves of the pressures to make vegan mac and cheese sauce from ingredients like potatoes, carrots, and butternut squash - unless of course we're trying to make a healthy mac and cheese.
But for the cheesiest, richest, most convincing vegan mac and cheese, it's helpful to revisit the recipes we're interpreting and start again.
Field Roast, Violife, and Follow Your Heart are experts, so who am I to try to create something that tastes cheesier than what they've accomplished? Seriously, this feels so obvious to me now. [cue sound of angels singing]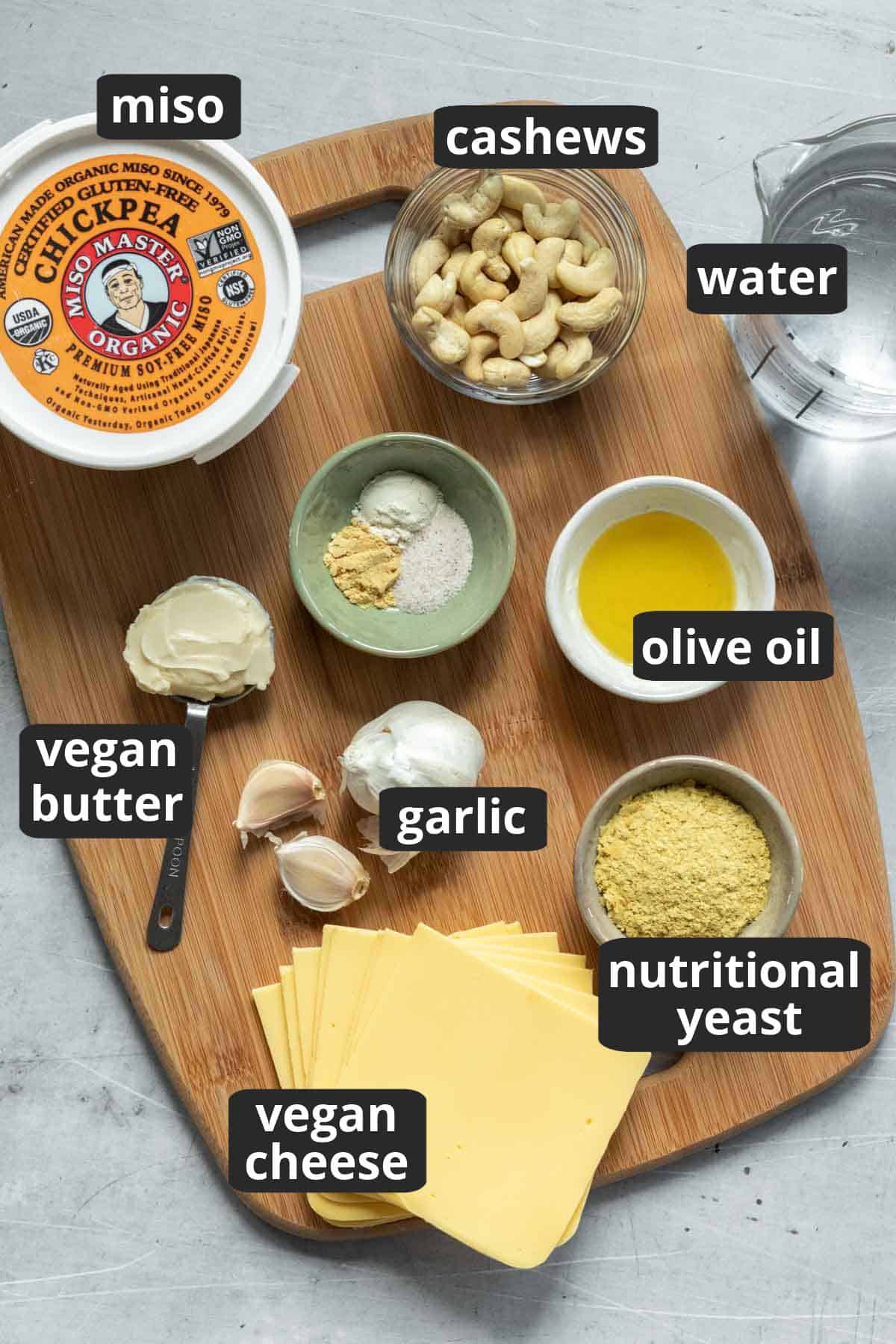 Ingredients
This is a summary to give you an idea of the ingredients you'll need for the recipe. See the recipe card below for full instructions.
garlic - depending on their size, I usually use 7 or 8 cloves. If they're very large, go with 5 or 6. I know it sounds like a lot of garlic but trust me, it's part of the magic! If you don't love garlic feel free to reduce.
vegan butter - you'll need 2 tablespoons for sautéing the garlic.
olive oil - this is also to saute the garlic, which softens and deepens the flavor.
raw cashews - if you have a cashew allergy, substitute raw sunflower seeds, or omit and add another ½ package of cheese.
vegan cheese - see my specific brand recommendations below.
chickpea miso - or mellow white miso. Adds umami, saltiness, and a slightly fermented flavor.
nutritional yeast - we're using a small amount here because most of the cheese flavor comes from other ingredients. Feel free to omit.
apple cider vinegar - contributes acidity and tang.
mustard powder - adds just a little something special in the savory department.
onion powder
salt
white pepper, optional
nutmeg - freshly grated if possible. Just a few passes over a microplane adds a warmth reminiscent of dairy cheese sauce.
pasta of choice
Sometimes I also like to add one bunch of sautéed kale. Include it if you're in the mood for a green veggie. Or try broccoli florets or spinach.
Best Vegan Cheese for Mac and Cheese
I experimented with a few different vegan cheeses and found my favorite combination for this recipe.
I like to use 1 package of Violife Smoked Provolone slices and 1 package of Field Roast Chao Original.
If you don't have access to either of these, Follow Your Heart's slices are also great. Try their Provolone or Smoked Gouda for this recipe.
I decided to use one package of smoked cheese because it adds a little something extra in the savory/umami department without actually coming across as smoky.
If you're sensitive to smoke flavor or just don't care for it, feel free to double up on the Chao Original OR use Violife's Mature Cheddar (this one is seriously yummy, and I've used it in this recipe several times).
For the most real deal mac and cheese vibes avoid flavored cheeses like Chao's Tomato Cayenne or Garden Herb.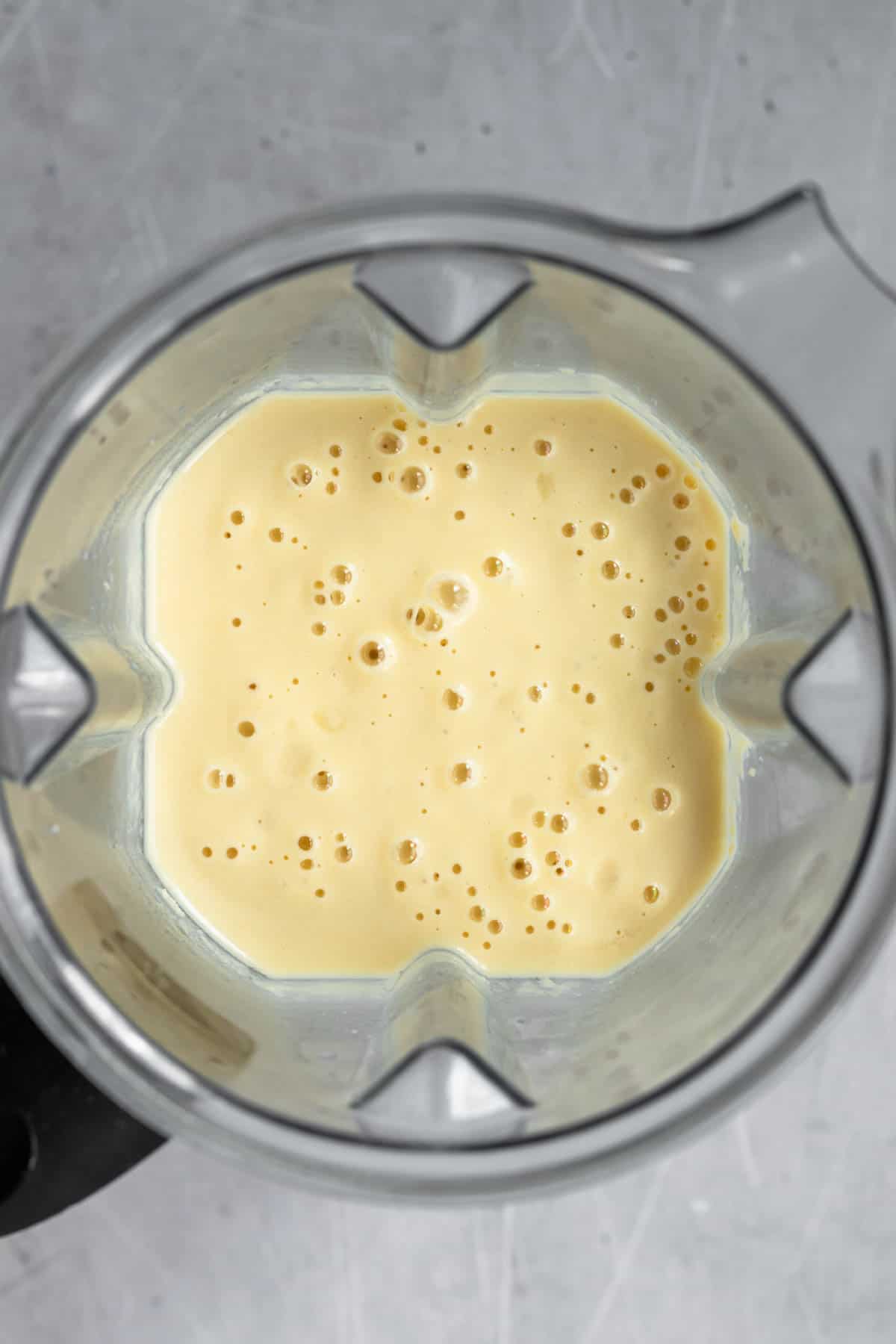 Instructions
Check out the video below to see the recipe come to life. The basic process looks like this:
Saute garlic slow and low in vegan butter and olive oil.
Cook the pasta in salted water according to package directions.
Transfer the garlic to a blender. Add the remaining cheese sauce ingredients and blend until completely smooth. Not sure if the cashews are fully blended? Blend it again!
While the pasta is draining, pour the blended sauce into the pot. Cook until bubbling and slightly thickened. Add the pasta and stir well.
Let stand for about 10 minutes. The sauce will thicken as it rests, and the pasta will also absorb tons of flavor.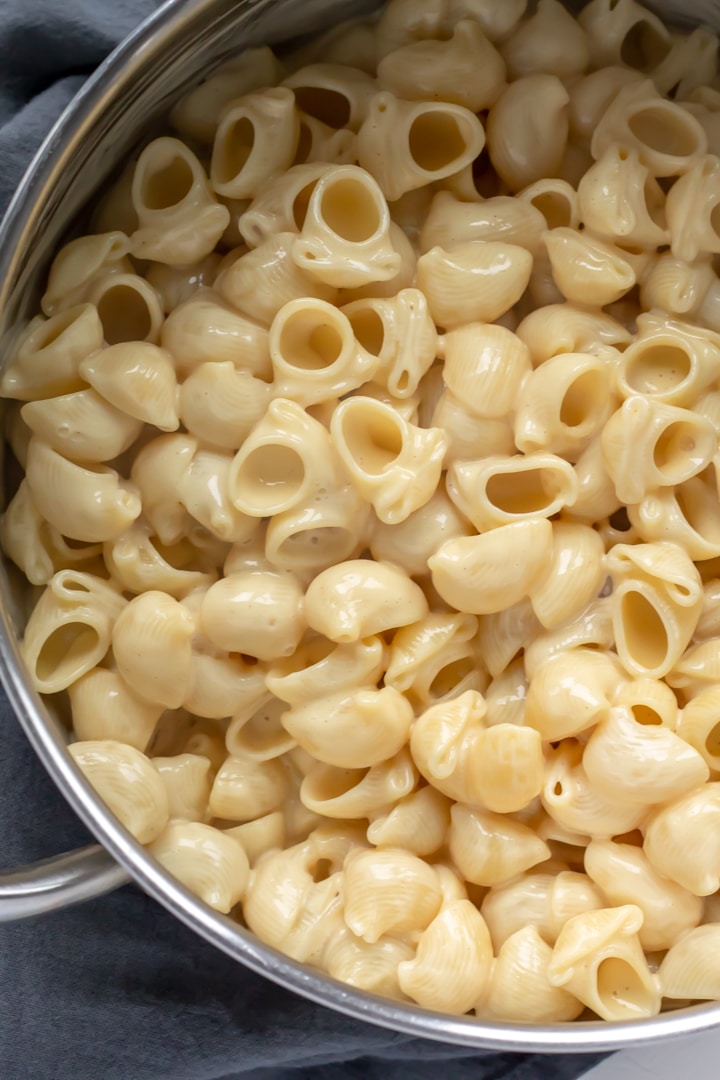 Oh! Back to the results of the mac and cheese cookoff. I won! And based on the words of the announcer, "by a long shot."
I'm only telling you this because I want you to know exactly how well this mac and cheese was received.
Strangers were coming up to me during the event, telling me with utmost seriousness that they needed the recipe.
I was blown away! I mean, I felt pretty confident about the recipe but honestly didn't know what to expect from the competition. And there were some seriously amazing ones there!
Variation: Baked Vegan Mac and Cheese
We usually enjoy the macaroni straight from the stovetop, but you can also use it to make baked vegan mac and cheese. For the breadcrumb topping you'll need:
1 ½ cups panko breadcrumbs
2 to 3 tablespoons olive oil or melted vegan butter
few dashes of Italian seasoning or paprika
Optional: 1 cup shredded vegan cheese
Baking Instructions
Preheat oven to 350 degrees F. After combining the pasta and cheese sauce in the pot, transfer to a 13 x 9 baking dish.
Mix together the panko and oil (or butter). Add a pinch of salt, a few dashes of Italian seasoning or paprika, and shredded vegan cheese, if using. Sprinkle over the mac and cheese.
If you included shredded cheese, cover the dish with foil. Otherwise, bake uncovered for 15 to 18 minutes. If covered, remove the foil. Broil for a few minutes or until the breadcrumbs are golden.
Top Tip
Always salt the pasta water. This is critical for building flavor and enhancing what is usually the most bland part of any pasta dish, the pasta itself!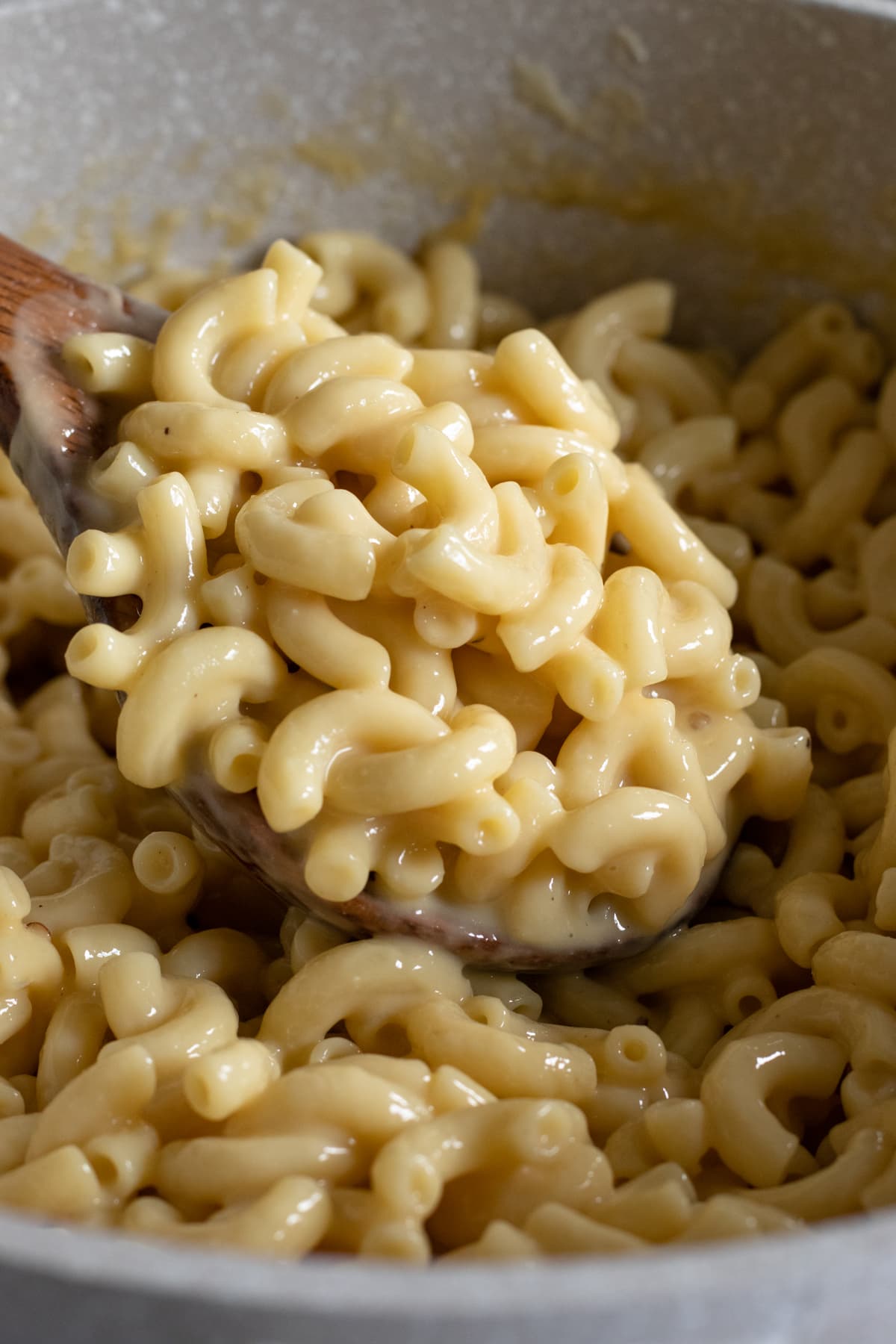 I hope you have a store near you that carries Violife, Field Roast and/or Follow Your Heart cheeses. Of course, more brands are coming out all the time!
So if you try a different cheese be sure to comment below and let us know.
Cheers to the creamiest, cheesiest, best vegan mac and cheese. I hope you love it as much as we do!
You might like:
And check out this list of 40 of the BEST Vegan Mac and Cheese Recipes!
Recipe Video
Tap to play the video and see how it's made.
📖 Recipe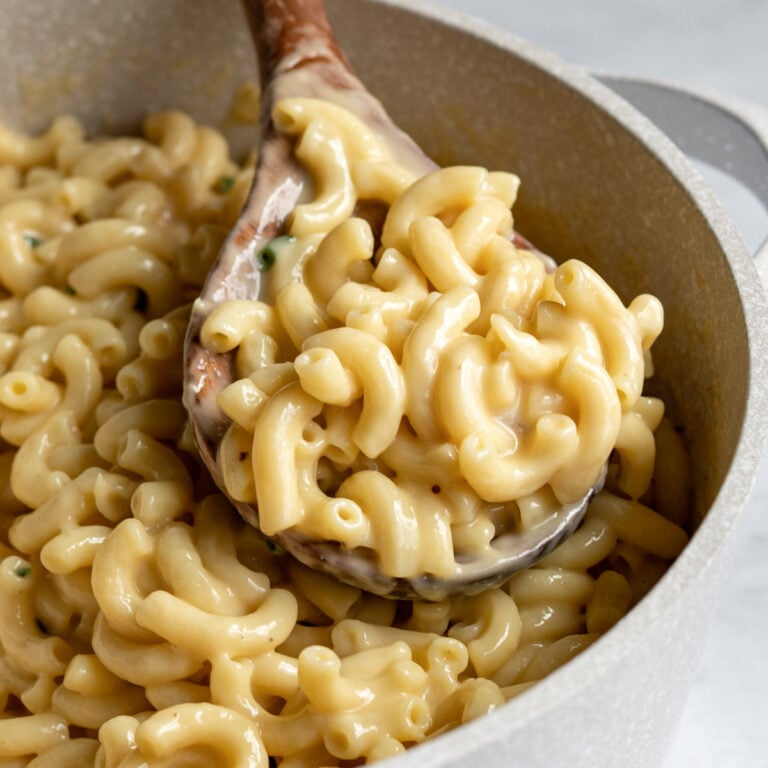 The Best Vegan Mac & Cheese Recipe!
This award-winning vegan mac and cheese is seriously the best. It's impossibly creamy and deeply savory and cheesy! Made with the usual suspects like cashews, nutritional yeast, and miso, plus store-bought vegan cheese to really take the flavor and richness to the next level! Make it gluten-free with your choice of pasta and nut-free with one simple swap.
Ingredients
OPTIONAL breadcrumb topping for baked mac and cheese:
1 ½

cups

panko breadcrumbs

-

regular or GF

2 to 3

tablespoons

olive oil or melted vegan butter

pinch of

sea salt

few dashes of

Italian seasoning OR paprika

1

cup

shredded vegan cheese

-

such as Violife mozz
Instructions
Preheat a large saute pan over medium/low heat (if not including kale, you can use a small pan). Add the butter, olive oil, and garlic and sauté slowly, for about 5 minutes. Lower the heat if necessary so the garlic doesn't brown.

In a high speed blender combine the garlic mixture, cashews, cubed cheeses, water, miso, nutritional yeast, vinegar, mustard powder, onion powder, salt, and nutmeg. Blend until completely smooth. Then blend for another 20 seconds for good measure!

Heat a large pot of water for the pasta. Generously salt the water, and cook pasta according to package directions.

If including kale in your mac and cheese, saute it in the same pan used to cook the garlic. Stirring occasionally, cook the kale over medium heat for about 5 minutes or until softened and dark green. Remove from heat.

While the pasta drains in a colander, pour the cheese sauce into the pasta pot. Bring to a simmer. Stirring occasionally, cook until hot and slightly thickened, about 5 minutes.

Add the pasta and kale to the cheese sauce, and stir to coat. Remove from heat, and let stand 10 minutes (for baked version, skip the 10 minute rest). Stir again, serve and enjoy!
For Baked Vegan Mac & Cheese:
Preheat oven to 350 degrees F and oil a 13 x 9 baking dish. After combining the pasta and cheese sauce in the pot, transfer to the prepared dish.

Combine the panko and oil (or butter). Add a pinch of salt, a few dashes of Italian seasoning or paprika, and shredded vegan cheese, if using. Mix well. Sprinkle over the mac and cheese.

If you included shredded cheese, cover the dish with foil (this helps it melt). Otherwise, bake uncovered. Bake for 15 to 18 minutes. Remove foil. Switch the oven to broil, and arrange oven rack so the top of the dish is about 8 inches away from the broiler. Broil for 3 to 5 minutes or until the breadcrumbs are golden.
Notes
Note 1 - if not using a Vitamin or other high-speed blender, soak cashews in boiling water for 1 hour, then drain.
If allergic to cashews, sub ⅓ cup raw sunflower seeds (or an extra ½ package of cheese). Note 2 - I like to use one package Chao Original and one Violife smoked provolone.
Since the recipe was posted in 2019, the vegan cheese market has expanded, with more store brands and other options available. Unfortunately, I can't vouch for the end result of the mac and cheese with any other cheeses than the ones listed.
If you don't have access to these brands, choose mildly flavored vegan cheeses similar to the ones listed. And let us know in the comments how it turns out! Note 3 - Miso Masters brand is certified gluten-free, but others may not be. Check labels. Store leftover vegan mac & cheese in an airtight container in the refrigerator for up to 5 days. Reheat on the stovetop or in the microwave.
Estimated Nutrition (per serving)
Calories:
450
kcal
Carbohydrates:
55
g
Protein:
10
g
Fat:
20
g
Saturated Fat:
11
g
Cholesterol:
0
mg
Sodium:
710
mg
Fiber:
3
g
Sugar:
2
g
Vitamin A:
0
IU
Vitamin C:
1.7
mg
Calcium:
20
mg
Iron:
1.4
mg
Nutrition information is an estimate and will vary depending on the exact amounts and specific products and ingredients used. We calculate this information using the online calculator cronometer.com.
Did you try the recipe?
I love hearing from you! Comment below with your feedback.