Friends, I don't use the word "best" lightly, but this recipe for The Best Vegan Stovetop Mac and Cheese truly is my favorite and is the best I've ever tasted. It's simple to prepare and calls for classic vegan cheese ingredients like cashews and nutritional yeast PLUS a secret ingredient….store-bought vegan cheese slices! The result is the creamiest and cheesiest, and yes, I'll say it again, BEST vegan mac and cheese you've ever had. It's also gluten-free if you use gluten-free pasta and nut-free with one simple substitution!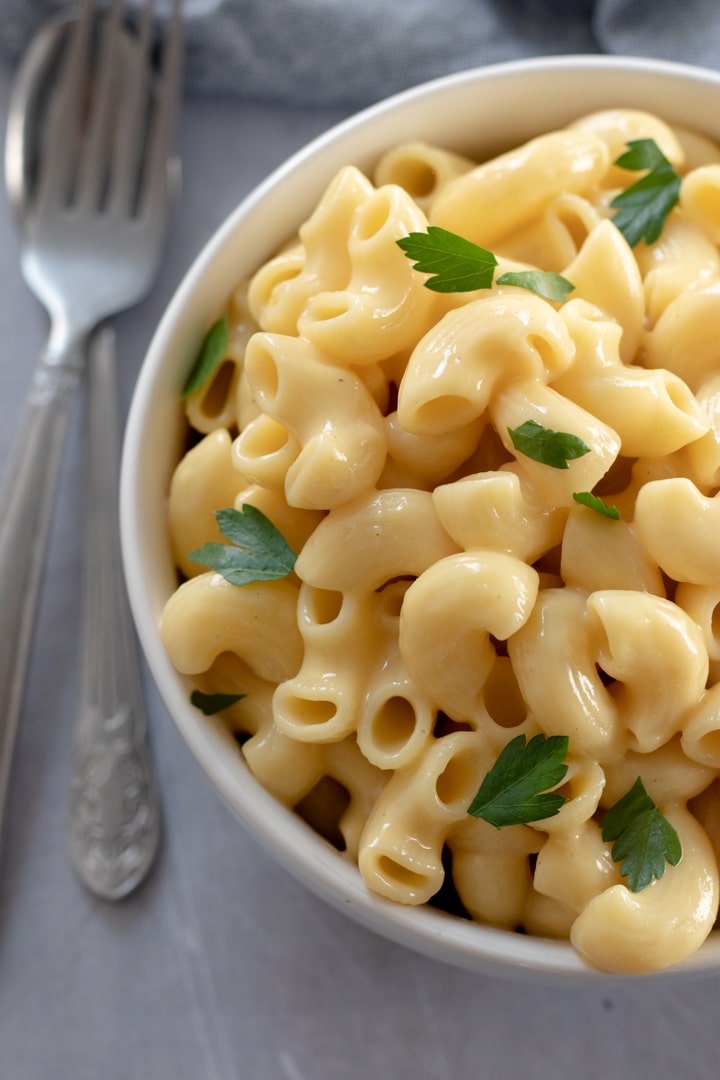 So what makes this the best vegan mac and cheese?
In all my vegan years I've made more than a few mac and cheese recipes, and to be honest, none of them ever got me excited enough for a repeat visit. I know that sounds harsh, but the only way I know how to write this post is with total honesty. So let's get this out of the way! Vegan mac and cheese traditionally has three major problems:
too sweet (because of the addition of vegetables for texture and/or color)
too dry (because cashews and liquid don't necessarily create a sauce that stays creamy)
doesn't taste like cheese
There. Okay, now that we've identified our problems we can focus on the solutions!
One caveat: this is a mac and cheese recipe meant to taste as much like its traditional counterpart as possible. I wasn't aiming for "healthy" with this one. You KNOW I appreciate nutritious recipes. But this mac and cheese? It's meant to be the best. After taking a bite it should cause you to involuntarily mumble through a mouthful of food, "Mmmmmmmmomg sooooo goooood." This is a mac and cheese meant for sharing with friends and family on special occasions like holidays and summer cookouts. This is also a mac and cheese recipe meant to win competitions (which it recently did).
How This Vegan Mac and Cheese Recipe Came About
The Asheville Vegan Society holds an annual mac and cheese cookoff every year in March. This was the first year I decided to throw my hat into the ring….. except that when I signed up I didn't yet have my own favorite mac and cheese recipe. Around that time I happened to see an instagram post by Timothy Pakron (Mississippi Vegan) about his White Truffle Mac and Cheese. As soon as I read the recipe I knew he'd cracked the code. For me, the main takeaway was this: it's 2019, and we now have delicious, store-bought vegan cheese options, which means it's time to rethink our strategy. When a home cook wants to make traditional, dairy-based macaroni and cheese what do they do? They go to the store and buy cheese, right? They don't try to make their own cheese from scratch (although, if they had to we would probably have a lot more vegans). 😉 So let's rid ourselves of the pressures to make cheese sauce from ingredients like potatoes and carrots (unless of course we're trying to make a healthy mac and cheese). But for the cheesiest, best, most traditional vegan mac and cheese, it's helpful to revisit the recipes we're interpreting and start again.
Field Roast, Violife, and Follow Your Heart are experts, so who am I to try to make something that tastes cheesier than what they've accomplished? It feels so obvious to me now! [cue sound of angels singing] I actually plan to continue my mac and cheese adventures as soon as this is posted. Primarily I want to test other cheeses, including Miyoko's and Daiya, because they're possibly more widely available for some people.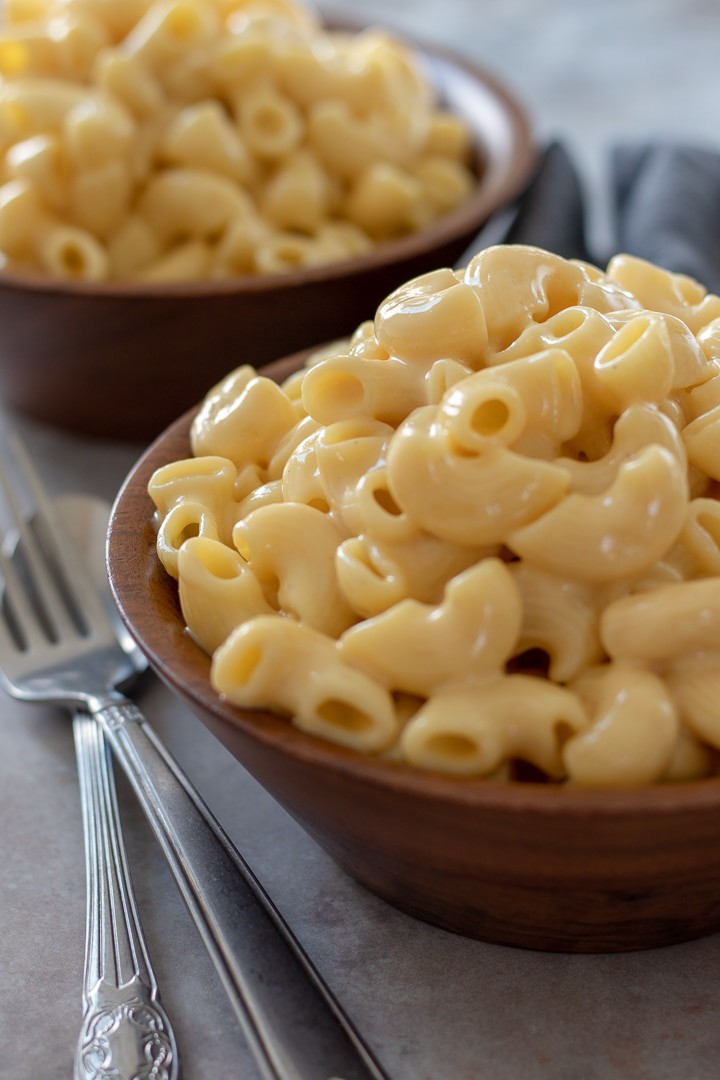 My Favorite Vegan Cheese Brands for this Mac and Cheese Recipe
Anyway, after being inspired by Timothy to add store-bought cheese slices to my sauce, I experimented with a few combinations and found my favorite. I really love using one package of Violife Smoked Provolone and one package of Field Roast Chao Original. I was already a big fan of both of these. In fact, when I'm in the mood for a splurge, Violife's slices are a go-to (plus, where I shop they cost less than Chao). But if you can't find one or both of these, Follow Your Heart's slices are also great; try their Provolone or Smoked Gouda for this recipe.
I decided to use one package of smoked cheese because it adds a little something extra in the savory/umami department without actually coming across as smoky. But if you're sensitive to or don't care for smokiness you can double up on the Chao Original OR use Violife's Mature Cheddar (this one is seriously yummy, and I've used it in this recipe several times). For a traditional mac and cheese vibe just make sure you steer clear of any flavored varieties like Chao's Tomato Cayenne or Garden Herb.
Oh! I got sidetracked and didn't finish telling you about the cookoff. Well, I won. And apparently, based on the words of the announcer, "by a long shot." It's actually sort of uncomfortable typing that out because it sounds like bragging, but seriously, I just want you to know exactly how well this mac and cheese was received. Strangers were coming up to me during the event (even though entries were supposed to be anonymous, some people saw entrants arriving and knew which dishes belonged to which person), telling me with utmost seriousness that they needed the recipe. People told me everyone was talking about the "Grownup Stovetop Mac and Greens" and that they thought it would win.
I was blown away! I mean, I felt pretty confident about the recipe going in but honestly didn't know what to expect. Of course, I told the people who asked for the recipe about the blog and that I would be sharing it here soon (I emailed it to one person, too). After the winners were announced strangers continued to approach me and tell me how amazing the mac and cheese was. It was a good day. Now I have eleven months to figure out how to win again next year. 😉
Ingredients in The Best Vegan Stovetop Mac and Cheese
8 cloves of garlic (yep, eight; I suppose you can reduce it if you don't love garlic)
2 Tablespoons Earth Balance vegan butter
1 Tablespoon olive oil
1/2 cup cashews (If you have a nut allergy, sub your seed of choice or leave them out altogether and add another 1/2 package of cheese; I haven't experimented with this but have a feeling it will work out just fine.)
2 cups water
2 packages vegan cheese slices (as discussed above)
1 1/2 Tablespoons chickpea miso (or mellow-white, but chickpea tastes the cheesiest)
2 Tablespoons nutritional yeast
2 teaspoons apple cider vinegar
1/2 teaspoon mustard powder
1/2 teaspoon onion powder
1/2 teaspoon salt
1/8 teaspoon white pepper, optional
freshly grated nutmeg, just 4 or 5 passes over a microplane
I also like to add one bunch of sautéed lacinato (dino) kale. The only reason it's not pictured here is because the kale available at the store the day I shopped for this post looked terribly sad. So I decided to carry on without it and give you the option for a pure, straight-up mac and cheese with instructions on how and when to add the kale if you choose.
How to Make Vegan Stovetop Mac and Cheese
This is only a summary; see recipe instructions for complete details.
The whole process only takes about 30 to 40 minutes!
In a large pan sauté the garlic in butter and olive oil over low to medium-low heat for about 5 minutes. Don't let it brown!
In a high speed blender combine the garlic mixture plus the remaining sauce ingredients. Blend until completely smooth.

(NOTE: I haven't tested this in a regular blender; if you don't have a high speed blender, I recommend soaking the cashews overnight; you could also substitute raw cashew butter)

Cook the pasta in salted water
If including kale, sauté it for several minutes in the same pan used to sauté the garlic. Sprinkle with salt.
While the pasta is draining in a colander, pour the cheese sauce into the large pasta pot. Stirring frequently, cook over medium heat 3 to 5 minutes or until hot.
Add the pasta and kale to the sauce and stir to coat. Let sit for 10 minutes and serve!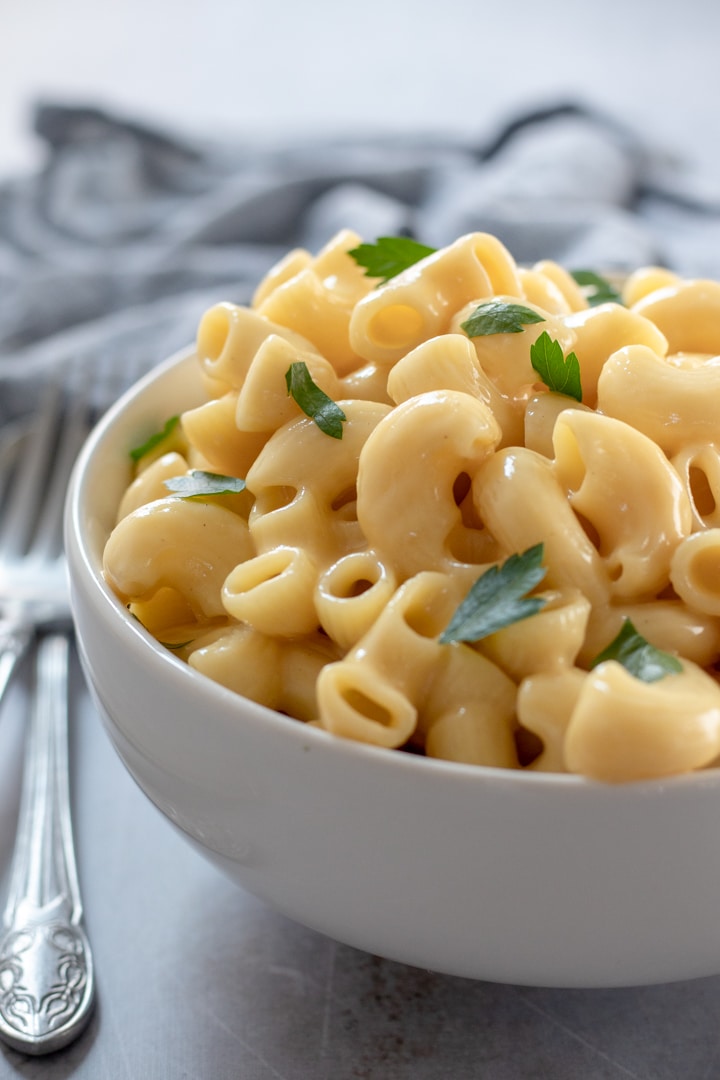 I hope you have a store near you that carries Violife, Field Roast and/or Follow Your Heart cheeses, but if you don't, stay tuned! I'm determined to test other brands and let you know about substitutions. And if YOU try other cheeses, please let us know in the comments below. I would love to hear how it works out for you.
Cheers to the creamiest, cheesiest, and best vegan mac and cheese. I hope you love it!
You might also like this cheesy yet healthy Vegan Cauliflower Gratin.
And how about some homemade cashew mozzarella? Vegan Stuffed Crust Pizza with Homemade Mozz and Vegan Pesto Stuffed Crust Pizza.
The Best Vegan Stovetop Mac and Cheese
Meet your new favorite vegan mac and cheese recipe. Made with the usual suspects (cashews, nutritional yeast, garlic, etc) PLUS store-bought vegan cheese slices! Gluten-free if you use GF pasta; nut-free option.
Inspired by Mississippi Vegan's White Truffle Mac and Cheese.
Ingredients
8

cloves

garlic, minced

2

Tbsp

Earth Balance vegan butter

1

Tbsp

olive oil

1/2

cup

raw cashews

(if you have a nut allergy, sub your favorite seed or use an add'l half package of cheese)

2

cups

water

2

packages

of any of the following vegan cheese slices, cut into cubes: Violife Smoked Provolone or Mature Cheddar, Chao Creamy Original, Follow Your Heart Provolone or Smoked Gouda

(all of these are gluten-free)

1 1/2

Tbsp

chickpea miso

2

Tbsp

nutritional yeast

2

tsp

apple cider vinegar

1/2

tsp

mustard powder

1/2

tsp

onion powder

1/2

tsp

salt

freshly grated nutmeg, just 4 or 5 passes over a microplane zester

1

pound

dry pasta of choice

1

bunch

lacinato kale, chopped, optional
Instructions
Preheat a large saute pan over medium/low heat (if not including kale, you can use a small pan). Add the butter, olive oil, and garlic to the pan and sauté for about 5 minutes. Lower the heat if necessary so that it doesn't brown.

In a high speed blender combine the garlic mixture, cashews, water, cubed cheeses, miso, nutritional yeast, vinegar, mustard powder, onion powder, salt, and nutmeg. Blend until completely smooth.

Heat a large pot of water for the pasta. Salt it generously, and cook pasta according to package directions.

If including kale, cook it in the same pan used to sauté the garlic. Stirring occasionally, cook the kale over medium heat for 5 to 7 minutes or until softened and dark green.

While the pasta drains in a colander, pour the cheese sauce into the pasta pot. Stir frequently and cook over medium heat until hot, about 5 minutes.

Add the pasta and kale to the cheese sauce, and stir to coat. Remove from heat, and let sit 10 minutes. Stir again, serve and enjoy!
Notes
I haven't tested this recipe in a regular blender but think it should work. In that case I recommend soaking the cashews overnight. If using a high speed blender, no need to soak.
Store leftovers in an airtight container in the refrigerator for up to 4 days.
Nutrition
Calories:
450
kcal
|
Carbohydrates:
55
g
|
Protein:
10
g
|
Fat:
20
g
|
Saturated Fat:
11
g
|
Cholesterol:
0
mg
|
Sodium:
710
mg
|
Fiber:
3
g
|
Sugar:
2
g
|
Vitamin A:
0
IU
|
Vitamin C:
1.7
mg
|
Calcium:
20
mg
|
Iron:
1.4
mg
Did you try the recipe?
Let me know with a star rating and a comment. I love hearing from you!