This easy vegan cheese sauce is a go-to. It's tangy, lusciously creamy, and requires no cooking! Pair this cashew sauce with everything from veggie bowls and potatoes, to nachos, burritos, and pasta. No oil, gluten, coconut, or soy.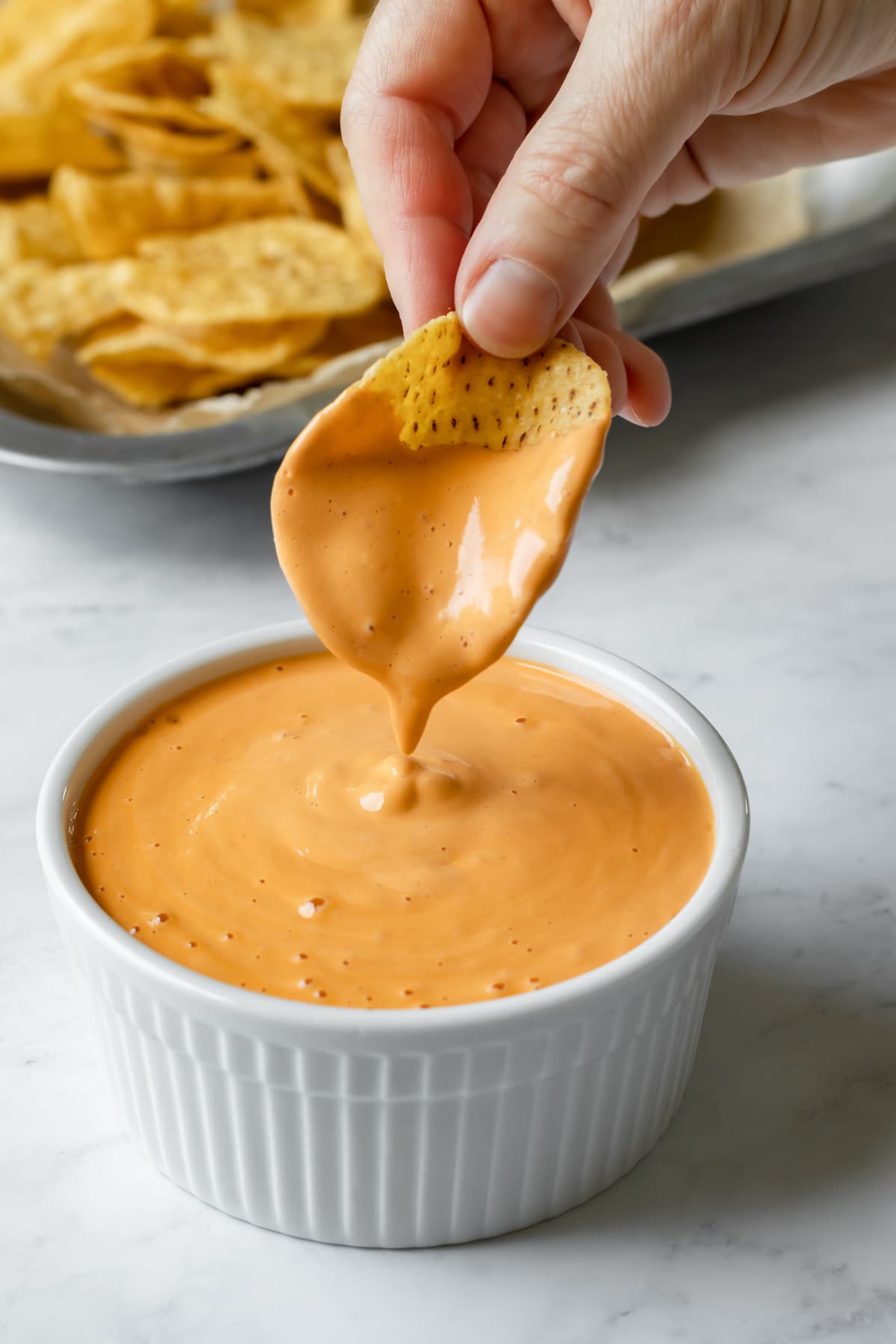 I have a favorite low-calorie vegan queso recipe that I whip up when I'm in the mood for maximum cheesy vibes with a lighter feel. But recently I decided the blog really needs a more all-purpose kind of vegan cheese sauce, one that gets its flavor from other cheesy ingredients and omits the Mexican-inspired spices of the queso recipe.
This cashew cheese sauce is also oil-free, but to make it no-cook, we're ditching the tapioca starch found in the queso and increasing the cashews for added richness and creaminess. AND we have a secret ingredient! A small amount of rolled oats lends even more creaminess to this no-cook sauce.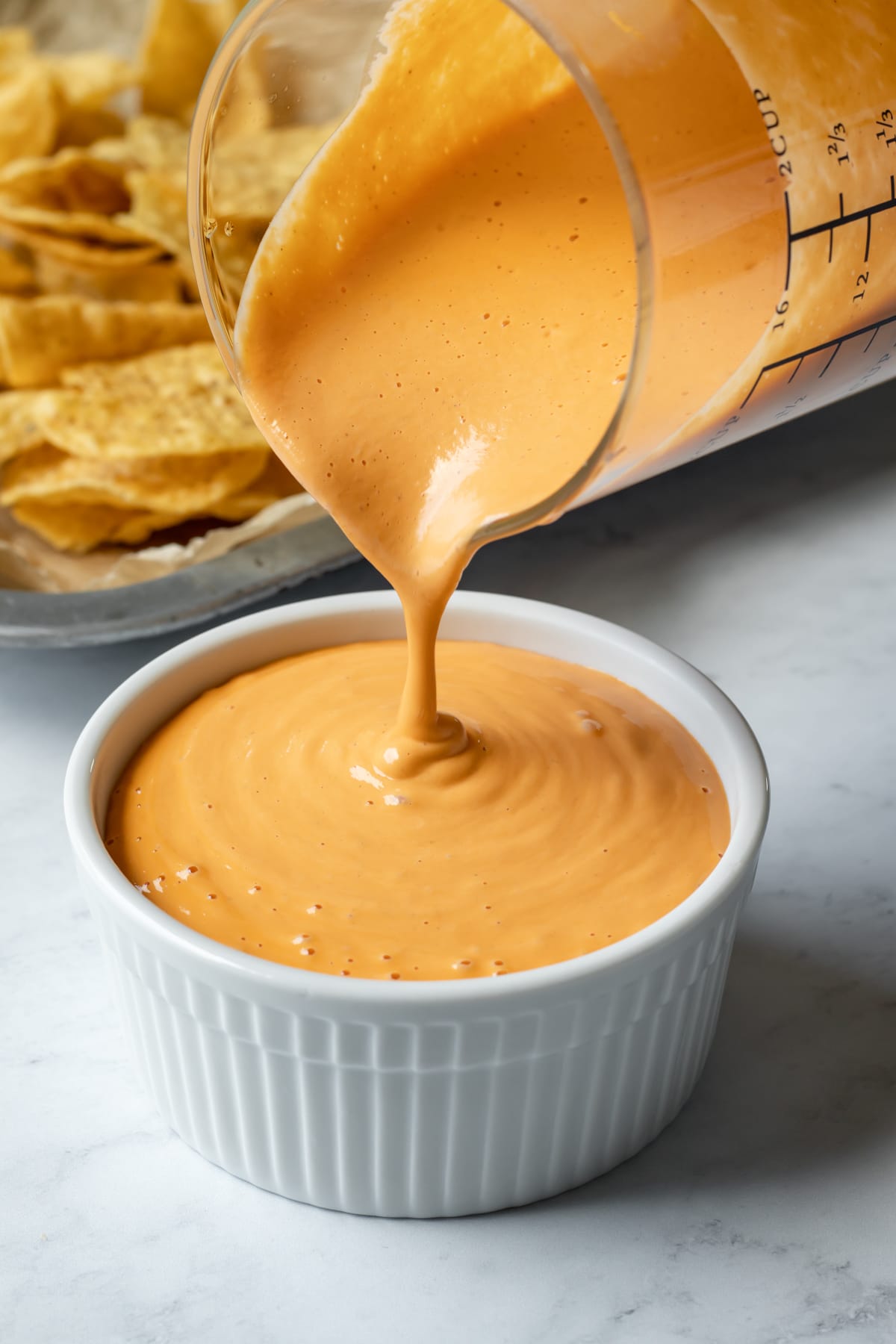 Can it be nut-free?
If you're looking for a nut-free cheese sauce, this one probably isn't your best starting point.
I often make my Oil-Free Vegan Queso with soaked, raw sunflower seeds instead of cashews, and it works really well! The extra flavor from chipotle, cumin, salsa, etc, covers up the mild sunflower seed taste. And since that recipe is written to use a smaller amount of cashews, it's easier to swap. But as I always say, feel free to play and experiment!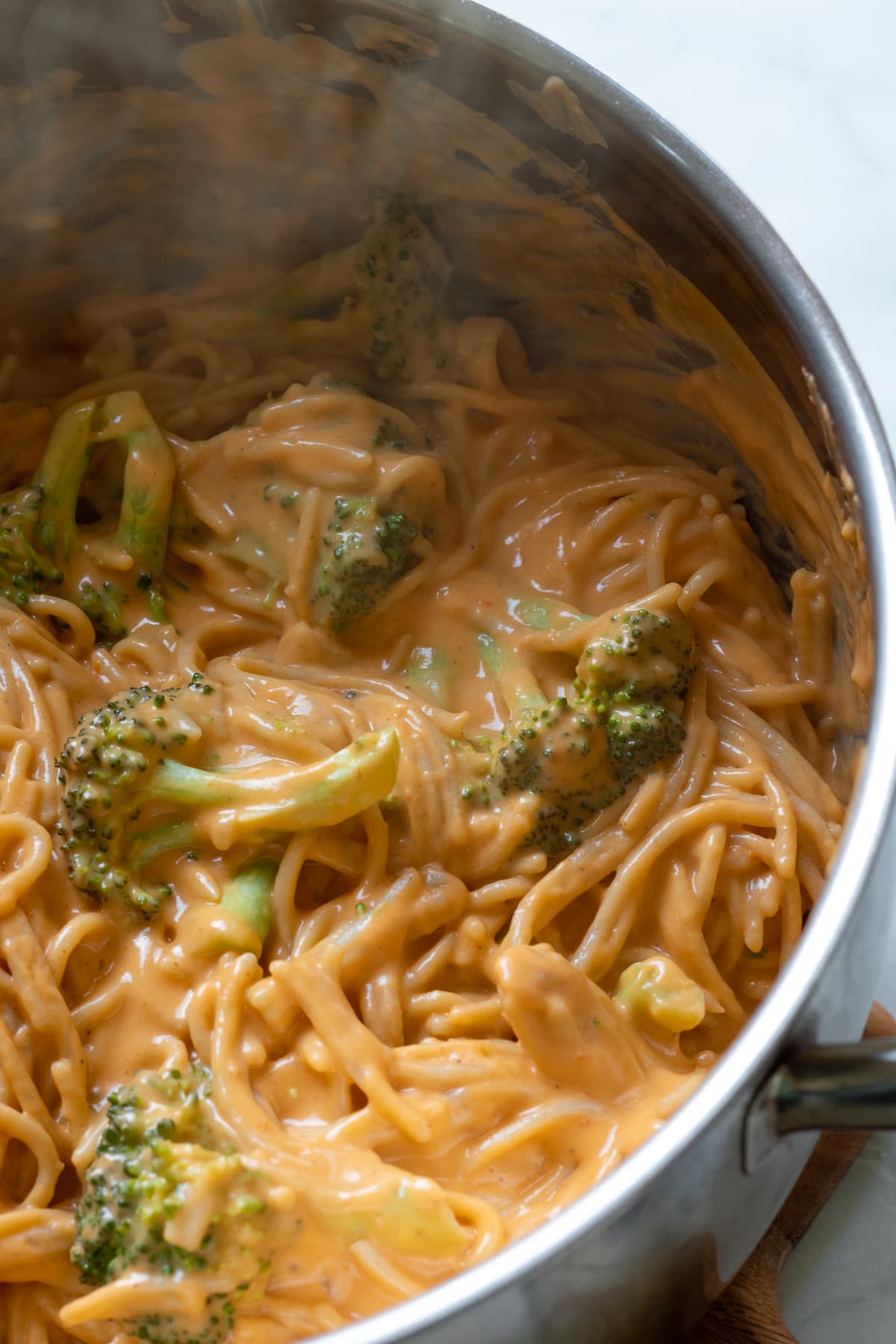 Options and Versatility
The more you make vegan cheese sauces like this one the more comfortable you'll become with knowing exactly how to tweak the recipe to suit your palate and/or for the intended recipe. For example:
By slightly adjusting the amount of cashews you can make the sauce milder and thicker or tangier and thinner.
Adjust the amount of roasted red pepper and hot sauce (if using) for a nacho cheese flavor.
Play with the amount of salt and miso to get the saltiness juuuuuuust right for your palate.
Tweak the lemon juice and rice vinegar for the desired level of tanginess.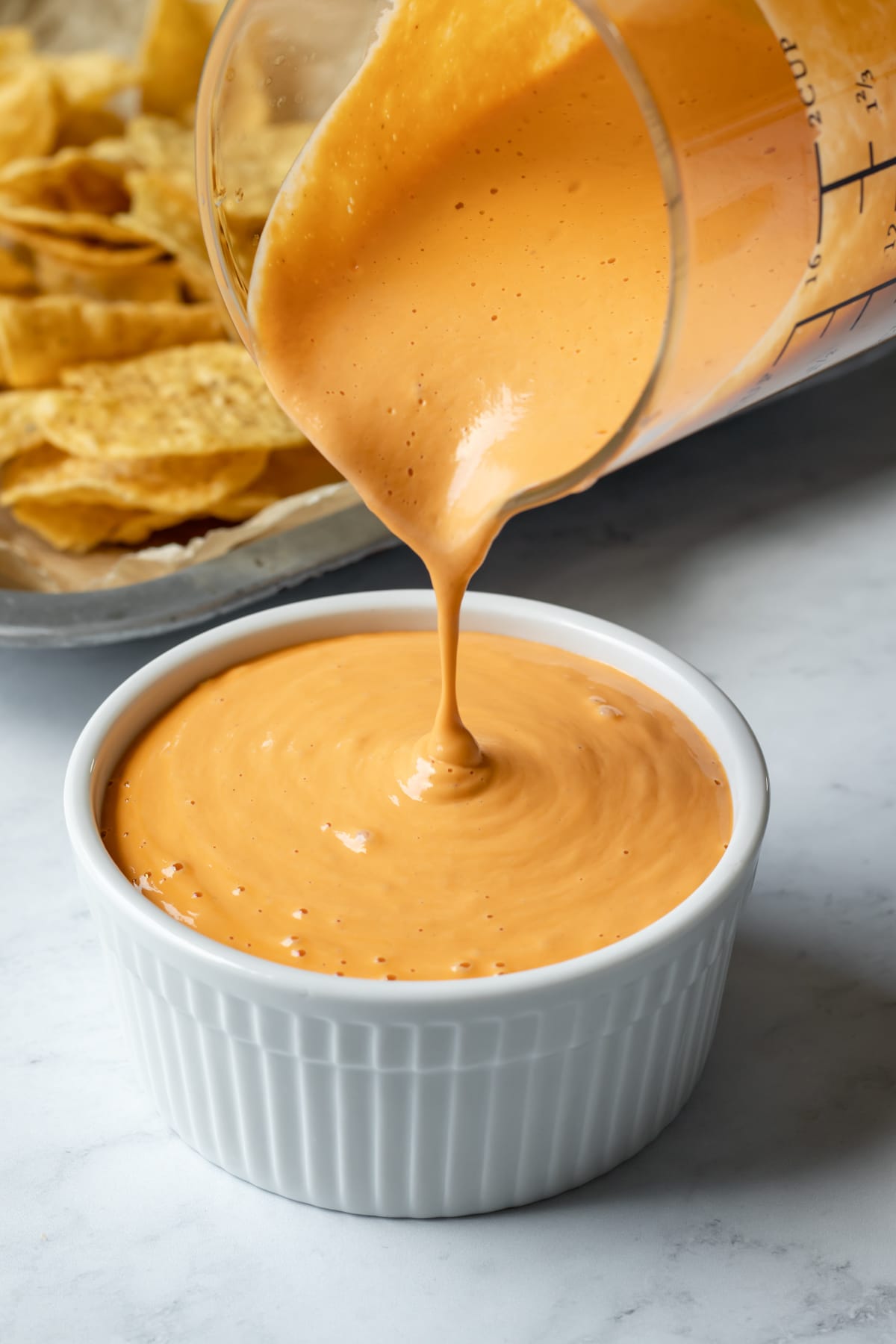 Ways to Use Cashew Cheese Sauce
Potatoes
Pour this velvety sauce on baked potatoes, and dip fries and wedges in it. And don't forget cheesy mashed potatoes!
Pasta
Cheesy orzo? Vegan mac and cheese? Lasagna? Enough said.
Tofu
Fold this sauce into your next tofu scramble for an epic vegan brunch, or simply drizzle it onto baked tofu steaks.
Vegetables
From steamed broccoli and cauliflower to sautés and roasted veggies, this cheese sauce never met a vegetable it didn't like!
And of course, nachos!
I hope you enjoy its flavor and versatility as much as we do. If you try the recipe I would love to hear from you! Leave a comment and star rating below to let us know how you enjoyed this easy cashew cheese!
More vegan cheese recipes:
Almond Queso Blanco
Vegan Parm 3 Ways
Vegan Pimento Cheese (a reader favorite!)
Vegan Quesadillas (easy meltable cheese)
2-Ingredient Almond Ricotta
Easy Oil-Free Vegan Queso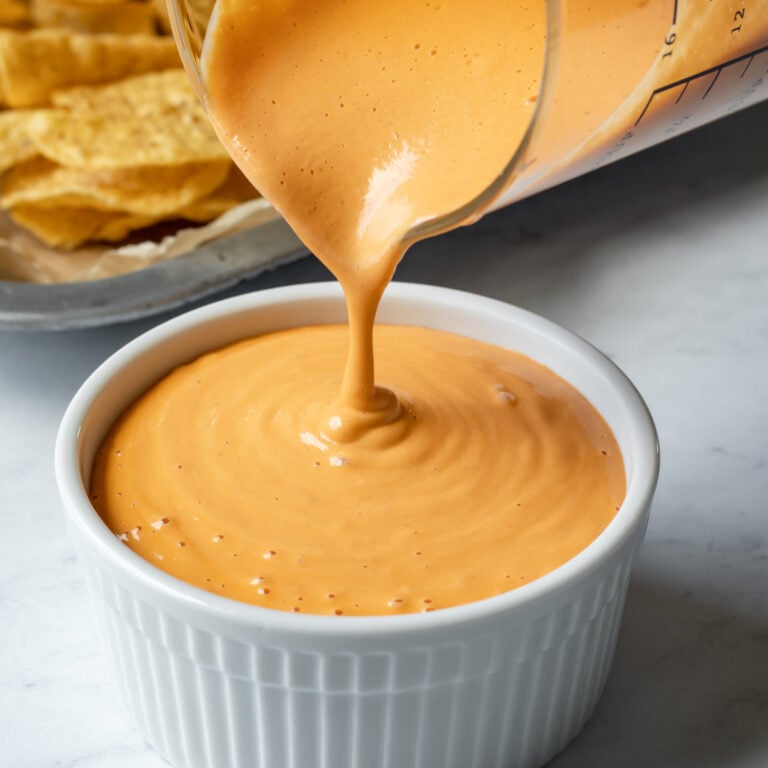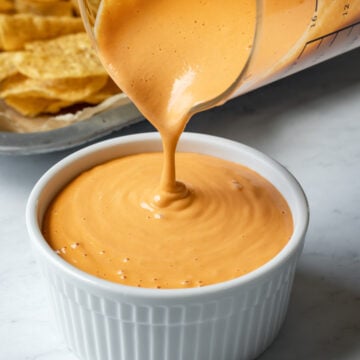 Vegan Cheese Sauce (Oil-Free; No-Cook)
An easy, oil-free vegan cheese sauce that tastes amazing on everything from steamed veggies and potatoes, to pasta and nachos. No-cook, ready in 5 minutes, and free from gluten, oil, and coconut; can be soy-free, as well.
Yield: makes about 2 cups
Ingredients
¾

cup

water

1

cup

raw cashews

Decrease to ¾ cup for a tangier, slightly less rich sauce. See Notes re: soaking.

¼

cup

rolled oats

Ensure certified gluten-free, if needed.

¼

cup

nutritional yeast

2

ounces

roasted red pepper from a jar (about 1 small pepper)

3

tablespoons

lemon juice (about 1 large lemon)

2

tablespoons

rice vinegar

1

teaspoon

garlic powder

½

teaspoon

onion powder

2

teaspoons

chickpea or white miso (I'm a fan of Miso Masters brand)

Chickpea miso is soy-free, if needed. If you don't have miso, increase salt to taste.

¾ to 1

teaspoon

fine sea salt

1 to 2

teaspoons

hot sauce, optional

This creates more of a nacho cheese flavor.
Instructions
Combine all ingredients in a high-speed blender, and blend on high for 1 to 2 minutes or until completely smooth.

*If using a standard blender: about 1 hour before you plan to make cheese sauce, place cashews in a bowl, cover with boiling water, soak for an hour, then drain and proceed.

After blending, taste and adjust salt/acid balance, as desired. Even the slightest tweaks in salt, lemon, rice vinegar, cashews, or water can "fix" the flavor if it's too tangy or salty for your preference.

The sauce will get warm during blending. It can be used right away, or refrigerated until ready to use. The cheese sauce will thicken as it cools.
Notes
Store leftover cheese sauce in the refrigerator for up to 5 days.
Soaking cashews:
A high-speed blender will produce the best texture in this sauce because it breaks down the nuts and oats with ease. But if you don't have one, just follow the standard method for soaking cashews, either overnight at room temperature or in hot water for 1 to 2 hours.
Estimated Nutrition (per serving)
Calories:
115
kcal
Carbohydrates:
9
g
Protein:
5
g
Fat:
7
g
Cholesterol:
0
mg
Sodium:
305
mg
Fiber:
2
g
Sugar:
1
g
Nutrition information is an estimate and will vary depending on the exact amounts and specific products and ingredients used. We calculate this information using the online calculator cronometer.com. For the most accurate nutrition information we recommend calculating it yourself to reflect the specific ingredients used in your dish.
Have you tried the recipe?
Comment below to let us know!