Miso is an umami-rich paste made from fermented soybeans. Salty and complex, this traditional Japanese seasoning dates back to the 7th century. Beyond Japanese cuisine, miso is an excellent way to add flavor to everything from dressings, sauces, and pestos, to mashed potatoes, soups, and stews.
Read on to learn about the most common varieties of miso, where to buy it, how to store it, and the many ways you can incorporate this fermented food into your everyday cooking.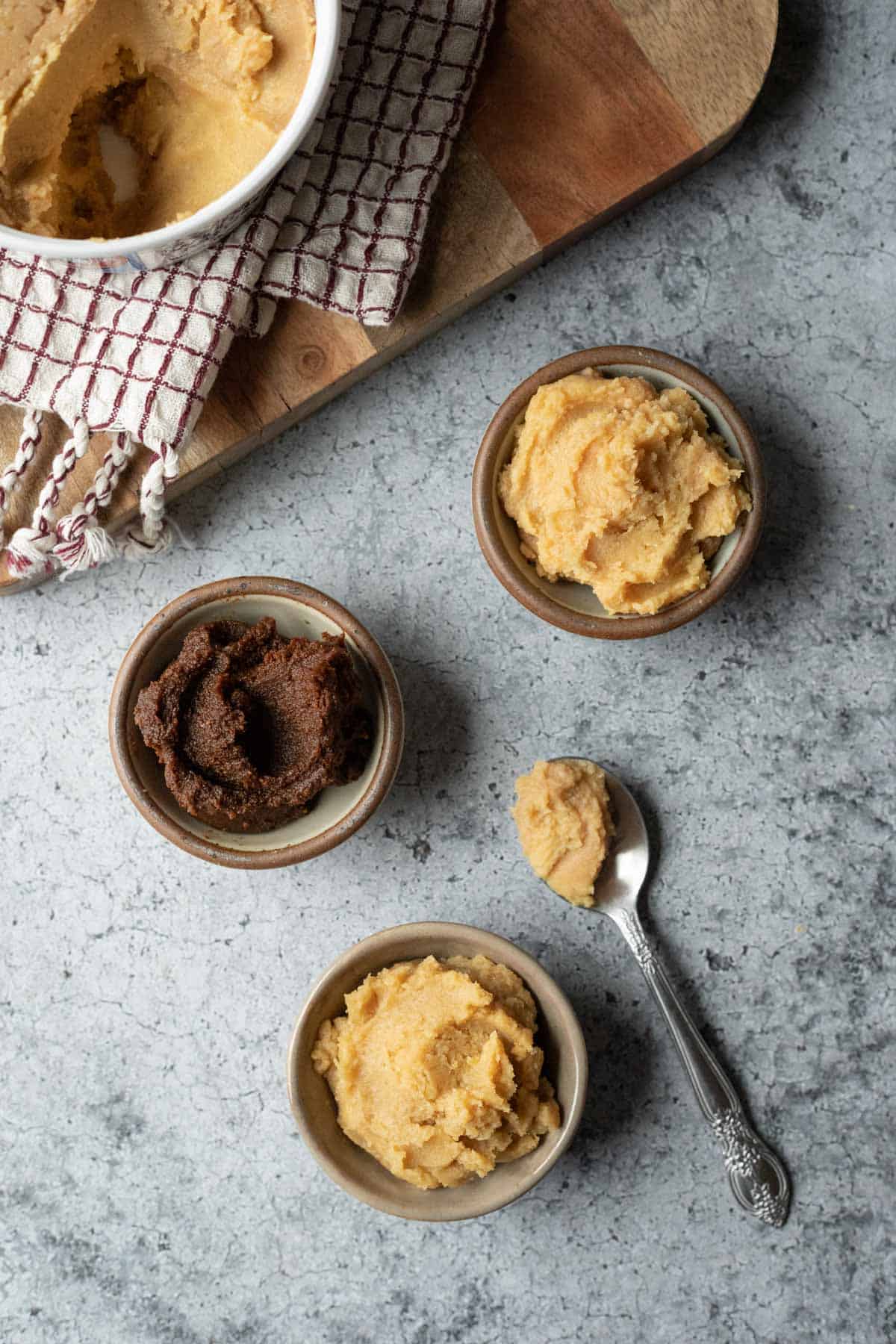 Jump to:
What is miso?
Miso is a thick, fermented paste traditionally made with just three ingredients - soybeans, salt, and koji (a rice or grain colonized by Aspergillus oryzae mold).
There are many different varieties of miso, and the nuanced flavors are a result of factors such as how long the miso is fermented and the exact type of koji used.
As a fermented food, miso is a probiotic and can help promote healthy bacteria in the digestive tract. To get the probiotic benefits, you'll want to avoid cooking miso at high heat.
If you don't mind losing the beneficial bacteria, it's also fine to cook with miso purely for its flavor, just as you might use yogurt in baking.
Why We Love Miso
As a vegan food blogger and recipe creator, miso is one of my favorite "secret" ingredients. When you remove meat and dairy from your kitchen, you begin to learn about other ways to add complexity, depth, and savory flavors to food.
Similar to other go-to vegan ingredients like mushrooms, soy sauce, and nutritional yeast, miso is a healthy and easy way to add umami and complexity to a variety of dishes.
On a more personal note, I'm also writing about miso because it holds a special place in my heart.
When I was a kid, around 7 or 8 years old, my mom began following a macrobiotic diet to address some health issues. So while my friends were eating frozen dinners and KFC, I was being introduced to miso soup, tofu, wakame, brown rice, lentils, gomasio, and umeboshi plum.
Although I complained at the time, I'm now grateful for Mom's brave journey into macrobiotic cooking (I say brave, because it was the 1980s...in Alabama, no less!). Without a doubt, the opportunity to try these foods at such a young age shaped my interests (and taste buds), leading me where I am today.
How is it made?
In very basic terms, miso is made by inoculating soybeans with koji. Since koji is essential to miso (think of it like sourdough starter to sourdough bread), you could say the process of making miso has two distinct steps - cultivating koji and fermenting soybeans.
After koji is added to the soybeans, enzymes and microorganisms slowly break down the beans over a period of weeks, months, or sometimes even years. This leads to miso's unique, deep, umami flavor.
Different Types of Miso
In Japan there are more than 1300 varieties of miso. For a deeper dive into the world of miso, check out this brochure by Japan's Miso Promotion Board.
Here in the U.S. we have a much smaller selection. The most common varieties you'll see in stores are:
Shiromiso (white) - pale yellow or golden color, with a short fermentation time and softer flavor. You may see it labeled as "mellow" or "sweet," though it is still salty and savory.
Akamiso (red) - dark, brownish-red color, red miso has a longer fermentation time and greater ratio of soybeans to koji, resulting in a bolder flavor.
Soy-Free Varieties
It's also possible to make miso-like products from ingredients like chickpeas, adzuki beans, and farro.
Technically, these aren't miso, since they aren't made with soybeans, but the fermentation process is the same.
Chickpea miso - one of our favorites. The flavor tends to be softer than white miso, with a slightly cheesy, fermented tang, making it perfect for a variety of different vegan cheeses and sauces. Try it in this dairy-free alfredo.
Common Brands in the U.S.
Miso Masters is one of the more widely distributed brands here in the U.S. Their chickpea miso is almost always in my fridge! In addition to white, red, and chickpea, they also make brown rice miso and barley miso.
Coincidentally, the Miso Masters production facility is near here, just outside of Asheville. Learn more about the company's history in this article.
South River Miso, based in Conway, MA, is another brand you may see in stores. Check out their website for great resources and to place an order.
South River's product line includes unique varieties of miso like:
3-year barley
dandelion-leek
azuki bean
and hearty brown rice miso
Where to Buy Miso
Health food stores, Asian groceries, and chains like Whole Foods are your best bet for finding miso nearby. Although some well-stocked grocery stores may also carry it. You'll usually find miso in the refrigerated section near the tofu.
You can also purchase miso online, including the Miso Masters and South River Miso websites (linked above).
How To Use Miso
Miso can be enjoyed straight from the container or incorporated into cooked recipes. It can even be used in desserts like cookies and brownies!
The possibilities are limited only by your imagination. Here are a few ideas:
miso soup - most traditional recipes contain bonito, dried fish flakes, but it's easy to make your own vegan miso soup at home with just a few ingredients. Try this miso soup recipe by Caitlin of From My Bowl.
pesto - skip the Parmesan, and add miso to your next batch of basil pesto, parsley pesto, or zhoug.
spreads - spread plain miso on toast, or combine it with Miyoko's cultured European-style butter for an amazing vegan compound butter!
salad dressings - miso is a healthy way to add saltiness and umami to homemade salad dressing. Use it instead of, or in addition to, salt in recipes like tahini dressing, Caesar, vegan ranch, and vinaigrettes.
marinades - combine miso with oil for a quick marinade. Add spices, herbs, citrus, or vinegar for endless flavor combinations.
finishing sauce - whisked into water or citrus juice, a quick miso sauce can elevate even the most basic bowl of grains and vegetables. Try our favorite 7-ingredient miso sauce and dressing.
vegan cheese - miso is an excellent way to add saltiness and an authentic tang and fermented flavor to homemade vegan cheeses. Check out the recipes below.
chickpea salad - mix miso into mayonnaise for vegan "chicken" salad, "tuna" salad, and curried chickpea salad.
soup, stew, and chili - white miso gives this creamy mushroom stew an extra layer of umami and saltiness. Miso can also replace soy sauce or salt in everything from chili to vegetable soup.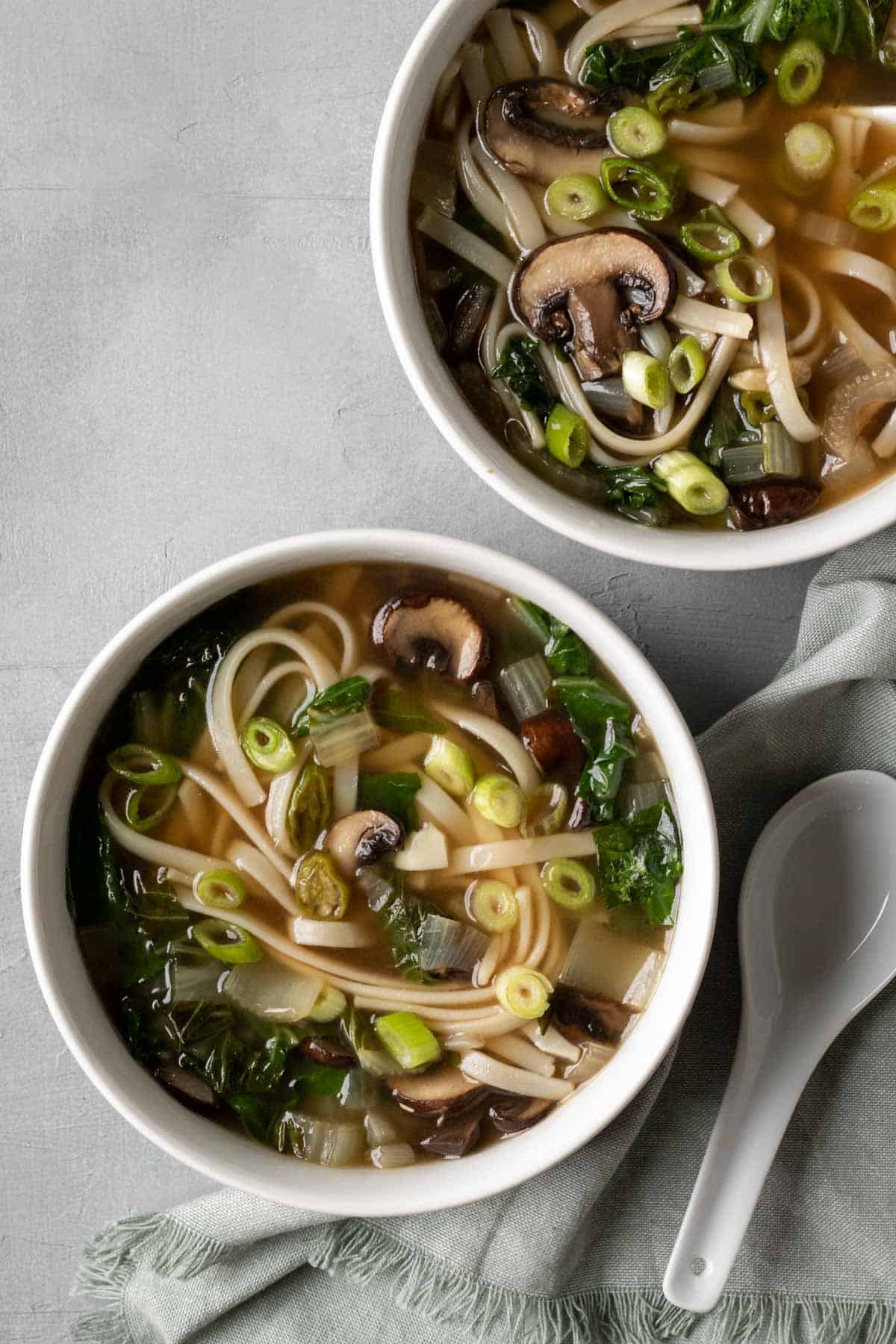 How to Store Miso
Since miso is an unpasteurized product containing live cultures, it's best to store it in the refrigerator.
Once opened, miso lasts for many months. Some sources say it's best to use miso within 6 months, while others say up to 1 year. And according to the FAQ page on the South River Miso website, they say miso will keep "almost indefinitely, even for years."
You may notice miso darkening slightly with age and oxidation. This is normal. As with any food, trust your nose and eyes to determine whether miso has spoiled.
FAQs
Recipes With Miso
Here are some of our favorite ways to incorporate miso into everyday meals.
I hope this post has answered some of your questions about miso and inspired you to add it to your list of must-have kitchen staples.
Already have a favorite type of miso? And favorite ways to use it? Let us know in the comments below!