Healthy vegan ricotta cheese made from almonds, have you tried it yet? If not, prepare yourself! One taste of this fluffy and light almond ricotta, and you'll want to use it in manicotti, layer it in lasagna, put dollops of it on pizza, and spread it on toast. You only need 2 ingredients (plus salt and water) to make this versatile almond ricotta cheese. Free from cashews, nutritional yeast, oil, soy, gluten, and refined sugar!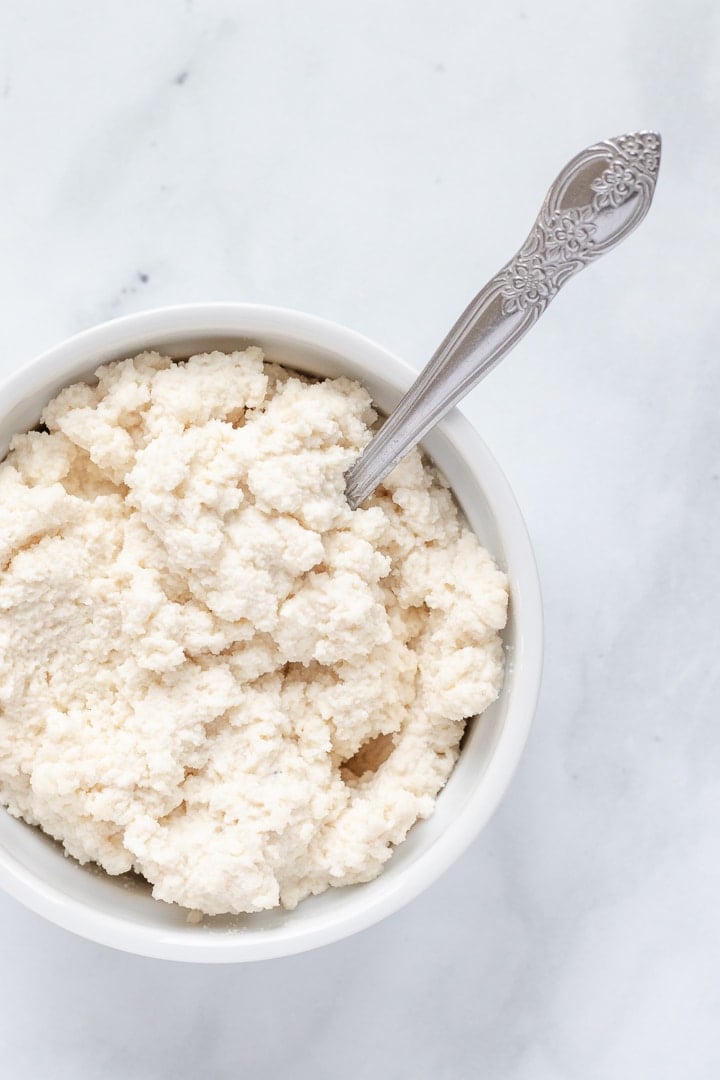 I use this vegan ricotta so often (like in my Sweet Orange Ricotta, Crostini, and Baked Ziti), I decided it might be easier for you and me both if I gave it its own recipe page.
Almond ricotta is such a versatile vegan cheese, with a light and clean flavor. And it couldn't be easier to prepare.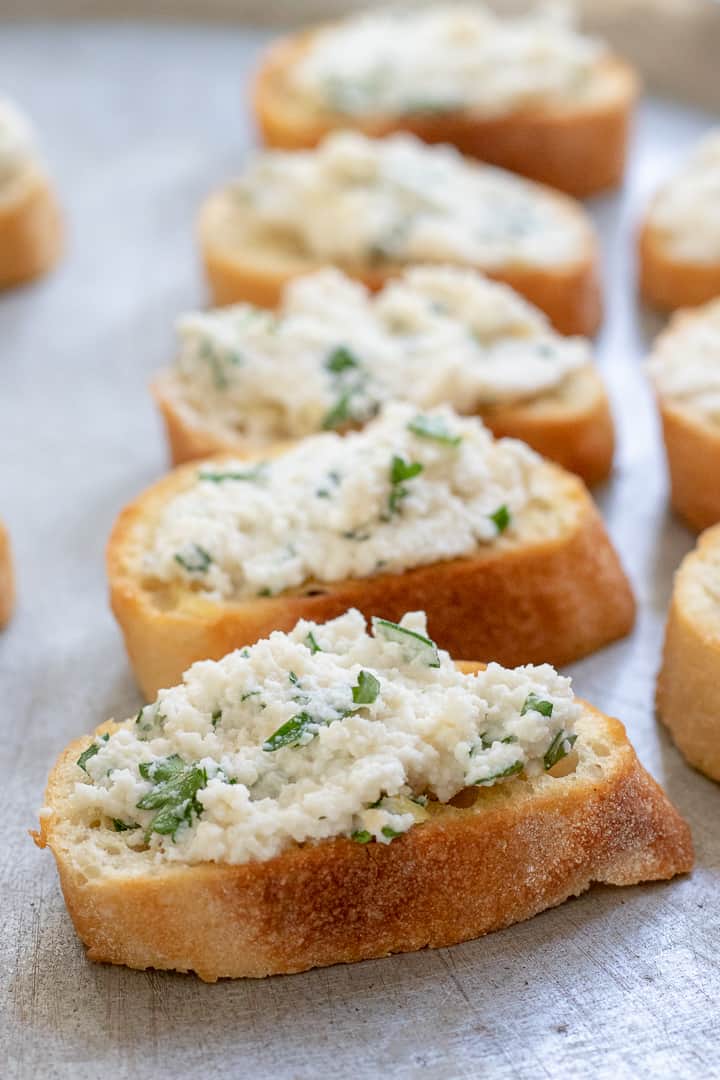 How to Make Two-Ingredient Almond Ricotta
To make this recipe you'll need:
a food processor
raw slivered almonds
fresh lemon juice
sea salt
water
For years I'd always soaked the almonds first, but one day I was in a hurry to whip up a batch of ricotta and decided to skip that step. And guess what.... there was no discernible difference! So I'll leave the "to soak or not to soak" up to you.
You'll begin by combining the ingredients in a food processor (start with just ¼ cup of water). Process until the almonds are evenly and finely chopped, stopping as needed to scrape down the sides of the bowl.
Then add more water and continue to process the ricotta until it's light and fluffy. And that's it! See how ridiculously easy that is?
Additions
Once you have the basic almond ricotta whipped up, you can amp up the flavor by adding:
garlic, fresh or powdered
lemon zest
fresh herbs like parsley, basil, oregano
nutritional yeast
plain, unsweetened vegan yogurt (for extra tang)
or sweetener + vanilla for breakfast or dessert uses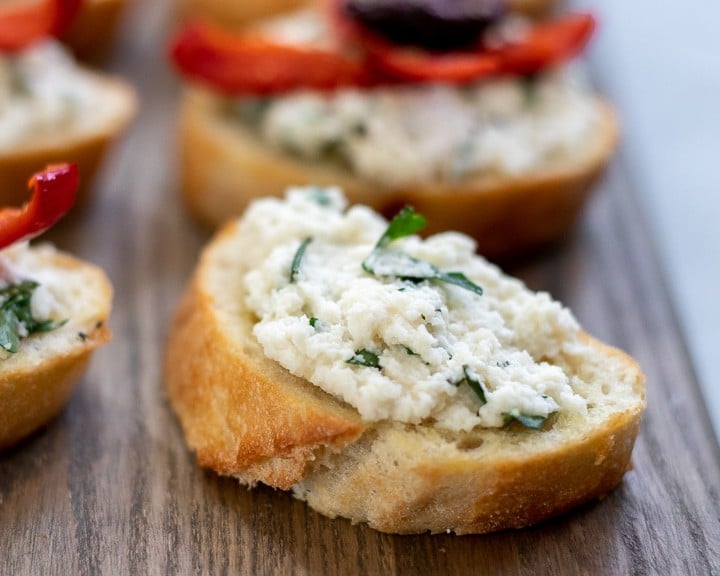 And definitely try it on this Fennel, Sausage, and Ricotta Pizza.
Credit goes to Miyoko Schinner for this recipe. If you haven't already, you should definitely check out her book Artisan Vegan Cheese. It's incredibly helpful and inspiring and perfect for all you cheese lovers out there. It was published in 2012, so maybe it's too soon to call it a classic, but I'm going to anyway! It's 100% worthy of the title. I slightly altered the ingredients and amounts to suit my taste, and you can do the same.
Enjoy!
More vegan cheese recipes:
Vegan Pimento Cheese
Vegan Stuffed Crust Pizza With Homemade Mozzarella
The BEST Vegan Stovetop Mac and Cheese
Almond Queso Blanco (crumble-style white cheese)
Easy Oil-Free Vegan Queso
Vegan Parm 3 Ways!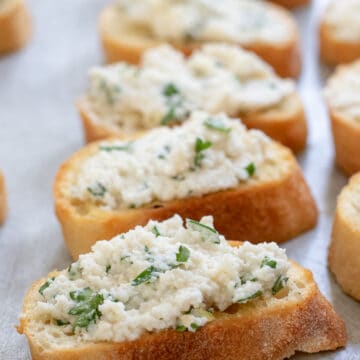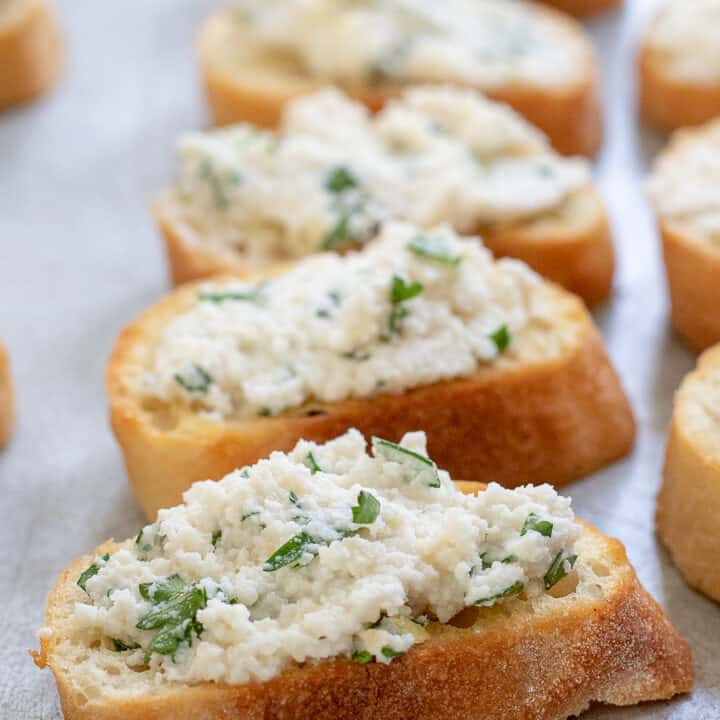 Almond Ricotta
Healthy vegan ricotta cheese you can use in any recipe where creamy ricotta is needed - lasagna, baked ziti, stuffed shells, pizza, crostini, bagels, and even desserts! Lightly adapted from Miyoko Schinner's recipe in Artisan Vegan Cheese.
Yield: makes 2 cups
Ingredients
2

cups

raw slivered almonds (or blanched, skin-free)

1

Tbsp

fresh lemon juice (from about half a lemon)

½

tsp

sea salt

Or more, to taste

½ to ¾

cup

water
Instructions
Soak the almonds:
UPDATE: for the longest time, I always soaked the almonds first because that's what Miyoko's recipe called for, but it really isn't necessary. You can do this step if you like, but feel free to skip to the next step!

Put the slivered almonds in a bowl and cover with water. At room temperature, allow almonds to soak for a minimum of 4 hours and up to 8. (If using whole, blanched almonds, soak 8 to 12 hours. Alternatively, first pulse the whole almonds in a food processor to break them into smaller pieces, reducing soak time.) Drain the almonds when you're ready to make ricotta.
Make the ricotta:
Place almonds, lemon juice, salt, and ¼ cup of the water in a food processor. Process until well combined and somewhat smooth, scraping down sides as needed. Add another ¼ cup water and continue to process until light, fluffy and ricotta-like. If it seems too thick, add more water a tablespoon or two at a time. Taste for seasoning and adjust salt and lemon if desired.

Notes
To this basic recipe, add fresh herbs and garlic for even more flavor. For extra cheesy/tangy flavor try it with a bit of nutritional yeast or plain, unsweetened vegan yogurt.
Store leftover almond ricotta in the refrigerator for up to 5 days. Can also be frozen for up to 1 month. Thaw before using.
Nutrition is calculated for 10 servings, but obviously serving sizes will vary depending on how you use it. This recipe makes 2 cups of ricotta (or about 1 ¾ cups if you use the minimum amount of water).
Estimated Nutrition (per serving)
Calories:
135
kcal
Carbohydrates:
5
g
Protein:
6
g
Fat:
12
g
Sodium:
115
mg
Fiber:
3
g
Sugar:
1
g
Vitamin A:
0
IU
Vitamin C:
1.7
mg
Calcium:
60
mg
Iron:
0.9
mg
Nutrition information is an estimate and will vary depending on the exact amounts and specific products and ingredients used. We calculate this information using the online calculator cronometer.com. For the most accurate nutrition information we recommend calculating it yourself to reflect the specific ingredients used in your dish.
Did you try the recipe?
Comment below to let us know!