Flavorful vegan pizza topped with caramelized fennel and onion, Italian sausage, olives, and an easy, garlic-infused almond ricotta. Add vegan mozzarella if you like! Pile these toppings on a delicious, fennel-infused homemade pizza dough, or use your favorite store-bought crust to keep prep simple.

A few months ago I was brainstorming ways to use vegan ricotta, and I came across a Cooking Light recipe for sausage, fennel and ricotta pizza. Though their recipe isn't vegan, the idea of a caramelized fennel pizza has been on my mind ever since.
I haven't shared a pizza recipe on the blog since June, and that Pesto Stuffed Crust Pizza was a celebration of summer's abundance of fresh basil. So now that fennel season is here, I figured it's a great time to share this vegan interpretation of fennel and ricotta pizza!
Vegan Cheese Options for Your Pizza
Homemade Ricotta
Let's talk about cheese for a moment. I loved the idea of pairing a mild-tasting, creamy ricotta with the sweetness of caramelized onion and fennel. And since I already have a tried and true almond ricotta recipe on the blog, that was an easy decision! For a flavor boost, I added a few cloves of sautéed garlic to the food processor while blending up the ricotta. I highly, highly recommend this step!
If you're making the ricotta while making the toppings for the pizza (instead of in advance), it's easy to fit sautéing the garlic into the work flow. After caramelizing the fennel and onion, transfer them to a bowl. Then sauté 3 cloves of minced garlic in the same pan. Scoop the sautéed garlic into the food processor with the almond ricotta, and pulse several times to incorporate. Voila! Garlic-infused almond ricotta.
Homemade Cashew Mozzarella
I also included a bit of cashew mozzarella on the pizza the day I took these photos. This is another easy, quick, go-to cheese recipe that I make ALL the time. It melts beautifully, is totally delicious, and is lower in fat than store-bought cheeses. So when you're prepping the components for this pizza, you can blend up a batch of homemade mozz, too. It can also be made in advance and stored in the refrigerator until you're ready to top your pizza.
*I don't have a separate post for the mozzarella by itself, but it's included in both of my stuffed crust pizza recipes. So you can check it out here and here. Oh! And you can omit the agar when making mozzarella for this pizza. Since we're not stuffing it inside the crust, we don't need the cheese to be "set." Sadly, when I made the cheese for these photos I didn't have my head on straight, and I included the agar powder. So as the pizza cooled, the mozzarella started looking a bit more set than melty.
Store-Bought Vegan Cheese
In place of either or both of those homemade cheeses, another option is to use your favorite store-bought vegan cheese. You could opt for pre-shredded, or buy a block and shred it yourself. You can even buy pre-sliced cheeses like Violife's smoked provolone or Chao creamy original, and shred those with a box grater.
TIP: Shredding cheese yourself usually leads to a more attractive melt since the pre-shredded ones are coated with anti-caking agents.
How to Make Fennel-Infused Pizza Dough
If you plan to make your own dough, this little trick adds really nice fennel flavor throughout the crust...plus, it's so simple! Using either a mortar and pestle or a spice grinder, roughly grind one teaspoon of fennel seeds. They don't have to be broken down into powder, just broken up a bit. Whisk them into the flour along with the salt, before adding the yeast/water mixture. You can do this with any dough recipe. I followed my Herb Crust recipe, omitted the oregano and basil, and added the fennel seeds.
The pizza dough recipe I linked to above makes enough for one 12-inch stuffed crust pizza (which you don't need for this recipe, although you could certainly do that if you want to!) OR two thin crust pizzas. So you can either cut the dough ingredient amounts in half to make one fennel pizza, or make the full batch of dough, and save half for another day. Well wrapped, pizza dough will keep in the refrigerator for up to a week.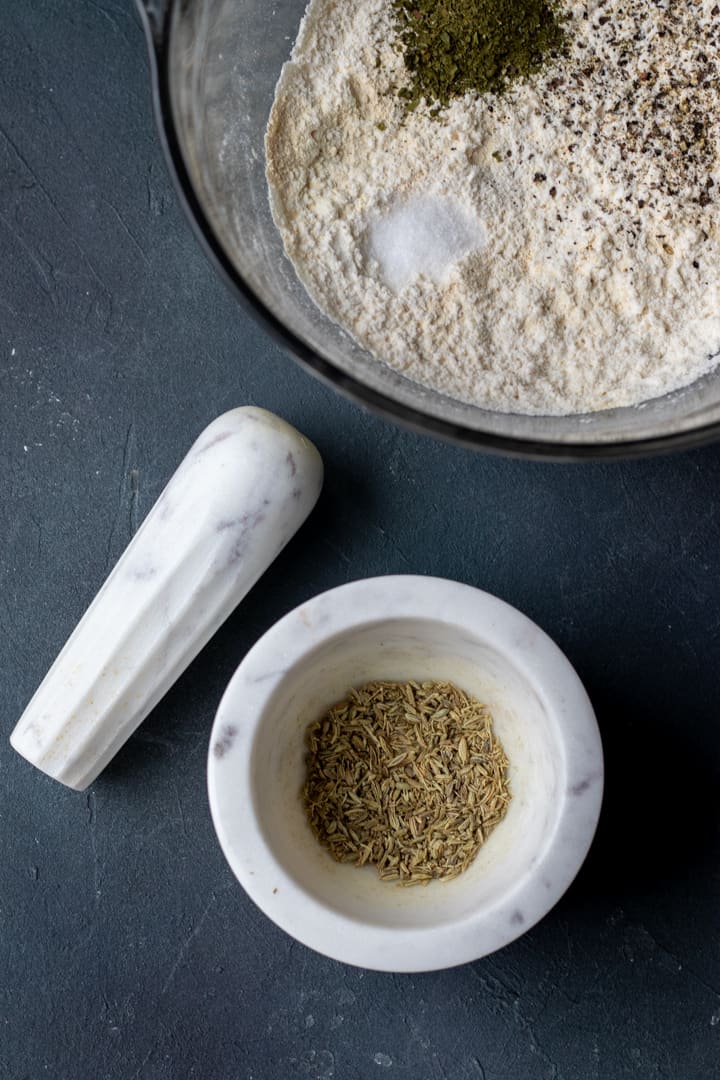 Now that you have a plan in place for the dough and cheese(s), you're ready to caramelize the fennel and onion. Thinly slice both of them, about ¼ to ⅓-inch wide. After pre-heating the pan, add a tablespoon of oil. Fennel takes a little longer to cook than the onion, so add the fennel to the pan first, giving it about a 5 minute head start.
It should take about 30 minutes for both the fennel and onion to get nicely tender (though a bit of firmness or remaining crunch is completely fine) and lightly browned. They'll have a chance to cook more in the oven!
I think you're going to love the flavors of this pizza! And if you're worried about the flavor of fennel being too overpowering, don't be! It's actually pretty mellow and blends so nicely with the onion, sausage, cheese, and briney olives.
In fact, this is pizza is SO good, Mark and I ate it twice last weekend and both decided it's quite possibly our new favorite!
I hope you enjoy this Vegan Fennel, Sausage and Ricotta Pizza! If you try the recipe I would love to hear from you. Feel free to leave a comment below, or tag me in a photo on facebook or instagram with @myquietkitchen!
You might also like:
Vegan Sausage, Squash & Kale Pasta Bake
Korean Barbecue Pizza with Tofu & Maitake
Original Vegan Stuffed Crust Pizza
Vegan Pesto Stuffed Crust Pizza
Vegan Fennel, Sausage & Ricotta Pizza
With a fennel-infused crust, this dreamy vegan pizza is topped with caramelized onion and fennel, sausage, olives, and an easy garlic-almond ricotta.
Inspired by and adapted from Cooking Light's recipe for Sausage, Fennel and Ricotta Pizza.
Ingredients
1

12-inch

pre-made pizza crust OR see the Notes section for instructions on making your own fennel-infused dough

½

batch

Almond Ricotta

½

batch

Meltable Cashew Mozzarella, optional -

Or use store-bought vegan cheese; refer to post for suggested brands.

2

Tbsp

olive oil, divided

1

extra large

fennel bulb, thinly sliced (about 2 cups)

1

large

sweet onion, thinly sliced

3

cloves

garlic, finely minced

1

link

vegan Italian sausage, cut into half moons

-

such as No Evil Foods or Tofurky

salt

pepper

crushed red pepper

1

handful

good quality olives, such as Nicoise, kalamata, picholine, halved
Instructions
Prep tips: The homemade cheeses can be made in advance OR while the dough is rising, if making your own dough.

If making the ricotta the same time as the pizza, leave it in the food processor. When the sautéed garlic is done, use the food processor to blend it into the ricotta (step 4 below).

Place a pizza stone in the oven and preheat to 500 degrees F.

Preheat a large saute pan over medium-low heat. Add the oil and fennel to the pan and stir to coat. Cook the fennel undisturbed for about 2 minutes. Reduce heat to low. Stir and cook for another 2 or 3 minutes. Add the onion to the pan. Stirring only every few minutes, cook the fennel and onion until soft and caramelized, about 30 minutes. Adjust heat as necessary. Sprinkle with a generous pinch of salt and pepper. Transfer to a bowl and set aside.

In the pan used for the fennel and onion, cook the garlic over low heat for 3 or 4 minutes, stirring frequently. Spoon the sauteed garlic into the almond ricotta and stir to incorporate or use the food processor to pulse/blend it in.

On a lightly floured surface, stretch dough into 12-inch diameter. If using a pizza peel, prep as you normally would. Otherwise, remove hot stone from oven. Gently fold prepared dough in half (like a taco shell) to make it easier to transfer to the stone. Carefully place dough on stone and unfold. Brush with olive oil, and top with sausage, caramelized fennel and onion, and mozzarella, if using. Bake for 10 minutes, then remove pizza from oven and place dollops of ricotta on top. Return pizza to oven and bake 5 to 7 minutes longer, or until the crust is golden brown (total bake time for thin crust is usually 15 to 17 minutes). Allow the pizza to cool for a few minutes. Sprinkle with crushed red pepper and olives, slice and enjoy.
Notes
Fennel-Infused Pizza Dough
Use the Herb Crust recipe from my Vegan Stuffed Crust Pizza with the following considerations:
The recipe makes enough dough for two, 12-inch thin crust pizzas (or one stuffed, thick crust). For this fennel pizza recipe you only need one thin crust. So you can either make the full amount of pizza dough, and save half for another day, or cut all ingredient amounts in half.
Omit the oregano and basil, and add about ¾ tsp crushed fennel seeds. Crush the fennel sees using a mortar and pestle or by pulsing in a spice grinder.
Estimated Nutrition (per serving)
Calories:
501
kcal
Carbohydrates:
49
g
Protein:
19
g
Fat:
28
g
Cholesterol:
0
mg
Fiber:
8
g
Sugar:
6
g
Vitamin A:
1049
IU
Vitamin C:
11
mg
Calcium:
155
mg
Iron:
5
mg
Nutrition information is an estimate and will vary depending on the exact amounts and specific products and ingredients used. We calculate this information using the online calculator cronometer.com.
Did you try the recipe?
I LOVE hearing from you! Comment below to let us know.