Sometimes you want pizza, and sometimes you want PIZZA!! Based on my Vegan Stuffed Crust Pizza, today's recipe introduces basil pesto and thinly sliced potato to the party.
Just like that other stuffed crust pizza recipe, this one features a homemade herb crust, quick and easy vegan mozzarella, and tangy marinara.
But instead of typical pizza toppings like onion, peppers, and olives, we're going with fresh basil pesto and thinly sliced, creamy, Yukon gold potato.
As we head into summer I love looking for new ways to enjoy fresh herbs, and pesto is always a slam dunk.
Because pesto is at its best when raw, we're going to add most of the pesto to our pizza after it comes out of the oven, though a small amount does go into the stuffed crust along with the vegan cheese. Speaking of cheese....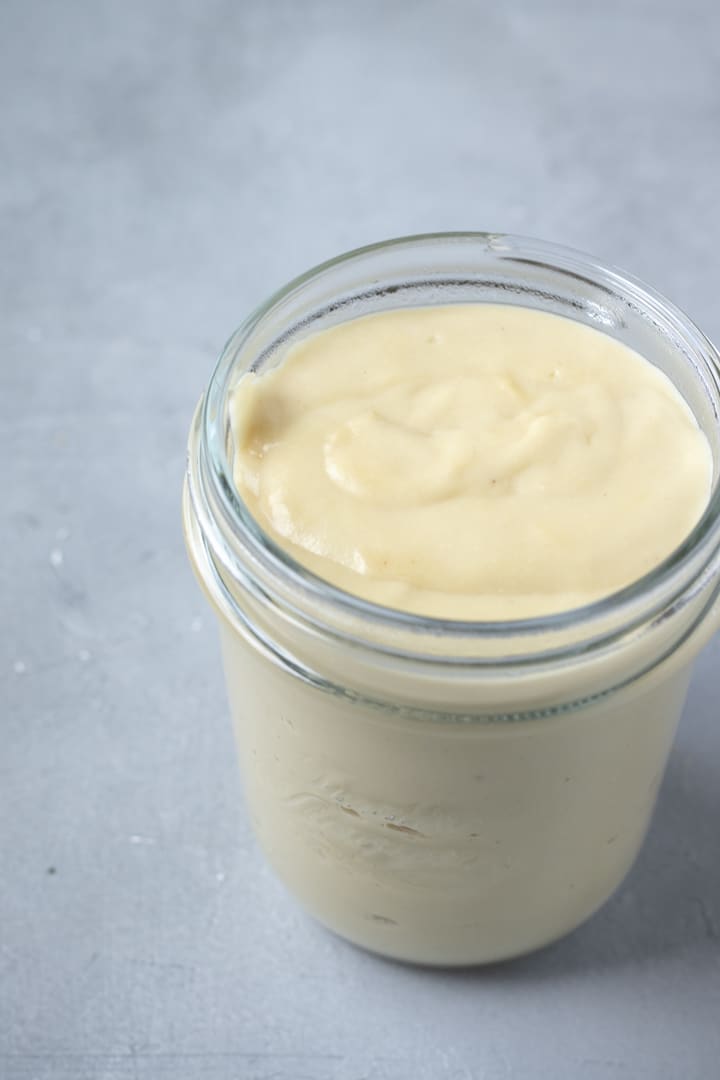 Easy Homemade Vegan Mozzarella
If you haven't made your own melty, stretchy, cashew mozzarella yet, get ready for your life to change! You won't believe how easy it is to make cheese that melts beautifully and tastes irresistible.
In my mind, this cheese borders on magical. I mean, it's essentially instant gratification! I talked quite a bit about this meltable vegan mozzarella in the original Stuffed Crust Pizza post.
So if you're new to making vegan cheese at home, you may want to head over to that post and read up on a few more details about it, including the ingredients that make it so awesome
Hint: I'm talking about tapioca starch and agar agar. Go ahead and add these two ingredients to your pantry because they are FULL of possibilities.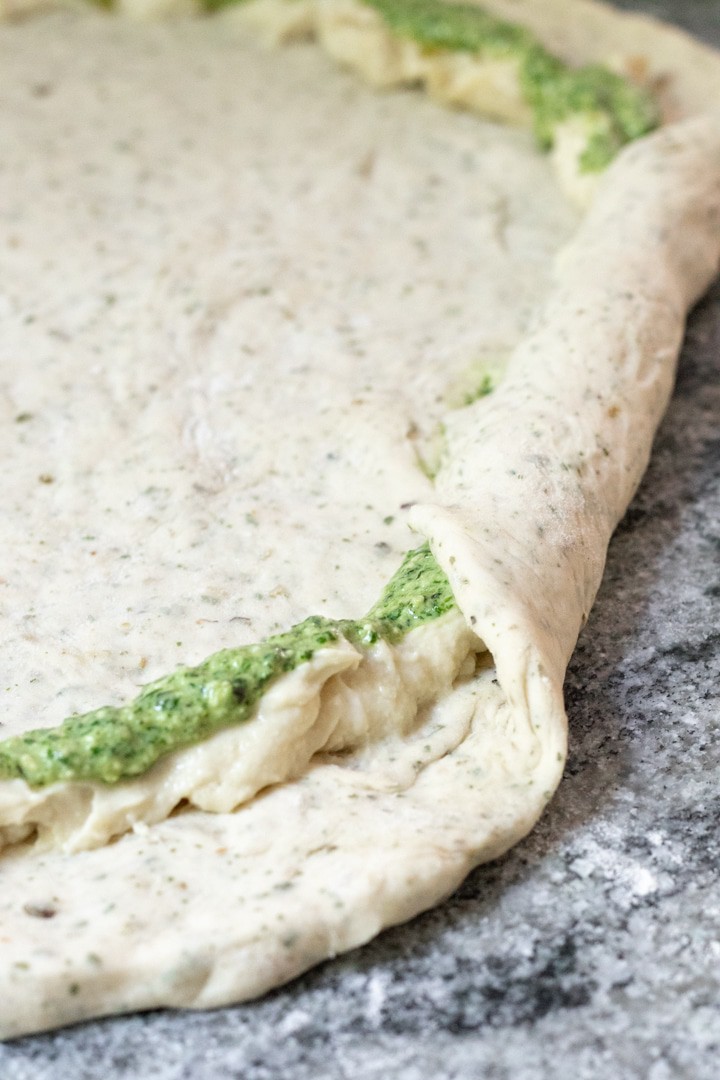 What toppings will you choose for your Vegan Pesto Pizza?
Have you ever had potato on pizza? I realize that might be a new idea for some people, while others have been eating potato pizza their whole lives.
Potato pizza is a classic Italian dish, though we're not exactly trying to replicate that version here. Mainly I used the idea as inspiration and justification to use up two Yukon Gold potatoes I had lying around.
Potatoes and pesto are a delicious combination. Truthfully, there's something so very satisfying about biting into a warm and creamy slice of potato and the way it contrasts with the chewy crust.
Any veggies that pair well with pesto will be right at home on this pizza. Feel free to add your favorites, like onion, tomatoes, peppers, and spinach.
Preparation Tips
There are a few steps involved in making pizza dreams come true, especially if you choose to make each element from scratch. So let's walk through the basic order of things so that your next pizza night will go as smoothly as possible.
First, make the mozzarella - the cheese needs time to chill in the fridge so that it sets and is cool enough to handle when it comes time to stuff the crust.
Next, make the dough - for the best tasting pizza crust, the dough should rise for at least an hour. But you'll make use of this time by prepping the potatoes and pesto, so it all works out!
Place a pizza stone in the oven and preheat to 500 degrees F. If you don't have a pizza stone, I highly recommend getting one. They're pretty easy to find at stores like Target, Walmart, TJMaxx, etc. Or you can follow my affiliate link and purchase one on Amazon. The difference it makes in the crust is incredible. You'll never go back to a regular pizza pan after getting used to stone-baked crust. Pizza stones can also be used for other recipes like calzones, scones, and pretzels.
Next, boil the potatoes - cook the potatoes until fork tender, then let them cool so you can slice them.
Make the pesto - if you have access to vegan pesto at the grocery store, you can certainly go that route. However, the fresh pesto dolloped onto the pizza when it comes out of the oven is one of the main flavor components of this pie. So I think it's totally worth it to spend about 10 minutes making your own (as long as you can get your hands on plenty of fresh basil). After all, making pesto is a very simple process. Here's a recipe to get you started ---> Easy Vegan Pesto
Shape the pizza dough and build your pizza - stuff the crust with a small amount of cheese and pesto (refer to photo above). Transfer the dough to the hot stone. Top with marinara, potatoes, and the remainder of the cheese. Now bake your glorious pizza for about 20 minutes.
Remove the pizza from the oven, dollop on the rest of the fresh pesto, and DIG IN!
I hope you're hungry now and as excited about this Vegan Pesto Stuffed Crust Pizza as I am! If you give it a try I would love to hear from you.
Your feedback is really helpful, so please feel free to rate the recipe and comment below to let us know how your pizza turned out!
More pizza and pesto:
Korean BBQ Pizza with Tofu and Maitake
Pasta Salad with Parsley-Dill Pesto
Fennel, Sausage & Ricotta Pizza
Creamed Corn Pizza
Spicy Parsley Pesto
Oil-Free Zhoug Sauce
Vegan Pesto Stuffed Crust Pizza
With potato, marinara, pesto, homemade cheese, and a flavorful herb crust, get your pizza stone ready because it's pizza night!
Yield: one 13-inch thick crust pizza
Ingredients
Toppings:
1

batch

Easy Vegan Pesto

1

cup

marinara sauce

2

medium

Yukon gold potatoes

red pepper flakes, optional
Herb Crust:
340

grams

all-purpose flour (scant 3 cups), plus more for rolling out dough

2

tsp

sea salt

1 ½

tsp

dried oregano

1 ½

tsp

dried parsley

½

tsp

dried basil

½

tsp

garlic powder

1

packet (.25 oz)

active dry yeast

1

tsp

sugar

1

cup

lukewarm water

1

Tbsp

olive oil
Instructions
Make the mozzarella:
Combine the ingredients in a high speed blender and blend until completely smooth.

Pour mixture into a small saucepan over medium heat. Stirring constantly, bring to a low boil. Reduce to a simmer and cook for one minute, or until thickened and pulling away from the sides of the pot. Transfer cheese to ramekins or a mug, and refrigerate until ready to use.
Make the dough:
In a small bowl combine the warm water, yeast and sugar. Allow to sit until foamy, about 5 minutes.

In a large bowl whisk together the flour, salt, oregano, parsley, basil, and garlic powder. Pour in the yeast mixture, and slowly stir to combine. Move the dough to a lightly floured surface and knead for 3-5 minutes (sprinkle with more flour if too sticky). Form into a ball.

Add the olive oil to a large, clean bowl (or wash and dry the mixing bowl you just used; a clean bowl helps the dough rise properly). Place the dough ball in the bowl and flip around a few times, using your hands to spread olive oil over the entire surface of the dough ball. Cover the bowl with plastic wrap or a kitchen towel, and set aside in a warm, draft-free spot until doubled in size (about 1 hour).

Place pizza stone in oven and preheat to 500 degrees F.
Prep the toppings:
Wash the potatoes and place them in a pot. Add enough water to cover the potatoes. Bring to a boil, cover, reduce heat, and simmer the potatoes until just fork tender, about 15 minutes. Transfer potatoes to a plate and allow to cool. Once cool, slice thinly.

Follow the link above, and prepare the pesto.
Assemble and bake the pizza:
After the dough has risen, move it to a lightly floured surface. Using the pads of your fingers, gently move around the perimeter of the dough, pressing out to increase the dough in size. For a 13-inch pizza, stretch the dough to 16 inches in diameter, allowing for folding the edges over the cheese.

Reserve about ⅓ of the cheese for topping the pizza. Cut the rest into ½-inch-thick strips or pieces. Distribute the cheese around the perimeter of the dough, about one inch from the edge.

Reserve about ⅔ of the pesto to be added to the pizza after baking. Spoon a small amount of pesto onto the cheese (see photo in post). Fold dough over the cheese and pesto, lightly pinching/pressing down to seal the inner edge. It's important that the cheese is sealed in on all sides, or it will escape during baking.

Remove hot stone from oven. If using a pizza peel, transfer the dough as you normally would. If you don't have a peel, gently fold the prepared dough in half (like a taco shell laying on its side) to make it easier to transfer to the stone. Carefully place dough on stone and unfold. *Keep in mind, where it lands is where it has to stay! That's why careful placement is important. Top with sauce, sliced potato, and the remainder of the cheese (simply pinch off pieces and dollop it on top).

Bake until the crust is golden brown, about 18 to 20 minutes. If needed, broil for 1 to 2 minutes to brown the top. Allow the pizza to cool for a few minutes. Top with the remaining pesto, and sprinkle with crushed red pepper, if desired.
Estimated Nutrition (per serving)
Serving:
1
slice
Calories:
345
kcal
Carbohydrates:
44
g
Protein:
9
g
Fat:
15
g
Saturated Fat:
4
g
Cholesterol:
0
mg
Sodium:
820
mg
Fiber:
4
g
Sugar:
4
g
Vitamin A:
800
IU
Vitamin C:
19
mg
Calcium:
40
mg
Iron:
3.6
mg
Nutrition information is an estimate and will vary depending on the exact amounts and specific products and ingredients used. We calculate this information using the online calculator cronometer.com.
Did you try the recipe?
I love hearing from you! Comment below with your feedback.