Vegan pepperoni is easy to make at home and tastes so good you'll find yourself snacking on it straight from the fridge! Flavorful and generously spiced with paprika, fennel seed, garlic and just enough spicy heat. Of course, this seitan pepperoni also makes amazing vegan pepperoni pizza, snack boards, and sandwiches.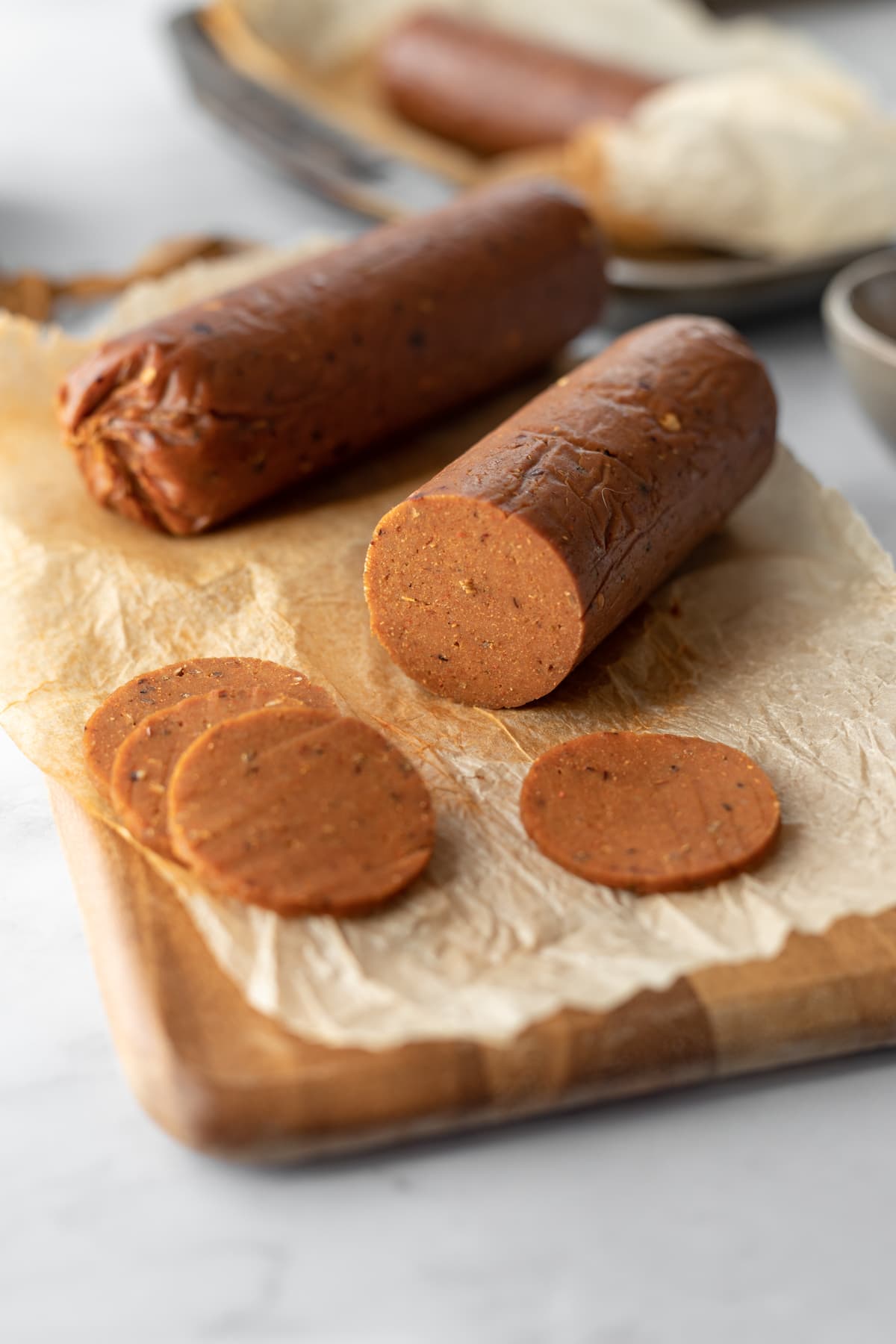 Why You'll Love It
If you love the over-the-top flavor of pepperoni you're going to LOVE this seitan version. I worked hard to get the flavor profile just right and am totally in love with the result.
With a tender and meaty texture plus paprika, fennel seeds, garlic, cayenne, and black pepper, the only things missing from this vegan pepperoni are cruelty and loads of fat!
We also love that it's seriously easy to prepare and can be used in so many different ways. Enjoy vegan pepperoni:
Whether you eat this vegan pepperoni cold or hot, the flavor and texture are just so satisfying.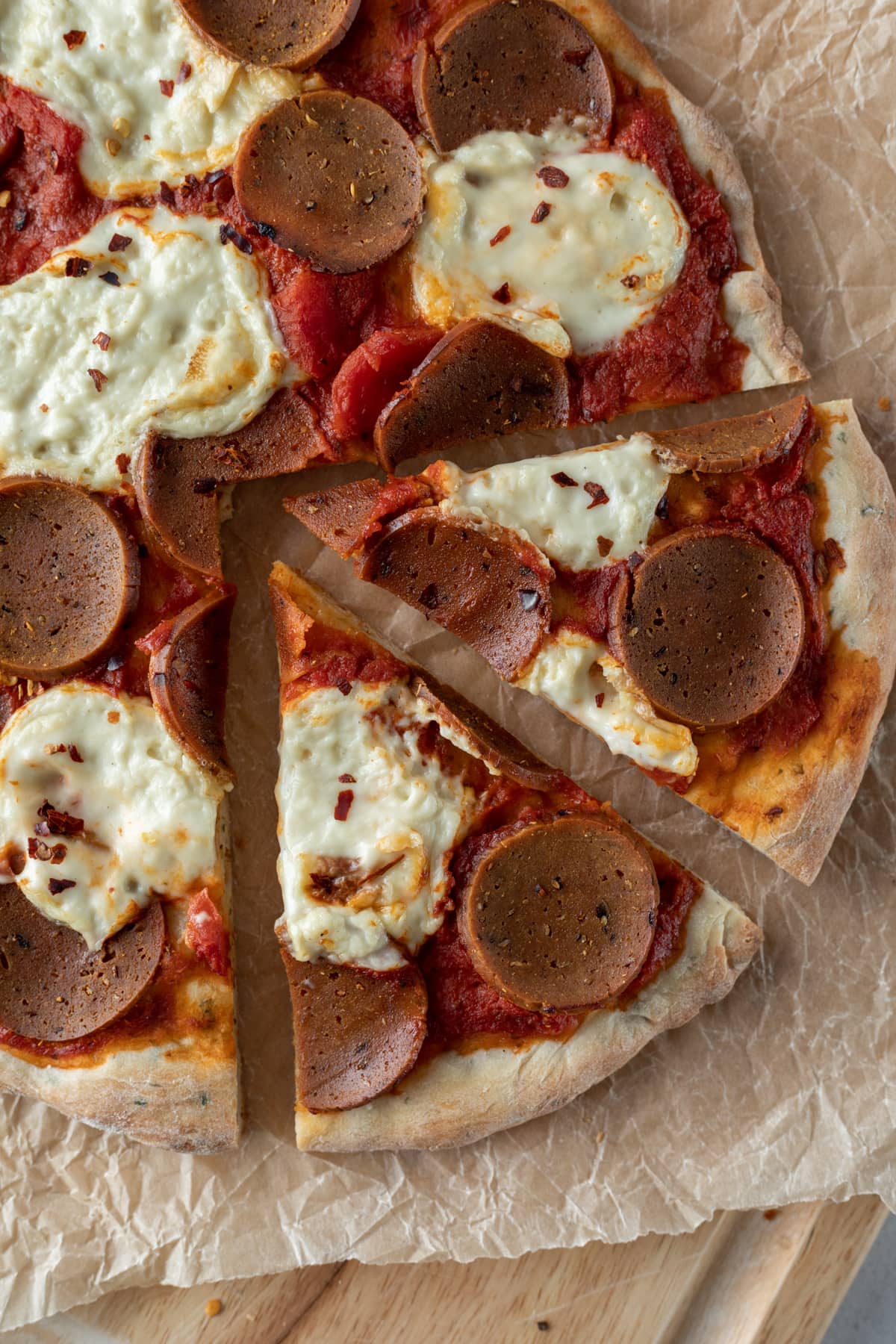 Ingredient Notes
The ingredient list may look long at first glance, but it's mostly just spices. Otherwise, you'll need just a few dry ingredients and other flavorings.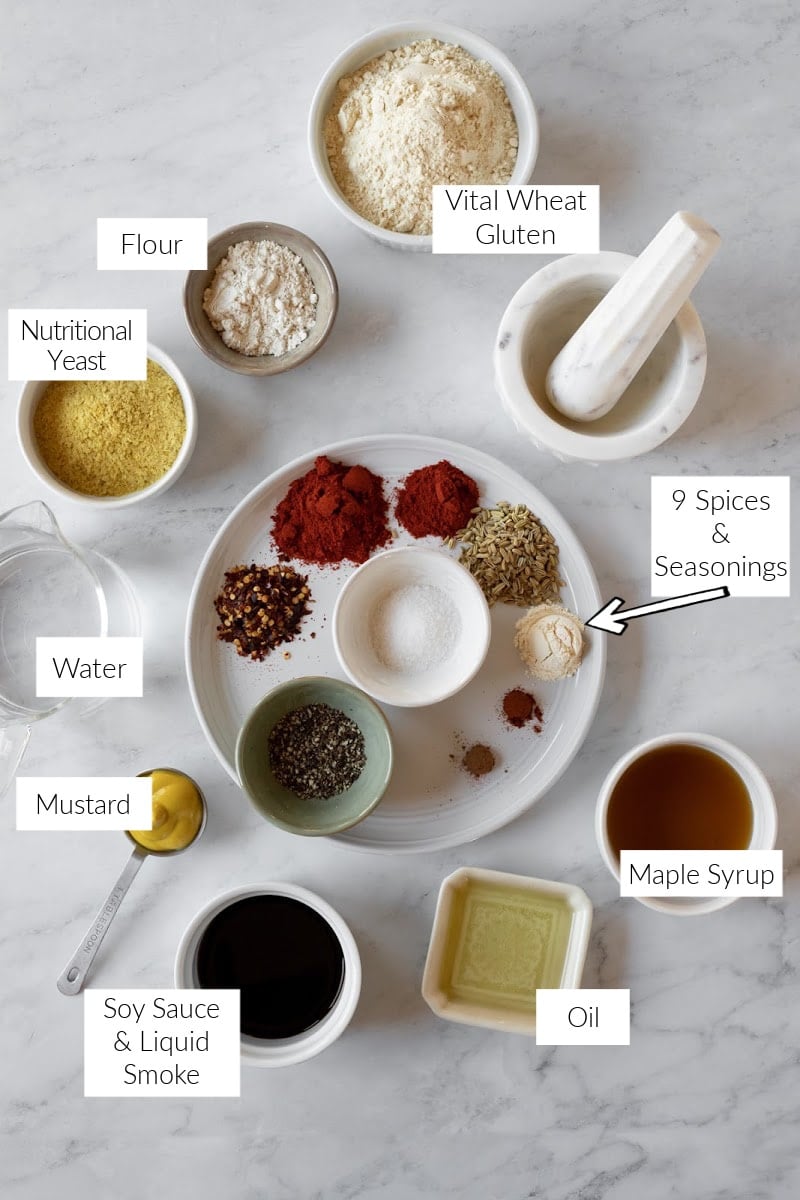 Vital Wheat Gluten - this is critical to the recipe and can't be substituted; I use Anthony's brand.
Nutritional Yeast - adds umami and flavor and helps tenderize the seitan. I highly recommend this non-fortified nutritional yeast by Sari.
Flour - any type of flour is fine; this also helps to soften the seitan and disrupt the formation of gluten strands so that we end up with pepperoni that's just firm enough.
Spices - from paprika and fennel seeds to cayenne and black pepper, this blend of seasonings creates authentic pepperoni flavor and aroma.
Oil - the nature of seitan prevents us from being able to add a lot of fat to this recipe, but a small amount does soften the pepperoni and provides moisture.
Soy Sauce or Tamari - this is important for saltiness and flavor.
Maple Syrup - if needed substitute agave syrup.
Liquid Smoke - easy to find at most grocery stores; I use the Colgin brand.
How To Make Vegan Pepperoni
Of all of my seitan recipes, this one might be the easiest. The dough can be made in a food processor or by hand in a mixing bowl. And the pepperoni can be steamed in the Instant Pot or baked in the oven.
Here's a quick step-by-step look at the process. Be sure to scroll down for the full recipe.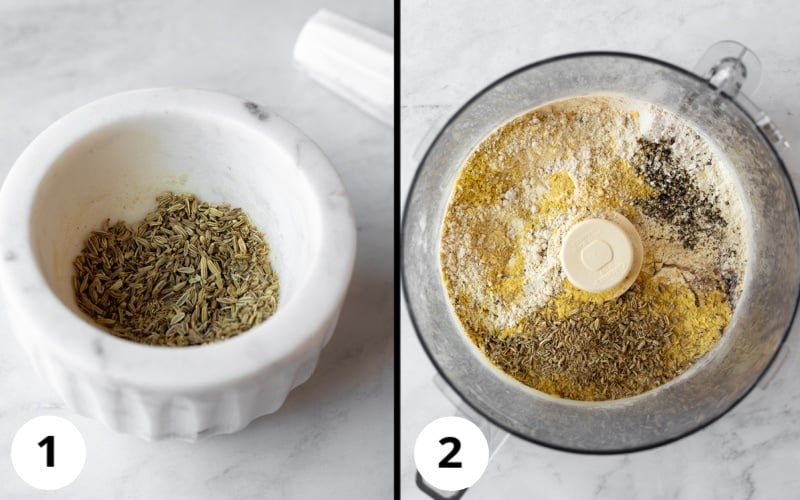 Using a spice grinder or a mortar and pestle, partially grind the fennel seeds.
In a food processor or large mixing bowl, combine the dry ingredients.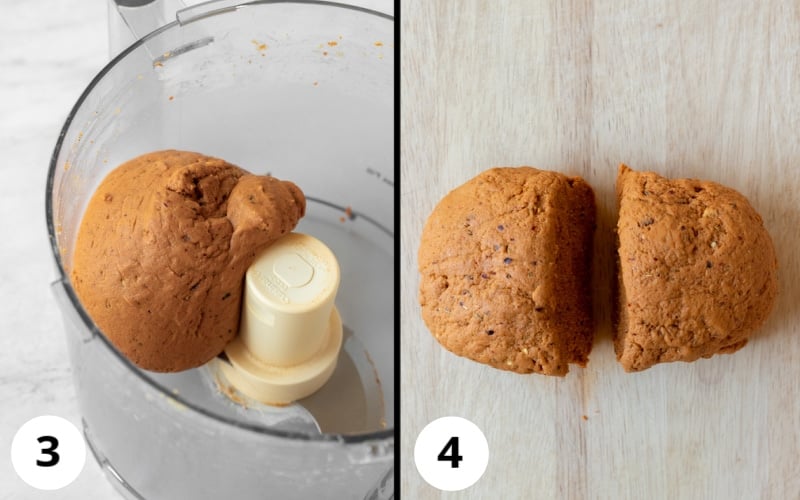 Add the wet ingredients and mix/blend until a dough forms.
Move the dough to a flat work surface and knead until it feels firm. This won't take long if you used a food processor. If you made the dough in a bowl, you'll want to knead it longer, about 2 or 3 minutes. Divide the pepperoni dough in half.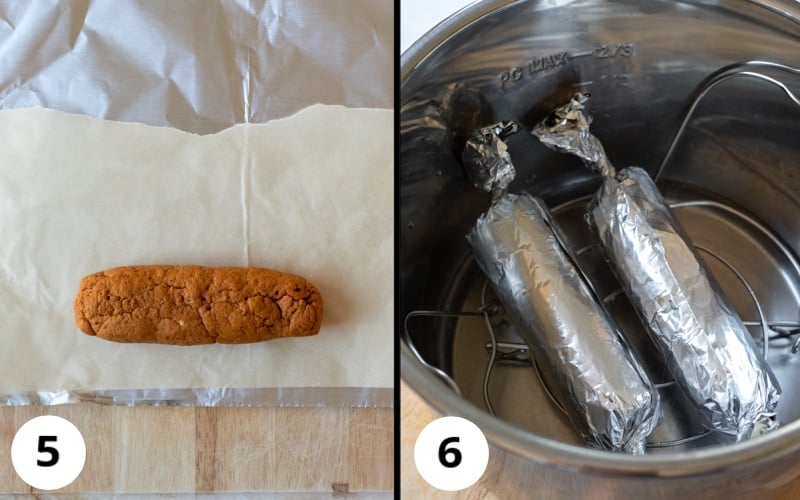 Roll each piece of seitan into a log that's about 5 to 5 ½ inches long. Place a square of aluminum foil on the work surface, and place a smaller piece of parchment on top. Wrap each log of dough as tightly as possible, twisting the ends like a candy wrapper. Heavy duty aluminum foil works really well since it's less likely to tear; the parchment also helps to reinforce it.
Now you're ready to cook the pepperoni!
Instant Pot Instructions:
Add 1 cup of water to the Instant Pot, and place the trivet inside. Place the foil packages on the trivet. Secure the Instant Pot lid. Using the steam function, cook for 30 minutes, followed by a quick release of the pressure.
Oven Instructions:
Place the foil packages on a baking sheet, and bake in a preheated 325 degree oven for 55 minutes, flipping them at the halfway point.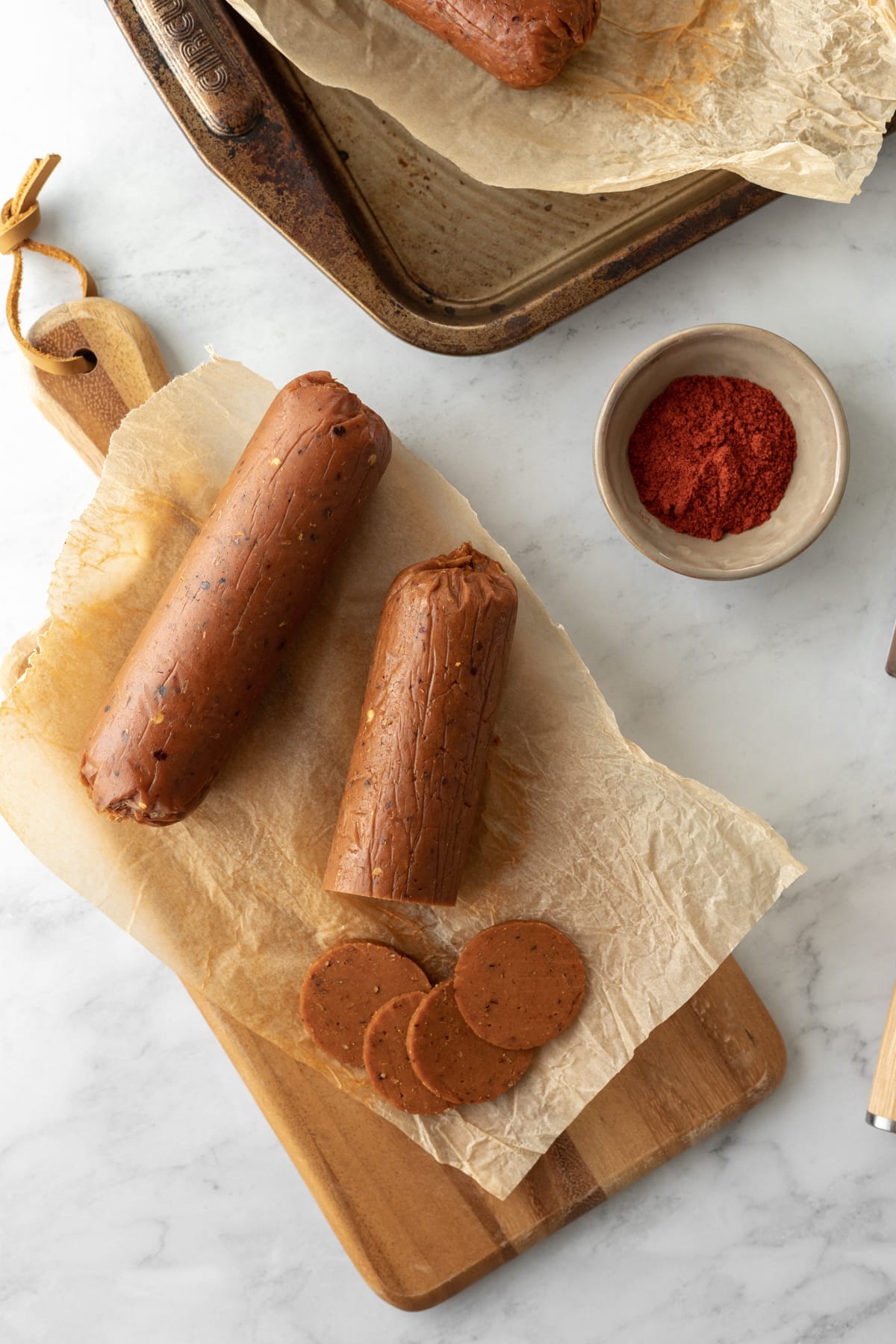 Frequently Asked Questions
Is vegan pepperoni healthy?
Healthy is a fairly subjective term, but I will say this, compared to pepperoni made from a pig's flesh that's loaded with sodium and nitrates? Yeah, this is healthy.
Is there a gluten-free option?
Because this is a seitan-based recipe it is the exact opposite of gluten-free, but you can always use these spices and seasonings on tofu, tempeh, or soy curls for a gluten-free treat with similar flavor.
Is vegan pepperoni greasy like regular pepperoni?
No, seitan pepperoni is not greasy. The amount of fat you can add to seitan is limited because it interrupts the formation of gluten. So adding too much oil makes seitan fall apart. This means that seitan pepperoni is lower in fat and also more dry. See the next question for an important tip!
Can I use it on pizza?
Absolutely! To prevent the seitan pepperoni from drying out in the oven be sure to marinate the pepperoni slices in oil first, or simply spritz the pepperoni with oil once it's on the pizza. Alternatively, you can layer the pepperoni underneath the sauce.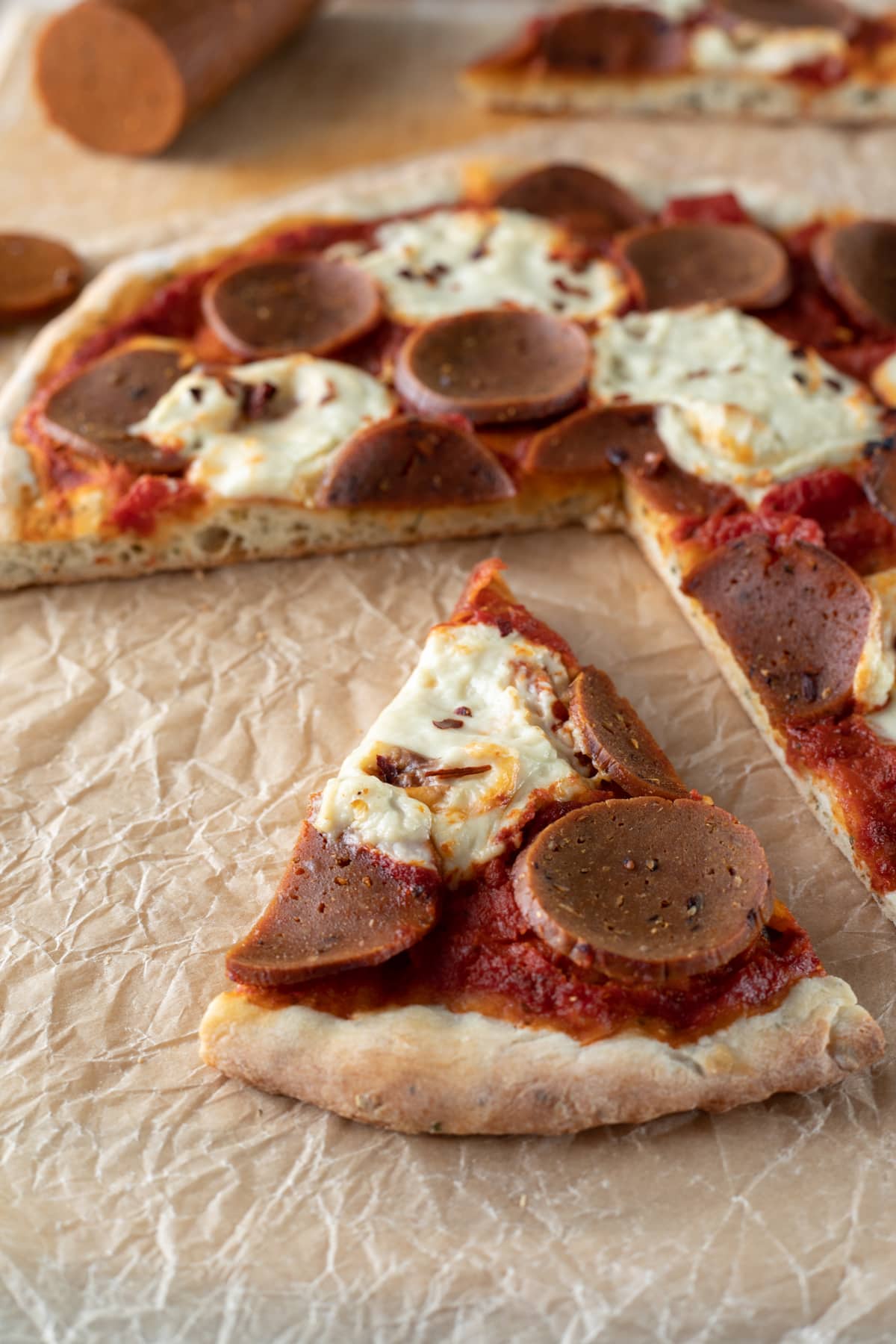 Top Tip
The key to perfectly dense seitan pepperoni is to wrap it tightly. If the foil is somewhat loose, the seitan will expand during cooking to fill the foil package, and you may end up with bready looking holes in your pepperoni.
I highly recommend heavy-duty aluminum foil for this recipe. Also, the layer of parchment between the foil and seitan helps to reinforce it and make it even stronger. This allows you to wrap it snugly and really twist those ends closed.
Serving Suggestions
As I mentioned above, the tasty ways to use vegan pepperoni are limited only by your imagination! Slice it, chop it, or pulse it in a food processor.
Enjoy vegan pepperoni straight from the fridge or in hot recipes like lasagna or cheesy pasta bakes. We also really love it on salads, snack boards, pizza, and sandwiches!
If you try the recipe I would love to hear from you! Comment below to let us know how you enjoy using vegan pepperoni.
More seitan recipes:
Easy Buffalo Wings
Basic Seasoned Seitan
Simple Seitan Roast
Vegan Turkey Roast
Maple Breakfast Sausage
Andouille Sausage
Teriyaki Seitan Jerky
Seitan-Jackfruit Vegan Ribz

Follow My Quiet Kitchen on Facebook, Instagram, and Pinterest, and subscribe via email to receive all of the latest recipes!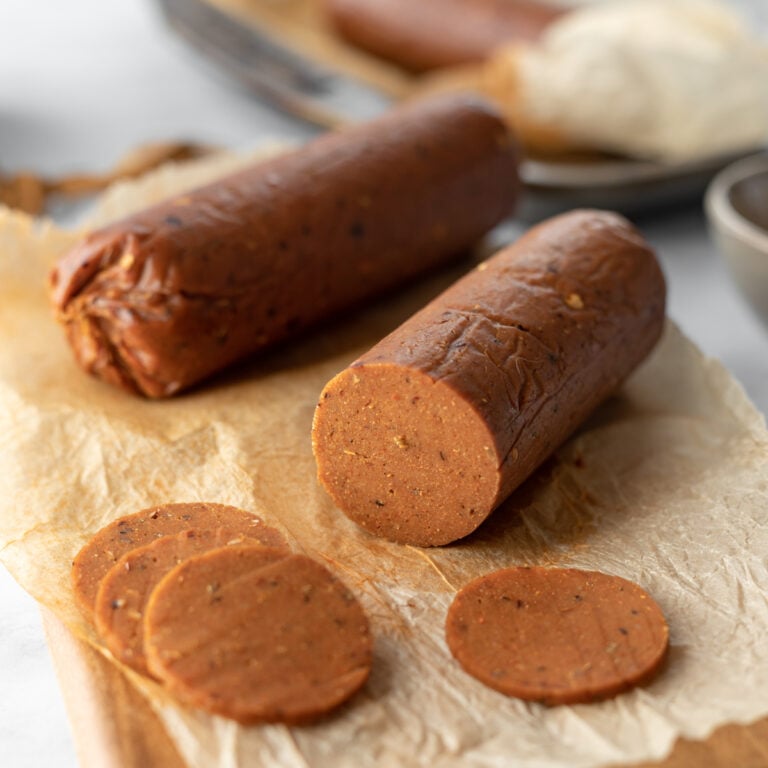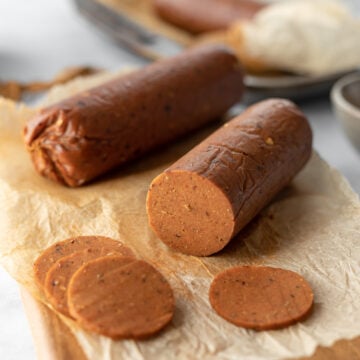 Vegan Pepperoni Recipe (Instant Pot or Oven)
Irresistibly delicious and so easy to make, this vegan seitan pepperoni is perfect for everything from pizza and calzones to cheese boards and sandwiches. Includes oven and Instant Pot instructions. Only 20 minues of hands-on prep time!
Recipe adapted from Miyoko Schinner's peppy unpepperoni in The Homemade Vegan Pantry.
Ingredients
Dry ingredients:
1 ¼

cups

vital wheat gluten

¼

cup

nutritional yeast

2

Tablespoons

oat flour or other flour of choice

1

Tablespoon

paprika

2 ½

teaspoons

fennel seed, lightly crushed

-

See Notes.

1 ½

teaspoons

red pepper flakes

1 ½

teaspoons

garlic powder

1

teaspoon

smoked paprika

1 ½

teaspoons

fine sea salt

1

teaspoon

black pepper

⅛

teaspoon

cayenne

-

Can omit for less spiciness.

⅛

teaspoon

allspice, optional
Wet ingredients:
1 ½

Tablespoons

neutral cooking oil, such as grapeseed

1 ½

Tablespoons

mustard, yellow or stoneground

1 ½

Tablespoons

soy sauce or tamari

1 ½

Tablespoons

maple syrup

2

teaspoons

liquid smoke

½

cup

water
Instructions
Tear off two pieces of aluminum foil, each about 12 inches long. Also tear/cut two smaller pieces of parchment paper just large enough to wrap around each log of pepperoni. If baking the pepperoni, preheat oven to 325 degrees F.

In a food processor or a large bowl, mix together the dry ingredients. Add the wet ingredients and pulse or stir to combine. If using a food processor, let it run for about 30 seconds or until the dough comes together in a ball. Transfer the dough to a work surface and knead until smooth and firm, about 30 seconds for dough made in a food processor or 2 to 3 minutes for dough made in a bowl.

Cut the dough in half, and shape each piece into a log about 5 ½-inches long. It's okay if they don't look perfect. They'll snap into place inside the foil. Place a piece of foil on the work surface, and place a piece of parchment on top near the edge closest to you. Wrap the pepperoni up tightly, twisting the ends like a candy wrapper.

Instant Pot instructions: Add 1 cup water to the insert and place the trivet inside. Place the two foil packages on the trivet, and secure the lid. Press the "steam" button, and make sure the display reads "high" (if applicable for your IP). Set the time for 30 minutes. Some pressure will build but not as much as during pressure cooking. When the IP beeps that the time is done, carefully quick release the pressure, remove the lid, and use tongs or an oven mitt to move the pepperoni to a plate or cutting board to cool. Unwrap and let cool for 5 minutes before slicing, or cool completely then store in an air-tight container in the refrigerator.Oven instructions: Place the two foil logs on a baking sheet, and bake for 55 minutes, flipping at the halfway point. Remove from oven, unwrap, and let cool for 5 minutes before slicing. Or cool completely then store in an air-tight container in the refrigerator.
Notes
*The fennel seeds don't need to be powdered, just broken up a bit. Easy ways to do this are with a mortar and pestle or in a coffee/spice grinder.
Tip for pepperoni pizza:
Before using the pepperoni on pizza, marinate the slices in a bit of oil to keep them from drying out during baking. You can also spritz them with oil after adding to the pizza, but marinating is best.
Storage
Store the pepperoni in an airtight container in the refrigerator for up to 6 days. It's also freezer friendly. Wrap well to protect from freezer burn. Thaw in the fridge overnight before using.
Estimated Nutrition (per serving)
Calories:
175
kcal
Carbohydrates:
11
g
Protein:
24
g
Fat:
4
g
Cholesterol:
0
mg
Sodium:
868
mg
Fiber:
3
g
Sugar:
2
g
Nutrition information is an estimate and will vary depending on the exact amounts and specific products and ingredients used. We calculate this information using the online calculator cronometer.com.
Did you try the recipe?
I LOVE hearing from you! Comment below to let us know.
What is seitan?
The base of this vegan pepperoni is seitan, or wheat gluten. Did you know that vegetarian Buddhists were enjoying wheat gluten as far back as the 6th century? It's true! The process is thought to have either been developed by Buddhist monks or by chefs who prepared food for Chinese emperors during their annual, week-long observation of vegetarianism.
So while the word "gluten" has taken on a negative connotation in today's world, it's really not a strange food at all (though it should certainly be avoided by anyone with Celiac disease or gluten sensitivity).
Seitan is made by washing wheat flour under water until all of the starches have washed away, leaving behind the protein. In fact, there was recently a viral TikTok video showing the "wash the flour" method.
While people all over social media are having their minds blown by the meaty result of washing wheat flour, vegans everywhere are like, "Umm helloooo, this is seitan, y'all. We've been telling you for years how awesome this stuff is!"
Some people still prefer to do the washing process themselves, but thankfully, it's now easy to find dried vital what gluten in stores, which makes homemade seitan much easier.
Starting with vital wheat gluten also makes it possible to build a lot of flavor into the dough, like we're doing with this seitan pepperoni.