Whole wheat crackers are a breeze to make at home and endlessly customizable with your favorite herbs and spices. They're crunchy, crispy, and perfect for dipping! Cut into bite-size pieces or bake as a sheet then break into artisan-style crackers.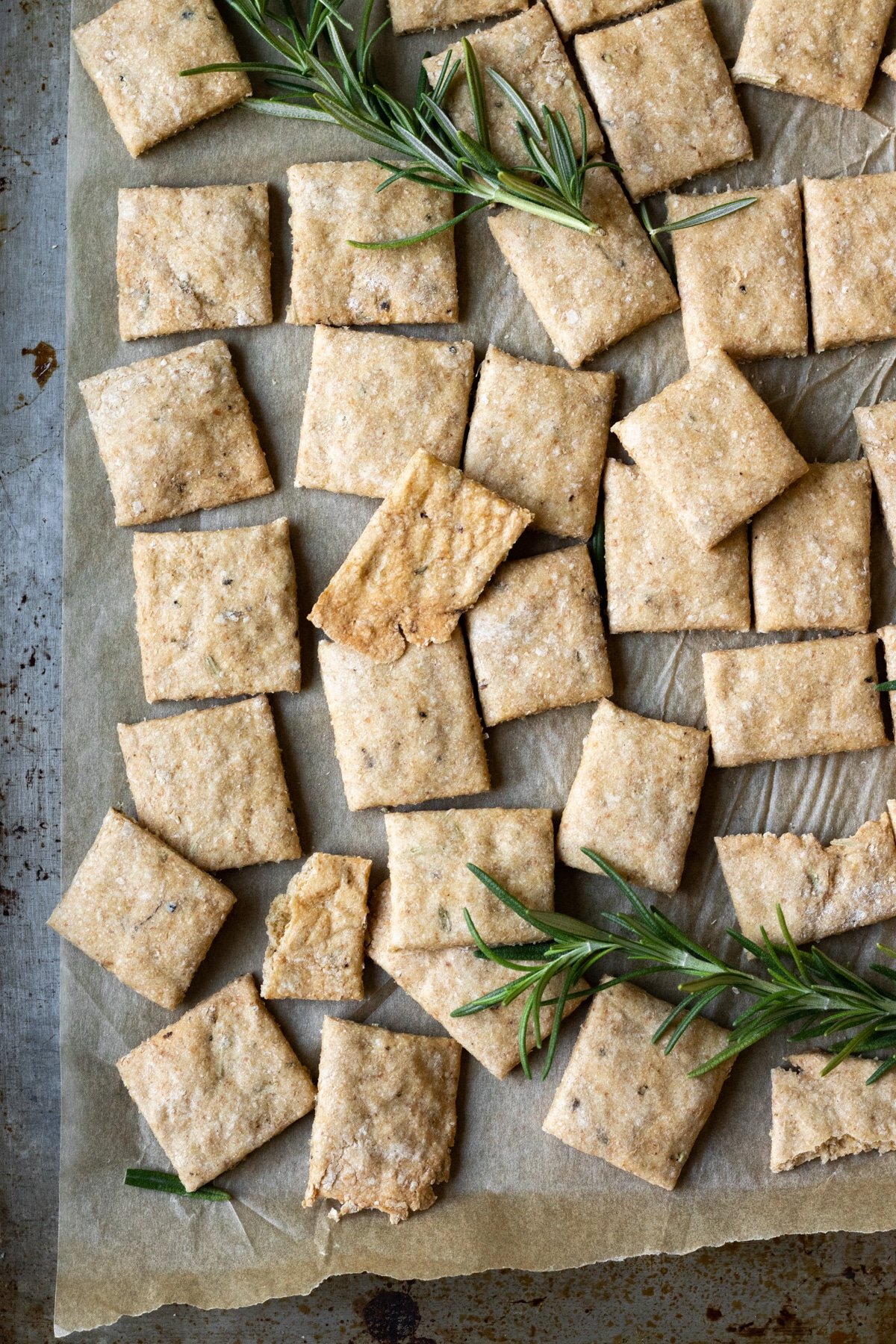 Many of us have been doing more baking this spring, with homemade bread getting a lot of attention. But what about homemade crackers?! If you've never made crackers before I think you'll be pleasantly surprised with how EASY it is.
To make these whole wheat crackers all you need is 1 bowl, 2 baking sheets, parchment paper, a rolling pin, and a handful of ingredients. The idea with this basic cracker recipe is that you probably already have everything you need in the pantry.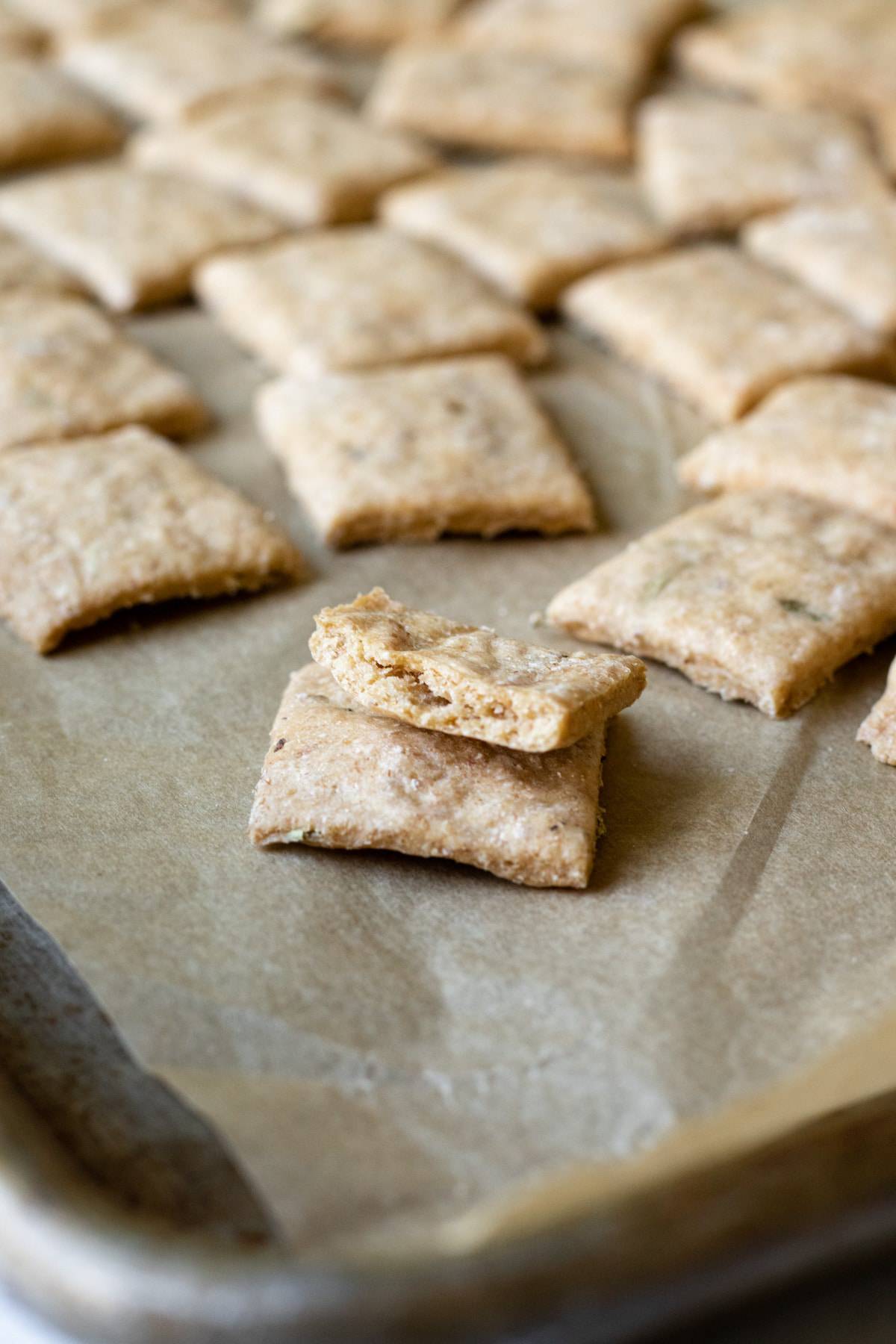 I opted for white whole wheat flour because, well, I had a bag of it in the fridge that I really wanted to use up! But also, I'm a fan of white whole wheat flour since it provides the same whole-grain nutrition as other varieties of whole wheat but with a more subtle flavor and texture. Feel free to use whole wheat pastry flour in this recipe, as well.
In keeping with the pantry-friendly theme, I included dried rosemary in this batch, but fresh rosemary works, too. Or omit the herbs altogether for a plain, whole wheat cracker. Add a splash of maple syrup or a few teaspoons of granulated sweetener for a cracker more reminiscent of Wheat Thins.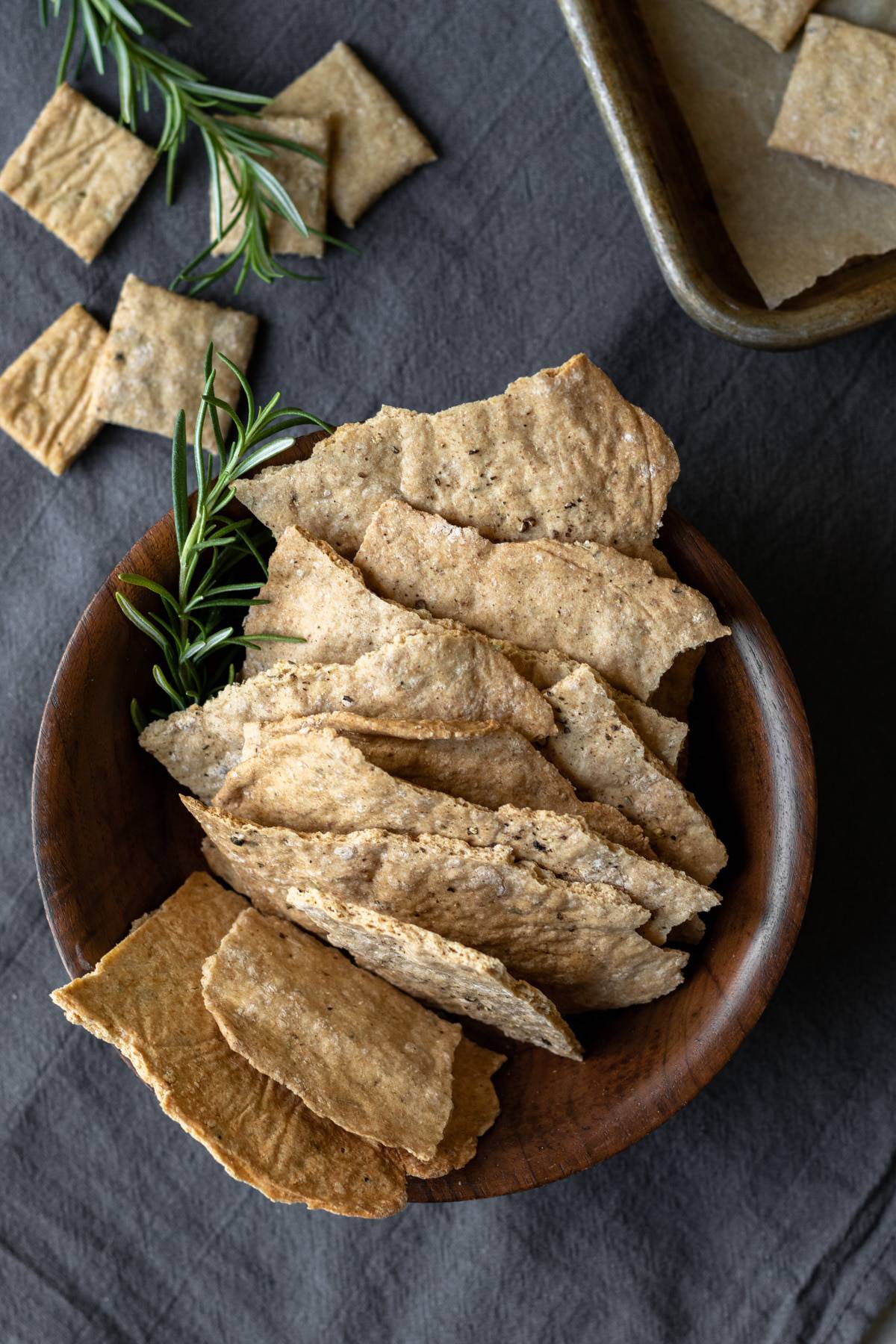 Oil-Free vs With Olive Oil
Full-fat coconut milk add a touch of richness to these oil-free crackers (for reference, all of these photos show the oil-free version). Coconut milk also adds moisture and reduces the amount of water needed to pull the dough together.
If you include oil in your diet, feel free to substitute ¼ cup olive oil for the coconut milk and increase the water to ½ cup (possibly more).
If you're curious about the difference in flavor and texture, the oil-free version is definitely a sturdier, healthier tasting cracker. While still delicious, it's not as rich or flaky as a cracker made with olive oil. So if you're not avoiding oil and prefer a flakier, buttery cracker more similar to store-bought, you'll want to go with the olive oil version.
Step by Step Photos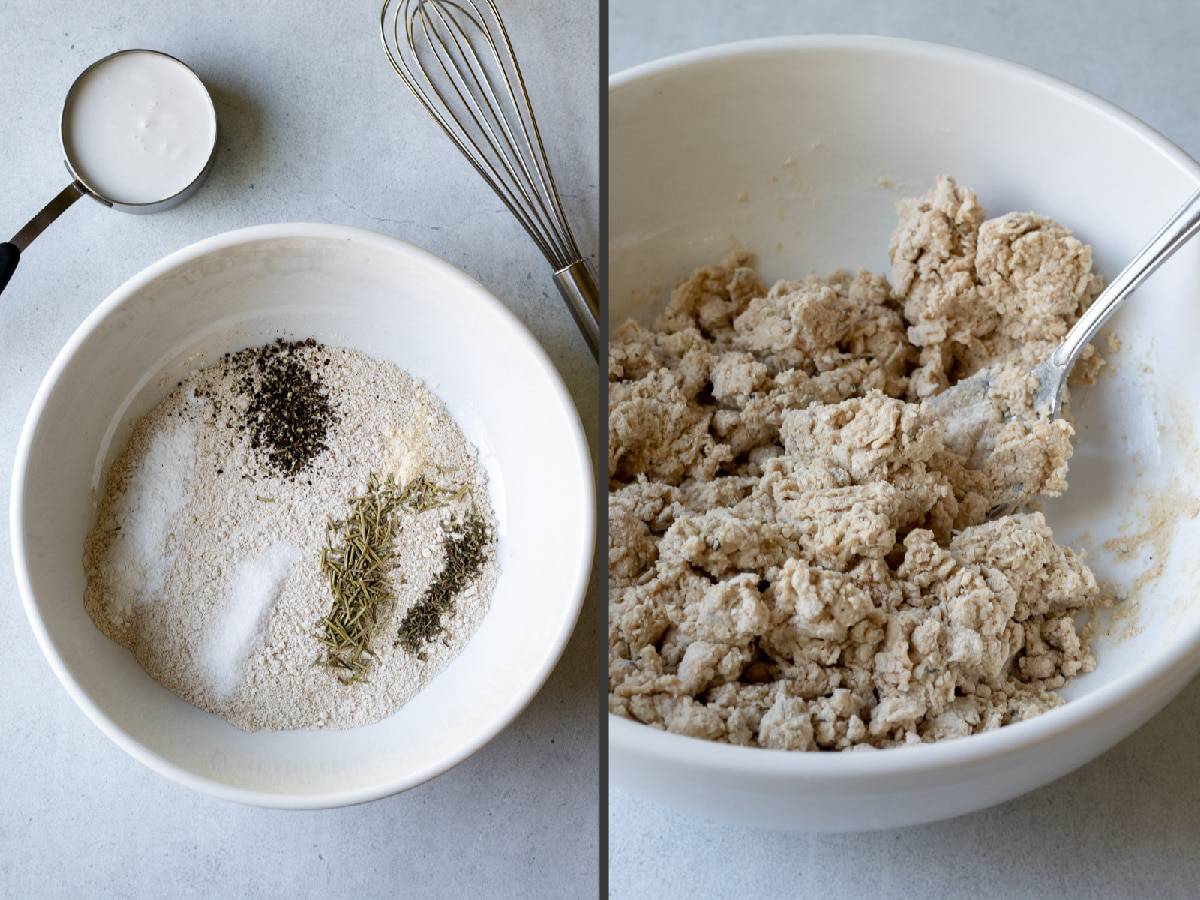 In a mixing bowl whisk together the dry ingredients. Then add the coconut milk (or oil) and stir. The dough will be lumpy. Next, add the water, and mix again until the dough begins to hold together. It should look rough and shaggy.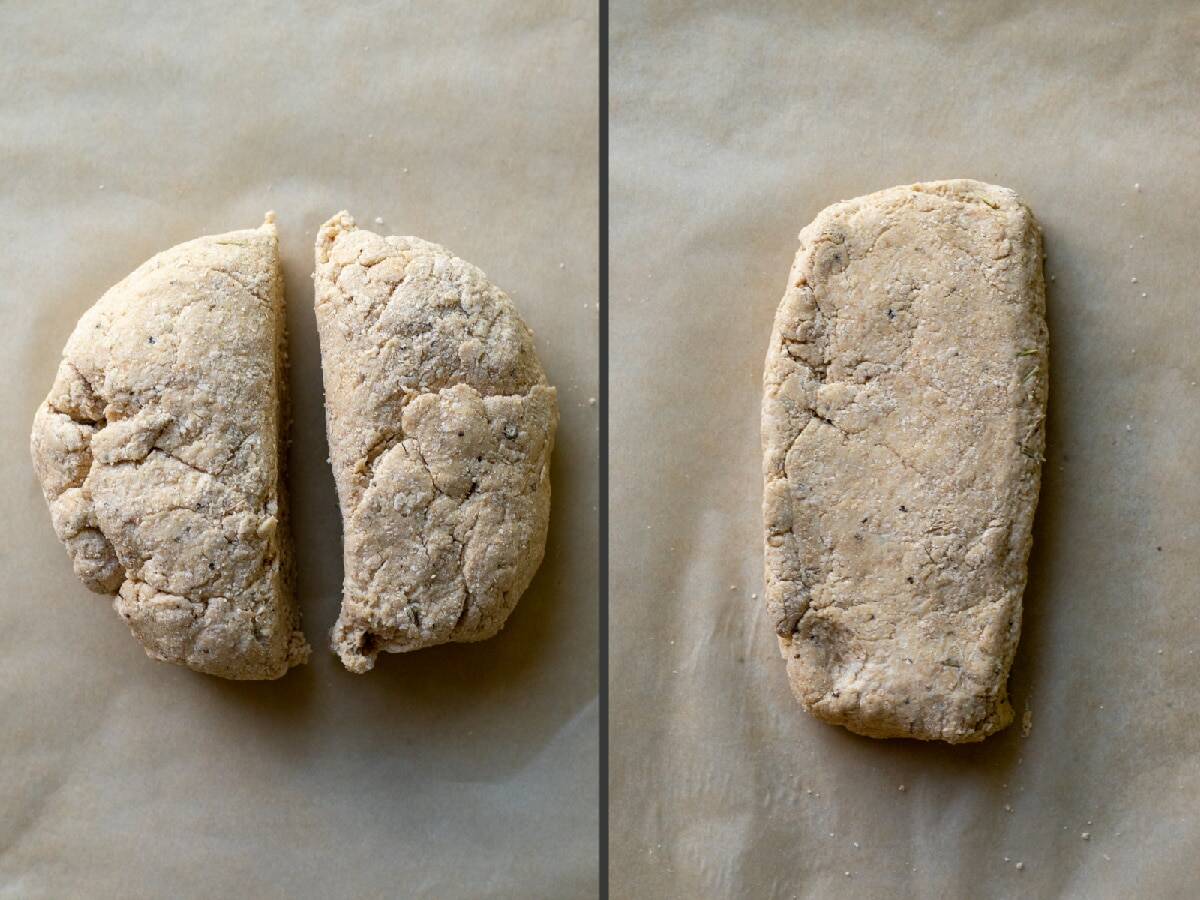 Gather the dough into a ball, then divide it in two. Loosely re-shape the halves into rectangles, and set one aside.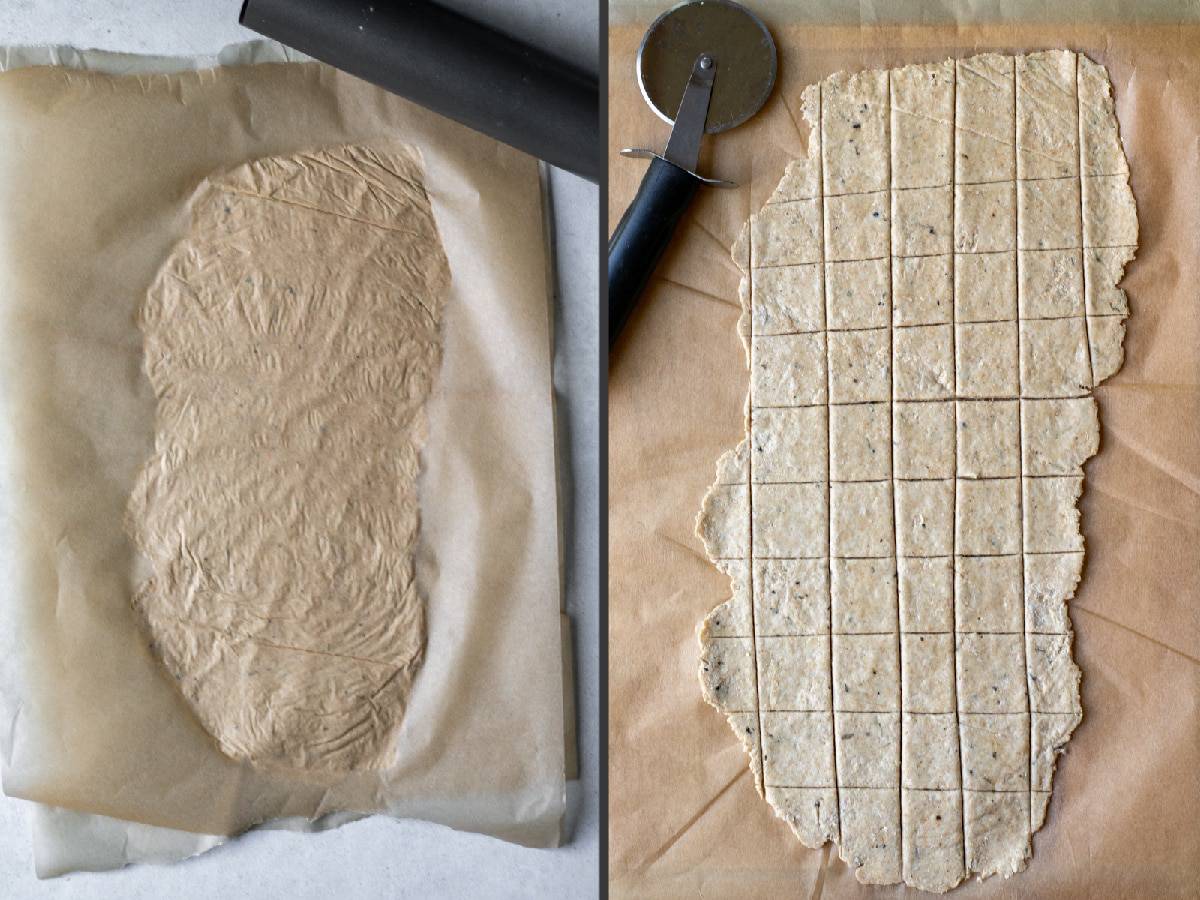 Place one rectangle of dough on a large piece of parchment paper. Place another piece of parchment on top, and roll the dough until it's approximately 14 inches long and 7 to 8 inches wide.
The overall shape doesn't really matter, just make sure it will fit on your baking sheet.
The important thing is that the thickness is consistent across the entire sheet of dough. For example, if the middle is thicker than the edges, the edges will be crisp and golden but the center won't be done.
For bite-size crackers use a pizza cutter or a knife to cut into equal-size pieces. For rustic artisan crackers, simply leave the sheet of dough whole and break into crackers after they cool.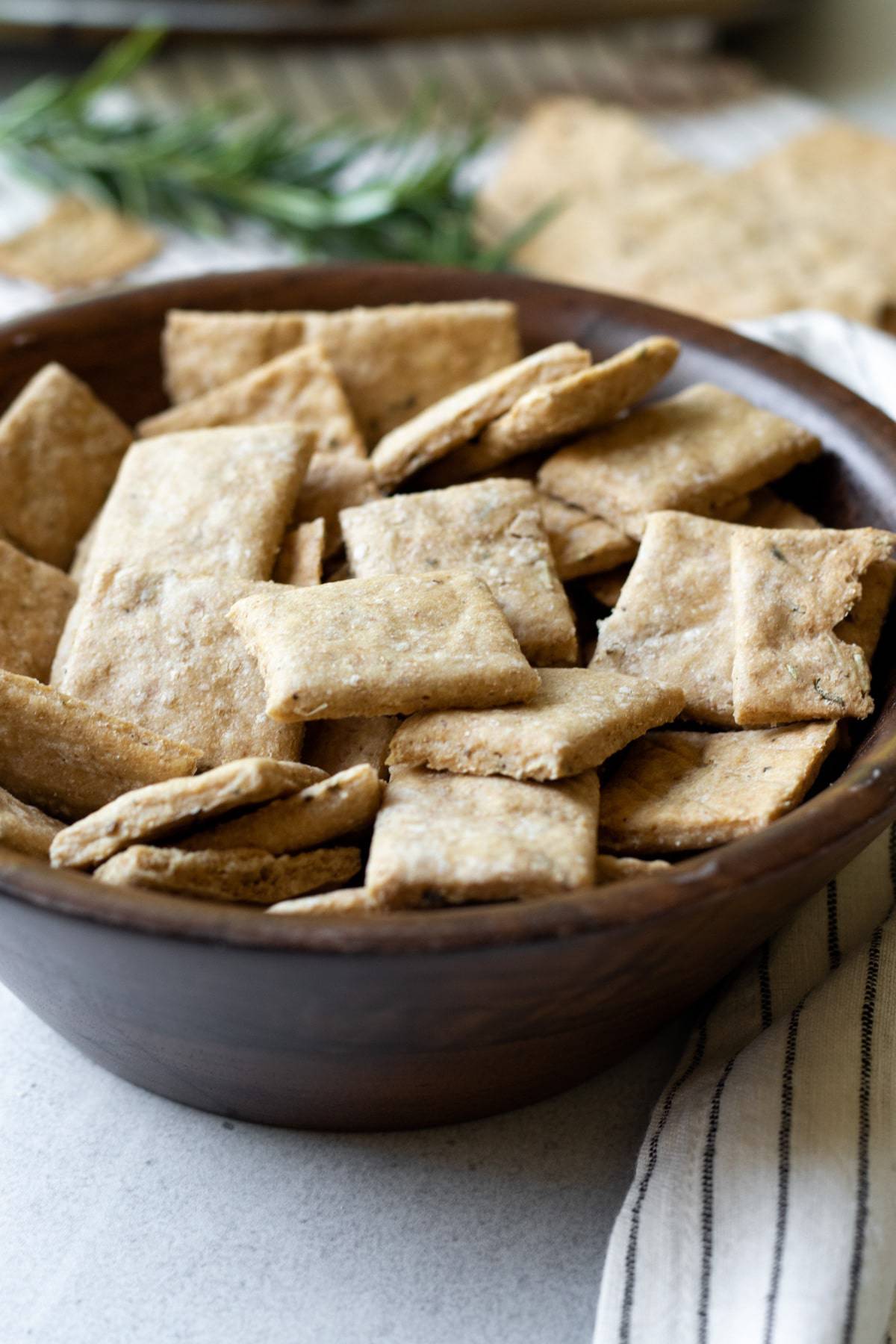 These whole wheat crackers are perfect for scooping up vegan cheeses and dips. Try them with these recipes:
Oil-Free Carrot-Ginger Hummus
Roasted Lime & Jalapeno Hummus
Caramelized Shallot Dip
Beer Cheese Ball
No-Cook Vegan Cheese Sauce
They're also awesome with Vegan Tuna Salad!
If you try these healthy whole wheat crackers I would love to hear from you. Leave a comment and star rating below to let us know! And stay tuned for a spicy harissa cracker recipe coming soon.
Happy snacking!
Whole Wheat Crackers (WFPB/Oil-Free Option)
Making your own whole wheat crackers at home is super easy and actually a lot of fun! Endlessly customizable with your favorite herbs and spices. Make them the traditional way with olive oil or with coconut milk for an oil-free cracker.
Lightly adapted from the "as you like it crackers" in Miyoko Schinner's The Homemade Vegan Pantry.
Ingredients
2

cups

white whole wheat flour

Can also use whole wheat pastry flour, regular whole wheat, or 1 cup all-purpose flour and 1 cup whole wheat.

1

teaspoon

baking powder

¾ to 1

teaspoon

fine sea salt

1

teaspoon

freshly cracked black pepper

¼

teaspoon

garlic powder, optional

1

teaspoon

dried rosemary, optional

¼

teaspoon

dried parsley, optional

½

cup

full-fat coconut milk (see step 1 for tips) OR ¼ cup olive oil

4 to 6

tablespoons

water for coconut milk version OR ½ cup water for olive oil version
Instructions
If using coconut milk, shake the can very well before opening. If the fat and liquid have separated, warm the coconut milk slightly then stir until homogenous. Measure out ½ cup (reserve remaining coconut milk for another recipe).

Preheat oven to 350 degrees F. In a mixing bowl whisk together the flour, salt, baking powder, and any herbs or spices you're using. Drizzle in the coconut milk (or olive oil) and mix with a fork.

Drizzle in the lesser amount of water (¼ cup for the coconut milk version or ½ cup for the olive oil version). Stir again to combine. The dough should look shaggy and rough. If there is still quite a bit of dry flour in the bowl add 1 to 2 more tablespoons of water and mix again. Don't overwork the dough.

Gather dough into a ball, and cut in half. Shape each half into a rectangle about ¾-inch thick. Cut three large pieces of parchment paper (about the size of a standard cookie sheet). Place one piece of dough on a piece of parchment. Place another piece of parchment on top, and roll out until 14 to 16 inches long and 7 to 8 inches wide. Aim for even thickness across the entire sheet of dough. Otherwise, thinner areas will be done first. Carefully peel away top piece of parchment. Re-use that piece of parchment to roll out the other piece of dough.

For bite-size crackers use a pizza cutter or a knife to cut individual pieces, or for artisan-style crackers, simply leave the sheets of dough whole. TIP: sprinkle the tops with extra black pepper for added flavor.

Transfer the bottom piece of parchment and the dough to baking sheets. Bake for 25 to 40 minutes. NOTE: bake time depends on the thickness of the dough. Also, the oil-free version typically requires a longer bake time. Begin checking the crackers after 22 - 25 minutes. They're done when crisp and golden. Allow to cool then break artisan-style crackers into desired size.
Notes
Nutrition Facts represent the oil-free version. A serving size is ⅛ of the recipe.
Storage
Once crackers are completely cool, store at room temperature in an airtight container for up to 1 week.
Estimated Nutrition (per serving)
Calories:
124
kcal
Carbohydrates:
22
g
Protein:
4
g
Fat:
3
g
Cholesterol:
0
mg
Sodium:
220
mg
Fiber:
3
g
Nutrition information is an estimate and will vary depending on the exact amounts and specific products and ingredients used. We calculate this information using the online calculator cronometer.com. For the most accurate nutrition information we recommend calculating it yourself to reflect the specific ingredients used in your dish.
Have you tried the recipe?
Comment below to let us know!