Vegan tuna salad gives you the classic flavors and textures you want without the stuff you don't. Jackfruit and chickpeas combine to create a totally delicious, satisfying spread perfect for wraps, sandwiches, salads, or just scooping up with crackers! Great for meal prep, and free from oil, gluten, refined sugar, and soy.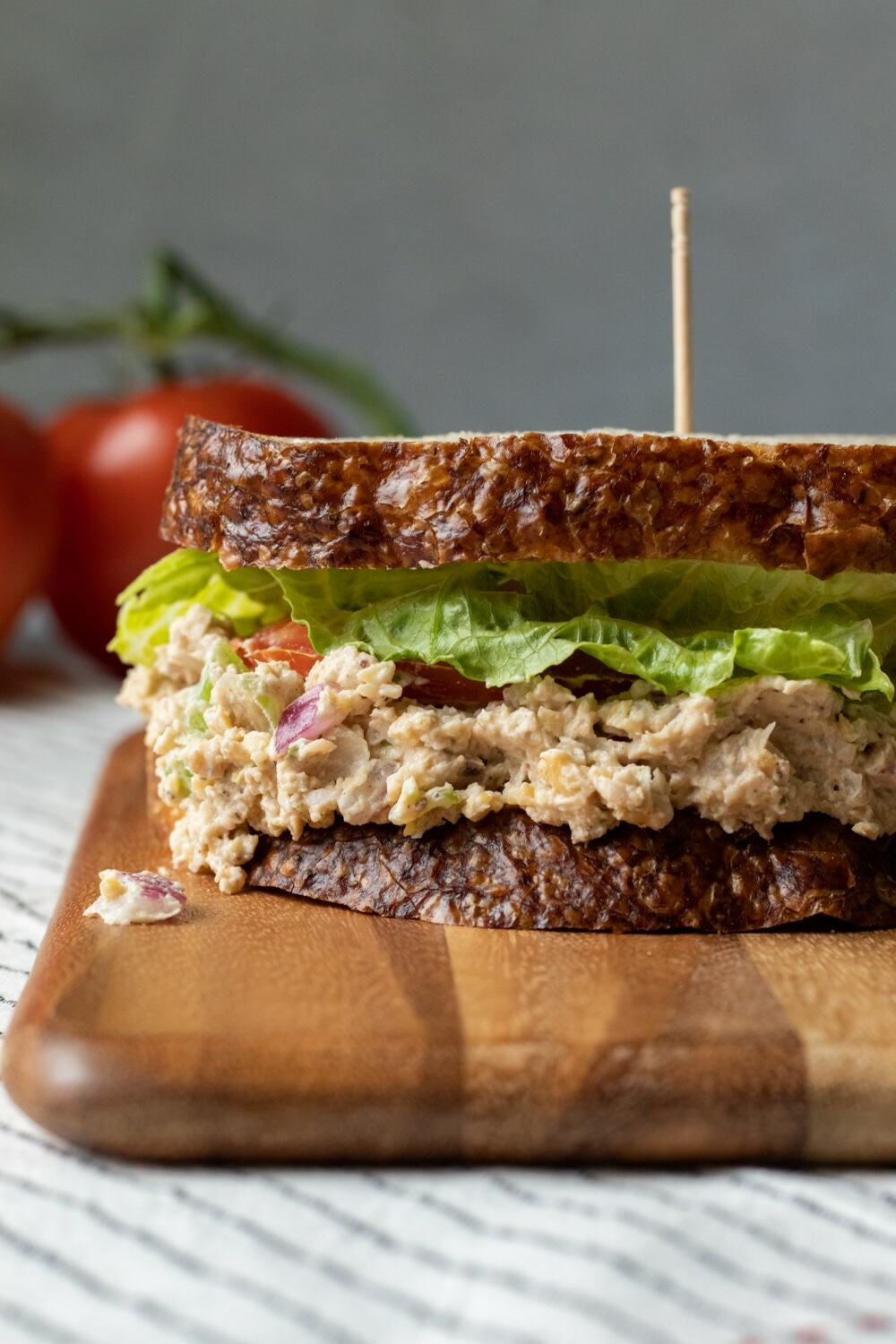 Why This Recipe Works
We've been enjoying this Oil-Free Aquafaba Mayo so much, I figured a vegan tuna salad recipe was in order!
Instead of using 100% chickpeas like this Curried Chickpea Salad, I wanted to incorporate jackfruit for a flaky, fish-like texture. Jackfruit is a great substitute in seafood-y dishes, and I love that it helps bulk up the recipe.
When all of these ingredients are combined in a food processor the result is so creamy and convincing, but don't take my word for it! Check out the reviews below the recipe.
The addition of dulse (seaweed) gives this tuna salad a very mild hint of the sea, but you can leave it out if you don't have any. I included dulse since I had some in the fridge, but you can also use toasted and crumbled nori. Seaweed not only tastes great but is a good source of iodine, too.
UPDATE: I've had such amazing feedback from you all on this tuna salad, I decided to make a Vegan Chicken Salad using the same base of chickpeas and jackfruit. So good!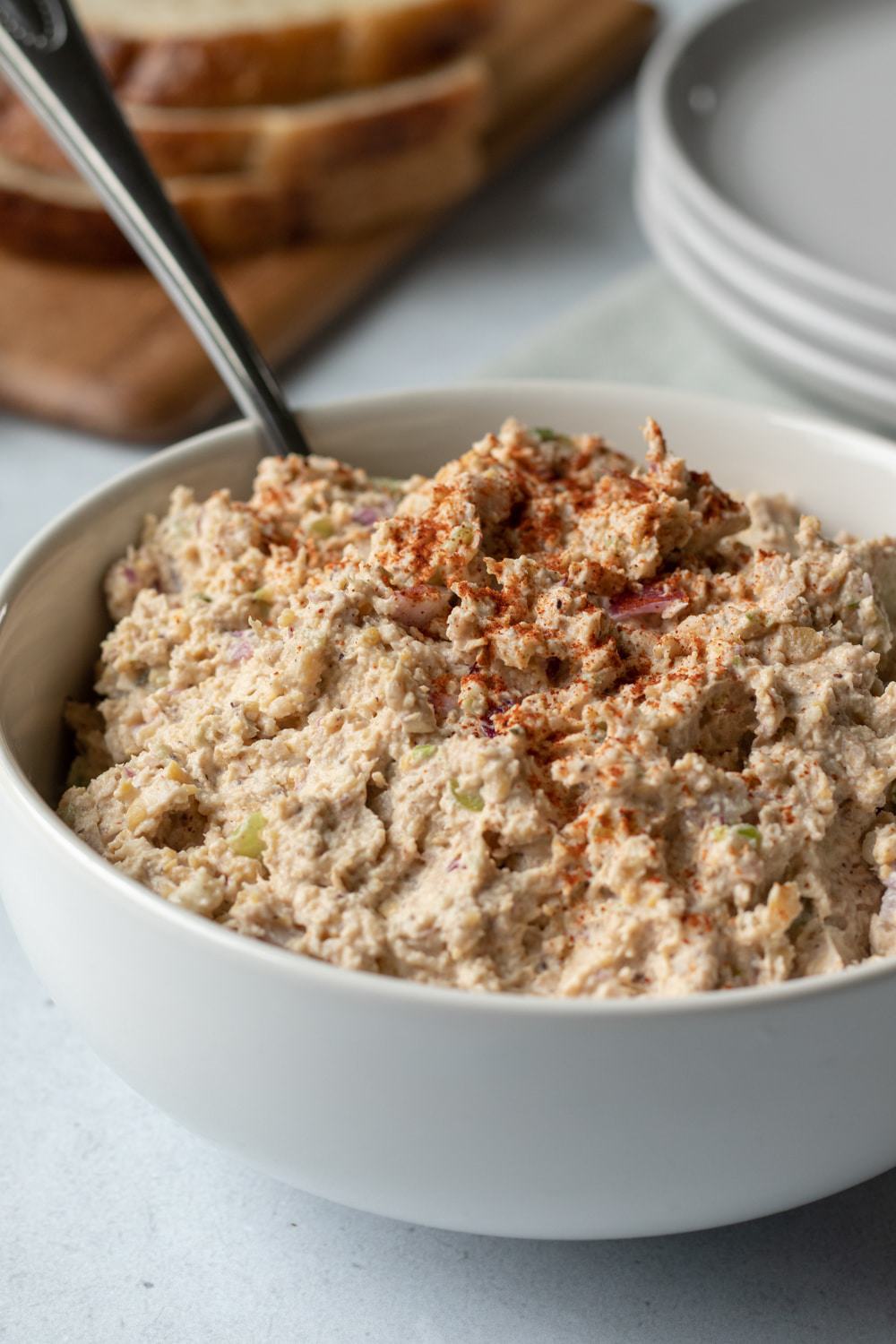 Red onion and celery provide extra nutrition, crunch, and flavor! Honestly, this vegan tuna salad gets tastier overnight as the flavors mingle.
I highly recommend whipping up a batch on Sunday or Monday, whenever you do your weekly meal prep, and then enjoying this healthy treat over the next few days anytime hunger strikes. It has quickly become my new favorite afternoon snack!
Ingredient Notes
Feel free to add other veggies, sub store-bought mayo, or play with the spices. The basic ingredients I used in this vegan tuna salad are:
canned jackfruit in brine, not syrup - usually called "young" or "green" jackfruit.
cooked chickpeas - to keep things simple, the recipe is written for one 15 ounce can.
vegan mayo of choice - I highly recommend my oil-free mayo; it's rich and flavorful but made from whole foods and has half the calories of store-bought!
red onion - make sure it's fresh for the best flavor.
celery
Old Bay seasoning - or sub a pinch of celery seed, paprika, black pepper, and cayenne.
lemon juice
dulse granules - if you can't find dulse, crumbled sheets of nori are also delicious.
cayenne, optional
sea salt
Tips
Making this vegan version of tuna salad is super easy! There are a few tips I recommend for the best flavors and a rich, spreadable texture.
Drain the canned jackfruit then soak it in fresh water for a few minutes. Drain again, and place on a lint-free tea towel. Gather up the ends of the towel, hold it over the sink, and squeeze the jackfruit VERY well to remove as much moisture as possible. This helps get rid of the brine-y, canned flavor.
Don't skip the step of quickly sautéing the jackfruit. It helps evaporate any remaining moisture and enhances the Old Bay seasoning.
Use a food processor to break down the chickpeas and jackfruit. You'll end up with a really meaty, spreadable, pâté-like texture that most closely resembles traditional tuna salad.
Taste and adjust lemon, salt, and spices at the end, keeping in mind that the onion flavor will mellow and spread throughout the dish as it sits.
Flavor Variations
As far as substitutions go, you could take this basic combination of chickpeas, jackfruit, and mayo in so many different directions!
Keep it tuna-esque, but add other veggies, like yellow, orange, or red pepper, fresh jalapeno, or shallots.
Switch up the flavors by adding chopped olives or pickle relish.
Make it extra spicy with hot sauce or harissa!
Try it with the curry flavors of this Chickpea Salad.
Add sweetness with dried fruit, fresh apple, or grapes.
Switch up the seasonings and make this Vegan Chicken Salad!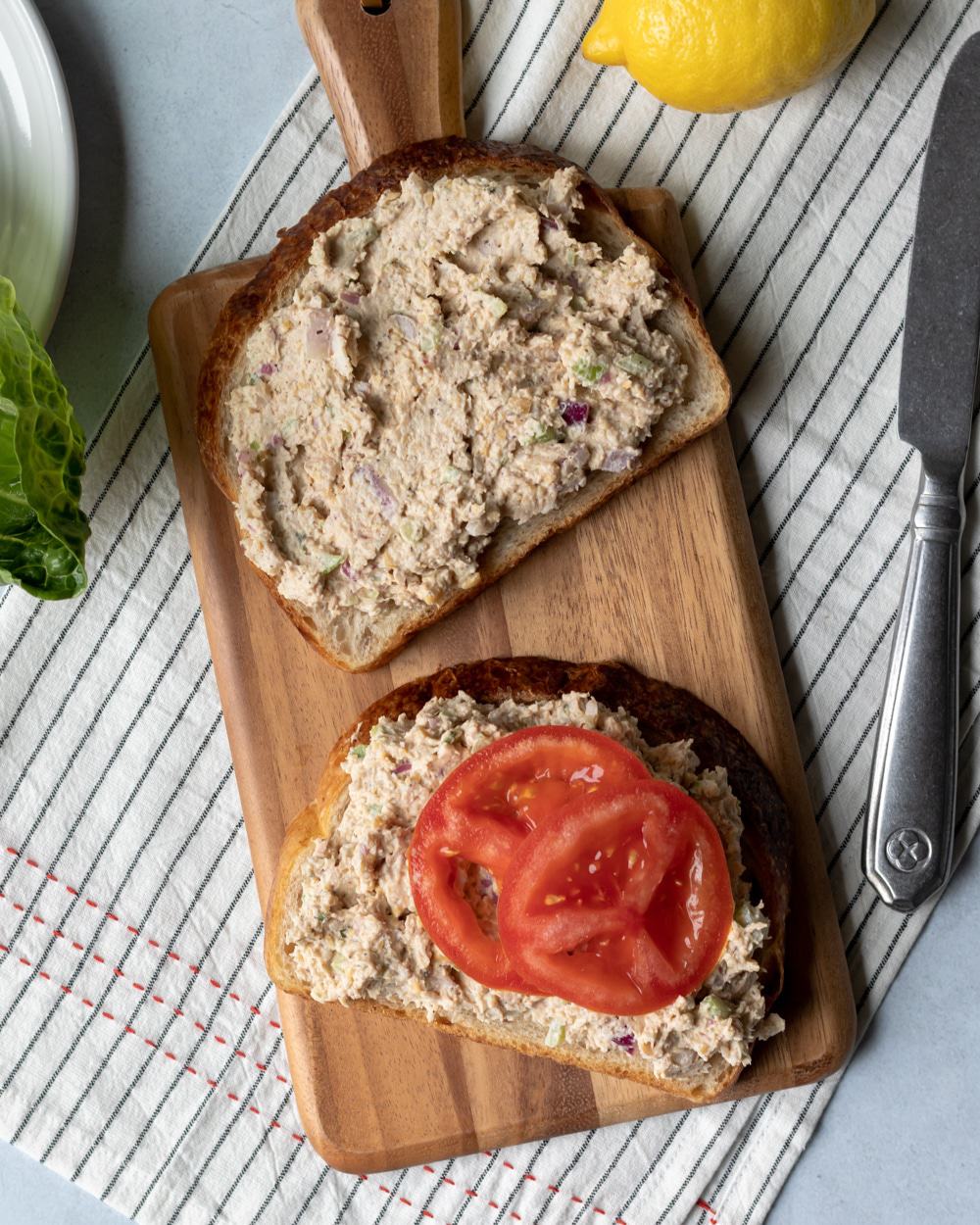 RELATED: 18 Vegan Sandwiches That Travel Well
Serving Suggestions
This vegan tuna salad is so good I found myself scooping it up by the spoonful! Maybe you'll have more self control than I did and manage to make a proper meal of it.
Pile it on toasted bread and into wraps. Enjoy a big scoop on top of a green salad or baked potato. Or just scoop up your vegan tuna salad with chips (I did a lot of that, too!), crackers, or raw veggies like carrots, celery, and peppers.
And make an epic Vegan Tuna Melt with it!
I hope you enjoy this Vegan Tuna Salad recipe as much as we do. If you give it a try be sure to leave a comment and a star rating below to let others know how it turned out.
I'm off to whip up another batch now!
You might also like:
'Chicken' Noodle Soup
Vegan Chicken Salad
Homemade Vegan 'Chicken' Broth Powder
Nut-Free Vegan Ranch Dressing
Creamy Harissa Dressing
BLT with Tempeh and Carrot Bacon
Creamy Ranch Pasta
Follow My Quiet Kitchen on Facebook, Instagram, and Pinterest, and subscribe via email to receive all of the latest recipes!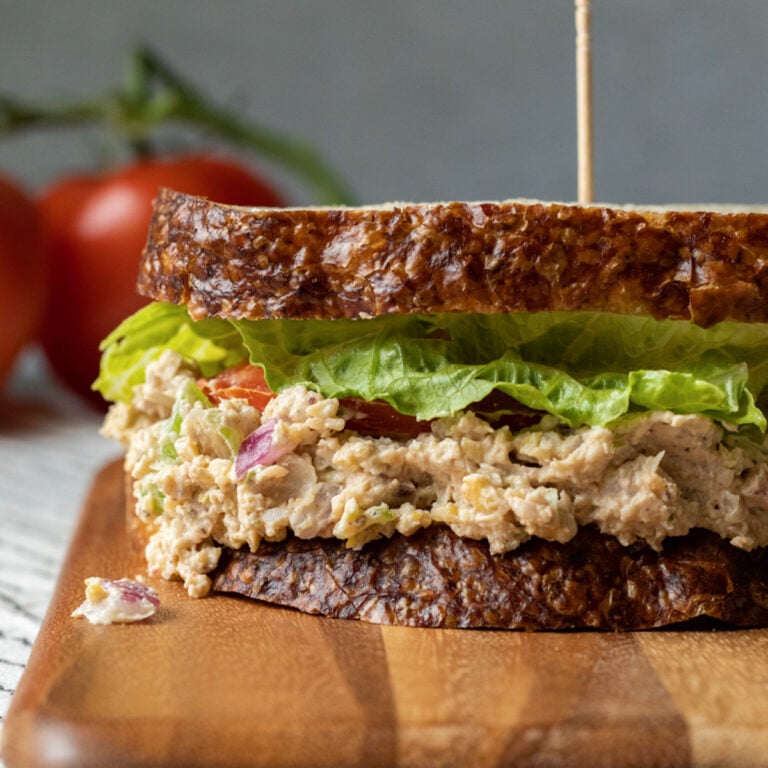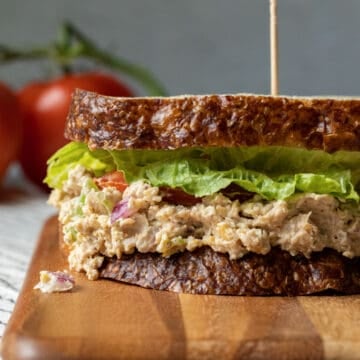 The BEST Vegan Tuna Salad
Creamy vegan "tuna" salad made with chickpeas and jackfruit. Try this delicious spread in wraps and sandwiches or as an easy snack with raw veggies and crackers. Free from oil, gluten, and soy.
Ingredients
1

(20 oz.) can

green/young jackfruit in brine

1

large

lemon, cut in half

3

ribs

celery, diced (about 1 cup)

1

small

red onion, diced (about ¾ cup)

1 ½ to 2

teaspoons

Old Bay seasoning

1

(15 oz.) can

chickpeas, rinsed and drained

1

batch

Oil-Free Vegan Aquafaba Mayo -

Or ½ to ¾ cup vegan mayo of choice.

1 to 2

teaspoons

dulse granules -

Sub crumbled toasted nori, if desired.

a few

dashes

cayenne pepper, optional

salt, to taste
Instructions
Drain the jackfruit and place in a shallow bowl or dish. Cover with water and let soak for a few minutes while you prep the onion and celery and gather the other ingredients. Preheat a saute pan over medium heat.

Drain the jackfruit, and place on a clean, lint-free towel. Gather up the ends of the towel, hold it over the sink, and squeeze the jackfruit VERY well to remove as much liquid as possible.

Transfer the jackfruit to the pan, and saute for 2 to 3 minutes, stirring occasionally.* Add 1.5 teaspoons Old Bay to the pan and stir. Cook for another minute or so, then add juice from half a lemon. Stir again, and remove from heat. Transfer jackfruit to a plate to cool.

In the bowl of a large food processor combine the cooled jackfruit, chickpeas, and ½ cup mayo. Pulse 5 to 8 times. Scrape down the sides of the bowl, and add the dulse granules, cayenne, and more mayonnaise, if desired (I used the entire batch of Aquafaba Mayo to make the tuna salad nice and tangy and rich). Pulse to combine.

Taste and add more salt, lemon juice, Old Bay, dulse, and/or cayenne, as desired. Add the red onion and celery, and pulse to incorporate. Transfer vegan tuna salad to a lidded storage container, and refrigerate until ready to serve.
Notes
*Sautéing the jackfruit helps evaporate any remaining moisture and enhances the Old Bay seasoning.
Storage
Store vegan tuna salad in the refrigerator in an airtight container for up to 5 days. It holds up very well for meal prep and tastes even better after the first day.
Estimated Nutrition (per serving)
Calories:
212
kcal
Carbohydrates:
27
g
Protein:
8
g
Fat:
8
g
Saturated Fat:
1
g
Cholesterol:
0
mg
Sodium:
810
mg
Fiber:
9
g
Sugar:
5
g
Vitamin A:
122
IU
Vitamin C:
7.5
mg
Calcium:
70
mg
Iron:
2.2
mg
Nutrition information is an estimate and will vary depending on the exact amounts and specific products and ingredients used. We calculate this information using the online calculator cronometer.com.
Did you try the recipe?
I LOVE hearing from you! Comment below to let us know.