With both carrot bacon AND tempeh bacon, this Vegan BLT isn't lacking in flavor or nutrition! A healthier version of the classic, keep this vegan sandwich oil-free with my Aquafaba Mayo.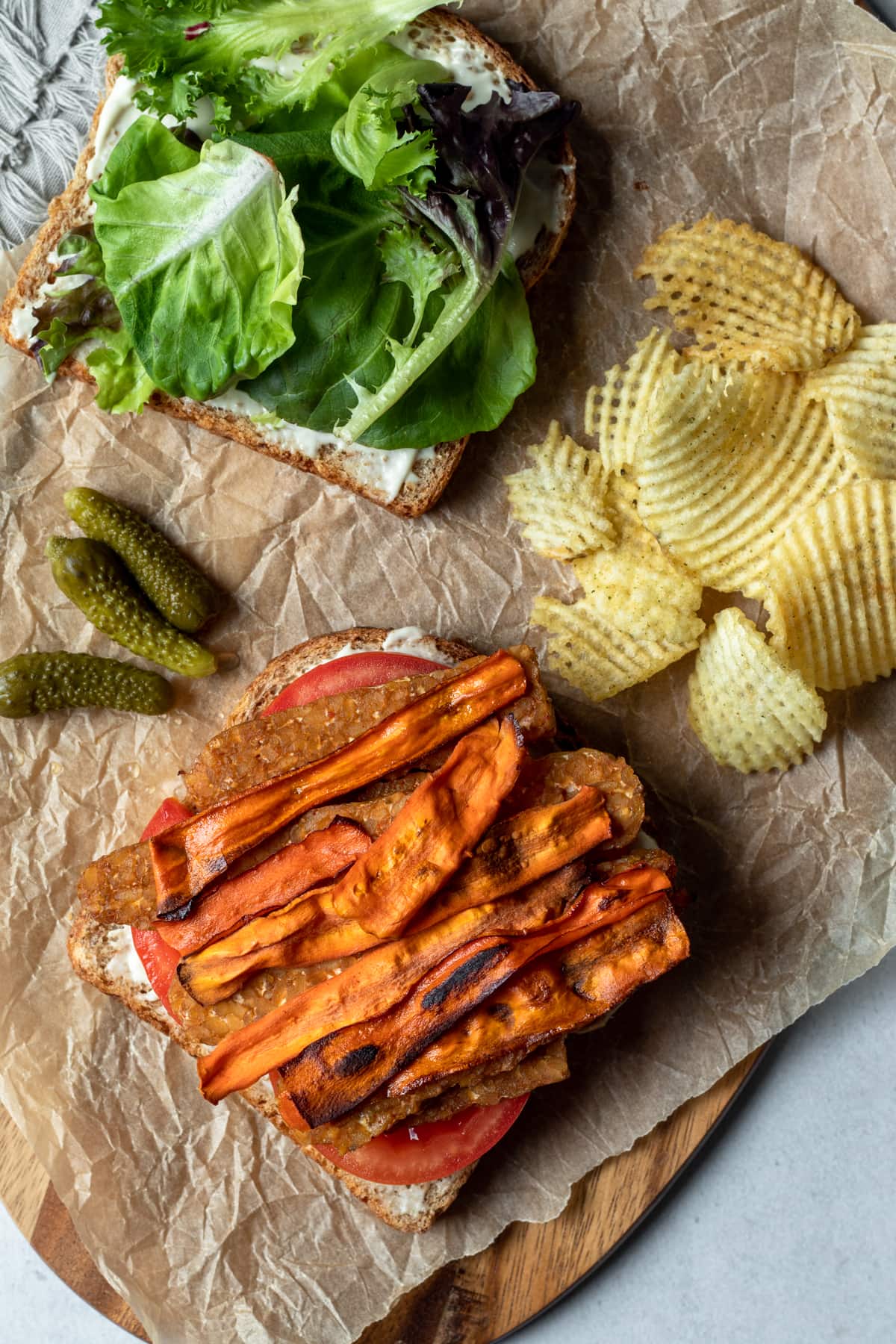 In some ways it feels silly to share a recipe for a BLT because, I mean, we all know what's in one and how to make a sandwich, right? But after trying carrot bacon recently thanks to Tabitha Brown's viral video, I decided a nutritious, double "bacon" vegan BLT was something I really wanted to add to the blog.
I'm a big fan of Lightlife's smoky tempeh, and you can definitely use it here if you have some on hand. But making your own tempeh bacon at home is also ridiculously easy.
So I decided to whisk together a simple marinade and make tempeh bacon and carrot bacon at the same time because why not? It's double bacon, y'all, but without the cruelty or carcinogens. So easy and so delicious!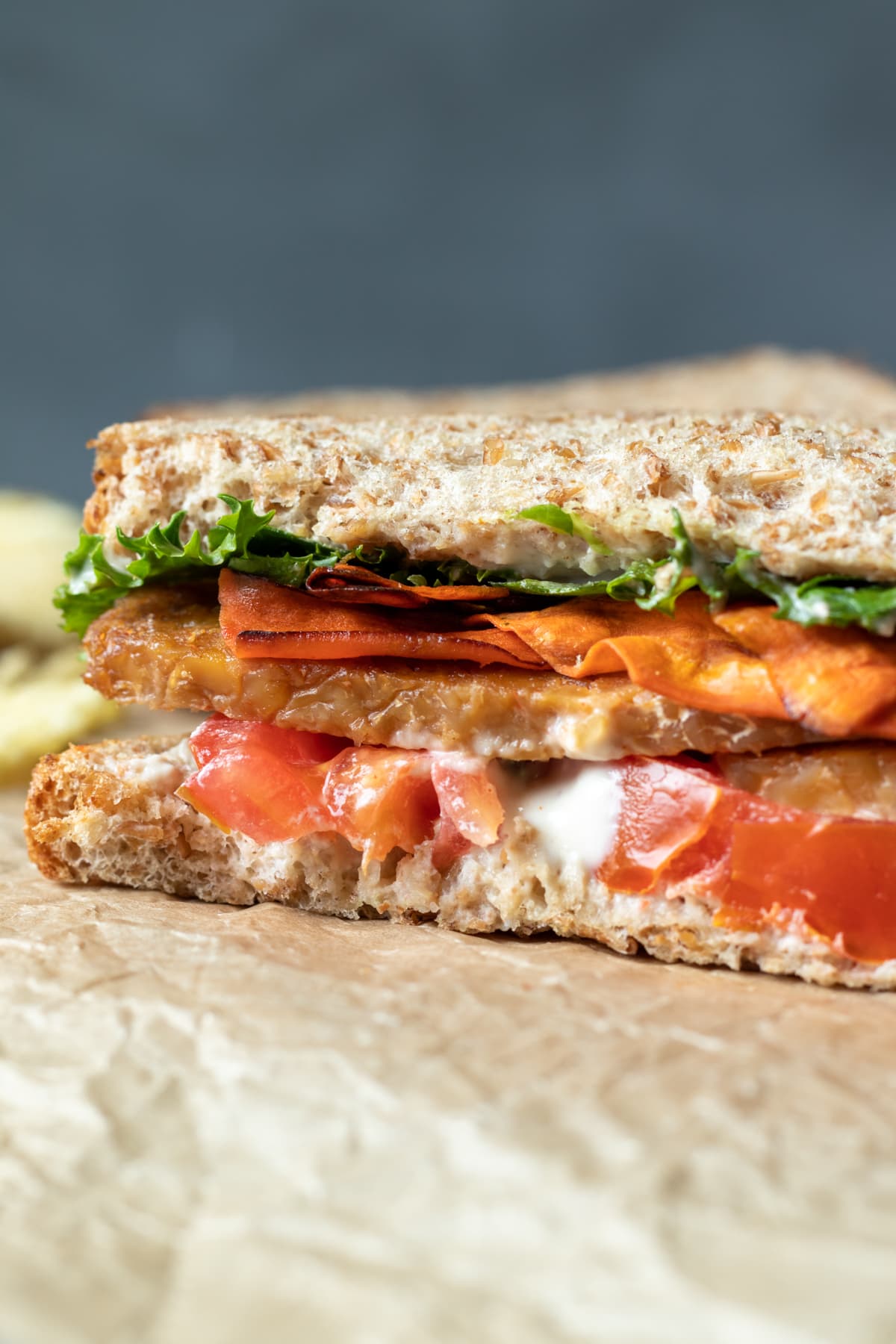 Why You'll LOVE This Vegan BLT
The marinade is quick and easy to whisk together with a handful of common ingredients.
It has a great balance of salty, smoky, sweet, and tangy.
Carrot bacon adds color and a surprising amount of smoky bacon flavor.
Tempeh is rich in protein and healthy fats which makes this sandwich even more satisfying.
Try it with this oil-free vegan mayo. Made with whole-food ingredients, it tastes as good as store-bought mayonnaise but with half the calories!
Fresh lettuce and tomato add contrasting coolness and texture.
You can use pretty much any sandwich bread you have on hand. No need for specialty bread to make an epic vegan BLT!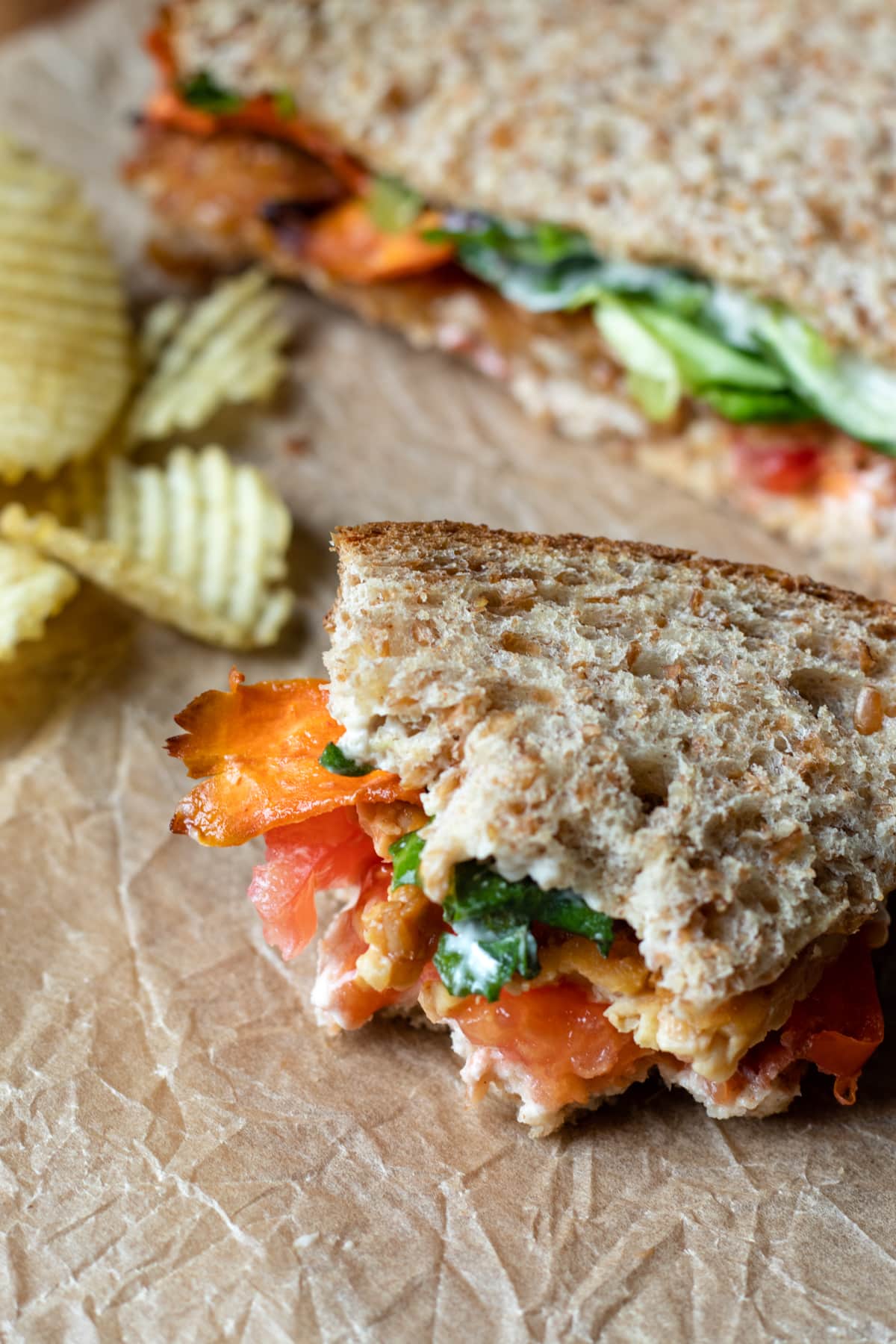 And best of all.... you're the boss! Want super crunchy toasted and buttered bread? Go for it.
Want to pile your BLT high with crisp romaine lettuce? Stack it up!
Want so much tempeh bacon sandwiched in there that you can barely fit your mouth around it? By all means!
Want added crunch in the form of potato chips carefully layered underneath the top piece of bread? <--- I highly recommend this.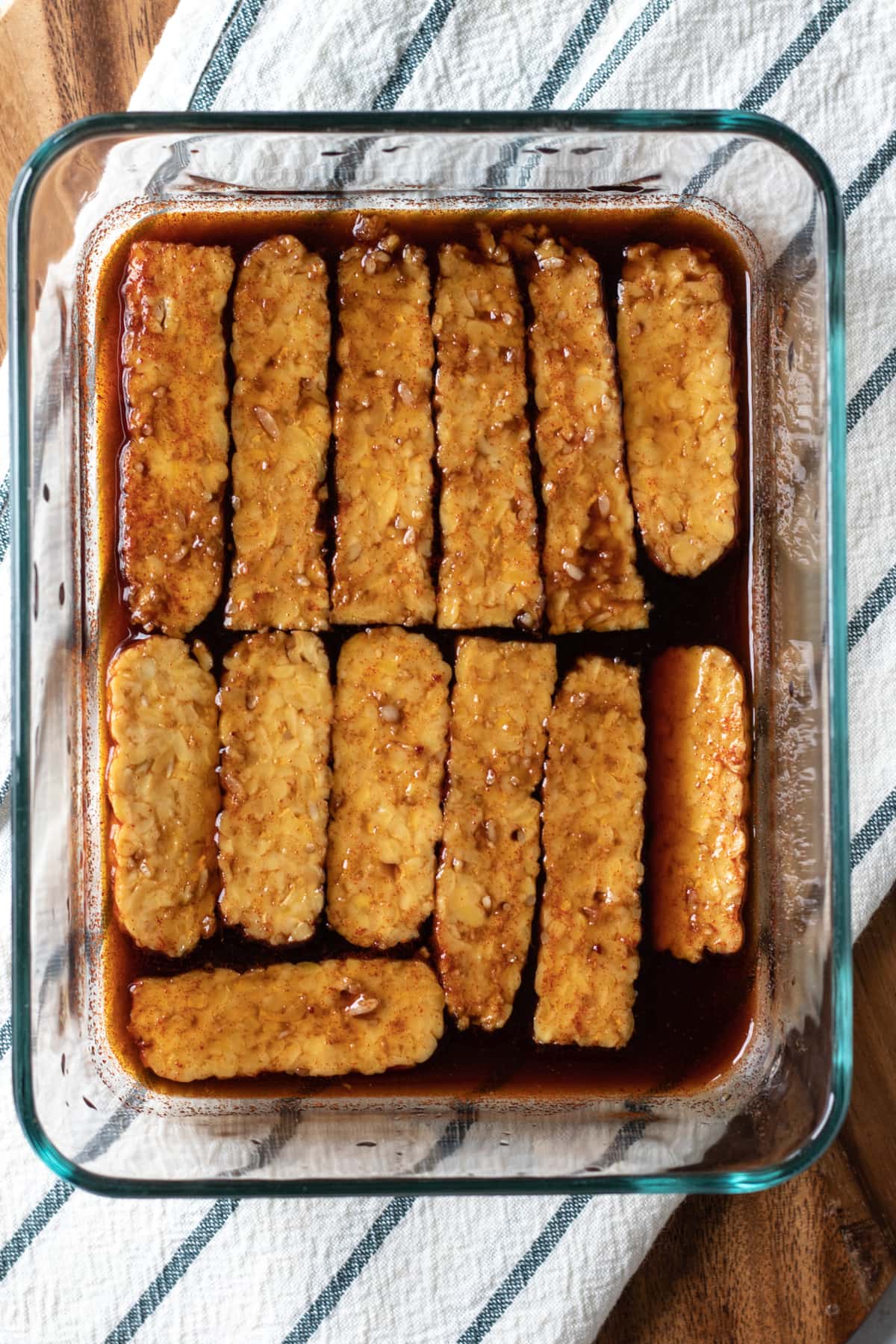 How to Make Tempeh Bacon and Carrot Bacon
I based this marinade on the ingredients in Lightlife's smoky tempeh, but feel free to play with the amounts to get it just how you like your bacon.
Add a bit of brown sugar for even more sweetness, and a pinch of spicy cayenne for heat!
For the marinade you'll need:
tamari (or soy sauce if you don't need gluten-free)
maple syrup
onion powder
liquid smoke
apple cider vinegar
smoked paprika - sub sweet paprika, if needed
black pepper
Marinate the tempeh for a few minutes (photo above) while the oven preheats and you're prepping other ingredients. If you have time to marinate the tempeh longer, up to an hour, even better!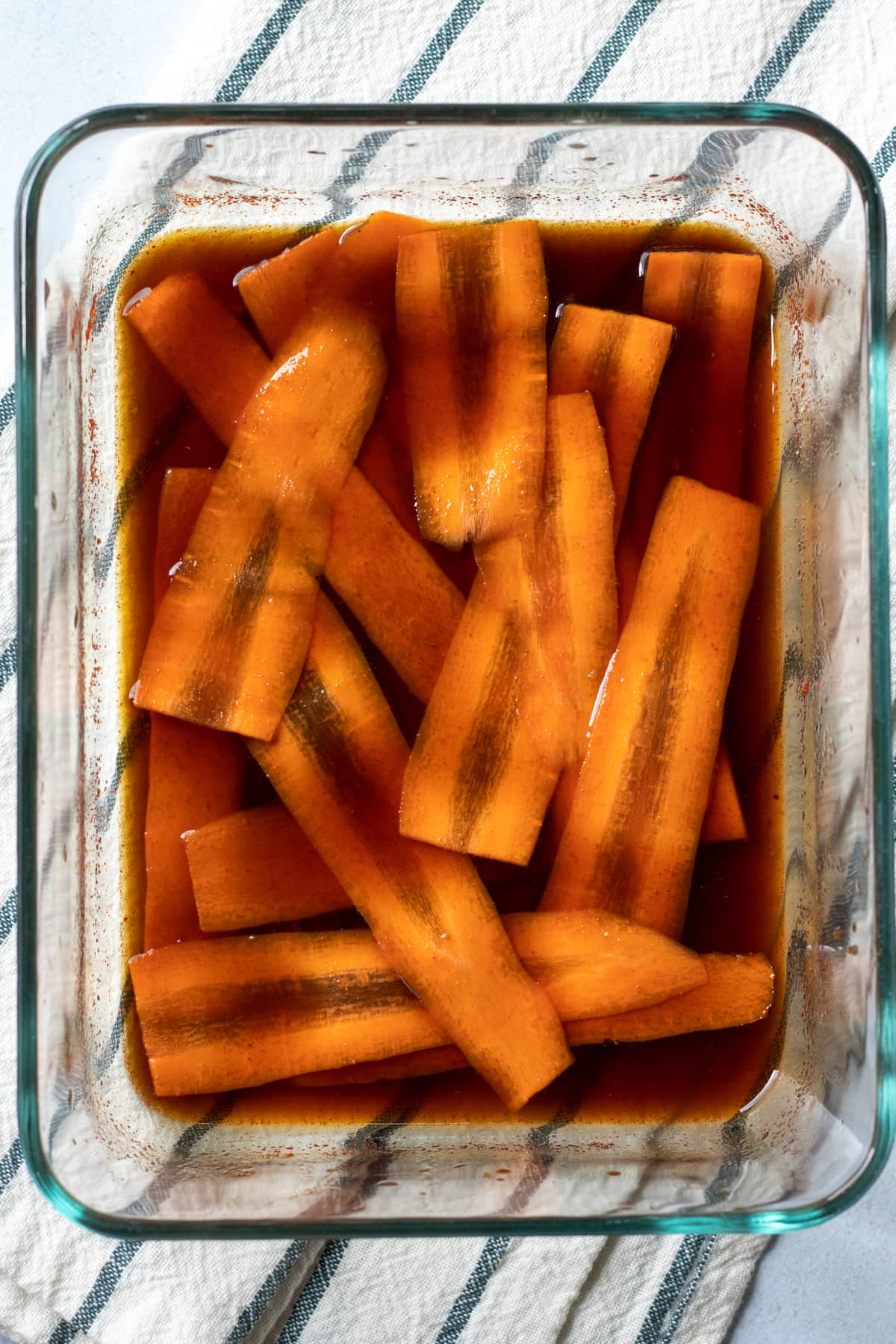 Transfer the tempeh to a baking rack (photo below). Next, place the carrot strips in the marinade. Let those rest for a few minutes....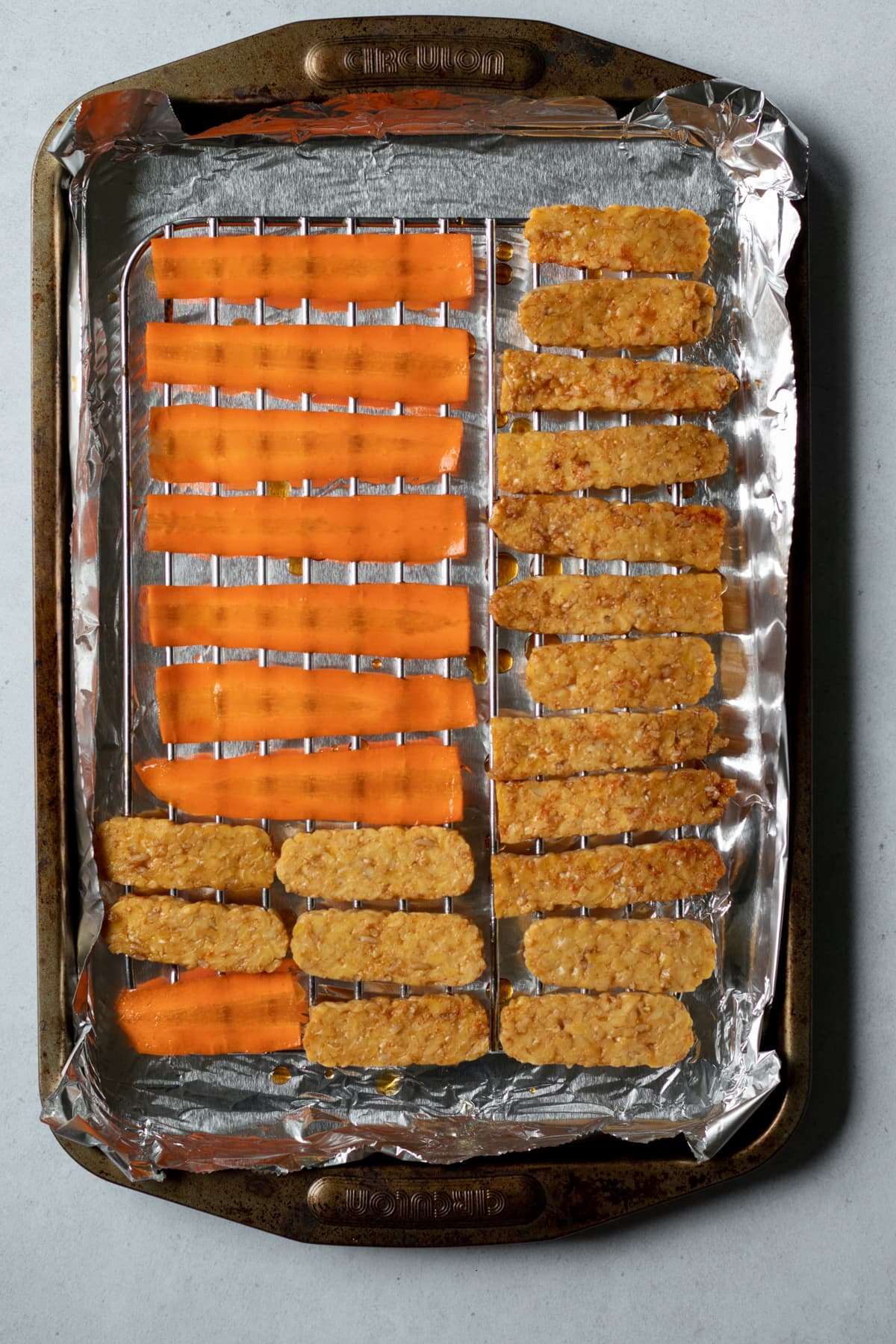 The carrot bacon doesn't need quite as long in the oven as the tempeh, so after about 7 minutes flip the carrot slices, then bake for another 6 to 7 minutes. Transfer the carrot bacon to a plate to cool.
Now, this next step is really important. Muster every last bit of your will power to avoid gobbling up ALL of the carrot bacon. Seriously, it smells so, so good. Okay, maybe just one little taste test to make sure it's cooked to your liking.
Return the tempeh bacon to the oven for another 10 minutes or so, until it's piping hot and lightly browned. Then let everything cool, and you're ready to assemble your vegan BLTs!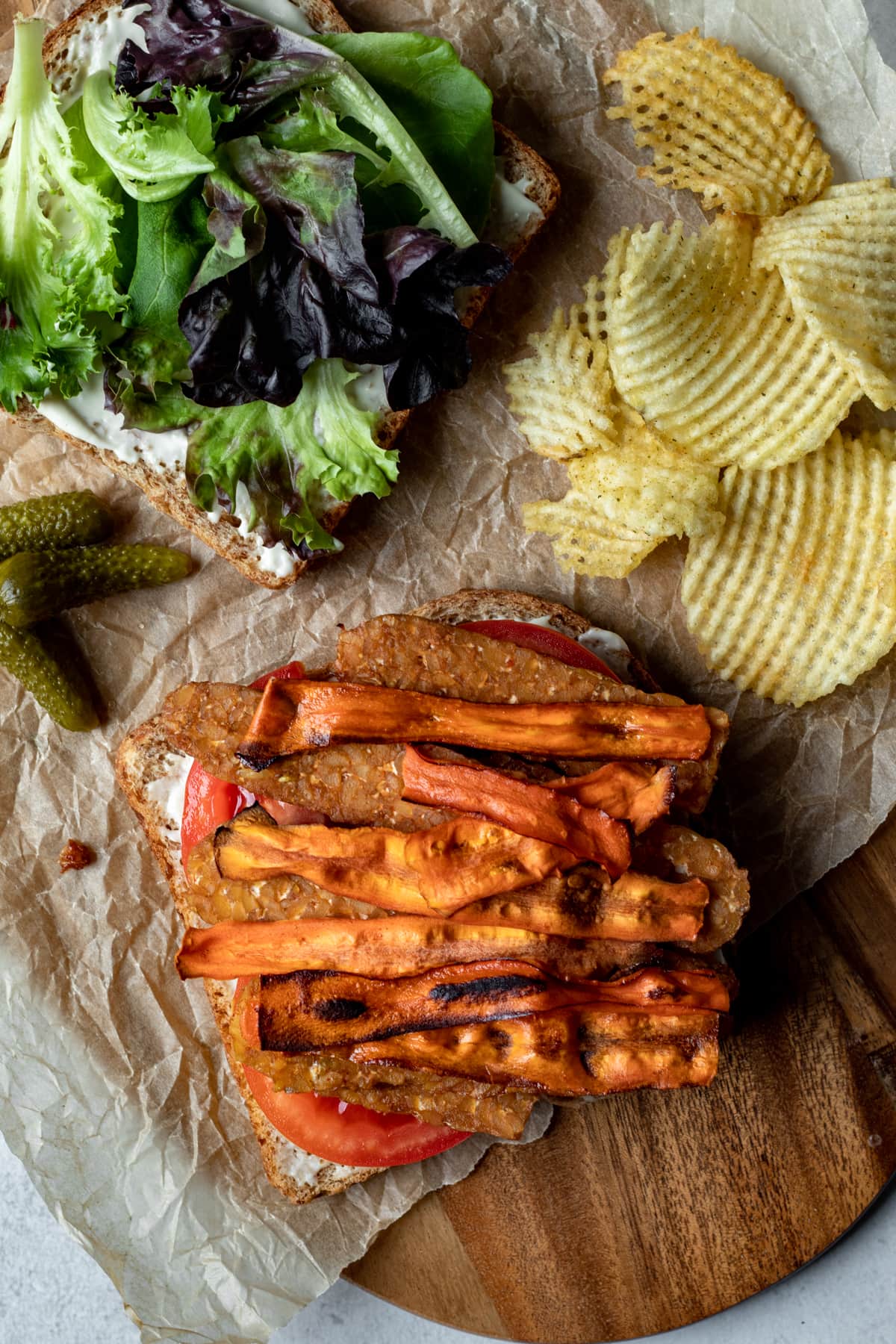 A Note About Lettuce
The spring mix you see in the photos is definitely NOT standard lettuce for a proper BLT, but you know what? These are special times, and you've gotta make do with what you have! So don't worry about rules. You just enjoy your smoky, flavor-packed, healthy vegan BLT any old way you like, okay?
Heck, maybe you'll even use baby tomatoes from the garden instead of big, thick slices. I'm not judging!
Tasty side dishes to pair with Vegan BLT:
You might also like:
And if you like tempeh on sandwiches you've gotta try Vegan Banh Mi!
📖 Recipe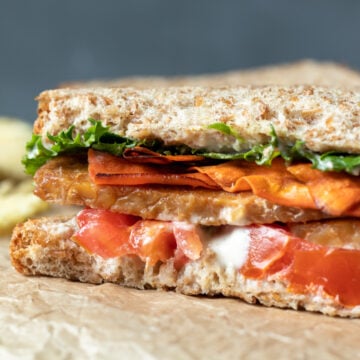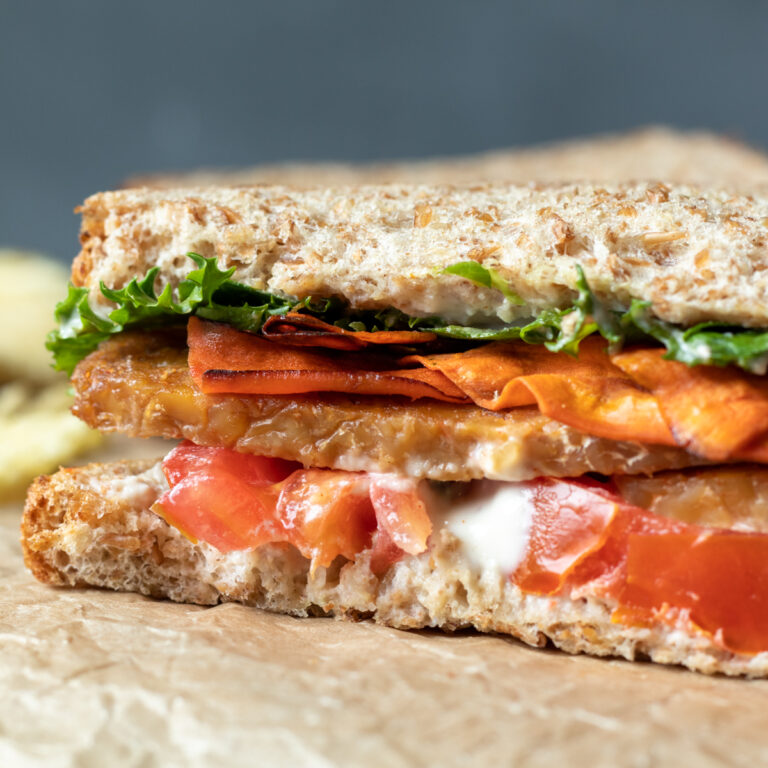 Vegan BLT With Tempeh and Carrot Bacon
With carrot bacon AND tempeh bacon, this Vegan BLT is full of both flavor and nutrition! A healthier version of the classic, keep it oil-free with my Aquafaba Mayo. For a gluten-free BLT, use your favorite GF bread, and use tamari in the marinade.
TIP: For simplicity I opted to bake the carrots and tempeh together, but if you have an air fryer and want to try Tabitha Brown's method for extra crispy carrot bacon, check out her easy instructions in this YouTube video.
Ingredients
2

large

carrots, washed and peeled

1

(8 oz) package

tempeh, sliced into ¼-inch thick strips

-

You'll likely have some tempeh leftover after making sandwiches.

4

slices

bread

4

tablespoons

Oil-Free Vegan Mayo -

Or sub store-bought

3 to 4

leaves

romaine lettuce

-

Or use what you have!

2

large

beefsteak or heirloom tomatoes
For the marinade:
¼

cup

tamari or soy sauce

3

tablespoons

maple syrup

¼

teaspoon

onion powder

1

teaspoon

liquid smoke

2

teaspoons

apple cider vinegar

¼

teaspoon

smoked paprika, optional

black pepper
Instructions
Preheat oven to 400 degrees F (204 C). Line two small baking sheets with foil or silicone mats, and place a baking rack on top. See Notes for stovetop cooking suggestion.

Toast the bread then set aside to cool.

In a shallow container, stir together the marinade ingredients. Arrange the tempeh in the container and set aside to marinate while you prepare the carrots.

Trim off the tops and skinny ends of the carrots. Use a peeler to create paper thin slices of carrot. Transfer the tempeh to the baking rack, then place carrots in the marinade. Let sit for a few minutes, then transfer carrot slices to the rack (reserve marinade). Be sure there's room around each piece of "bacon" and that nothing is overlapping.

Bake for 6 to 7 minutes. Remove pan from oven, and flip the carrot bacon. Bake 6 to 7 minutes more or until carrots are beginning to brown. Transfer carrot bacon to a plate. Brush tempeh with some of the remaining marinade, and return pan to oven. Bake tempeh for 10 more minutes or until hot and lightly browned. Set aside to cool.

To assemble the BLTs, spread each slice of bread with mayo (don't be shy)! Add tomatoes, tempeh, carrot bacon, and lettuce, and top with bread. Slice on the diagonal and serve.
Notes
Stovetop Method
Both the tempeh and carrot bacon can be cooked on the stovetop, if preferred.
Preheat a large sauté pan over medium heat. Cook carrot bacon for about 2 minutes per side or until lightly crisp and browned. If a few spots look burnt don't worry. It's just the sugars caramelizing, but it shouldn't taste burnt.
Cook the tempeh bacon for 5 to 7 minutes per side or until golden.
Serving/Storage
Most people would advise that BLTs are a sandwich that should be eaten right away, but I don't mind a bit of tomato juice seeping into my other ingredients. Also, since we're using plant-based mayo AND no meat, spoilage is much less of a concern.
If you wanted to pack these sandwiches for a hike, or picnic, or lunch at the beach, they're still great.
Nutrition Facts are an estimate and will vary depending on amounts of mayo, tempeh, and marinade used as well as type of bread.
Estimated Nutrition (per serving)
Serving:
1
sandwich
Calories:
520
kcal
Carbohydrates:
65
g
Protein:
31
g
Fat:
13
g
Cholesterol:
0
mg
Fiber:
8
g
Nutrition information is an estimate and will vary depending on the exact amounts and specific products and ingredients used. We calculate this information using the online calculator cronometer.com.
Tried the recipe?
I love hearing from you! Share your feedback below.